VPS shares its experience with methanol as a bunker fuel
Steve Bee, VPS Group Commercial Director, provides an insight on the firm's experience of testing methanol as a marine fuel including the very first methanol bunker quantity survey.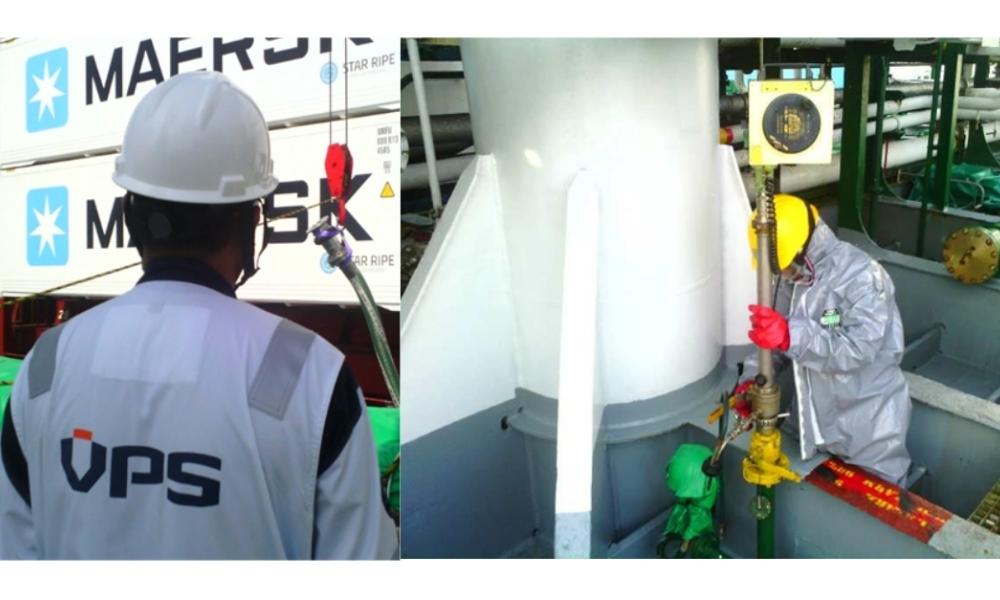 Steve Bee, Group Commercial Director of marine fuels testing company VPS, provides an insight on the firm's experience of testing methanol as a marine fuel including the very first methanol bunker quantity survey:
Introduction
As the shipping industry looks to decarbonise and become net zero by 2050, ship owners and operators are looking at alternative fuels with a lower carbon footprint in order to reduce overall emissions from their fleet. In Europe this is linked to the EU ETS scheme coming in 2024 and also the FuelEU Maritime[1] legislation coming in 2025. As part of the ever-changing marine fuel mix, methanol is now being seriously considered as a low-carbon fuel to assistshipping in achieving its decarbonisation targets.
Methanol (CH3OH) is a liquid chemical used in thousands of everyday products, including plastics, paints, cosmetics and fuels. Liquid methanol is made from synthesis gas, a mix of hydrogen, carbon dioxide and carbon monoxide. These components can be sourced from a wide range of feedstocks, using different technologies.
Renewable methanol is an ultra-low carbon chemical produced from sustainable biomass,often called bio-methanol, or from carbon dioxide and hydrogen produced from renewable electricity.
Renewable methanol can be made from numerous and plentiful sources which are globally available. The carbon molecules required to make synthesis gas for methanol production can be obtained from CO2 via industrial exhaust streams, or even captured from the air. Synthesisgas also can be produced from the gasification of any carbon source, such as municipal solid waste or forestry residues. Biogas, obtained through fermentation, from landfills, wastewater treatment, plants or animal wastes can also be used as a feedstock for methanol production.Additionally, renewable energy can power the electrolysis process to generate clean hydrogen for the production of renewable methanol.
Methanol is the world's most commonly shipped chemical commodity and more than 95 billion litres are manufactured every year. It has been stored, transported and handled safely for over100 years. Since it remains liquid at ambient temperature and pressure, the infrastructure required to deploy it as a fuel, is largely in place: combustion engines, fuel cells and powerblocks can easily be adapted to use methanol.
Methanol as a Marine Fuel
The attraction of methanol to shipping, is that renewable methanol can significantly reduce greenhouse emissions to atmosphere including, reducing carbon dioxide (CO2) by up to 95%and nitrogen oxide (NOx) by up to 80%, and eliminating sulphur oxide (SOx) and particulate matter (PM) emissions.
However, there are numerous considerations regarding the use of methanol as a marine fuel.Firstly, methanol exhibits good burn characteristics, but will require a pilot fuel for ignition, eg a gas oil, or a biofuel. Further positives are, it is a liquid at atmospheric pressure, its bio-degradable and can run well in existing engine technologies.
However, methanol has a Flash Point of only 12ºC, which immediately raises questions relating to the Safety of Life at Sea (SOLAS) requirements. SOLAS states no marine fuel with a flashpoint less than 60ºC should be onboard a vessel. Methanol has a low energy content,approximately 40%-50% of the more traditional fossil fuels used within the maritime sector.Methanol is highly reactive and therefore materials with which methanol may contact, should be inert, eg stainless steel.
In order to achieve the Tier III NOx requirements, pure water must be added to methanol prior to burning. This allows for approximately 30% less NOx emissions compared to fossil fuels.
VPS Completes the First Methanol Bunker Quantity Survey, Sampling and Testing
In July 2023 VPS were requested by Maersk to undertake the very first methanol bunker quantity survey (BQS). This took place in Singapore for Maersk's first methanol-powered container ship, the Laura Maersk.
Prior to this first methanol delivery, various levels of pre-delivery work were required including,the delivery barge tank-cleaning operation and a part loading of methanol to the barge, to ensure no cross-contamination could take place, during the actual delivery. VPS, as part of theBQS operation, also undertook the required closed-sampling procedure, to safely harvest representative samples of the methanol delivered to the vessel, which were then transferred toa VPS Laboratory for quality testing.
In the 12 months leading up to this BQS, VPS invested heavily into new laboratory equipment and R&D in order to provide a comprehensive testing and advisory service in relation to methanol as a marine fuel.
In order to safely transport methanol samples to the VPS laboratory, the transfer via aeroplane,had to comply with the International Air Transport Association (IATA), rules for the transportation of dangerous goods. It is worth noting when considering using methanol as a marine fuel, it is the person sending methanol samples for testing, who must be trained and accredited to the IATA standards, ie the vessel crew, or vessel agent.
The testing of the samples from the Laura Maersk bunkering, was conducted to theInternational Methanol Producers and Consumers Association (IMPCA) test slate. The key test considerations here were, the purity of the methanol, the presence of ethanol, water content,the presence of acetone, chlorides, the acidity of the fuel, sulphur content and numerous other impurities, which could be detected.
Following the Singapore bunkering the Laura Maersk set sail for Port Said, Egypt, where VPSrepeated the BQS, Sampling and Testing of the methanol delivered to the vessel. The final bunkering stop took place in Rotterdam, where VPS once again completed the BQS operation,sampling and testing.
The VPS surveying and testing of these three methanol bunker stems, showed the fuel delivered matched the Bunker Delivery Note (BDN) and the Certificate of Quality (CoQ).
VPS and Methanol Bunker Fuel
VPS have proven that safe, accurate and reliable, quantity surveys and sampling of methanol can be undertaken. Plus, following significant investment in state-of-the-art laboratory equipment, plus analyst and advisory training, VPS can also provide accurate analytical testing of methanol samples to determine the quality of the fuel and provide the necessary and valuable marine engineering advice, to support ship owners and operators when they look to use methanol as their low-carbon marine fuel of choice.
VPS are currently working with numerous shipping companies, suppliers and engine manufacturers on testing their methanol samples and sharing our experience, expertise and innovative approach in helping them gain a greater understanding of this low-carbon fuel.
With more than 160 methanol-powered vessels currently on order, it is inevitable that methanol use will significantly increase within the maritime sector and VPS have proven high-levelperformance to support the industry in this aspect of it's decarbonisation journey.
Related: Dr. Nicholas Clague shares VPS' experience with alternative bunker fuels
Photo credit: VPS
Published: 16 October, 2023
DNV paper outlines bunkering of alternative marine fuels for boxships
Third edition of its paper series focuses on LNG, methanol and ammonia as alternative bunker fuel options for containerships; explores bunkering aspects for LNG and methanol.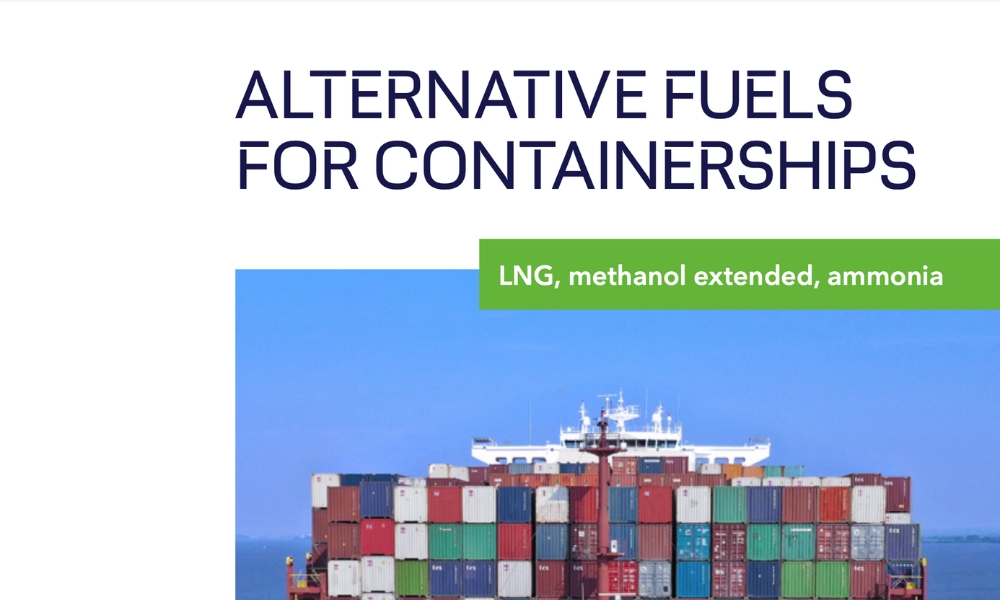 Classification society DNV recently released the third edition of its paper series Alternative fuels for containerships, focused on LNG, methanol and ammonia as alternative bunker fuel options for containerships.
In its updated paper series, DNV examined the different alternative marine fuel options and provided an overview of the most important technical and commercial considerations for the containership sector.
It explored the bunkering technology for LNG, bunkering infrastructure for methanol, and availability and infrastructure of ammonia.
Building on the foundation laid in the second edition, which focused on the most important aspects of methanol as a fuel, this latest third edition delves deeper – exploring the technical intricacies and commercial considerations associated with adopting methanol as an alternative fuel for containerships.
Furthermore, it provides an overview of crucial aspects related to ammonia and discusses its potential as an alternative fuel for containerships.
Amongst others, the new edition of the paper looks at the following aspects:
Technical design considerations for methanol
Commercial implications of adopting methanol as an alternative fuel
Ammonia's potential as an alternative fuel
Availability, infrastructure and ship fuel technology for ammonia
Major updates based on the latest IMO GHG strategy decisions at the MEPC 80 meeting
Note: The third edition of DNV's full paper titled Alternative Fuels for Containerships can be found here.
Related: DNV paper outlines bunkering infrastructure of alternative fuels for boxships
Photo credit: DNV
Published: 29 November, 2023
MAN ES announces MAN 175D methanol dual-fuel engine will be available by 2026
Dual-fuel version of MAN 175D high-speed engine, capable of operating on methanol, will be available by the end of 2026; will be available both as newbuild and retrofit variants.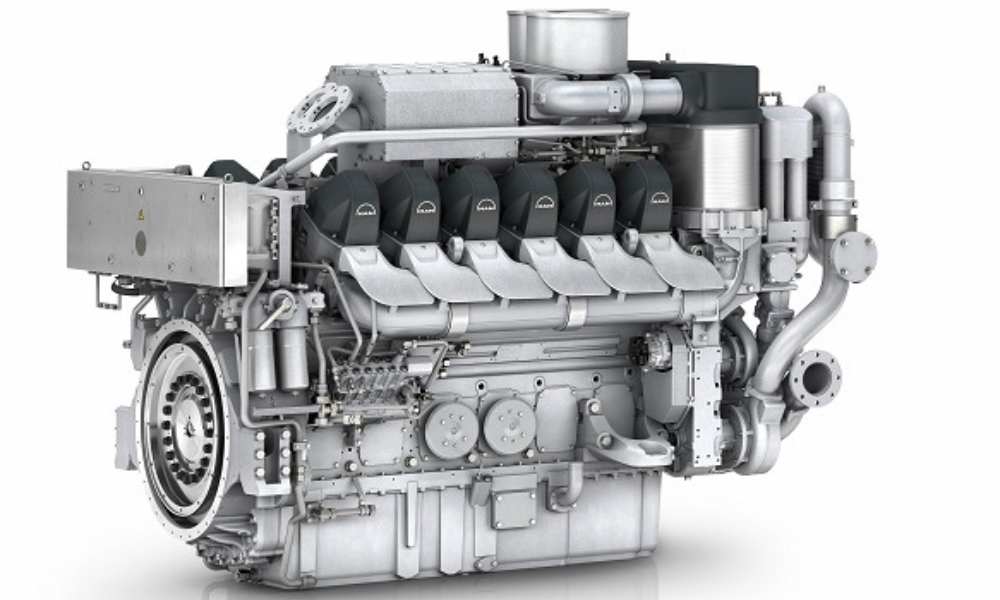 MAN Energy Solutions on Monday (27 November) announced that a dual-fuel version of its MAN 175D high-speed engine, capable of operating on methanol, will be available by the end of 2026.
The new variant, designated MAN 175DF-M, will be available both as newbuild and retrofit variants.
MAN Energy Solutions states that the 175DF-M will be optimised for diesel-mechanical and diesel-electric propulsion to achieve the largest methanol share and best efficiency for various applications and load profiles. In fact, the engine has already been awarded the 'fuel ready' certificate by DNV, guaranteeing the introduction of this dual-fuel methanol technology.
"The 175D engine is MAN Energy Solutions' latest addition to the high-speed maritime sector and is, as such, one of the pillars of its efforts to develop a methanol-ready engine portfolio as the demand for such technology has rapidly been increasing of late," the firm said in a statement.
With its success in achieving series-approval for its two-stroke engines, MAN Energy Solutions said it has used this experience to develop an optimised solution for its four-stroke engines, including successful single-cylinder testing. As such, the results of these efforts will fuel the upcoming development and validation of the dual-fuel PFI (Port Fuel Injection) technology for its methanol-ready 175D engine.
Florian Keiler, Head of High Speed, MAN Energy Solutions, said: "The MAN 175D has proven to be very competitive in terms of sustainability and efficiency with the lowest fuel consumption, lowest lube-oil consumption and longest overhaul times in its class, minimising its environmental footprint. In terms of future fuels, the next logical step, apart from being able to run on 100% bio-fuels, is to ensure methanol combustion."
"Based on numerous exchanges with customers, we came to the conclusion that the dual-fuel principle, reliability, efficiency, a high methanol share, competitive life-cycle costs and maximum achievable output were key requirements for the 175DF-M's development. Therefore, after conscientious investigation and consideration, we settled upon the PFI combustion technology as the most favourable. Fundamental combustion development will start in 2024, leading up to a first field-test of the methanol engine in 2026. The MAN 175DF-M engine will subsequently be ready for sales release at the end of 2026."
MAN Energy Solutions believes that PFI is the most advanced technology currently available. Its development targets a highest methanol share over a wide power range while achieving the highest cylinder output in its high-speed engine class. In particular, optimisation for diesel-electric multi-engine plants will allow operation of the engines at an optimal load point achieving the highest methanol share. As result, when using biofuels, the MAN 175DF-M's carbon footprint will be reduced to zero while retaining full fuel-flexibility for operation anywhere in the world.
Photo credit: MAN Energy Solutions
Published: 28 November, 2023
Maersk and China-based Goldwind sign landmark green methanol bunker fuel offtake deal
Long-term agreement for annual volumes of 500KT will enable low carbon operations for the first 12 large methanol-enabled Maersk vessels on order; first volumes expected in 2026.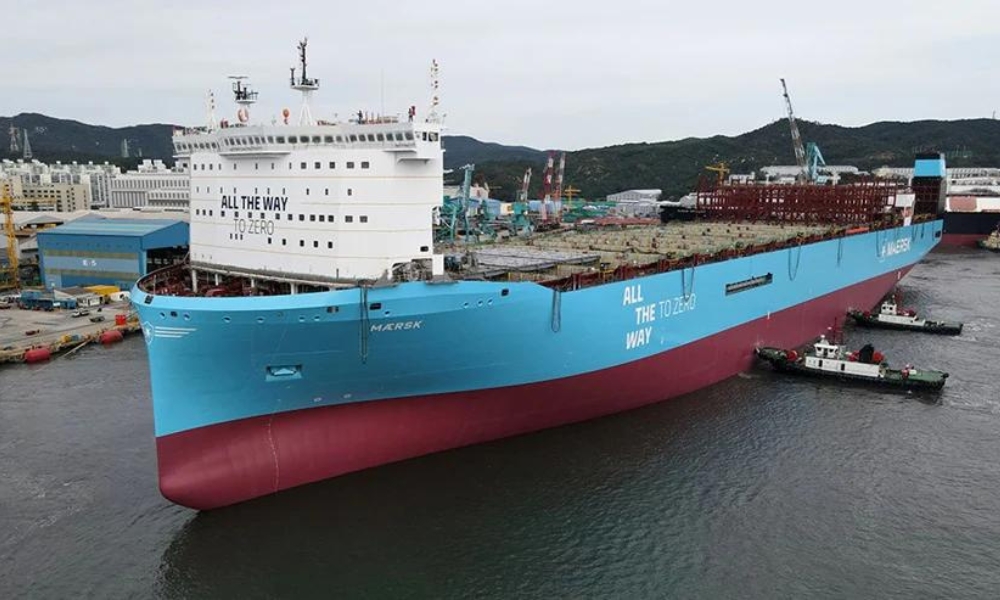 A.P. Moller - Maersk on Wednesday (22 November) said it signed a deal with Chinese clean energy firm Goldwind, marking the first large scale green methanol offtake agreement for the global shipping industry.
The commercially viable long-term offtake agreement for annual volumes of 500KT will enable low carbon operations for the first 12 large methanol-enabled Maersk vessels on order. The first volumes are expected in 2026.
Rabab Raafat Boulos, Chief Infrastructure Officer at A.P. Moller - Maersk, said: "This deal is a milestone for Maersk as it enables us to significantly reduce our emissions footprint in this decade and stay aligned with the 1.5-degree Celsius trajectory as set out in the Paris Agreement, ensuring continued supply of low carbon shipping services to our customers in the second half of this decade."
"We are encouraged by the agreement because its scale and price confirm our view that green methanol currently is the most viable low-emission solution for ocean shipping that can make a significant impact in this decade. The deal is a testament to the momentum and vast efforts we see among ambitious developers driving projects forward across geographies, however, we still have a long way to go in ensuring a global green fuels market that can enable the decarbonisation of global shipping."
A.P. Moller - Maersk aims to reach net-zero greenhouse gas emissions by 2040 across its business. The deal significantly de-risks the initial stages of Maersk's net-zero journey and supports expectations for a competitive green methanol market towards 2030. The record-high volumes can annually propel more than half the methanol-enabled capacity Maersk currently has on order.
Wu Gang, Chairman, Goldwind, said: "Goldwind respects Maersk as a pioneer in the field of maritime green fuel and we are excited to jointly promote the green transition with Maersk."
"With this project, Goldwind will continue to explore the innovative application of new technologies, pursue the organic combination of green electricity and green fuel production, and optimise the production process of green methanol."
"Goldwind is committed to collaborating with companies involved in the green methanol industry, with the aim to make green methanol one of the most important and economically feasible clean maritime fuels in the future."
The volumes combine a mix of green bio-methanol and e-methanol, all produced utilising wind energy at a new production facility in Hinggan League, Northeast China, around 1,000km northeast of Beijing.
Production is expected to begin in 2026. Following this signed offtake agreement, Goldwind expects to confirm a final investment decision for the facility by the end of the year.
Maersk will take delivery of its first large ocean-going methanol-enabled vessel (16,000 TEU) in the first quarter of 2024 and is working on sourcing solutions with a broad range of global partners for the entire vessel series being delivered in 2024 to 2025.
Photo credit: A.P. Moller - Maersk
Published: 23 November, 2023