ENGINE: Biofuel bunkers are making waves
ENGINE team launched a project to map out all the physical bunker suppliers that offer biofuels in ports and investigated what was available in different regions.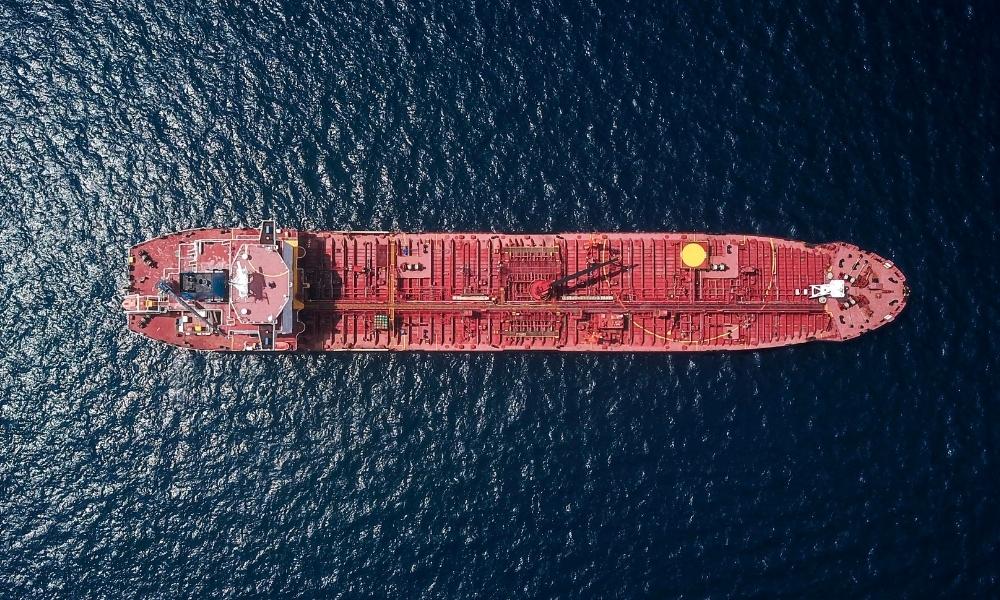 As a growing part of the shipping industry is exploring ways to trim its carbon footprint, the ENGINE team reports that biofuels are making waves and finding their way to bunker ports around the world.
We often get asked variants of the question: "Where can we bunker biofuels?"
For every region and port that was enquired about, we had to investigate what was available. As the information accumulated in leaps and bounds, we decided to launch a project to map out all the physical bunker suppliers that offer biofuels in more and more ports.
It's a moving target, and this is some of what we have uncovered so far.
East of Suez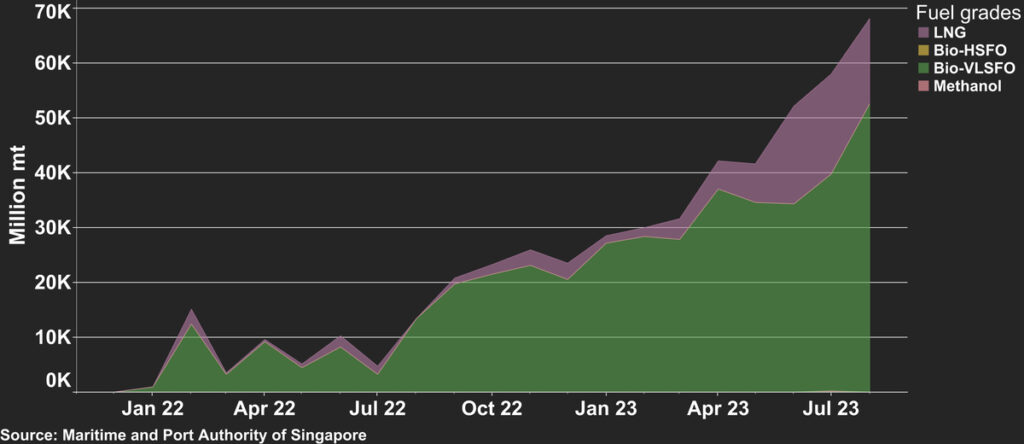 Biofuels are starting to become more common in Singapore, but so far they have only made up a fraction of the port's total bunker sales. B24 (24% biofuel) is the standard blend ratio as sea-going bunker barges are restricted to carrying 25% biofuel and as suppliers seek to err on the safe side of that requirement. Prices are often quotes as a premium over very low sulphur fuel oil (VLSFO) and the typical biofuel grade is fatty acid methyl ester (FAME), which is also called biodiesel.
A couple of Chinese bunker suppliers have started offering biofuel blends for delivery in Zhoushan and Guangzhou, and another two have brought them to Hong Kong. As biofuel blends don't qualify as bonded bunkers in mainland China, in which value added tax (VAT) is waived for VLSFO, it makes less sense for Chinese refiners and blenders to blend them with VAT-exempt VLSFO. The suppliers therefore import finished B24-VLSFO blends from Singapore and other places before they are sold in Chinese ports.
B35-MGO blends are available in Indonesian ports because of a national 35% minimum biofuel blending mandate. But these derive from palm oil and are not sustainable. Palm oil's close connection to deforestation means they won't qualify under the International Sustainability and Carbon Certification (ISCC) programme or as renewable fuels towards upcoming European Union (EU) regulations.
In the Middle East there is one major producer and wholesaler of waste-based biofuels. The UAE-based producer has struck supply deals with two physical bunker suppliers in the country, where it collects used cooking oil (UCO) from McDonalds restaurants and other sources. One of the suppliers has so-called ISCC-certification, which requires the biofuel to meet certain sustainability criteria throughout its lifecycle. From a small base, the producer says that bunker demand has doubled in each of the past three years, and that demand is expected to grow exponentially in the years to come.
Europe & Africa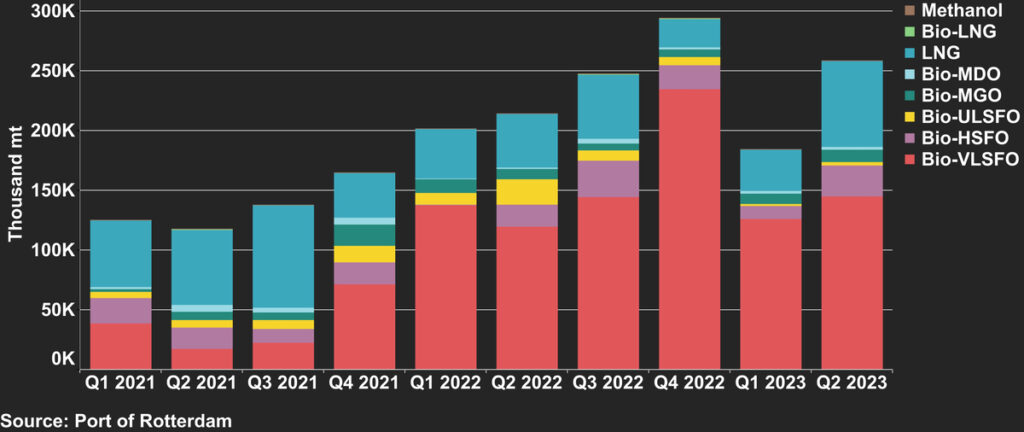 Rotterdam dominates the global biofuel bunkering scene. Around 6% of all of the bunkers sold in the first half of this year was blended with biofuels, and that was down from an even stronger 8% last year. More biofuel trials and regular refuelling of ships have taken place in Rotterdam than in any other port and a greater number of suppliers offer biofuels there.
Local biofuel processing capacity, imports from China and competition between bunker suppliers in a burgeoning biofuel bunker market provide economies of scale in Rotterdam and contribute to keep prices in check.
But perhaps the biggest reason behind its growth is simple. Rotterdam is Dutch, and the Netherlands has generous market mechanisms in place for biofuels sold for bunkering, particularly for advanced waste-based biofuels. In fact, the price incentives have worked too well and pulled biofuel feedstock away from the road fuels market. The road fuels market faces tougher blending mandates, and more biofuels are needed to meet them, the government told ENGINE.
To rebalance the biofuel scales between road and marine, the Dutch government has launched a consultation with a proposal that could effectively halve the biofuel rebate multiplier. This could see Rotterdam's discount of more than $200/mt to Singapore be slashed to about half that.
Mediterranean bunker suppliers are also starting to catch the biofuel wave. A few suppliers across Gibraltar, Spain, Malta and Italy now offer blends. Some typically need a week or two of lead time to source, blend and deliver the fuel to ships. One supplier has struck a deal with a ferry company that has tested biofuels blended in small ratios on a ferry with the upcoming FuelEU Maritime regulation in mind.
A lack of biofuel demand in South Africa and Mozambique has meant that suppliers have so far held back on bringing it to market. Some are saying they hope to pursue biofuel in the future.
Americas
US biofuel bunkering is struggling to gain traction in the absence of government subsidies. While harbour crafts and road vehicles enjoy subsidies, ocean-going vessels do not. This has meant that comparable B30 biofuel blends have been prohibitively expensive in Houston compared to Rotterdam for example.
Unlike Rotterdam and the rest of the EU's upcoming CO2 and greenhouse gas (GHG) regulations, there are also no nationwide US environmental regulations to incentivise uptake of biofuel blends by ships. Customer demand will therefore likely come from ship types close to the end consumer, like ferries, cruise ships and container ships.
Some bunker suppliers have already announced readiness or intent to offer. These include California, where local environmental regulations have boosted uptake of 99% renewable diesel (R99), which differs from FAME in that it is not chemically esters. Canada's Vancouver, the US Gulf Coast, Colombia's Cartagena and Brazil make up some of the other places with biofuels on offer.
The Panama Canal is likely the biggest bunker area in the Americas, but a joint venture of companies that was previously buoyant about the prospect of building at least one biorefinery and importing biofuels for bunkering and other transport fuel markets has more recently cast doubts about its feasibility. "The issue is feedstock and competing with current subsidies in the US and EU markets that hog and distort [the] price of feedstock," one of the companies told ENGINE.
Meanwhile, a recent entrant to the US Gulf Coast's biofuel bunker market has been championing a mass balancing approach. Its pricing is based on the feedstock type, but thanks to mass balance accounting the feedstock purchased does not necessarily need to be the feedstock in the fuel consumed by that buyer's ship. Blends based on UCO, soybean oil and tallow are current options, and more waste-based biofuel alternatives is expected to follow in the future.
To help shipowners get more clarity around what's available where, ENGINE will come out with more detailed overviews of biofuel bunker supply by region and port later this year.
By the ENGINE team: Shilpa Sharma, Nithin Chandran, Queeneerich Kharmawlong, Konica Bhatt, Debarati Bhattacharjee, Aparupa Mazumder, Tuhin Roy and Erik Hoffmann
Source: ENGINE
Photo credit: ENGINE / Shaah Shahidh on Unsplash
Published: 16 October, 2023
Kenoil Marine Services to conduct first-ever bunkering of bio-blended LSMGO in Singapore
"Kosmos Lily" is slated to supply bio-blended LSMGO, sourced from Alpha Biofuels, representing the first-ever bunkering of bio-blended LSMGO in Port of Singapore, says Jurong Port.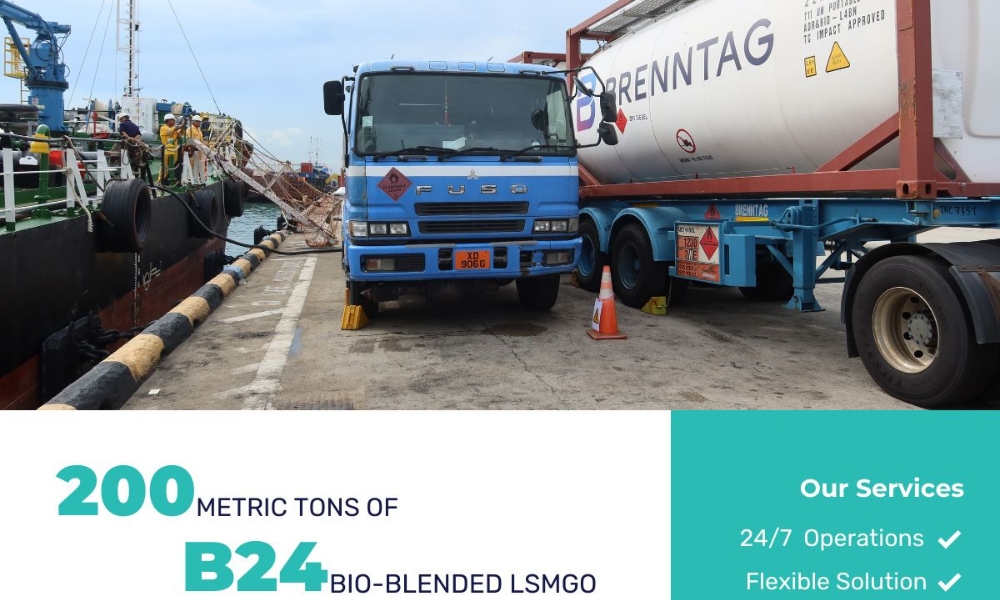 Jurong Port on Wednesday (29 November) said Kenoil Marine Services Pte Ltd, a licensed bunker supplier, successfully loaded 200 metric tonnes of B24 bio-blended Low Sulphur Marine Gas Oil (LSMGO) in Singapore.
The B24 marine biofuel blend was onto Kenoil Marine's bunker tanker Kosmos Lily.
"Kosmos Lily is slated to supply this bio-blended LSMGO, sourced from Alpha Biofuels, representing the first-ever bunkering of bio-blended LSMGO in the Port of Singapore," Jurong Port said in a social media post.
"Jurong Port takes pride in serving as the preferred port infrastructure for biofuel bunkering, and supporting the maritime industry's energy transition toward achieving net-zero emissions."
Separately, Allan Lim Yee Chian, Founder and CEO at Alpha Biofuels, said the firm has been working to produce, blend and supply better quality biofuels for the maritime industry for over the last two years.
"We focused a lot on traceability of the biofuels , stability of the blended product and also the cost of the product," he said in a social media post.
"The result is a bio-bunker fuel that balances the need for decarbonisation by the industry against the cost of sustainable biofuel."
Photo credit: Jurong Port
Published: 30 November, 2023
Marine Fuels 360: Fingerprinting to play key role in proving biofuel feedstock authenticity and beyond, says VPS
'The proof of sustainability will become really tricky going ahead. However, [VPS/GCMD] trials have proven biofuels possess fatty acid chains that produce a unique profiling,' states Captain Rahul Choudhuri.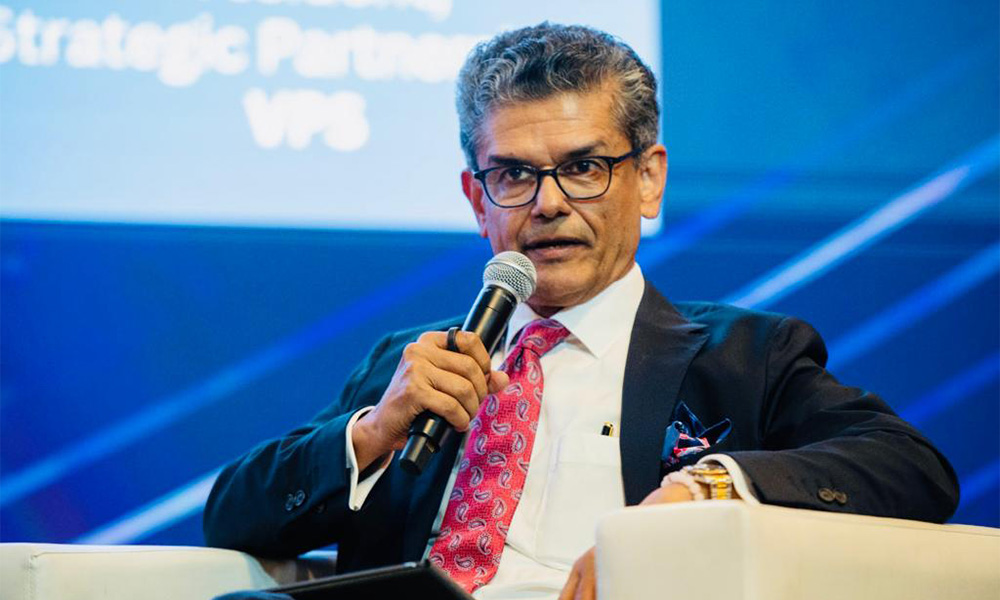 The use of finger printing technology today will likely establish a blueprint of how future alternative bunker fuels' feedstocks are authenticated, forecasts the President, Strategic Partnerships at marine fuels testing company VPS.
Captain Rahul Choudhuri was speaking amongst panellists in the Alternative Fuels Debate session at Marine Fuels 360 on Tuesday (28 November) when he gave an update of VPS' biofuels finger printing trials with the Global Centre for Maritime Decarbonisation (GCMD).
"We are currently doing some really important and cutting-edge work together with GCMD in trying to fingerprint biofuels to enhance transparency and authenticity issues," he stated.
"Biofuel feedstock comes from a variety of sources including edible vegetable oils, animal fat, waste, and components; but how do you figure out what the feedstock really was?"
According to Captain Choudhuri, the supply chain within the shipping and bunkering sector is "different" and prone to contamination or fraud.
Biofuel composition, supplied through several parties, could be inconsistent when delivered to the receiving vessel despite the product being subjected to the International Sustainability Carbon Certification (ISCC) programme.
"The proof of sustainability will become really tricky going ahead. However, [VPS/GCMD] trials have proven biofuels possess fatty acid chains that produce a unique profiling," he noted.
"If you think your feedstock should be palm-based and the fingerprint shows clearly that it is not – then that's it – because the fingerprint just doesn't fail irrespective of which country the biofuel comes from.
Captain Choudhuri, meanwhile, believes the use of finger printing for determining feedstocks of future marine fuels could prove challenging.
"It seems we need to dig in a little bit more and honestly, it's a little trickier. But I am sure our current fingerprinting trials will offer a blueprint of how traceability of future bunker fuels including bio-methanol needs to be."
Moving forward, Captain Choudhuri highlighted VPS was "very bullish" on the consumption of biofuels as a marine fuel.
"There has been a lot of first movers using biofuels; we've tested more than 1,000 biofuels samples globally over the last year or two, compared to less than a handful pre-COVID. The uptake has been very dramatic in the last two years," he said.
"Since the beginning of this year, the Maritime and Port Authority of Singapore has recorded more than 400,000 mt of bio-VLSFO being delivered which was four times during the similar period in 2022.
"That's a huge move and this is exactly what VPS expects it to be."
Related: GCMD-led consortium completes trials of sustainable biofuel bunker supply chains
Related: Dr. Nicholas Clague shares VPS' experience with alternative bunker fuels
Related: Dubai: Shipowners and peers discuss realities of biofuel adoption at VPS Biofuels Seminar
Related: Singapore: VPS panel discussion presents a masterclass in shipping's biofuel bunker adoption issues to the deck
Photo credit: Informa
Published: 29 November 2023
Quadrise Plc gives 2023 overview and updates on low-carbon bunker fuel projects
Structured process is now underway to seek commercial partners that would allow firm to be able to quickly scale up in preparation for the expected growth of MSAR® and bioMSAR™ sales, says Quadrise.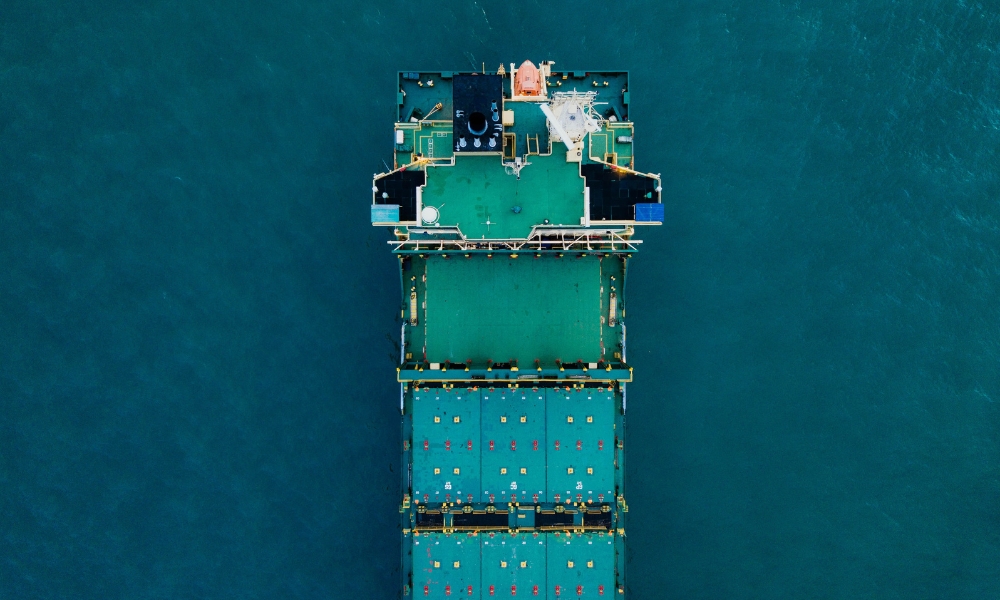 MSAR® and bioMSAR™ emulsion technology and fuels supplier Quadrise on Monday (27 November) provided an update ahead of the Company's Annual General Meeting (AGM).
The firm said it recently published a 2023 sustainability report setting out its efforts to address demand for solutions to decarbonise shipping, and to build capacity for the supply of our low-carbon fuels in the US.
In advance of the anticipated developments outlined below, a formal process is now underway to seek commercial partners in both the marine and US-focused low-carbon fuel markets who would be able to contribute the resources necessary to scale up growth rapidly once trials have been completed.
"In this regard, we have also been particularly heartened by the success of bioMSAR™ in Morocco, as announced on 22 November 2023, demonstrating the viability of bioMSAR™ in an industrial application," it said.
Building on this, there has been considerable RDI progress at the Quadrise Research Facility (QRF) with commercial partners to develop bioMSAR™ formulations using lower cost, lower-carbon, and globally abundant biomass-derived sugars produced using various technologies.
"This is a clear pointer to the future for the company as the need for commercially competitive net-zero fuel solutions grows in urgency," it said in a statement.
The Company's progress in each of its key projects towards their next stages is described below:
Morocco: The industrial demonstration test of MSAR® and bioMSAR™ fuels at the client's site in Morocco was successfully completed, as announced on 22 November 2023. This was the first demonstration of bioMSAR™ in a commercial application and Quadrise is now preparing a technical report to submit to the client within the next month. The parties now look forward to entering into discussions for long-term commercial supply in conjunction with reaching an agreement for testing at other client sites to expand supply opportunities for MSAR®, and in the future, bioMSAR™ fuels.
Marine: Agreements with project stakeholders covering the Proof-of-Concept and Letter Of No Objection (LONO) commercial trials on bioMSAR™ with MSC Shipmanagement (MSC) are expected to be concluded in December 2023. The agreements cover trial fuel production, supply, and logistics. Provided these and the relevant permits are concluded in time, Quadrise equipment will be installed and commissioned at the bunker terminal in Q1 2024, with the intention to commence the trials in early Q2 2024, in accordance with the latest vessel schedule shared by MSC recently.
US low carbon fuels: Quadrise understands that Valkor Technologies LLC (Valkor) expects to conclude drilling permits and project financing relating to their primary project site in Utah by the end of the calendar year 2023. Provided a minimum of US$15 million is successfully raised by Valkor, under the terms of the Site License and Supply Agreement signed in June 2023, Valkor will pay Quadrise an initial US$1.0 million licence fee and a further US$0.5 million upon delivery of an MSAR® Manufacturing Unit to the project site in Utah.
bioMSAR™ development: As described in the overview above, during FY23 and since the period end, work has been progressing at the QRF in conjunction with commercial partners Vertoro BV and BTG Bioliquids BV, as well as with other prospective partners, to develop bioMSAR™ formulations made using biomass-derived sugars. These are a lower cost and more globally abundant future alternative to glycerine and would enable a lower cost, lower carbon biofuel alternative to be produced which could then be marketed at scale to the marine and industrial sectors. Discussions have been progressing with other stakeholders in this renewable sector.
In November 2023, diesel engine testing was completed at Aquafuel on blends of bioMSAR™ containing 20% to 40% of Vertoro's crude sugar oil (CSO™). The testing demonstrated improved engine efficiency and lower Nitrogen oxide ("NOx") and particulate emissions upon combustion when compared to conventional diesel. Quadrise and Vertoro are now discussing the next steps toward commercialisation of the CSO™ bioMSAR™ blends. Aquafuel tests were also completed using blends of marine B30 biofuels containing FAME in MSAR® and bioMSAR™ to assess engine efficiency and emissions improvements, both of which were positive and a further step towards bioMSAR™ Zero.
Jason Miles, Chief Executive Officer of QED, said: "During 2023, we have continued to make progress with each of our key projects as well as with our work to supply bioMSAR™ at commercial scale and develop lower carbon biofuel alternatives using biomass derived sugars. We were particularly pleased to note the first commercial scale demonstration of bioMSAR in Morocco, where the client's industrial unit was successfully operated at varying loads of up to 100%, equivalent to the energy consumption of a medium-sized container ship.
The progress made in Morocco is vitally important to the Company as we look to progress to commercial supply there and to commence marine trials on board the MSC Leandra in H1 2024. Preparations for the MSC trials are now underway, with agreements expected to be signed by year-end. In addition, the Company expects to deliver commercial revenues from Valkor in the near future upon successful closure of Valkor's project financing.
The progress at QRF and Aquafuel with commercial partners to develop and trial bioMSAR™ formulations using cheaper and globally abundant biomass derived sugars provides a clear pointer to the future for the Company, since a lower carbon biofuel alternative will be demanded by the marine and industrial sectors.
To prepare for the expected growth of MSAR® and bioMSAR™ sales, a structured process is now underway to seek commercial partners that would allow the Company to be able to quickly scale up once the key project milestones have been met and we look forward to updating shareholders on this exercise in due course."
Related: Quadrise, Vertoro to explore use of Vertero's advanced crude sugar oil in bioMSAR™ fuel
Related: Quadrise, MSC Shipmanagement to trial low-carbon bunker fuels on commercial containerships
Related: Quadrise sign agreement with renewable biofuels specialist BTG Bioliquids
Related: Quadrise teams up with Valkor to commercialise MSAR® and bioMSAR™ technology in CDA
Photo credit: CHUTTERSNAP from Unsplash
Published: 28 November, 2023