Singapore Maritime Institute expands study on ammonia bunkering 
Data and insights gathered through the research will serve as a strong foundation to bring solutions to mitigate ammonia bunkering release scenarios in Singapore waters, says lead research engineer.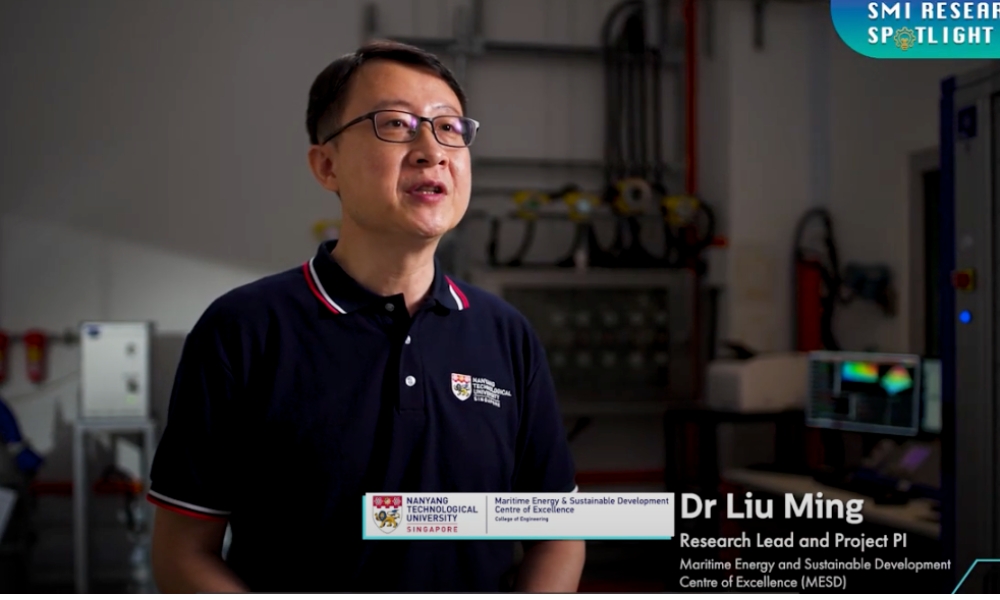 Singapore Maritime Institute on Friday (6 October) said it partnered with several parties to research the potential safety, mitigation technology and environmental challenges in ammonia bunkering.
The partners are Maritime and Port Authority of Singapore (MPA) and Singapore Maritime Institute (SMI), researchers from the Maritime Energy & Sustainable Development Centre of Excellence (MESD) at NTU, A*STAR's Institute of High Performance Computing (IHPC) and the NUS Tropical Marine Science Institute.
Building on the results obtained in MESD's previous study, "Ammonia as a marine fuel – bunkering, safety and release simulations", which was released in October 2022, researchers from the three institutes broadened their research focus to encompass a wider range of factors influencing ammonia release.
The expanded study, titled "Mitigation technology and environmental impact from ammonia bunkering release", considers different potential ammonia leakage scenarios and aims to develop recommended emergency protocols for addressing such ammonia leaks.
In a video accompanying the post, Venugopalan Raghavan, Lead Research Engineer, Institute of High Performance Computing, A*Star, said: "The project aims to establish advanced modelling and simulation capabilities for ammonia dispersion in sea and air, to develop mitigation technologies for ammonia bunkering in marine environments and assess the environmental impact of ammonia release."
"The data and insights that we gather through this research will serve as a strong foundation for us to bring solutions to mitigate ammonia bunkering release scenarios in Singapore waters."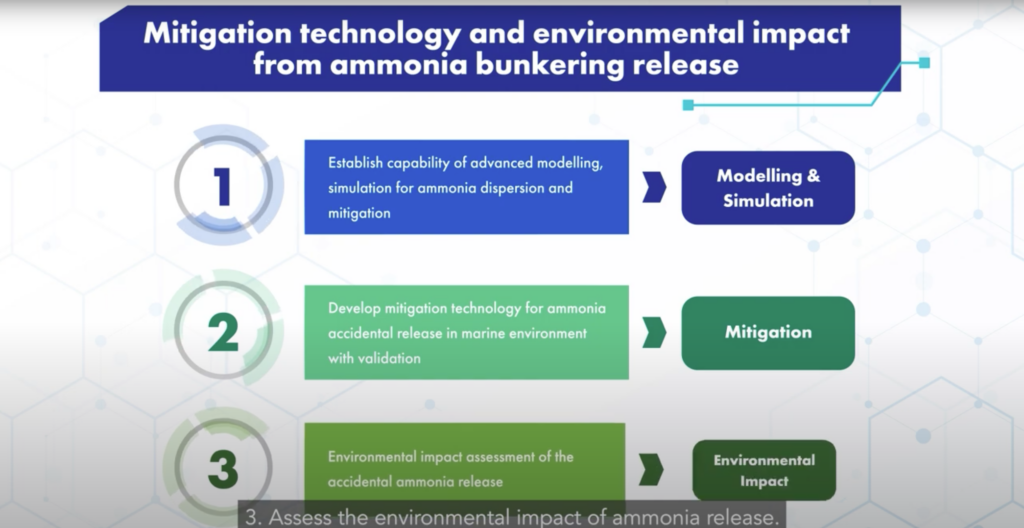 Dr Liu Ming, Research Lead and Project PI, MESD, said "An essential part of our research is a development of practical and effective mitigation solutions. The development and findings we have gleaned from our previous research gave us a clearer understanding and scale of that goal."
"By examining the existing ammonia mitigation examples and technologies, such as the use of water and physical barriers, we have a strong head start to begin creating effective mitigation solutions for safe ammonia. However, there is no proven mitigation solution to safely resolve ammonia release on the water surface."
"And this has been a key focus of our research efforts. By solving this challenge, we will have a full range of mitigation solutions that cover the different possibilities of ammonia release. And the fast track the enablement of ammonia bunkering in Singapore. Our research will provide a comprehensive assessment of a safe ammonia bunkering operation."
Note: The video on "Mitigation technology and environmental impact from ammonia bunkering release" can be found here. 
Related: Singapore: MESD researchers publish paper on accidental release of ammonia during ammonia bunkering
Photo credit: Singapore Maritime Institute
Published: 10 October, 2023
Azane Fuel Solutions and Amogy sign ammonia bunker vessel agreement
MoU was signed to explore technical and commercial feasibility of using Amogy's ammonia-to-power system on board an Azane developed bunker vessel concept.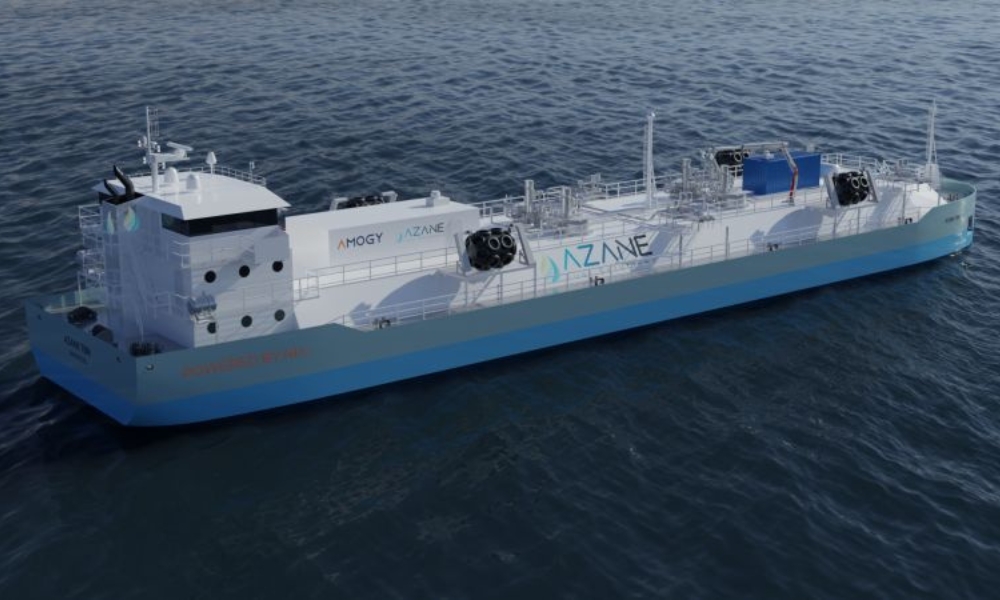 Ammonia bunkering solution provider Azane Fuel Solutions and ammonia-to-power technology provider Amogy announced on Wednesday (29 November) they have signed a memorandum of agreement (MoU) to explore the technical and commercial feasibility of using Amogy's ammonia-to-power system on board an Azane developed bunker vessel concept.
The collaboration will also involve exploring the technical and commercial feasibility of using an Azane ammonia fuel feeder solution integrated into the Amogy power system.
Azane has developed an ammonia fuel bunker vessel concept with a complete ammonia cargo handling system. The company is now looking for solutions to enable carbon free propulsion of the ammonia bunker vessel. When fully developed, Azane plans to offer the ammonia bunker vessels to ports such as Hamburg, Rotterdam, Antwerp, Singapore or other key ports.
Amogy's ammonia-to-power solution aims to decarbonize the hard-to-abate sectors, including shipping, power generation, and heavy-duty transportation. With Amogy's solution, the new bunker vessel will be able to reach zero-emissions without compromising the operational and safety requirements.
Amogy and Azane will start exploring the compatibility of their respective technologies and the commercial potential of the combined solutions. The aim being to cooperate on a subsequent pilot project to mature the bunker vessel with the ammonia-to-power solution for commercial applications.
Christian W. Berg, Managing Director, Amogy Norway, said: "We are excited to announce the collaboration with Azane Fuel Solutions on their bunker vessel project. By using our technology, Azane Fuel Solutions can deliver clean ammonia to ships globally with zero emissions from the bunkering operation. This will be a first of its kind for this segment."
Håkon Skjerstad, CEO of Azane Fuel Solutions, said: "The reason for providing an ammonia bunker vessel is to help decarbonize the shipping industry. Because of this, we need a zero-emission solution to provide propulsion to our vessels. Amogy has a promising technology that can help us reach our strategic ambition of offering zero-emission bunker solutions for deep sea shipping."
Photo credit: Amogy
Published: 30 November, 2023
DNV paper outlines bunkering of alternative marine fuels for boxships
Third edition of its paper series focuses on LNG, methanol and ammonia as alternative bunker fuel options for containerships; explores bunkering aspects for LNG and methanol.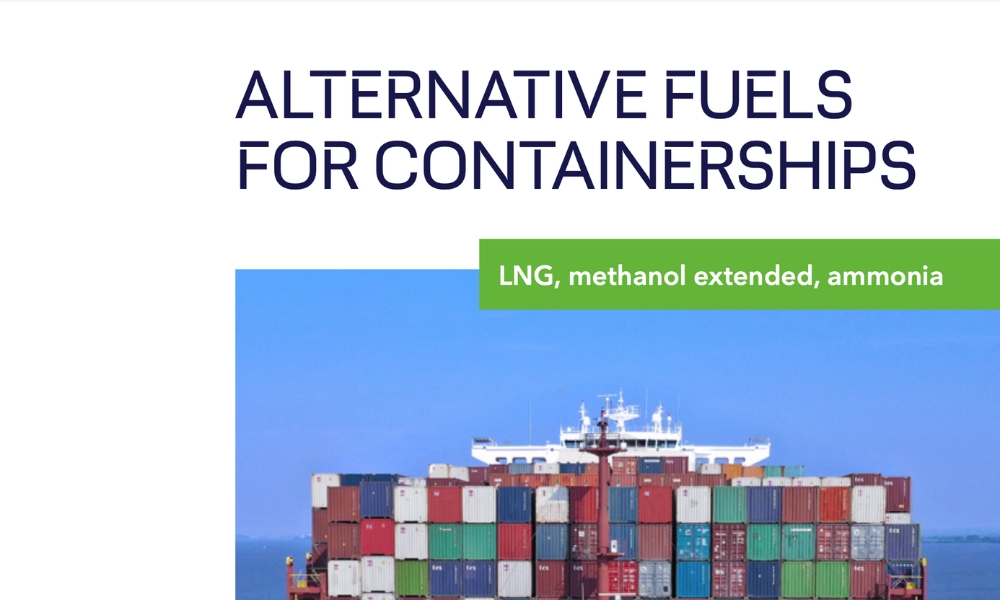 Classification society DNV recently released the third edition of its paper series Alternative fuels for containerships, focused on LNG, methanol and ammonia as alternative bunker fuel options for containerships.
In its updated paper series, DNV examined the different alternative marine fuel options and provided an overview of the most important technical and commercial considerations for the containership sector.
It explored the bunkering technology for LNG, bunkering infrastructure for methanol, and availability and infrastructure of ammonia.
Building on the foundation laid in the second edition, which focused on the most important aspects of methanol as a fuel, this latest third edition delves deeper – exploring the technical intricacies and commercial considerations associated with adopting methanol as an alternative fuel for containerships.
Furthermore, it provides an overview of crucial aspects related to ammonia and discusses its potential as an alternative fuel for containerships.
Amongst others, the new edition of the paper looks at the following aspects:
Technical design considerations for methanol
Commercial implications of adopting methanol as an alternative fuel
Ammonia's potential as an alternative fuel
Availability, infrastructure and ship fuel technology for ammonia
Major updates based on the latest IMO GHG strategy decisions at the MEPC 80 meeting
Note: The third edition of DNV's full paper titled Alternative Fuels for Containerships can be found here.
Related: DNV paper outlines bunkering infrastructure of alternative fuels for boxships
Photo credit: DNV
Published: 29 November, 2023
Q&A by Argus Media: Antwerp port plans 10mn t/yr NH3 imports by 2030
Argus spoke with the programme manager for hydrogen at the Port of Antwerp-Bruges, Maxime Peeters, on capacity build-out, ammonia cracking, hydrogen transportation and bunkering solutions.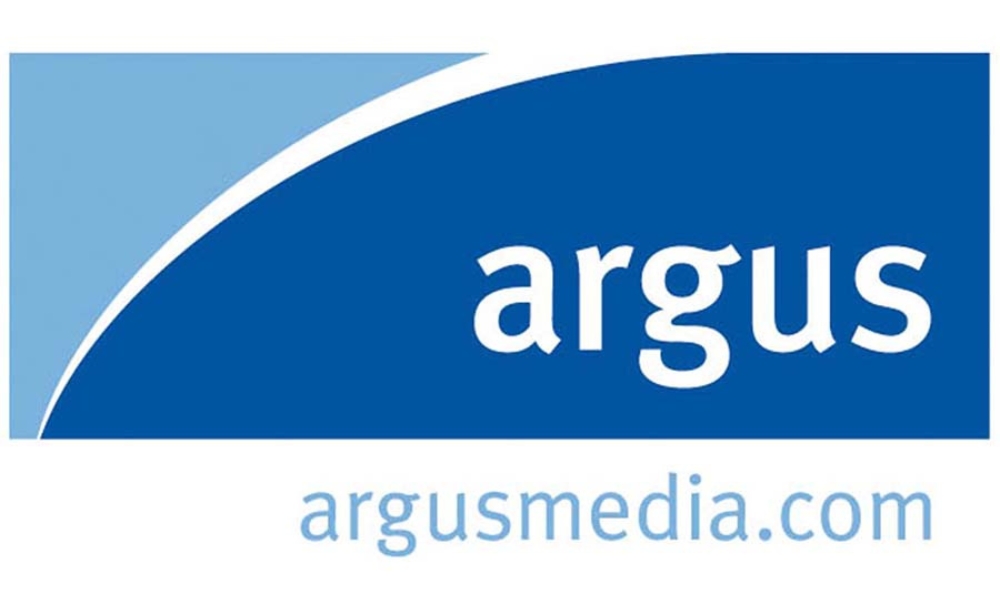 Infrastructure build-out will be essential in the development of low-carbon ammonia value chains to meet Europe's clean energy import ambitions. Ahead of the Argus Clean Ammonia Conference Europe in Antwerp this month, Argus spoke with the programme manager for hydrogen at the Port of Antwerp-Bruges, Maxime Peeters. Capacity build-out, ammonia cracking, hydrogen transportation and bunkering solutions were discussed. Edited highlights follow.
REPowerEU has set a target of 20mn t/yr of green hydrogen consumption by 2030, one fifth of which should be covered by ammonia imports. What are the main developments taking place at the Port of Antwerp to facilitate this?
We are the biggest petrochemical cluster in Europe, so hydrogen and hydrogen derivatives already play quite an important role inside the port. There is existing infrastructure for ammonia, methanol and LNG.
We have existing import capacity, users, infrastructure and transit towards Germany for instance through barge, rail and pipeline. Today we have one large ammonia terminal in the port operated by BASF. Ammonia is both imported and produced on site and then used in Antwerp or transited towards Germany. That's how it works today.
Of course if we look at the 10mn t/yr hydrogen import ambition of Europe, there will be a much bigger need of ammonia imports, as ammonia is one of the major import molecules. We will need much more ammonia capacity, as well as methanol capacity.
We did a study with a coalition of several industrial partners — the hydrogen import coalition — looking at the Belgian and German markets and what needs to be done to make Belgium an import hub.
Germany will have an import demand by 2030 of around 90TWh/yr. We have the ambition to import a third of that — 30TWh. And for Belgium, we will need 10-15TWh of imports by 2030. That's a total of 45TWh/yr, or the equivalent of 1.2mn-1.5mn t hydrogen. That's roughly 6-10mn t/yr ammonia, or over 600,000m³ of open access ammonia capacity.
We've spoken to all of our tank-storage providers in the port, and in aggregate we have plans in place to meet 600,000m³ of additional open access ammonia capacity by 2030. We now need to move forward and reach financial investment decisions for several terminals. Most of them have an ambition to be on line by 2027, because the demand is there by 2030 with European targets. A lot of projects are already working on their permitting and they are having very detailed negotiations with capacity bookers, so we are moving in a very positive direction.
How has the current cost environment with increased inflation, energy and borrowing costs affected planned developments?
We talk to a lot of production projects globally and we do see that there is an increase of costs.
Borrowing money is more expensive and with inflation generally we have higher capital expenditure. The hydrogen import coalition did a recalculation of projected project costs from 3-4 years ago, and we found that costs of wind turbines, electrolysers and other included expenses meant that the total cost has escalated by 33pc. It is also harder to find EPC contractors willing to bear the risk. But we don't see any big roadblocks. Of course, there will be some filtering of those less mature and robust projects but that's normal in a maturing market.
What are the ports plans for ammonia cracking?
Most of the potential ammonia terminals want to build an ammonia cracker by 2027.
We'll have our first mid-scale cracker in Antwerp already in 2024 by Air Liquide, with scale-up planned for 2027. Fluxys has an ammonia terminal, VTTI plans to build one and we have SeaTank, Vesta and LBC who are all building tanks. Vopak has acquired new land in the port and plans to retrofit an old refinery site for new energy capacity, including ammonia. So a lot of market initiative is taking place.
Belgium's federal cabinet approved €250mn funding for a hydrogen transport network in July this year. What plans are in place for this?
The hydrogen import coalition estimates around 50pc of ammonia imports will be cracked for the hydrogen market, and 50pc will be used for ammonia uses in Belgium and Germany.
On the cracking level we need to distribute the hydrogen. The Belgian federal hydrogen strategy is supporting this with funds and with the appointment of a hydrogen network operator this year. The strategy has set forth that we will have an open access hydrogen backbone in Antwerp by 2026. Subsidies will only be applicable if the infrastructure is built by 2026, so 2026 is locked for a hydrogen network in Antwerp. Connection to Germany is planned for 2028, with extensions to the Netherlands and France by 2030.
The port of Antwerp is the fifth largest bunkering hub in the world. The port is already offering hydrogen bunkering options on a small scale. Do you have plans to facilitate any ammonia bunkering solutions?
Yes. We have a multi-fuel strategy. It sets forward that by 2025 we will make sure shipping lines that come here have the option to bunker the fuels that they want.
LNG is already possible at the port. We are working hard on both methanol and ammonia. We are working with bunkering companies, shipping lines, fuel suppliers and regulators to make sure that its possible in our port. We already get a lot of questions from shipping lines actually on the availability of ammonia and methanol.
How do you see market uptake of blue versus green ammonia?
Our position is that the long-term solution is green. But in the beginning, there won't be enough green. We will need blue in a transition period.
We have existing technology for carbon capture and storage which can drastically reduce the carbon emitted. It's a stepping stone towards green. In terms of the currently known status of the European targets, we only see a role for green. The blue market is more related to ETS emissions and reducing these.
By Lizzy Lancaster
Photo credit and source: Argus Media 
Published: 23 November, 2023