China: CSSC subsidiary-built LNG dual fuel bulker completes sea trial 
A LNG dual-fuel bulk carrier built by CSSC subsidiary Qingdao Beihai Shipbuilding Heavy Industry for Korea's H-Line has successfully completed a sea trial on 8 October.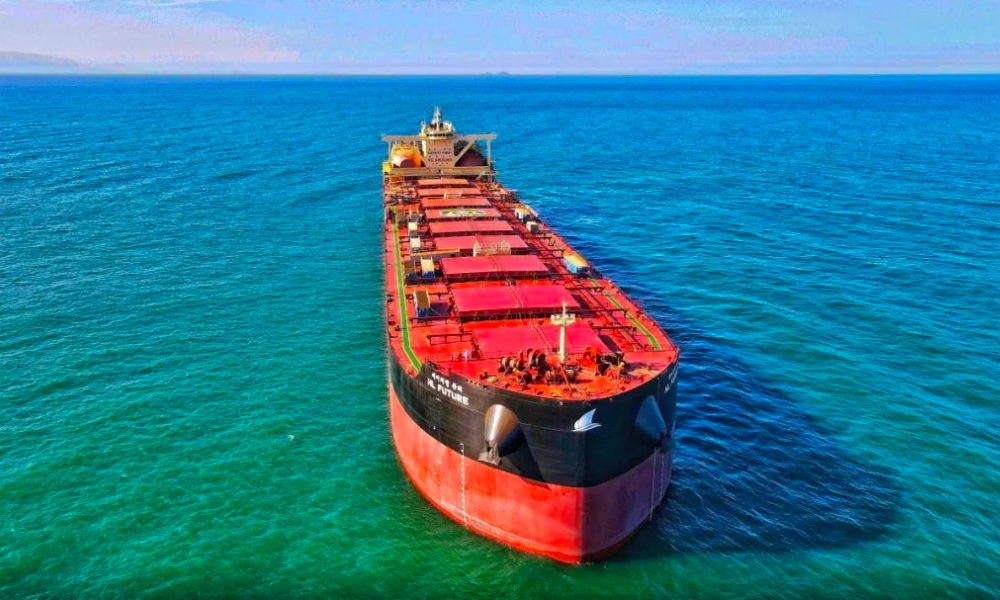 A LNG dual-fuel bulk carrier built by China State Shipbuilding Corporation (CSSC) subsidiary Qingdao Beihai Shipbuilding Heavy Industry Co., Ltd. (BSIC) successfully completed a sea trial on Sunday (8 October).
The 210,000-tonne ship was the first of a series of three ships built by BSIC for South Korea's H-Line.
It is equipped with two 3000 cubic metres (m³) LNG tanks, dual-fuel main engines, generators and high- and low-pressure dual-fuel systems.
During the trial, the shipowner, ship inspector, shipyard, and service providers worked together, made arrangements, and successfully completed a number of gas tests such as main engine oil and gas conversion, main engine gas cutoff, and gas mode.
On the same day, another 210,000-tonne bulk carrier built by BSIC for CITIC Financial Leasing and Zhejiang Xiehai Group was sent off for sea trials as well.
Disclaimer: The above article published by Manifold Times was sourced from China's domestic market through a local correspondent. While considerable efforts have been taken to verify its accuracy through a professional translator and processed from sources believed to be reliable, no warranty is made regarding the accuracy, completeness and reliability of any information.
Photo credit: China Association of the National Shipbuilding Industry
Published: 11 October, 2023
KPI OceanConnect, Titan, and SFL join forces on milestone LNG bunkering operation
Trio collaborated to successfully complete the first LNG bunkering operation for SFL's newly built car carrier, "Emden", in Port of Emden.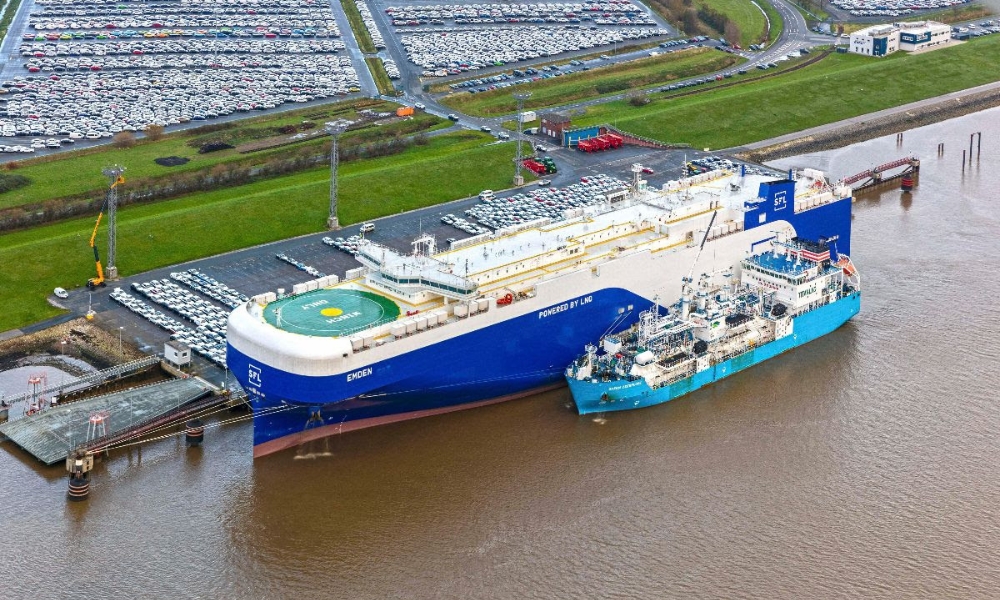 KPI OceanConnect, on Tuesday (5 December) said it has collaborated with Titan Clean Fuels, and shipowner SFL to successfully complete the company's first LNG bunkering operation for the newly built car carrier, Emden, taking place in the Port of Emden.
Michael Schaap, Commercial Director, Titan, said: "Demand for LNG is rising as it is becoming a mainstream fuel since it is widely available today and enables ship operators to reduce emissions now. This operation highlights our commitment to consistently serve our clients as a trustworthy provider of cleaner fuels and we look forward to continuing to enhance our LNG and bio-LNG bunkering capabilities as the market grows, enabling us to supply (bio)LNG to even larger vessels."
Jesper Sørensen, Global Head of Alternative Fuels and Carbon Markets, KPI OceanConnect, said: "We are incredibly proud of the trust displayed in us by a forward-thinking owner such as SFL, and delighted to have partnered with a world-class supplier, Titan, to complete this supply of 3,000 CBM of LNG. This significant achievement underscores KPI OceanConnect's unwavering commitment to supporting the growing role of LNG in the shipping industry's energy transition. The operation marks our inaugural LNG deal for a car carrier – testament to the company's dedication to advancing sustainability through partnerships up and down the supply chain."
"Partnership plays a key role, not just in the development of future alternative fuels, but also in the delivery of those already available in the market. Cooperation between fuel providers and buyers in the market is essential to supporting capacity growth and, crucially, immediately reducing greenhouse gas emissions from the industry."
Photo credit: KPI OceanConnect
Published: 6 December, 2023
DNV: Addressing methane slip in LNG-burning four-stroke Otto-cycle engines
DNV discusses LNG and methane slip in a Maritime Impact report and elaborates on its role in several projects aiming to minimize methane slip.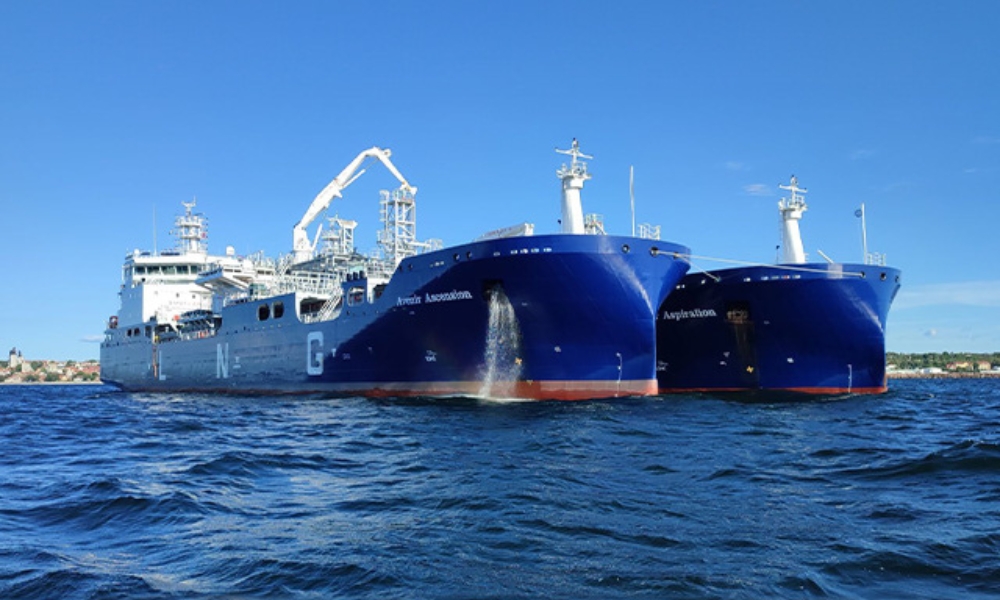 Classification society DNV on Monday (27 November) released a Maritime Impact report on discusses LNG and methane slip and DNV's role in several initiatives to minimize it. The following is an excerpt from the article:
LNG offers many benefits as a transitional ship fuel. However, certain engine types have been found to release significant amounts of unburnt methane, a powerful climate gas. DNV is involved in various projects aiming to minimize methane slip.
Methane, the main component of natural gas and LNG, has a global warming potential (GWP) 29.8 times that of carbon dioxide (CO2) over a 100-year timeframe, according to the Intergovernmental Panel on Climate Change (2021). Preventing methane from escaping anywhere along its supply chain is therefore crucial as the world tries to contain the causes of climate change.
New EU regulations increase pressure to reduce methane slip
LNG-fuelled four-stroke Otto-cycle engines, which are often used for gensets on board passenger ships, have been found to release significant amounts of unburnt methane, leading to CO2-equivalent emission values that compromise what is achieved through other carbon reduction efforts.
The shipping sector will be incorporated into the EU's Emissions Trading System (ETS) from 2024. This expansion will encompass methane and nitrous oxide emissions starting in 2026. Additionally, the FuelEU Maritime requirements for the GHG intensity of energy utilized on board will come into effect in 2025. Consequently, the shipping industry is keenly interested in addressing methane slip issues.
LNG's long-term zero emissions potential hinges on methane slip reduction
"Many think of LNG as a transitional fuel only, but it can also be much more than this," says Hans Eivind Siewers, Segment Director Passenger Ships and RoRo at DNV. "But in order for this fuel to take passenger ships all the way to zero emissions with bio LNG and e-LNG, it is of major importance that we succeed in reducing methane slip."
Fabian Kock, Head of Section Environmental Technologies Air at DNV, agrees: "Methane slip is indeed a critical issue for addressing climate change. DNV is actively working with many stakeholders and regulators to find pragmatic solutions to overcome this challenge. In particular we are happy to work closely together with the engine designers to find technical solutions which are safe and feasible to be installed on board of ships."
GREEN RAY industry initiative addresses methane slip
One major initiative dedicated to reducing methane slip from LNG ship engines is the EU HORIZON project GREEN RAY (new GeneRation marinE ENgines and Retrofit solutions to Achieve methane abatement flexibilitY). Launched in June 2022 under the leadership of the VTT Technical Research Centre of Finland, it aims to establish sound scientific data about methane slip from four-stroke LNG-fuelled engines by conducting on-board exhaust gas measurements, and to promote the development of methane abatement technologies.
The project consortium includes the Finnish Meteorological Institute, Shell Global Solutions, Wärtsilä, MSC, CMA Ships, Chantiers de l'Atlantique, DNV and a number of other stakeholders. A report will summarize the findings after the project ends in 2027.
Focus on engine optimization and exhaust gas aftertreatment
The engine manufacturer Wärtsilä has been conducting research and development on engine modifications to radically reduce methane slip, including efforts to optimize engine design and control. VTT researchers studied methane emissions from two Wärtsilä 31DF engines on the AURORA BOTNIA. One used standard configuration, the other tested new combustion. Results show reduced methane emissions and potential for overall emission cuts for the modified engine.
Shell is developing methane absorption and catalytic conversion technologies for exhaust gas aftertreatment. The role of DNV in the GREEN RAY project will be to witness exhaust gas measurements, verify piping and materials as well as installation, and develop and update its class rules related to emission reduction with the option to introduce a dedicated class notation. Furthermore, DNV will provide know-how and review solution proposals.
MAN takes a two-pronged approach
There are similar initiatives beyond the GREEN RAY project, as well. MAN Energy Solutions SE has been exploring ways to optimize its own engine technology to minimize methane slip. The company's R&D into engine optimization is well advanced and integrated into every new four-stroke ship engine MAN delivers, says Dr Mathias Moser, Head of Technology and Exhaust Aftertreatment at MAN Energy Solutions SE.
"We optimize the mechanical components to minimize crevice volumes in the cylinder and we adapt the compression ratio towards improved combustion," he explains. "Furthermore, we fine-tune engine control parameters such as injection timing, pilot-fuel amount, supercharge pressure, ignition timing, valve timing and combustion temperature. Most of these improvements can be implemented as retrofits to existing engines, as well. These engine-based measures alone can reduce methane emissions significantly so the updated engines will comply with future, tighter restrictions."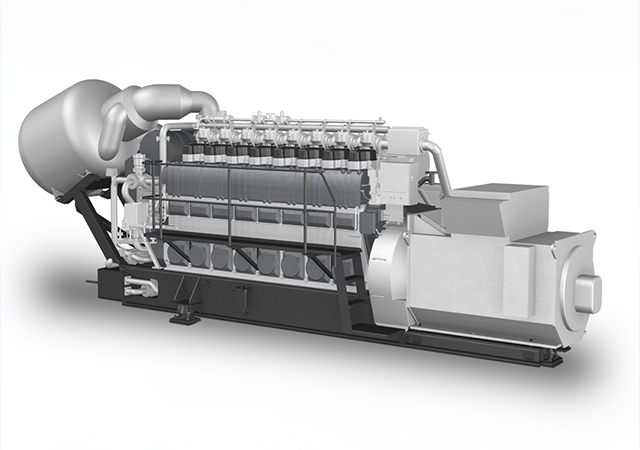 Note: DNV's full Maritime Impact report on 'Addressing methane slip in LNG-burning four-stroke Otto-cycle engines' can be found here.
Photo credit: MAN Energy Solutions, Avenir LNG
Published: 6 December, 2023
RINA and partners to develop LNG production and bunkering concept in Port Hedland
PCF, Oceania and RINA have agreed to collaborate to develop an 'end-to-end' low-carbon profile LNG production and marine vessel bunkering capability concept for the port of Port Hedland.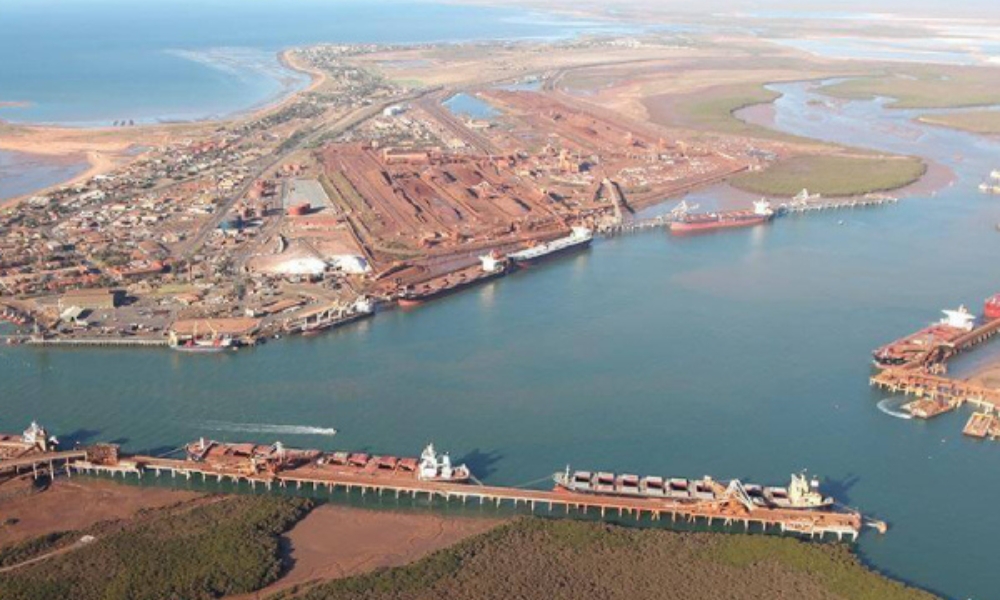 Classification society RINA on Wednesday (29 November) said it entered into a Memorandum of Understanding (MoU) with Pilbara Clean Fuels Pty Ltd (PCF) and Oceania Marine Energy.
Under the terms of the MoU, PCF, Oceania and RINA have agreed to collaborate to develop an 'end-to-end' low-carbon profile LNG production and marine vessel bunkering capability concept for the port of Port Hedland.
RINA said Pilbara Clean Fuels Pty Ltd is progressing a development concept for a new, mid-scale, low carbon footprint LNG plant to be located at Port Hedland in Western Australia, the world's largest iron ore export port.
The project will provide an Australian LNG fuel supply capability through a new facility for the conversion of pipeline natural gas to LNG, responding to market demand for cleaner marine bunker fuel for dry-bulk iron ore carriers operating 'round-trip' voyages between the Pilbara and Asia.
Market studies show increasing worldwide adoption of LNG as a marine fuel, with supply availability one of the key drivers. The base-case plant capacity is 0.5 Mtpa, with market analysis for Port Hedland alone (not counting other major Pilbara ports) indicating potential demand of 1.0 Mtpa by 2030.
A key feature of the project is an electrified plant with outsourced power supplied predominantly from renewable sources. The design intent is to significantly reduce Scope 1 and Scope 2 emissions compared to conventional LNG plants. Thereby providing an ability for round-trip voyages bunkering in Port Hedland to achieve substantially lower overall GHG life-cycle emissions than other options.
The LNG re-fuelling concept is based on ship-to-ship bunkering of vessels while at anchor off Port Hedland.
Oceania Marine Energy is developing a LNG marine fuel bunkering service capability based on the charter, ship management and operation of purpose-designed LNG bunker vessels. The vessels are to be provided by Norwegian ship-owner Kanfer Shipping.
RINA also said it was developing a concept for a new 209,000 DWT 'Newcastlemax' dry-bulk ship design with an innovative LNG marine fuel system involving pre-combustion carbon removal and hydrogen production, with the objective of meeting and exceeding IMO 2050 emissions reduction marine vessel Carbon Intensity Index (CII) objectives.
The RINA fuel system concept involves the capture, onboard storage and offloading of liquefied carbon dioxide or solid carbon at loading or discharge ports for onshore handling, monetisation or disposal. The concept provides a credible line-of-sight pathway to 'zero emissions' for the application of LNG as a marine fuel.
"By solving the historic criticism of LNG as being only a 'transition fuel', rather than having a long-term future as a 'zero emissions' fuel, this solution is likely to be welcomed by the marine engineering community due to the extensive maritime operational experience of LNG and its known safe handling characteristics," it said.
The trio noted that the Pilbara to Asia dry-bulk trade route is particularly suited for early adoption of the pre-combustion carbon removal and hydrogen production onboard concept due to proposed availability of low carbon intensity LNG bunkering at Port Hedland, along with an ability for offloading carbon dioxide or solid carbon and a variety of monetisation or disposal options.
PCF Managing Director, Robert Malabar, said: "Along with our existing partners Oceania, we are delighted to have formed the new collaborative relationship with RINA. The partnership has the ability to demonstrate an attractive commercial development strategy to meet not only the immediate needs of IMO 2030 emissions compliance, but the engineering step-change needed to create a practical path to IMO 2050 net-zero emissions objectives. We know the maritime community is happy with LNG as a marine fuel. We believe the outcome of the studies should provide compelling argument in support of the Western Australian Government's May 2020 announcement to "Create an International LNG Fuelling Hub in the Pilbara".
Oceania Managing Director, Nick Bentley, said: "Oceania, PCF, and now collaboration with RINA, heralds the beginning of a new decarbonisation initiative in Western Australia, enabling a much-needed lower-carbon fuel source for shipping. The Oceania and PCF collaboration is aimed at providing a supply capability for low-carbon footprint LNG, for the first time available on-route to the Australia - Asia iron ore shipping fleets. RINA adds to that with new ship and fuel system design enabling LNG to be viewed as a potential future zero-emissions marine fuel."
"Together we are excited to participate in developing Australia's primary green corridor for shipping, supporting significant emission reductions in the short term, and in the future, for a maritime trade route critically important to Western Australia's economy."
RINA Marine Consulting Executive Vice President, Massimo Volta, said: "The combined knowledge and expertise of PCF, Oceania and RINA will allow a comprehensive approach to the project, rather than to the single phases, that will actually maximise the emissions reduction effort."
"The shipping industry is living a time of uncertainty that still requires immediate investments. Port Hedland is the world's biggest iron ore export point and providing such system with a solution that allows a more flexible transition while achieving IMO 2050 targets with an existing fuel will be a massive contribution to the path to West Australia green corridor."
Manifold Times previously reported Oceania Marine Energy signed an exclusive MoU with PCF on 19 December 2022 to facilitate collaboration to provide a 'low-carbon footprint' LNG production and marine bunkering capability at Port Hedland.
Related: Oceania Marine Energy and Pilbara Clean Fuels sign MoU for LNG marine fuel bunkering
Photo credit: RINA
Published: 30 November, 2023