WinGD to supply methanol-fuelled engines for six containerships 
WinGD will provide X‑DF‑M methanol-fuelled engines for a series of six 9,000 TEU container vessels to be built at Yangzijiang Shipbuilding in China.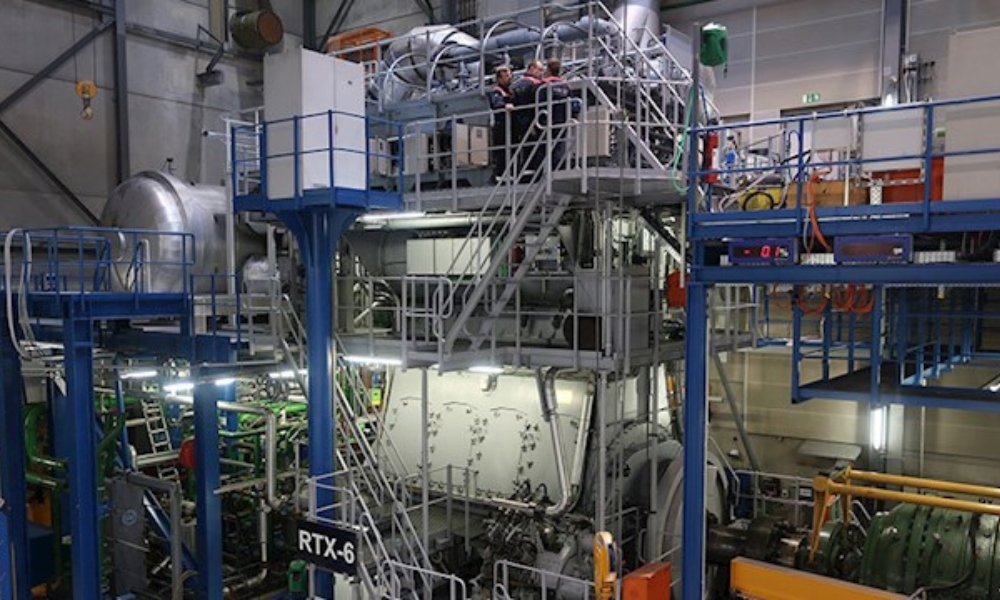 Swiss marine power company WinGD on Monday (20 November) said it will supply X‑DF‑M methanol-fuelled engines for a series of six container vessels to be built at Yangzijiang Shipbuilding in China.
The 9,000 TEU vessels will each be powered by an X82DF‑M engine built by HD Hyundai Heavy Industries' Engine & Machinery Division (HHI-EMD), to be delivered in August 2025.
The new order, which includes options for further engines, expands WinGD's methanol engine orders into the 82-bore size. As announced previously, early interest in the X92DF‑M resulted in an order for four engines to power ultra-large container vessels being built for COSCO SHIPPING LINE.
Volkmar Galke, Director Sales, WinGD, said: "This order confirms that our X‑DF‑M engines will be in service long before green methanol is widely available and before regulatory requirements come into force, giving operators time to build experience with the new fuel and engines. We are delighted that one of the biggest and most influential container lines has also invested in our X‑DF‑M technology, sending a strong signal to all operators currently making their own alternative fuel decisions."
Both X‑DF‑M and ammonia-fuelled X‑DF‑A engines will be available for delivery from Q1 2025. The combustion principle and engine platform deployed for X‑DF‑M engines is based on the latest X‑Engines from WinGD, supplemented by high-pressure methanol injection. X‑Engines, including the highly efficient X92‑B and X82‑2.0 engine, already power many of the world's biggest container ships.
Notable features of X‑DF‑M engines include comparable performance with X‑Engines in both methanol and diesel modes, low pilot fuel requirements achieved through precisely controlled common rail injection, and NOx Tier III compliance in both modes with selective catalytic reduction. The new engine concept will be retrofittable to the X‑Engine series as soon as X‑DF‑M engines are available in the relevant bore sizes.
The new vessel series will enter service in 2026 and 2027.
Related: WinGD to deliver methanol engines for COSCO SHIPPING Lines container vessels
Photo credit: WinGD
Published: 21 November, 2023
DNV paper outlines bunkering of alternative marine fuels for boxships
Third edition of its paper series focuses on LNG, methanol and ammonia as alternative bunker fuel options for containerships; explores bunkering aspects for LNG and methanol.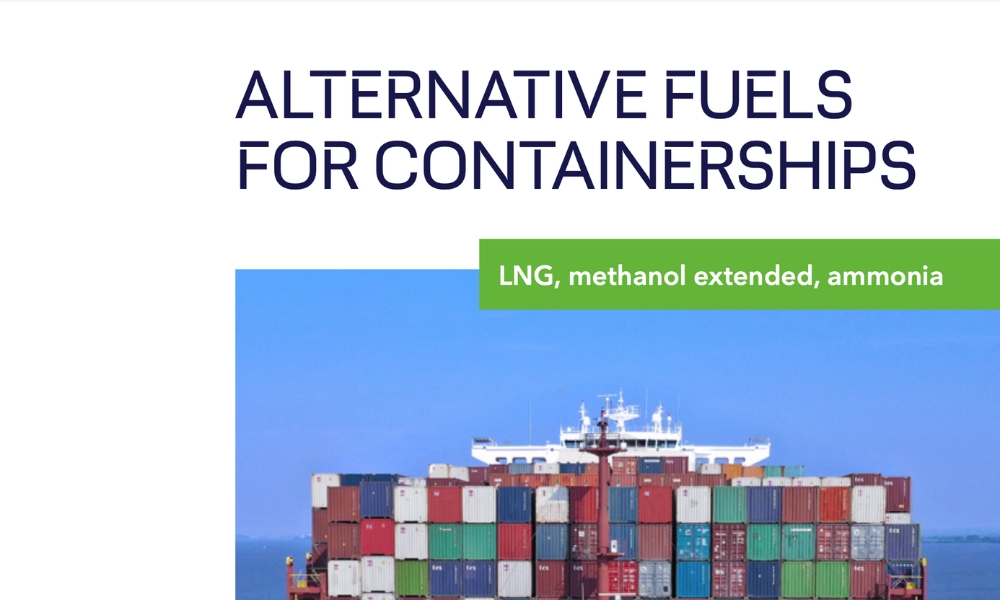 Classification society DNV recently released the third edition of its paper series Alternative fuels for containerships, focused on LNG, methanol and ammonia as alternative bunker fuel options for containerships.
In its updated paper series, DNV examined the different alternative marine fuel options and provided an overview of the most important technical and commercial considerations for the containership sector.
It explored the bunkering technology for LNG, bunkering infrastructure for methanol, and availability and infrastructure of ammonia.
Building on the foundation laid in the second edition, which focused on the most important aspects of methanol as a fuel, this latest third edition delves deeper – exploring the technical intricacies and commercial considerations associated with adopting methanol as an alternative fuel for containerships.
Furthermore, it provides an overview of crucial aspects related to ammonia and discusses its potential as an alternative fuel for containerships.
Amongst others, the new edition of the paper looks at the following aspects:
Technical design considerations for methanol
Commercial implications of adopting methanol as an alternative fuel
Ammonia's potential as an alternative fuel
Availability, infrastructure and ship fuel technology for ammonia
Major updates based on the latest IMO GHG strategy decisions at the MEPC 80 meeting
Note: The third edition of DNV's full paper titled Alternative Fuels for Containerships can be found here.
Related: DNV paper outlines bunkering infrastructure of alternative fuels for boxships
Photo credit: DNV
Published: 29 November, 2023
MAN ES announces MAN 175D methanol dual-fuel engine will be available by 2026
Dual-fuel version of MAN 175D high-speed engine, capable of operating on methanol, will be available by the end of 2026; will be available both as newbuild and retrofit variants.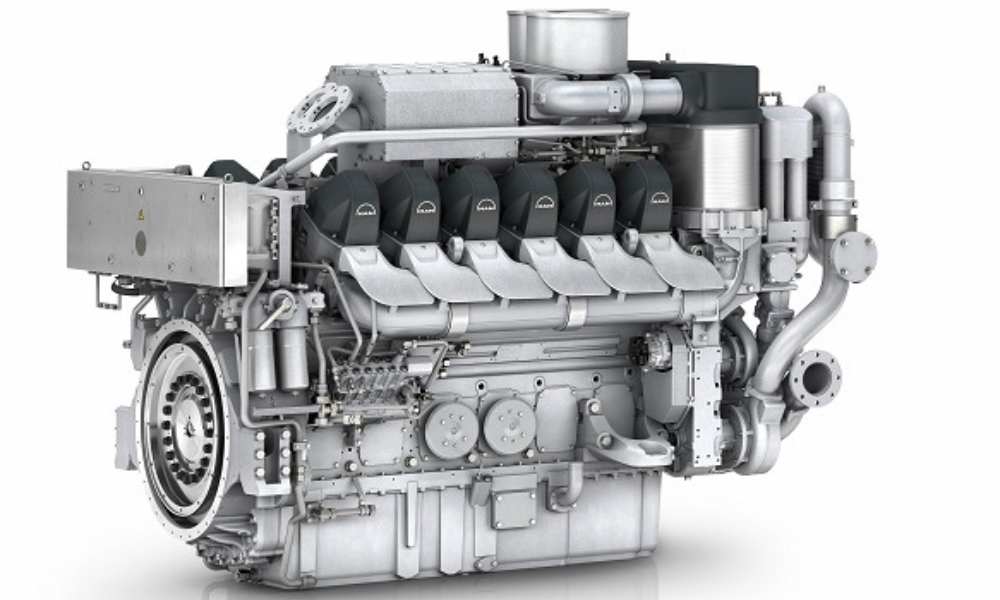 MAN Energy Solutions on Monday (27 November) announced that a dual-fuel version of its MAN 175D high-speed engine, capable of operating on methanol, will be available by the end of 2026.
The new variant, designated MAN 175DF-M, will be available both as newbuild and retrofit variants.
MAN Energy Solutions states that the 175DF-M will be optimised for diesel-mechanical and diesel-electric propulsion to achieve the largest methanol share and best efficiency for various applications and load profiles. In fact, the engine has already been awarded the 'fuel ready' certificate by DNV, guaranteeing the introduction of this dual-fuel methanol technology.
"The 175D engine is MAN Energy Solutions' latest addition to the high-speed maritime sector and is, as such, one of the pillars of its efforts to develop a methanol-ready engine portfolio as the demand for such technology has rapidly been increasing of late," the firm said in a statement.
With its success in achieving series-approval for its two-stroke engines, MAN Energy Solutions said it has used this experience to develop an optimised solution for its four-stroke engines, including successful single-cylinder testing. As such, the results of these efforts will fuel the upcoming development and validation of the dual-fuel PFI (Port Fuel Injection) technology for its methanol-ready 175D engine.
Florian Keiler, Head of High Speed, MAN Energy Solutions, said: "The MAN 175D has proven to be very competitive in terms of sustainability and efficiency with the lowest fuel consumption, lowest lube-oil consumption and longest overhaul times in its class, minimising its environmental footprint. In terms of future fuels, the next logical step, apart from being able to run on 100% bio-fuels, is to ensure methanol combustion."
"Based on numerous exchanges with customers, we came to the conclusion that the dual-fuel principle, reliability, efficiency, a high methanol share, competitive life-cycle costs and maximum achievable output were key requirements for the 175DF-M's development. Therefore, after conscientious investigation and consideration, we settled upon the PFI combustion technology as the most favourable. Fundamental combustion development will start in 2024, leading up to a first field-test of the methanol engine in 2026. The MAN 175DF-M engine will subsequently be ready for sales release at the end of 2026."
MAN Energy Solutions believes that PFI is the most advanced technology currently available. Its development targets a highest methanol share over a wide power range while achieving the highest cylinder output in its high-speed engine class. In particular, optimisation for diesel-electric multi-engine plants will allow operation of the engines at an optimal load point achieving the highest methanol share. As result, when using biofuels, the MAN 175DF-M's carbon footprint will be reduced to zero while retaining full fuel-flexibility for operation anywhere in the world.
Photo credit: MAN Energy Solutions
Published: 28 November, 2023
Maersk and China-based Goldwind sign landmark green methanol bunker fuel offtake deal
Long-term agreement for annual volumes of 500KT will enable low carbon operations for the first 12 large methanol-enabled Maersk vessels on order; first volumes expected in 2026.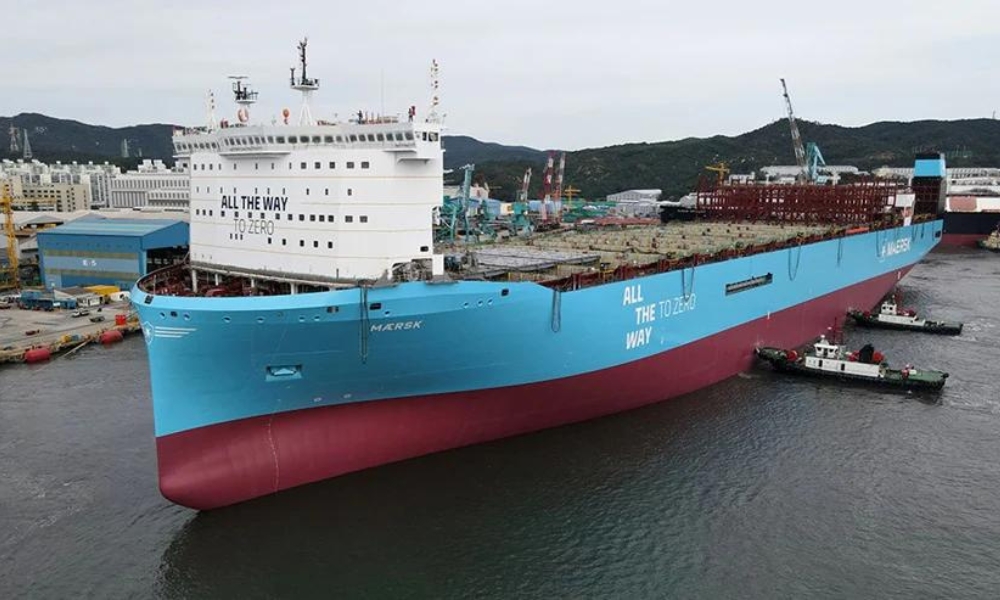 A.P. Moller - Maersk on Wednesday (22 November) said it signed a deal with Chinese clean energy firm Goldwind, marking the first large scale green methanol offtake agreement for the global shipping industry.
The commercially viable long-term offtake agreement for annual volumes of 500KT will enable low carbon operations for the first 12 large methanol-enabled Maersk vessels on order. The first volumes are expected in 2026.
Rabab Raafat Boulos, Chief Infrastructure Officer at A.P. Moller - Maersk, said: "This deal is a milestone for Maersk as it enables us to significantly reduce our emissions footprint in this decade and stay aligned with the 1.5-degree Celsius trajectory as set out in the Paris Agreement, ensuring continued supply of low carbon shipping services to our customers in the second half of this decade."
"We are encouraged by the agreement because its scale and price confirm our view that green methanol currently is the most viable low-emission solution for ocean shipping that can make a significant impact in this decade. The deal is a testament to the momentum and vast efforts we see among ambitious developers driving projects forward across geographies, however, we still have a long way to go in ensuring a global green fuels market that can enable the decarbonisation of global shipping."
A.P. Moller - Maersk aims to reach net-zero greenhouse gas emissions by 2040 across its business. The deal significantly de-risks the initial stages of Maersk's net-zero journey and supports expectations for a competitive green methanol market towards 2030. The record-high volumes can annually propel more than half the methanol-enabled capacity Maersk currently has on order.
Wu Gang, Chairman, Goldwind, said: "Goldwind respects Maersk as a pioneer in the field of maritime green fuel and we are excited to jointly promote the green transition with Maersk."
"With this project, Goldwind will continue to explore the innovative application of new technologies, pursue the organic combination of green electricity and green fuel production, and optimise the production process of green methanol."
"Goldwind is committed to collaborating with companies involved in the green methanol industry, with the aim to make green methanol one of the most important and economically feasible clean maritime fuels in the future."
The volumes combine a mix of green bio-methanol and e-methanol, all produced utilising wind energy at a new production facility in Hinggan League, Northeast China, around 1,000km northeast of Beijing.
Production is expected to begin in 2026. Following this signed offtake agreement, Goldwind expects to confirm a final investment decision for the facility by the end of the year.
Maersk will take delivery of its first large ocean-going methanol-enabled vessel (16,000 TEU) in the first quarter of 2024 and is working on sourcing solutions with a broad range of global partners for the entire vessel series being delivered in 2024 to 2025.
Photo credit: A.P. Moller - Maersk
Published: 23 November, 2023