TotalEnergies Marine Fuels completes LNG bunkering ops of Angelicoussis VLCC duo
Firm said it recently completed its first LNG bunkering operations for two new, dual-fuel VLCCs owned by the Angelicoussis Group following bilateral short-term supply deals struck on the spot market.
TotalEnergies Marine Fuels on Wednesday (4 October) said it has recently completed its first liquefied natural gas (LNG) bunkering operations for two new, dual-fuelled vessels owned by the Angelicoussis Group following bilateral short-term supply deals struck on the spot market.
On 23 August 2023, TotalEnergies Marine Fuels supplied 2,700 metric tonnes (mt) of LNG to Maran Tankers Management's (MTM) Very Large Crude Carrier (VLCC), Maran Danae, via the Gas Agility LNG bunker vessel in Rotterdam.
This LNG bunkering operation followed the Gas Agility's supply of MTM's Dual-Fuel VLCC, Antonis I. Angelicoussis, with 2,700 mt of LNG in July. Antonis I. Angelicoussis is chartered to TotalEnergies.
Maran Danae and Antonis I. Angelicoussis are among four new dual-fuelled (DF) VLCCs that MTM, the oil tanker shipping arm of Angelicoussis Group, took delivery this year. The vessels emit 42% less carbon dioxide than an equivalent 10-year-old VLCC, which according to MTM, makes them the most environmentally friendly VLCCs in the world.
"We are pleased to build on our longstanding partnership with Maran Tankers Management and to support the Angelicoussis Group's decarbonisation goals with these inaugural LNG bunker operations," said Oğuz Önalan, General Manager of Bunker Trading and Operations for Europe and Africa, TotalEnergies Marine Fuels.
"Importantly, the operations demonstrate TotalEnergies Marine Fuels' ability to serve a broad spectrum of the market's needs promptly and flexibly through our supply network, whether by fulfilling long-term contracts or providing short-term market-sensitive solutions. We stand ready to serve the growing LNG bunker requirements of different vessel types in different circumstances, as the shipping industry's decarbonisation ambitions accelerate."
Mark Pearson, Managing Director of MTM, said: "Angelicoussis Group actively embraces the energy transition and adopts sustainable initiatives with the aim of decarbonising our fleet. Apart from constantly monitoring and optimising the energy efficiency of our current fleet, we also invest in the vessels of the future."
"The delivery of our first four LNG Dual-Fuel VLCCs and two LNG Dual-Fuel bulk carriers this year marks a milestone in our decarbonisation strategy. These deliveries, as well as the eight Dual-Fuel Suezmaxes which we have currently on order, reiterate our commitment to LNG as the best low-carbon marine fuel available."
"We strongly believe that cross-industry collaboration is key towards a greener future and we are delighted to have successfully completed the LNG bunkering operations of our Dual-Fuel VLCCs Antonis I. Angelicoussis and Maran Danae with the invaluable contribution of our longstanding partner, TotalEnergies Marine Fuels."
TotalEnergies Marine Fuels currently charters two 18,600-m³ LNG bunker vessels: Gas Agility, at the Port of Rotterdam, Netherlands, and Gas Vitality, at the Port of Marseille-Fos, France.
Since the start of TotalEnergies Marine Fuels' LNG bunkering operations in November 2020, the Gas Agility and the Gas Vitality have performed over 200 LNG bunkering operations.
Photo credit: TotalEnergies Marine Fuels
Published: 5 October, 2023
RINA and partners to develop LNG production and bunkering concept in Port Hedland
PCF, Oceania and RINA have agreed to collaborate to develop an 'end-to-end' low-carbon profile LNG production and marine vessel bunkering capability concept for the port of Port Hedland.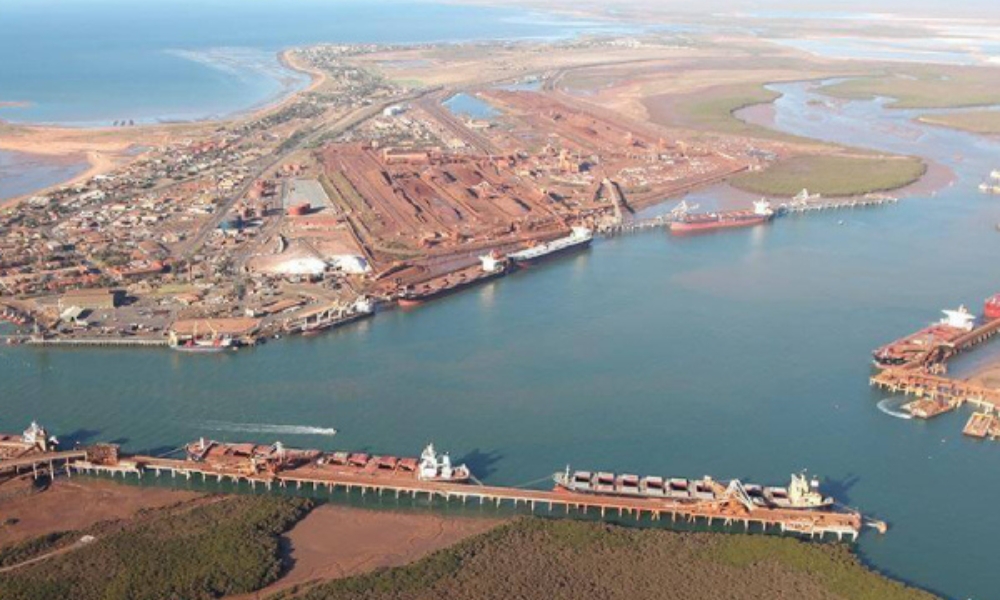 Classification society RINA on Wednesday (29 November) said it entered into a Memorandum of Understanding (MoU) with Pilbara Clean Fuels Pty Ltd (PCF) and Oceania Marine Energy.
Under the terms of the MoU, PCF, Oceania and RINA have agreed to collaborate to develop an 'end-to-end' low-carbon profile LNG production and marine vessel bunkering capability concept for the port of Port Hedland.
RINA said Pilbara Clean Fuels Pty Ltd is progressing a development concept for a new, mid-scale, low carbon footprint LNG plant to be located at Port Hedland in Western Australia, the world's largest iron ore export port.
The project will provide an Australian LNG fuel supply capability through a new facility for the conversion of pipeline natural gas to LNG, responding to market demand for cleaner marine bunker fuel for dry-bulk iron ore carriers operating 'round-trip' voyages between the Pilbara and Asia.
Market studies show increasing worldwide adoption of LNG as a marine fuel, with supply availability one of the key drivers. The base-case plant capacity is 0.5 Mtpa, with market analysis for Port Hedland alone (not counting other major Pilbara ports) indicating potential demand of 1.0 Mtpa by 2030.
A key feature of the project is an electrified plant with outsourced power supplied predominantly from renewable sources. The design intent is to significantly reduce Scope 1 and Scope 2 emissions compared to conventional LNG plants. Thereby providing an ability for round-trip voyages bunkering in Port Hedland to achieve substantially lower overall GHG life-cycle emissions than other options.
The LNG re-fuelling concept is based on ship-to-ship bunkering of vessels while at anchor off Port Hedland.
Oceania Marine Energy is developing a LNG marine fuel bunkering service capability based on the charter, ship management and operation of purpose-designed LNG bunker vessels. The vessels are to be provided by Norwegian ship-owner Kanfer Shipping.
RINA also said it was developing a concept for a new 209,000 DWT 'Newcastlemax' dry-bulk ship design with an innovative LNG marine fuel system involving pre-combustion carbon removal and hydrogen production, with the objective of meeting and exceeding IMO 2050 emissions reduction marine vessel Carbon Intensity Index (CII) objectives.
The RINA fuel system concept involves the capture, onboard storage and offloading of liquefied carbon dioxide or solid carbon at loading or discharge ports for onshore handling, monetisation or disposal. The concept provides a credible line-of-sight pathway to 'zero emissions' for the application of LNG as a marine fuel.
"By solving the historic criticism of LNG as being only a 'transition fuel', rather than having a long-term future as a 'zero emissions' fuel, this solution is likely to be welcomed by the marine engineering community due to the extensive maritime operational experience of LNG and its known safe handling characteristics," it said.
The trio noted that the Pilbara to Asia dry-bulk trade route is particularly suited for early adoption of the pre-combustion carbon removal and hydrogen production onboard concept due to proposed availability of low carbon intensity LNG bunkering at Port Hedland, along with an ability for offloading carbon dioxide or solid carbon and a variety of monetisation or disposal options.
PCF Managing Director, Robert Malabar, said: "Along with our existing partners Oceania, we are delighted to have formed the new collaborative relationship with RINA. The partnership has the ability to demonstrate an attractive commercial development strategy to meet not only the immediate needs of IMO 2030 emissions compliance, but the engineering step-change needed to create a practical path to IMO 2050 net-zero emissions objectives. We know the maritime community is happy with LNG as a marine fuel. We believe the outcome of the studies should provide compelling argument in support of the Western Australian Government's May 2020 announcement to "Create an International LNG Fuelling Hub in the Pilbara".
Oceania Managing Director, Nick Bentley, said: "Oceania, PCF, and now collaboration with RINA, heralds the beginning of a new decarbonisation initiative in Western Australia, enabling a much-needed lower-carbon fuel source for shipping. The Oceania and PCF collaboration is aimed at providing a supply capability for low-carbon footprint LNG, for the first time available on-route to the Australia - Asia iron ore shipping fleets. RINA adds to that with new ship and fuel system design enabling LNG to be viewed as a potential future zero-emissions marine fuel."
"Together we are excited to participate in developing Australia's primary green corridor for shipping, supporting significant emission reductions in the short term, and in the future, for a maritime trade route critically important to Western Australia's economy."
RINA Marine Consulting Executive Vice President, Massimo Volta, said: "The combined knowledge and expertise of PCF, Oceania and RINA will allow a comprehensive approach to the project, rather than to the single phases, that will actually maximise the emissions reduction effort."
"The shipping industry is living a time of uncertainty that still requires immediate investments. Port Hedland is the world's biggest iron ore export point and providing such system with a solution that allows a more flexible transition while achieving IMO 2050 targets with an existing fuel will be a massive contribution to the path to West Australia green corridor."
Manifold Times previously reported Oceania Marine Energy signed an exclusive MoU with PCF on 19 December 2022 to facilitate collaboration to provide a 'low-carbon footprint' LNG production and marine bunkering capability at Port Hedland.
Related: Oceania Marine Energy and Pilbara Clean Fuels sign MoU for LNG marine fuel bunkering
Photo credit: RINA
Published: 30 November, 2023
DNV paper outlines bunkering of alternative marine fuels for boxships
Third edition of its paper series focuses on LNG, methanol and ammonia as alternative bunker fuel options for containerships; explores bunkering aspects for LNG and methanol.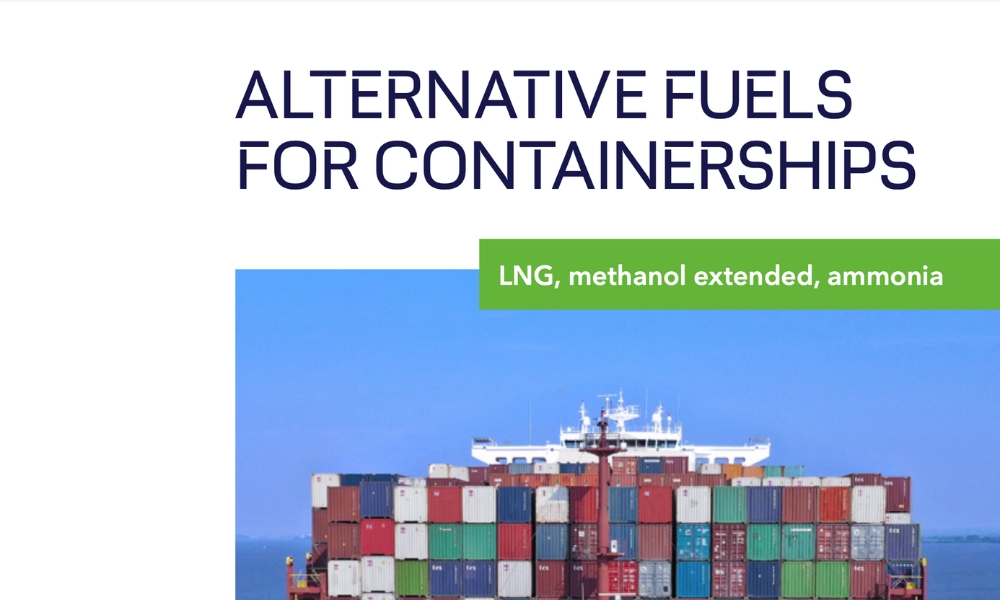 Classification society DNV recently released the third edition of its paper series Alternative fuels for containerships, focused on LNG, methanol and ammonia as alternative bunker fuel options for containerships.
In its updated paper series, DNV examined the different alternative marine fuel options and provided an overview of the most important technical and commercial considerations for the containership sector.
It explored the bunkering technology for LNG, bunkering infrastructure for methanol, and availability and infrastructure of ammonia.
Building on the foundation laid in the second edition, which focused on the most important aspects of methanol as a fuel, this latest third edition delves deeper – exploring the technical intricacies and commercial considerations associated with adopting methanol as an alternative fuel for containerships.
Furthermore, it provides an overview of crucial aspects related to ammonia and discusses its potential as an alternative fuel for containerships.
Amongst others, the new edition of the paper looks at the following aspects:
Technical design considerations for methanol
Commercial implications of adopting methanol as an alternative fuel
Ammonia's potential as an alternative fuel
Availability, infrastructure and ship fuel technology for ammonia
Major updates based on the latest IMO GHG strategy decisions at the MEPC 80 meeting
Note: The third edition of DNV's full paper titled Alternative Fuels for Containerships can be found here.
Related: DNV paper outlines bunkering infrastructure of alternative fuels for boxships
Photo credit: DNV
Published: 29 November, 2023
Fincantieri launches LNG dual-fuel cruise ship "Mein Schiff Relax"
Launch of "Mein Schiff Relax", the first of two InTUItion class new concept cruise ships LNG dual-fuel powered that Fincantieri is building for TUI Cruises took place at Monfalcone shipyard.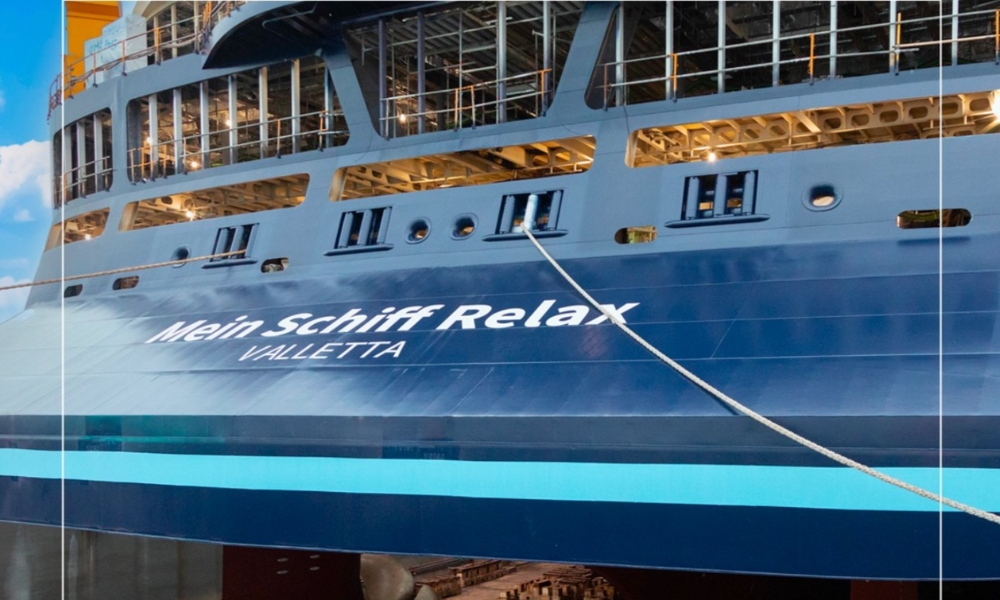 Italian shipbuilder Fincantieri on Tuesday (28 November) said the launch of Mein Schiff Relax, the first of two InTUItion class new concept cruise ships dual-fuel powered (Liquid Natural Gas - LNG and Marine Gas Oil - MGO) that Fincantieri is building for TUI Cruises, a joint venture between TUI AG and Royal Caribbean Cruises, took place at the Monfalcone shipyard.
The godmother of the ship was Elena Sperti, an employee of the shipyard.
With approximately 160,000 gross tonnes, these units will constitute the backbone of TUI Cruises' future fleet. The order is based on a prototype project developed by Fincantieri that enhances the consolidated characteristics of modernity and sustainability of TUI Cruises, a company with one of the most advanced fleets from an ecological point of view.
Energy efficiency is at the centre of the project, with the dual objective of containing operating consumption and minimising environmental impact, in line with all the most recent regulations on the matter. The ships will be able to use LNG bunker fuel. The vessels will be future-proof thanks to their ability to also burn low-emission fuels such as bio- or e-LNG: an important step towards climate-neutral cruising.
The units will also be equipped with catalytic converters (compliant with the Euro 6 standard) and with a generative turbine that uses the residual heat of the diesel generators and an electrical shore-power connection from the ground. All this guarantees almost emission-free operation while in port (about 40% of operating time). Finally, the ships will be equipped with an even more efficient innovative waste treatment system capable of transforming organic substances into charcoal through a thermal process.
TUI Cruises is a joint venture between the TUI Group, number one in the world in the tourism sector, and the cruise group Royal Caribbean Cruises Ltd. The company was founded in April 2008, based in Hamburg. Since May 2009 it has been offering cruises for the German-speaking market.
Photo credit: Fincantieri
Published: 29 November, 2023