Interview: Lloyd's Register and Methanol Institute explain methanol bunkering technical reference
Chris Chatterton and Douglas Raitt discuss the growth in interest of methanol as a marine fuel and how the guidance can support further and faster adoption of methanol as bunker fuel.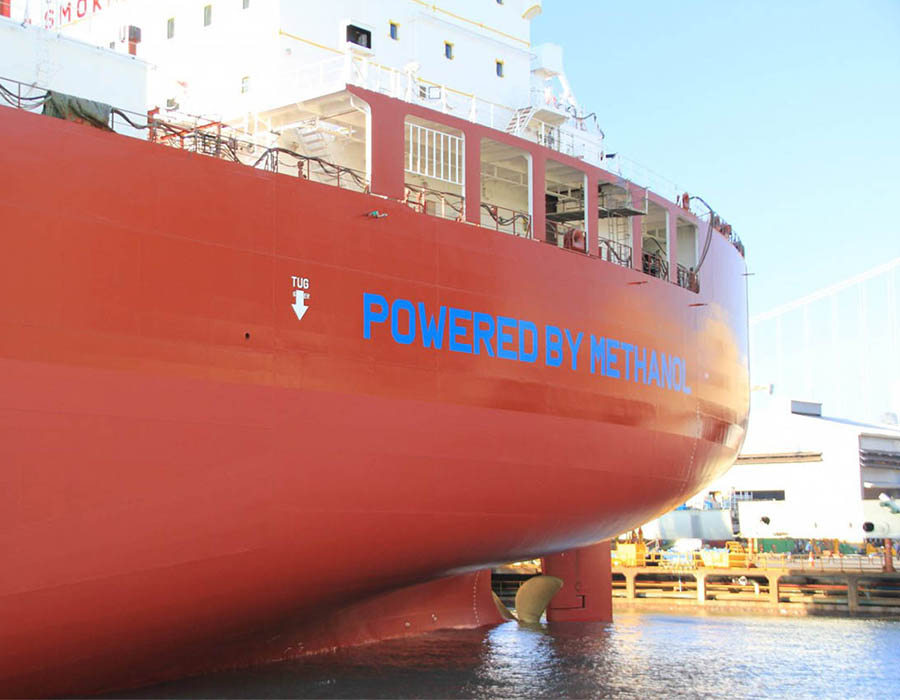 Methanol Institute (MI) and Lloyd's Register (LR) have recently released a bunkering technical reference to provide owners, fuel suppliers and port authorities with practical guidance on the safe bunkering of methanol as a marine fuel.
Singapore bunkering publication Manifold Times had a chance to catch up with Chris Chatterton of MI and Douglas Raitt, Global FOBAS Manager, LR in an email interview to discuss the growth in interest of methanol as a marine fuel and how this guidance can support further and faster adoption.
MT: By how much has the use of methanol as bunker fuel grown through the last five years, and how did it happen?
MI: From a standing start roughly five years ago, there are now 12 vessels currently trading on methanol internationally with about the same number scheduled for delivery in 2021-2022.
MT: What kind of methanol marine fuel projects are currently conducted at various countries? 
MI: There have been numerous projects trialling methanol to varying degrees over the past 5 years, by leading engine OEMs, research institutions and private organisations. Currently there are two, notable European pilot projects being conducted: Green Maritime Methanol and Fastwater.
MT: Apart from methanol carriers, which other vessel segments will be ideal candidates to use methanol as bunkers during the initial stage of adoption and why? 
MI: It is difficult to say which vessel segment could be prioritised as "ideal", as much depends on how often they may prefer to bunker and proximity to major methanol hubs, how much fuel they would need to carry, amount of time spent in ECAs and many other factors.
Many smaller vessels which may have difficulty fitting a scrubber or gas infrastructure to their vessel may find methanol to be a more suitable, step-change solution.  We have demonstrated the benefits of blending Low levels of methanol in HFO with extremely good emissions reduction results on larger vessels.
Short sea shipping, feeder vessels, ferries, cruise and harbour craft which call to port or can more actively manage their bunker requirements are all good candidates as bunkering methanol is simple, not requiring any more time than MGO.
OSVs could benefit as many carry methanol on board as part of their "tool chest" for down hole applications and as a solvent.
For these types of vessels, we have a range of successful retrofit pilots which we can draw experience from.
For other vessel types and because methanol is liquid at ambient temperature, it is possible to design 'fit for purpose' tanks either above or below deck, as storage represents the largest hurdle to overcome.  However, we are currently working on more standardised methanol dual fuel designs for such purpose, together with major yards, OEMs, and shippers.
MT: Which locations are methanol available for purchase as fuel and what are the current options for its delivery? 
MI: Methanol is widely available at over 120 ports globally and can be provided as a bunker with little difficulty, either from a stationary site at berth or ship-to-ship.
MT: Methanol and its low flash point. What can be done about this for safe bunkering/handling/consumption as a vessel fuel? 
LR: The use of methanol as fuel falls under the International Code of Safety for Ships Using Gases or Other Low-flashpoint Fuels (IGF Code). Of course there is a need for more bespoke bunkering procedures with regards to methanol bunkering, hence LR's initiative with the Methanol Institute to develop a methanol bunkering technical reference with associated bunker delivery mode operational safety checklists. It is our hope this will facilitate the wider recognition of methanol as a bunker, by raising the awareness of methanol as one of the fuels and viable solutions in assisting the shipping industry along its charted decarbonisation trajectory.
MT: Any changes to equipment of bunker tankers and consumer vessels when using methanol as bunker fuel? 
LR: The IMO's Interim Guidelines for Methanol as a Low Flash Point Fuel outlines specific safety features of handling methanol on-board a vessel, which are non-exhaustive. The fuel delivery system is where the main differences can be found - beginning with fuel tanks which may require to be larger, or more of them, to accommodate more fuel to compensate for a lower energy equivalency versus MGO or HFO. The alternative to larger tanks may be to bunker more often.
However, as methanol is a liquid at ambient temperature, tank capacity can be flexibly installed on-board most vessel types and generally requires less space than gas-ready vessels. From here, double-walled, nitrogen-inerted piping will move fuel to higher pressure fuel pumps or fuel booster injector valve units as the system requires to move twice as much fuel, on a volumetric basis, again due to methanol's lower energy density.
In the event a leak or breach of any kind is detected, sections of the fuel delivery system are automatically sealed off, with any remaining fuel in the fuel lines safely purged by nitrogen, along with gravity, to a separate holding tank. As methanol is a more aggressive product, robust material compatibility requirements can be identified on critical equipment within the fuel delivery system and common rail.
The common rail itself undergoes some slight modifications to include pilot fuel delivery, valve sealant oil delivery, and methanol purge lines - all connecting to multi-purpose injectors, whether new build or retrofit.
A bunker vessel could easily operate on methanol as well, with the same basic systems and safety procedures in place as above. Once all safety and material compatibility aspects for low flash point fuel are taken into consideration, the physical bunkering of methanol is not substantially different than bunkering MGO.
MT: What is calorific value of methanol versus traditional IMO compliant marine VLSFO/ULSFO fuels? 
LR: The calorific value of methanol is about half of the calorific value of diesel oils and residual fuels, also the density of methanol is lower than for diesel oils and residual fuels. Therefore, the bunker storage system could be up to double that of conventional IMO compliant fuels and distillates, if the same vessel range was maintained.  However, since it is assumed two fuels or more would be stored on board, with the sum total tank capacity on an energy equivalent basis for the required range, in between bunkering operations.
MT: Do you foresee any issue of off spec, compatibility, stability issues of using methanol as fuel? Are there such things as different types of methanol and can they be blended/mixed together without issues? 
LR: Methanol is a pure product (>99.85% purity), it readily dissolves in water and is bio-degradable. Methanol from different sources can readily be mixed and do not pose any compatibility or stability related issues. The likelihood of methanol being off-specification is non-existent and as such testing as we know it with conventional IMO compliant bunkers will not be required in the case of methanol.
Related: Lloyd's Register and Methanol Institute launch methanol bunkering technical reference
Photo credit: Methanol Institute
Published: 2 September, 2019
DNV paper outlines bunkering of alternative marine fuels for boxships
Third edition of its paper series focuses on LNG, methanol and ammonia as alternative bunker fuel options for containerships; explores bunkering aspects for LNG and methanol.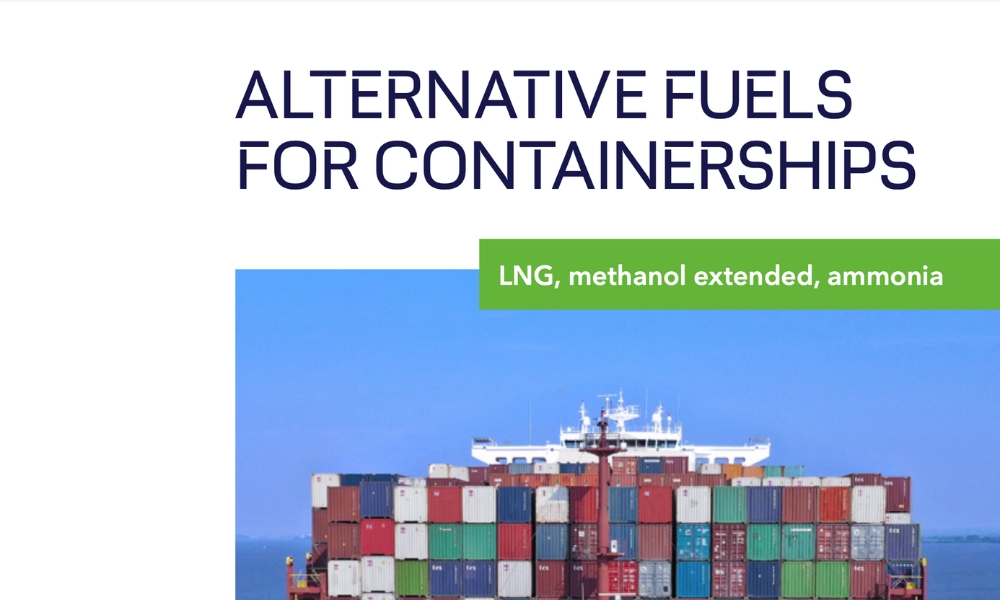 Classification society DNV recently released the third edition of its paper series Alternative fuels for containerships, focused on LNG, methanol and ammonia as alternative bunker fuel options for containerships.
In its updated paper series, DNV examined the different alternative marine fuel options and provided an overview of the most important technical and commercial considerations for the containership sector.
It explored the bunkering technology for LNG, bunkering infrastructure for methanol, and availability and infrastructure of ammonia.
Building on the foundation laid in the second edition, which focused on the most important aspects of methanol as a fuel, this latest third edition delves deeper – exploring the technical intricacies and commercial considerations associated with adopting methanol as an alternative fuel for containerships.
Furthermore, it provides an overview of crucial aspects related to ammonia and discusses its potential as an alternative fuel for containerships.
Amongst others, the new edition of the paper looks at the following aspects:
Technical design considerations for methanol
Commercial implications of adopting methanol as an alternative fuel
Ammonia's potential as an alternative fuel
Availability, infrastructure and ship fuel technology for ammonia
Major updates based on the latest IMO GHG strategy decisions at the MEPC 80 meeting
Note: The third edition of DNV's full paper titled Alternative Fuels for Containerships can be found here.
Related: DNV paper outlines bunkering infrastructure of alternative fuels for boxships
Photo credit: DNV
Published: 29 November, 2023
EDF, LR and Arup launch tool scoring ports' potential to produce and bunker electrofuels
Tool is also applied to three different port scenarios, including ports exploring fuel production and bunkering, ports exploring fuel exports, and ports exploring fuel imports and bunkering.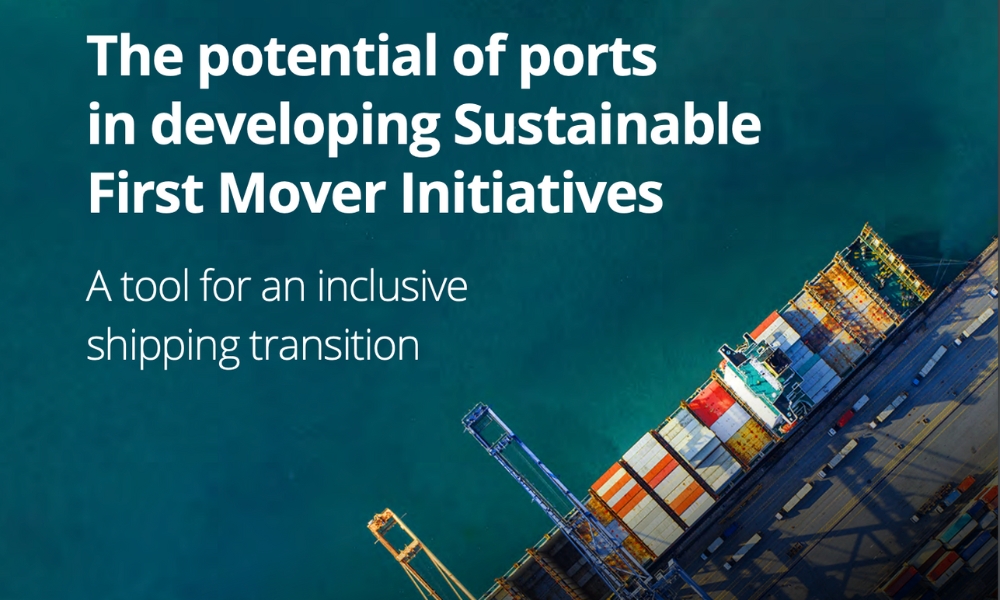 Lloyd's Register (LR) Maritime Decarbonisation Hub and Environmental Defense Fund (EDF), in collaboration with Arup, on Tuesday (28 November) introduced the Sustainable First Movers Initiative Identification Tool, a system to help shipping stakeholders align investment decisions that support the maritime energy transition away from fossil fuels.
The tool, which is presented in a preliminary findings report – The Potential of Ports in Developing Sustainable First Movers Initiatives – scores a port's potential to produce and bunker electrofuels while delivering local environmental and community benefits in alignment with the global temperature target of 1.5 degrees Celsius set by the Paris Agreement.
"Ports can play an important role in kickstarting shipping's decarbonisation process even before global policies are established," said Marie Cabbia Hubatova, Director, Global Shipping at Environmental Defense Fund.
"By considering the impact sustainable first mover initiatives can have on port-side communities, climate, environment and economies, resources can be better directed to locations where these initiatives will make the biggest difference."
With close to two billion people living near coastal zones globally, the role of, and impacts on local port communities must be intentionally considered as the sector decarbonises globally. Ports can play a crucial role in ensuring shipping decarbonisation efforts are done in a way that has positive impacts on port communities.
The preliminary phase of the Sustainable First Movers Initiative Identification Tool analyses 108 ports in the Indo-Pacific region according to five criteria including land suitability, air quality, renewable energy surplus, economic resilience and ship traffic.
It is also applied to three different port scenarios, including ports exploring fuel production and bunkering, ports exploring fuel exports, and ports exploring fuel imports and bunkering. The combined criteria and scenario evaluation determines which ports have the greatest potential (high potential) for sustainable first mover initiatives to lead to significant emissions reductions and positive impacts in nearby communities, such as improved air quality and economic resilience.
"The transition to clean energy supply for shipping can be achieved only if stakeholders act together. Identifying potential port locations is the first step in this process," said Dr Carlo Raucci, Consultant at Lloyd's Register Maritime Decarbonisation Hub. "This approach sets the base for a regional sustainable transition that considers the impacts on port-side communities and the need to avoid regions in the Global South lagging behind."
Regions in the Global South are fundamental in driving the decarbonisation of shipping. To make this transition effective, the rate at which different countries adopt and scale up electrofuels must be proportional to the difference in capital resources globally to avoid additional costs being passed on to local communities. Sustainable first mover initiatives can play an important role in making this happen by ensuring the sector's decarbonisation is inclusive of all regions and by engaging all shipping stakeholders, including port-side communities.
"There's a huge opportunity for early adopter shipping decarbonisation initiatives to unlock benefits for people and planet – shaping the way for a more equitable transition in the 2030s," said Mark Button, Associate, Arup. "Our collective approach shows that taking a holistic view of shipping traffic, fuel production potential and port communities could help prioritise action at ports with the greatest near-term potential."
The tool can be customised according to stakeholders' needs and goals and is dependent on scenario desirability. The next phase of this work will include the selection and detailed assessment of 10 ports to help better understand local needs and maximise the value offered by sustainable first mover initiatives.
LR and EDF carried out a joint study on ammonia as shipping fuel, and LR and Arup have collaborated on The Resilience Shift study focused on fuel demand for early adopters in green corridors, ports, and energy systems, amongst many other projects.
Photo credit: Lloyd's Register
Published: 29 November, 2023
Wärtsilä signs agreement for first zero-emission high speed ferries in US
Group has signed a strategic partnership agreement to provide its Fleet Electrification and Systems Integrator Services for a project to build the first zero-emission high speed ferries in the United States.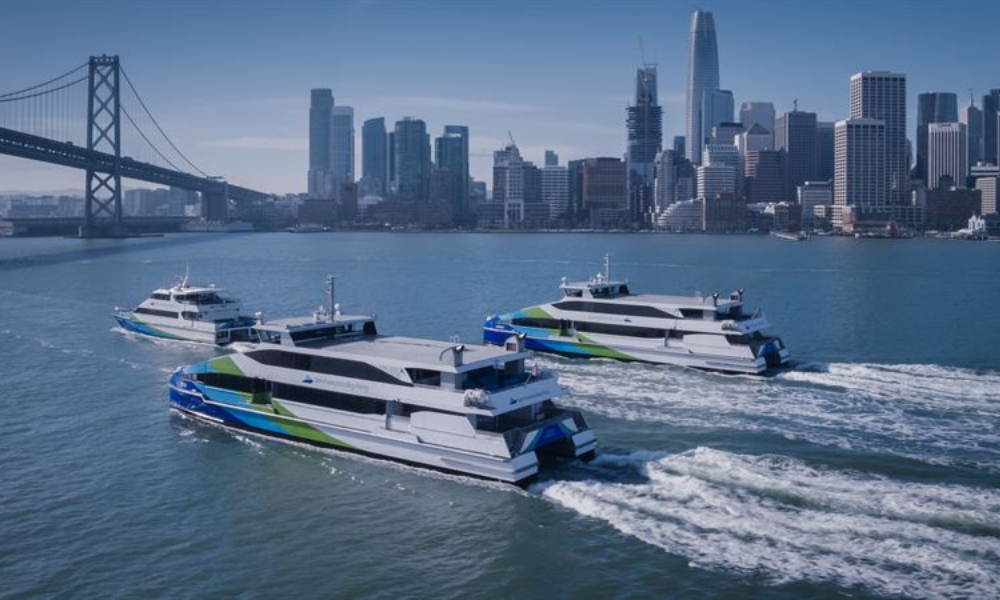 Technology group Wärtsilä on Tuesday (28 November) said it has signed a strategic partnership agreement to provide its Fleet Electrification and Systems Integrator Services for a project to build the first zero-emission high speed ferries in the United States.
The fully electric vessels will be built for San Francisco's Water Emergency Transportation Authority (WETA), the operator of the San Francisco Bay Ferry system.
The project, and several others Wärtsilä will work on under this partnership, are a part of the agency's Rapid Electric Emission-Free (REEF) Ferry Program, a phased decarbonisation of high-speed, high-capacity ferry service in the San Francisco Bay.
Wärtsilä will work within the WETA project team to finalise vessel and charging system concepts.
"We're proud to operate the cleanest high-speed ferry fleet in the nation, but a zero-emission future for our system is within reach," said WETA Executive Director, Seamus Murphy.
"Wärtsilä's expertise and experience will be incredibly valuable given the complexity our ferry decarbonisation program entails."
"This is a major project within the maritime sector's journey towards decarbonisation, and we are proud to be a part of it," said Hanno Schoonman, Director of sales for AMER region, Wärtsilä Marine Power.
"Wärtsilä joins an industry leading team tasked to develop newbuild battery electric vessels that combine innovative technology and sustainable practices. Wärtsilä is well qualified to provide this project support, and this agreement is a clear endorsement of our strong track record in systems integration and emission-free propulsion."
After completing the conceptual phase, WETA will move on to the initial construction phase of a multi-vessel programme. This phase will involve the building of three smaller ferries with a capacity of approximately 150 passengers each and two larger ferries capable of carrying at least 300 passengers.
Additionally, the scope of this phase will encompass the inclusion of battery charging floats. The construction of the first electric-powered vessel is slated to commence before the conclusion of 2023, with commercial operations expected to launch in 2025.
Photo credit: Wärtsilä 
Published: 29 November, 2023