HAV Hydrogen obtains DNV Approval in Principle for containerised H2 system for ships
Ready to start manufacturing of the Zero Emission Pod H2 containers during the second half of 2023, aiming for the first deliveries in 2024.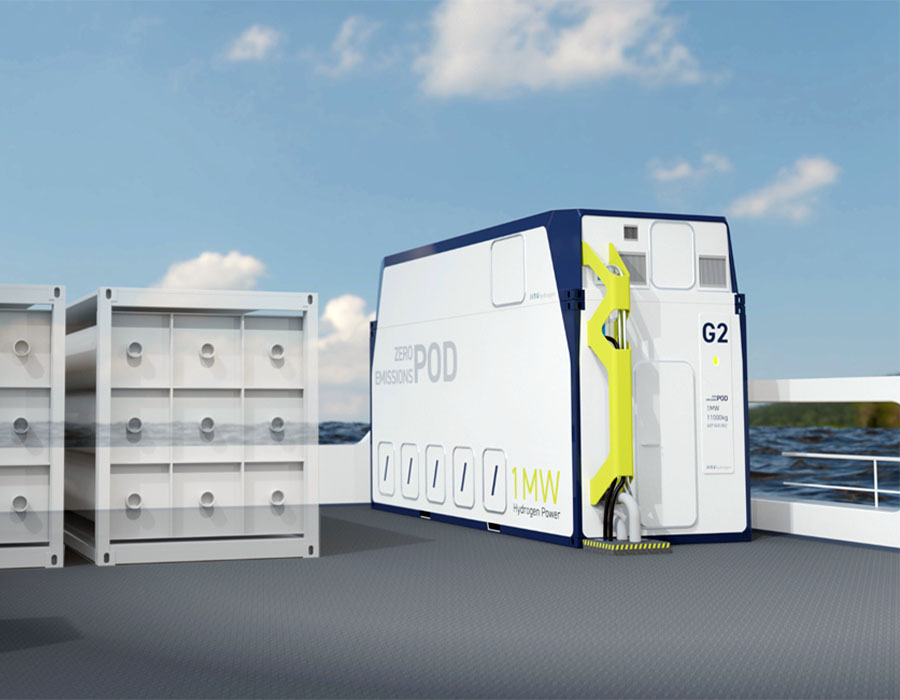 Fuel cell and hydrogen tank system integrator HAV Hydrogen on Monday (6 March) said it has received Approval in Principle (AiP) from DNV for a deck-based containerised hydrogen (H2) energy systems for ships.
The AiP is an important milestone for HAV Hydrogen in bringing the new Zero Emission Pod system onto the market and engaging with customers on the first commercial installations of the system, it states.
"We have developed and received an AiP for a turnkey engine room. The AiP is based on a 20-foot container that not only contains the hydrogen fuel cells, but also the equipment required to safely run it. This includes ventilation, cooling, safety systems, control system, DC/DC drives, fuel distribution system and other technical installations," said Kristian Osnes, managing director of HAV Hydrogen.
Scalable zero-emission power supply
The Zero Emission Pod system is a turnkey, standalone power pod where all support and safety systems as well as electrical power management are included. By using 200kW hydrogen fuel cells, the system is flexible and can easily provide 1,000 kW within the footprint of a standard 20 container. By combining multiple containers, using larger modules or dedicated space below deck, multi megawatt energy systems will also be available.
Installed effect can be used for the main propulsion systems, or for additional power supply on board the vessel to comply with green operation standards. Output effect will be dimensioned to provide optimal zero emission power in desired operating situations, sailing patterns and vessel type.
Quayside, the hydrogen system can ensure sufficient green power supply to the vessel, which does not need to rely on onshore charging infrastructure to achieve zero emission status.
"The H2 system is a simple yet effective enabler of green shipping. It can either be utilized as a retrofit option for vessels that have not already been prepared for a conventional retrofit installation below deck, or as a complete plug-in module that de-risks the yard installation for newbuilds," adds Kristian Osnes.
Broad interest
HAV Hydrogen has developed the containerised, deck-based system to fast-track the commercial use of hydrogen as ship fuel. Since announcing its intention to launch a containerised, deck-based hydrogen system, HAV Hydrogen has been inundated with requests from shipowners
"There is significant interest from shipowners in multiple industry sectors. We have been contacted by companies that operate within offshore wind, oil and gas, RoRo shipping, cargo, inland shipping and fishing. They acknowledge that our containerized solution can be the quick route to zero emission for their vessel types. Given that necessary infrastructure is in place, all a shipowner needs to do is to clear sufficient deck space and hook it up to the vessel's power system," concludes Kristian Osnes.
Broad European and international regulatory support, and rapid development of hydrogen supply in relevant harbours, is expected to drive adoption of hydrogen as ship fuel.
HAV Hydrogen currently considers short sea cargo, inland water cargo, and passenger transport to be the most relevant industry segments for its containerised Zero Emission Pod system, while offshore wind is expected to grow in relevance as emission regulations continue to be tightened.
According to international vessel databases, including Sea-web and the European Commission's Market Observation Inland Navigation in Europe, there are approximately 2,500 short sea cargo vessels, 7,000 inland water cargo vessels, 1,300 passenger transport vessels and 2,500 fishery vessels in Europe alone.
HAV Hydrogen will be ready to start manufacturing of the Zero Emission Pod H2 containers during the second half of 2023, aiming for the first deliveries in 2024.
Photo credit: HAV Hydrogen
Published: 8 March, 2023
China: Cosco Shipping and bp to explore collaboration in methanol bunker fuel 
Duo signed a MoU in Shanghai to expand their scope of strategic cooperation into new areas including lubricant supply, methanol bunker fuel supply for bunkering and offshore wind supply chain.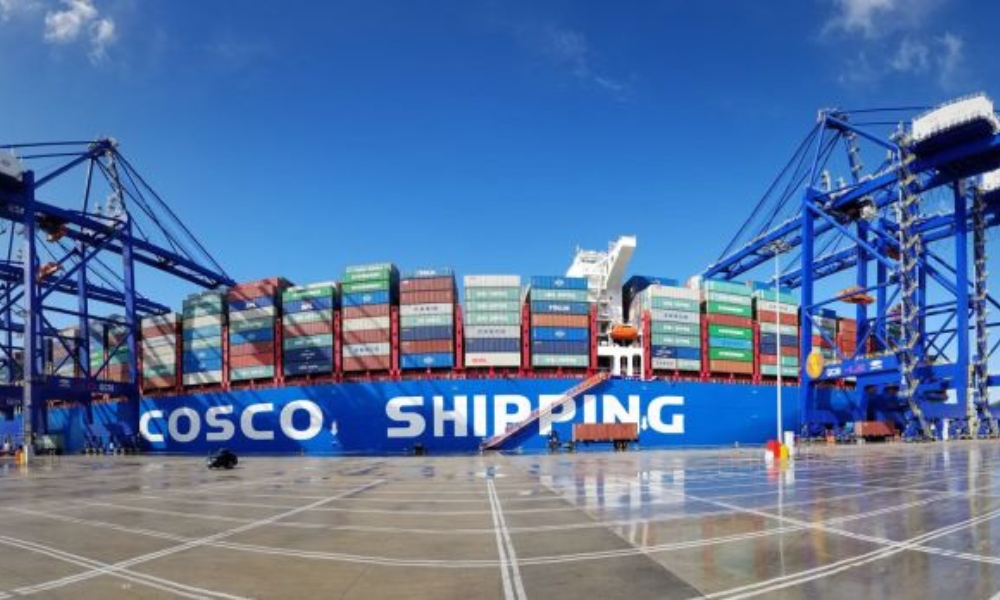 Cosco Shipping on Thursday (7 December) said it has signed  a Memorandum of Understanding (MoU) with bp to expand their scope of strategic cooperation into new areas on 5 December in Shanghai.
"This includes Castrol Marine lubricants and hydrocarbons transportation, offshore equipment as well as exploring collaboration opportunities in areas such as methanol supply for bunkering and offshore wind supply chain," Cosco said.
"Together, both parties will further capitalize on the business advantages of both parties, enhance synergies, and achieve complementary advantages and common development."
William Lin, bp Group Executive Vice President, and Lin Ji, Executive Vice President of COSCO SHIPPING, witnessed the signing. Simon Yang, bp Group Senior Vice President and bp China President, and Chen Wei, Deputy Head of the Operations Division of COSCO SHIPPING, signed the document on behalf of the two parties.
Cosco said bp has been operating in China since the early 1970s and is one of the leading foreign-invested companies in China's energy industry.
"bp and Cosco Shipping have a longstanding history of cooperation, including the transportation of energy products, offshore equipment manufacturing services, and the supply of marine fuels and lubricants," it added.
Photo credit: Cosco Shipping
Published: 11 December, 2023
Maersk to deploy first large methanol-powered vessel on Asia-Europe trade lane in 2024
Ship will enter service on the AE7 string connecting Asia and Europe, which includes port calls in Shanghai and Tanjung Pelepas in Malaysia, with Ningbo in China, being its first destination.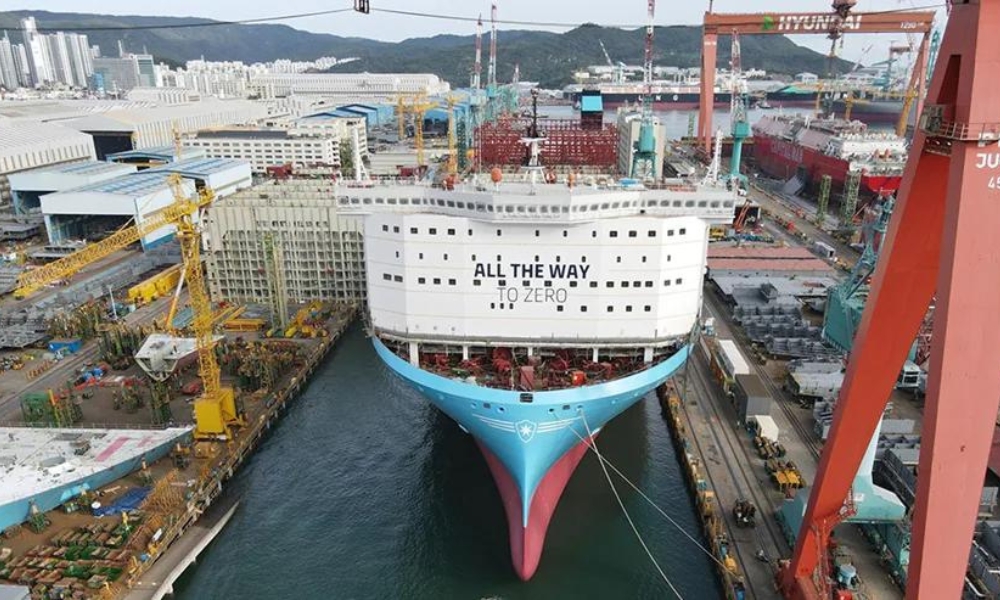 A.P. Moller - Maersk (Maersk) on Thursday (7 December) said it was about to launch the first of its 18 large methanol-enabled vessels currently on order.
On 9 February 2024, the ship will enter service on the AE7 string connecting Asia and Europe, which includes port calls in Shanghai, Tanjung Pelepas, Colombo and Hamburg, with Ningbo, China, being its first destination.
"The container vessel built by Hyundai Heavy Industries (HHI) in South Korea has a nominal capacity of 16,000 containers (TEU) and is equipped with a dual-fuel engine enabling operations on methanol as well as biodiesel and conventional bunker fuel," the firm said.
Maersk added it has secured sufficient green methanol to cover the vessel's maiden voyage and continues to work diligently on 2024-25 sourcing solutions for its methanol-enabled vessel fleet.
"Deploying the first of our large methanol-enabled vessels on one of the world's largest trade lanes, Asia - Europe, is a landmark in our journey towards our Net-Zero target. With the vessel's capacity of 16,000 containers, this will make a significant impact in our customers' efforts to decarbonise their supply chains, and we are looking forward to introducing more methanol-enabled vessels on this and other trades during 2024," Karsten Kildahl Chief Commercial Officer at Maersk, said.
Ahead of its deployment, the vessel will be named at the shipyard in end January 2024. The following two sister vessels will be deployed in the first half of 2024 with naming events taking place in Yokohama, Japan, and Los Angeles, USA. Maersk said it was expected to take delivery of four additional sister vessels in the second half of 2024.
At the time of deployment of the first large vessel, it will be the only second container vessel in the world that can sail on green methanol, the first being the feeder vessel Laura Maersk which entered service in September this year.
Overview of Maersk vessels on order
Maersk has 24 container vessels on order
All vessels currently on order will be equipped with dual-fuel engines and will be able to operate on green methanol
12 of the vessels on order have a capacity of 16,000 TEU (Twenty-foot Equivalent Unit containers)
6 of the vessels on order have a capacity of 17,000 TEU
6 of the vessels on order have a capacity of 9,000 TEU
Since 2021, Maersk has had a policy of only ordering new vessels able to operate on green fuels
About Maersk's AE7 service string
The AE7 string connects Asia and Europe through the Suez Canal
The AE7 string has the following port calls: Ningbo, Shanghai, Nansha, Yantian (all China), Tanjung Pelepas (Malaysia), Colombo (Sri Lanka), Port Tangiers (Morocco), Felixstowe (UK), Hamburg (Germany), Antwerp (Belgium), London Gateway (UK), Le Havre (France), Port Tangiers, Jeddah (Saudi Arabia), Abu Dhabi (UAE) and Jebel Ali (UAE)
Photo credit: A.P. Moller - Maersk
Published: 11 December, 2023
Alfa Laval to provide methanol fuel supply system for "Maersk Halifax" boxship 
Alfa Laval will support A.P. Moller-Maersk with installation of FCM Methanol low-flashpoint fuel supply system on board the 15,000 TEU container vessel, which is scheduled to take place by mid-2024.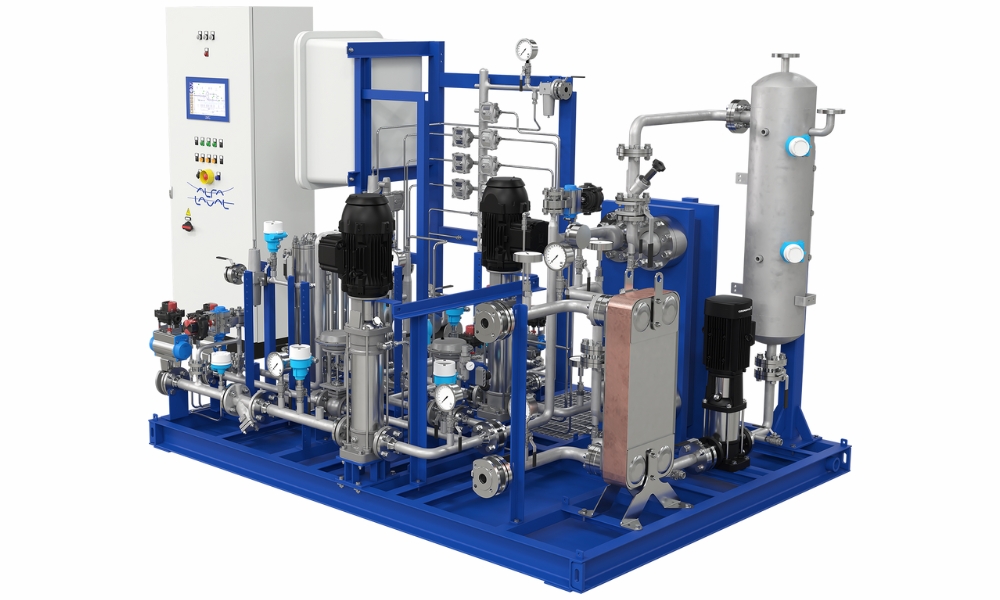 Alfa Laval on Thursday (7 December) said its fuel supply system FCM Methanol has been selected by Maersk for their methanol retrofit project to enable the container vessel Maersk Halifax to operate on methanol fuel.
The firm said the project stands as a significant achievement for both Alfa Laval and Maersk, underscoring the feasibility of retrofitting ships with the necessary equipment for methanol-based propulsion.
Alfa Laval will support A.P. Moller-Maersk (Maersk) with the installation of FCM Methanol low-flashpoint fuel supply system (LFSS) on board the 15,000 TEU Maersk Halifax. The retrofit is scheduled by mid-2024. This pioneering container vessel conversion will enable the vessel to sail on green methanol with dual-fuel capabilities.
"At Alfa Laval, we collaborate with the industry frontrunners in exploring and embracing innovative ways for decarbonization," said Viktor Friberg, Head of Marine Separation & Fuel Supply Systems, Alfa Laval.
"The project with Maersk gives us a unique opportunity to take up a new challenge - retrofitting our equipment for methanol use, for the first time. We are immensely proud to extend our expertise to this innovative retrofit project."
The project will involve adding a new fuel line for methanol alongside the traditional fuel line, respecting the existing space constraints and the tight time schedule. The retrofit of the FCM Methanol is a landmark project that requires advanced engineering and an understanding of the practical considerations of working with methanol.
"We have set an ambitious net-zero emissions target for 2040, and retrofitting of engines on our vessels to run on methanol is an important nut in our strategy. Retrofitting solutions to accommodate new fuel thereby enabling the engine to operate on methanol is a complex task that requires expertise, and we are happy to have Alfa Laval on board on this project," said Ole Graa Jakobsen, Head of Fleet Technology, A.P. Moller-Maersk.
With over 80 ships contracted, Alfa Laval added it has the longest experience in methanol FSS installation and service since 2015. It is the only system that has been powering methanol-fuelled vessels so far, with over 450 000 hours of operations.
Photo credit: Alfa Laval
Published: 11 December, 2023