DNV pioneers decarbonization class notation for floating offshore assets
Erik Carlberg of DNV highlights the importance of decarbonization for floating offshore units and how DNV are working with MOU operators to achieve their sustainability goals.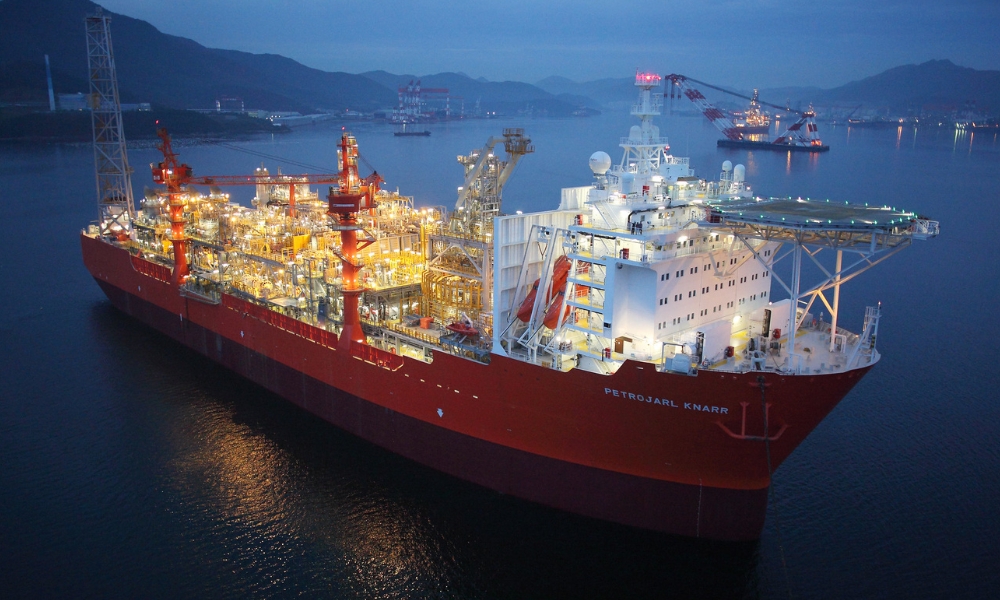 Erik Carlberg, Business Director Floating Energy Production, Maritime (DNV), shared with Manifold Times an article on DNV's Abate class notation for floating offshore assets.
The article highlights the importance of decarbonization for floating offshore units and how DNV are working with MOU operators to achieve their sustainability goals and at the same time, gain access to greater funding and a competitive market edge:
Back in 2021, DNV was the first classification society to offer a class notation specifically addressing greenhouse gas (GHG) abatement opportunities for floating offshore assets. Today, the voluntary, modular Abate class notation establishes a new standard for reducing GHG emissions from offshore installations.
When the IMO announced its new, more ambitious decarbonization targets for the shipping industry in July 2023, the decision was praised by politicians and the general public around the world. But the regulations in place to achieve these targets, such as the Energy Efficiency Design Index (EEDI), Energy Efficiency Existing Ship Index (EEXI) and Carbon Intensity Indicator (CII), apply to the merchant fleet only.
One key parameter in the carbon intensity calculations described by IMO is transport work. Since floating offshore units do not transport any cargo, they are not subject to these regulations.
Floating offshore assets emit significant amounts of greenhouse gases during operation. The type and function of the actual installation, drilling vs production, will of course determine the relevant GHG emission sources.
For a production unit, according to the UK Oil and Gas Authority's 2021 "Emissions Monitoring Report", 88 per cent of total emissions are CO2, followed by CH4 (methane) at ten per cent, and N2O (nitrous oxide) at two per cent. The majority of the methane, a powerful climate gas, originates from venting and flaring, whereas most of the CO2 and N2O emissions are from fuel combustion in gas turbines as well as flaring.
Meanwhile more and more major oil and gas companies are setting ambitious environmental and decarbonization goals for their operations to show their commitment to making a difference and are willing to embrace the ESG standards and the 17 UN Sustainable Development Goals.
By adopting effective carbon reduction measures, MOU operators can improve not only their public image but also their access to sources of investment capital as financial institutions are increasingly looking to minimize their exposure to the fossil fuel industry and move into the renewables sector. What is more, carbon trading schemes penalize carbon emissions and act as a financial incentive for operators to minimize their carbon footprint to avoid loss of profitability.
A class notation attesting to successful carbon abatement
Decarbonizing offshore oil and gas installations is technically complex and very costly. To help MOU operators and ultimately provide them with a means to credibly demonstrate their commitment to reducing their operational GHG emissions, DNV's new class notation Abate, introduced in July 2021, defines a framework for identifying, assessing and implementing effective GHG reduction measures. The Abate notation comprises a management aspect (Abate Ready notation) and a number of additional technical qualifiers which can be adopted individually. It can be awarded to a newbuilding project or an existing asset. The required emission management system is very similar to the ISO quality assurance, environmental and energy standards, and will therefore be quite familiar to any organization.
The basic scope of Abate requirements includes the assessment of the emissions management system and also involves an assessment of potential abatement measures based on a thorough analysis of the asset and its emission sources. Both are necessary to obtain the Abate(Ready) notation and are prerequisites for obtaining any of the other Abate qualifiers. A dedicated person or team must be put in charge of the emission management system, and an emission abatement policy must be established that specifies realistic emission abatement goals and how they will be achieved.
The more detailed technical scope is reflected in the additional technical qualifiers directed towards specific emission sources. These qualifiers add prescriptive requirements for specific features of a floating offshore asset related to its function, such as power generation (P), carbon capture (CC), flaring (F) and others.
Adopters of the class notation are expected to apply state-of-the-art abatement technology. A variety of measures may be taken, again depending on the installation function, such as reducing onboard energy demand, improving energy efficiency, optimizing system configurations, upgrading equipment and control systems, improving waste heat recovery, reducing flaring, capturing associated gas for productive use, minimizing process and tank venting as well as leakage, optimizing monitoring, inspection and maintenance regimes, and/or installing carbon capture and storage equipment.
Whether or not some or all such measures are implemented will be subject to assessment of parameters such as technical feasibility, contribution to emission reduction, and the cost/benefit profile.
Compliance with the agreed scope of requirements, including implementation of the emission management system, proper function of abatement installations, potential further abatement measures, and assessment of the best available abatement technology, is verified by DNV through regular surveys.
Early adopters are demonstrating their commitment
The first FPSO owner to adopt the DNV Abate class notation was Altera Infrastructure with their FPSO Petrojarl Knarr in 2021. This pioneering project helped DNV, working closely with the customer, to further develop and fine-tune the rules of Abate based on real-life observations.
Additionally, the first jackup unit to receive DNV's Abate-Ready notation was the self-propelled Vahana Aryan, the flagship vessel of the Dubai-based Vahana Marine Solutions DMCC, in spring of 2023.
The Abate Notation provides a structured approach to identifying potential abatement measures which can then be incorporated into a newbuild design.
Our customers, as with society in general, are aware of the current environmental challenges, and so typically will have internal processes, at various stages of development, to produce their own philosophy on how they wish to address the issue.
In many cases, for existing units, the Abate notation can provide a means, by an independent assessment, to give credit to measures which companies have already put in place based on their own emission reduction philosophy, and also then identify potential additional measures which may be feasible to implement.
Since the Abate Notation is a modular approach the initial stage of assessment of the management system and assessment of Best Available Technology may represent the start of the journey in documenting both current status and future intentions. Credit is given for conducting this assessment by award of the Abate (Ready) notation.
By reducing the environmental impact of floating offshore installations, DNV's award-winning Abate-Ready class notation thus implies a promise to the industry, the public and the financial sector that the necessary measures are underway.
A number of other MOU owners are about to follow or have indicated strong interest in the Abate class notation. There is particular interest among owners and Operators of FPSOs in the Asia region to be at the forefront of these developments and to demonstrate how seriously they are taking the climate challenges that we are all facing. DNV are currently working with many of these owners in ongoing projects to implement the Abate framework, and thereby supporting them to reach their ambitions in reduction of greenhouse gas emissions from their operations.
Focus on the UN Sustainable Development Goals
Through its customer-driven development of class rules and notations, DNV responds to what the market really needs as it endeavours to mitigate climate change. In addressing the UN Sustainable Development Goals, "Abatement" adequately describes what this class notation is about: Ensuring affordable and clean energy (Goal no. 7); building resilient infrastructure, promoting inclusive and sustainable industrialization, and fostering innovation (Goal no. 9); and taking decisive climate action (Goal no. 13).
Photo credit: DNV
Published: 19 September 2023
ZeroNorth enables Golden Island to become Singapore's first 100% digital bunker supplier
Access to ZeroNorth Bunker Electronic Bunker Delivery Notes (eBDN) will streamline bunker processes, enabling Golden Island to drive efficiency, transparency, and contribute to decarbonising shipping.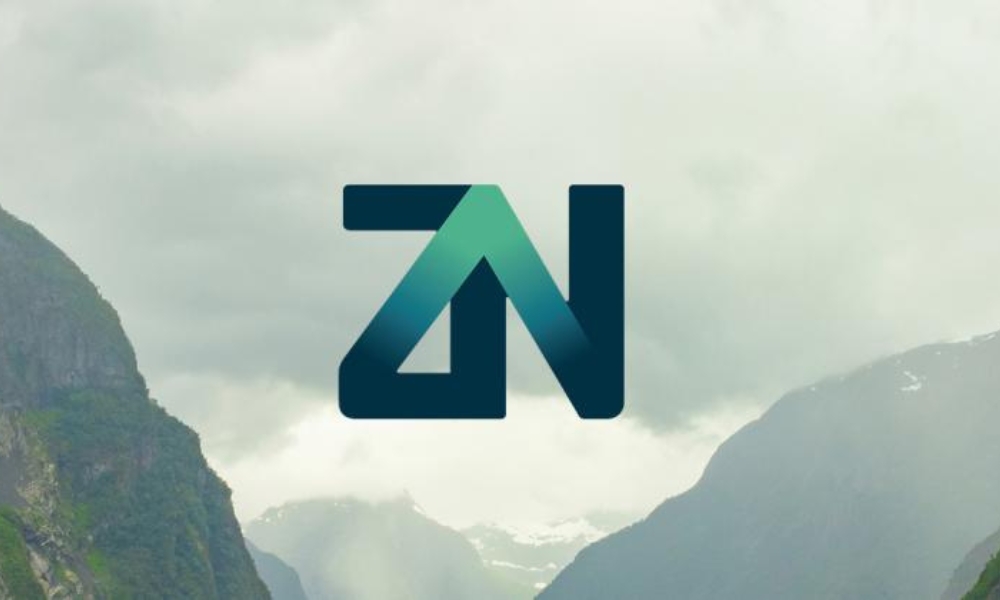 Technology company ZeroNorth on Thursday (30 November) has announced that it has enabled its customer Golden Island Diesel Oil Trading Pte Ltd (Golden Island) to become the first marine fuel supplier in Singapore to go 100% digital in its use of Electronic Bunker Delivery Notes (eBDN).
Golden Island has chosen ZeroNorth Bunker's eBDN solution, developed by BTS and recently consolidated under the ZeroNorth Bunker brand. The company will be able to provide 100% digital processes to increase transparency and improve collaboration.
"Enabled by ZeroNorth's technology platform, Golden Island plans to stop issuing physical BDNs from 1 December, as part of the company's digitalisation initiative to move away from manual, paper-based processes and reduce its environmental impact on the journey to greener operations," ZeroNorth said in a statement shared with Singapore-based bunkering publication Manifold Times.
ZeroNorth's eBDN service will digitalise the bunker delivery process for its customers, with Golden Island the first to benefit and swiftly and securely verify purchased fuel quantities, eliminate delays and ensure smooth transactions.
"This move will help Golden Island to streamline the bunkering documentation process, increasing transparency, and driving efficiency and productivity across its marine fuel delivery operations. Digitalisation will enhance crew productivity and operational efficiencies. By eliminating paper forms with ZeroNorth's solution, Golden Island expects to save at least two hours of manual data entry work each day," ZeroNorth added.
By digitalising the bunkering process, ZeroNorth will turn millions of data points into actionable recommendations for Golden Island on where it can drive efficiencies and achieve greener operations. With more data being interpreted through the digitalisation of BDNs, increasingly robust insights and analysis of emissions will then be generated for customers, further powering up the marine fuel market's data flywheel. This will also enhance reporting, as information is standardised and readily available in a digital format.
Tomohiro Yamano, General Manager, Marine Fuel Department at Golden Island, said: "A month after the Maritime and Port Authority of Singapore (MPA) launched its digital bunkering initiative as the first port in the world to implement eBDN, we are proud to be the first company to fully switch to eBDN in the Singapore bunkering market. To achieve this, we required a solution that would facilitate a seamless workflow to enhance the productivity and efficiency of our marine fuel delivery operations.
"We were impressed with ZeroNorth's deep understanding of the bunker industry and the capabilities of its eBDN solution. Digitalising our bunker processes with eBDN fits in with our digitalisation initiative to enhance and streamline operations, which will in turn also drive easier reporting and analysis of emissions."
Kenneth Juhls, Managing Director for ZeroNorth Bunker at ZeroNorth, said: "Bunker procurement has been a traditionally cumbersome process, burdened by manual documentation. We're delighted to be helping Golden Island eliminate these manual processes to streamline documentation, drive efficiencies and boost productivity across its operations as a global eBDN solution on the market.
"Given the integral role marine fuels are set to play in decarbonising shipping, ZeroNorth is proud to help our customers and the wider industry digitalise bunker operations. The data generated will in turn help enable the data flywheel effect, driving actionable recommendations on where further efficiencies can be created for the benefit of both profit and planet."
The first internal trial for Golden Island using ZeroNorth's eBDN solution began in November 2022. The company is now ready to adopt it into its operations after a year testing the solution, with assistance and approval from the Maritime and Port Authority of Singapore (MPA).
Manifold Times previously reported Singapore bunker supplier Golden Island Diesel Oil Trading Pte Ltd (Golden Island) will be fully adopting the electronic Bunker Delivery Note (e-BDN) for commercial bunkering operations from 1 December 2023 onwards.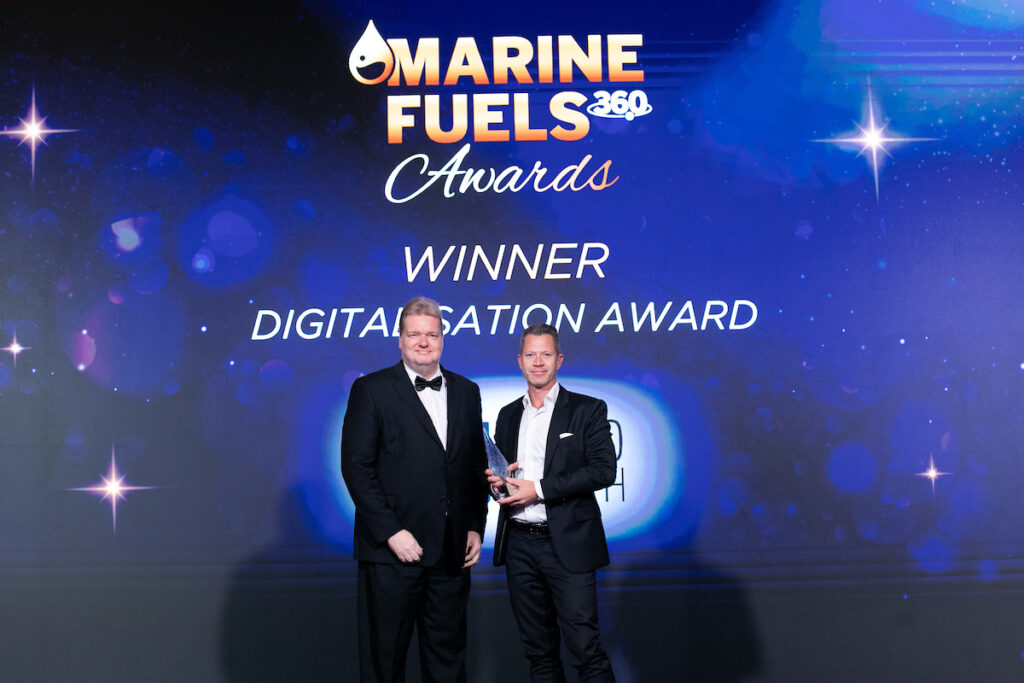 ZeroNorth also announced it won the Digitalisation Award at the Marine Fuels 360 Awards Gala Dinner on 29 November.
Commenting on the award, Juhls said: "We are proud and humble to get recognised by this award. The full team in ZeroNorth works hard everyday to bring value to our clients through our software solution. We are looking forward to continuing our collaboration with our customers, partners and the industry in our ambition of making global trade green."
Related: Singapore: Golden Island switching to 100% e-BDN operations from 1 December
Related: ZeroNorth consolidates existing bunkering business following acquisitions
Related: Singapore set to become first port in the world to debut electronic bunker delivery notes
Related: MPA Chief Executive: Port of Singapore begins digital bunkering initiative today
Related: ZeroNorth acquires Singapore's bunker supplier software provider BTS
Related: ZeroNorth acquires Prosmar Bunker Dashboard solution and Bunker Pricer module
Related: ZeroNorth acquires US-based bunker market platform ClearLynx
Related: ZeroNorth unveils ZeroNorth Bunker for bunker planning, procurement, and analytics
Related: ZeroNorth opens new office in Singapore to expand in Asia
Related: Singapore: Marine Fuels 360 Awards and Conference 2023 to bring together industry's best
Photo credit: ZeroNorth / Informa Markets
Published: 30 November, 2023
Kenoil Marine Services to conduct first-ever bunkering of bio-blended LSMGO in Singapore
"Kosmos Lily" is slated to supply bio-blended LSMGO, sourced from Alpha Biofuels, representing the first-ever bunkering of bio-blended LSMGO in Port of Singapore, says Jurong Port.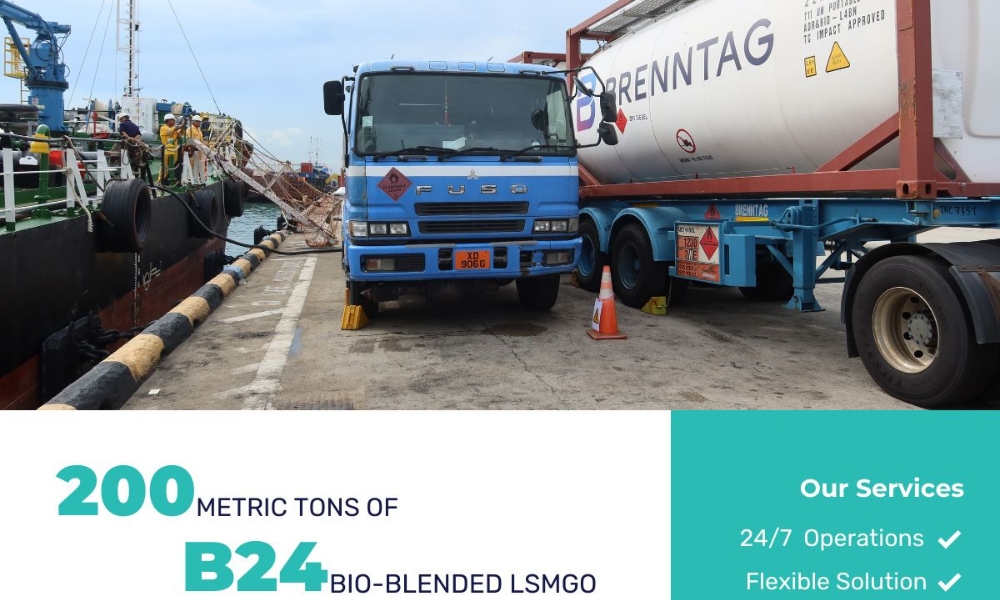 Jurong Port on Wednesday (29 November) said Kenoil Marine Services Pte Ltd, a licensed bunker supplier, successfully loaded 200 metric tonnes of B24 bio-blended Low Sulphur Marine Gas Oil (LSMGO) in Singapore.
The B24 marine biofuel blend was onto Kenoil Marine's bunker tanker Kosmos Lily.
"Kosmos Lily is slated to supply this bio-blended LSMGO, sourced from Alpha Biofuels, representing the first-ever bunkering of bio-blended LSMGO in the Port of Singapore," Jurong Port said in a social media post.
"Jurong Port takes pride in serving as the preferred port infrastructure for biofuel bunkering, and supporting the maritime industry's energy transition toward achieving net-zero emissions."
Separately, Allan Lim Yee Chian, Founder and CEO at Alpha Biofuels, said the firm has been working to produce, blend and supply better quality biofuels for the maritime industry for over the last two years.
"We focused a lot on traceability of the biofuels , stability of the blended product and also the cost of the product," he said in a social media post.
"The result is a bio-bunker fuel that balances the need for decarbonisation by the industry against the cost of sustainable biofuel."
Photo credit: Jurong Port
Published: 30 November, 2023
SeaTech Solutions and partners to develop India's first electric tug E-VOLT 50
Other partners involved are India's GRSE, Shift Clean Energy and ABS; GRSE will build an electric tug based on the E-VOLT 50 design by Singapore-based SeaTech Solutions.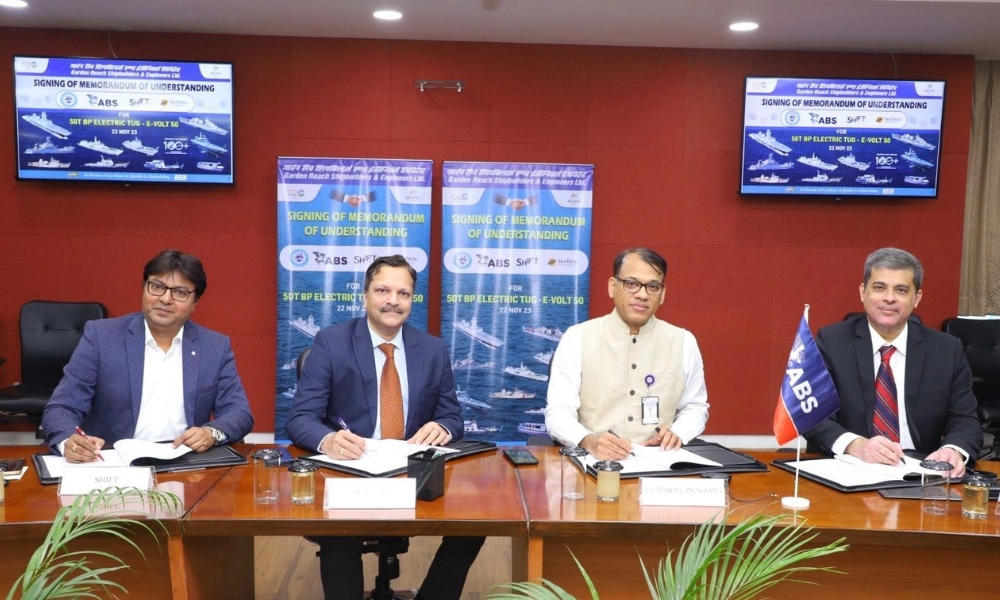 Singapore-based marine engineering and vessel design specialist SeaTech Solutions International (S) Pte Ltd on Tuesday (28 November) on Tuesday (28 November) said it inked Memorandum of Understanding (MOU) with India's Garden Reach Shipbuilders and Engineers (GRSE) Ltd, Shift Clean Energy and American Bureau of Shipping (ABS) on 22 November.
The collaboration aims to bring to fruition the country's first Electric Tug E-VOLT 50, an initiative to decarbonise India's tugboat industry by curbing carbon emissions, enhancing operational efficiency, and establishing new benchmarks for performance and environmental sustainability.
GRSE India will build an electric tug based on the E-VOLT 50 design by SeaTech Solutions International (S) Pte Ltd.
Cmde PR Hari, IN (Retd), Chairman and Managing Director, GRSE, said: "We are excited to be part of this groundbreaking collaboration that combines the expertise of GRSE and three industry-leading organisations.
"E-VOLT 50 is a bold step towards a cleaner and greener future for the maritime sector. By utilizing sustainable energy solutions and cutting-edge technology, we aim to redefine the standards of
performance, efficiency, and environmental stewardship."
Prabjot Chopra, VP Technology at SeaTech Solutions, said, "We are delighted to work with GRSE, Shift Energy and ABS on this E-VOLT 50, India's first Electric Tug, which will pave the way for India's Green port operation."
"As the collaborative efforts of GRSE, SeaTech Solutions, Shift Energy, and ABS take shape, the Electric Tugs E-VOLT 50 project stands as a testament to India's commitment to fostering a sustainable maritime industry that aligns with global environmental goals," SeaTech Solutions added.
"This initiative reflects a pivotal moment in the evolution of green shipbuilding, marking a significant stride towards a cleaner, greener, and more efficient future for the maritime sector."
Photo credit: SeaTech Solutions International
Published: 30 November, 2023