West P&I: How to limit your exposure to fuel contamination
Making sure crew members that handle bunker fuels have the right training is vital to reducing the risk of contamination, said Capt. Simon Hodgkinson, Head of Loss Prevention.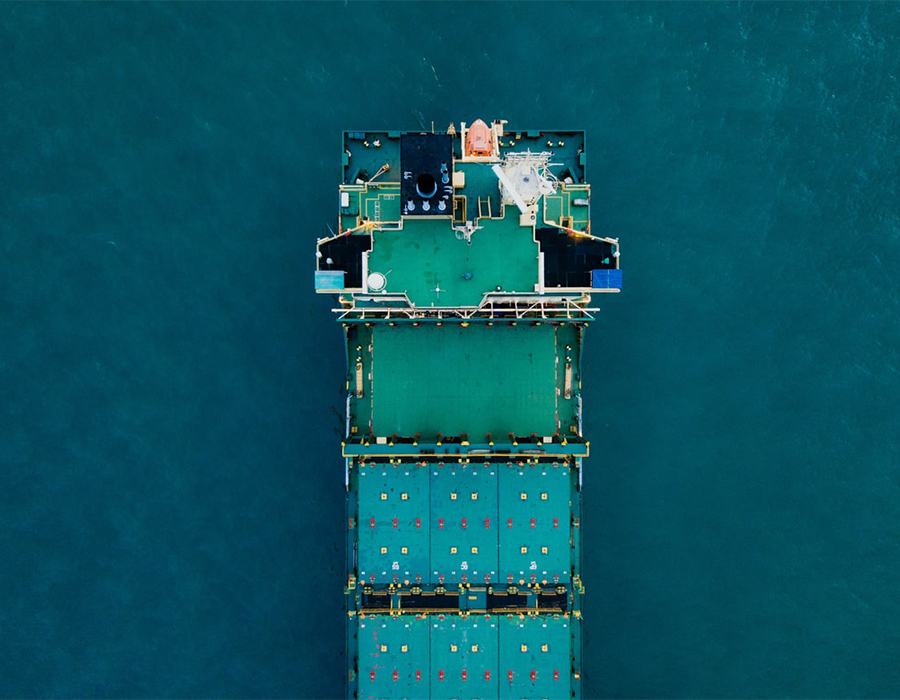 The following article on steps shipowners and operators can take in preventing fuel contamination issues was written by Capt. Simon Hodgkinson, Head of Loss Prevention at mutual marine insurer West P&I; it was recently shared with Singapore bunker publication Manifold Times:
Fuel contamination remains a huge financial and operational risk for shipowners and operators, as the Singapore incident from earlier this year shows. In April, around 200 vessels visiting the port experienced technical issues such as blackouts and problems with or damage to the fuel pump or engine, forcing some to debunker. 
An investigation by the Singapore Maritime and Port Authority has since attributed the contamination to a batch of high sulphur fuel oil with high concentration levels of chlorinated organic compounds. 
At the time of writing, it is too early to determine how much the incident, involving US$120 million worth of affected fuel, will cost shipowners and operators. But with vessels experiencing operational problems – causing major delays to cargo delivery – insurance claims could reach millions of dollars and take several years to resolve. 
With marine fuel easily the biggest operating cost for shipping companies, they cannot afford to make mistakes. Fortunately, there are measures available to them to limit the risks of a widespread fuel contamination. 
Testing can be a crucial tool  
Buying good quality fuel from a reputable source is one top line way to reduce risk, although a supplier's reputation is no guarantee that all fuel will always meet specification. Yet suppliers with exemplary reputations usually charge more – and it can be difficult to understand the relative reputations of suppliers in a port that a shipowner is not familiar with. The high price of fuel oil could understandably prompt some shipowners to go for cheaper, lower-pedigree alternatives. 
The risk is that operators get what they pay for when choosing a more affordable option – low-grade or even contaminated fuel that will cost them dear in disruption, delays or damage to the vessel. Owners and operators can be forgiven for buying at the lower end of the market to minimise their outgoings when oil prices are so high, but there are ways to cut risks.  
For companies willing to pay more, finding the best product is fairly straightforward. Fuel testing specialists have records on all suppliers around the globe, including data on the quality of their fuel, giving buyers confidence in what they purchase. Continuously updated port-specific fuel standards and compliance data can be obtained by shipowners, and is provided alongside bunker quality alerts to all West members on the Club's Neptune platform. Guidance on buying quality fuel is also available in this International Maritime Organization document.
Another safeguard for shipping companies is to get the fuel tested by a specialist, which will likely reveal any potential issues or anomalies. If there are concerns, the shipowner or operator should then have a gas chromatography-mass spectrometry (GCMS) test to check for traces of volatile organic contaminants; the most common being chlorinated solvents, phenols and styrene.    
Testing fuel may be an obvious approach, but getting it done within the parameters of the bunker supplier contract is often tricky. Unsurprisingly, the contract is usually heavily weighted in favour of the supplier, with time bar clauses limiting the period for when a shipping company can make a claim. 
Contractual issues 
The set period in the BIMCO Bunker Terms 2018 is 30 days for concerns around fuel quality and 14 days for issues related to quantity. But in some instances, suppliers set very short time limits, possibly seven days or less, within the contract. That period may have already elapsed by the time the shipowner has sent samples off for testing, received the results and then started burning the fuel – after which time it is too late to make a claim. A claim against a fuel supplier is limited by the total cost of supplied fuel and may not cover all potential losses.    
Other contractual issues to be aware of include a financial cap on liability and the quality determination clause, where the shipowner has to respond within a short time to a supplier's request for joint testing. Failure to do so means the owner must accept the results of the test, even if it was conducted in their absence. 
The circumstances for making a claim change when there is a time-charter in place. In that situation, the charterer is obliged to supply a reasonably well-maintained vessel with fuel that is fit for consumption. At the very least, the fuel should comply with ISO 8217, the global standard for marine fuels used in shipping. But even if it does pass routine inspection, the fuel may contain contaminants that remain undetected without GCMS testing – putting the charterer in breach of the fit for consumption clause.
Should a breach occur, leading to engine problems, the shipowner can pass liability to the charterer, requiring them to debunker and to provide compensation for any physical or financial losses. The key thing here is for the owner to have evidence proving contamination or that the fuel has already caused damage.   
Building crew awareness 
Making sure crew members that handle bunker fuels have the right training is vital to reducing the risk of contamination. Seafarers must understand the basic components and functionality of marine fuel systems and standards. They should also be well versed in the impact of marine fuels on machinery, oil analysis reports and identifying potential problems. Experienced mariners will be able to monitor the vessel's separators and fuel consumption when fresh fuel is burning, enabling them to spot any issues as early as possible. 
Well-trained seafarers will also know that isolating new fuel in separate tanks until the samples have been tested is critical. Not isolating the new fuel leaves the shipowner in a weak position when making a claim, as combining fuels could be the source of the contamination – something that they may be unable to dispute in a legal claim. Even for off-spec problems, using additives or blending fuels to bring it back on-spec can invalidate the supplier's contract. 
Bunkering remains an essential, but challenging, practice for shipowners and charterers who will likely face a huge bill if things go wrong. For more advice on how to limit the risks of fuel contamination, West P&I's Loss Prevention team can provide expert guidance. 
Photo credit: CHUTTERSNAP from Unsplash
Published: 25 July, 2022
Singapore, LA and Long Beach unveil Partnership Strategy for Pacific Ocean green and digital shipping corridor
Ports and C40 have commissioned a study to analyse trade flows and vessel traffic between the three locations as well as estimate quantity of near-zero/zero-emission bunker fuels required for this traffic.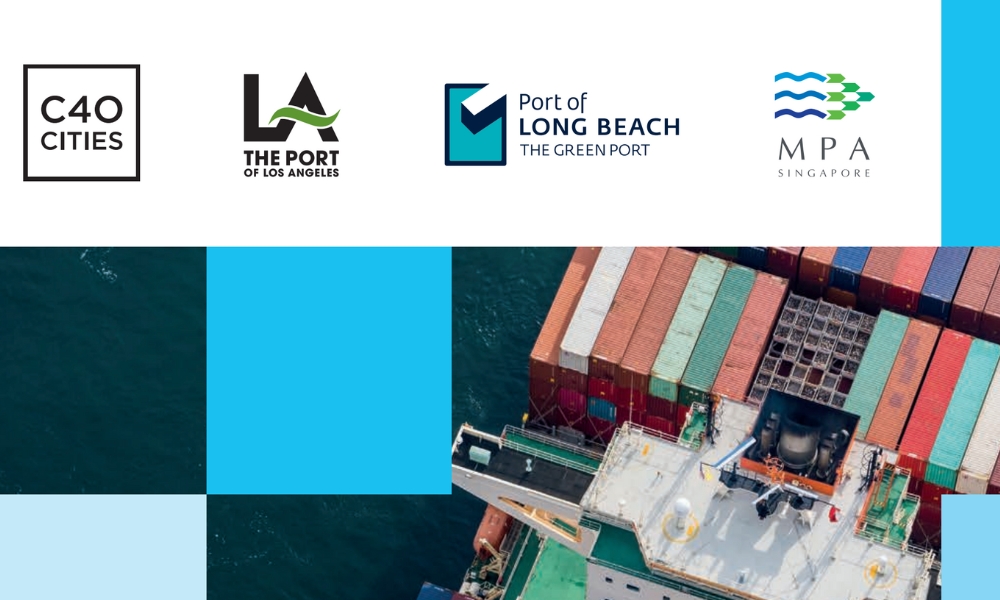 The Maritime and Port Authority of Singapore (MPA), Port of Los Angeles (POLA) and Port of Long Beach (POLB) on Wednesday (6 December) unveiled a Partnership Strategy for a green and digital shipping corridor (GDSC) across the Pacific Ocean at the 28th United Nations Climate Change Conference.
The release of the Partnership Strategy follows the signing of a memorandum of understanding (MoU) by MPA, POLA and POLB during Singapore Maritime Week in April 2023. The MoU formalised the partnership, which is supported by C40 Cities, with the aim of establishing a GDSC connecting the three global hub ports.
The scope of cooperation through the Partnership Strategy and success indicators specified within build upon the MoU signed in April 2023 and reaffirm the corridor partners' commitment to drive global action to digitalise and decarbonise the shipping industry and improve efficiencies.
The GDSC Strategy outlines steps to accelerate decarbonisation of the maritime shipping industry by enabling first mover organisations to achieve net-zero greenhouse gas emissions by the earliest feasible date, in support of the goals defined by the 2023 International Maritime Organization's Strategy on Reduction of GHG Emissions from Ships. The ports and C40 will work together and with value-chain stakeholders from the fuel and maritime sectors to:
● Coordinate decarbonisation efforts: GDSC partners will help to catalyse and coordinate efforts to enable ships calling at the Port of Singapore, Port of Los Angeles and Port of Long Beach to achieve net-zero greenhouse gas emissions by the earliest feasible date.
● Build consensus on green shipping best practices: GDSC partners will seek to establish consensus around green shipping best practices and standards.
● Improve access to and adoption of technology and digital solutions: To enhance supply chain efficiency, resilience and decarbonisation while reducing costs and improving reliability, GDSC partners will work to develop and deploy innovative technology and digital solutions.
● Leverage networks: GDSC partners will work with stakeholders involved in other green shipping initiatives, including those established by the three ports and other parties, to scale the uptake of zero and near-zero emission technologies, fuels and energy sources.
To achieve these aims, a partnership structure and governance mechanism have been developed to provide clarity on the roles and responsibilities of GDSC partners. The strategy also outlines processes for onboarding new participants, financial management, confidentiality and decision-making.
As next steps, the ports and C40 have commissioned a study to analyse trade flows and vessel traffic between Singapore, Los Angeles and Long Beach. The study will estimate the quantity of near-zero and zero-emission fuels required for this traffic, and guide implementation by identifying opportunities for collaboration to advance the development of the GDSC.
The founding partners will now engage stakeholders from across the shipping and fuel supply value chains that share the GDSC's vision and aims, with the intention of onboarding new corridor participants in 2024.
Mr Teo Eng Dih, Chief Executive of MPA, said: "We are excited to see this partnership grow from strength to strength with the Green and Digital Shipping Corridor Partnership Strategy. We have embarked on evaluating the various digital solutions and zero and near-zero fuels options that could be trialled along the route between Singapore and the San Pedro Bay Port Complex. We look forward to the support of all the corridor stakeholders over the coming months to conduct trials and potentially scale them for wider adoption."
"This Partnership Strategy document is the foundation upon which we'll build the future of maritime shipping," Port of Los Angeles Executive Director Gene Seroka said. "Our success requires the resolve and dedication of the three partnering ports as well as our industry partners. Together, we will model the collaboration necessary to achieve our climate and efficiency goals."
"Over the last two decades, we've learned that collaboration between maritime industry partners is the key to making meaningful progress in reducing emissions and cleaning the air,"Port of Long Beach CEO Mario Cordero said. "This trans-Pacific green shipping corridor takes this concept global. The strategies we develop here can be used as a roadmap by a larger network of seaports and supply chain companies to invest in programs, technologies, software and infrastructure to decarbonize international trade everywhere."
C40 Executive Director Mark Watts, said: "C40 is proud to support our port partners in delivering this Partnership Strategy. The advancement of this Green and Digital Shipping Corridor brings the shipping sector one step closer to a 1.5°C-aligned trajectory. Green shipping is only achievable through collaboration because no one stakeholder can afford to move unless they know others are likely to follow. That's where C40 is delighted to help, bringing our network of world-leading cities, which include most of the world's largest and most forward-looking ports."
Note: The Partnership Strategy document can be viewed here. 
Photo credit: Maritime and Port Authority of Singapore
Published: 7 December, 2023
Liberia-flagged bulker "Eleen Armonia" placed under Sheriff's arrest
Ship was added to list of vessels under Sheriff's arrest in Singapore's court system and it is currently held at Eastern Bunkering Anchorage; arrest was made on behalf of Allen & Gledhill LLP.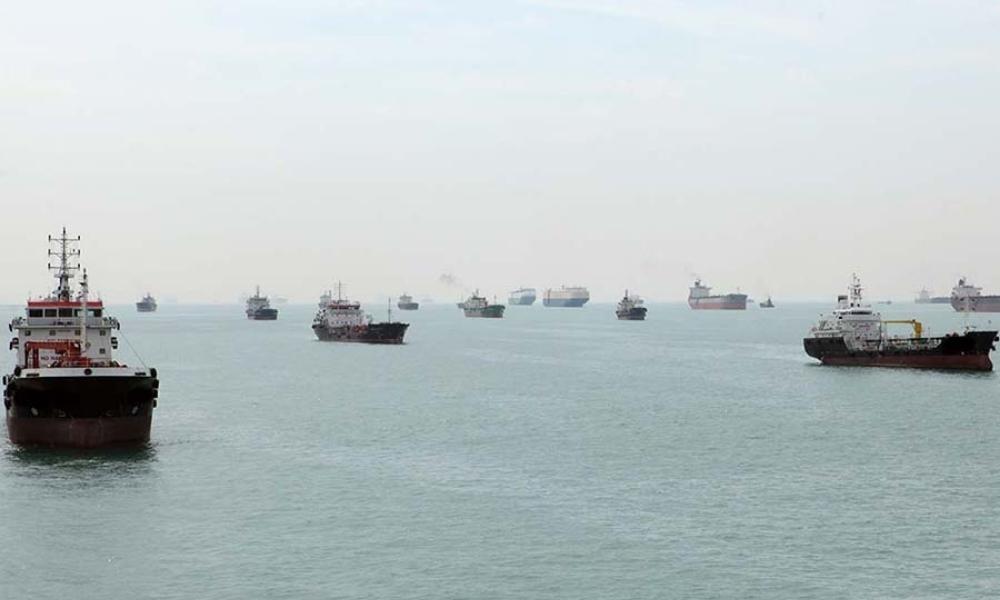 Liberia-flagged bulk carrier Eleen Armonia was arrested in Singapore waters on Monday (4 December).
The 55,522 DWT vessel was added to the list of vessels under Sheriff's arrest in Singapore's court system.
According to the list, the vessel was arrested at 12.25pm and the arresting solicitor listed was law firm Allen & Gledhill LLP. The ship is currently held at the Eastern Bunkering Anchorage.
No details regarding the reason behind the arrest were provided in the list. 
Photo credit: Manifold Times
Published: 7 December, 2023
PIL and DP World embark on biofuel bunkering trials at Jebel Ali Port
Both parties will collaborate on trial shipments between Jebel Ali Port in Dubai and destinations within PIL's network in near term which will include shipments on PIL's vessels powered by a biofuel blend.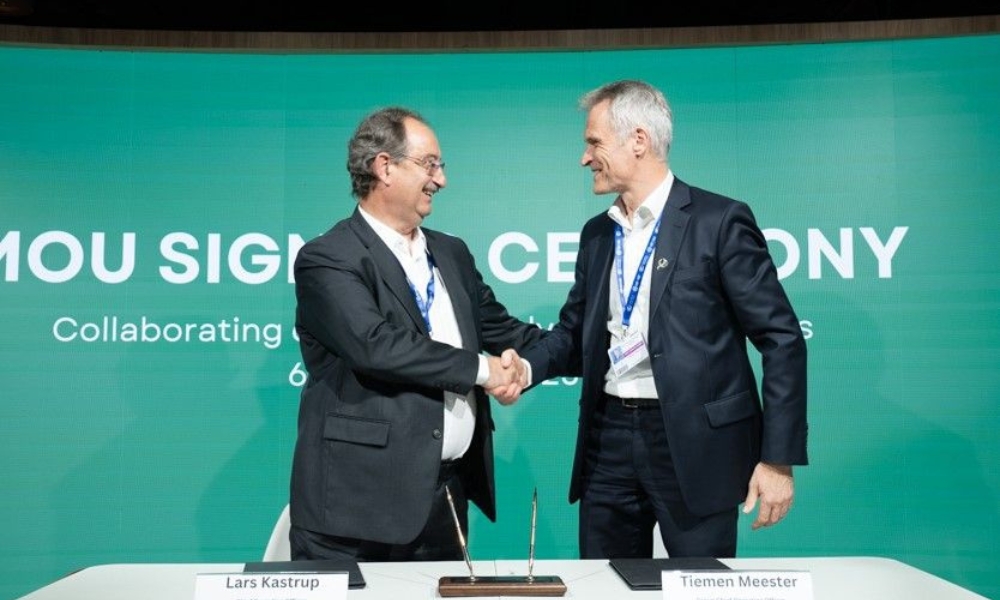 Singapore-based container operator Pacific International Lines (PIL) on Wednesday (6 December) said it signed a Memorandum of Understanding (MOU) with DP World, which handles around 10% of the world's container trade, to jointly develop green solutions to decarbonise global supply chains.
In the near term, both parties will collaborate on trial shipments between Jebel Ali Port in Dubai and destinations within PIL's network, with initiatives to reduce the shipments' GHG footprint. This will include shipments on PIL's vessels powered by a biofuel blend, biofuel bunkering, and deploying container handling equipment at terminals that run on renewable energy to handle the shipments.
Over the longer term, the companies will explore expanding this partnership to include other ports within DP World's global network, and using other alternative bunker fuels, such as e-LNG, green methanol or green ammonia in PIL's vessel operations and bunkering.
It was signed by Mr Lars Kastrup, Chief Executive Officer, PIL and Mr Tiemen Meester, Group Chief Operating Officer, Ports & Terminals, DP World, at the UN Climate Change Conference (COP28) in Dubai, United Arab Emirates (UAE), conveying their commitment to combating climate change and the collective goal of achieving net zero greenhouse gas (GHG) emissions by 2050 or earlier.
Mr Lars Kastrup, Chief Executive Officer, PIL said: "Supply chain resilience and sustainability is the bedrock of global trade growth. With the renewed commitment by the International Maritime Organisation (IMO) this year to take a significant step forward to decarbonise the shipping industry, we at PIL are responding actively to IMO's call and working to invest in and implement green solutions to achieve our target of achieving net zero by 2050. In this regard, we are pleased to have DP World joining us on our sustainability journey. Capitalising on the combined strengths of our two organisations, we can both augment our sustainability efforts as we co-develop solutions to decarbonise our supply chains."
Mr Tiemen Meester, Group Chief Operating Officer, Ports & Terminals, DP World, said: "Decarbonisation is the single biggest concern for DP World outside the constraints and the physical movement of goods. So, we are transforming our business and the impact global trade has on the climate. We have already committed to becoming carbon-neutral by 2040 and achieving net-zero carbon emissions by 2050. But we must explore partnerships with companies that share our ambitions and technology to be deployed right now for quicker results."
Photo credit: DP World
Published: 7 December, 2023