VPS: Why do VLSFOs still require quality considerations?
VLSFO play an important role, comprising 55% of marine fuel samples; while no official ISO8217 specs exist, VLFSOs demand careful management due to unique properties.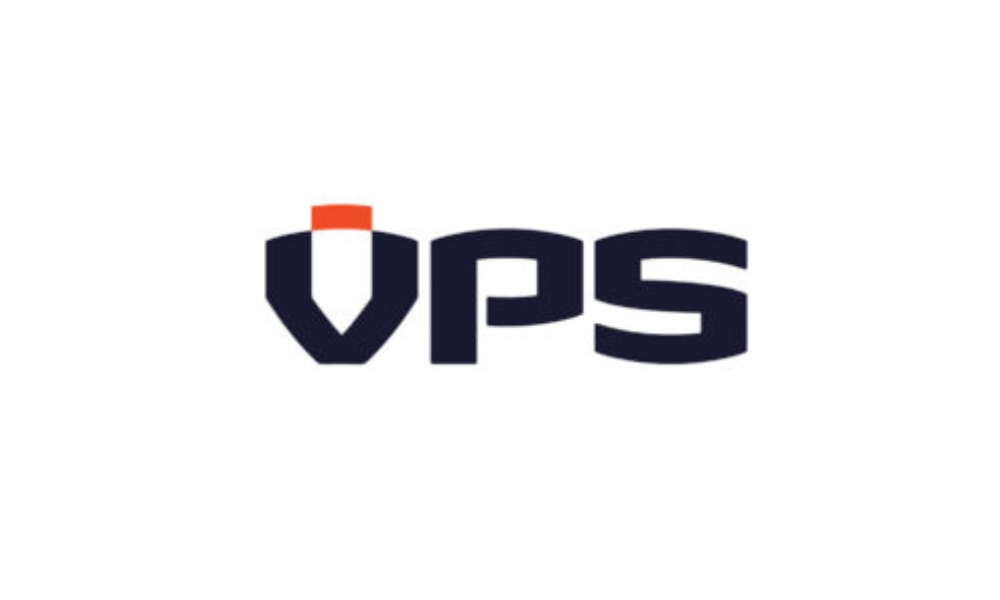 Steve Bee, Group Commercial & Business Development Director of marine fuels testing company VPS, on Thursday (18 August) shared that in the pursuit of greener shipping, the shipping industry should not overlook the importance of quality fuel management for traditional fossil fuels. 
Very Low Sulphur Fuels (VLSFO) play an important role, comprising 55% of marine fuel samples. While no official ISO8217 specs exist, VLFSOs demand careful management due to unique properties:
As the world of shipping quite rightly focuses on reducing its carbon footprint and endeavours to comply with a host of decarbonisation legislation, it may be easy to forget that traditional fossil fuels are still the main energy source for the majority of the global fleet. As such, the fuel management of fossil fuels and their quality, continues to be an important factor in protecting vessels, their crew and the environment.
As the most widely used fossil fuel, Very Low Sulphur Fuels (VLSFOs) require more focus than others, in terms of their fuel management. VLSFOs currently account for 55% of all marine fuel samples received by VPS for fuel quality testing. There are still no official standard specifications within ISO8217 for VLSFOs.
As such, most VLSFOs are tested against the RMG380 specifications, knowing that the viscosities of VLSFOs in particular, are very much lower than 380cSt. Currently, 68% of all VLSFOs tested have a viscosity between 20cSt-180cSt. This can have a significant impact on the transfer and injection temperatures onboard a vessel, requiring much less heating of the fuel to achieve the optimum injection viscosity. It would be beneficial to see the introduction of a minimum viscosity specification limit for VLSFOs, as well as a current maximum viscosity limit within ISO8217?
Currently 3.8% of all VLSFOs tested have at least one off-specification parameter. This compares favourably with the off-specification rates for HSFO fuels at 11.4% and MGO fuels at 16.9%. However, the VLSFO off-specifications are potentially more concerning than some of those associated with HSFO and MGO. Sulphur, water, cold-flow properties and cat-fines are the most frequent of VLSFO off-specification parameters.
Sulphur off-specification is the most common of all VLSFO off-specifications, with over 30% of all off-specifications being attributed to this one parameter. However, recent test results have shown that sulphur off-specification is certainly better today than it was back in 2021, with only 1.6% of VLSFOs tested being >0.50% Sulphur compared to 2.4% >0.50% in 2021.
Also, it would appear that so far this year, suppliers are producing more fuel in the 0.41%-0.46% Sulphur range, than the 0.47%-0.50% range, than over the past two years, which means that there is less chance of the VLSFOs falling outside of the 95%-confidence interval, or being off-specification.
Due to the higher level of paraffinic content of VLSFOs over HSFO fuels, it is more likely to see wax precipitation occur with VLSFOs, when subjected to colder temperatures.
The formation of wax crystals during storage and consumption is a potential major source of operational problems with VLSFOs. Therefore, it is vitally important to test for wax appearance (WAT) and wax disappearance temperatures (WDT), as the pour point of the fuel is not a reliable indicator of potential cold-flow issues.
During 2019, VPS developed a proprietary test to be able to measure both WAT and WDT in VLSFOs, which many of our customers have become reliant upon to safeguard their vessels from wax precipitation and it's potentially damaging consequences.
Current global averages show VLSFO Pour Point is 16°C, whilst the average WAT is 38°C, and the average WDT is 48°C. These figures illustrate why using +10°C above the pour point as an indicator of the cold-flow properties of VLSFO blends is simply insufficient, as well as inappropriate as a risk mitigation measure.
When WAT and WDT results are high, vessels need to consider raising the temperatures of their onboard separators, as well as the temperatures within storage, settling and service tanks.
However, VLSFOs with a short shelf life and high WAT may not be suitable for storing, as heating such fuel accelerates the ageing process and increases the likelihood of fuel sludging.
VLSFOs with low viscosity but high WAT & WDT, need to be heated to ensure a stable flow and to prevent wax formation. Such fuels will likely need to be cooled before entering the main engine, due to their low viscosity. This could present operational issues such as wax formation when the fuel temperature drops below the WAT.
Stability issues relating to VLSFOs have been a concern since their introduction in 2019. To this day we still witness spikes in Total Sediment Potential (TSP) across the world.
Some VLSFO blends appear stable on bunkering but become unstable over time (within a week or two). Heating the fuel in the tanks (to maintain suitable storage and transfer) and purifiers (to achieve efficient purification) deteriorates the fuel's stability and fastens the ageing process. 
VLSFOs that are incompatible can cause separator sludging and clogging of filters. As such, numerous vessels have witnessed incompatibility issues when the vessels change from MGO to VLSFO or (vice versa). 
VLSFOs with high WAT/WDT and high cat-fines create a need to operate separators at higher temperatures, at shorter discharge intervals. When this is practice is undertaken, wax starts to form, affecting purifier operation as well as clogging the fuel system's filters. 
Finally, regarding stability, VLSFOs with high WAT/WDT, that also have chemical contamination, followed by low viscosity, will unlikely to be handled on-board of vessels. In such cases, the only solution is to de-bunker the fuel. 
Between Feb-July 2023, VPS detected contamination in VLSFO fuels in Houston. This contamination saw the presence of two specific isomers of Dicyclopentadiene (DCPD) at concentrations between 1,000ppm-40,000ppm. 
The specific isomers were: 
Di-hydro dicyclopentadiene Chemical CAS Number: 4488-57-7 

Tetra-hydro dicyclopentadiene Chemical CAS Number: 6004-38-2 
DCPD's are unsaturated chemical compounds which can polymerise and oxidise under certain conditions. When DCPD polymerises, the fuel begins to exhibit a level of stickiness and becomes more viscous, making it difficult for moving components, eg fuel pump plungers & fuel injector spindles to move freely. These effects cause damage to the fuel injection system. Over a period of time excessive sludge formation is likely to be experienced. 
This specific case saw 12 vessels which bunkered the fuel in Houston suffer major operational issues and damages to auxiliary engines & fuel delivery systems, from fuel supplied by 4 suppliers. The type of problems witnessed were fuel leakage in the ICU (Injection Control Unit) units and fuel pumps not being able to develop the required fuel pressure.
In order to mitigate the risks associated with chemical contamination of VLSFOs, VPS recommend their GCMS-HS Chemical Screening service with each VLSFO bunkering. This service is a pre-burn, rapid, low-cost test, which can identify the presence of volatile chemicals within VLSFOs such as styrene, DCPD and chlorinated hydrocarbons, to name but a few and provide an elevated level of protection to the vessel. 
To summarise, VLSFOs as the most widely used marine fuel powering today's global fleet, can potentially create numerous operational and compliance issues, due to their varying quality. In order to mitigate the potential risks caused by, poor cold-flow parameters, fuel stability, chemical contamination, low viscosity and sulphur non-compliance, effective fuel management and testing can certainly help reduce and even eliminate such risks.
Related: VPS identifies new bunker fuel contamination at Houston
Related: FOBAS: Possible bunker fuel contamination in Houston and US Gulf area
Related: Viswa Group gives update on bunker fuel issues in Houston
Related: FuelTrust analysis finds fuel content discrepancies in 39% of global bunker deliveries
Related: VPS: Houston contaminated VLSFO bunker fuel was also supplied in Singapore
Related: BREAKING: Vessels supplied in Singapore yet to report engine issues due to contaminated bunkers, following Houston VLSFO case
Photo credit: VPS
Published: 21 August, 2023
Singapore: PS Energy Group unveils new brand identity and moves to a new office
The group including its inland and marine bunkering units PS Energy Pte Ltd and CNC Petroleum Pte Ltd has underwent rebranding and moved to JTC Summit.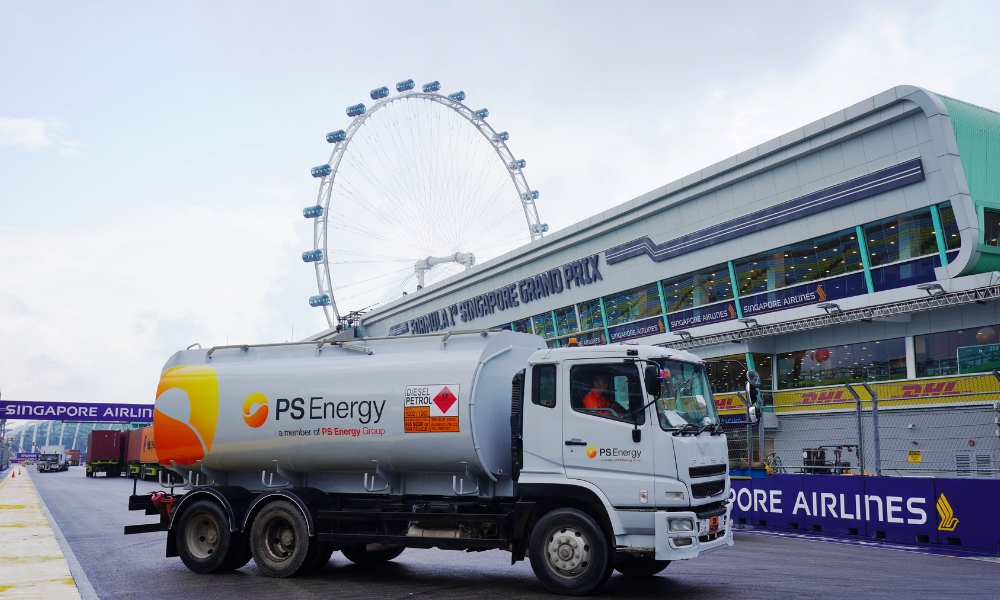 Last mile fuel distribution company PS Energy Group, including its inland and coastal and marine bunkering units, PS Energy Pte Ltd and CNC Petroleum Pte Ltd, has introduced a fresh brand identity learns Manifold Times.
The firm has unveiled its new company logos and branding that reflects its remarkable transformation as a company.
"Over the past few months, we have been working hard to create a new visual identity that truly captures the essence of who we are as a company which we hope will resonate, inspire trust, and build meaningful connections with our customers," Sean Chua, Managing Director told Singapore-based bunkering publication Manifold Times.
"Our new logo embodies the core values and aspirations that have guided us throughout our journey, while incorporating elements that represent our vision and direction for the future. With its circular shape, the new logo depicts an entity in motion and embodies PS Energy Group's agility, focus on innovation, and accessibility."
The firm's updated branding encompasses a comprehensive visual identity system that is now being integrated across all its assets and communication channels, including its inland and marine fleet, website, and social media platforms.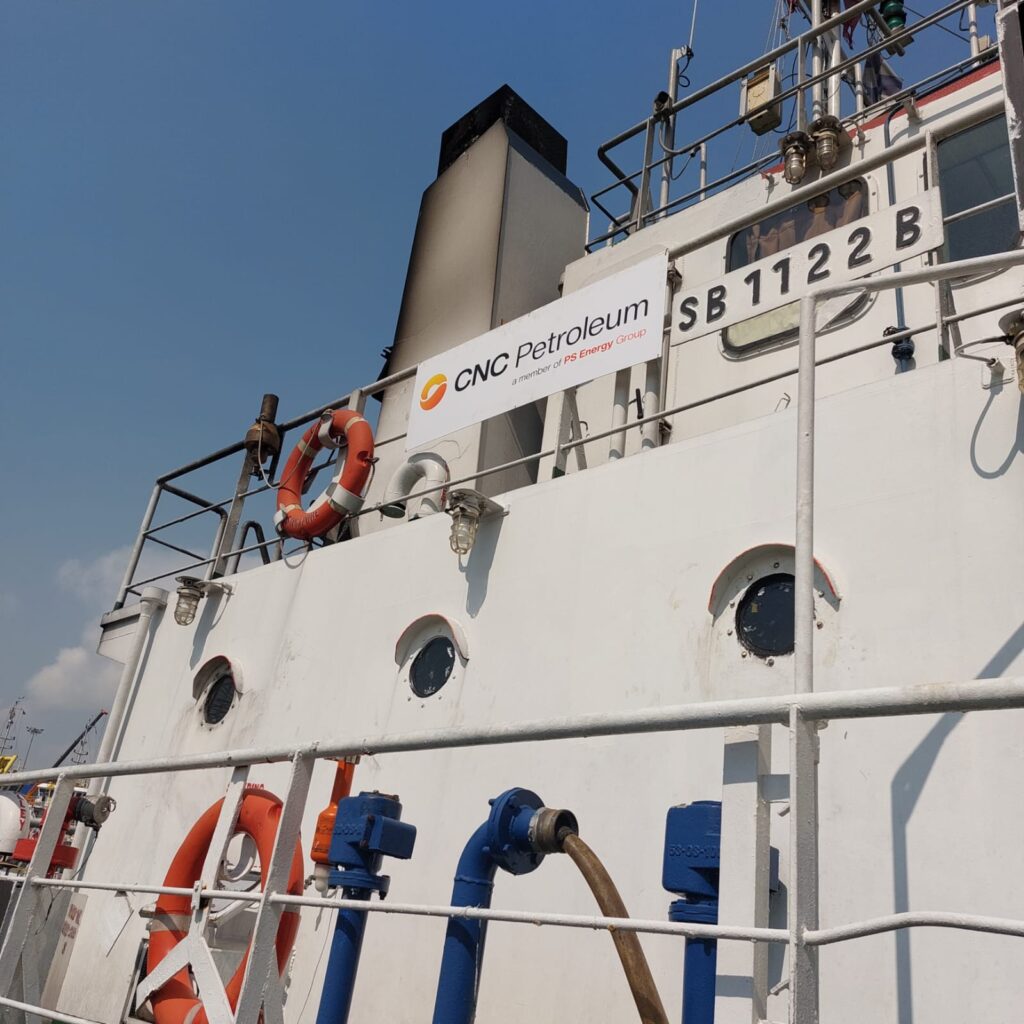 Besides the new brand identity, the Group has recently moved to a new and improved office space at the JTC Summit in Singapore. The firm said its team spent considerable time and effort in searching for the perfect location that aligned with its vision and values of providing the best service possible to its clients.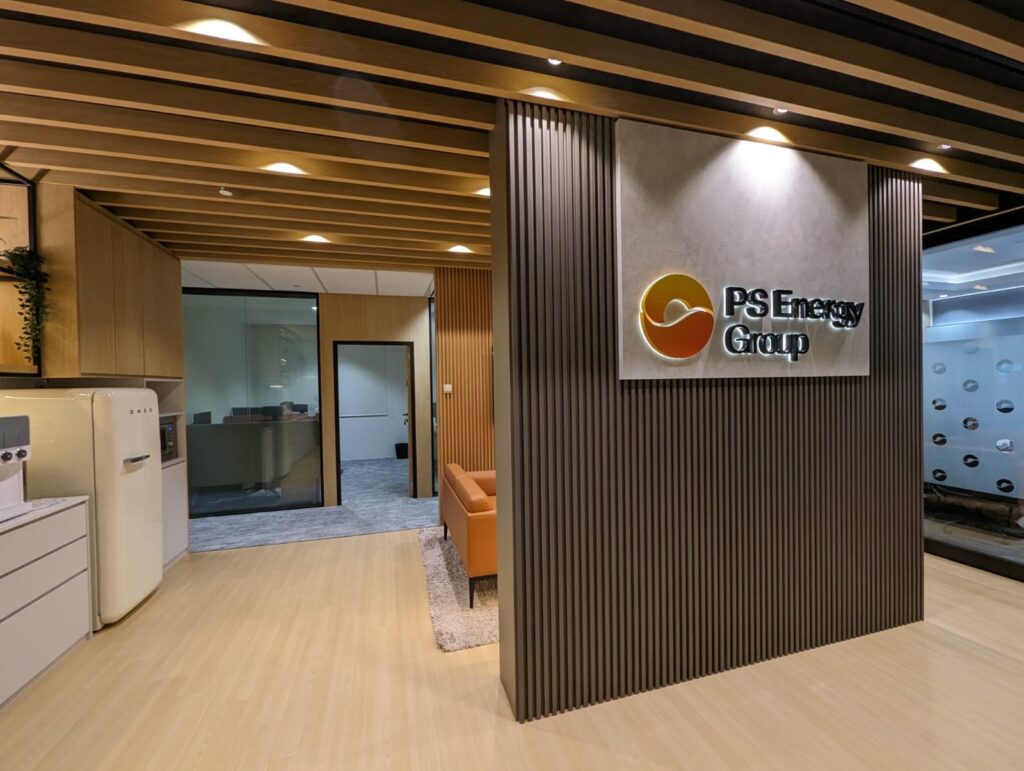 "The move represents a significant milestone in our company's journey and marks a new chapter of growth and opportunity. Our new office brings a host of exciting features and amenities that will undoubtedly elevate the overall experience for everyone involved," according to Sean.
"From spacious workstations and ergonomic furniture to cutting-edge technology and collaborative spaces, we have designed the new office with both functionality and comfort in mind. We believe that this new workspace will foster even greater creativity, productivity, and collaboration among our team members, enabling us to deliver exceptional results and exceed the expectations of our clients."
PS Energy Group's new address is as follows:
8 Jurong Town Hall Road
#24-01 The JTC Summit
Singapore 609434
Related: Interview: PS Energy Group gears up for 2023 with sustainable bunker fuel products and digital transformation
Related: CNC Petroleum provides alternative bunker fuel to coastal and marine market with MGO B20
Related: Singapore: PS Energy Group acquires ISCC cert for biodiesel products
Photo credit: PS Energy Group
Published: 4 October, 2023
Malaysia: Straits Energy proposes to list oil bunkering and shipping segment on Nasdaq
In a filing with Bursa Malaysia, the firm announced its intention to spin-off its oil bunkering and shipping related services segment for listing on NASDAQ stock exchange via a public offering.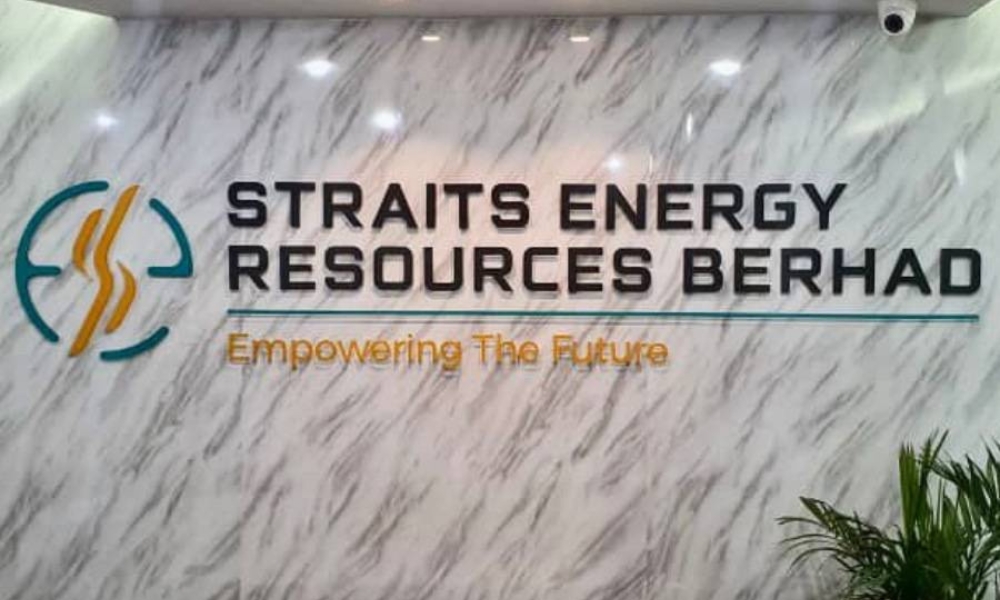 Malaysia-listed Straits Energy Resources Berhad on Monday (2 October) announced the company's intention to spin-off its oil bunkering and shipping related services segment for listing on NASDAQ stock exchange in the United States by way of a registered public offering.
In a filing with Bursa Malaysia, the firm said it intends to undertake a reorganisation of some of its subsidiaries involved in the oil bunkering and shipping related services segment, for the purpose of forming a separate listing group or Spin-Off Group suitable for the listing on NASDAQ.
"It is envisaged that these subsidiaries to be comprised in the Spin-off Group will continue to remain as
subsidiaries of Straits upon the completion of the Proposed Listing," the company said.
Straits Energy added it will make a detailed announcement in relation to the proposed listing in due course, once the board of directors has finalised and approved the terms and structure of the exercise.
It said the listing would enable the Spin-Off Group to gain recognition and corporate stature through the listing status of its own on NASDAQ.
The company added the listing would further enhance its corporate reputation and profile which will be conducive in expanding its customer base whilst allowing the Spin-Off Group to expand and establish its global presence.
The proposed listing would also enable the Spin-Off Group to gain access to the capital market in the United States for capital raising and to provide the Spin-Off Group with financial flexibility for future expansion and growth.
It will also unlock shareholders' value in the oil bunkering and shipping related services and provide transparent valuation benchmark for the same on NASDAQ, it added. 
Manifold Times previously reported marine fuel logistics firm CBL International Limited (CBL International), an ultimate holding company of Banle International Group Ltd (BVI), a 38%-associate company of Straits Energy Resources Bhd announced it would be listed on Nasdaq.
Later, Manifold Times did an exclusive interview with Banle Group who shared insights on the successful listing of CBL International Limited, its listing vehicle, on the Nasdaq Capital Market
Related: Malaysia: Straits Energy associate CBL International to be listed on Nasdaq
Related: Exclusive: Banle Group sets sights on expanding bunker supply network with successful IPO on Nasdaq
Photo credit: Straits Energy Resources Berhad
Published: 4 October, 2023
VPS announces new appointments for key positions
Andrew Morton has been appointed to the role of Managing Director AMEA while Captain Rahul Choudhuri has been appointed to the newly created role of President Strategic Partnerships.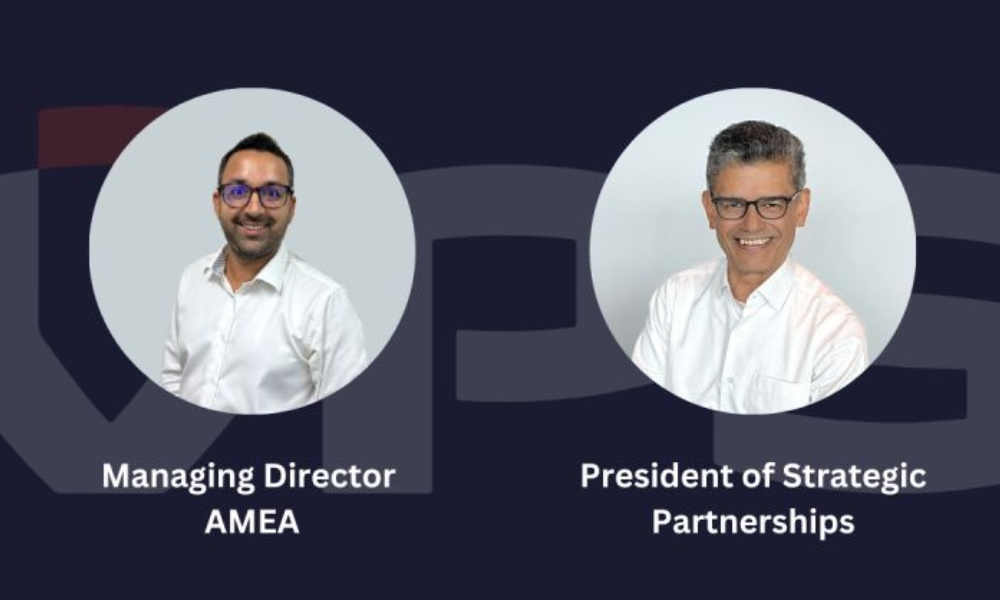 Marine fuels testing company VPS on Tuesday (3 October) announced the appointment of Andrew Morton to the role of Managing Director AMEA (Asia, Middle East and Africa).
In this role, Andrew will apply his experience and knowledge to lead the delivery of VPS services to these important and growing regions. He joins VPS having spent the last 17 years working in the oil and gas industry, most recently with TotalEnergies in various positions and countries.
These included technical, commercial, management, mergers and acquisitions and most recently the New Energies space, including renewable energy, biogas and fuels, hydrogen and LNG. He has a BSc (Hons) in Chemistry and started his career in research and development in the lubricants industry for Fuchs.
Dr. Malcolm Cooper, VPS CEO, stated "We are delighted to welcome Andrew on board as our MD AMEA. His background and experience will be helpful in supporting our customers in these important Regions, particularly in the rapidly developing decarbonisation space."
Andrew Morton, said: "I am delighted to join VPS and the team and take over the role of Managing Director - Asia, Middle East and Africa. It is a privilege to join the global market leader and to manage a zone where the maritime industry is growing. I look forward to working with the various companies and associations across the industry to help them with their decarbonisation journey."
VPS also announced that Captain Rahul Choudhuri has been appointed to the newly created role of President Strategic Partnerships. In this role, Rahul will use his network to enhance and further develop relationships with customers and operators from across the shipping ecosystem to help VPS support their decarbonisation journey.
Dr. Malcolm Cooper, VPS CEO, stated "Captain Rahul is well-known across the Maritime sector and he has been the figurehead for VPS Asia and the Middle East for many years. He has been instrumental in many developments within VPS and across the shipping industry, making significant contributions to developments through a wide range of Committees and organisations."
"His new role will enable him to focus more on our external relationships, which are of growing importance as we aim to support the shipping sector on it's decarbonisation journey. We in VPS are very proud of Rahul's achievements to date and we know there will be more to come."
Rahul, said: "I am looking forward to this new opportunity. This role will allow me to use my experience and close relationships to strengthen, build and develop the industry partnerships needed to deliver new decarbonisation solutions offered by VPS. My work with industry associations allows a greater professional engagement with stakeholders to take the industry forward in challenging times".
Photo credit: VPS
Published: 4 October, 2023