VPS, CMA CGM collaboration evaluates Singapore MFM compliance
Technology still needs checks and balances even though TR48 compliance is already above 70%, Managing Director of VPS Singapore tells Manifold Times.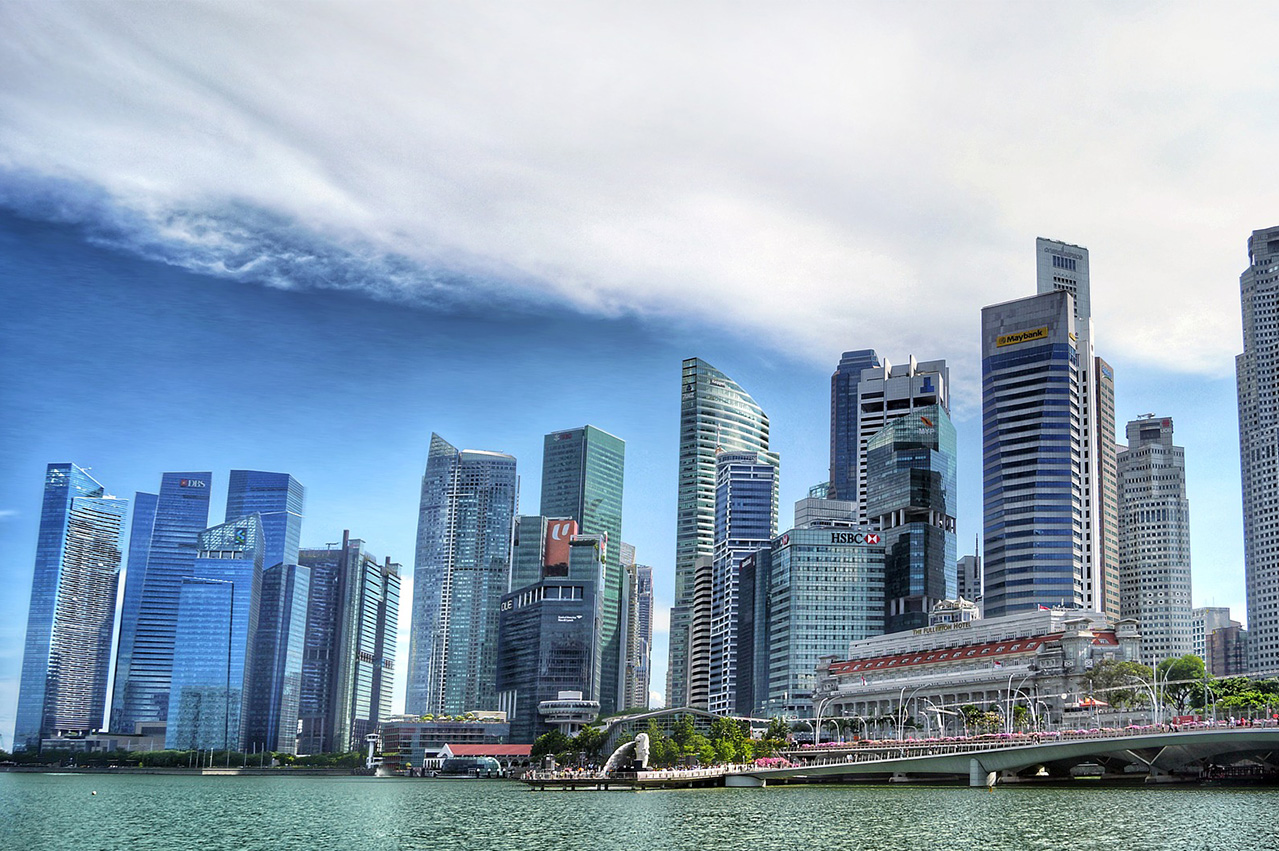 Fuel testing and inspection firm Veritas Petroleum Services (VPS) on Tuesday says its mass flowmeter (MFM) monitoring services are able to evaluate the quality of MFM bunker deliveries in accordance to TR 48 at Singapore.
The MFM Quick Screen and its associated services are a result of a 2017 collaboration between VPS and shipping firm CMA CGM, while tapping on the expertise of an inhouse MFM technologist.
"The MFM Quick Screen was actually launched last year and the latest round of data acquired reinforces the work we have done," Rahul Choudhuri, managing director at VPS Singapore told Manifold Times.
"There are other customers who are using this service already, but basically CMA CGM is a key customer helping us to develop this service."
Christophe Lesnard, head of bunker control and claims, and Cristian Popescu, bunker owner representative, both working at the energy department of CMA CGM notes the MFM Quick Screen service introduces additional checks on an already robust TR 48 system.
"The partnership between CMA CGM and VPS in the development of these MFM monitoring services has assisted in providing real benefits and a higher level of transparency with respect to fuel delivery via MFM," they say.
"All parties involved in a MFM bunkering operation need to learn on a daily basis to decode the generated data and identify potential weaknesses.
"CMA CGM and VPS actively sought to create and enhance dedicated tools, which led VPS to being currently at the forefront of MFM supplies monitoring services, with the Quick Screening of MFM profile.
"This general overview for each delivery with highly specialised flow of analysis provide an efficient support for the ship owner in identifying and settling any potential disputes."
According to VPS, the MFM Quick-Screen data with CMA CGM has shown 72% of MFM bunker deliveries at Singapore complying with the TR 48 bunkering standard during 2017.
Non-compliance was either due to parameters such as tank stripping, line clearing, low cut-off values (LFC), minimum measured quantity (MMQ), minimum mass flow rate (Qmin), zero verification, damping, aeration, meter totaliser log, or a combination of the above.
Further, the MFM Quick-Screen can provide a more detailed MFM investigation to comprehensively prove the initial findings, including analysis of the MFM Profile ASCII file Raw Data and Transmitter Configuration Report.
"MFM technology for bunkering definitely works but this exercise also goes to show that checks and balances can be introduced to further improve the operating sphere," explains Choudhuri.
"We are improving the technology and as years go by we expect things to get better; for example, it took over 30 years of fuel testing and monitoring to reduce issues with global fuel quality.
"Filling up a vessel with 1,000 mt of fuel and paying around half a million dollars is a very different operation from filling 50 litres of gas in your car.
"What the MFM Quick-Screen does is to introduce a mechanism for recourse should a shipowner decide to dispute."
Published: 7 February, 2018

GCMD, BCG survey highlights three maritime decarbonisation archetypes
Survey identified three decarbonisation archetypes within the shipping industry, differentiated in their outlook, investment appetite and the challenges faced.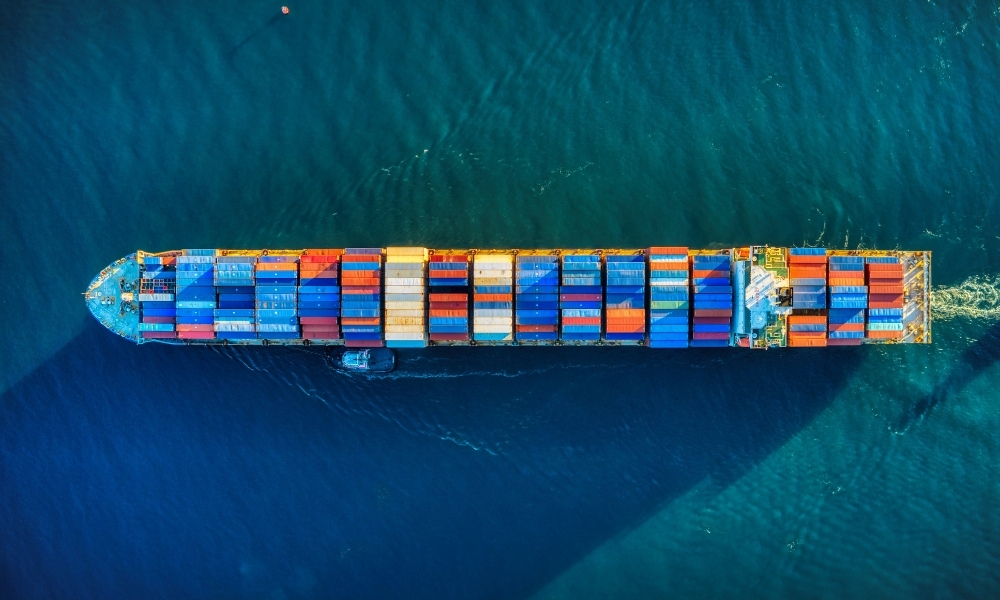 The Global Centre for Maritime Decarbonisation (GCMD) and Boston Consulting Group (BCG) conducted an industry survey to take stock of shipowners and operators' progress in establishing six elements needed for the shipping industry to reach net zero, according to BCG on Wednesday (27 September). 
The survey saw strong participation from 128 shipowners and operators across vessel types, fleet sizes and geographies, which collectively own or operate 14,000 merchant vessels, and account for USD500 billion in revenue.
The duo found high decarbonisation ambitions: Most respondents viewed net zero as a strategic priority, and 77% had already set concrete decarbonisation targets. The industry has also mobilised resources to decarbonise: respondents are investing 2% of their revenues into green initiatives, and 87% have personnel working toward green objectives.
The path to net zero for shipowners and operators requires six elements:
A robust strategy and roadmap
Four specific decarbonisation levers to reduce emissions: operational efficiency, technological efficiency, fuel transition, and shipboard carbon capture
Enablers such as dedicated sustainability teams, strategic investments in green initiatives, internal carbon prices, and digitalization
While the industry has made some progress in adopting mature and cost-effective efficiency levers, adoption of complex or nascent levers remains low. Drop-in green fuels are constrained by costs and supply-side gaps, and optimism for future cleaner fuels is yet to translate into firm commitment.
The industry is now at a pivotal point, with many shipowners and operators ramping up their decarbonisation efforts. Three-quarters of respondents plan to increase investments in green initiatives. Stakeholders can build on this momentum with a variety of supportive actions. But to be effective, they need to tailor their interventions to address the specific challenges that shipowners and operators face at each stage of decarbonisation.
Three Decarbonisation Archetypes
GCMD and BCG saw three archetypes, differentiated in their outlook, investment appetite, and the challenges faced.
Frontrunners have the greatest ambitions and are willing to invest heavily. They are pushing boundaries, adopting even nascent decarbonisation levers, such as wind propulsion and air lubrication. A majority plan to pilot shipboard carbon capture solutions by 2025. Frontrunners are also planning to adopt methanol and ammonia as early as 2026 and 2029 respectively, and the availability of fuels and bunkering infrastructure will be critical to enabling adoption.
Followers believe in decarbonising their fleets, but have tighter investment thresholds and a near-term outlook. They have kept pace with Frontrunners in adopting mature and cost-effective efficiency levers, such as main engine improvements and slow steaming, but are behind in the adoption of nascent levers, such as wind propulsion and air lubrication.
Conservatives are still early in their decarbonisation journey, likely due to a lack of awareness and familiarity with the various decarbonisation levers, and the capabilities to assess and deploy them. They are best supported by measures that increase their familiarity with the levers and help contextualise them to their specific fleets and operational requirements.
The research highlights five key actions for stakeholders:
Conduct technical pilots and facilitate data sharing, especially for nascent levers
Create innovative financing mechanisms to de-risk adoption of less mature levers
Raise awareness, contextualize levers, and build capabilities, especially among Conservatives
Start to build out future fuels infrastructure at ports
Develop mechanisms to equalize and share the costs of levers across the ecosystem
Maritime decarbonization is a complex, critical endeavor. The successful implementation of these five key actions demands a whole-of-value-chain approach. By working together, stakeholders can transform the maritime sector into a beacon of environmental stewardship, and set a course for a greener future where decarbonization and commercial success go hand in hand.
Note: The GCMD-BCG Global Maritime Decarbonisation Survey report can be downloaded here.
Photo credit: Venti Views on Unsplash
Published: 28 September, 2023
digitalPORT@SG – MPA implementing JIT Platform for Port of Singapore
JIT Platform will be fully implemented for vessels that are berthing at PSA Terminal and Jurong Port for cargo operations from 1 October 2023 onwards, states port authority.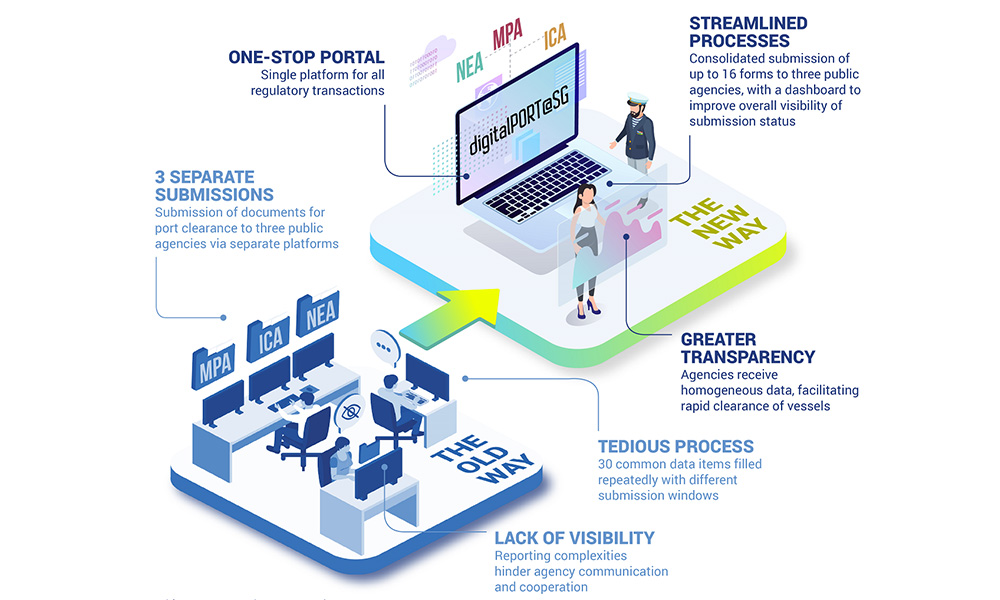 The Maritime and Port Authority of Singapore (MPA) on Friday (22 September) said its Just in Time Planning and Coordination Platform (JIT Platform) will be fully implemented for vessels that are berthing at PSA Terminal and Jurong Port for cargo operations from 1 October 2023 onwards.
From January 2024 onwards, the JIT Platform will be progressively implemented to tankers berthing at the energy terminals and to all vessels calling at the anchorages.
"The ship agents, ship liners and marine service providers should make use of the JIT Platform to facilitate optimal arrival and departure of vessels to and from the Port of Singapore," it stated in PMC No. 10 of 2023.
According to the port authority, the JIT Platform provides advanced information of the vessel schedule in port, allowing vessels to maintain an optimal operating speed to arrive at the Port of Singapore, reducing the time at the anchorages prior to berthing.
The application of JIT arrivals for vessels can result in lower bunker fuel consumption through voyage optimisation and hence savings in carbon emissions.
Marine Service Providers can make use of the advanced and real time information of the vessel schedule to plan and optimise the deployment of the port resources such as pilotage, towage, bunker tankers and supplies more effectively. This will lead to faster vessel turnaround time and cost savings for the vessels.
In preparation of the implementation of JIT Platform, MPA conducted several training sessions for the shipping and harbour craft communities. Since July 2023, these training sessions allow the ship agents, towage service providers, and bunker suppliers to have hands-on experiences and familiarise themselves with the system and its functions.
Photo credit: Maritime and Port Authority of Singapore
Published: 25 September, 2023
Hyundai secures first HiMSEN methanol engine supply contract with Japanese shipyard
In the 1st half of 2023 Hyundai Heavy Industries signed a supply contract for total 75 sets of its next-generation H32C engines with Imabari shipbuilding.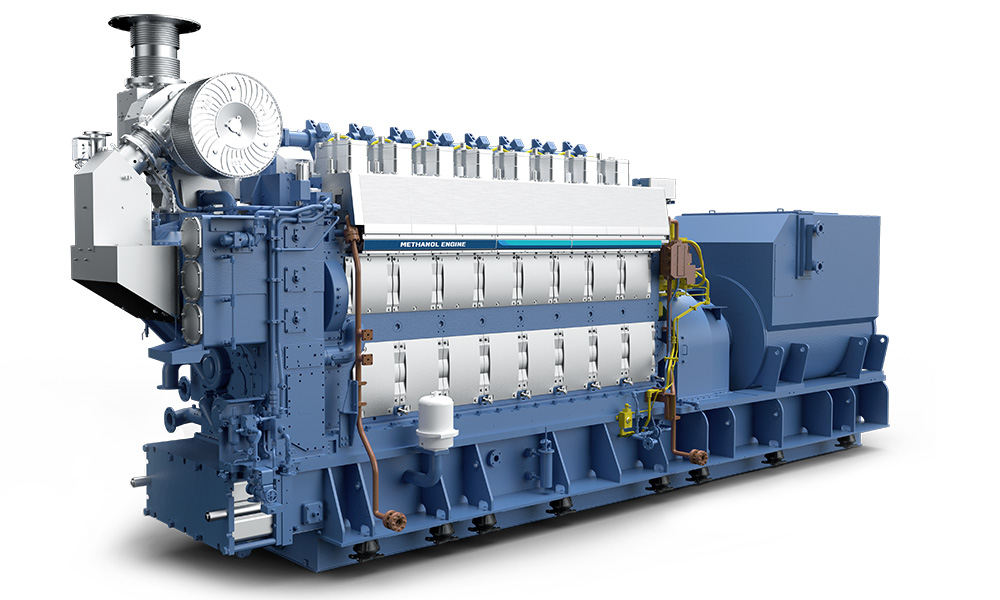 HD Hyundai Heavy Industries - Engine & Machinery on Thursday (21 September) said it recently signed a contract for total 16 sets of HiMSEN Methanol Dual fuel engine (8H32DF-LM) and selective catalytic reduction (SCR) units as a package supply with Tsuneishi shipbuilding in Japan.
The equipment will be installed on four vessels built at the Tsuneishi Zhoushan Shipyard in China under the Tsuneishi shipbuilding and the engine will be delivered to the shipyard sequentially from January 2025.
In the 1st half of 2023 Hyundai Heavy Industries signed a supply contract for total 75 sets of its next-generation H32C engines with Imabari shipbuilding in Japan for 15 container vessel newbuildings.
"In this time, it [Hyundai Heavy Industries] is expected to expand its position in the Japanese market which has been monopolised by competitors with a long history, by supplying first HiMSEN methanol Dual fuel engine to Japanese market," said the engine manufacturer.
Photo credit: HD Hyundai Heavy Industries - Engine & Machinery
Published: 21 September 2023