INSIGHT INTERVIEW: Bunker Holding reveals FY2017/18 growth strategy
Keld R. Demant, CEO of Bunker Holding Group, tells Manifold Times how the firm managed a 16% improvement in EBT to $40 million despite a challenged bunker market.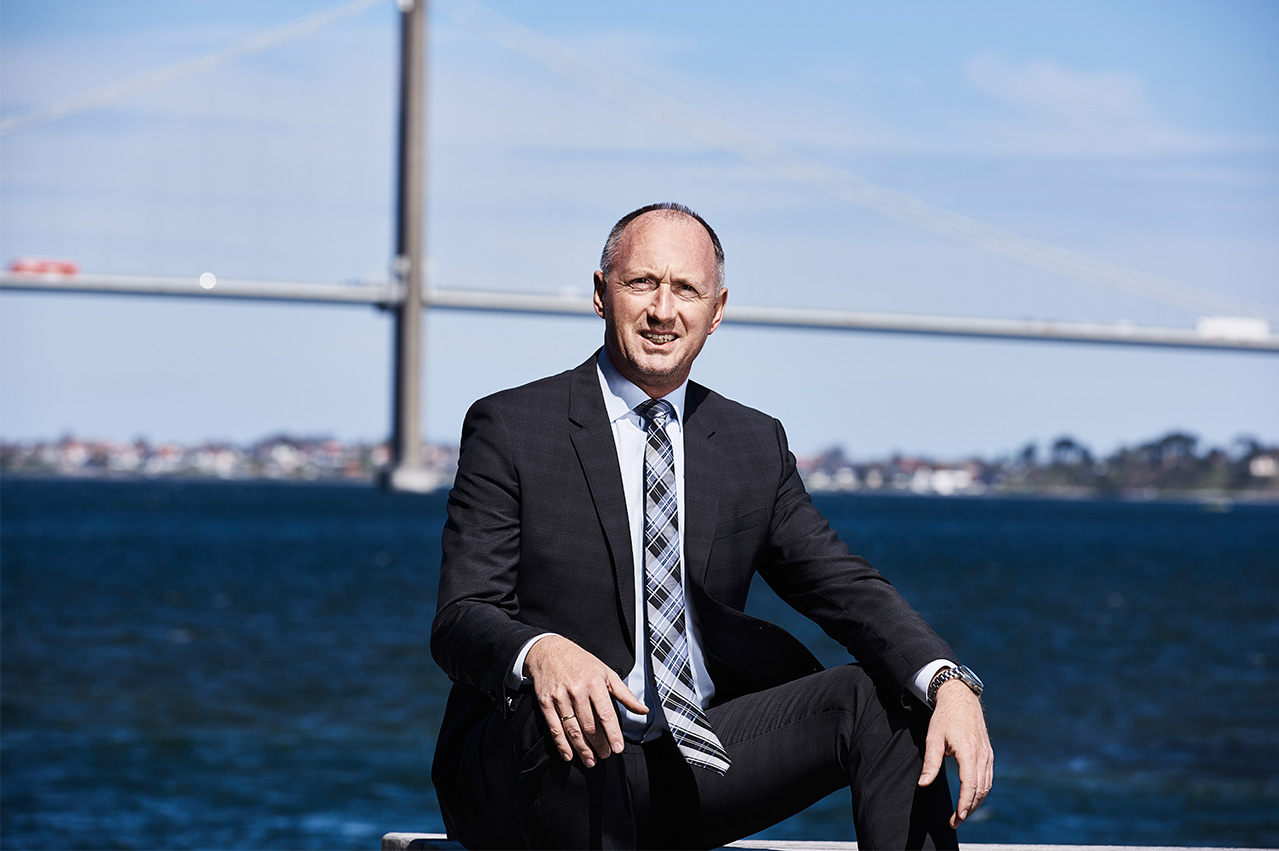 Bunker Holding (BH) Group, part of Middelfart-based conglomerate United Shipping & Trading Company (USTC), Monday posted "massive growth" in both turnover and bottom line for its financial year FY2017/18.
The development was the result of careful planning and execution even before FY2017/18, Keld R. Demant, CEO of BH Group, tells Manifold Times.
"Looking into not just last year, there are already three major events that have brought us in to this position," he says.
"First of all we have been reading the market and formulating a long lasting strategy for sustainable growth, not growth for the sake of growth, but only sustainable growth."
Demant explained the majority of BH Group's sustainable growth model consisted of external revenue (20%) coming from the price development in crude oil, whereas the firm sold "slightly" more marine fuel (between 3 to 4%) in FY2017/18 when compared to the earlier year.
"Secondly, the continual investment in staff such as retaining the good people on board, and at the same time spending a lot of money and time and effort training the new incoming people as made an impact," he adds.
"Thirdly, we all know that marine and oil industry is very dynamic and having an owner [USTC] who understands these issues while having both the will and capability to capitalise on the opportunity has made a great difference.
"These are the major reasons why we have performed better than our peers [in the bunkering sector]."
BH Group noted "massive investments" in strategic IT platforms during FY2017/18; however, these investments were focused on improving the firm's internal operations, rather than other fields.
"We were not investing in IT platforms like market-based solutions; what we were investing heavily is to ensure all our daily work will run efficiently. We know time is valuable in the shipping industry and what we want to have is a very lean operation so we can add value to our client's operations while still making money," notes Demant.
"Secondly, we have also invested heavily in business intelligence so we have very good data on what is going on, who is doing what, who should be granted credit, and who should we avoid credit so these are the two areas that we have invested in the last couple of years."
The introduction of new bunker trading concepts in three areas during FY2017/18 have further improved BH Group's operations, resulting in added bunker sales volume.
"We have Bunker ONE which merges our global physical activity into one concept brand; this has added a lot of extra volume because a lot of our clients were earlier unaware in how many destinations we could help them," explains Demant.
"Secondly, a lot of our biggest clients worldwide have been positive about services we can now provide under the rebranded Bunker ONE Global Accounts, which were formerly called CGA (Corporate Global Accounts).
"Thirdly, we have entered the lube oil market and we have grown substantially and been successful in that area."
Moving on, Demant says BH Group is well-prepared to help shipowners meet the 2020 sulphur limits for bunker fuels worldwide.
"First of all, we brought in Carlos Torres who was the former Global Head of BP Marine and he has endless knowledge on refineries on who can provide [compliant bunker] product," he explains.
'Secondly, we have conducted more than 100 meetings and interviews with clients to understand their current needs and how they see their needs in the future.
"Last but not least, we have spent a lot of time discussing with suppliers worldwide on how they can provide us with the right product when the time comes.
"All of these while making sure we are financially ready to meet the challenges which 2020 will bring."
Related: LATEST: Bunker Holding records 'massive growth' in FY2017/18
Related: Bunker Holding launches talent programme
Related: Bunker Holding: MFM is the new 'chicken and egg'
Related: 2020: Bunker Holding forecasts credit tightness
Related: Bunker Holding Group's Bunker One flexes physical strength
Related: Bunker Holding Group's Bunker One starts operations
Photo credit: Bunker Holding Group
Published: 2 July, 2018

Singapore, LA and Long Beach unveil Partnership Strategy for Pacific Ocean green and digital shipping corridor
Ports and C40 have commissioned a study to analyse trade flows and vessel traffic between the three locations as well as estimate quantity of near-zero/zero-emission bunker fuels required for this traffic.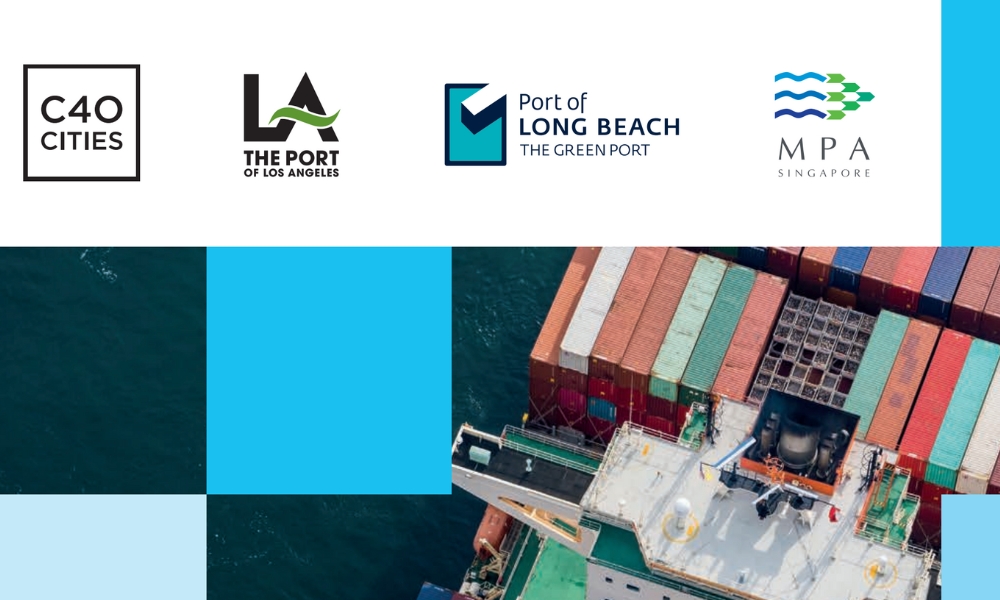 The Maritime and Port Authority of Singapore (MPA), Port of Los Angeles (POLA) and Port of Long Beach (POLB) on Wednesday (6 December) unveiled a Partnership Strategy for a green and digital shipping corridor (GDSC) across the Pacific Ocean at the 28th United Nations Climate Change Conference.
The release of the Partnership Strategy follows the signing of a memorandum of understanding (MoU) by MPA, POLA and POLB during Singapore Maritime Week in April 2023. The MoU formalised the partnership, which is supported by C40 Cities, with the aim of establishing a GDSC connecting the three global hub ports.
The scope of cooperation through the Partnership Strategy and success indicators specified within build upon the MoU signed in April 2023 and reaffirm the corridor partners' commitment to drive global action to digitalise and decarbonise the shipping industry and improve efficiencies.
The GDSC Strategy outlines steps to accelerate decarbonisation of the maritime shipping industry by enabling first mover organisations to achieve net-zero greenhouse gas emissions by the earliest feasible date, in support of the goals defined by the 2023 International Maritime Organization's Strategy on Reduction of GHG Emissions from Ships. The ports and C40 will work together and with value-chain stakeholders from the fuel and maritime sectors to:
● Coordinate decarbonisation efforts: GDSC partners will help to catalyse and coordinate efforts to enable ships calling at the Port of Singapore, Port of Los Angeles and Port of Long Beach to achieve net-zero greenhouse gas emissions by the earliest feasible date.
● Build consensus on green shipping best practices: GDSC partners will seek to establish consensus around green shipping best practices and standards.
● Improve access to and adoption of technology and digital solutions: To enhance supply chain efficiency, resilience and decarbonisation while reducing costs and improving reliability, GDSC partners will work to develop and deploy innovative technology and digital solutions.
● Leverage networks: GDSC partners will work with stakeholders involved in other green shipping initiatives, including those established by the three ports and other parties, to scale the uptake of zero and near-zero emission technologies, fuels and energy sources.
To achieve these aims, a partnership structure and governance mechanism have been developed to provide clarity on the roles and responsibilities of GDSC partners. The strategy also outlines processes for onboarding new participants, financial management, confidentiality and decision-making.
As next steps, the ports and C40 have commissioned a study to analyse trade flows and vessel traffic between Singapore, Los Angeles and Long Beach. The study will estimate the quantity of near-zero and zero-emission fuels required for this traffic, and guide implementation by identifying opportunities for collaboration to advance the development of the GDSC.
The founding partners will now engage stakeholders from across the shipping and fuel supply value chains that share the GDSC's vision and aims, with the intention of onboarding new corridor participants in 2024.
Mr Teo Eng Dih, Chief Executive of MPA, said: "We are excited to see this partnership grow from strength to strength with the Green and Digital Shipping Corridor Partnership Strategy. We have embarked on evaluating the various digital solutions and zero and near-zero fuels options that could be trialled along the route between Singapore and the San Pedro Bay Port Complex. We look forward to the support of all the corridor stakeholders over the coming months to conduct trials and potentially scale them for wider adoption."
"This Partnership Strategy document is the foundation upon which we'll build the future of maritime shipping," Port of Los Angeles Executive Director Gene Seroka said. "Our success requires the resolve and dedication of the three partnering ports as well as our industry partners. Together, we will model the collaboration necessary to achieve our climate and efficiency goals."
"Over the last two decades, we've learned that collaboration between maritime industry partners is the key to making meaningful progress in reducing emissions and cleaning the air,"Port of Long Beach CEO Mario Cordero said. "This trans-Pacific green shipping corridor takes this concept global. The strategies we develop here can be used as a roadmap by a larger network of seaports and supply chain companies to invest in programs, technologies, software and infrastructure to decarbonize international trade everywhere."
C40 Executive Director Mark Watts, said: "C40 is proud to support our port partners in delivering this Partnership Strategy. The advancement of this Green and Digital Shipping Corridor brings the shipping sector one step closer to a 1.5°C-aligned trajectory. Green shipping is only achievable through collaboration because no one stakeholder can afford to move unless they know others are likely to follow. That's where C40 is delighted to help, bringing our network of world-leading cities, which include most of the world's largest and most forward-looking ports."
Note: The Partnership Strategy document can be viewed here. 
Photo credit: Maritime and Port Authority of Singapore
Published: 7 December, 2023
Liberia-flagged bulker "Eleen Armonia" placed under Sheriff's arrest
Ship was added to list of vessels under Sheriff's arrest in Singapore's court system and it is currently held at Eastern Bunkering Anchorage; arrest was made on behalf of Allen & Gledhill LLP.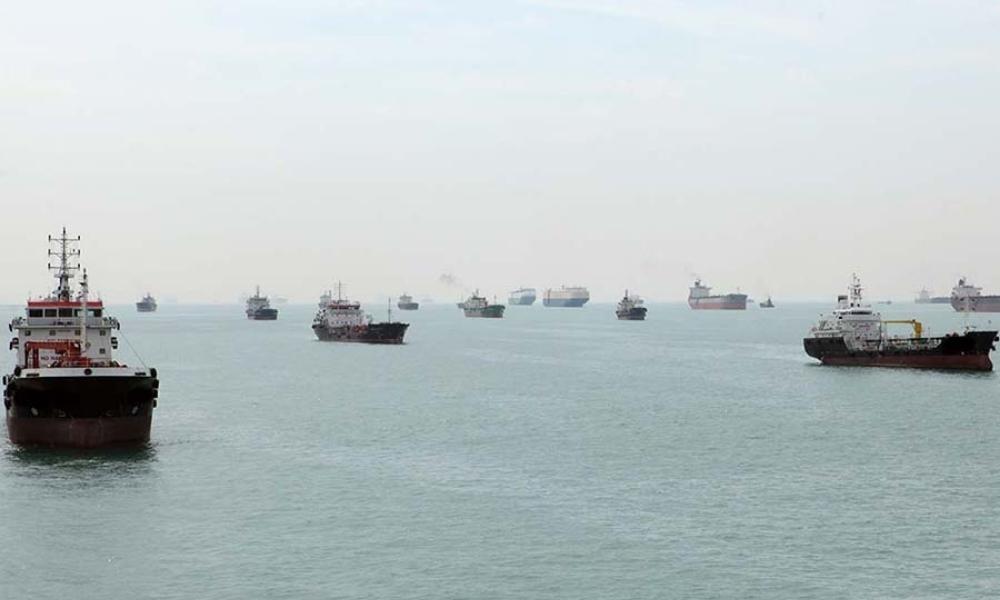 Liberia-flagged bulk carrier Eleen Armonia was arrested in Singapore waters on Monday (4 December).
The 55,522 DWT vessel was added to the list of vessels under Sheriff's arrest in Singapore's court system.
According to the list, the vessel was arrested at 12.25pm and the arresting solicitor listed was law firm Allen & Gledhill LLP. The ship is currently held at the Eastern Bunkering Anchorage.
No details regarding the reason behind the arrest were provided in the list. 
Photo credit: Manifold Times
Published: 7 December, 2023
PIL and DP World embark on biofuel bunkering trials at Jebel Ali Port
Both parties will collaborate on trial shipments between Jebel Ali Port in Dubai and destinations within PIL's network in near term which will include shipments on PIL's vessels powered by a biofuel blend.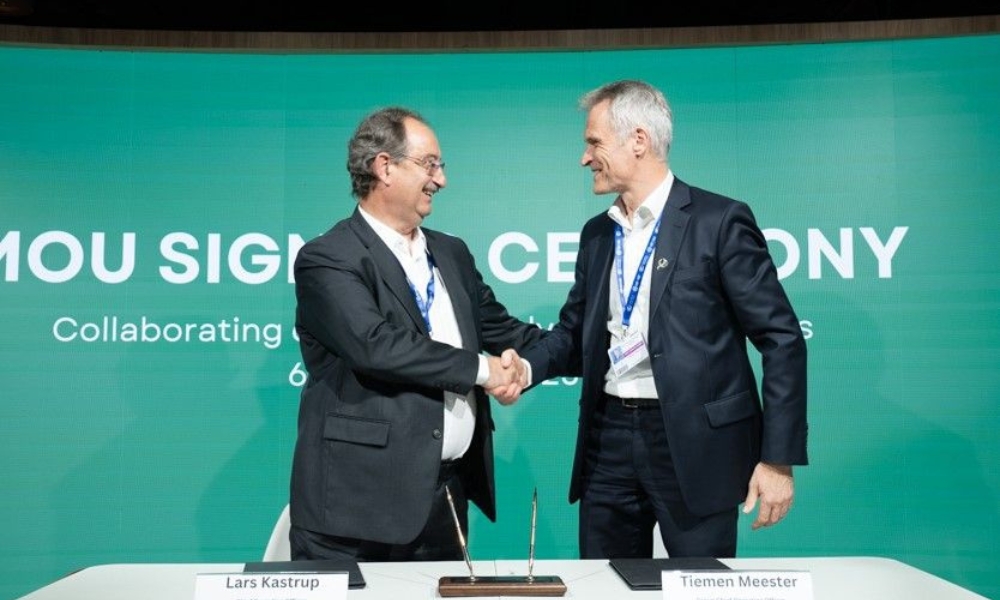 Singapore-based container operator Pacific International Lines (PIL) on Wednesday (6 December) said it signed a Memorandum of Understanding (MOU) with DP World, which handles around 10% of the world's container trade, to jointly develop green solutions to decarbonise global supply chains.
In the near term, both parties will collaborate on trial shipments between Jebel Ali Port in Dubai and destinations within PIL's network, with initiatives to reduce the shipments' GHG footprint. This will include shipments on PIL's vessels powered by a biofuel blend, biofuel bunkering, and deploying container handling equipment at terminals that run on renewable energy to handle the shipments.
Over the longer term, the companies will explore expanding this partnership to include other ports within DP World's global network, and using other alternative bunker fuels, such as e-LNG, green methanol or green ammonia in PIL's vessel operations and bunkering.
It was signed by Mr Lars Kastrup, Chief Executive Officer, PIL and Mr Tiemen Meester, Group Chief Operating Officer, Ports & Terminals, DP World, at the UN Climate Change Conference (COP28) in Dubai, United Arab Emirates (UAE), conveying their commitment to combating climate change and the collective goal of achieving net zero greenhouse gas (GHG) emissions by 2050 or earlier.
Mr Lars Kastrup, Chief Executive Officer, PIL said: "Supply chain resilience and sustainability is the bedrock of global trade growth. With the renewed commitment by the International Maritime Organisation (IMO) this year to take a significant step forward to decarbonise the shipping industry, we at PIL are responding actively to IMO's call and working to invest in and implement green solutions to achieve our target of achieving net zero by 2050. In this regard, we are pleased to have DP World joining us on our sustainability journey. Capitalising on the combined strengths of our two organisations, we can both augment our sustainability efforts as we co-develop solutions to decarbonise our supply chains."
Mr Tiemen Meester, Group Chief Operating Officer, Ports & Terminals, DP World, said: "Decarbonisation is the single biggest concern for DP World outside the constraints and the physical movement of goods. So, we are transforming our business and the impact global trade has on the climate. We have already committed to becoming carbon-neutral by 2040 and achieving net-zero carbon emissions by 2050. But we must explore partnerships with companies that share our ambitions and technology to be deployed right now for quicker results."
Photo credit: DP World
Published: 7 December, 2023