DNV Decarbonisation Insights: Speed up energy transition, shipping industry must move faster towards net zero goal
Classification society DNV gives an overview on highlights from its top leaders during DNV Singapore Energy Transition Conference, Gastech and CO2 Shipping and CCS Conference; turns spotlight on CCS technology.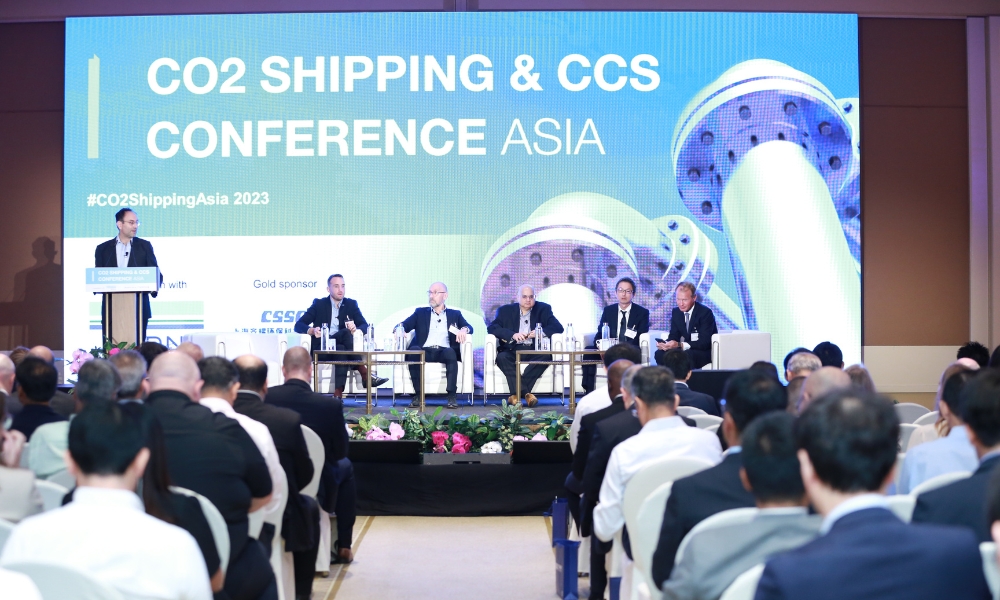 Greater energy and transport industry collaboration, as well as the need to put in place "fossil disincentives" was the call from DNV's Group President and CEO Remi Eriksen, setting the scene at the third DNV Singapore Energy Transition Conference (SETC) on 4 September, leading up to Gastech 2023.
Eriksen made it clear that "no major economy has moved fast enough" in the last 24 months if we are to have any hope of achieving what's required in the Paris Agreement or getting to Net Zero by 2050.
He praised efforts in Southeast Asia to capitalise on its great potential for solar and wind power but cautioned that the region was going to be very dependent on coal for a long time to come.
Mr Eriksen called for more "policy choices" to put the environment first when it comes to investments in infrastructure and services in this region and everywhere.
Knowing that the world has to move from being 90% dependent of fossil fuels now to a situation where non-fossil fuels will account for 90% of our energy by 2050, means we have to speed up the energy transition.
He pointed out that this is not an insurmountable problem. The costs of renewables are coming down. But political leadership is needed. The hard to abate sectors of industry and transport have to be addressed, and that's where DNV sees that carbon capture and storage (CCS) could play a key role.
Decisive decade for shipping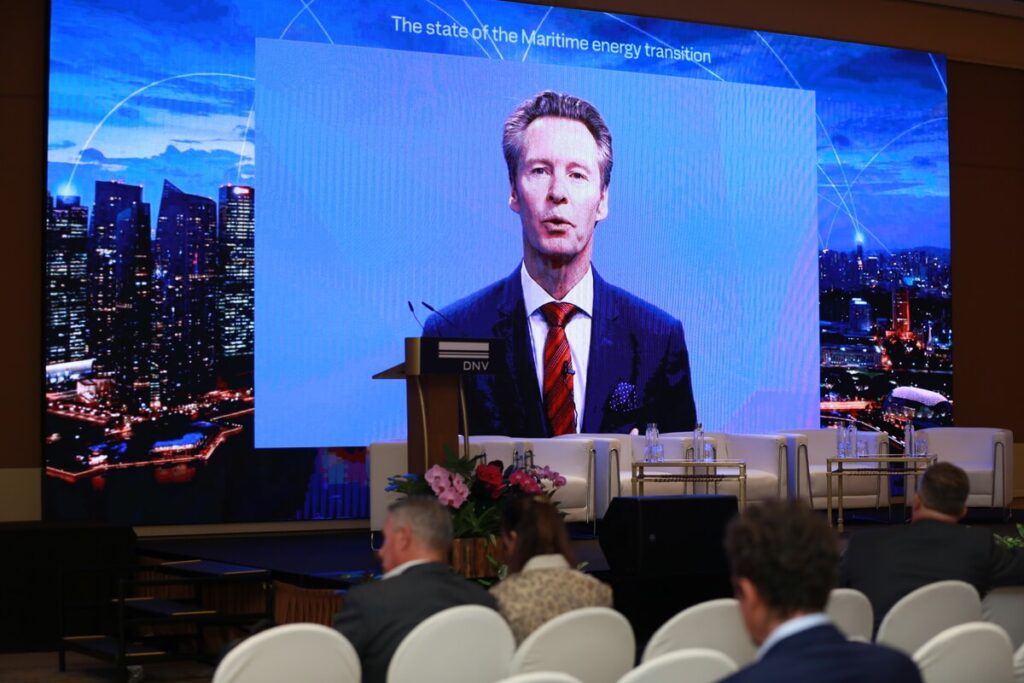 Remi Eriksen was joined at SETC, before Gastech 2023 got underway, by an equally compelling call to action from DNV Maritime CEO Knut Ørbeck-Nilssen, in what he described as the "decisive decade for shipping".
"There is no time to waste. We must move faster," Ørbeck-Nilssen addressed an audience of 300 industry professionals who attended the event in person, while many more following the conference online.
A key aspect of his presentation was the importance of curtailing energy consumption while advancing the process of decarbonisation and the adoption of cleaner, low-carbon fuel sources.
Mr Ørbeck-Nilssen urged maritime decision-makers "to leave no stone unturned" in the quest to decarbonise, advocating for the exploration of green shipping corridors and the revival of wind-powered vessels, reminiscent of the historical era of sailing ships.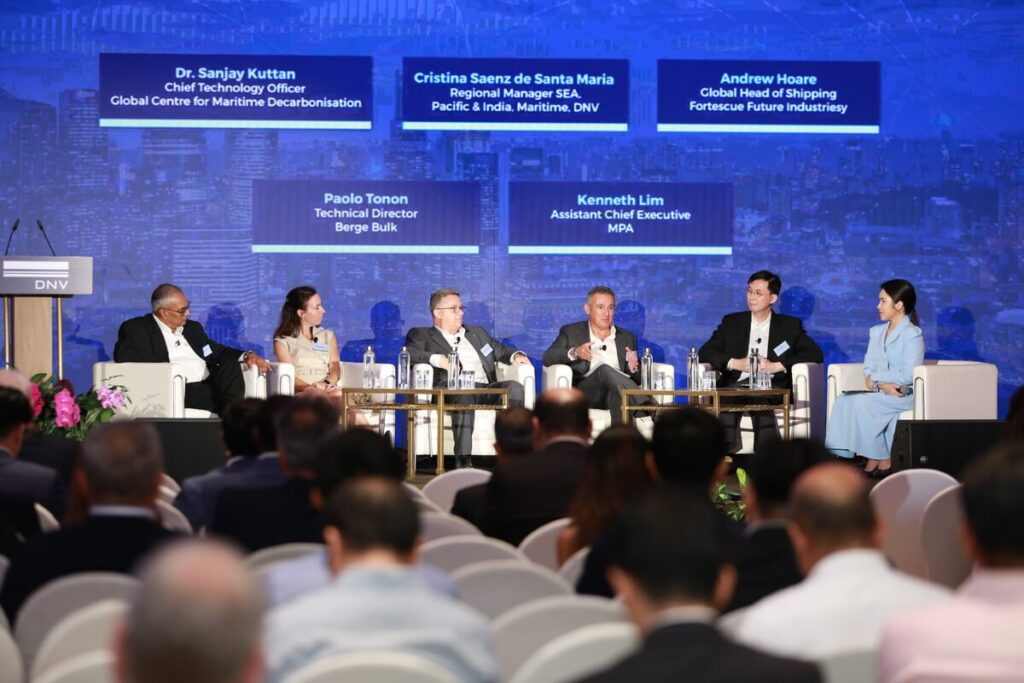 DNV's Regional Manager Cristina Saenz de Santa Maria was joined by Fortescue Energy's Andrew Hoare and Berge Bulk's Paolo Tonon, to echo the prevailing sentiment of urgency, while concurrently exploring and assessing decarbonisation technologies for a greener tomorrow in close cross-sector collaboration.
The united call from practically all SETC speakers was the urgent need to embark on this transformative journey together, optimizing the use of natural resources, and championing energy efficiency.
How CCS fits into the maritime decarbonisation mix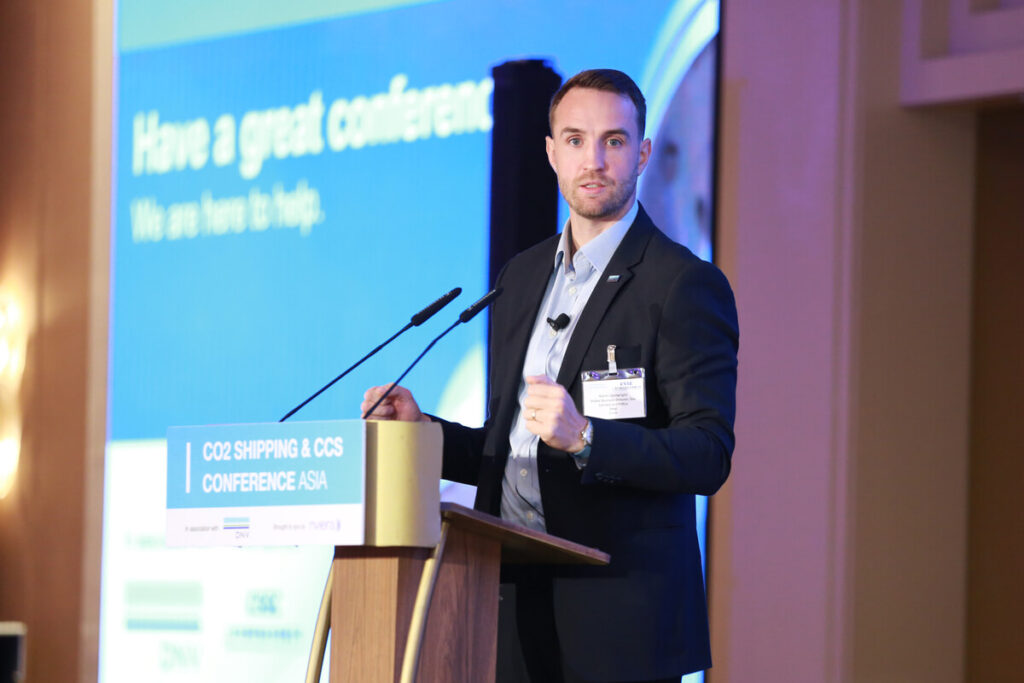 What is required to deploy carbon capture and storage technology at scale was the central theme of the CO2 Shipping and CCS Conference, jointly organised by Riviera Maritime Media and DNV in conjunction with SETC on the eve of Gastech 2023.
DNV's Business Director Gas Carriers & FSRU Martin Cartwright emphasised that while CCS has been discussed for decades, large-scale implementation is still in its infancy.
Currently only about 40 million tons of CO2 per year is being captured globally through CCS projects. However, the IEA and IPCC estimate that billions of tons will need to be captured annually by 2050 to reach net zero emissions.
Mr Cartwright noted the significant shortage of infrastructure and distribution challenges with storage sites scattered worldwide. Today there are only a handful of Liquified CO2 (LCO2) vessels operating to transport pure CO2 for the food and beverage industry.
The transportation of CO2 for the purpose of storage will require a massive investment in new vessels dedicated for this specific trade.
The first vessels for CCS purpose are already under construction and will be delivered in 2024, dedicated for the Northern Light project in Norway. In addition, this summer, the Greek owner Capital Maritime Group placed an order for two 22k LCO2/LPG/ammonia vessels at HMD in Korea.
Responding to a question about ordering low pressure CO2 ships and availability timelines, Mr Cartwright said the qualification of material suited for LCO2 is essential to cut cost for large LCO2 carriers.
DNV, together with Shell, Equinor, Total and Gassco, is addressing this, along with other challenges, with large CO2 carriers through the CETO (CO2 Efficient Transport via Ocean).
The CETO project is a large joint industry project (JIP) funded partly by the project partners and partly by a Norwegian governmental funding scheme dedicated to support the development of CCS technologies.
Mr Cartwright was equally clear that calls for converting existing LPG tankers were misguided, stating "we need new vessels to support this market which are designed for the specific properties of liquid CO2".
See CO2 as a tradable commodity to catalyse fleet growth
Turning CO2 into a tradable commodity will help catalyse fleet growth, he said, as there are many who still regard CO2 as waste with no commercial value.
Returning to CCS, Mr Cartwright said the permanent storage of CO2 underground poses challenges. While oil companies do have decades of experience injecting and monitoring CO2 in depleted gas fields, there is still work to do on public perceptions of risk around large-scale storage.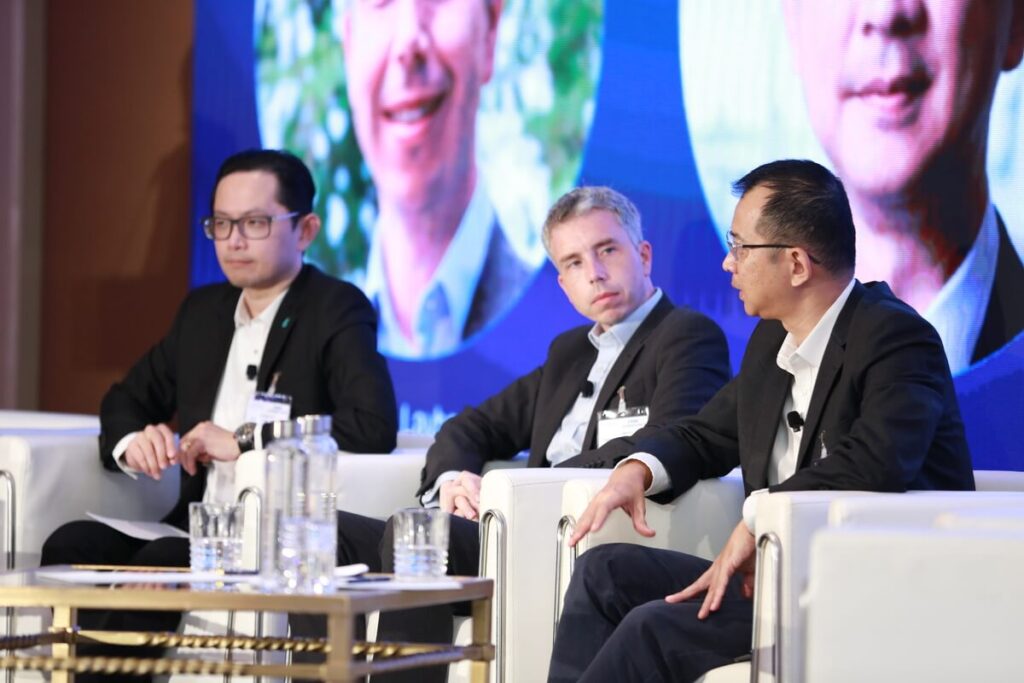 DNV Regional Sales Head of Sales, Energy Systems, James Laybourn, noted: "We are confident that there is large potential capacity for global storage of CO2 in depleted fields and saline aquifers. In each case, the potential site needs to undergo rigorous evaluation and testing to ensure that the site is suitable and safe for the permanent storage of CO2."
Such assessment and verification processes are utilised to ensure that all key stakeholders can be confident of the storage site integrity during the CO2 injection process and also after the site is sealed.
Mr Laybourn emphasised that governments and companies are putting rigorous monitoring regimes in place to ensure safe, secure containment of injected CO2.
Could Singapore be a major hub in the CCS value chain?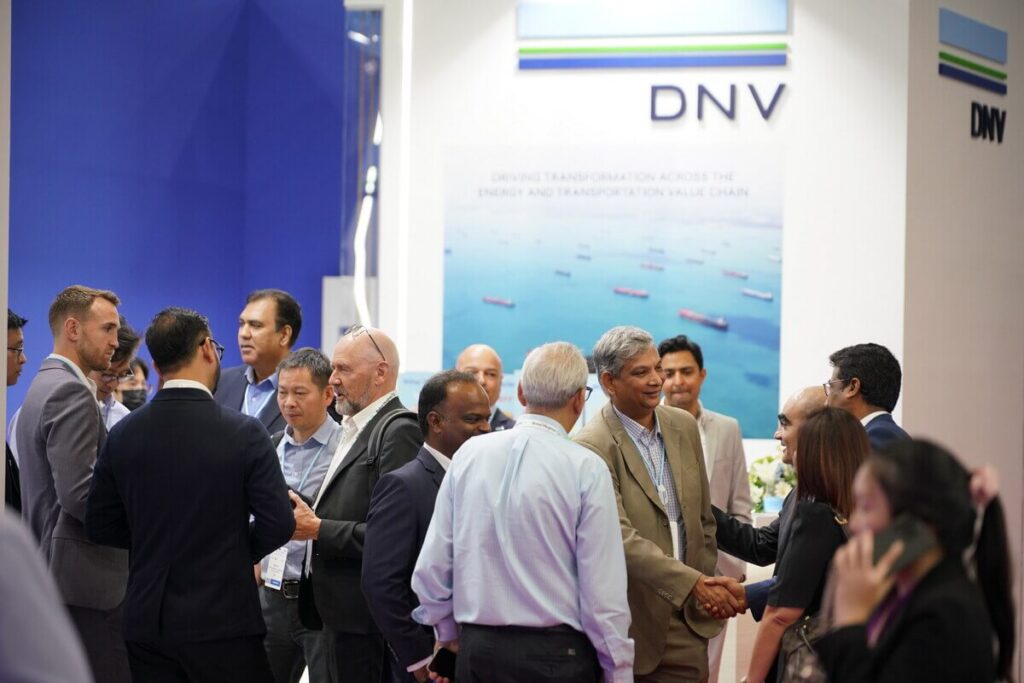 Speakers at the conference also discussed opportunities to develop regional CCS hubs, especially in Southeast Asia. This involves aggregating CO2 from multiple industrial facilities via ships to centralised injection sites – a model being pioneered in Northern Europe's Northern Lights project.
Mr Laybourn explained that realising a CCS hub for Singapore would require the development of a full value chain, including pipelines, liquefaction plants, jetties, and CO2 carriers to get captured emissions to offshore storage sites. Singapore is seen at an advantage as sequestration sites are already being developed in the surrounding region.
"I think the value chain needs to consider two parts," he said. "The first part is the development of the sequestration sites themselves.
"The second part is the infrastructure to capture and transport the CO2 to the field. All of these elements of the value chain need to be developed to support CCS in Singapore.
"The transport will depend on adequate shipping infrastructure and the regulatory framework to enable international transport of CO2", Mr Laybourn advised.
Presenters also emphasised that cost is critical to ensure a commercially viable value chain. Government incentives like carbon pricing can be critical to spurring CCS given the high costs.
While carbon prices in Europe are approaching levels that make projects economically viable, carbon taxes in Asia remain far lower, and therefore greater efforts will be required to reduce the cost of the value chain such as sharing infrastructure between multiple sources (as a hub) and repurposing existing infrastructure.
Various regulatory drivers and policies are also pushing CCS forward. Mr Cartwright noted: "We need to focus on the areas where we are actually emitting the CO2.
"There are technologies and massive companies who are recording and reporting all the emissions of CO2 globally. We also see that areas with mature oil and gas industries in place are taking the lead, as it is much easier for them to capture CO2."
Overall, the conference highlighted the scale of the challenge in ramping up CCS to meet climate goals.
Key next steps include building out shipping capabilities, aggregating infrastructure into hubs, proving storage site capacities, and enacting policies to improve project economics.
While CCS is not a silver bullet, the conference consensus was CCS and CO2 shipping will play an indispensable role in decarbonising hard-to-abate sectors.
Important to tackle the 'energy penalty' to make CCS viable at sea
Besides the CCS endorsement in the Maritime Forecast to 2050, also at Gastech, Martin Cartwright presented results of a recent JIP for an LNG carrier which demonstrated that there is a robust business case for Carbon Capture & Storage (CCS) as value chains and regulations develop.
The study determined that technology exists right now to effectively capture CO2 onboard an LNG carrier, indicating potential for application in other vessels.
The challenge is to manage the 'energy penalty' – the amount of fuel that must be dedicated to CCS for a fixed quantity of work output – so as to make CCS economically viable on board.
It also depends on a range of other factors, including the level of carbon tax applied in different regions, along with the costs involved in offloading CO2 for eventual permanent storage or utilisation.
To reach the industry target of net-zero, CCS for shipping must be applied in association with other decarbonisation measures, including energy efficiency and alternative low carbon fuels.
References:
Techno-economic evaluation of onboard carbon capture and nuclear propulsion in DNV 2023 Maritime Forecast: https://www.dnv.com/maritime/publications/maritime-forecast-2023/index.html
Investigating carbon capture and storage for an LNG carrier: https://www.dnv.com/expert-story/maritime-impact/investigating-carbon-capture-and-storage-for-an-lng-carrier.html
Shipping's future role in carbon capture and storage (January 2022): https://www.dnv.com/expert-story/maritime-impact/Shippings-future-role-in-carbon-capture-and-storage.html
Photo credit: DNV
Published: 15 September, 2023
DNV, VPS, ZeroNorth and Equatorial Marine Fuel among Marine Fuels 360 Award winners 
Informa Markets announced recipients to twelve open awards across four sectors – Shipping, Bunker Trade & Supply, Decarbonisation & Technology and Bunkering services – and three special awards.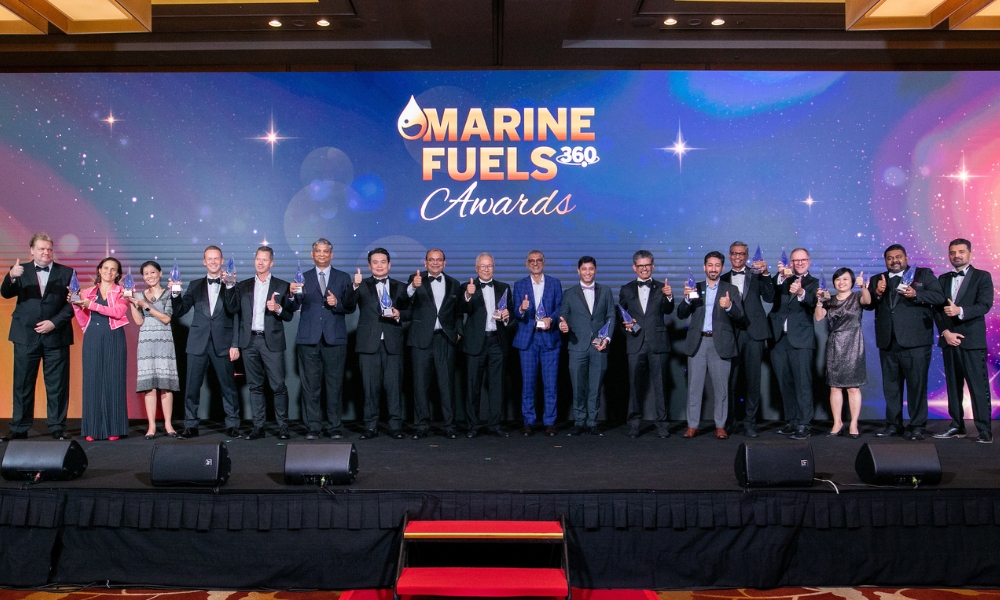 Informa Markets on Wednesday (29 November) announced the recipients to the inaugural Marine Fuels 360 Awards 2023 at a Gala Dinner held at the Marina Bay Sands.
Twelve open awards across four sectors – Shipping, Bunker Trade & Supply, Decarbonisation & Technology and Bunkering services were conferred, evaluated by a panel of judges formed by industry thought-leaders.
The hotly contested Decarbonisation Technology Award was awarded to Anemoi Marine Technologies, with their Rotor Sails technology standing out as an innovative, safe and effective solution for reducing environmental impact of the shipping industry, as well as its potential for wide- scale adoption.
Kim Diederichsen, CEO of Anemoi Marine Technologies, said: "What we do is we bring wind technology to the market, namely rotor sails. It's an honour being here, receiving this prestigious award this night." Reducing fuel consumption and emissions on commercial vessels through utilising wind power for auxiliary propulsion, the technology can be adapted to various vessel types and sizes from existing vessels to newbuilds, to enhance their Energy Efficiency Design Index (EEDI).
TFG Marine Pte Ltd was awarded the Physical Supplier of the Year Award. It stands out as an industry leader for its scale of operations, proactive approach to decarbonisation, investment in technology, commitment to transparency and customer service. As one of the world's largest physical bunker suppliers, TFG has delivered more than 10 million tons to over 480 clients globally over the last financial year.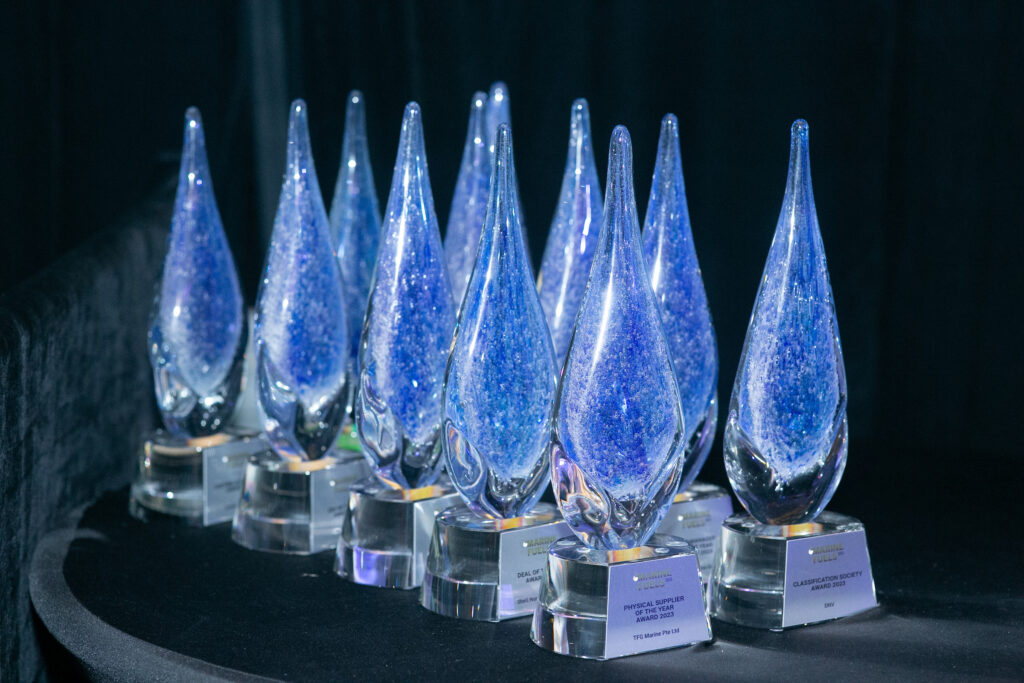 "TFG is very honoured to get this award and it's a recognition of the hard work and the good work we have done and also the milestones we have achieved so far for the whole of the year. We will continue to strive to provide good services and transparency to our customers, support all the alternative fuels and energy transitions across all spectrum", said Soo Yong, Regional Bunker Sales.
Three special awards were also presented to celebrate the recognise the outstanding work and exemplary contributions to three individuals, recognising their performance in the bunkering industry – Industry Icon, CEO of the Year and Lifetime Achievement:
The Industry Icon Award goes to Mr Choong Kien Siong, President, Equatorial Marine Fuel Management Services Pte Ltd, who said: "It is a great honour to receive this prestigious award. Together withthe new generation, Equatorial Marine Fuel will continue to adapt and reinvent ourselves as we sail into the green economy."
The CEO of the Year was presented to Mr. Russell Hardy, Group CEO, Vitol Services Ltd. Receiving the award on his behalf is Captain Rishab Bahl, Managing Director of Mansel Pte Ltd, said: "The maritime industry has committed to a major decarbonisation mission and this is not going to be without challenges. Our industry will turn to Singapore for leadership and our industry has committed to a major decarbonisation mission where we will support Singapore's decarbonising journey.
The honorary Lifetime Achievement was also conferred to Capt. Rajesh Unni, Executive Chairman, Synergy Marine Group, who said: "If there is one thing that I have learnt, is that Singapore offersthe opportunity on the basis of meritocracy, there is hope for people to take and given their all and there is chance, so I am grateful for this country for giving us the opportunity and that I have made some impact in your life, that hopefully is my mission.
The full list of awardees as below:
Shipping
Shipping Company of the Year - Hafnia
Ship Manager of the Year – Synergy Marine Group
Bunker Trade & Supply
Physical Supplier of the Year – TFG Marine Pte Ltd
Physical Trader of the Year - Minerva Bunkering Pte Ltd
Deal of the Year - Shell North America LNG
Alternative-Fuelled Vessel Design of the Year - Eaglestar Shipmanagement (S) Pte Ltd
Supply Chain & Logistics Excellence of the Year - TotalEnergies Marine Fuels Pte. Ltd.
Decarbonisation & Technology
Decarbonisation Technology - Anemoi Marine Technologies
Digitalisation- ZeroNorth
Start-Up of the Year - Njord
Bunkering Services
Classification Society - DNV
Marine Fuel Testing & Inspection Excellence - Veritas Petroleum Services (VPS)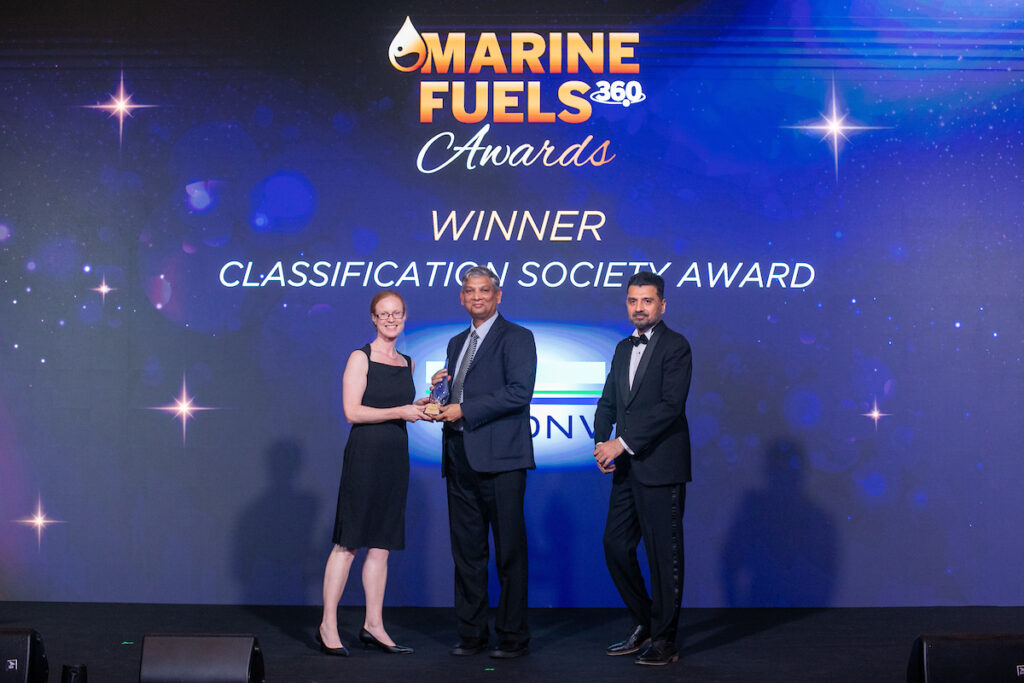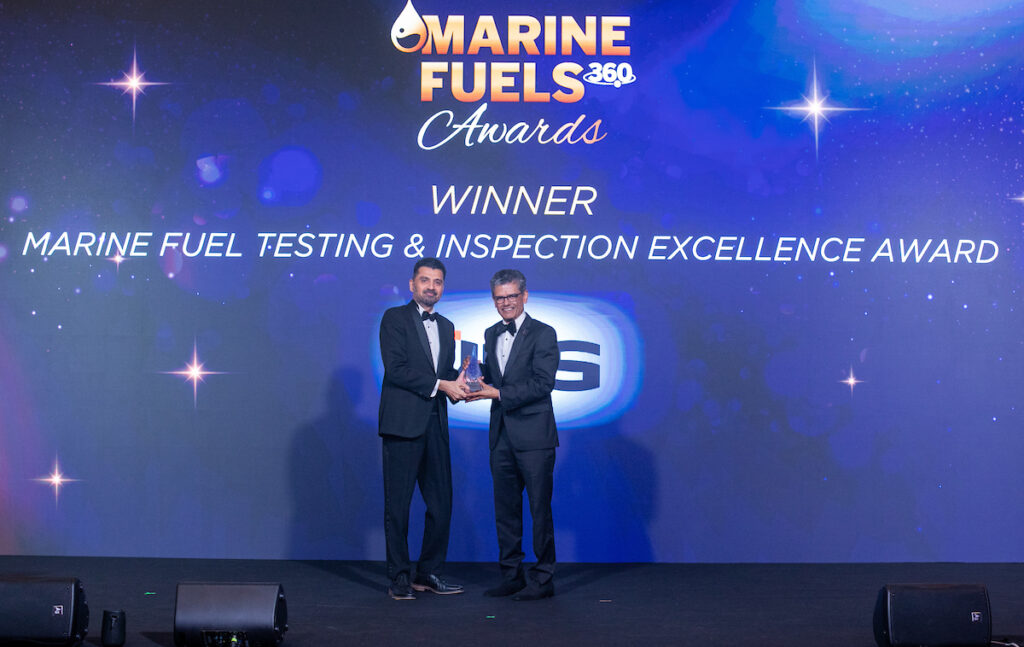 Special Awards
Industry Icon – Mr Choong Kien Siong, Equatorial Marine Fuel Management Services Pte Ltd
CEO of the Year - Mr. Russell Hardy, Vitol Services Ltd
Lifetime Achievement – Capt. Rajesh Unni, Synergy Marine Group
Related: Singapore: President of Equatorial Marine Fuel Management Services receives 'Industry Icon Award'
Related: ZeroNorth enables Golden Island to become Singapore's first 100% digital bunker supplier
Related: Singapore: Marine Fuels 360 Awards and Conference 2023 to bring together industry's best
Photo credit: Informa Markets
Published: 1 December, 2023
ZeroNorth enables Golden Island to become Singapore's first 100% digital bunker supplier
Access to ZeroNorth Bunker Electronic Bunker Delivery Notes (eBDN) will streamline bunker processes, enabling Golden Island to drive efficiency, transparency, and contribute to decarbonising shipping.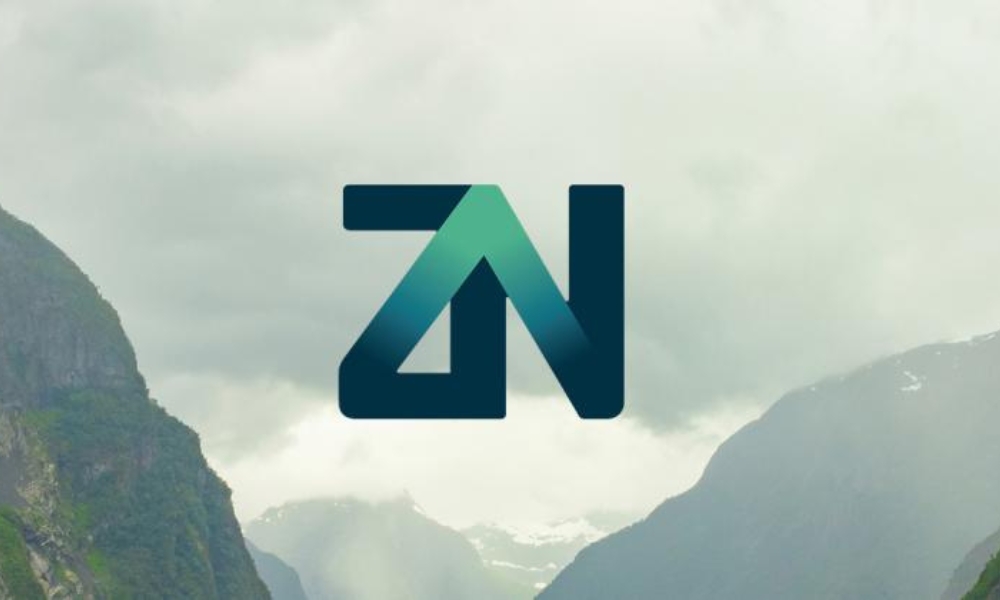 Technology company ZeroNorth on Thursday (30 November) has announced that it has enabled its customer Golden Island Diesel Oil Trading Pte Ltd (Golden Island) to become the first marine fuel supplier in Singapore to go 100% digital in its use of Electronic Bunker Delivery Notes (eBDN).
Golden Island has chosen ZeroNorth Bunker's eBDN solution, developed by BTS and recently consolidated under the ZeroNorth Bunker brand. The company will be able to provide 100% digital processes to increase transparency and improve collaboration.
"Enabled by ZeroNorth's technology platform, Golden Island plans to stop issuing physical BDNs from 1 December, as part of the company's digitalisation initiative to move away from manual, paper-based processes and reduce its environmental impact on the journey to greener operations," ZeroNorth said in a statement shared with Singapore-based bunkering publication Manifold Times.
ZeroNorth's eBDN service will digitalise the bunker delivery process for its customers, with Golden Island the first to benefit and swiftly and securely verify purchased fuel quantities, eliminate delays and ensure smooth transactions.
"This move will help Golden Island to streamline the bunkering documentation process, increasing transparency, and driving efficiency and productivity across its marine fuel delivery operations. Digitalisation will enhance crew productivity and operational efficiencies. By eliminating paper forms with ZeroNorth's solution, Golden Island expects to save at least two hours of manual data entry work each day," ZeroNorth added.
By digitalising the bunkering process, ZeroNorth will turn millions of data points into actionable recommendations for Golden Island on where it can drive efficiencies and achieve greener operations. With more data being interpreted through the digitalisation of BDNs, increasingly robust insights and analysis of emissions will then be generated for customers, further powering up the marine fuel market's data flywheel. This will also enhance reporting, as information is standardised and readily available in a digital format.
Tomohiro Yamano, General Manager, Marine Fuel Department at Golden Island, said: "A month after the Maritime and Port Authority of Singapore (MPA) launched its digital bunkering initiative as the first port in the world to implement eBDN, we are proud to be the first company to fully switch to eBDN in the Singapore bunkering market. To achieve this, we required a solution that would facilitate a seamless workflow to enhance the productivity and efficiency of our marine fuel delivery operations.
"We were impressed with ZeroNorth's deep understanding of the bunker industry and the capabilities of its eBDN solution. Digitalising our bunker processes with eBDN fits in with our digitalisation initiative to enhance and streamline operations, which will in turn also drive easier reporting and analysis of emissions."
Kenneth Juhls, Managing Director for ZeroNorth Bunker at ZeroNorth, said: "Bunker procurement has been a traditionally cumbersome process, burdened by manual documentation. We're delighted to be helping Golden Island eliminate these manual processes to streamline documentation, drive efficiencies and boost productivity across its operations as a global eBDN solution on the market.
"Given the integral role marine fuels are set to play in decarbonising shipping, ZeroNorth is proud to help our customers and the wider industry digitalise bunker operations. The data generated will in turn help enable the data flywheel effect, driving actionable recommendations on where further efficiencies can be created for the benefit of both profit and planet."
The first internal trial for Golden Island using ZeroNorth's eBDN solution began in November 2022. The company is now ready to adopt it into its operations after a year testing the solution, with assistance and approval from the Maritime and Port Authority of Singapore (MPA).
Manifold Times previously reported Singapore bunker supplier Golden Island Diesel Oil Trading Pte Ltd (Golden Island) will be fully adopting the electronic Bunker Delivery Note (e-BDN) for commercial bunkering operations from 1 December 2023 onwards.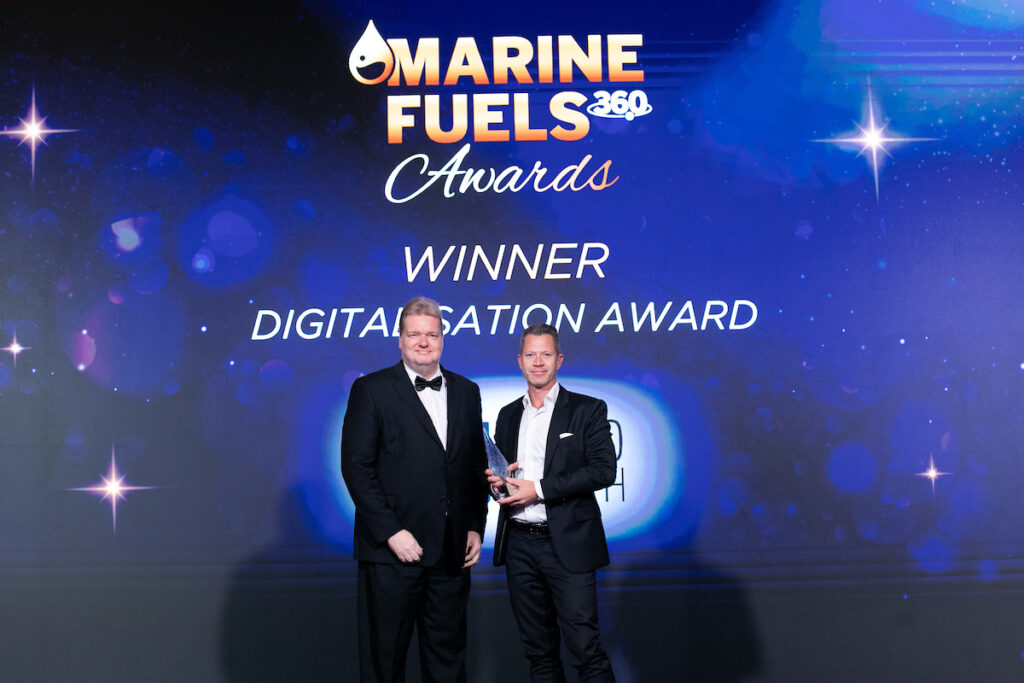 ZeroNorth also announced it won the Digitalisation Award at the Marine Fuels 360 Awards Gala Dinner on 29 November.
Commenting on the award, Juhls said: "We are proud and humble to get recognised by this award. The full team in ZeroNorth works hard everyday to bring value to our clients through our software solution. We are looking forward to continuing our collaboration with our customers, partners and the industry in our ambition of making global trade green."
Related: Singapore: Golden Island switching to 100% e-BDN operations from 1 December
Related: ZeroNorth consolidates existing bunkering business following acquisitions
Related: Singapore set to become first port in the world to debut electronic bunker delivery notes
Related: MPA Chief Executive: Port of Singapore begins digital bunkering initiative today
Related: ZeroNorth acquires Singapore's bunker supplier software provider BTS
Related: ZeroNorth acquires Prosmar Bunker Dashboard solution and Bunker Pricer module
Related: ZeroNorth acquires US-based bunker market platform ClearLynx
Related: ZeroNorth unveils ZeroNorth Bunker for bunker planning, procurement, and analytics
Related: ZeroNorth opens new office in Singapore to expand in Asia
Related: Singapore: Marine Fuels 360 Awards and Conference 2023 to bring together industry's best
Photo credit: ZeroNorth / Informa Markets
Published: 30 November, 2023
Kenoil Marine Services to conduct first-ever bunkering of bio-blended LSMGO in Singapore
"Kosmos Lily" is slated to supply bio-blended LSMGO, sourced from Alpha Biofuels, representing the first-ever bunkering of bio-blended LSMGO in Port of Singapore, says Jurong Port.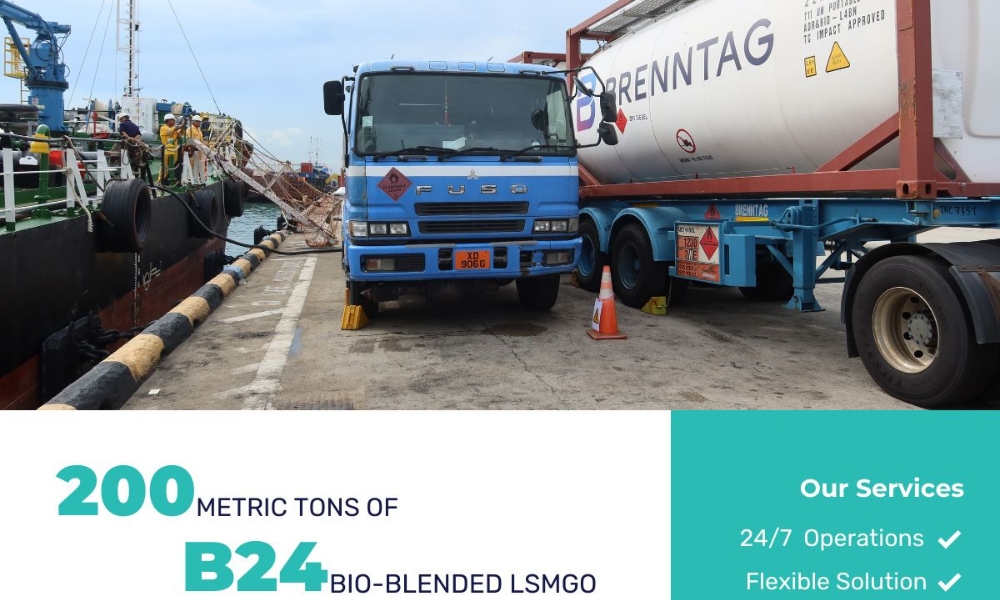 Jurong Port on Wednesday (29 November) said Kenoil Marine Services Pte Ltd, a licensed bunker supplier, successfully loaded 200 metric tonnes of B24 bio-blended Low Sulphur Marine Gas Oil (LSMGO) in Singapore.
The B24 marine biofuel blend was onto Kenoil Marine's bunker tanker Kosmos Lily.
"Kosmos Lily is slated to supply this bio-blended LSMGO, sourced from Alpha Biofuels, representing the first-ever bunkering of bio-blended LSMGO in the Port of Singapore," Jurong Port said in a social media post.
"Jurong Port takes pride in serving as the preferred port infrastructure for biofuel bunkering, and supporting the maritime industry's energy transition toward achieving net-zero emissions."
Separately, Allan Lim Yee Chian, Founder and CEO at Alpha Biofuels, said the firm has been working to produce, blend and supply better quality biofuels for the maritime industry for over the last two years.
"We focused a lot on traceability of the biofuels , stability of the blended product and also the cost of the product," he said in a social media post.
"The result is a bio-bunker fuel that balances the need for decarbonisation by the industry against the cost of sustainable biofuel."
Photo credit: Jurong Port
Published: 30 November, 2023