Crowley and BWXT introduces nuclear power generation vessel concept
A memorandum of understanding was signed for a ship concept that has potential to generate zero-carbon emission energy for defense and disaster needs by including a microreactor on board.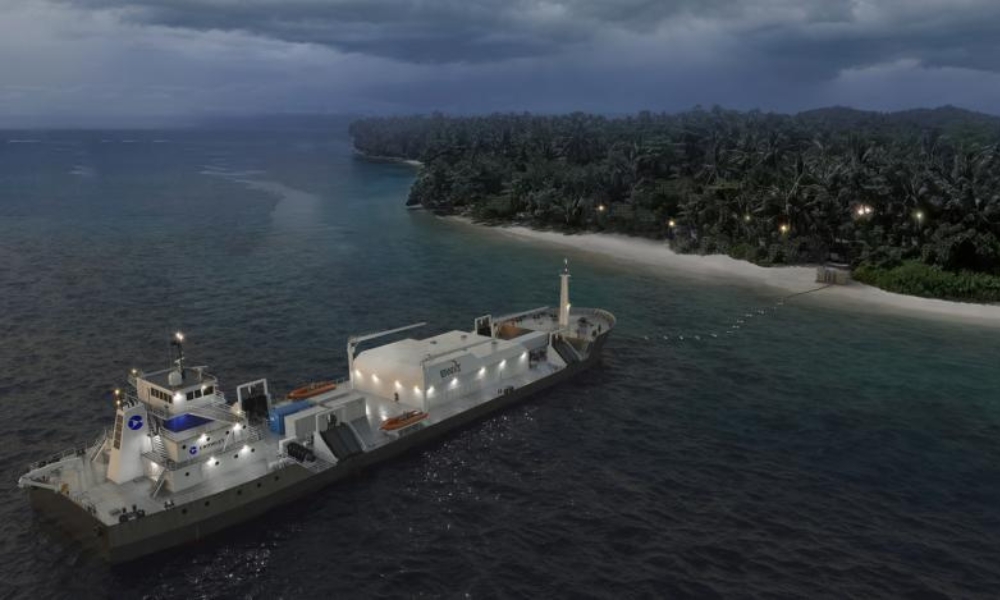 Global shipping and energy supply chain leader Crowley on Wednesday (20 September) said it has teamed with nuclear power firm BWX Technologies, Inc. through a memorandum of understanding for a ship concept that has the potential to generate alternative, zero-carbon emission energy for defense and disaster needs by including a microreactor on board.
The new memorandum of understanding with BWXT's Advanced Technologies subsidiary will allow both companies to jointly pursue and develop opportunities relative to the design, engineering and development of new shallow-draft hull ships that will supply small-scale nuclear energy to shoreside locations.
The new ships would feature the latest technology available for factory fabricated microreactors, readily deployed into a shipyard configuration for ease of installation on the vessel. The onboard power plant would supply energy to shore facilities, such as military bases in remote island locations, backup utility grids after disasters, and provide power in other scenarios where traditional electricity sources are damaged or not possible.
The new vessel concept envisions a 378-foot ship that pulls from the logistics and marine capabilities of Crowley, a longtime operator with in-house vessel design by its Crowley Engineering Services, and the nuclear capabilities of BWXT, a leading supplier of nuclear components, fuel and services to the U.S. government at the highest levels of safety and security for more than 60 years.
"Our cooperation with BWXT will move Crowley for the first time into the nuclear energy sector, a key part of our commitment to sustainable, alternative energy sources. This concept supports the U.S. Department of Energy's goal of maintaining U.S. leadership in nuclear energy technology as well as many the U.S. Department of Defense's strategic goals for operational energy," said Shiju Zacharia, senior vice president and general manager, Crowley Government Solutions.
The new vessel concept pairs traditional propulsion while carrying a modular reactor between 5 and 50 megawatts that can be activated upon arrival at the destination and be deactivated and transported after the power supply is discontinued. Buoyed power delivery cables will enable the ships to deploy energy connections to shore. Shallow draft hulls allow the vessels to maneuver to strategically deliver power for military activities or if disasters limit harbor access.
"We are excited to work alongside Crowley to leverage our ongoing reactor development and demonstration programs, advancing nuclear technology into new and novel markets to deliver zero carbon emissions energy generation to strategic locations," said Joe Miller, president of BWXT Advanced Technologies LLC.
Photo credit: Crowley
Published: 22 September, 2023
DNV 'Maritime Forecast to 2050' report examines shipping's energy future and role of technology in energy transition
Research investigates bunker fuel production, technology, and green shipping corridors to tackle shift to carbon-neutral fuels while providing map of present and planned carbon-neutral marine fuel production.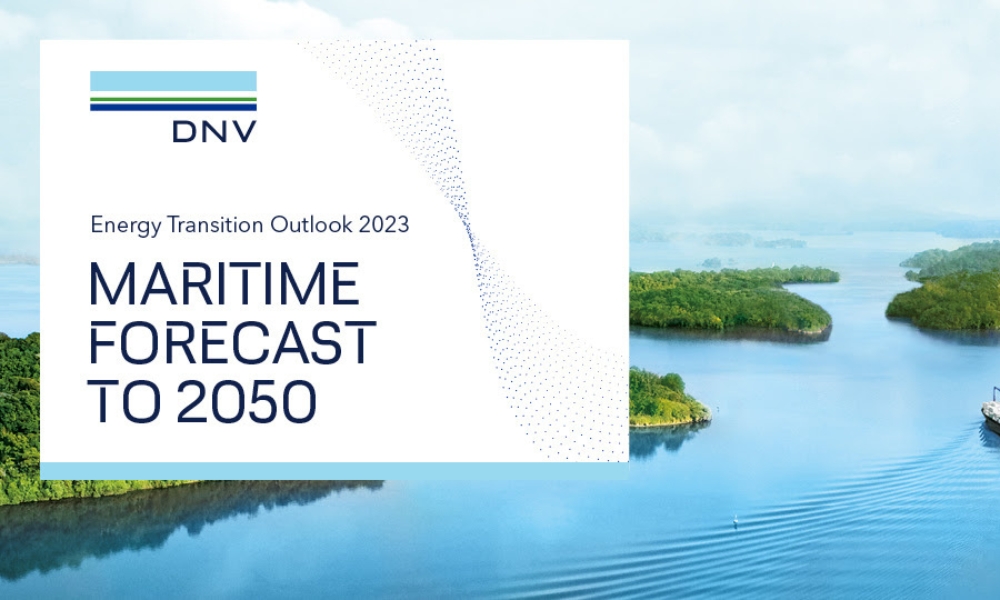 Classification society DNV on Tuesday (12 September) officially launched the 7th edition of its Maritime Forecast to 2050 report in London.
The latest Maritime Forecast to 2050 document provides an independent outlook of shipping's energy future and examines how the technology and energy transition will affect the industry. DNV investigated bunker fuel production, technology, and green shipping corridors to tackle the shift to carbon-neutral fuels.
The report also provides a valuable mapping of present and planned production of carbon-neutral marine fuels.
The following are important bunkering industry related highlights extracted from the report:
Outlook on ship technologies and bunker fuels
We report and discuss notable trends, developments, and prospects in the fuel technolog transition underway, including:
Half the ordered tonnage can use LNG, LPG or methanol in dual-fuel engines, compared with a third last year, but urgent action is needed for training in the use of new fuels.
Wind-assisted propulsion and air lubrication are being installed on more vessels.
Onboard carbon capture and, later, nuclear propulsion can reduce dependence on sustainable
biomass and renewable electricity.
Outlook on alternative fuel production and demand
We assess the future for carbon-neutral fuels for which shipping will compete with other sectors, concluding that:
The estimated demand from shipping to achieve emission reduction goals in 2030 is 30% to 40% of the total world supply of carbon-neutral fuels.
Competition means production of carbon-neutral fuel alternatives must accelerate if emission reduction goals are to be met.
Price fluctuations due to supply uncertainty while production of carbon-neutral fuels ramps up mean
fuel flexibility will be key for shipowners during the transition period.
Alternative fuel ship orders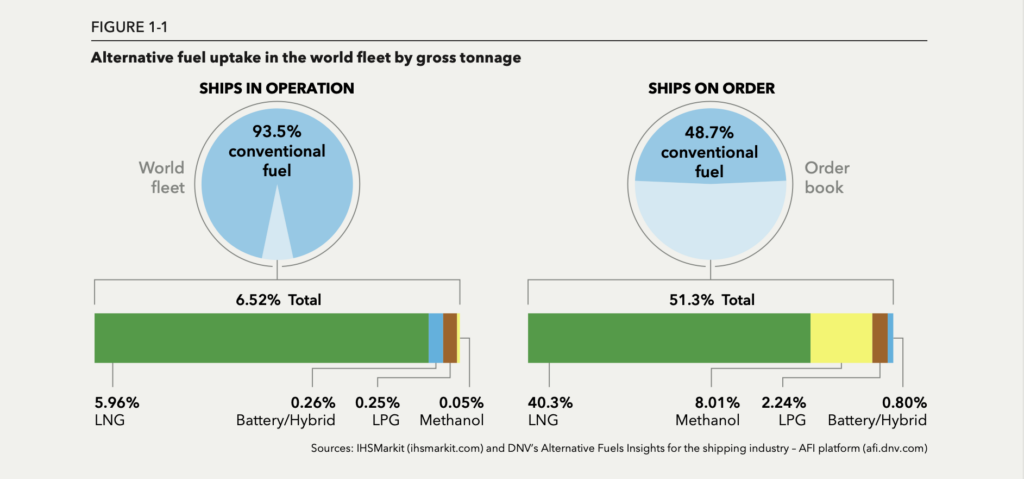 A fuel technology transition is already underway in the maritime industry, with half the ordered tonnage capable of using LNG, LPG, or methanol in dual-fuel engines, compared to one third of the tonnage on order last year. For ships in operation, 6.2% of tonnage can now operate on alternative fuels, compared to 5.5% last year. The uptake of methanol and LPG is starting to show in the statistics together with the first hydrogen-fuelled newbuilds.
Though several demonstration projects for ammonia-fuelled ships are ongoing, there are no ammonia-fuelled ships in the official order book.
Fuel technology solutions
While the fuel technology transition gathers pace, the search for solutions continues. We know that technology to reduce both energy consumption and the need for expensive fuel will be important. Given the need to understand and have a clear view of all the options, we present an outlook on six selected technologies that are receiving increased attention in the industry: solid oxide fuel cells, liquefied hydrogen, wind-assisted propulsion, air lubrication systems, onboard carbon capture, and nuclear propulsion. With the industry seeing energy-saving technologies as increasingly important, wind-assisted propulsion systems have now been installed on 28 large vessels. Air lubrication systems are installed on or ordered for more than 250 vessels in total.
Carbon capture and nuclear propulsion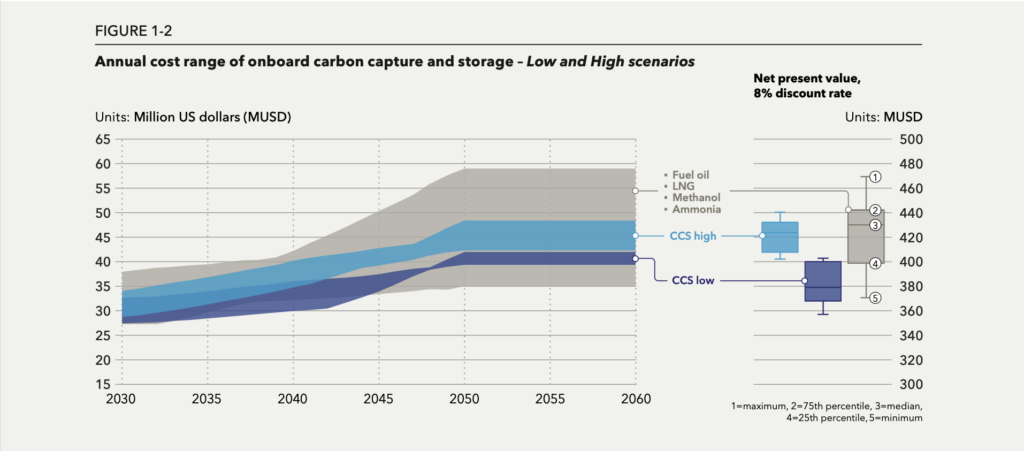 Considering onboard carbon capture and nuclear propulsion, we have performed a feasibility study using the FuelPath model of a 15,000 TEU container vessel as a case, benchmarking against fuel oil, LNG, methanol and ammonia. We find that onboard carbon capture can be operationally feasible for a large container vessel using 4,000 cubic metres (m³) of carbon dioxide (CO2 ) storage on board, offloading CO2 twice per trip AsiaEurope, and annually capturing 70% of the carbon dioxide. If the increase in energy use to capture the CO2 can be kept below 15%, and if the cost for offloading, transporting, and sequestering the CO2 is below 40 USD/tonne, onboard carbon capture can be a competitive option for decarbonization.
There are 160, mostly naval, nuclear-powered vessels today, and we find that it is a technically feasible solution for the case study ship, with a reactor and gensets for redundancy and take-me-home functionality. We find that nuclear propulsion can be a competitive option if reactor costs are in the lower range of historical costs for land-based nuclear power plants.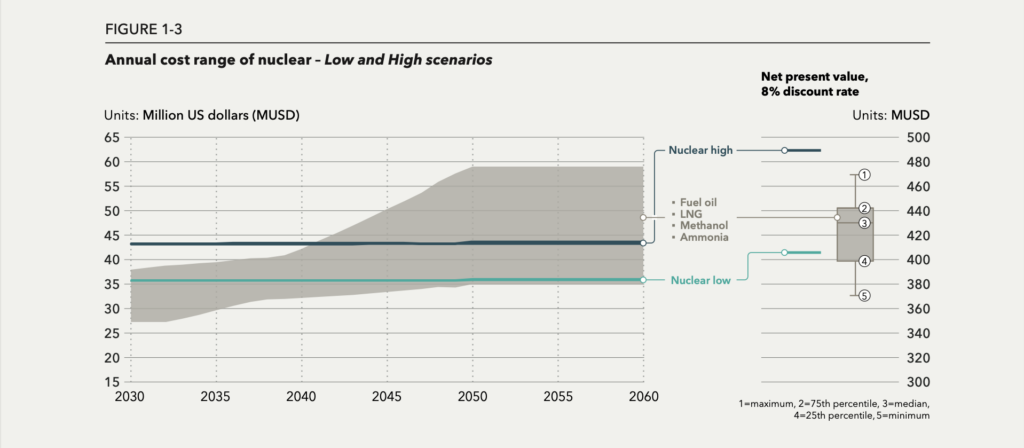 Production of alternative bunker fuels needs to be ramped up
While energy saving will reduce the need for alternative fuels, and both nuclear and onboard carbon capture may alleviate the need for such fuels, we still see that large volumes of carbon-neutral fuels will be needed to decarbonize shipping, and that the production of these fuels will be a key challenge. Currently, only 0.1% of fuels used by merchant shipping are biofuels, while 99.9% are fossil fuels. We present a new and comprehensive global database of more than 2,200 existing and planned production plants for relevant fuels: all biofuels, methanol, ammonia, hydrogen, including bio-, electro-, and blue versions of all fuels.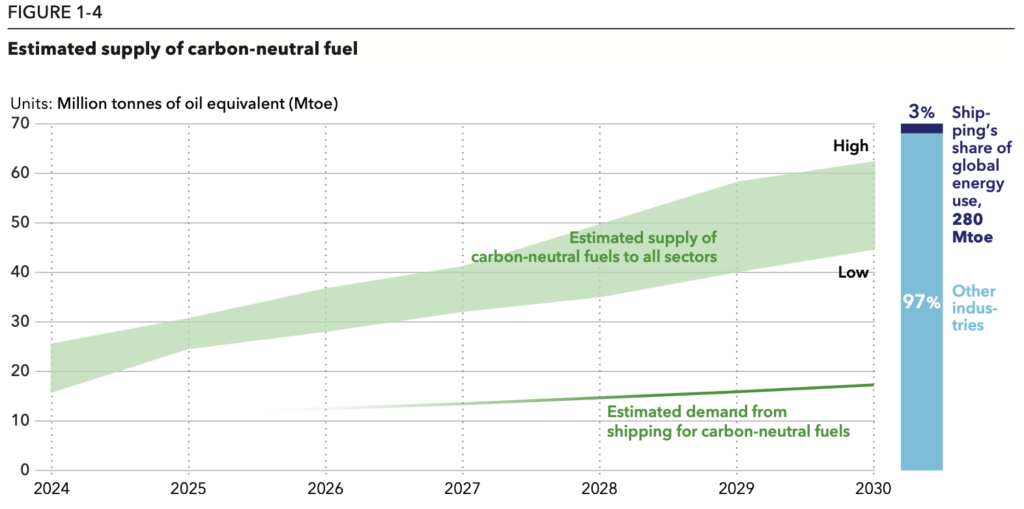 We find that the probability-adjusted global cross-sector production volume in 2030 is between 44 and 62 million tonnes of oil equivalent (Mtoe). The estimated demand for carbon-neutral fuel in shipping is 17 Mtoe in 2030, meaning that 30% to 40% of our estimated global cross-sector production volume will be required to supply the shipping sector.
As the shipping industry will compete for carbon-neutral fuels with aviation and road transportation, as well as other industries, the production of carbon-neutral fuel alternatives needs to significantly accelerate if the emission reduction goals are to be met. The period of ramping up production of different carbon-neutral fuels may come with uncertainty in supply, and price fluctuations are therefore expected. Thus, fuel flexibility will be key for shipowners to navigate these uncharted waters. In addition to the lack of supply of carbon-neutral fuels, there are other important barriers to decarbonizing shipping. Examples include lack of infrastructure, novel safety risks, lack of competence, immature technology and high costs.
Three-step approach for stakeholders to establish green shipping corridor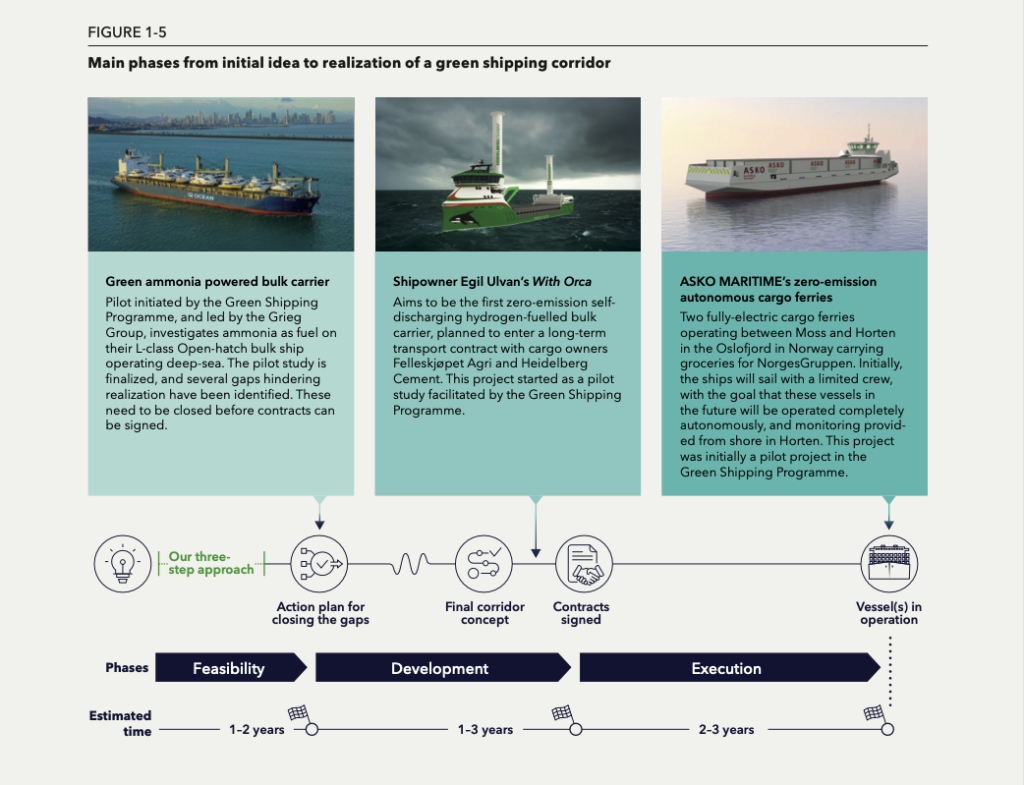 This report presents an outlook on green shipping corridors. These can accelerate uptake of carbon neutral fuels by allowing barriers to be identified and overcome in a more targeted and practicable way than on a global scale. We provide a three-step approach for stakeholders within the value chain aiming to establish green shipping corridors. It is based on DNV's experience over a decade with already existing green shipping corridors in Norway. At the approach's core is identifying barriers to achieving viable business cases for green shipping corridor partners.
A shipowner navigating these uncharted waters should consider all available decarbonization options, focusing on reduced energy consumption and fuel flexibility in the short term, while also considering a long-term fuel sourcing strategy.
The 2020s is a decisive decade for shipping and the quality and effectiveness of plans put in place now will dictate how successful the maritime industry is in reaching its decarbonization goals over the coming decades.
Note: The full version of the 7th edition of DNV's Maritime Forecast to 2050 can be downloaded here.
Related: DNV chooses London to launch its latest Maritime Forecast to 2050 report
Photo credit: DNV
Published: 14 September, 2023