Baleària receives first of two LNG-fuelled fast ferries
The Hypatia de Alejandría becomes the first smart ferry with gas propulsion to operate in the Mediterranean.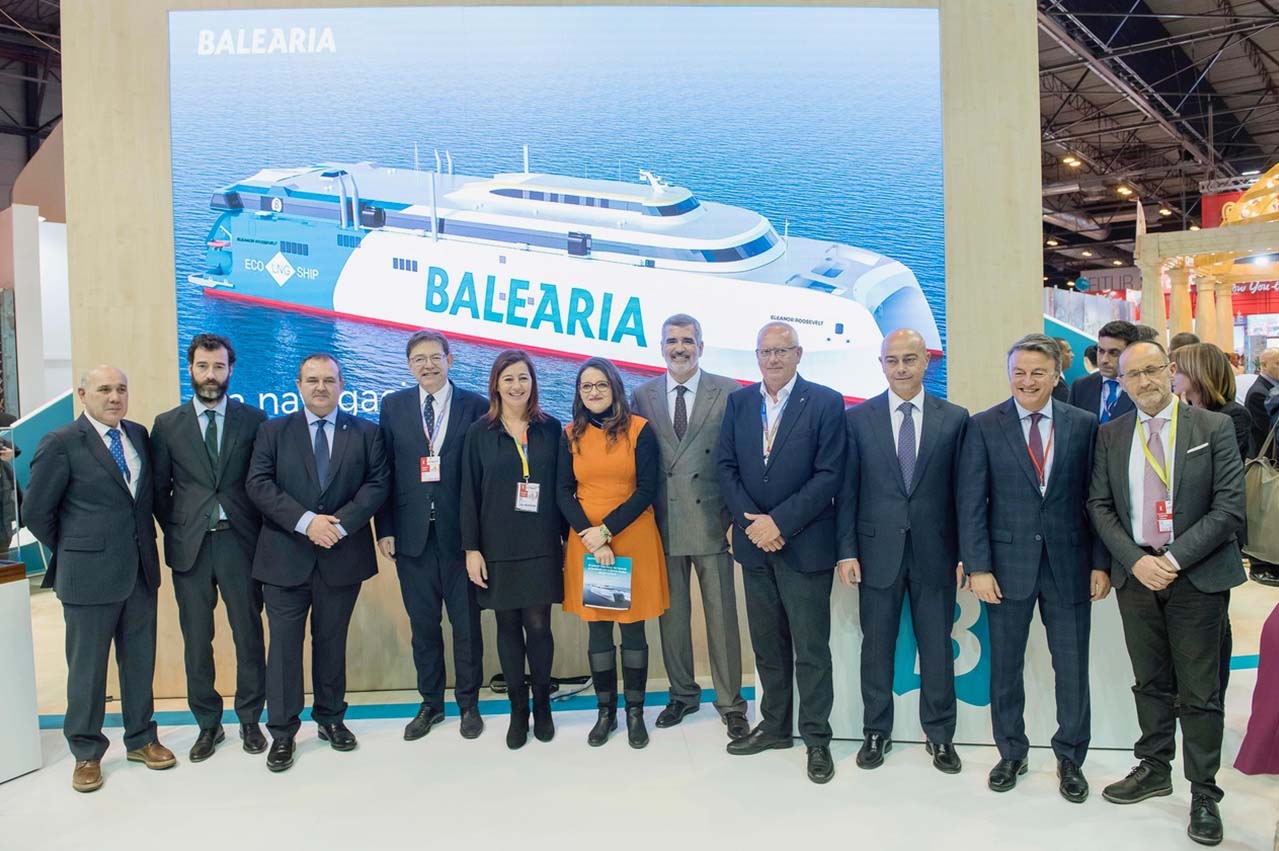 Spanish shipping and ferry company Baleària on Thursday (24 January) said it received the first of two liquefied natural gas (LNG) fuelled fast ferries; the Hypatia de Alejandría is the first smart ship with gas propulsion operating in the Mediterranean, it claims.
The newbuilding was constructed at the Armon de Gijón shipyard using a design from Australian engineering firm Incat Crowther, a market leader in high-speed aluminum vessel technology.
Finnish firm Wärtsilä supplied the engines and propulsion system, as well as the gas plant of the vessel, while Marintek was in charge of testing.
"The construction of this new fast ferry is a pioneering project worldwide, which we have led together with Armon shipyards, and in which we have had outstanding international partners, such as Wärstilä, Incat Crowther and Marintek," said Adolfo Utor, the President of Baleària.
"This project will make it possible to reclaim the Spanish shipbuilding industry worldwide, as well as generate 300 jobs in Asturias in two years," said the CEO of Armon, Laudelino Alperi.
In the same vein, the general director of the Merchant Navy, Benito Núñez, said the construction of the Hypatia de Alejandría "is very significant because it is a bet on the Spanish shipping industry".
The President of the Government of the Balearic Islands, Francina Armengol, recalled that "maritime transport in the Balearic Islands has an exceptional interest, allowing the possibility and right of mobility of residents and tourists."
Finally, the president of the Generalitat Valenciana, Ximo Puig, highlighted construction of the new ship "is very good news".
"Baleària has always contributed to the cohesion between the Comunitat Valenciana and the Balearic Islands through the Mediterranean and now with this project, it also allows us to create links with Asturias," he noted.
Moving forward, Baleària says it has started a two-year European Union subsidised project to retrofit six of its ships for LNG propulsion.
Related: Baleària's first LNG-fuelled ferry 'almost finished', second vessel afloat
Related: European Commission selects LNGHIVE2 project for funding
Related: Wärtsilä to supply full LNG systems for high-speed catamaran
Related: Baleària orders world's first high-speed LNG-powered catamaran
Related: European Union recognises Baleària fuel switch to LNG
Related: Balearia in EUR 60 million LNG bunker ferry retrofit project
Photo credit: Baleària
Published: 25 January, 2019

Peninsula supplies LNG bunker fuel to EPS crude oil tanker "Starway"
Peninsula's LNG bunker vessel "Levante LNG" supplied "Starway" with approximately 3,500 cubic metres of LNG on 29 to 30 November at the Gibraltar Port's Western Anchorage.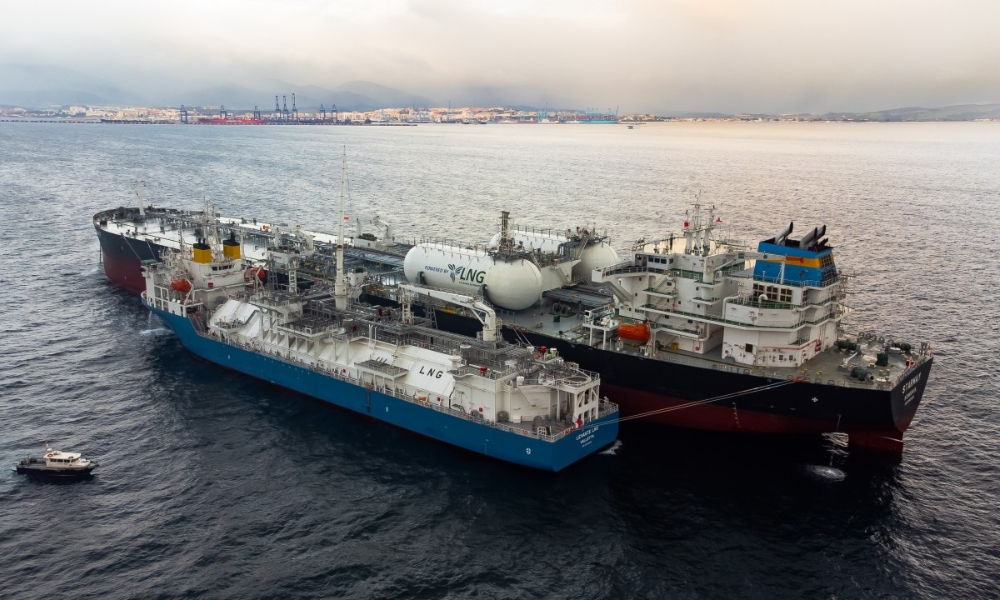 Marine fuel supplier Peninsula on Thursday (7 December) said it has successfully completed the supply of liquefied natural gas (LNG) as a marine fuel to Singapore-based, Eastern Pacific Shipping Pte. Ltd.'s (EPS) Suezmax crude oil tanker Starway.
Peninsula's Levante LNG, the company's first purpose built 12,500m3 LNG bunker vessel, supplied Starway with approximately 3,500 cubic metres of LNG on 29 to 30 November at the Gibraltar Port's Western Anchorage. 
Nacho de Miguel, Peninsula's Head of Alternative Fuels & Sustainability, said: "EPS vessels like the Starway and her sister, the Greenway, the world's first LNG fuelled Suezmax tanker, are paving the way for a lower carbon future. Through our investment in assets like the Levante LNG we can close the supply chain loop to give these vessels access to lower-carbon fuels in the world's leading ports. I want to thank EPS for partnering with Peninsula to help power them towards a more sustainable future."
Capt. Suraj Sundaresan, General Manager, Operations at EPS, said: "Peninsula bridges shipowners like us who are at the forefront of the industry's energy transition, and Ports who are evolving to host alternative-fuel powered vessels. Our vision to lower emissions is mirrored in Peninsula's desire to provide lower carbon options today. The availability of low-carbon fuel supply is incredibly important. As the demand for alternative fuels towards decarbonisation increases, we rely on suppliers like Peninsula to help keep our state-of-the-art alternative-fuelled ships moving."
Photo credit: Peninsula
Published: 8 December, 2023
DNV awards AiP to China Merchants Jinling Shipyard for world's largest PCTC design
DNV has awarded an Approval in Principle certificate to China Merchants Jinling Shipyard (Nanjing) for its 11,000-CEU capacity LNG-fuelled PCTC design at Marintec China trade fair.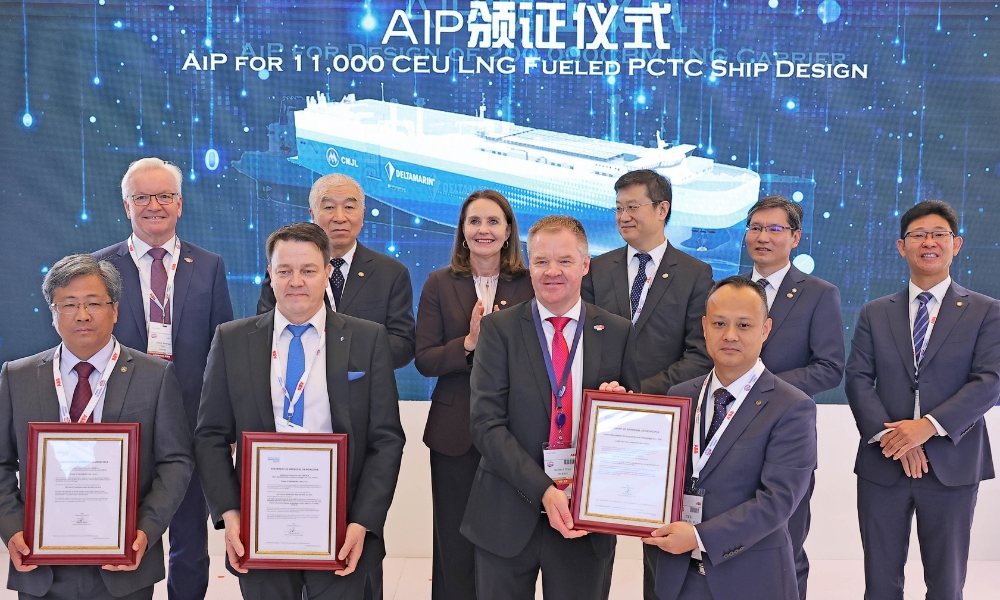 Classification society DNV on Wednesday (6 December) said it has awarded an Approval in Principle (AiP) certificate to China Merchants Jinling Shipyard (Nanjing) Co., Ltd. for its 11,000-CEU capacity LNG-fuelled pure car and truck carrier (PCTC) design at the Marintec China trade fair.
Recognized as the world's largest PCTC, the 234m long and 40m wide ship will have 14 decks allowing 11,000 car equivalent units (CEUs) to be stored simultaneously, which not only increases efficiency but also reduces the transport cost per vehicle.
By implementing a combination of decarbonization measures, the so-called "Super Large Smart Green 11,000" design will result in a significant reduction in carbon emissions, in line with the stringent requirements of the Energy Efficiency Design Index (EEDI) Phase 3 and NOx Tier III. The PCTC will use LNG as its primary fuel and will be equipped with a 4,200cbm LNG storage tank.
With the assistance of ship designer Deltamarin, the hull line of the vessel has been optimised through numerous CFD calculations and ship model tests. Additional energy-saving features include a stern flow optimization device and an air lubrication system, which effectively minimise resistance and reduce the required propulsion power. The integration of hybrid propulsion systems and solar power further underlines the commitment to reducing energy consumption.
"We expect the market for electric vehicles to continue to grow, driving demand for PCTCs. Scale, energy efficiency and low carbon fuel are key to reducing emissions from the transport of these vessels. As a leading class for car carriers, DNV is honoured to be entrusted with the assessment of this next generation of car carriers and we look forward to working with China Merchants to bring these vessels to the water," said Norbert Kray, Regional Manager Greater China at DNV Maritime.
According to China Merchants, the shipyard is already in discussions with potential customers for the 11,000 CEU PCTC.
Photo credit: DNV
Published: 7 December, 2023
China: ClassNK AiP issued to SDARI for three vehicle carrier designs with alternative fuel propulsion
ClassNK has issued AiPs for ammonia ready, methanol dual fuel and ammonia dual fuel vehicle carriers which were developed by Shanghai Merchant Ship Design & Research Institute.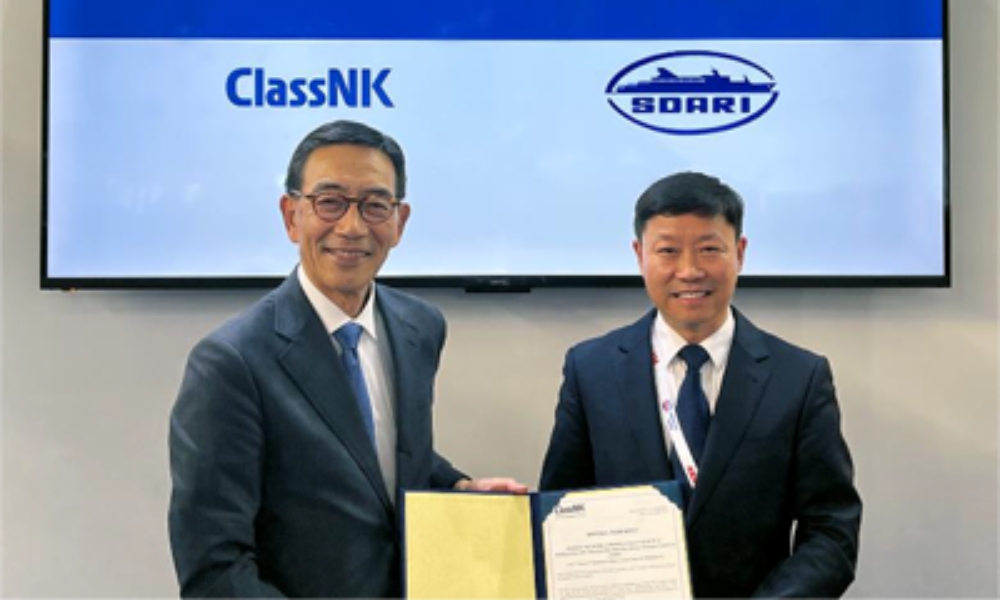 Classification society ClassNK on Wednesday (6 December) said it has issued Approvals in Principle (AiPs) for three vehicle carrier designs developed by Shanghai Merchant Ship Design & Research Institute (SDARI) at Marintec China 2023.
The first AiP acknowledged an ammonia ready, LNG dual-fuel vehicle carrier with a capacity of 7,000 CEU, a significant first in China's independently developed design. SDARI integrated the GTT MARK III Flex containment system for LNG and ammonia fuel storage to maximise the cargo capacity efficiently.
ClassNK also granted AiPs for both methanol dual-fuel and ammonia dual-fuel vehicle carriers, each with a capacity of 10,000 CEU, which is envisioned to lead the development of ultra-large vehicle carriers.
'SDARI has created these three models exemplify the new generation of green vehicle carriers, adaptable to various alternative fuel options and catering to future market demands," ClassNK said in a statement.
"ClassNK has engaged in SDARI's development projects, and carried out its review in accordance with the relevant standards, including its latest structural rules Part C and Guidelines for Ships Using Alternative Fuels."
"Marking the AiPs as the milestone, ClassNK is committed to further providing expertise to assist the design firm's initiative in expanding the industry's pathway for the transition to decarbonisation."
Photo credit: ClassNK
Published: 7 December, 2023