"Solomon Trader" disaster shows nowhere safe from HFO spills
Solomon Islands cleanup operation cost been estimated at $500,000 per tonne, notes Clean Arctic Alliance: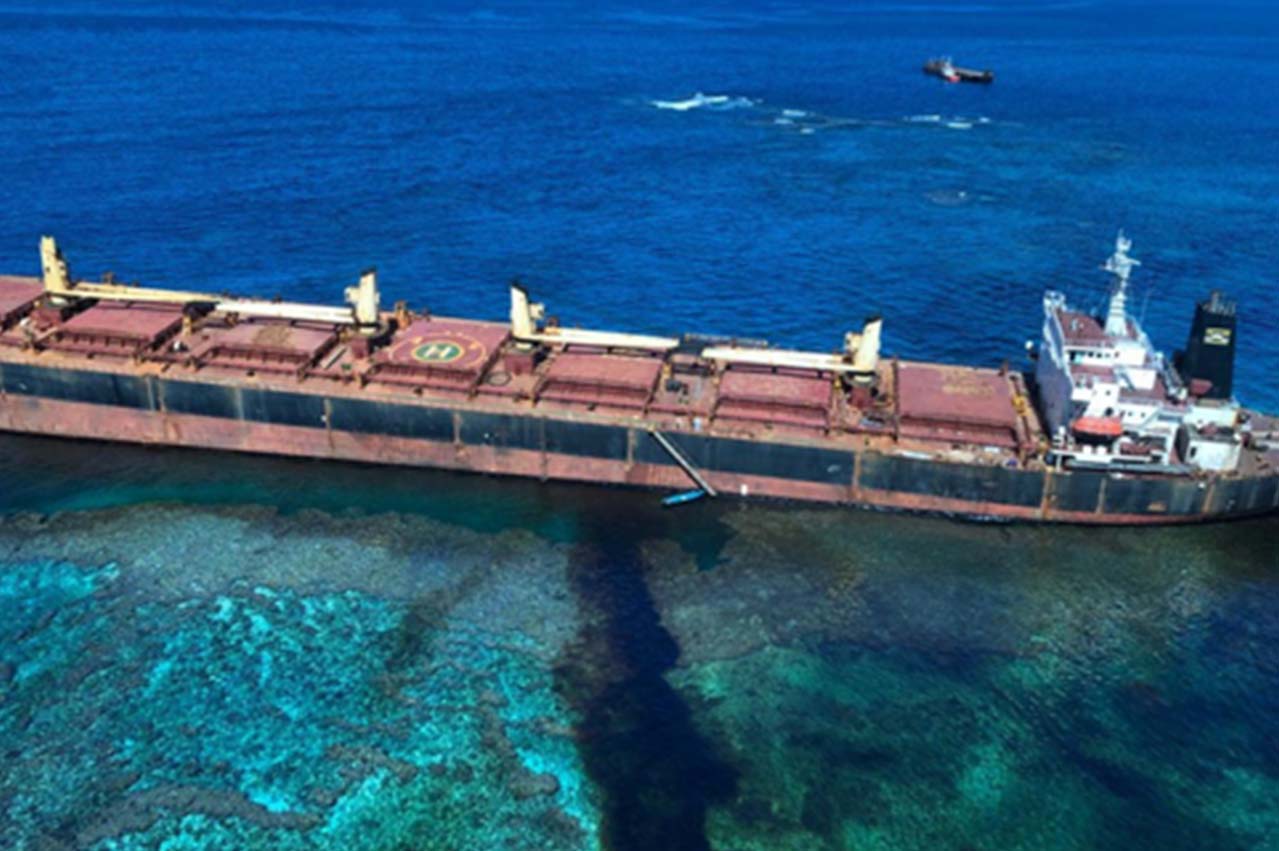 The following article on why HFO should be banned at the Arctic was written by Dr Sian Prior (Lead Advisor), Eelco Leemans (Advisor), and Dave Walsh (Communications Advisor) of the Clean Arctic Alliance:
This March 24, Alaskans will mark the 30th anniversary of the Exxon Valdez disaster, when, due to human error, a single-hulled oil tanker struck a reef in Prince William Sound, eventually releasing 35,000 tonnes of crude oil.The impacts on livelihoods and the marine ecosystem were devastating – and three decades later, the effects are still being felt.
After Exxon Valdez, many things changed ii the maritime business – over 7,000 crude oil tankers worldwide, for instance, are now required to have double hulls, thanks to MARPOL Annex I, an important international marine environmental convention, aimed at minimising marine pollution caused by shipping.
Yet, double hulls are not a panacea for all oil spills. There's another 46,000 ships sailing the world's oceans – general cargo ships, bulk carriers, container vessels, chemical and LNG tankers, ro-ro and passenger vessels. Some, but not all, have double hulls, double-bottoms, or protected fuel tanks. All of these (with a few exceptions), for now, use some form of fossil fuel for propulsion – heavy fuel oil, diesel, or Liquified Natural Gas. While oil volumes may be a fraction of those carried as cargo by oil tankers, a spill of even a comparatively small volume of fuel oil, particularly the most viscous residual or heavy fuel oils, can be devastating for ocean ecosystems, shorelines, wildlife, communities and livelihoods.
This scenario is currently playing out on the UNESCO-listed Rennell Island, in the Solomon Island. Until last week, a single-hulled bulk carrier, the MV Solomon Trader, owned by King Trader Ltd of Hong Kong, was leaking heavy fuel oil after it went aground on a reef. The leak has now been staunched, and some of the oil offloaded, but around 100 tonnes of of heavy fuel oil has spread along the shoreline. The Solomon Islands, made up of six big islands and 900 smaller ones, has limited ability to contain such an oil spill – the impacts from which will be felt for years.
Built 16 years before the current requirements for ships' fuel tanks to be protected took effect, the Solomon Trader was at Rennell Island to collect bauxite from a mine when Cyclone Oma struck, pushing the ship onto a coral reef. That was on 5 February, more than a month ago. Yet in what most people would regard as the relatively temperate and accessible waters of the Pacific, salvage of the ship has not yet been possible. According to a report in the Guardian, a single tug has been on hand – though more vessels have been arriving to pump oil off the ship.
A leak of 100 tonnes of heavy fuel oil may not seem like much – but it is devastating for local communities on Rennell Island. Fishing, the main source of food has reportedly been banned. People are now dependent on food being sent from the capital Honiara, 240km away. Even local freshwater springs close to the sea, have been contaminated. People have been reported to have burns from having heavy fuel oil stuck to their bodies while trying to attempt cleanups, while the smell is pervasive. The marine protected area, at Lavangu Bay, has been "completely destroyed", according to reports.
"The long term impact on the MPA, the shore line within the 400 meters from the wreck is on advisory from public intervention and national ships operating within the area would keep distance from the site. The people living inner coastal have been advised to relocate to a nearby inland village, to avoid from the oil fumes smell and toxics from the heavy oil. It will take a month for shore cleaning but a long term of the impact will definitely take at least year for rehabilitation, of fish and marine species to return to normal in the area", Brian Aonima, of SIMSA (Solomon Islands Maritime Authority), told us.
"The operations for oil spill containment is going well, according to the Salvos plan. So far, about 200 m3 of oil has been removed from the wreck. However, the vessel's hold 4 is reported leaking, which indicates that the wreck is still deteriorating."
"Offloading may take another week, and expected completion of the vessel and shore clean up could take up to a month, some of which may be concurrent with the vessel removal preparation to afloat the vessel. The Solomon Islands government will engage independent experts to carry out the environment impact assessment and one Maritime legal expert to assist the SIMSA investigation team".
"SIMSA, as lead agency and other government agencies are on the ground for monitoring the situation according to the salvage operation plan and hope the weather pattern does not change in coming weeks, so that we can fully resolve the situation."
Built 16 years before the current requirements for ships' fuel tanks to be protected took effect, the Solomon Trader was at Rennell Island to collect bauxite from a mine when Cyclone Oma struck, pushing the ship onto a coral reef. That was on 5 February, more than a month ago. Yet in what most people would regard as the relatively temperate and accessible waters of the Pacific, salvage of the ship has not yet been possible. According to a report in the Guardian, a single tug has been on hand – though more vessels have been arriving to pump oil off the ship.
"King Trader defended the speed of the salvage process, saying it had secured a local tug to try to remove the vessel in a timely manner. 'However, the situation worsened with the arrival of Cyclone Oma, which pushed the stricken vessel harder into the reef resulting in hull and engine room damage. The remote and hazardous location has made it difficult to secure local resources and it's been time-consuming bringing in resources from other locations,' the statement, quoted in The Guardian said. "Inclement weather has made it difficult and at times impossible to access the vessel, and conditions have been too dangerous for external underwater inspections."
While King Trader might be expected to engage in an level of face-saving – they and their insurance company have yet to admit liability – there is some truth here. Cleaning up oil spills is difficult enough in easy to reach places. Ships travel all over the world, all the time, passing through remote areas that most us have little or no conception of. And while these ships may not be transporting polluting fossil fuel cargoes, what they are carrying in their own tanks as fuel is more than enough to wreak havoc on people and places.
Liability for oil spills from bunker tanks is covered by the International Convention on Civil Liability for Bunker Oil Pollution Damage, or 'Bunkers Convention', which entered into force in 2008. The convention provides the possibility for affected states or organisations to claim compensation, but the level of this compensation is limited and may not be high enough to cover all the costs related to the clean-up of the spill and the loss of local incomes.
The Solomon Islands cleanup operation has been already been estimated as costing USD $50 million. That's $500,000 per tonne, of the oil that reportedly spilled so far.
Meanwhile in European waters, as we were drafting this article, another disaster is unfolding. A ro-ro container vessel, the MV Grande America, owned by Italian Grimaldi Lines, caught fire and sank in the Bay of Biscay, with 2,200 tonnes of heavy fuel oil on board, and 2,000 cars. By March 12, an oil sheen 10km long and 1km wide appeared 200km off the coast, but it wasn't expect to wash ashore until the end of March. In the meantime, a 4-5 metre swell is hindering anti-pollution operations at sea.
The Clean Arctic Alliance is working for a ban on the use of heavy fuel oil and carriage as fuel by Arctic shipping. Heavy fuel oil is a dirty and polluting fossil fuel that powers ships throughout our seas and oceans – accounting for 80% of marine fuel used worldwide. Around 80% of marine fuel currently carried in the Arctic is HFO; over half by vessels flagged to non-Arctic states – countries that have little if any connection to the Arctic.
The Arctic is under pressure – climate change is fuelling temperature rises double the rate of further south. As sea ice melts and opens up Arctic waters further, even larger non-Arctic state-flagged vessels running on HFO are likely to divert to Arctic waters in search of shorter journey times. This, combined with an increase in Arctic state-flagged vessels targeting previously non-accessible resources, will greatly increase the risks of HFO spills in areas that are difficult to reach, and that lack any significant oil spill containment equipment.
Already banned in Antarctic waters, if HFO is spilled in cold polar waters, it breaks down slowly, proving almost impossible to clean up. A HFO spill would have long-term devastating effects on Arctic Indigenous communities, livelihoods and the marine ecosystems they depend upon. It isn't only the impact of a heavy fuel spill that is a concern, HFO is also a greater source of harmful emissions of air pollutants, such as sulphur oxide, and particulate matter, including black carbon, than alternative fuels such as distillate fuel and liquefied natural gas (LNG). When emitted and deposited on Arctic snow or ice, the climate warming effect of black carbon is up to five times more than when emitted at lower latitudes, such as in the tropics.
But while we are focussed on the risks to the Arctic, we also believe that the time of HFO is over. The global shipping fleet needs to move forward towards new, zero carbon solutions for propulsion. This will alleviate the threats from spills, as well as beneficial effects for our global climate and the air quality in the areas around shipping ports.
Our thoughts and sympathies are with the Solomon Islanders affected by this terrible heavy fuel oil spill, and the Clean Arctic Alliance hopes that everything possible is done to minimise the impact of the spill, clean up the environment and to protect the resources of the Islanders and the wildlife. This small spill of heavy fuel oil has had a devastating impact on the remote reefs and resources of the Solomon Islands, and demonstrates the limitations of response operations to cope with spills of this nature in remote locations. For this reason, the Clean Arctic Alliance is urging all Arctic States to throw their weight behind the calls for a ban on the use and carriage of HFO as fuel by Arctic shipping.
While putting together this article, we've been in touch with Clean Arctic Alliance member organisation, friends and partners – here's some of their comments:
"Over 50% of the daily Inuit diet comes from the land and sea. The value of a clean environment and sea ice cover is immeasurable. An HFO spill would put these community values at significant risk" – Lisa Koperqualuk, Vice-President, Inuit Circumpolar Council (Canada). "We hope the Solomon Islanders will recover well from the damage to their environment and ecosystem."
"Our people, who live on an island in the Arctic called St. Lawrence Island, similarly depend on a healthy marine environment and wildlife, like the people of the Solomon Islands do. It is heartbreaking to see their islands and sea life being hurt by this tragic oil spill. Our thoughts and prayers to their people, and this is a warning to all of us in the Arctic that we must take steps like banning the use and carriage of Heavy Fuel Oil by ships traveling in the Arctic to protect our way of life" – Delbert Pungowiyi, President of the Native Village of Savoonga IRA Council (a US federally recognized Tribe near the Bering Strait of Alaska).
"It is hard to comprehend the physical and social disruption of an oil spill for remote communities who depend on the ocean for food and their ways of life. Over a generation after the Exxon Valdez disaster, some fisheries have never reopened. Oil is still oil buried in beaches. My goal is to prevent this unnecessary nightmare from repeating itself in the Arctic" – Sue Libenson, Senior Arctic Program Officer for Pacific Environment, was Executive Director of the Alaska Center for the Environment during the Exxon Valdez oil spill.
Photo credit: Australia Department of Foreign Affairs and Trade
Source: HFO-Free Arctic
Published: 25 March, 2019

China Shipping & Sinopec Suppliers completes first biofuel bunkering op of passenger ship in Dalian
Firm successfully refuelled passenger ship "Chang Shan Dao" owned by Cosco Shipping Ferry with B24 bio bunker fuel on 29 November at Dalian Cruise Port.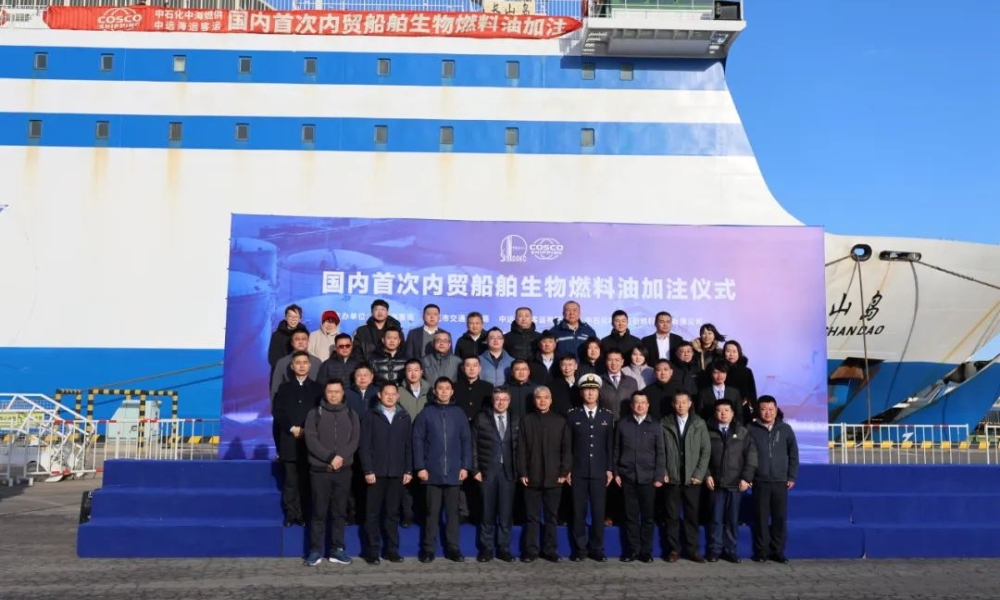 China Shipping & Sinopec Suppliers Co., Ltd. on Wednesday (29 November) successfully refuelled passenger ship "Chang Shan Dao" owned by Cosco Shipping Ferry Co., Ltd. with B24 bio bunker fuel at the Dalian Cruise Port.
The occasion marked the first biofuel bunkering operation for passenger ships in China.
The B24 biofuel oil used was blended with 24% biofuel and 76% conventional low-sulphur fuel oil.
Sinopec China Shipping Fuel Supply, which is responsible for the bunkering operation, is a bunker supply firm jointly established by Sinopec Group and COSCO Shipping Group.
According to Li Zhi, Deputy Party Secretary and Deputy General Manager of China Shipping & Sinopec Suppliers Co., Ltd., the biofuel bunkering business is another step in the company's active business of the group's development strategy.
The bunkering operation after the firm completed the first bonded biofuel bunkering operation of a domestic ship on 7 September. 
Disclaimer: The above article published by Manifold Times was sourced from China's domestic market through a local correspondent. While considerable efforts have been taken to verify its accuracy through a professional translator and processed from sources believed to be reliable, no warranty is made regarding the accuracy, completeness and reliability of any information.
Photo credit: China Shipping & Sinopec Suppliers
Published: 8 December, 2023
Singapore, Tianjin to pilot and trial alternative bunker fuels following shipping corridor MoU
Singapore – Tianjin Green and Digital Shipping Corridor will serve as a valuable testbed for both countries to pilot and trial digital solutions, alternative fuels and technologies, amongst others.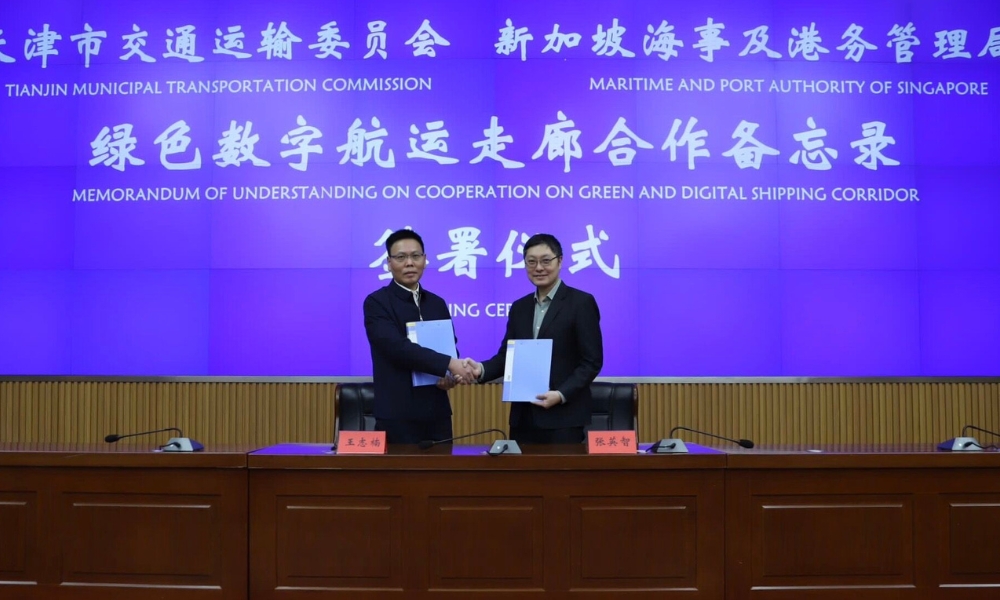 The Maritime and Port Authority of Singapore (MPA) and the People's Republic of China's Tianjin Municipal Transportation Commission on Wednesday (6 December) signed a memorandum of understanding (MoU) to establish the Singapore – Tianjin Green and Digital Shipping Corridor.
Mr Teo Eng Dih, Chief Executive, MPA, and Mr Wang Zhinan, Director General, Tianjin Municipal Transportation Commission, signed this MoU.
The MoU marked the first Green and Digital Shipping Corridor established between Singapore and China to support the decarbonisation, digitalisation and growth of the maritime industry between Singapore and the Bohai Region.
The Singapore – Tianjin Green and Digital Shipping Corridor will serve as a valuable testbed for both countries to pilot and trial digital solutions, alternative bunker fuels and technologies, and facilitate talent development to support the decarbonisation and digitalisation of shipping. 
Singapore and Tianjin will work with the research community, the institutes of higher learning, and industry stakeholders such as shipping lines, port operators, shipbuilders, classification societies, and bunker suppliers to enable more efficient port clearance through digital exchanges, encourage the offtake of zero or near-zero greenhouse gas emission fuels and adoption of new fuel technologies, spur innovation and support the growth of the maritime startups community, and facilitate manpower training and professional development.
The establishment of the Singapore – Tianjin Green and Digital Shipping Corridor reaffirms the strong commitment by Singapore and Tianjin to accelerate maritime decarbonisation and digitalisation. Singapore will also be exploring the establishment of similar collaboration with other maritime and port ecosystems within China.
Photo credit: Maritime and Port Authority of Singapore
Published: 8 December, 2023
Report highlights routes-based action plan methodology to accelerate uptake of clean bunker fuels
NextGEN Connect-GreenVoyage2050 collaboration, which includes Singapore, emphasises the important role of regional energy hubs in enabling the inclusive adoption of clean marine fuels.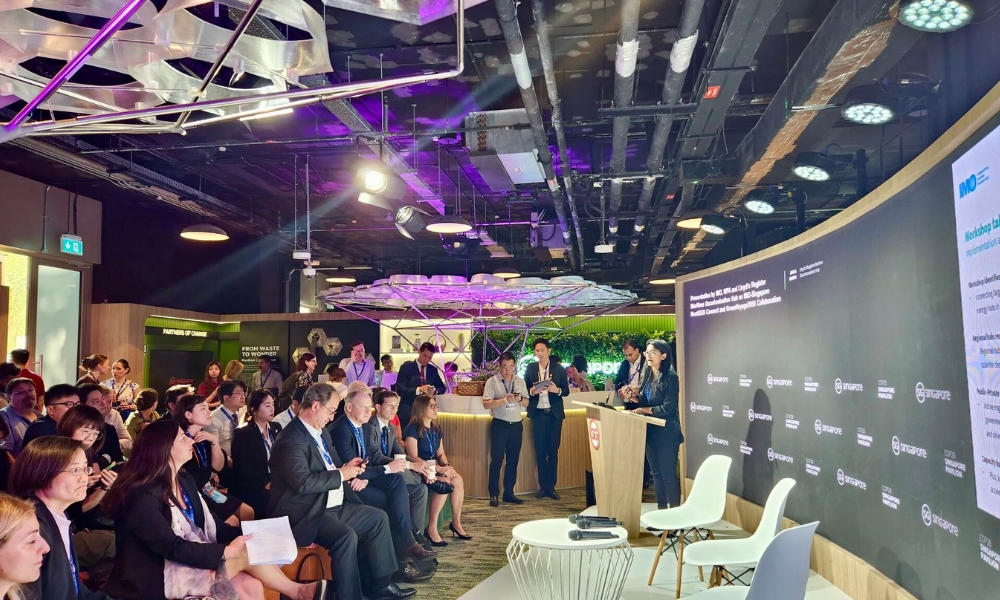 The Maritime and Port Authority of Singapore (MPA) on Thursday (7 December) said the NextGEN Connect-Green Voyage2050 Project identified a key role for regional hubs to help connect large demand clusters and remote locations, with regional fuel supply sources, in order to enable a more inclusive and effective transition to a low-carbon maritime future.
The project is a collaboration between Singapore, Norway and the International Maritime Organization (IMO).
These findings were unveiled in the Lloyd's Register Maritime Decarbonisation Hub (LR MDH) report titled Routes-based Action Plans: A Toolkit launched at the Voyage to Net-Zero Forum, which was organised by MPA, at the 28th United Nations Climate Change Conference (COP28/CMP8/CMA5) yesterday.
The report was developed following a workshop discussion that was held from 5 to 6 October 2023 in Singapore, with the participation of 40 stakeholders representing ports and National Administrations across Asia, based on the concept of the LR MDH's First Movers Framework for green corridors. The workshop simulated the process steps of the routes-based action plan methodology, addressing the limitations in its application in the wider Asian context. Additional engagements with stakeholders from the Pacific are envisaged to further refine the methodology.
"One of the key findings in our report highlighted the varying pace of decarbonisation efforts across the Asian region and the need for regional coordination among governments to establish energy clusters that will serve both as demand centres and energy producing hubs" said Charles Haskell, Director at LR MDH.
The creation of energy producing hubs includes defining a strategy that brings together demand from different countries at different developmental stages across the region to build up investment cases for implementing energy infrastructure at scale, all the while taking into consideration the economic and social benefits for local communities.
The report also emphasised that routes-based action plans should be steered by national governments to give confidence to the industry's infrastructure investment decisions, with development banks and regional funds needing to play a part to help tailor financing solutions to support infrastructure development.
"If we truly want to achieve a net-zero future where no one is left behind, we cannot focus only on existing first mover initiatives. We must also study locations where the energy infrastructure is still in its infancy", added Charles Haskell.
Essential to driving the implementation of routes-based action plans, as highlighted in the report, is the pooling of resources and capacity building to develop the business case for building the necessary infrastructure for regional hubs that include Least Developed Countries (LDCs) and Small Island Developing States (SIDS). This will require regional coordination and collaboration involving governments and all stakeholders across the maritime supply chain.
Mr. Teo Eng Dih, Chief Executive of MPA, said: "As we steer toward a sustainable maritime future, fostering a collective and inclusive approach is imperative in the development of green corridors and the energy transition to decarbonise international shipping."
"The NextGEN Connect-GreenVoyage2050 collaboration emphasises the important role of regional energy hubs in enabling the inclusive adoption of clean marine fuels, particularly for LDCs and SIDSs. MPA looks forward to continuing its collaboration with IMO, Ministry of Climate and Environment of Norway and LR MDH to pilot solutions to reduce GHG emissions from ships and drive innovative transformations in the maritime industry."
Sveinung Oftedal, Chief Negotiator of the Norwegian Ministry of Climate and Environment, said: "Separate routes for emission-free ferries and ships can play an essential role in stimulating early action to adopt zero or near-zero emission technologies and fuels, and hence are an important step towards decarbonising shipping. There is currently a significant volume of maritime traffic between Asian countries, and our workshop was a great forum to discuss opportunities the decarbonisation of maritime shipping can bring and how efforts can be linked to countries' wider energy transition."
Jose Matheickal, IMO Director of Partnerships and Projects, said: "Supporting developing countries, including SIDS and LDCs, in their efforts to implement the 2023 IMO Strategy on the Reduction of GHG Emissions from Ships is imperative to the decarbonisation of the maritime sector. IMO is pleased to provide, through this collaboration, practical support around the development and subsequent implementation of National Action Plans and route-based actions in line with IMO's MEPC RESOLUTION.366(79) that encourages Member States to undertake these voluntary actions to facilitate the achievement of greener shipping and reduced emissions."
Note: 'Routes-based action Plans: a toolkit' can be found here. 
Photo credit: Maritime and Port Authority of Singapore
Published: 8 December, 2023