Shareholders nominate 'highly qualified' candidates to Aegean board
The committee calls for immediate governance enhancements to remedy board dysfunction.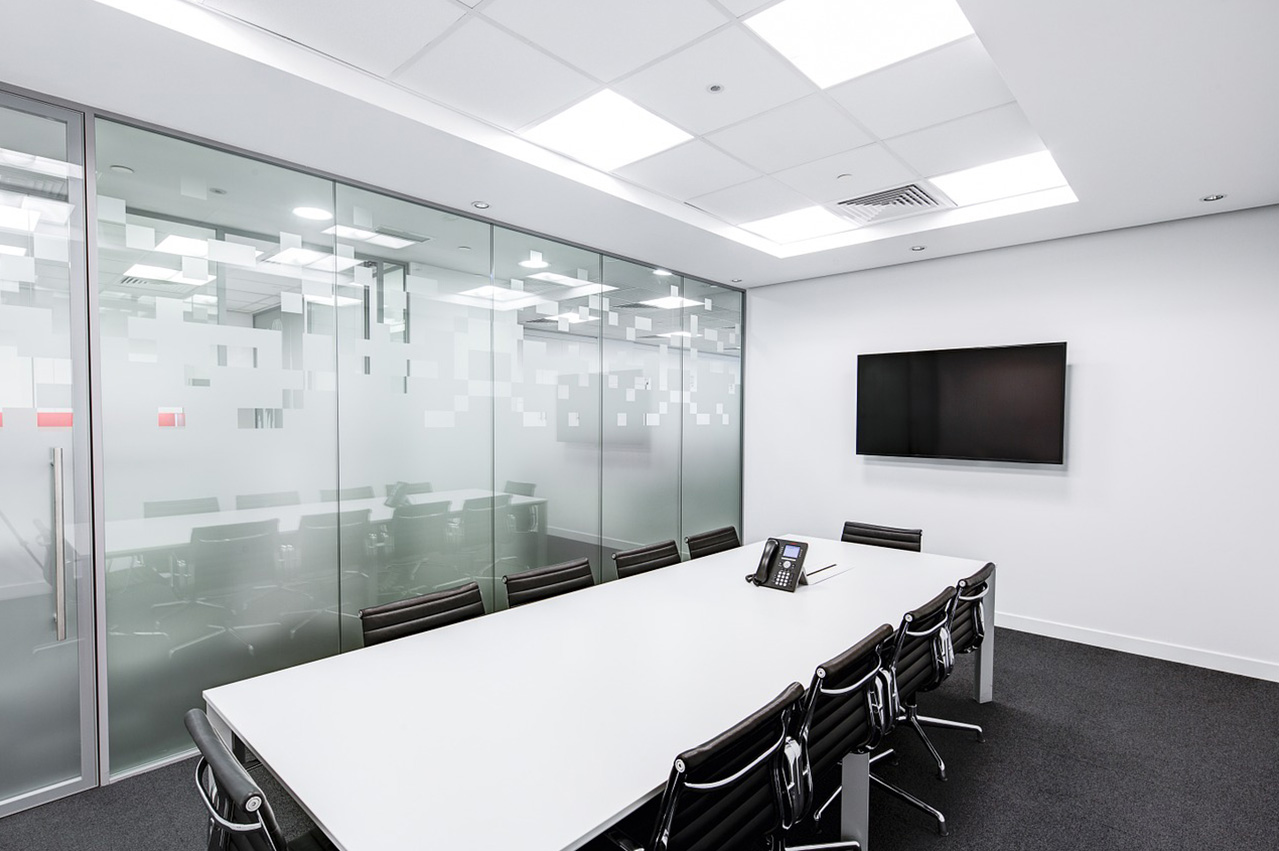 The Committee for Aegean Accountability (the Committee), a group of shareholders collectively owning more than 12% of the outstanding shares of Aegean Marine Petroleum Network, (Aegean or, the Company) says it has formally nominated four highly qualified independent candidates for election to the Company's Board of Directors (the Board) at the upcoming 2018 annual meeting of shareholders.
Tyler Baron issued the following statement on behalf of the Committee:
"As the Committee highlighted in its open letter to the Board dated December 20, 2017, the present state of corporate governance at the Company is untenable and change is desperately needed. The current members of the Board have presided over a dramatic erosion of shareholder value – a 58% decline in the share price over the past year and a 71% decline since the Company's IPO eleven years ago. There are also significant concerns over the Board's independence and accountability; of the four seated directors, three were appointed by the founder at the time of the IPO or shortly thereafter. Furthermore, despite the founder no longer owning any interest in the Company, we believe he retains significant influence over its activities. These concerns are exacerbated by historical and ongoing related party transactions with entities controlled by the founder. The need for direct and independent shareholder representation on the Board is crucial to restore a corporate governance structure that is aligned with the interests of all shareholders."
The Committee sees significant value in Aegean's fuel distribution network and the assets that support it, and believes the optionality and strategic importance of this network will grow as the industry approaches the significant changes brought by IMO 2020 regulations less than two years away. The Committee estimates the Company's quick-turning net working capital balance alone, less associated debt, amounts to more than $330MM of equity value. In addition, the fleet of modern vessels and the Fujairah storage terminal have a combined book value of more than $310MM. After deducting outstanding bonds net of cash, the book value of just the Company's three principal assets is approximately $12 per share. Furthermore, using average EBITDA over the past four years and deducting current cash interest expense, capital expenditures, and taxes, the Company would generate approximately $1.50 per share in annual operational free cash flow. Yet the Company trades at deeply discounted multiples relative to both its net asset value and operational free cash flow due to persistent concerns about corporate governance, conflicts of interest and management competence.
While the potential for operational improvement and value creation at Aegean is substantial, there is much work to be done and value will only be unlocked by implementing and successfully executing against a long-term strategic plan. The Committee believes fresh Board members with areas of expertise well-suited to the challenges and opportunities facing the Company are required to formulate and oversee the execution of this plan.
For the past nine months members of the Committee have pursued a private and constructive dialogue with the aim of upgrading corporate governance, enhancing the existing Board, and improving the financial performance of the Company. Unfortunately, the response from the Board has ranged from indifference to entrenchment. Accordingly, the Committee has today formally nominated four highly qualified candidates for election at the Company's 2018 annual meeting of shareholders.
As can be seen from the detailed biographies that follow, this group of impressive candidates possesses complementary skillsets and expertise including global marine fuel market knowledge, operations, corporate finance, restructuring, corporate governance, capital markets, and strategy. Importantly, these nominees, if elected, will work with the singular focus of best representing the interests of all shareholders.
The Committee's nominees include:
Raymond Bartoszek
Mr. Bartoszek has over 20 years of experience as an oil trader specializing in the supply of marine bunker fuels to global shipping companies, first at Texaco and then at Glencore Ltd. While at Glencore Ltd. he held a number of senior management positions including Managing Director and head of its oil department where he managed a global team and portfolio of assets. Mr. Bartoszek was one of the firm's directors leading up to the successful IPO in 2011. Following his time at Glencore, Mr. Bartoszek started a family office called RLB Holdings. He currently serves on the board of several private companies, and is a Limited Partner of the New York Yankees. He is also the Managing Partner of Horseheads Sand and Transloading Terminal, an energy terminal that supplies well operations in the Marcellus Shale. Mr. Bartoszek holds a M.B.A. with a focus in International Business from Rensselaer Polytechnic Institute and a Dual-Major B.S. degree from the U.S. Merchant Marine Academy.
Donald Moore
Mr. Moore has over 40 years of experience in the financial services industry at Morgan Stanley, most recently as Chairman of Morgan Stanley Group (Europe) from 2000-2016 and as Global Chairman of the Financial Institutions Group from 2013-2016. He has been involved in over 500 billion euros ($552 billion) worth of transactions throughout Europe working closely with governments, institutions and corporations on strategic issues, including mergers, acquisitions, divestitures, restructurings and equity financings. Prior to moving to Europe in 1997, Mr. Moore worked on over 120 transactions spanning 22 years in New York, including most of the landmark banking transactions such as Citicorp on their restructuring and recapitalization in 1990. In 1995 Mr. Moore was appointed by the US Treasury Secretary Robert Rubin to serve on the US Treasury Advisory Council on Financial Institutions. Mr. Moore has served as a trustee and board member of a number of organizations including, Carnegie Hall, the National Gallery (London), the London Symphony Orchestra, and currently serves as the Chairman of the Institute of Contemporary Arts (London). Mr. Moore attended the London School of Economics and holds a B.A. with Honors from Pomona College and a M.B.A. from Harvard Graduate School of Business Administration.
David Kirshner
Mr. Kirshner has more than 30 years of management experience in the fuels industry, most recently as Chairman and CEO of Axeon Specialty Products LLC, a $1B asphalt and specialty petroleum products marketing and refining company where he led an extensive operational turnaround from 2014-2017 that resulted in the successful sale of a majority of the business. Previously, Mr. Kirshner was Senior Vice President of Commercial at Tesoro Corporation from 2011-2014 where he managed teams that traded and marketed bunker fuels and was a member of the Executive Committee. Prior to that, Mr. Kirshner was Vice President of Supply, Trading, and Transportation at Hess Corporation where he also focused on the supply and trading of bunker fuels and was a member of the Marketing and Refining Leadership Team. Mr. Kirshner also spent 23 years in the US, Europe and Asia at Mobil Corporation and then ExxonMobil Corporation where he held a number of positions of increasing responsibility in supply, trading, risk management, lubricants and fuels. Mr. Kirshner is dedicated to community-based organizations and has served on the advisory boards of a number of non-profits. Mr. Kirshner received his B.S. degree in Systems Engineering/Industrial Engineering and Operations Research with a minor in Economics from Southern Methodist University.
Tyler Baron
Mr. Baron has more than 15 years of experience in the financial services and investment management industry, and leads the Committee for Aegean Accountability. Since 2012, Mr. Baron has been the Portfolio Manager and Managing Partner of Sentinel Rock Capital, a hedge fund that applies an absolute value oriented strategy across long/short investment opportunities expressed in small and mid-capitalization equities and debt. From 2006-2011 Mr. Baron was a Partner at Spring Point Capital, a $1.5B hedge fund based in San Francisco, initially as an analyst and then managing research for the long portfolio as well as becoming one of the largest equity partners at the firm. Mr. Baron started his investing career in 2003 as an analyst at CBI Capital, a long/short hedge fund based in New York City. In 2001, Mr. Baron joined the restructuring group as an analyst at Peter J. Solomon Company, a boutique investment bank, providing advisory services to debtors and creditor groups undergoing debt restructurings. Mr. Baron attended the University of California at Berkeley and graduated with a Bachelor of Science degree from the Haas School of Business in 2001.
Manifold Times on 21 December reported the committee writing an open letter to the Chairman of the board at Aegean, expressing severe concerns regarding the shareholder value destruction caused by poor financial and operational management.
Related: Aegean Marine Petroleum Network under shareholder pressure
Published: 1 February, 2018

Malaysia: MMEA detains tanker for illegal anchoring in East Johor waters
Panama-registered vessel was operated by 17 crew members, aged between 21 to 58 years, from Pakistan, India and Bangladesh.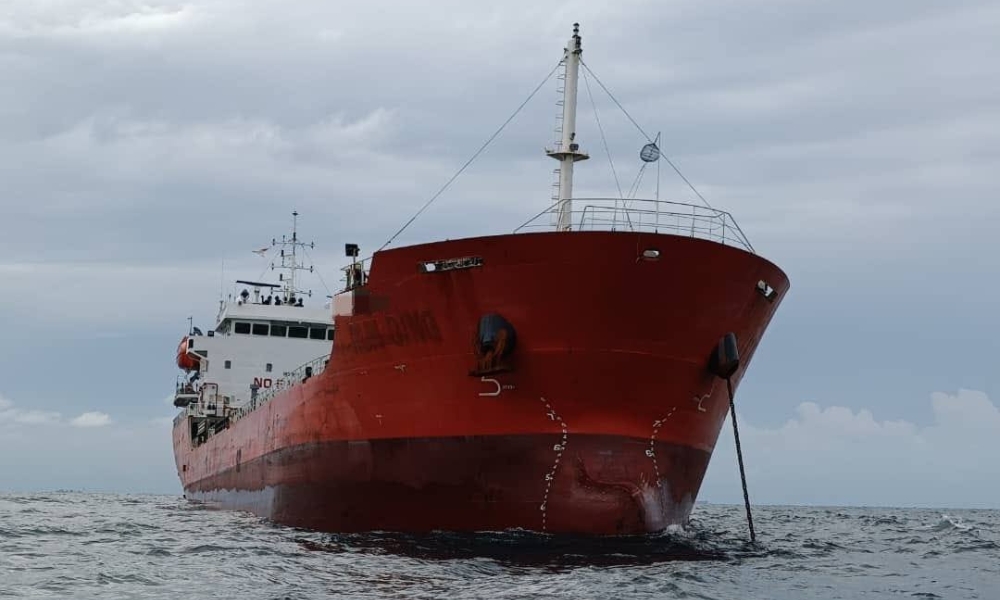 The Malaysian Maritime Enforcement Agency (MMEA) on Tuesday (28 November) said a Panama-registered tanker has been detained for illegally anchoring in East Johor waters on 27 November.
MMEA Tanjung Sedili Zone acting director Maritime Cmdr Mohd Najib Sam said the tanker was detained by a patrol boat at 11am at 15.8 nautical miles northeast of Tanjung Penawar.
The captain of the vessel failed to produce any documents that permission had been obtained to anchor in Malaysian waters.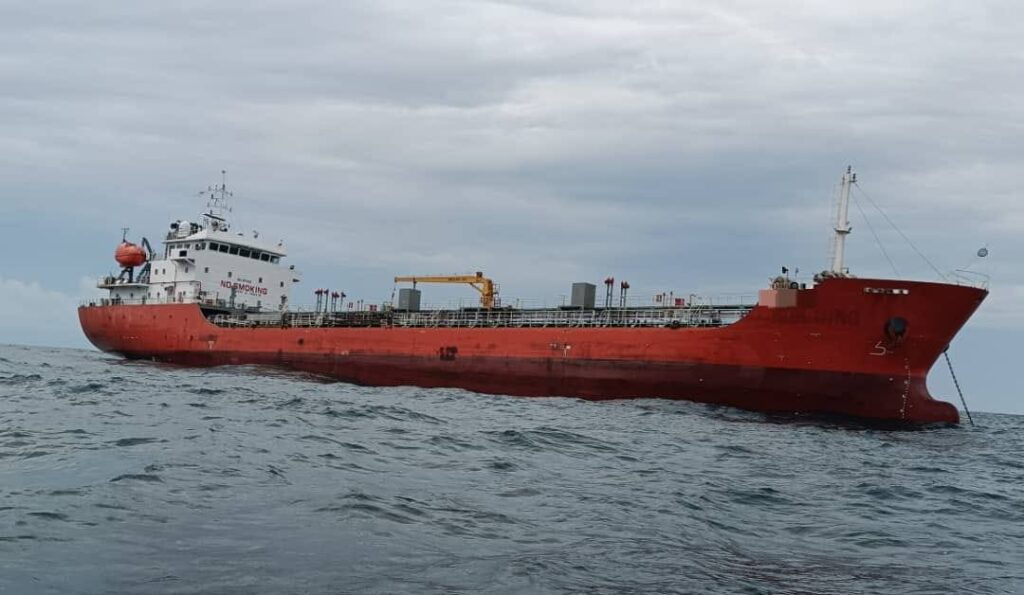 The vessel was operated by 17 crew members, aged between 21 to 58 years, from Pakistan, India and Bangladesh.
The case will be investigated under Section 491B(1)(L) of the Merchant Shipping Ordinance 1952 for anchoring without permission. If found guilty, individuals may be fined not exceeding MYR 100,000 or face an imprisonment term of not more than two years, or both.
Manifold Times previously reported law firm Oon & Bazul LLP sharing on steps shipowners should keep in mind before anchoring and conducting STS operations in Malaysian waters to avoid detention.
Related: Oon & Bazul to shipowners: Measures to take before anchoring, conducting STS ops in Malaysian waters
Photo credit: Malaysian Maritime Enforcement Agency
Published: 29 November, 2023
DNV paper outlines bunkering of alternative marine fuels for boxships
Third edition of its paper series focuses on LNG, methanol and ammonia as alternative bunker fuel options for containerships; explores bunkering aspects for LNG and methanol.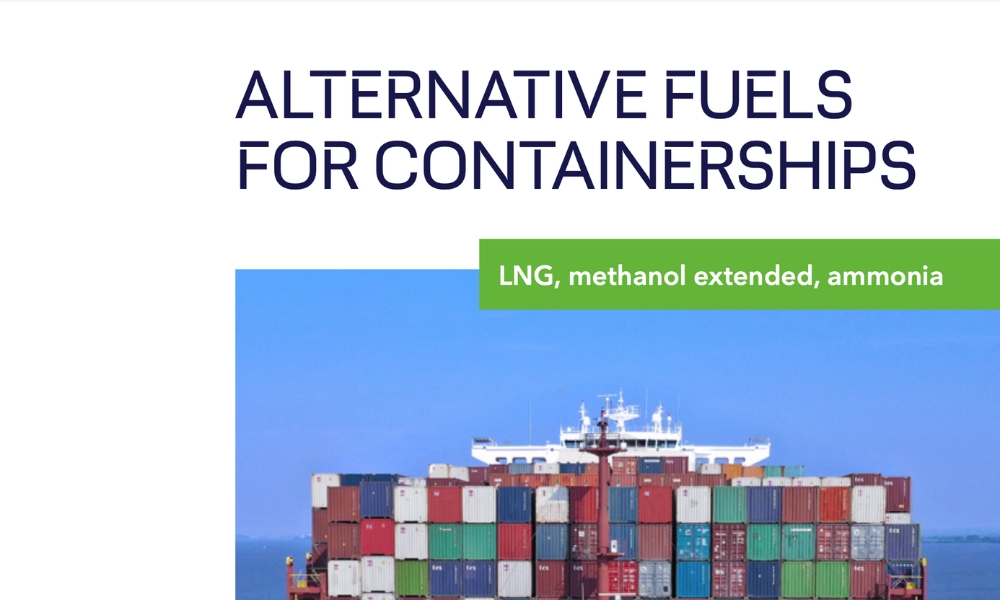 Classification society DNV recently released the third edition of its paper series Alternative fuels for containerships, focused on LNG, methanol and ammonia as alternative bunker fuel options for containerships.
In its updated paper series, DNV examined the different alternative marine fuel options and provided an overview of the most important technical and commercial considerations for the containership sector.
It explored the bunkering technology for LNG, bunkering infrastructure for methanol, and availability and infrastructure of ammonia.
Building on the foundation laid in the second edition, which focused on the most important aspects of methanol as a fuel, this latest third edition delves deeper – exploring the technical intricacies and commercial considerations associated with adopting methanol as an alternative fuel for containerships.
Furthermore, it provides an overview of crucial aspects related to ammonia and discusses its potential as an alternative fuel for containerships.
Amongst others, the new edition of the paper looks at the following aspects:
Technical design considerations for methanol
Commercial implications of adopting methanol as an alternative fuel
Ammonia's potential as an alternative fuel
Availability, infrastructure and ship fuel technology for ammonia
Major updates based on the latest IMO GHG strategy decisions at the MEPC 80 meeting
Note: The third edition of DNV's full paper titled Alternative Fuels for Containerships can be found here.
Related: DNV paper outlines bunkering infrastructure of alternative fuels for boxships
Photo credit: DNV
Published: 29 November, 2023
EDF, LR and Arup launch tool scoring ports' potential to produce and bunker electrofuels
Tool is also applied to three different port scenarios, including ports exploring fuel production and bunkering, ports exploring fuel exports, and ports exploring fuel imports and bunkering.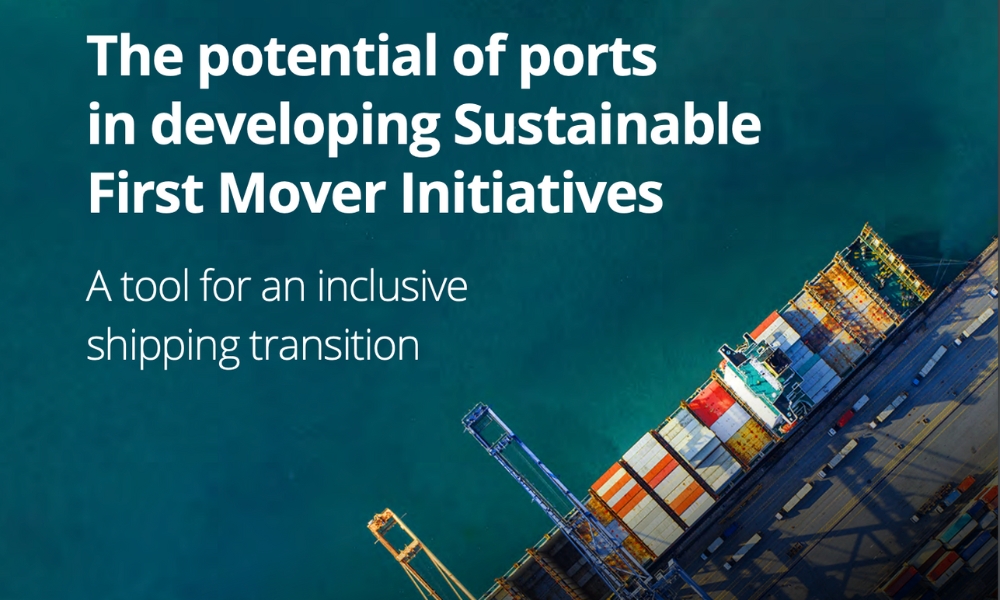 Lloyd's Register (LR) Maritime Decarbonisation Hub and Environmental Defense Fund (EDF), in collaboration with Arup, on Tuesday (28 November) introduced the Sustainable First Movers Initiative Identification Tool, a system to help shipping stakeholders align investment decisions that support the maritime energy transition away from fossil fuels.
The tool, which is presented in a preliminary findings report – The Potential of Ports in Developing Sustainable First Movers Initiatives – scores a port's potential to produce and bunker electrofuels while delivering local environmental and community benefits in alignment with the global temperature target of 1.5 degrees Celsius set by the Paris Agreement.
"Ports can play an important role in kickstarting shipping's decarbonisation process even before global policies are established," said Marie Cabbia Hubatova, Director, Global Shipping at Environmental Defense Fund.
"By considering the impact sustainable first mover initiatives can have on port-side communities, climate, environment and economies, resources can be better directed to locations where these initiatives will make the biggest difference."
With close to two billion people living near coastal zones globally, the role of, and impacts on local port communities must be intentionally considered as the sector decarbonises globally. Ports can play a crucial role in ensuring shipping decarbonisation efforts are done in a way that has positive impacts on port communities.
The preliminary phase of the Sustainable First Movers Initiative Identification Tool analyses 108 ports in the Indo-Pacific region according to five criteria including land suitability, air quality, renewable energy surplus, economic resilience and ship traffic.
It is also applied to three different port scenarios, including ports exploring fuel production and bunkering, ports exploring fuel exports, and ports exploring fuel imports and bunkering. The combined criteria and scenario evaluation determines which ports have the greatest potential (high potential) for sustainable first mover initiatives to lead to significant emissions reductions and positive impacts in nearby communities, such as improved air quality and economic resilience.
"The transition to clean energy supply for shipping can be achieved only if stakeholders act together. Identifying potential port locations is the first step in this process," said Dr Carlo Raucci, Consultant at Lloyd's Register Maritime Decarbonisation Hub. "This approach sets the base for a regional sustainable transition that considers the impacts on port-side communities and the need to avoid regions in the Global South lagging behind."
Regions in the Global South are fundamental in driving the decarbonisation of shipping. To make this transition effective, the rate at which different countries adopt and scale up electrofuels must be proportional to the difference in capital resources globally to avoid additional costs being passed on to local communities. Sustainable first mover initiatives can play an important role in making this happen by ensuring the sector's decarbonisation is inclusive of all regions and by engaging all shipping stakeholders, including port-side communities.
"There's a huge opportunity for early adopter shipping decarbonisation initiatives to unlock benefits for people and planet – shaping the way for a more equitable transition in the 2030s," said Mark Button, Associate, Arup. "Our collective approach shows that taking a holistic view of shipping traffic, fuel production potential and port communities could help prioritise action at ports with the greatest near-term potential."
The tool can be customised according to stakeholders' needs and goals and is dependent on scenario desirability. The next phase of this work will include the selection and detailed assessment of 10 ports to help better understand local needs and maximise the value offered by sustainable first mover initiatives.
LR and EDF carried out a joint study on ammonia as shipping fuel, and LR and Arup have collaborated on The Resilience Shift study focused on fuel demand for early adopters in green corridors, ports, and energy systems, amongst many other projects.
Photo credit: Lloyd's Register
Published: 29 November, 2023