Equatorial Marine Fuel links one third of bunker tanker fleet to SGTraDex in push towards trust & transparency
'We are proud to be amongst the first to show the successful steps taken by Singapore's bunkering ecosystem to remain forward thinking and relevant,' Choong Sheen Mao, Director of EMF, tells Manifold Times.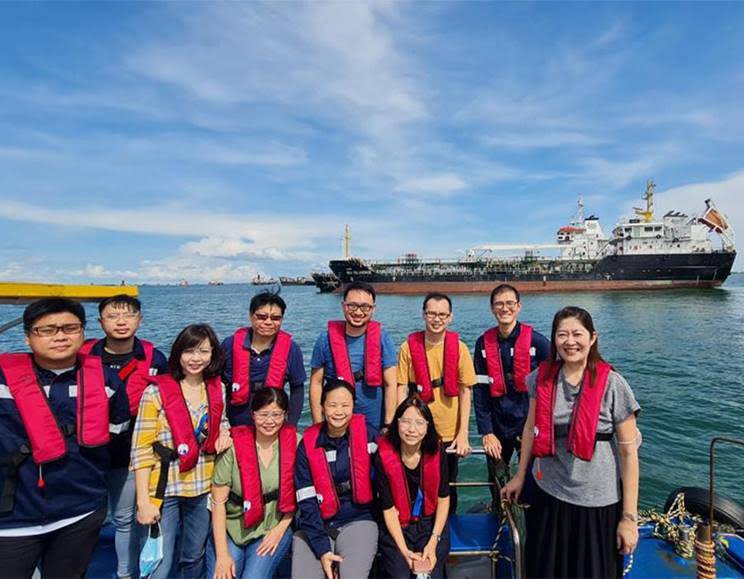 Singapore bunker supplier Equatorial Marine Fuel Management Services Pte Ltd (EMF) has connected one third of its bunker tanker fleet to the Singapore Trade Data Exchange (SGTraDex), learns bunkering publication Manifold Times.
The seven SGTraDex-linked bunker tankers, namely Sea Diligence, Sea Fortitude, Sea Bountiful, Sea Reliance, Golden Bravo, Sea Loyalty, and Sea Brilliance, represents part of EMF's perpetual push towards the implementation of trust and transparency in business operations, states Choong Sheen Mao, Director of EMF.
"Having data securely sent from digital mass flow meters via the Internet of Things to the cloud for inspection by all counterparties severely reduces credit and fraud risk. This is a significant development for EMF," he explains. 
"Moreover, the authenticity for a third of our bunkering transactions can now be tracked by reputed financial institutions using the SGTraDex digital infrastructure.
"We are proud to be amongst the first to showcase the successful steps taken by Singapore's bunkering ecosystem to remain forward thinking and relevant, while demonstrating to the world SGTraDex is workable.
"Overall, the availability of SGTraDex for supporting marine refuelling operations represents an achievement for the entire Singapore bunkering sector. After all, this is a multiagency effort spanning a two-year period involving the whole bunker supply chain."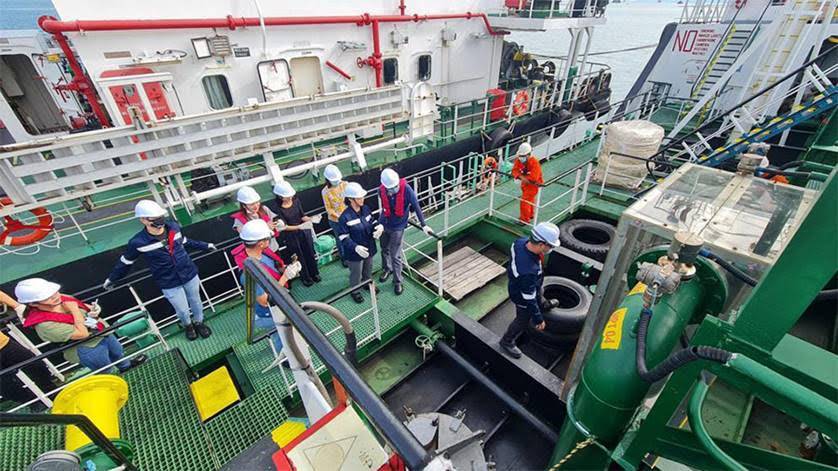 Singapore-based Brightree Pte Ltd, a solutions provider for the implementation of industrial Internet of Things, connected EMF's seven mass flow meter (MFM) equipped bunkering vessels to SGTraDex.
"We upgraded communications systems on the marine refuelling tankers with an external antenna to send data from the bunker metering computer back to the SGTraDex network in Singapore," explains Kevin Peng, Managing Director of Brightree.
"This is done via a router utilising both Singapore and Indonesia SIM cards. Connectivity is not a big problem, as data is simply backed up in dead zones with no GSM signals and automatedly resent to the server once connection has been re-established.
"Brightree's digital bunkering solution emphasises a great deal on cyber security and data integrity. Users of our systems can be assured of the accuracy and integrity of bunkering digital documents.
"We have been involved with this bunker digitalisation project since 2018. The launch of the evolved SGTraDex platform represents a monumental step for Singapore's bunkering sector. Brightree is proud to have been amongst key solution providers for this platform." 
The seven EMF bunker tankers involved in the project are using MFMs manufactured by Emerson.
"Emerson, being an MPA-approved MFM system provider, has provided the Fuel Monitoring Bunkering systems onboard the EMF bunker vessels, and is glad to be involved in this SGTraDex initiative by EMF on digital bunker delivery notes," says Yap Swee Choon, Site Leader for Emerson Process Management Marine Solutions Singapore Pte Ltd. 
"We are delighted to partake in this milestone of Singapore's bunkering history."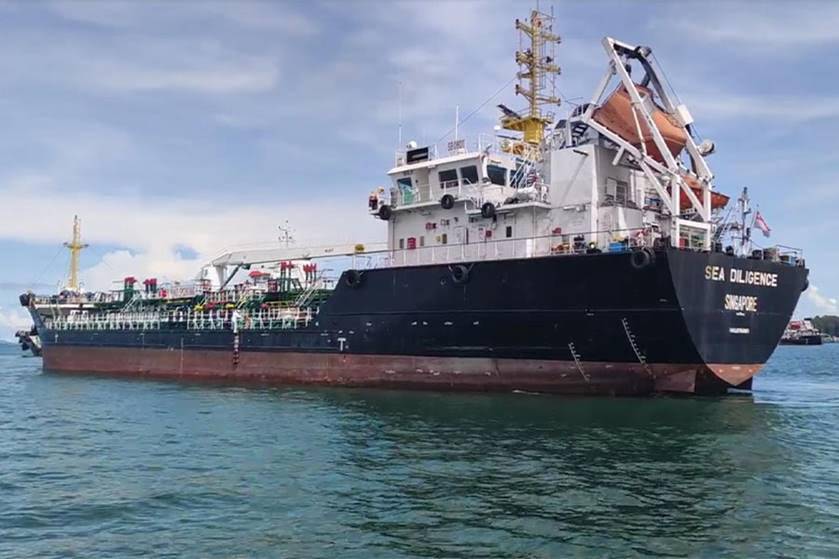 Ms So Lay Hua, Head of Group Transaction Banking, UOB, said: "We are pleased to partner Equatorial Marine Fuel to drive digitalisation in the bunker industry. In an industry which traditionally relies heavily on the physical exchange of paper, going digital is key to enhancing efficiency and transparency."
 "The use of digital bunker delivery notes allows banks to verify the authenticity of the underlying bunker transactions, giving banks greater confidence when financing transactions."
"With SGTraDex enabling connectivity across bunker suppliers, service providers and banks through a single data highway, transmission of data to multiple parties can be done in a rapid and secure manner. This is critical to streamlining data flow across the supply chain and UOB is confident that this data super highway will help deliver process efficiency for our clients."
SGTraDex was introduced in 2021; its founding partners include the Infocomm Media Development Authority of Singapore, PSA International, Trafigura, DBS Group, Jurong Port, OCBC Bank, Ocean Network Express, Oiltanking, Pacific International Lines, Standard Chartered, and UOB.
Amongst use case scenarios of the digital infrastructure was to provide real time visibility by digitalising documentation and processes associated with the delivery of bunkers. This improved transparency allows companies to reconcile actual usage and helps bunkering players enhance their operational efficiency and financing, close to real time. 
Manifold Times in July 2021 reported on Singapore's live bunker delivery financing pilot transaction, in a prelude to the implementation of SGTraDex.
EMF in October 2020 launched its Online Tracking Tool, a free mobile responsive tracking tool for customers to check on the status of a bunker delivery.
Related: Singapore: Players complete first 'live' bunker delivery financing pilot with eBDN
Related: Equatorial Marine Fuel unveils OTT (Online Tracking Tool) to enhance bunker deliveries
Photo credit: SGTraDex
Published: 3 June, 2022
Singapore: PS Energy Group unveils new brand identity and moves to a new office
The group including its inland and marine bunkering units PS Energy Pte Ltd and CNC Petroleum Pte Ltd has underwent rebranding and moved to JTC Summit.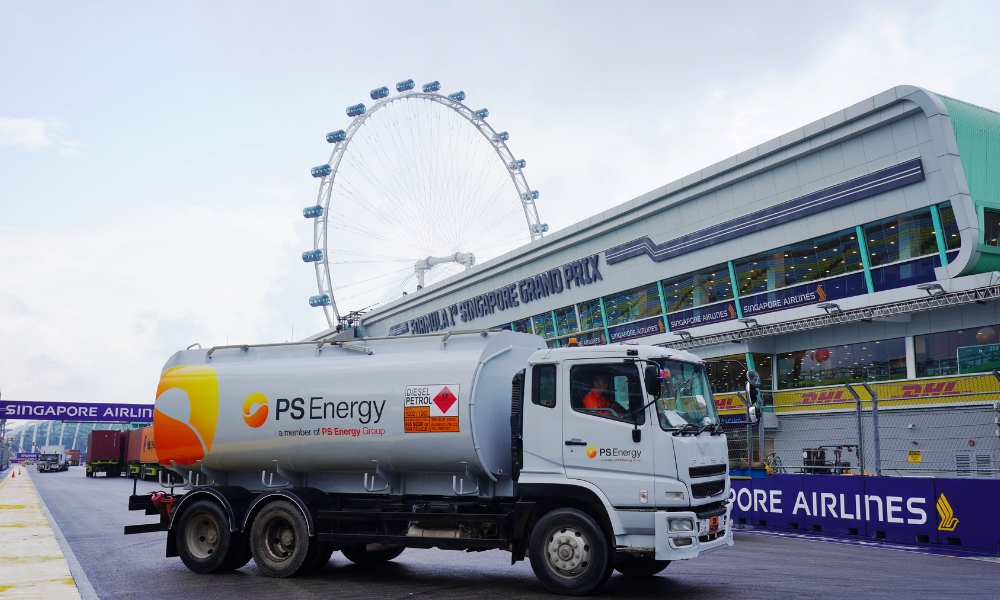 Last mile fuel distribution company PS Energy Group, including its inland and coastal and marine bunkering units, PS Energy Pte Ltd and CNC Petroleum Pte Ltd, has introduced a fresh brand identity learns Manifold Times.
The firm has unveiled its new company logos and branding that reflects its remarkable transformation as a company.
"Over the past few months, we have been working hard to create a new visual identity that truly captures the essence of who we are as a company which we hope will resonate, inspire trust, and build meaningful connections with our customers," Sean Chua, Managing Director told Singapore-based bunkering publication Manifold Times.
"Our new logo embodies the core values and aspirations that have guided us throughout our journey, while incorporating elements that represent our vision and direction for the future. With its circular shape, the new logo depicts an entity in motion and embodies PS Energy Group's agility, focus on innovation, and accessibility."
The firm's updated branding encompasses a comprehensive visual identity system that is now being integrated across all its assets and communication channels, including its inland and marine fleet, website, and social media platforms.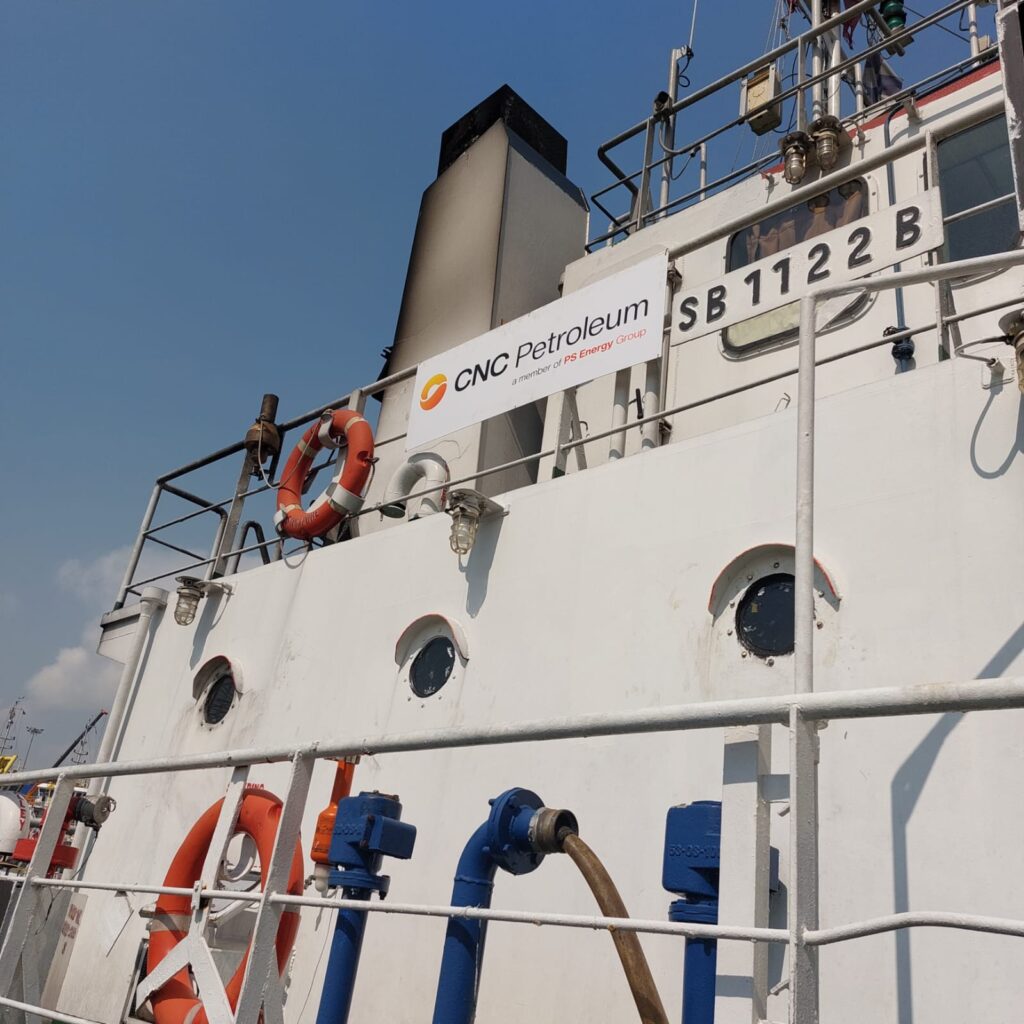 Besides the new brand identity, the Group has recently moved to a new and improved office space at the JTC Summit in Singapore. The firm said its team spent considerable time and effort in searching for the perfect location that aligned with its vision and values of providing the best service possible to its clients.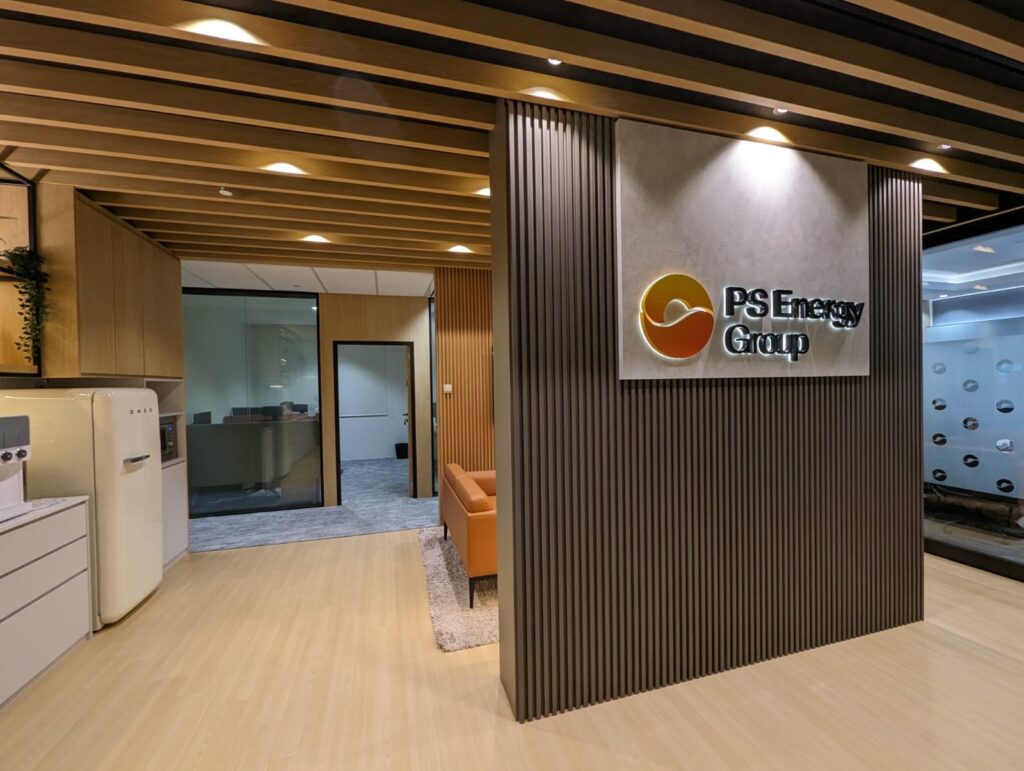 "The move represents a significant milestone in our company's journey and marks a new chapter of growth and opportunity. Our new office brings a host of exciting features and amenities that will undoubtedly elevate the overall experience for everyone involved," according to Sean.
"From spacious workstations and ergonomic furniture to cutting-edge technology and collaborative spaces, we have designed the new office with both functionality and comfort in mind. We believe that this new workspace will foster even greater creativity, productivity, and collaboration among our team members, enabling us to deliver exceptional results and exceed the expectations of our clients."
PS Energy Group's new address is as follows:
8 Jurong Town Hall Road
#24-01 The JTC Summit
Singapore 609434
Related: Interview: PS Energy Group gears up for 2023 with sustainable bunker fuel products and digital transformation
Related: CNC Petroleum provides alternative bunker fuel to coastal and marine market with MGO B20
Related: Singapore: PS Energy Group acquires ISCC cert for biodiesel products
Photo credit: PS Energy Group
Published: 4 October, 2023
Malaysia: Straits Energy proposes to list oil bunkering and shipping segment on Nasdaq
In a filing with Bursa Malaysia, the firm announced its intention to spin-off its oil bunkering and shipping related services segment for listing on NASDAQ stock exchange via a public offering.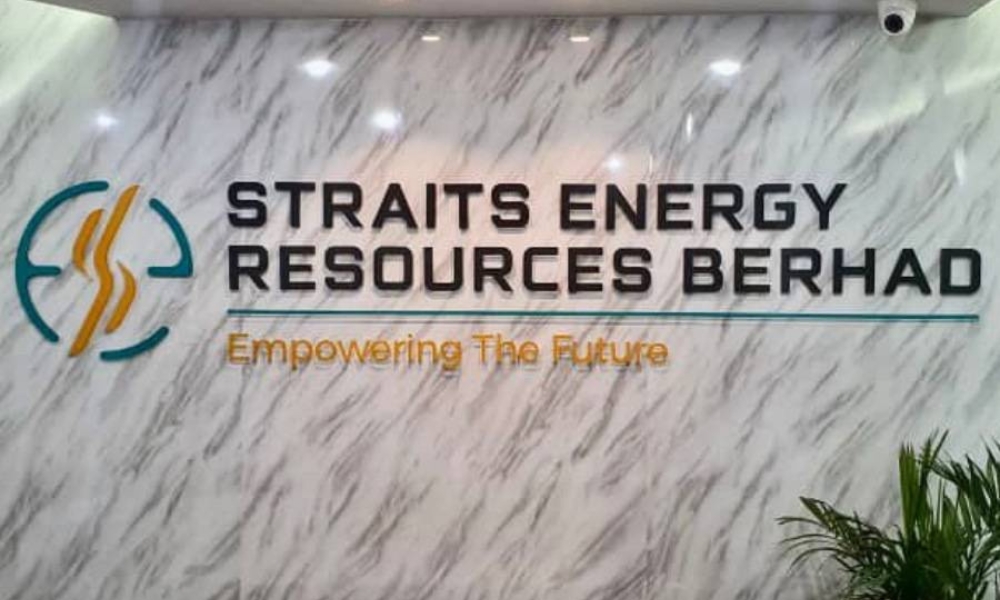 Malaysia-listed Straits Energy Resources Berhad on Monday (2 October) announced the company's intention to spin-off its oil bunkering and shipping related services segment for listing on NASDAQ stock exchange in the United States by way of a registered public offering.
In a filing with Bursa Malaysia, the firm said it intends to undertake a reorganisation of some of its subsidiaries involved in the oil bunkering and shipping related services segment, for the purpose of forming a separate listing group or Spin-Off Group suitable for the listing on NASDAQ.
"It is envisaged that these subsidiaries to be comprised in the Spin-off Group will continue to remain as
subsidiaries of Straits upon the completion of the Proposed Listing," the company said.
Straits Energy added it will make a detailed announcement in relation to the proposed listing in due course, once the board of directors has finalised and approved the terms and structure of the exercise.
It said the listing would enable the Spin-Off Group to gain recognition and corporate stature through the listing status of its own on NASDAQ.
The company added the listing would further enhance its corporate reputation and profile which will be conducive in expanding its customer base whilst allowing the Spin-Off Group to expand and establish its global presence.
The proposed listing would also enable the Spin-Off Group to gain access to the capital market in the United States for capital raising and to provide the Spin-Off Group with financial flexibility for future expansion and growth.
It will also unlock shareholders' value in the oil bunkering and shipping related services and provide transparent valuation benchmark for the same on NASDAQ, it added. 
Manifold Times previously reported marine fuel logistics firm CBL International Limited (CBL International), an ultimate holding company of Banle International Group Ltd (BVI), a 38%-associate company of Straits Energy Resources Bhd announced it would be listed on Nasdaq.
Later, Manifold Times did an exclusive interview with Banle Group who shared insights on the successful listing of CBL International Limited, its listing vehicle, on the Nasdaq Capital Market
Related: Malaysia: Straits Energy associate CBL International to be listed on Nasdaq
Related: Exclusive: Banle Group sets sights on expanding bunker supply network with successful IPO on Nasdaq
Photo credit: Straits Energy Resources Berhad
Published: 4 October, 2023
VPS announces new appointments for key positions
Andrew Morton has been appointed to the role of Managing Director AMEA while Captain Rahul Choudhuri has been appointed to the newly created role of President Strategic Partnerships.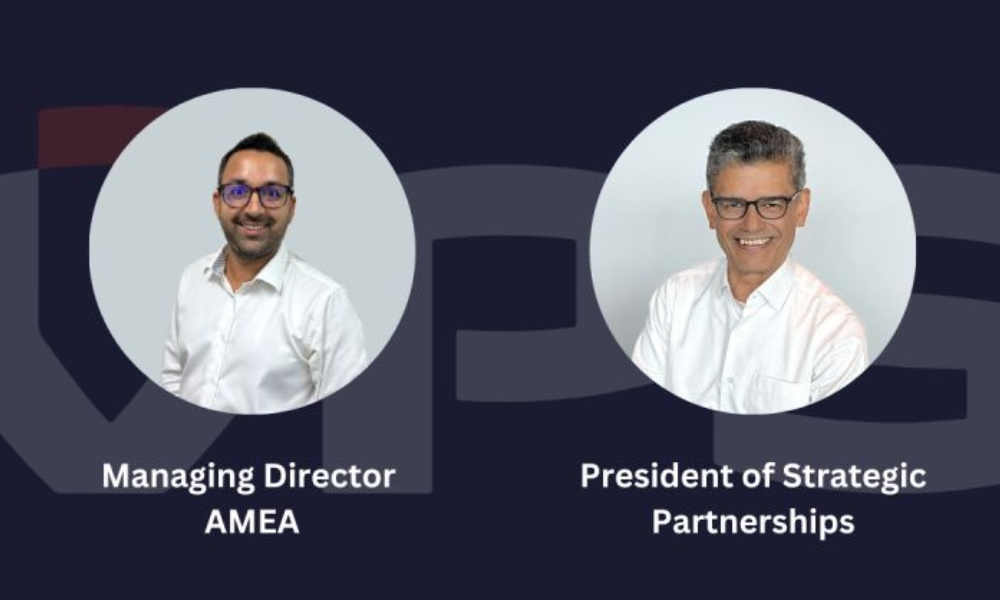 Marine fuels testing company VPS on Tuesday (3 October) announced the appointment of Andrew Morton to the role of Managing Director AMEA (Asia, Middle East and Africa).
In this role, Andrew will apply his experience and knowledge to lead the delivery of VPS services to these important and growing regions. He joins VPS having spent the last 17 years working in the oil and gas industry, most recently with TotalEnergies in various positions and countries.
These included technical, commercial, management, mergers and acquisitions and most recently the New Energies space, including renewable energy, biogas and fuels, hydrogen and LNG. He has a BSc (Hons) in Chemistry and started his career in research and development in the lubricants industry for Fuchs.
Dr. Malcolm Cooper, VPS CEO, stated "We are delighted to welcome Andrew on board as our MD AMEA. His background and experience will be helpful in supporting our customers in these important Regions, particularly in the rapidly developing decarbonisation space."
Andrew Morton, said: "I am delighted to join VPS and the team and take over the role of Managing Director - Asia, Middle East and Africa. It is a privilege to join the global market leader and to manage a zone where the maritime industry is growing. I look forward to working with the various companies and associations across the industry to help them with their decarbonisation journey."
VPS also announced that Captain Rahul Choudhuri has been appointed to the newly created role of President Strategic Partnerships. In this role, Rahul will use his network to enhance and further develop relationships with customers and operators from across the shipping ecosystem to help VPS support their decarbonisation journey.
Dr. Malcolm Cooper, VPS CEO, stated "Captain Rahul is well-known across the Maritime sector and he has been the figurehead for VPS Asia and the Middle East for many years. He has been instrumental in many developments within VPS and across the shipping industry, making significant contributions to developments through a wide range of Committees and organisations."
"His new role will enable him to focus more on our external relationships, which are of growing importance as we aim to support the shipping sector on it's decarbonisation journey. We in VPS are very proud of Rahul's achievements to date and we know there will be more to come."
Rahul, said: "I am looking forward to this new opportunity. This role will allow me to use my experience and close relationships to strengthen, build and develop the industry partnerships needed to deliver new decarbonisation solutions offered by VPS. My work with industry associations allows a greater professional engagement with stakeholders to take the industry forward in challenging times".
Photo credit: VPS
Published: 4 October, 2023