DNV Industry Insights: Methanol as bunker fuel heads for the mainstream in shipping
There are currently 122 ports with methanol storage facilities worldwide, and various ports – such as Gothenburg – have issued methanol bunkering rules or are preparing to do so, according to DNV.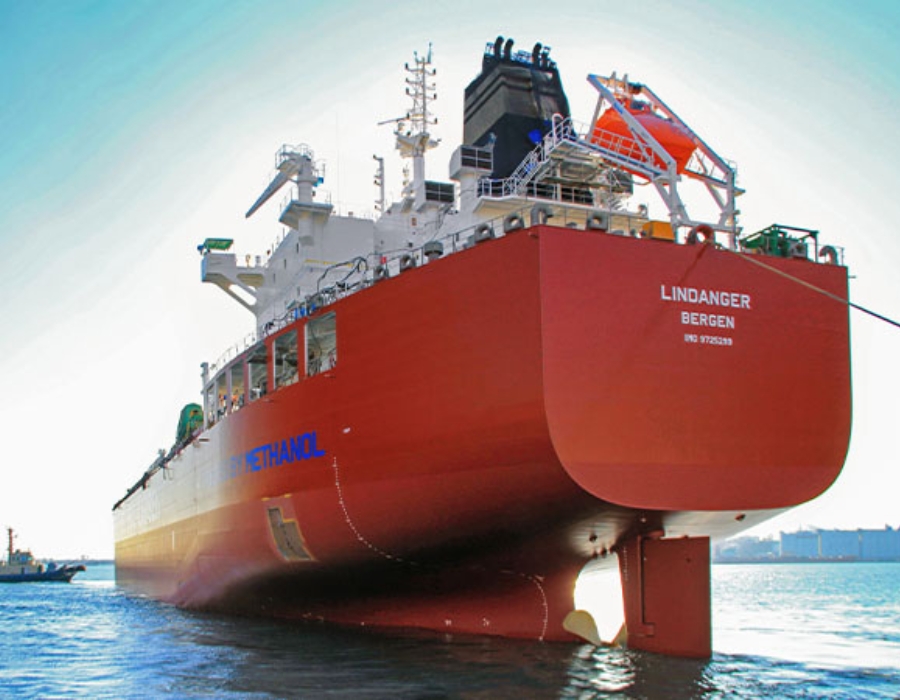 Classification society DNV on Thursday (20 April) released an industry insights article on important criteria for the shipping industry to consider when using methanol as an alternative bunker fuel including methanol bunkering infrastructure and green methanol production.
The following are excerpts of the insights:
A growing order book for methanol-fuelled ships shows that the shipping industry sees methanol as a promising alternative fuel. Relying on decades of expertise in the field, DNV explains important criteria to consider.
Methanol has attracted considerable attention as an alternative ship fuel since 2021. The adoption of the IMO interim guidelines for ships using methyl or ethyl alcohol as fuel (MSC.1/Circ.1621) has been an enabler for shipowners ordering methanol-fuelled ships. Together with the IMO's IGF Code for ships using low-flashpoint fuels and DNV's mandatory class rules for methanol-powered ships, specifically the LFL FUELLED and Methanol Ready class notations, a comprehensive regulatory framework for the use of methanol as ship fuel is now available to DNV customers.
Unique expertise to support the uptake of methanol
Lindanger, the world's first dual-fuel methanol-fuelled tanker, was built in 2016 to DNV class. Today, with 18 of the current global methanol tanker fleet of 24 vessels in the DNV class, DNV is in a unique position to support the uptake of methanol technology by the shipping industry. "Our certification is considered the gold standard by flag administrations, especially around the North Sea," says Øyvind Skåra, Principal Engineer in Safety & Systems at DNV Korea. "Apart from methanol-fuelled ships, our expertise extends to bunker vessels and methanol production." Working hand in hand, various DNV business areas provide a full range of non-class-related advisory services covering the entire methanol value chain.
Demonstrating what can be achieved
Proman, the world's second-largest producer of methanol, and the shipping company Stena Bulk formed their joint venture Proman Stena Bulk to benefit from synergies between their companies in building up a fleet of modern, sustainable MR chemical tankers. "Together with Stena, a pioneer in methanol-fuelled ship operation, we are in a great position to demonstrate to the market what can be achieved with methanol propulsion," says Peter Schild, Managing Director Sustainability at Proman. The joint venture's current newbuild programme comprises six state-of-the-art dual-fuel MR tankers, all built to DNV class with three owned by the joint venture and three owned by Proman. Four of the vessels have been delivered already. "Through multiple optimizations, these vessels have achieved a world-leading EEDI for this ship type, which is seven per cent better than any other existing MR newbuild," says Jacob Norrby, Head of Newbuilds and Projects at Stena Teknik.
"The reason Proman and Stena Bulk decided to go for methanol-fuelled ships is to be prepared for the transformation we have to undergo on the way to net zero," says Erik Hånell, CEO of Stena Bulk. "We know that we will be able to use this investment through to 2050 and beyond." The plan is to blend in increasing amounts of blue and, eventually, green methanol to remain compliant with the IMO trajectory towards zero carbon.
Safety and environmental considerations for methanol
"Methanol is neither a 'climate' gas nor an environmental hazard. It mixes well with water and becomes harmless quickly because it is biodegradable," explains Skåra. "But because of the toxicity of the vapours escaping during bunkering, gas hazard zones must be designated on board – a point to consider on passenger ships." Methanol vapours are heavier than air so they sink to lower-lying areas, he adds.
Methanol combustion requires adding about five per cent of MGO as a pilot fuel. On certain engine types, water can be injected into the combustion chamber to lower the NOx emissions. When retrofitting a methanol fuel system, existing fuel tanks or even ballast water tanks may be used for methanol after applying a specific internal coating, provided the required access points are available.
Methanol engine technology is proven and not especially complex, Skåra points out. "We know how to handle and use methanol as fuel, so it's just about developing engines for various ship types." The leading engine manufacturers plan to have more methanol-ready engines and retrofitting kits available soon, he adds.
A growing order book of newbuilds and retrofits
The order book for methanol-fuelled ships keeps growing, including for containerships, bulk carriers, tankers and even cruise and passenger vessels, with the first deliveries expected in 2024. "The demand is very high – owners want to be ready for this fuel," says Skåra. "Orders for conversions of existing engines are likewise on the rise."
Smaller cargo and offshore vessels which don't have much space on board stand to benefit especially from the relative simplicity of methanol technology, says Chryssakis. For example, Van Oord has ordered a new methanol-fuelled wind farm installation vessel which will also feature advanced emission-control technology.
Bunkering infrastructure
There are currently 122 ports with methanol storage facilities worldwide, and various ports – such as Gothenburg – have issued methanol bunkering rules or are preparing to do so. "In Norway, where we have a lively methanol industry, ships can bunker methanol from tank trucks," says Skåra. "The long-term solution will probably be bunker vessels because of their simplicity and flexibility." Proman Stena Bulk have successfully carried out ship-to-ship, berth-to-ship and truck-to-ship methanol bunkering operations, says Proman's Peter Schild.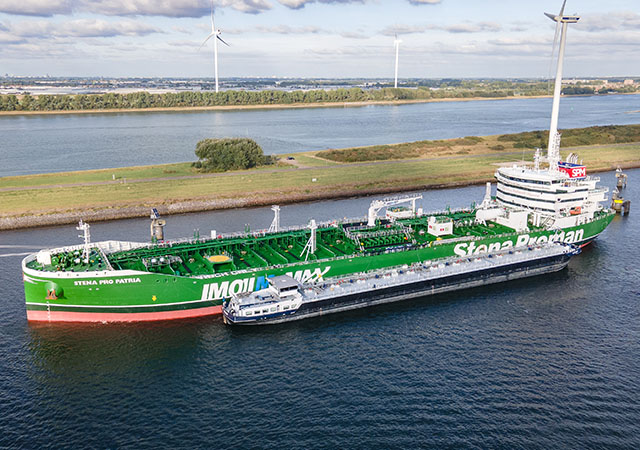 Meanwhile, a new vision has emerged in the shipping industry: establishing "green shipping corridors" between specific ports where zero-emission fuels and technologies can be piloted. "We are actively involved in the discussions around establishing such collaborative platforms," says Schild. "The key to realizing this concept is a clear regulatory framework, which has yet to be established."
Green methanol: production ramp-up is needed
"Green methanol is not available in significant quantities today," says Chryssakis. "Many companies are willing to invest in production but want to see the demand first." Fortunately, he points out, there is enough time to build up the production infrastructure. "I am sure that limited volumes will be offered before long, but establishing the required production capacity will take time." Proman is currently co-building a production facility for green methanol in Canada, and similar plans exist for Finland. "Building up a global methanol bunkering infrastructure is not a major challenge," says Schild. "Blue or green methanol can be blended in eventually, provided we have international fuel specifications."
Note: The full DNV Industry Insights article on methanol can be found here.
Photo credit: DNV
Published: 24 April, 2023
China Shipping & Sinopec Suppliers completes first biofuel bunkering op of passenger ship in Dalian
Firm successfully refuelled passenger ship "Chang Shan Dao" owned by Cosco Shipping Ferry with B24 bio bunker fuel on 29 November at Dalian Cruise Port.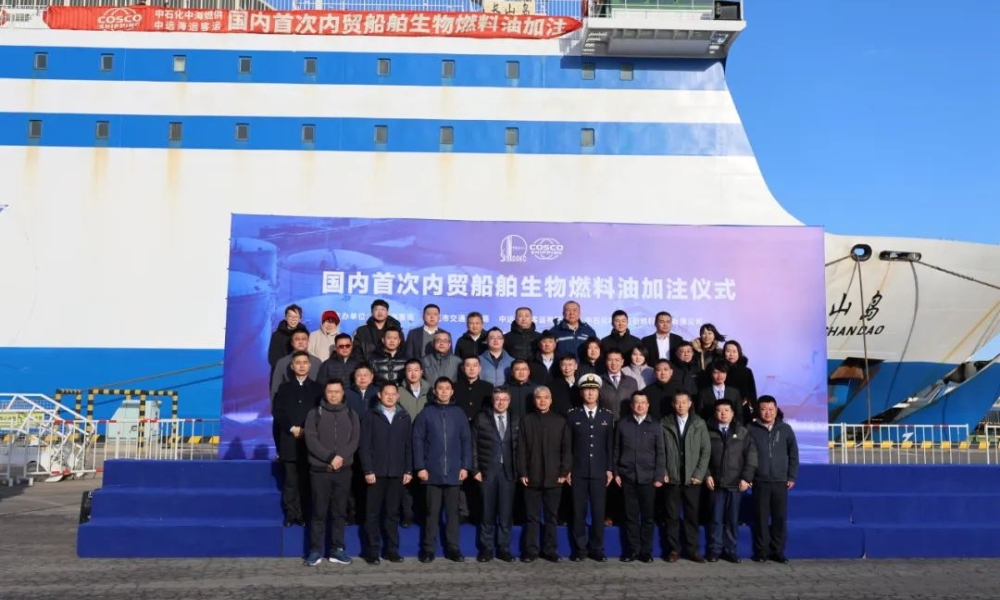 China Shipping & Sinopec Suppliers Co., Ltd. on Wednesday (29 November) successfully refuelled passenger ship "Chang Shan Dao" owned by Cosco Shipping Ferry Co., Ltd. with B24 bio bunker fuel at the Dalian Cruise Port.
The occasion marked the first biofuel bunkering operation for passenger ships in China.
The B24 biofuel oil used was blended with 24% biofuel and 76% conventional low-sulphur fuel oil.
Sinopec China Shipping Fuel Supply, which is responsible for the bunkering operation, is a bunker supply firm jointly established by Sinopec Group and COSCO Shipping Group.
According to Li Zhi, Deputy Party Secretary and Deputy General Manager of China Shipping & Sinopec Suppliers Co., Ltd., the biofuel bunkering business is another step in the company's active business of the group's development strategy.
The bunkering operation after the firm completed the first bonded biofuel bunkering operation of a domestic ship on 7 September. 
Disclaimer: The above article published by Manifold Times was sourced from China's domestic market through a local correspondent. While considerable efforts have been taken to verify its accuracy through a professional translator and processed from sources believed to be reliable, no warranty is made regarding the accuracy, completeness and reliability of any information.
Photo credit: China Shipping & Sinopec Suppliers
Published: 8 December, 2023
Singapore, Tianjin to pilot and trial alternative bunker fuels following shipping corridor MoU
Singapore – Tianjin Green and Digital Shipping Corridor will serve as a valuable testbed for both countries to pilot and trial digital solutions, alternative fuels and technologies, amongst others.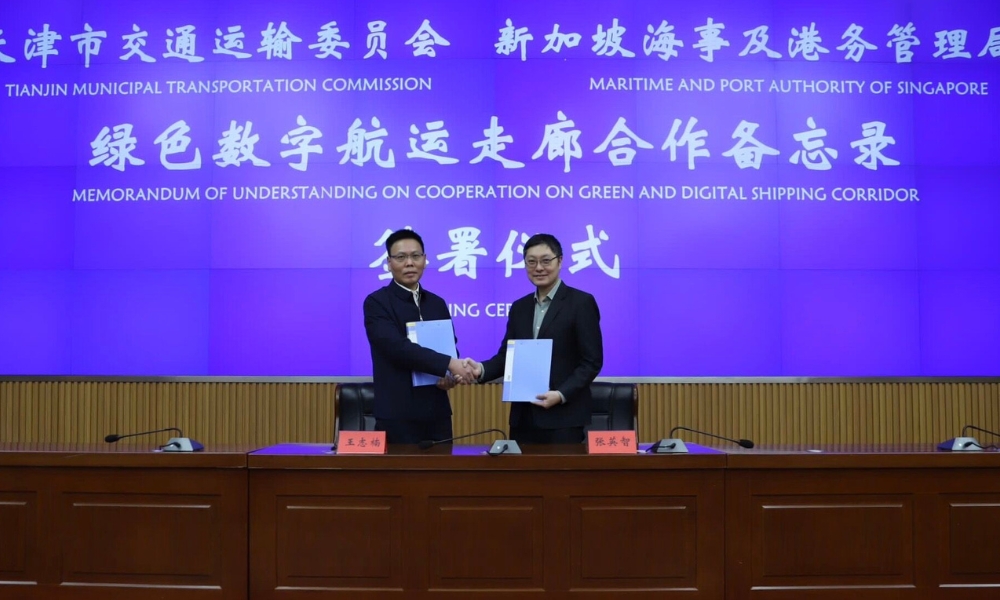 The Maritime and Port Authority of Singapore (MPA) and the People's Republic of China's Tianjin Municipal Transportation Commission on Wednesday (6 December) signed a memorandum of understanding (MoU) to establish the Singapore – Tianjin Green and Digital Shipping Corridor.
Mr Teo Eng Dih, Chief Executive, MPA, and Mr Wang Zhinan, Director General, Tianjin Municipal Transportation Commission, signed this MoU.
The MoU marked the first Green and Digital Shipping Corridor established between Singapore and China to support the decarbonisation, digitalisation and growth of the maritime industry between Singapore and the Bohai Region.
The Singapore – Tianjin Green and Digital Shipping Corridor will serve as a valuable testbed for both countries to pilot and trial digital solutions, alternative bunker fuels and technologies, and facilitate talent development to support the decarbonisation and digitalisation of shipping. 
Singapore and Tianjin will work with the research community, the institutes of higher learning, and industry stakeholders such as shipping lines, port operators, shipbuilders, classification societies, and bunker suppliers to enable more efficient port clearance through digital exchanges, encourage the offtake of zero or near-zero greenhouse gas emission fuels and adoption of new fuel technologies, spur innovation and support the growth of the maritime startups community, and facilitate manpower training and professional development.
The establishment of the Singapore – Tianjin Green and Digital Shipping Corridor reaffirms the strong commitment by Singapore and Tianjin to accelerate maritime decarbonisation and digitalisation. Singapore will also be exploring the establishment of similar collaboration with other maritime and port ecosystems within China.
Photo credit: Maritime and Port Authority of Singapore
Published: 8 December, 2023
Report highlights routes-based action plan methodology to accelerate uptake of clean bunker fuels
NextGEN Connect-GreenVoyage2050 collaboration, which includes Singapore, emphasises the important role of regional energy hubs in enabling the inclusive adoption of clean marine fuels.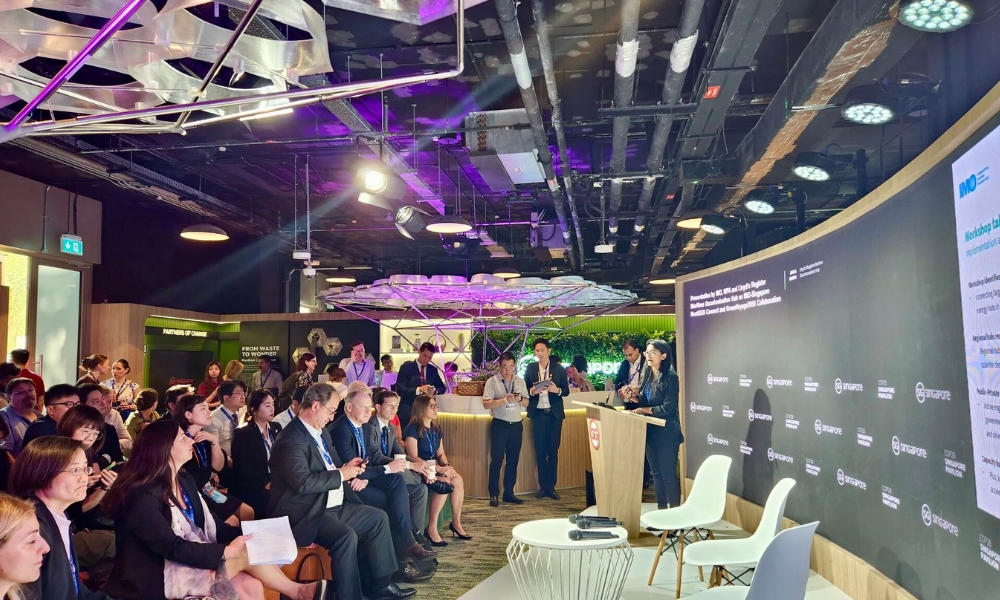 The Maritime and Port Authority of Singapore (MPA) on Thursday (7 December) said the NextGEN Connect-Green Voyage2050 Project identified a key role for regional hubs to help connect large demand clusters and remote locations, with regional fuel supply sources, in order to enable a more inclusive and effective transition to a low-carbon maritime future.
The project is a collaboration between Singapore, Norway and the International Maritime Organization (IMO).
These findings were unveiled in the Lloyd's Register Maritime Decarbonisation Hub (LR MDH) report titled Routes-based Action Plans: A Toolkit launched at the Voyage to Net-Zero Forum, which was organised by MPA, at the 28th United Nations Climate Change Conference (COP28/CMP8/CMA5) yesterday.
The report was developed following a workshop discussion that was held from 5 to 6 October 2023 in Singapore, with the participation of 40 stakeholders representing ports and National Administrations across Asia, based on the concept of the LR MDH's First Movers Framework for green corridors. The workshop simulated the process steps of the routes-based action plan methodology, addressing the limitations in its application in the wider Asian context. Additional engagements with stakeholders from the Pacific are envisaged to further refine the methodology.
"One of the key findings in our report highlighted the varying pace of decarbonisation efforts across the Asian region and the need for regional coordination among governments to establish energy clusters that will serve both as demand centres and energy producing hubs" said Charles Haskell, Director at LR MDH.
The creation of energy producing hubs includes defining a strategy that brings together demand from different countries at different developmental stages across the region to build up investment cases for implementing energy infrastructure at scale, all the while taking into consideration the economic and social benefits for local communities.
The report also emphasised that routes-based action plans should be steered by national governments to give confidence to the industry's infrastructure investment decisions, with development banks and regional funds needing to play a part to help tailor financing solutions to support infrastructure development.
"If we truly want to achieve a net-zero future where no one is left behind, we cannot focus only on existing first mover initiatives. We must also study locations where the energy infrastructure is still in its infancy", added Charles Haskell.
Essential to driving the implementation of routes-based action plans, as highlighted in the report, is the pooling of resources and capacity building to develop the business case for building the necessary infrastructure for regional hubs that include Least Developed Countries (LDCs) and Small Island Developing States (SIDS). This will require regional coordination and collaboration involving governments and all stakeholders across the maritime supply chain.
Mr. Teo Eng Dih, Chief Executive of MPA, said: "As we steer toward a sustainable maritime future, fostering a collective and inclusive approach is imperative in the development of green corridors and the energy transition to decarbonise international shipping."
"The NextGEN Connect-GreenVoyage2050 collaboration emphasises the important role of regional energy hubs in enabling the inclusive adoption of clean marine fuels, particularly for LDCs and SIDSs. MPA looks forward to continuing its collaboration with IMO, Ministry of Climate and Environment of Norway and LR MDH to pilot solutions to reduce GHG emissions from ships and drive innovative transformations in the maritime industry."
Sveinung Oftedal, Chief Negotiator of the Norwegian Ministry of Climate and Environment, said: "Separate routes for emission-free ferries and ships can play an essential role in stimulating early action to adopt zero or near-zero emission technologies and fuels, and hence are an important step towards decarbonising shipping. There is currently a significant volume of maritime traffic between Asian countries, and our workshop was a great forum to discuss opportunities the decarbonisation of maritime shipping can bring and how efforts can be linked to countries' wider energy transition."
Jose Matheickal, IMO Director of Partnerships and Projects, said: "Supporting developing countries, including SIDS and LDCs, in their efforts to implement the 2023 IMO Strategy on the Reduction of GHG Emissions from Ships is imperative to the decarbonisation of the maritime sector. IMO is pleased to provide, through this collaboration, practical support around the development and subsequent implementation of National Action Plans and route-based actions in line with IMO's MEPC RESOLUTION.366(79) that encourages Member States to undertake these voluntary actions to facilitate the achievement of greener shipping and reduced emissions."
Note: 'Routes-based action Plans: a toolkit' can be found here. 
Photo credit: Maritime and Port Authority of Singapore
Published: 8 December, 2023