Argus: ARA B100-MGO bunker fuel average weekly spread flips to discount
Spread of marine biodiesel with 100pc advanced FAME in ARA on a dob basis to conventional MGO flipped to a $70.28/t discount in the week to 15 September for the first time since January.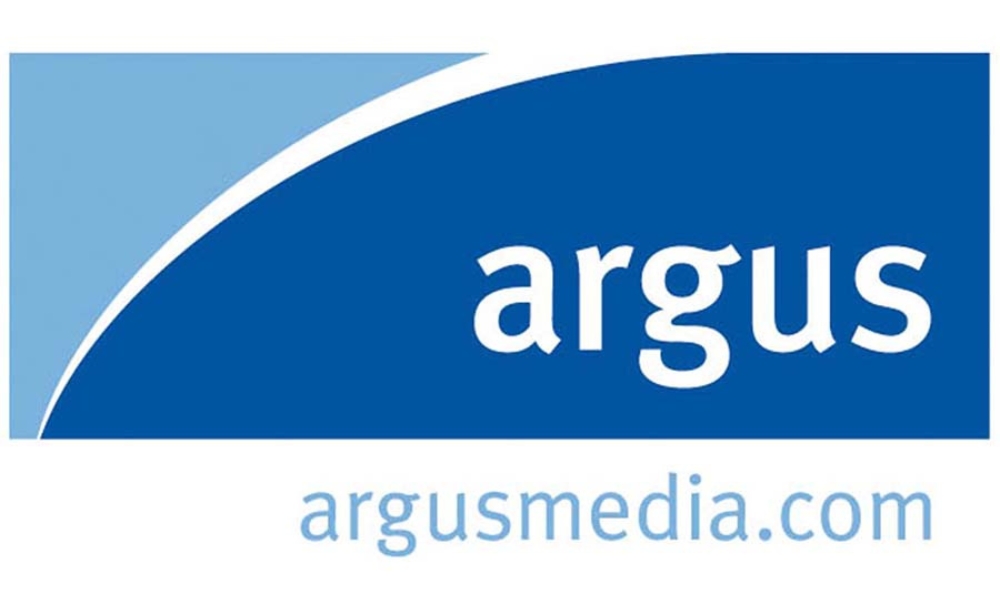 The spread of marine biodiesel with 100pc advanced fatty acid methyl ester (FAME) in ARA on a dob basis to conventional marine gasoil (MGO) flipped to a $70.28/t discount in the week to 15 September for the first time since January. This factors in the value of Dutch renewable fuel units (HBEs) that can be claimed for the blending of advanced biofuels.
18 September 2023
Conventional MGO prices have firmed in ARA, averaging $964/t in the week to 15 September, the strongest weekly level since November 2022. MGO levels firmed on the back of tightening gasoil supply in northwest Europe, resulting in distillate blendstocks getting redirected towards road-fuel diesel grades commanding a greater premium and away from MGO supply. Market participants also noted tighter availability of conventional MGO in recent trading sessions in line with tighter supply of blending components.
B100 levels, which incorporate a discount based on the double counting of advanced HBEs, slipped on lacklustre demand for the product, according to market participants, who had previously mentioned that the price of B100 weighed on bunker fuel demand compared with conventional bunker fuels and B30 marine biodiesel blends. This may now change if B100 continues to price at a discount to MGO.
Further, the EU emissions trading scheme (ETS) is scheduled to commence next year, which may provide an additional incentive for shipowners to switch to B100. Argus estimates that a B100 blend comprising 100pc advanced fame will not be subject to ETS costs, as ETS emissions will be calculated on a tank to wake basis.
Shipowners running vessels with scrubbers may still opt to burn high-sulphur fuel oil (HSFO) and pay for the CO2 costs, according to market participants. B100 commanded a premium of $36.29/t against dob HSFO when CO2 costs are factored on the week to 15 September, according to Argus calculations. But B100 also flipped to a discount of $2/t to dob HSFO with CO2 costs on 15 September for the first time since April. Further, HSFO availability has been tight in northwest Europe in recent sessions, resulting in dob HSFO levels firming to $603/t on 15 September — the highest since June 2022. Shipowners with vessels that are not fitted with scrubbers are unable to utilise HSFO or even VLSFO in Emission Control Areas (ECA), but are able to burn B100.
Photo credit and source: Argus Media
Published: 20 September, 2023
Photo essay: e-BDN trial of "One Truth" at Singapore port
Manifold Times was onboard the 20,182 TEU capacity One Truth to witness the latest e-BDN trial between ONE and Shell on 9 September.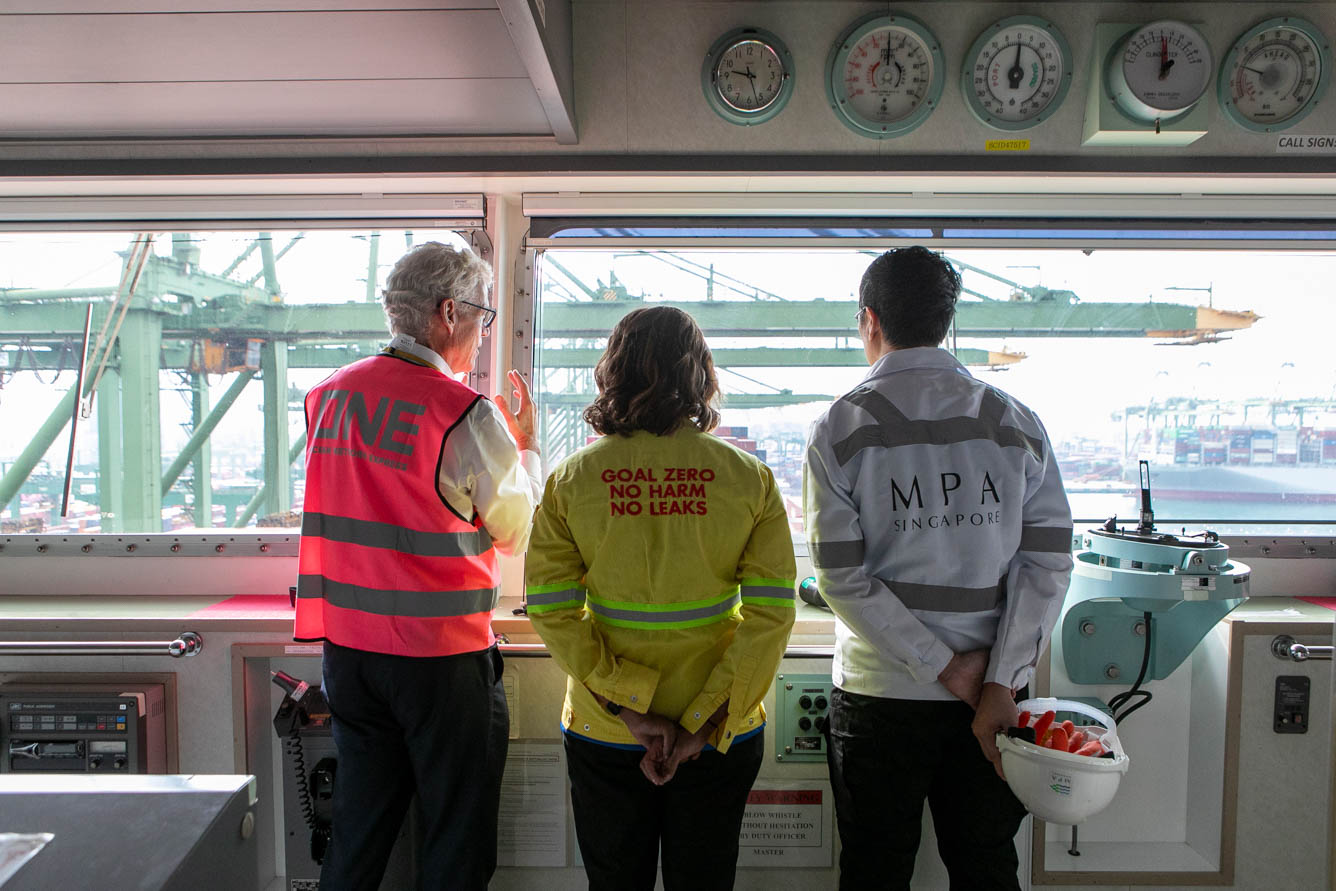 ENGINE: East of Suez Bunker Fuel Availability Outlook
Fuel oils tight and stocks drawn in Singapore; Singapore biofuel bunker sales hit new milestone; strong demand and pressure on prompt in Fujairah.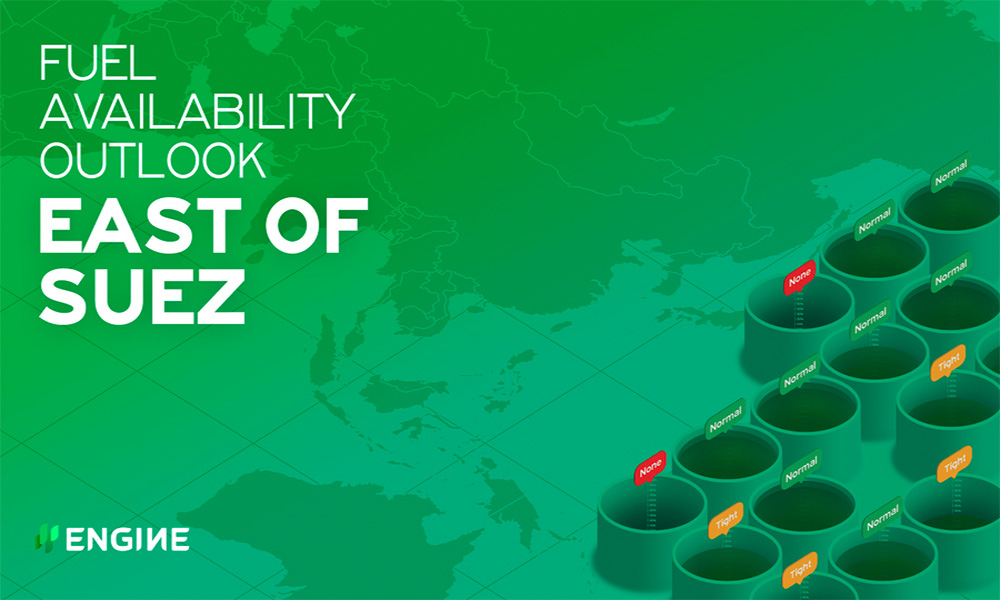 The following article regarding regional bunker fuel availability outlook for the East of Suez region has been provided by online marine fuels procurement platform ENGINE for publication on Singapore bunkering publication Manifold Times:
Fuel oils tight and stocks drawn in Singapore
Singapore biofuel bunker sales hit new milestone
Strong demand and pressure on prompt in Fujairah
Singapore
HSFO and VLSFO availability is very tight for prompt delivery dates in Singapore, as it was last week. Demand has been strong and lead times for the two grades are roughly the same as last week, at 6-10 days and 7-11 days, respectively. But conditions can quickly change, a trader says.
Buyers can expect to pay price premiums for VLSFO deliveries that are prompter than the recommended lead time, and VLSFO offers can vary greatly between suppliers.
A recent fuel oil stock draw has underpinned the pressure on VLSFO and HSFO. Stocks have been drawn this month during a period of declining net imports, and have come down from nearly 24 million bbls in April to just over 20 million bbls now. More exports to China, South Korea and Bangladesh in particular have weighed on stock levels.
LSMGO continues to be more readily available and can be delivered as soon as 2-5 days after enquiry. The port's middle distillate stocks have swelled by 17% so far this month over August levels.
B24-VLSFO biofuel blends can be delivered with just over a week of lead time at a minimum with certain suppliers. But 30 days is generally the recommended lead time. Bio-blended VLSFO sales hit an all-time record of 52,500 mt in August, up from 39,000 mt in July.
No sales of bio-blended HSFO, MGO or ULSFO were recorded, and B24-VLSFO seems to be the standard grade and more recent trials and regular biofuel refuelling have supported the growth.
East Asia
Low bunker demand has kept tightness in check in Zhoushan, with most supplier advising unchanged lead times of 3-5 days for all grades. But bad weather is forecast in Zhoushan between 19-20 September, which may hamper bunker deliveries, a source adds.
VLSFO and LSMGO availability is good in north China's Dalian. Nearby Tianjin has ample VLSFO availability, while LSMGO and HSFO grades can be tight and subject to enquiry.
VLSFO and LSMGO grades are tight for prompt dates in Shanghai, and HSFO is even less readily available.
In South China, Hong Kong has normal availability of all grades, but lead times of at least 5-7 days are recommended for good coverage from suppliers.
The southern South Korean ports of Busan, Ulsan, Onsan and Yeosu face potential bunker disruptions from strong winds and waves from Wednesday to Sunday. Bunkering could also be held back in the western ports of Daesan and Taean this week, with high waves forecast on Friday and winds on Saturday and Sunday.
LSMGO and HSFO availability is normal across South Korean ports. VLSFO is tight, especially in western ports where only two suppliers offer it.
South Asia
VLSFO and LSMGO continue to be in tight supply in Mumbai, Tuticorin, Haldia and Visakhapatnam, with delivery prospects subject to enquiry.
The grades are comparatively much more available in Kandla, Cochin and Chennai, where lead times of only 2-3 days are recommended.
Middle East
Robust demand has kept pressure on availability in Fujairah. Recommended lead times for all bunker grades are around the same as in recent weeks, at 5-7 days. Some suppliers can still deliver more prompt, but likely at price premiums.
The port's heavy distillate and residual fuel oil stocks have been drawn below 9 million bbls this month. That is far below the 14 million bbls at the beginning of the year. Its middle distillate stocks have more than halved since the summer, from 4 million bbls to just 1.62 million bbls.
VLSFO and LSMGO look tight in the wider Middle Eastern region. They are in limited supply by the Suez Canal and Djibouti, and tight in Jeddah.
Omani ports including Sohar have normal availability of both VLSFO and LSMGO.
By Erik Hoffmann
Photo credit and source: ENGINE
Published: 20 September, 2023
DNV's independent cloud platform Veracity grows its reach to 35,000 vessels
One year on, Veracity has grown a powerful network of integrated partners – now including Coach Solutions, Wärtsilä, Navtor, Vessel Performance Solutions and ZeroNorth.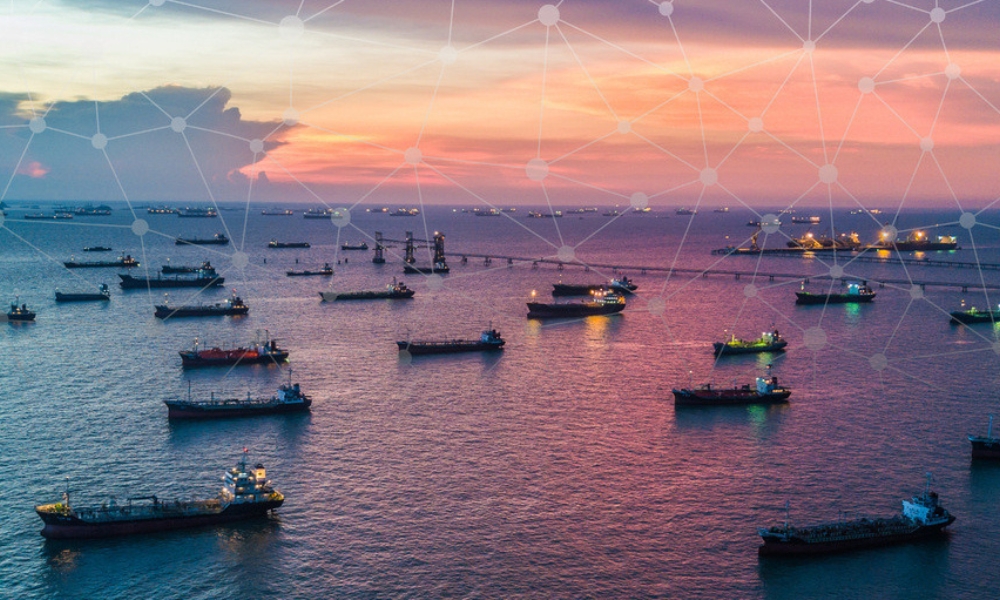 Classification society DNV on Monday (11 September) said its independent cloud platform, Veracity, has expanded its integrated partner network and grown its reach to 35,000 vessels, helping shipping companies and charterers meet their emissions data verification and reporting needs.
With major regulatory shifts on the horizon and 2024 inching closer for the sector's inclusion into the EU Emissions Trading System (ETS), decarbonization and carbon control have become central focus points for shipowners and operators of-late.
Veracity's expanding network of integrated partners is proving pivotal for more and more customers. It enables easy, automated, and real-time access to verified emissions data for seamless and secure reporting across the value chain. This is specifically tuned for supporting new emissions clauses in the contracts requiring timely and trusted emissions data.
Mikkel Skou, Executive Director at Veracity, said: "There's no question the impact of the EU ETS will be felt across the entire value chain. Carbon tax is factored into freight rates and commercial agreements, but while the cost will be shared across the maritime value chain the initial pressure and responsibility lies heavy on ship owners and managers. This has necessitated the need for constant access, control, and confidence in emissions and operational vessel data. Simply put, a trusted source of data that can help the industry players collaborate on emissions reduction measures."
One of the first partners to integrate with the Veracity platform, weather intelligence and advanced analytics provider to the shipping industry, StormGeo, shares the benefits that the network unlocks for joint customers and the industry at large.
Petter Andersen, Senior Vice President, Shipping Digital at StormGeo, said: "The integration between StormGeo and Veracity is proof that collaboration is a means to an end to create true value for the end user. United in our mission to ensure the quality of data, together we help the end-user structure their data flow, ensure data quality, and automatically share data with DNV for verification so they do not need to do it themselves. The end-user saves considerable time on the process and improves the quality of their data with this data pipeline."
One year on, Veracity has grown a powerful network of integrated partners – now including Coach Solutions, Wärtsilä, Navtor, Vessel Performance Solutions, ZeroNorth, Dynamarine, and 90POE to name a few. In Q2 alone, , Veracity onboarded seven new partners to the programme, including leading maritime technology provider Yara Marine:
Mikael Laurin, Head of Vessel Optimization, Yara Marine Technologies, said: "Integration with Veracity by DNV will help our customers streamline their operational data processes and simplify compliance and continuous data verification. We are proud to work with DNV and make Veracity available for all our customers using our reporting tool in Fleet Analytics™. This ensures that they have future-proof and cost-effective solutions."
As the first joint customer to use the integrated system between Veracity and Yara Marine, Tanker operator Stenersen was quick to recognize the integration as a key ingredient to reaching net-zero maritime emissions.
Christopher Stenersen, Environmental Advisor at Rederiet Stenersen AS, said: "Through our longstanding relationship with Yara Marine Technologies, we know that they are committed to supporting customers' sustainability and decarbonization journeys. We already use Yara Marine's Fleet Analytics™ for our voyage and MRV reporting, and the new integration with Veracity will further simplify our workload and streamline our data analysis process."
As the regulatory arena intensifies, data integrations, such as these, will be more instrumental than ever to customers – particularly towards CII reporting and EU ETS compliance that will become mandatory as of 1 January 2024.
Mikkel Skou, Executive Director at Veracity, said: "Our partner program is integral to helping shipowners and managers to effectively operationalize the process of emissions reporting. I hope to see more data providers and partners join us in helping customers gain seamless access to real-time, daily verified data in a secure environment. With this single source of truth, we are not only heeding the call for trust, traceability, and transparency, but injecting confidence in the commercial and sustainable decision-making of all stakeholders."
The Veracity Integrated Partner (VIP) program was launched in 2022 to help shipowners add ease and efficiency to their emissions reporting process. As part of the programme, established data providers connect with the Veracity platform through a secure, digital pipeline. This allows a continuous feed of consented and real-time data from the customer's vessels into Veracity's Operational Vessel Data (OVD) standard and DNV's extensive suite of verification services.
Full benefits to the customer include:
Automated and streamlined data flows
Reduction in manual data input and crew effort
Instant access to DNV's integrated verification services, hereunder verified Carbon Intensity Indicator (CII) and ETS data and reports
Easy and efficient data transfers; e.g., ready-to-submit Monitoring Reporting and Verification (MRV) and Data Collection System (DCS) verification
Enabling data quality improvement, through increased data ingest frequency, validation algorithms and feedback loops
A single source for trusted data to share with stakeholders
Photo credit: DNV
Published: 13 September, 2023