VPS acquires Emsys Maritime to grow digital decarbonisation service
Real-time emissions measurement data complements VPS's existing bunker fuel analysis data to provide thorough understanding of emissions in maritime sector, says Dr Malcolm Cooper of VPS.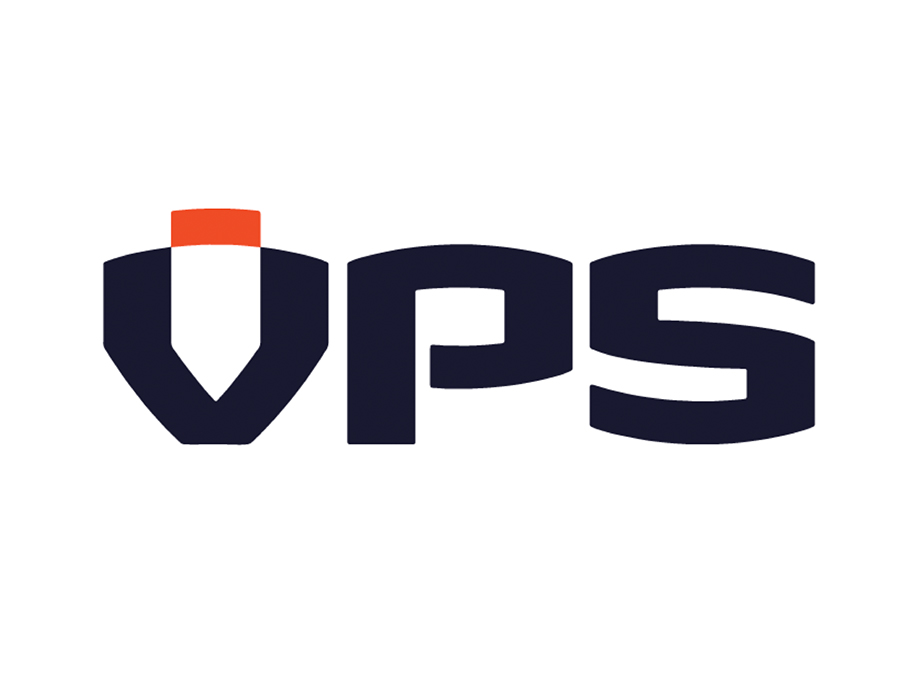 Marine fuels testing company VPS, owned by Fremman Capital, on Friday (17 February) said it has acquired Emsys Maritime, a real-time emissions measurement company operating globally and based in Manchester. 
Financial terms of the transaction were not disclosed. 
VPS is a fuel testing, inspection, and advisory services company in shipping, with laboratories located in Rotterdam, Singapore, Houston and Fujairah. VPS tests bunker fuels and lubricating oils, producing high quality, reliable analytical data with further expert interpretation and advice, helping ship operators to run their vessels efficiently, optimising marine fuel costs and reducing greenhouse gas emissions. 
VPS said the acquisition of Emsys Maritime complements its growing digital decarbonisation service offering, servicing a rapidly increasing demand from shipping customers.
Dr Malcolm Cooper, CEO of VPS, said: "In Emsys Maritime, we have acquired a company with a strong technical capability and excellent reputation, helping us to deliver our ambition to be the leading service provider in fuel performance optimisation and emissions reduction. The addition of real-time emissions measurement data complements our existing marine fuel analysis data to provide a comprehensive understanding of greenhouse gas emissions in the maritime sector."
"The integration of real-time emissions monitoring into our existing portfolio of digital decarbonisation services (which currently includes Maress, NOxDigital, CORE and PortStats) within a single, unified platform will provide added value throughout the VPS digital customer journey. This new flow of information will assist us in providing our customers with the tools required to understand, control and reduce greenhouse gas emissions, moving the industry forward toward achieving carbon emission reduction targets for 2030 and beyond."
Emsys Maritime is a manufacturer of real-time, laser driven marine emissions measurement technology. Headquartered in Manchester (UK) with an overseas operating hub in South Korea, the company's customer base includes the world's leading shipyards and ship operators. 
Their unique technology is supported by a comprehensive digital data platform which provides unique insights into the vessels real-time environmental profile allowing operators to maximise efficiency whilst maintaining regulatory compliance. The recent introduction of the 'Emsys Analytics' software platform has provided a comprehensive, real-world data stream to ship operators and charterers to help manage their ESG reporting requirements.
Simon Brown, founder and Managing Director of Emsys Maritime, said: "Emsys Maritime was established to provide the maritime industry with the most accurate and reliable emissions measurement tools to enable ship operators to manage their environmental and regulatory requirements and goals."
"The acquisition by VPS allows Emsys Maritime to accelerate its already strong growth into new market areas and customer sectors. The integration of our real-time data into the VPS digital decarbonisation platform will create an industry leading portal which will help the wider shipping community on it journey towards net zero."
Related: VPS: Shipowners turn to 'highly reactive' Cashew Nut Shell Liquid (CNSL) biofuel blends for marine fuel
Related: VPS organises seminar on biofuel bunkers in Singapore
Related: VPS launches APS-BIO offering biofuels protection service against potential damage
Photo credit: VPS
Published: 20 February, 2023
Malaysia: MMEA detains tanker for illegal anchoring in East Johor waters
Panama-registered vessel was operated by 17 crew members, aged between 21 to 58 years, from Pakistan, India and Bangladesh.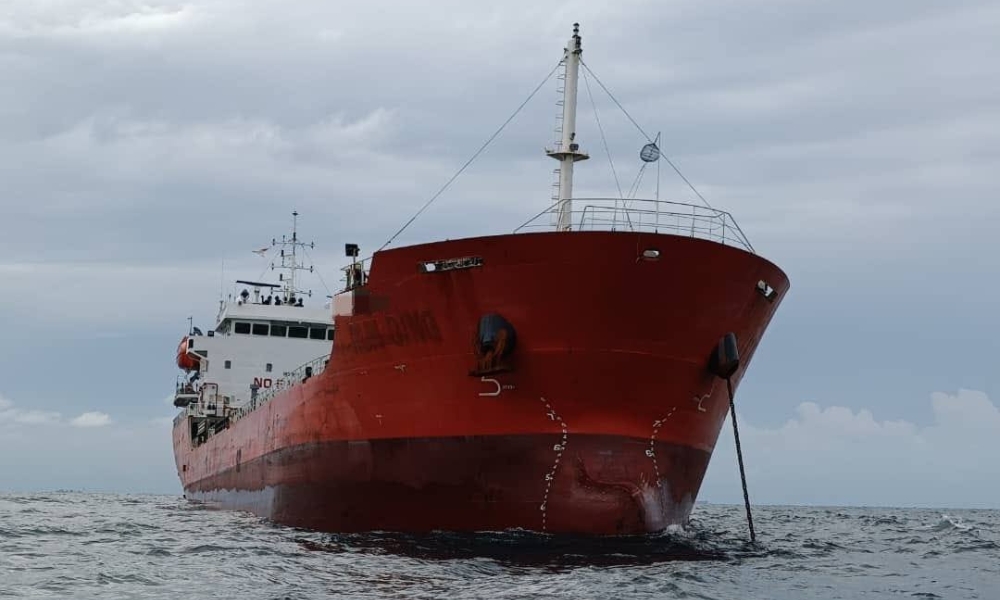 The Malaysian Maritime Enforcement Agency (MMEA) on Tuesday (28 November) said a Panama-registered tanker has been detained for illegally anchoring in East Johor waters on 27 November.
MMEA Tanjung Sedili Zone acting director Maritime Cmdr Mohd Najib Sam said the tanker was detained by a patrol boat at 11am at 15.8 nautical miles northeast of Tanjung Penawar.
The captain of the vessel failed to produce any documents that permission had been obtained to anchor in Malaysian waters.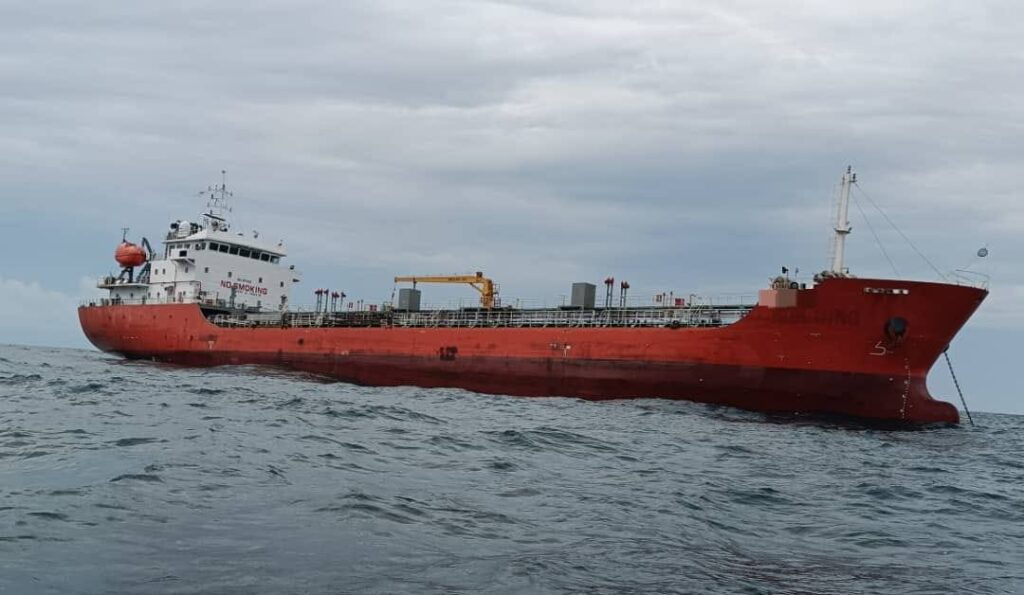 The vessel was operated by 17 crew members, aged between 21 to 58 years, from Pakistan, India and Bangladesh.
The case will be investigated under Section 491B(1)(L) of the Merchant Shipping Ordinance 1952 for anchoring without permission. If found guilty, individuals may be fined not exceeding MYR 100,000 or face an imprisonment term of not more than two years, or both.
Manifold Times previously reported law firm Oon & Bazul LLP sharing on steps shipowners should keep in mind before anchoring and conducting STS operations in Malaysian waters to avoid detention.
Related: Oon & Bazul to shipowners: Measures to take before anchoring, conducting STS ops in Malaysian waters
Photo credit: Malaysian Maritime Enforcement Agency
Published: 29 November, 2023
DNV paper outlines bunkering of alternative marine fuels for boxships
Third edition of its paper series focuses on LNG, methanol and ammonia as alternative bunker fuel options for containerships; explores bunkering aspects for LNG and methanol.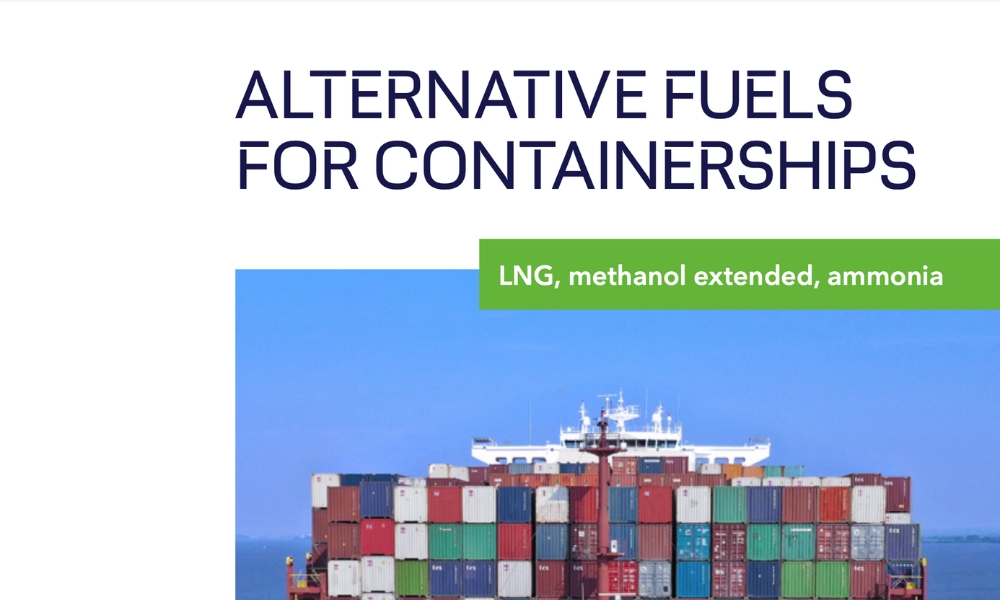 Classification society DNV recently released the third edition of its paper series Alternative fuels for containerships, focused on LNG, methanol and ammonia as alternative bunker fuel options for containerships.
In its updated paper series, DNV examined the different alternative marine fuel options and provided an overview of the most important technical and commercial considerations for the containership sector.
It explored the bunkering technology for LNG, bunkering infrastructure for methanol, and availability and infrastructure of ammonia.
Building on the foundation laid in the second edition, which focused on the most important aspects of methanol as a fuel, this latest third edition delves deeper – exploring the technical intricacies and commercial considerations associated with adopting methanol as an alternative fuel for containerships.
Furthermore, it provides an overview of crucial aspects related to ammonia and discusses its potential as an alternative fuel for containerships.
Amongst others, the new edition of the paper looks at the following aspects:
Technical design considerations for methanol
Commercial implications of adopting methanol as an alternative fuel
Ammonia's potential as an alternative fuel
Availability, infrastructure and ship fuel technology for ammonia
Major updates based on the latest IMO GHG strategy decisions at the MEPC 80 meeting
Note: The third edition of DNV's full paper titled Alternative Fuels for Containerships can be found here.
Related: DNV paper outlines bunkering infrastructure of alternative fuels for boxships
Photo credit: DNV
Published: 29 November, 2023
EDF, LR and Arup launch tool scoring ports' potential to produce and bunker electrofuels
Tool is also applied to three different port scenarios, including ports exploring fuel production and bunkering, ports exploring fuel exports, and ports exploring fuel imports and bunkering.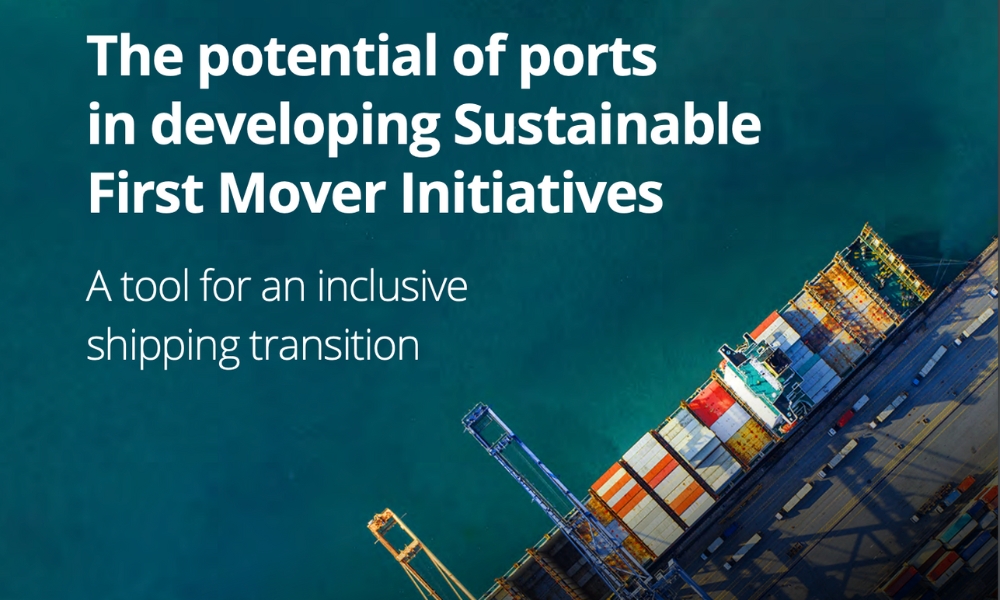 Lloyd's Register (LR) Maritime Decarbonisation Hub and Environmental Defense Fund (EDF), in collaboration with Arup, on Tuesday (28 November) introduced the Sustainable First Movers Initiative Identification Tool, a system to help shipping stakeholders align investment decisions that support the maritime energy transition away from fossil fuels.
The tool, which is presented in a preliminary findings report – The Potential of Ports in Developing Sustainable First Movers Initiatives – scores a port's potential to produce and bunker electrofuels while delivering local environmental and community benefits in alignment with the global temperature target of 1.5 degrees Celsius set by the Paris Agreement.
"Ports can play an important role in kickstarting shipping's decarbonisation process even before global policies are established," said Marie Cabbia Hubatova, Director, Global Shipping at Environmental Defense Fund.
"By considering the impact sustainable first mover initiatives can have on port-side communities, climate, environment and economies, resources can be better directed to locations where these initiatives will make the biggest difference."
With close to two billion people living near coastal zones globally, the role of, and impacts on local port communities must be intentionally considered as the sector decarbonises globally. Ports can play a crucial role in ensuring shipping decarbonisation efforts are done in a way that has positive impacts on port communities.
The preliminary phase of the Sustainable First Movers Initiative Identification Tool analyses 108 ports in the Indo-Pacific region according to five criteria including land suitability, air quality, renewable energy surplus, economic resilience and ship traffic.
It is also applied to three different port scenarios, including ports exploring fuel production and bunkering, ports exploring fuel exports, and ports exploring fuel imports and bunkering. The combined criteria and scenario evaluation determines which ports have the greatest potential (high potential) for sustainable first mover initiatives to lead to significant emissions reductions and positive impacts in nearby communities, such as improved air quality and economic resilience.
"The transition to clean energy supply for shipping can be achieved only if stakeholders act together. Identifying potential port locations is the first step in this process," said Dr Carlo Raucci, Consultant at Lloyd's Register Maritime Decarbonisation Hub. "This approach sets the base for a regional sustainable transition that considers the impacts on port-side communities and the need to avoid regions in the Global South lagging behind."
Regions in the Global South are fundamental in driving the decarbonisation of shipping. To make this transition effective, the rate at which different countries adopt and scale up electrofuels must be proportional to the difference in capital resources globally to avoid additional costs being passed on to local communities. Sustainable first mover initiatives can play an important role in making this happen by ensuring the sector's decarbonisation is inclusive of all regions and by engaging all shipping stakeholders, including port-side communities.
"There's a huge opportunity for early adopter shipping decarbonisation initiatives to unlock benefits for people and planet – shaping the way for a more equitable transition in the 2030s," said Mark Button, Associate, Arup. "Our collective approach shows that taking a holistic view of shipping traffic, fuel production potential and port communities could help prioritise action at ports with the greatest near-term potential."
The tool can be customised according to stakeholders' needs and goals and is dependent on scenario desirability. The next phase of this work will include the selection and detailed assessment of 10 ports to help better understand local needs and maximise the value offered by sustainable first mover initiatives.
LR and EDF carried out a joint study on ammonia as shipping fuel, and LR and Arup have collaborated on The Resilience Shift study focused on fuel demand for early adopters in green corridors, ports, and energy systems, amongst many other projects.
Photo credit: Lloyd's Register
Published: 29 November, 2023