Singapore: VPS panel discussion presents a masterclass in shipping's biofuel bunker adoption issues to the deck
VPS, Global Centre for Maritime Decarbonisation, Wilhelmsen Ship Management, and INTERTANKO executives offered a multitude of perspectives to 73 attendees during the VPS Biofuels Seminar, reports Manifold Times.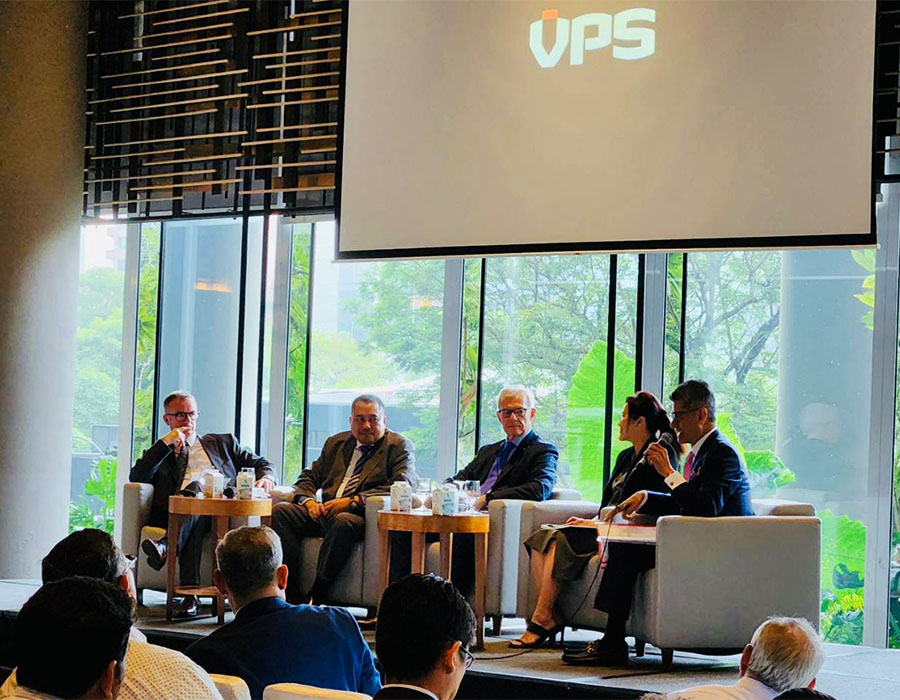 [vc_row][vc_column][vc_column_text]Delegates were exposed to the latest trends and perspectives at a recent panel discussion session comprising of executives from marine fuel testing firm VPS, Global Centre for Maritime Decarbonisation (GCMD), Wilhelmsen Ship Management, and the International Association of Independent Tanker Owners (INTERTANKO).[/vc_column_text][vc_row_inner][vc_column_inner width="2/3"][vc_column_text]The session, held as part of the VPS Biofuels Seminar, was moderated by Captain Rahul Choudhuri, Managing Director for Asia, Middle East & Africa (AMEA) at VPS.
"The role of biofuels is an important step in the direction of a viable option for an alternative fuel source," said Captain Choudhuri.
"It is not the only option but it is gaining momentum and we have seen a drastic change from pre-Covid to post-Covid in terms on greater usage of biofuels.
"But it needs to be understood if we are to use it successfully and safely in the shipping industry.
"This is the motivation for us to have our VPS Biofuels Seminar in Singapore. This interaction is necessary to understand different points of view and find a pragmatic path forward for greener fuels."
He emphasised Singapore has been the first country to have developed a provisional national standard on specifications of marine biofuel (WA 2:2022), which global adoption is important.[/vc_column_text][/vc_column_inner][vc_column_inner width="1/3"][vc_single_image image="23296" img_size="medium" add_caption="yes"][/vc_column_inner][/vc_row_inner][vc_column_text]"WA 2:2022 shows that Singapore port is ready, the technical experience is there, and the quality is assured," said Captain Choudhuri, who was also the Chairman of the committee involved in its development.
"However, I was fairly disappointed that ISO [the International Organization for Standardization] has been in my opinion parochial and maybe too political to accept WA 2:2022 which is technically robust."
Global Centre for Maritime Decarbonisation – Assurance framework in development
Dr Prapisala Thepsithar, Director, Research & Projects, GCMD believed a firm set of standards such as WA 2:2022 will be necessary for the future safe use and adoption of biofuels as a bunker fuel.
She revealed GCMD has been developing an assurance framework to ascertain quantity, quality and greenhouse gas (GHG) abatement for green marine fuels.
"We foresee during the energy transition, green fuel production will ramp up with the introduction of biofuels into the marine fuel supply chain and we need a framework to differentiate certain martials [i.e. gray/bio/green/blue methanol, green/blue/brown ammonia]," she explained.
"Our first assurance framework project is focused on biofuels including FAME, HVO and crude algae oil where we monitor the quality of biofuel from the country of origin until blending and bunkering operations – which to date we have not discovered any quality issues."
Still, Dr Thepsithar pointed out the case may be different in the time ahead when demand increases – incentivising players to inflate the quantity of biofuels through the addition of chemicals and foreign material.
"So that's why I think the robust standard [including WA 2:2022] is necessary."
In addition, she noted GCMD has been conducting extensive laboratory work on long-term degradation and compatibility tests of marine biofuels in this project.
"We are still lacking quite a lot of data to support findings; certain parameters have to be established in order to measure empirical evidence," she noted.
"I believe WA 2:2022 presents very reasonable parameters for this activity."
Dr Thepsithar also noted GCMD working with VPS to incorporate "fingerprinting" technology into its assurance framework.
VPS – Trials biofuel 'fingerprinting' technology using GC-MS techniques
"This [fingerprinting] work that we're doing with GCMD is quite ground breaking," said Steve Bee, Group Commercial Director, VPS who added: "The science is there, we just need to just tweak it."
Though still in its early stages, Bee shared Gas Chromatography – Mass Spectrometry (GC-MS) techniques employed has shown it being able to identify the differences between biofuels based on palm oil, soya, and more with some unexpected (but useful) results.
"Initial signs are really, really encouraging and positive," he shared.
"We have seen examples where suppliers say 'It's compound X which is a completely renewable, sustainable product made from waste' and we've identified the biofuel being made from palm oil – completely different to what they actually said was in their fuel.
"It's still early days, but I say the signs are all really positive; the physical trace element will help GCMD develop confidence and traceability and transparency in the supply chain."
Wilhelmsen Ship Management (WSM) – 'Money the driver' for bio feedstock production
Carl Schou, CEO of WSM, meanwhile offered his perspective on biofuel production, green marine fuel corridors, and the influence of 'big and strong' shipowners over methanol as a bunker fuel during the panel discussion.
"When the shipping sector increasingly adopts biofuels as bunkers, farmers might choose to produce crops as a bunker feedstock over human consumption; if farmers get a higher price for fuel is pretty obvious what they will be doing," he predicted.
"Hence, this has to be seen from all sides so we don't start competing with food production. As always, money is the driver. If somebody gets more money, then obviously it will go in that direction."
According to Schou, a number of shipping corridors with different bunker fuel types will start to emerge on the back of approaching IMO 2030/2050.
"I know there are several projects ongoing with different corridors with various fuels such as ammonia, biofuels and more. I don't think we will see a situation where we have a global supply of one or the other [type of alternative bunker fuel]," he stated.
"So, this is also going to be another challenge added to this whole fuel issue.
"If you want to trade Singapore to China then it's kind of a biofuel corridor. If you do Middle East to Singapore then it's different type of fuels. This is something which I think we are seeing panning out now."
A few "big and strong" shipowners have also been setting the precedence for the adoption of methanol as a marine fuel, noted Schou.
"A lot of the driving force [for green fuels] will be coming from the big players, and then you have the smaller players who will follow up," he said.
"But at the end of the day, the smaller players might try to avoid a lot of this because the focus is on the bigger players.
"So, it's a double-edged sword here."
INTERTANKO – 'Agnostic' on alternative bunker fuel types for IMO GHG goals
During the session, Elfian Harun, Regional Manager Southeast Asia & Environment Manager, INTERTANKO said the organisation was "agnostic" on the type of alternative fuels that could meet the long-term objective of the International Maritime Organization (IMO)'s GHG goals.
"However, there are a couple of caveats. These include fuels to be not harmful to ship's crew; fuels to be available worldwide; and to be provided with solid certified documentation regarding its carbon footprint," informed Harun.
Regarding regulatory hurdles for the adoption of biofuels as bunkers, Harun pointed out there is a need for consistent approval procedures by Flag States for the use of biofuel on vessels.
"IMO will have to sort this out before any fuel is declared 'alternative' as far as the decarbonisation regulations are concerned."
The current debate from the Life Cycle Assessment (LCA) perspective for biofuels will also need to be addressed.
"A number of sustainability factors are currently being considered for inclusion in the draft LCA Guidelines," he said.
"These would have an impact on how biofuels will be lower GHG emitters when compared to conventional fossil fuels especially from a Well-to-Wake (WtW) perspective, in particular, the Well-to-Tank (WtT) component.
"Currently, ten sustainability themes/aspects [GHG emission levels, carbon source, source of electricity/energy, Direct Land-Use Change, Indirect Land Use Change, impact on water supply, impact on air quality, impact on soil health, impact from chemical or wastes released during production, impact on ecosystem biodiversity] are being discussed for inclusion in the LCA guidelines.
"Some of these appear to be particularly targeted at ensuring biomass crops are sustainable and should not cause mitigating actions to address these aspects, which may in turn, lead to increase in GHG emissions."
Operational concerns for the use of biofuels as bunkers will also need to be resolved, as there is a need for real-world experiences to be documented and shared among users of biofuel.
"Eventually, a standard procedure would need to be developed for the safe use of biofuel as fuel for ships," he ends.
Related: VPS: The importance of bunker fuel chemical screening and why it can no longer be ignored
Related: VPS: Shipowners turn to 'highly reactive' Cashew Nut Shell Liquid (CNSL) biofuel blends for marine fuel
Photo credit: Manifold Times
Published: 22 February, 2023[/vc_column_text][/vc_column][/vc_row]
China Shipping & Sinopec Suppliers completes first biofuel bunkering op of passenger ship in Dalian
Firm successfully refuelled passenger ship "Chang Shan Dao" owned by Cosco Shipping Ferry with B24 bio bunker fuel on 29 November at Dalian Cruise Port.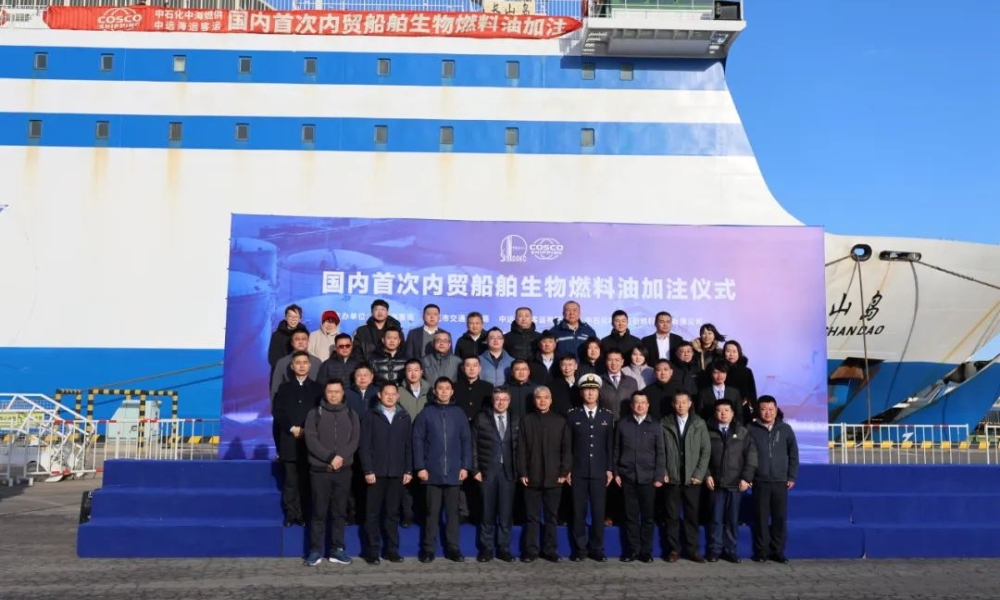 China Shipping & Sinopec Suppliers Co., Ltd. on Wednesday (29 November) successfully refuelled passenger ship "Chang Shan Dao" owned by Cosco Shipping Ferry Co., Ltd. with B24 bio bunker fuel at the Dalian Cruise Port.
The occasion marked the first biofuel bunkering operation for passenger ships in China.
The B24 biofuel oil used was blended with 24% biofuel and 76% conventional low-sulphur fuel oil.
Sinopec China Shipping Fuel Supply, which is responsible for the bunkering operation, is a bunker supply firm jointly established by Sinopec Group and COSCO Shipping Group.
According to Li Zhi, Deputy Party Secretary and Deputy General Manager of China Shipping & Sinopec Suppliers Co., Ltd., the biofuel bunkering business is another step in the company's active business of the group's development strategy.
The bunkering operation after the firm completed the first bonded biofuel bunkering operation of a domestic ship on 7 September. 
Disclaimer: The above article published by Manifold Times was sourced from China's domestic market through a local correspondent. While considerable efforts have been taken to verify its accuracy through a professional translator and processed from sources believed to be reliable, no warranty is made regarding the accuracy, completeness and reliability of any information.
Photo credit: China Shipping & Sinopec Suppliers
Published: 8 December, 2023
Singapore, Tianjin to pilot and trial alternative bunker fuels following shipping corridor MoU
Singapore – Tianjin Green and Digital Shipping Corridor will serve as a valuable testbed for both countries to pilot and trial digital solutions, alternative fuels and technologies, amongst others.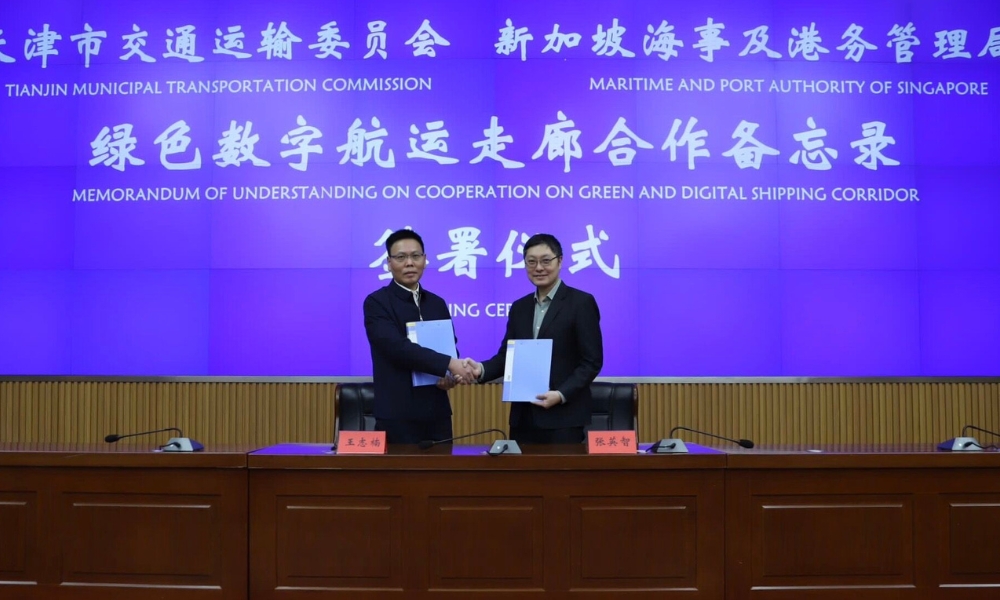 The Maritime and Port Authority of Singapore (MPA) and the People's Republic of China's Tianjin Municipal Transportation Commission on Wednesday (6 December) signed a memorandum of understanding (MoU) to establish the Singapore – Tianjin Green and Digital Shipping Corridor.
Mr Teo Eng Dih, Chief Executive, MPA, and Mr Wang Zhinan, Director General, Tianjin Municipal Transportation Commission, signed this MoU.
The MoU marked the first Green and Digital Shipping Corridor established between Singapore and China to support the decarbonisation, digitalisation and growth of the maritime industry between Singapore and the Bohai Region.
The Singapore – Tianjin Green and Digital Shipping Corridor will serve as a valuable testbed for both countries to pilot and trial digital solutions, alternative bunker fuels and technologies, and facilitate talent development to support the decarbonisation and digitalisation of shipping. 
Singapore and Tianjin will work with the research community, the institutes of higher learning, and industry stakeholders such as shipping lines, port operators, shipbuilders, classification societies, and bunker suppliers to enable more efficient port clearance through digital exchanges, encourage the offtake of zero or near-zero greenhouse gas emission fuels and adoption of new fuel technologies, spur innovation and support the growth of the maritime startups community, and facilitate manpower training and professional development.
The establishment of the Singapore – Tianjin Green and Digital Shipping Corridor reaffirms the strong commitment by Singapore and Tianjin to accelerate maritime decarbonisation and digitalisation. Singapore will also be exploring the establishment of similar collaboration with other maritime and port ecosystems within China.
Photo credit: Maritime and Port Authority of Singapore
Published: 8 December, 2023
Report highlights routes-based action plan methodology to accelerate uptake of clean bunker fuels
NextGEN Connect-GreenVoyage2050 collaboration, which includes Singapore, emphasises the important role of regional energy hubs in enabling the inclusive adoption of clean marine fuels.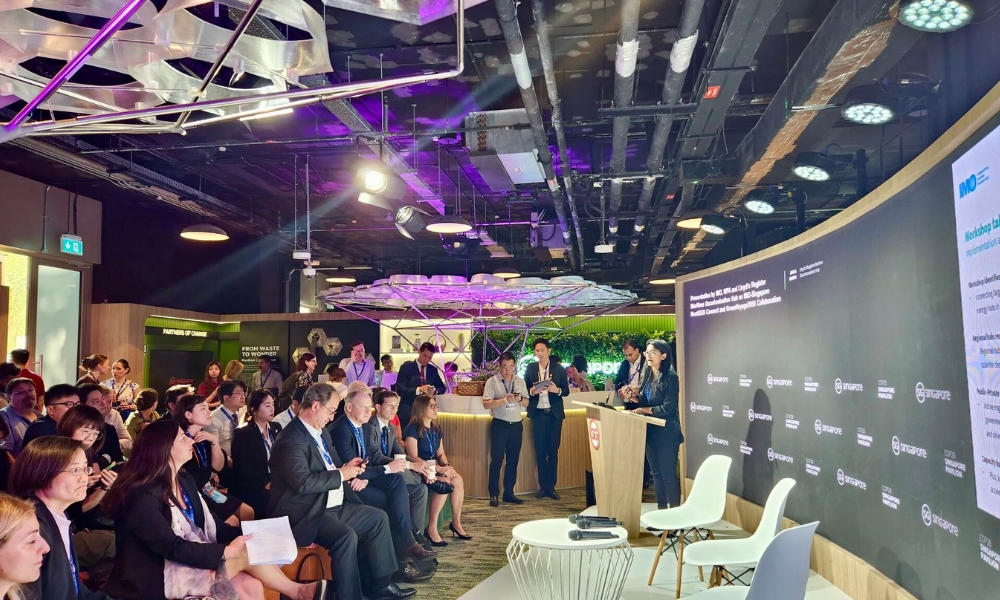 The Maritime and Port Authority of Singapore (MPA) on Thursday (7 December) said the NextGEN Connect-Green Voyage2050 Project identified a key role for regional hubs to help connect large demand clusters and remote locations, with regional fuel supply sources, in order to enable a more inclusive and effective transition to a low-carbon maritime future.
The project is a collaboration between Singapore, Norway and the International Maritime Organization (IMO).
These findings were unveiled in the Lloyd's Register Maritime Decarbonisation Hub (LR MDH) report titled Routes-based Action Plans: A Toolkit launched at the Voyage to Net-Zero Forum, which was organised by MPA, at the 28th United Nations Climate Change Conference (COP28/CMP8/CMA5) yesterday.
The report was developed following a workshop discussion that was held from 5 to 6 October 2023 in Singapore, with the participation of 40 stakeholders representing ports and National Administrations across Asia, based on the concept of the LR MDH's First Movers Framework for green corridors. The workshop simulated the process steps of the routes-based action plan methodology, addressing the limitations in its application in the wider Asian context. Additional engagements with stakeholders from the Pacific are envisaged to further refine the methodology.
"One of the key findings in our report highlighted the varying pace of decarbonisation efforts across the Asian region and the need for regional coordination among governments to establish energy clusters that will serve both as demand centres and energy producing hubs" said Charles Haskell, Director at LR MDH.
The creation of energy producing hubs includes defining a strategy that brings together demand from different countries at different developmental stages across the region to build up investment cases for implementing energy infrastructure at scale, all the while taking into consideration the economic and social benefits for local communities.
The report also emphasised that routes-based action plans should be steered by national governments to give confidence to the industry's infrastructure investment decisions, with development banks and regional funds needing to play a part to help tailor financing solutions to support infrastructure development.
"If we truly want to achieve a net-zero future where no one is left behind, we cannot focus only on existing first mover initiatives. We must also study locations where the energy infrastructure is still in its infancy", added Charles Haskell.
Essential to driving the implementation of routes-based action plans, as highlighted in the report, is the pooling of resources and capacity building to develop the business case for building the necessary infrastructure for regional hubs that include Least Developed Countries (LDCs) and Small Island Developing States (SIDS). This will require regional coordination and collaboration involving governments and all stakeholders across the maritime supply chain.
Mr. Teo Eng Dih, Chief Executive of MPA, said: "As we steer toward a sustainable maritime future, fostering a collective and inclusive approach is imperative in the development of green corridors and the energy transition to decarbonise international shipping."
"The NextGEN Connect-GreenVoyage2050 collaboration emphasises the important role of regional energy hubs in enabling the inclusive adoption of clean marine fuels, particularly for LDCs and SIDSs. MPA looks forward to continuing its collaboration with IMO, Ministry of Climate and Environment of Norway and LR MDH to pilot solutions to reduce GHG emissions from ships and drive innovative transformations in the maritime industry."
Sveinung Oftedal, Chief Negotiator of the Norwegian Ministry of Climate and Environment, said: "Separate routes for emission-free ferries and ships can play an essential role in stimulating early action to adopt zero or near-zero emission technologies and fuels, and hence are an important step towards decarbonising shipping. There is currently a significant volume of maritime traffic between Asian countries, and our workshop was a great forum to discuss opportunities the decarbonisation of maritime shipping can bring and how efforts can be linked to countries' wider energy transition."
Jose Matheickal, IMO Director of Partnerships and Projects, said: "Supporting developing countries, including SIDS and LDCs, in their efforts to implement the 2023 IMO Strategy on the Reduction of GHG Emissions from Ships is imperative to the decarbonisation of the maritime sector. IMO is pleased to provide, through this collaboration, practical support around the development and subsequent implementation of National Action Plans and route-based actions in line with IMO's MEPC RESOLUTION.366(79) that encourages Member States to undertake these voluntary actions to facilitate the achievement of greener shipping and reduced emissions."
Note: 'Routes-based action Plans: a toolkit' can be found here. 
Photo credit: Maritime and Port Authority of Singapore
Published: 8 December, 2023