Smells like sustainability: Harnessing ammonia as a ship fuel
Ammonia is one of the most promising future fuels in the maritime world, but introducing it to the fuel mix is far from straightforward, states DNV.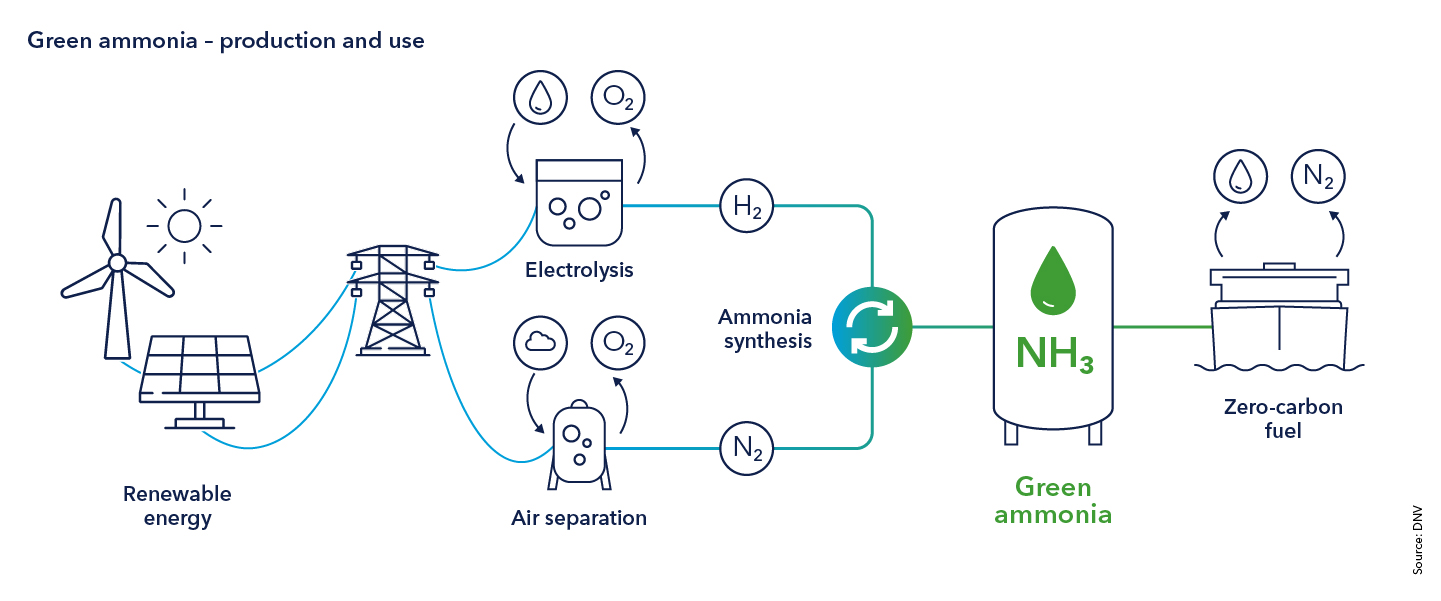 Classification society DNV on Tuesday (8 February) published the industry insight article 'Smells like sustainability: Harnessing ammonia as ship fuel'.
It highlights some of the central questions that need to be answered before ammonia-fuelled ships enter the shipping market, including the supply, sustainability, engine technology and the necessary safety considerations.
Supply: Shipping will have to compete with other industries
Today, around 80 per cent of the global ammonia supply is used as fertilizer. Where will the ammonia for shipping come from? This is an issue that remains to be resolved, and production would have to ramp up significantly to meet the future demands of both shipping and global agriculture.
"In the context of decarbonization it's important to understand that when we talk about ammonia's great potential for shipping, we mean green ammonia. The fuel's sustainability credentials vary depending on how it is sourced," explains Hendrik Brinks, Principal Researcher for Zero Carbon Fuels at DNV.
Fuel suppliers working on framework for green ammonia production
The fuel can be categorized as "brown" (produced from fossil sources), "blue" (produced from fossil sources with carbon capture) or "green" (produced from renewably sourced hydrogen in a process called electrolysis). "While the production of blue ammonia results in 85 per cent less CO2 emissions than brown variants, only green ammonia is a zero-carbon fuel," he adds.
The crux is: green ammonia is currently not produced anywhere. This is expected to change over the coming decade. "Several fuel suppliers are already doing a lot of work on the necessary framework for producing green ammonia, including certification, technology and costs," says Brinks.
Engine technology: First ammonia-fuelled engine by 2024
While the supply of green ammonia will take time, the development of engine technology is progressing fast. In the AEngine joint development project (JDP), MAN Energy Solutions, Eltronic FuelTech, the Technical University of Denmark and DNV are working together on developing the first dual-fuel ammonia-powered combustion engines. The AEngine project is funded by the Innovation Fund Denmark. With combustion testing scheduled for this spring, MAN's two-stroke model is expected to go to market in 2024.
"As an engine designer we are agnostic when it comes to the different fuel types," says Peter H. Kirkeby, Principal Specialist, Dual-Fuel Engines at MAN Energy Solutions. "Ammonia has generated a lot of interest, especially from the deep-sea ship segments, and it has a lot of potential – but developing an engine that is powered by ammonia has been a challenge. One of the biggest hurdles is how to burn ammonia efficiently to extract the maximum amount of power while making sure the engine is still a compact design."
Unlike diesel oil, ammonia has a very slow flame propagation, which means it burns much more slowly. Its autoignition temperature is also a lot higher, at around 630°C – diesel oil burns at 210°C. This means that sustaining combustion once it gets started is also more difficult with ammonia than with other fuels.
"And, of course, you also need to ensure that the engine allows for the usual performance peaks that come with acceleration, etc. We are planning for a final fuel mix that would contain around 95 per cent ammonia and 5 per cent of a pilot fuel such as marine gas oil. In the future this could even be biofuel," says Kirkeby.
Harmful emissions could be mitigated by combustion process
Mitigating harmful emissions is another significant challenge, even with green ammonia. While carbon-free, ammonia contains a lot of nitrogen, and burning it is likely to result in both nitrogen oxide (NOX) and nitrous oxide emissions. Kirkeby explains that NOX emissions weren't so much of an issue for the engine manufacturer. "They are well-regulated and the abatement technology for NOX – selective catalytic reaction – is already used on many ships and should also be suitable for ammonia. Nitrous oxide emissions are the greater challenge. N2O, or laughing gas, is a very aggressive greenhouse gas that is 283 times stronger than CO2. Our approach is to use the combustion process itself to mitigate these emissions."
This is how it could be done: burning ammonia generates nitrous oxide emissions inside a certain pressure and temperature window during the combustion process. "Through combustion tuning, we can either stay clear of that window or we can go into the temperature and pressure range where it's decomposed again. In the diesel cycle, which is the one we use, you have very good control over this," says Kirkeby.
The final challenge has been to adapt the well-established two-stroke engine system to ammonia without changing the fundamentally good things about it. "We have to make it a very simple system that can also handle ammonia – meaning that it is modular enough to allow for easy troubleshooting and for crews to have straightforward maintenance procedures even though the fuel is a toxic substance."
Ammonia tankers ideal first users
Looking ahead, the first engines will likely be installed on ammonia tankers. Currently there are about 200 gas tankers that can take ammonia as cargo and typically 40 of them are deployed with ammonia cargo at any point in time. These kinds of vessels could be ideal candidates as they already have the fuel as cargo and crews with experience in handling ammonia. Other segments such as bulk carriers and containerships could follow suit. DNV expects the first ammonia-fuelled vessels to hit the water in the second half of this decade, but large-scale uptake of this technology is not expected until the early 2030s.
The safety of ammonia systems and operational procedures is at the top of the agenda in DNV's work on this fuel. In the AEngine joint development project, DNV is handling the safety aspects and will be performing risk assessments with regard to hazard identification (HAZID), hazard and operability (HAZOP) and failure mode and effect analysis (FMEA).
Safety: Mitigating ammonia toxicity
DNV class rules for ammonia as ship fuel were published in July 2021, paving the way for technology development. They include provisions for storing, handling and bunkering ammonia on board. Some of the aspects to consider here include the use of toxicity zones and venting masts in specific locations.
The engine technology itself would be fitted with double wall piping, so that the pipe containing ammonia is surrounded by a ventilated space, making it easy to detect leaks. "This is a common standard for all alternative fuels," explains Christos Chryssakis, Business Development Manager and Alternative Fuels Expert at DNV. Additional solutions such as double block and bleed valves ensure that systems can be separated for maintenance.
"Our class rules for ammonia are based on experience with ammonia as a refrigerant and as cargo. We are constantly updating these rules, as ongoing research offers further insights into the necessary margins to ensure that systems are not only safe but also practical in their handling," says Chryssakis. "Carrying out risk assessments on the first designs for ammonia-fuelled vessels will be an important next step."
DNV carries out studies on ammonia bunkering
Looking beyond operations on board ammonia-fuelled vessels, DNV recently completed studies on ammonia bunkering operations in the Ports of Amsterdam and Oslo, examining the potential ramifications of a large ammonia leak in ports. "We looked at worst-case scenarios, including the implications of leaks in the port-side supply infrastructure and on a bunker vessel. The Port of Oslo lies in a residential area – so the stakes are particularly high here," explains Chryssakis.
"We defined external safety zones and risk-reduction measures, looking at the radius which would be affected by an ammonia leak. For the Port of Oslo, we found that in principle using a bunkering vessel with refrigerated ammonia would come with an acceptable risk level, because the residential area in Oslo would not be affected by a leak. But there is still work to be done to ensure safe handling on board."
The Global Centre for Maritime Decarbonisation (GCMD) in Singapore also just recently initiated a study that aims to define a robust set of safety guidelines and operational envelopes that will establish the basis of a regulatory sandbox for ammonia bunkering trials at two local sites. DNV will take the lead in that safety study and supports with ammonia demand forecasting, bunkering site recommendations, the development of conceptual designs of bunkering modes like truck to ship or ship to ship, HAZID/HAZOP/QRA studies, as well as drafting of technical and operational guidelines.
"There are many parts to this puzzle and it's essential that we have them all in place for ammonia to safely enter the marine fuel market," says Hendrik Brinks. "We will need rigorous safety procedures, the inclusion of ammonia in international regulations as well as engine designs that control harmful emissions and allow for straightforward maintenance protocols. And of course, highly skilled crews that are trained to handle ammonia and green ammonia in sufficient supply. Only then can ammonia reach its full potential as one of the most promising green fuels."
Related: Future-proofing shipping: The decarbonization game-changer
Related: DNV joint industry project analyses ammonia-ready VLCC design as decarbonisation option
Related: DNV selected to lead 'pioneering' ammonia bunkering safety study in Singapore
Related: Global Centre for Maritime Decarbonisation awards ammonia bunkering safety study to DNV-led consortium
Related: DNV: Green ammonia a 'key ingredient' to decarbonise maritime industry
Related: DNV Decarbonisation Insights: Singapore's pathway to Net Zero and the role of Ammonia
Source: DNV
Photo credit: DNV, MAN Energy Solutions
Published: 10 February, 2022
Bunker Holding scales up biofuel bunker availability to over 80 ports worldwide
Group is providing different types of lower carbon products as well as blends of biofuels and conventional marine fuels and can deliver those products to numerous ports.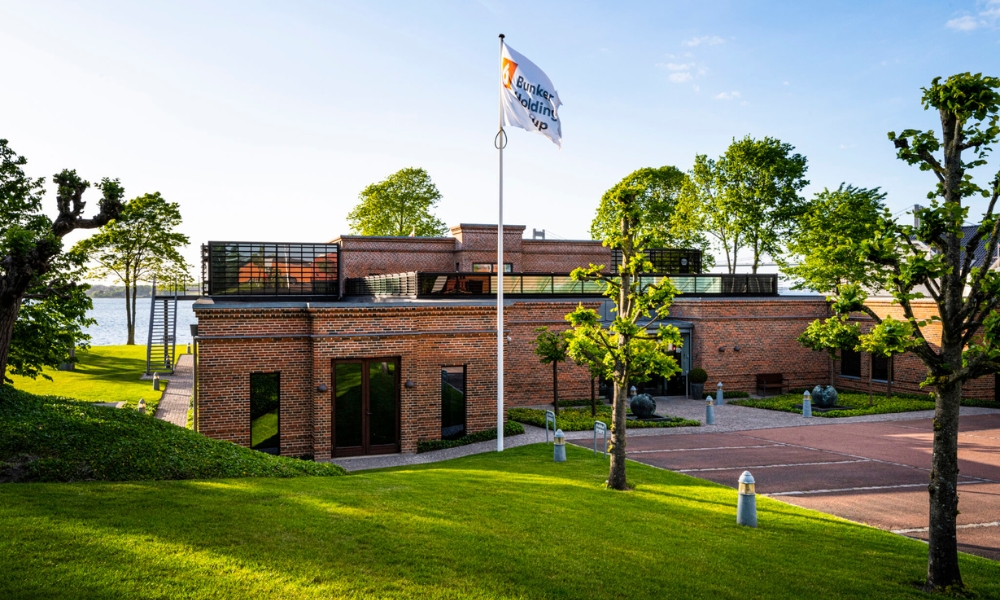 Marine fuel supplier Bunker Holding on Tuesday (3 October) said it has now secured bio bunker fuel availability in more than 80 ports around the world, catering to last mile delivery.
With the recent adoption of the FuelEU Maritime regulation, the entering into force of the IMO CII, and the inclusion of shipping in the EU ETS just around the corner, the Group said it is ready to help clients with the optimal solutions to reduce their GHG emissions.
Valerie Ahrens, Senior Director of New Fuels and Carbon Markets at Bunker Holding, said: "Bunker Holding is overcoming the challenges from the green transition simultaneously with our customers. It is affecting how we conduct business in a changing market, driven by the new IMO GHG strategy and new regulations such as IMO CII, EU ETS, and FuelEU maritime."
"We are all in the same boat but as a leading marine fuel supplier with an extensive network and global reach, we are well positioned and equipped to help our clients. Much of our work has gone into building strong and reliable supplier relations, which are essential to ensuring we can connect reliable suppliers with the end-users of biofuel globally."
Manja Ostertag, Head of Biofuels, who is coordinating the global efforts to develop the supply of biofuels in key regions and ports, said: "During the past months, we have been intensifying our efforts on ensuring biofuel availability at numerous ports and at a global scale. This puts the Group in a unique position as a marine fuel supplier. Providing a relevant and competitive value proposition including low-carbon fuels is a crucial part of our New Fuels strategy and key to succeed as a business, given the upcoming IMO and EU regulations."
As part of this effort, Bunker Holding and its subsidiaries are focusing on the individual needs of its clients. As every segment and business in the marine sector is different and hence might have different needs, Bunker Holding, through its affiliates, aims to provide customised and compliant solutions. That means the Group is providing different types of lower carbon products as well as blends of biofuels and conventional fuels and can deliver those products not only to flow ports, such as ARA and Singapore, but also in numerous other ports.
During the past months, biofuels have been bunkered by the Group to different segments, reaching from cruise and ferry lines and container ships to offshore clients and even smaller businesses.
"When delivering lower carbon fuel solutions to our clients, it is crucial for us to work with reliable certified suppliers that have the same high principles on delivering product quality and sustainability as we have. Such reliable supply chains are indispensable in delivering relevant value to our clients," says Manja Ostertag.
Bunker Holding is not only delivering lower carbon fuel solutions through its affiliates, such as Biofuels or LNG, but also prepares for the evolving offtake of alternative marine fuels, such as methanol and ammonia. In addition to that, the Group supports its clients in any topic around EU ETS, such as buying EUA's (EU Allowances). As an advisor for the green energy transition, the Group wants to position itself as a one-stop-shop to its clients.
Photo credit: Bunker Holding
Published: 4 October, 2023
Cepsa begins supplying bio bunker fuel at Port of Barcelona
Firm said it has undertaken the largest supply of second-generation biofuels to date at the Port of Barcelona; firm supplied biodiesel to Hapag-Lloyd-operated boxship.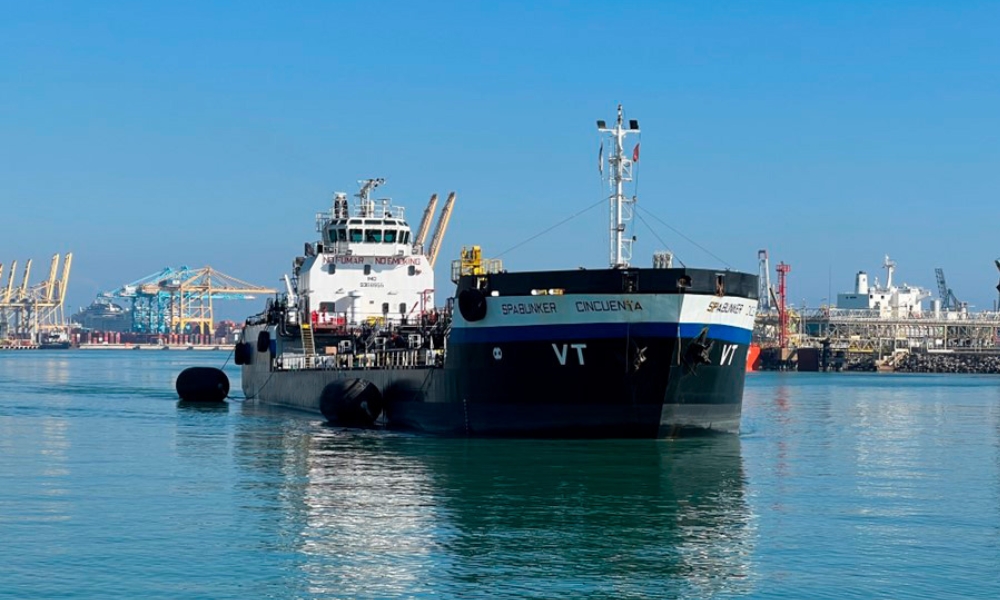 Spain's energy for maritime transport supplier Cepsa on Monday (2 October) said it has undertaken the largest supply of second-generation biofuels to date at the Port of Barcelona.
The operation, conducted on a 350-metre-long container vessel operated by Hapag-Lloyd in the Mediterranean, marks the energy company's inaugural venture in Barcelona and positions the Port of Barcelona as a key player in the decarbonisation of maritime transportation.
The supplied biodiesel contains a 24% sustainable component, which will prevent the emission of 2,860 tons of CO2, equivalent to planting 34,300 trees. This biofuel has been produced from used cooking oils.
Currently, the energy company can supply these sustainable fuels by barge in the Port of Barcelona and the area of the Strait of Gibraltar, and by tanker in all the ports in which it operates.
Samir Fernández, director of Marine Fuel Solutions at Cepsa, said: "Second-generation biofuels can be used in ships without the need for modifications to their engines, and they have a high potential for reducing CO2 emissions compared to conventional fossil fuels, achieving a reduction of up to 90%, which makes them an ideal immediate solution."
"That's why we want to make them available in all the ports in which we operate and lead their production in this decade to help our customers meet their own decarbonisation challenges."
The company said it aspires to be the leading biofuel producer in Spain and Portugal by 2030, with a production capacity of 2.5 million tons annually, and green hydrogen, with 2 GW of electrolysis capacity.
Photo credit: Cepsa
Published: 4 October, 2023
KPI OceanConnect hosts alternative fuels & carbon markets forum in Greece
Forum brought together marine energy experts to talk on bio bunker fuels, their regulation and adoption and their important role in helping the shipping industry comply with emissions regulations.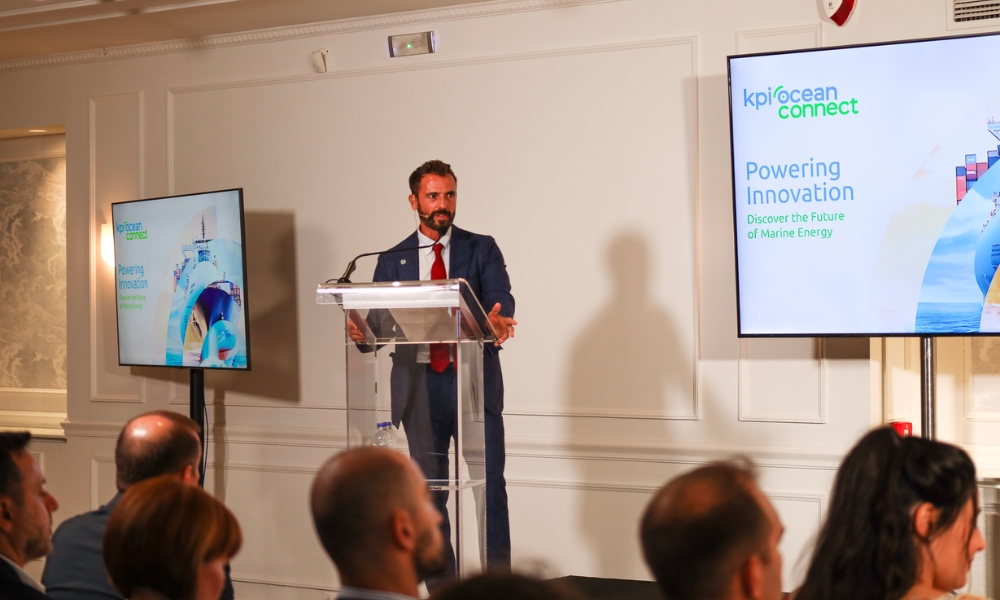 Global marine energy solutions provider KPI OceanConnect on Tuesday (3 October) said it held its Alternative Fuels & EU ETS Forum for clients in Greece on 27 September, where it brought together a line-up of marine energy experts to talk about biofuels, their regulation and adoption and their important role in helping the shipping industry comply with emissions regulations.
For the evening's seminar, speakers included KPI OceanConnect's Jesper Sørensen, Global Head of Alternative Fuels & Carbon Markets, and from Bunker Holding, Valerie Ahrens, Senior Director of New Fuels & Carbon Markets and Manja Ostertag, Head of Biofuels. They were joined by Maria Tzigianni of Bureau Veritas' VeriFuel.
The speakers presented on the range of biofuel products available to the marine sector and how the market for these products is shaped by the oil market, feedstock sectors such as agriculture, and regulations at national, regional and global levels. Delegates also learnt about pilot projects that had tested the performance of biofuels and measured how they would help ship owners and operators to decarbonise.
More than 100 guests attended an evening at Golf Privé in Glyfada, Athens, and were welcomed by Michalis Manassakis, Managing Director, KPI OceanConnect Athens. Attendees followed a very interesting seminar and were also able to learn more about KPI OceanConnect's values and main activations through interactive touchscreen technology.
With EU ETS regulations coming into effect in the shipping industry on January 1st 2024, KPI OceanConnect's guests also heard about the important role that voluntary and regulated carbon markets would have in helping the shipping industry to decarbonise.
The shipping industry, vessel owners and operators in particular, face many important questions about decarbonisation, while ongoing innovation means the alternative fuels market is constantly moving.
In its role as a provider of marine fuels, the firm said it was important that KPI OceanConnect shares its knowledge and expertise with its clients and customers.
Michalis Manassakis, said: "It was a pleasure to host a frank and open discussion for so many of our friends in the Greek market and we are grateful to have had so many join us today. As the shipping sector tackles the decarbonisation challenge, it is important that we help our partners to understand the changes that are happening in the marine energy market. And that we work to build trust in the supply of products that will drive forward the energy transition in our sector."
Photo credit: KPI OceanConnect
Published: 4 October, 2023