Research centre: Thorium could be the most feasible alternative future fuel for ships
Development of necessary regulations and a willingness within society to embrace Thorium-powered ships will be crucial, says Robert McDonald of Institute for Energy Technology.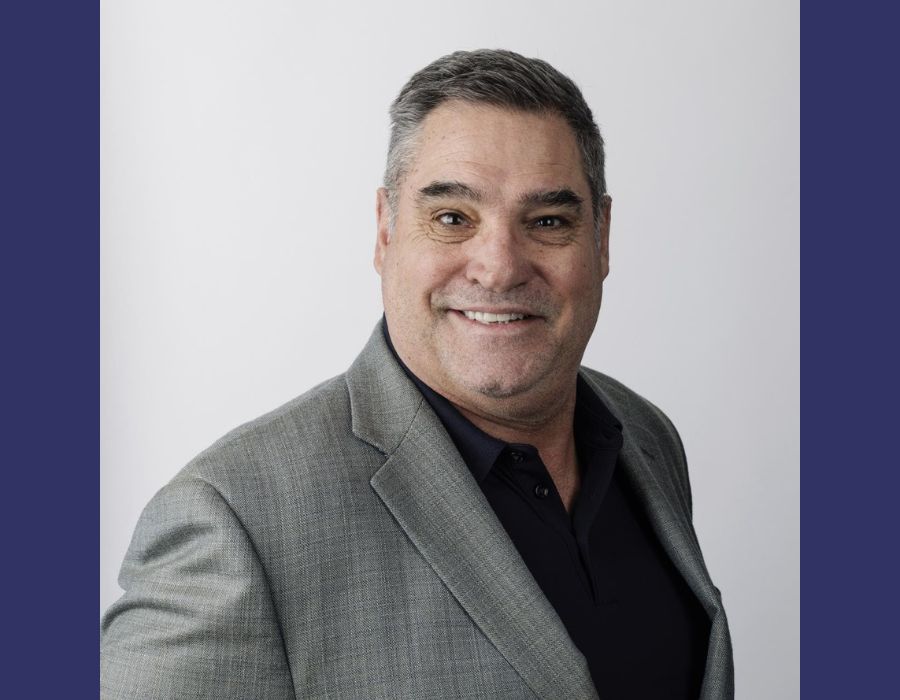 The following is an article written by the Institute for Energy Technology, on Wednesday (17 August) elaborating on the potential for thorium, a source of nuclear power, as an alternative fuel for ships to propel shipping towards a zero emission future: 
Has the industry been blinkered in its search for alternative fuels capable of enabling a deep sea zero emissions revolution? Is there a proven, 'silver bullet solution' waiting to be explored, right now? Robert McDonald, Principal Engineer, Institute for Energy Technology (IFE), says it's time to shine the spotlight on the unique potential of Thorium and Small Modular Reactors.
Have you heard about Thorium? This abundant, naturally occurring metal is a clean, efficient fuel with extraordinary energy density. In fact, one ton of it produces the same energy as 3.5million tons of coal.
Its byproducts are significantly safer than Uranium (Plutonium is not produced under fission) and, with shorter half-lives, degrade far faster. It does not need to be enriched and is not challenging to access. It is also a completely zero emission fuel.
So, why isn't it being considered as an alternative fuel to power shipping towards a zero emission horizon?
"Well, now it is… and that's hugely exciting," retorts Robert McDonald, a process expert in nuclear power at Norway's IFE.
He's referring to the bold vessel concept released by Ulstein in April this year – the aptly named ULSTEIN THOR, the world's first Thorium powered ship.
This 149m 3R (Replenishment, Research and Rescue) design features a Thorium Molten Salt Reactor (MSR), which works by dissolving Thorium into liquid salt, causing a chain reaction that produces steam to drive a turbine, creating huge amounts of clean electricity. Battery operated vessels could then plug into this 'floating power station' and recharge anywhere in the world, effectively transferring maritime's short-sea battery revolution to deep sea operations.
It is, McDonald says, "a fantastic idea" with what he deems to be "possibly one of, if not the, most feasible alternative future fuels for maritime".
He adds: "This is a conversation we need to have. Industry, and society, need to talk about Thorium."
Small is beautiful
McDonald has been working with nuclear power since 1985 and with IFE for the last eight years. The Norwegian organization is a frontrunner in international energy research, with over 650 expert employees. Operating as a not-for-profit, IFE is funded through a combination of government grants and commercial contracts, working to support industry, society and a broad range of stakeholders in the investigation and development of more energy efficient processes, renewable energy solutions, future-orientated energy systems, and much more.
McDonald's focus is on assisting researchers, developing scenarios, running simulations and generally utilizing his huge practical experience to help unlock new innovation and understanding. For the last few years, Small Modular Reactors - of the same sort Ulstein aims to deploy in its new shipping 'superhero', THOR – have been a key area of interest.
"A Small Modular Reactor is a nuclear reactor with a power output of 10-300 MWe," he explains. "They are efficient, easy to install – typically built in factories with the last 10% assembled on site – easily scalable, safe (with very few moving parts and almost zero maintenance) and, unlike other renewables, only require a very small footprint.
"At the moment there are over 70 small and micro designs under development, with typical uses for applications such as district heating, desalination, general electricity generation and hydrogen production. Considering them for the maritime industry is a new idea… and one that's very relevant. They could prove to be an essential piece of the zero emission puzzle for a huge number of applications. In a way, they're perfectly suited."
Unique benefits
This suitability relates to much more than the lack of GHG emissions. McDonald explains that, in the case of Thorium MSRs, they almost never need to be refueled – with the salt removed from the reactor only every 3 to 7 years (dependent on its specifications). This would mean no bunkering, no regular stops and operational windows that could be tailored to fit the task, rather than a vessel's fuel tank capacity. For fishing trawlers, cruise ships, container carriers, or replenishment vessels such at THOR, a new world of opportunity would swing right open.
Waste is minimal and, in the case of MSRs, the old salt is simply reprocessed to remove the byproducts (primarily Uranium 235) which can then be used as a new reactor fuel.
"It's incredibly efficient," McDonald notes. "And although there's no Thorium reactors up and running today it is a proven technology, with the earliest examples operating back in the 1950s and 1960s. However, that also means, unlike Uranium, there's currently no supply chain. But as Thorium is around three times more abundant in the Earth's crust than Uranium – and there's a lot here in Norway – it's simply a matter of starting-up the mining process.
"Every new energy source has to start somewhere. The barriers to utilizing Thorium are certainly not insurmountable."
Tried and tested
The greatest hurdle, however, probably won't be accessing the fuel, or bringing the necessary SMR technology to market. It will, of course, be acceptance.
McDonald acknowledges that the word 'nuclear' has different connotations for different audiences, and not everyone's associations are as positive as his. As such, the development of necessary regulations and a willingness within society (on a global basis) to embrace Thorium-powered ships will be crucial. But here he makes a good point:
"Look, what people don't realize is that nuclear powered ships already call at ports around the world every day… and what's more, they have been doing so since 1955."
Here he's talking about naval vessels, something he knows a great deal about having started his career on a nuclear submarine in the 1980s. Today, there are around 100 maritime reactors in use, on a wide variety of vessels ranging from subs, to aircraft carriers and icebreakers. These are proven, he stresses, and safe.
"The military follow regulations whereby they are expected to keep the reactors safe and ensure no unauthorized people gain access to it," McDonald explains. "I expect those regulations would be the same in a commercial scenario. But remember, there's no Plutonium produced in Thorium reactors – meaning the byproducts don't have the same potential for weaponization - and why would anyone want to gain access? If the reactor is running you wouldn't survive exposure."
Here he's quick to add that any maritime reactor would be in a sealed, self-contained, lead lined compartment that is built for complete security and containment. If there's a loss of power they automatically shut down and even in the worst case scenarios of crashes or the loss of a vessel – as the world saw with the nuclear submarine Kursk in 2000 – there is no reason to expect radiation leaks or spills.
"This is not a completely new solution, unlike some other alternative fuels, so we do have a good understanding of the risk picture," McDonald notes.
Maritime momentum
IFE and Ulstein aren't alone in their interest in Thorium and MSRs in the maritime context. Seaborg from Denmark is developing a floating power barge that could support grids, complement other renewables and be used for both sea- and land-based industry. IFE has also been approached by a trawler firm keen to investigate the potential of the reactors to charge its shrimp-fishing fleet, while offshore energy producers are apparently eager to look into ways MSRs could be utilized to satisfy the power needs of their remote operations.
"I'll tell you what," McDonald concludes. "Up until this year it seemed like MSRs and Thorium were areas of niche interest, whereas now momentum is really growing. Here at IFE we'll aim to do everything we can to support industry and society in finding the best way forward to harness the huge potential of Thorium.
"The arrival of the THOR concept has really supercharged interest and, in my opinion, this is just the start."
"Expect to hear a lot more about Thorium in the near future."
Photo credit: Institute for Energy Technology
Published: 18 August, 2022
China Shipping & Sinopec Suppliers completes first biofuel bunkering op of passenger ship in Dalian
Firm successfully refuelled passenger ship "Chang Shan Dao" owned by Cosco Shipping Ferry with B24 bio bunker fuel on 29 November at Dalian Cruise Port.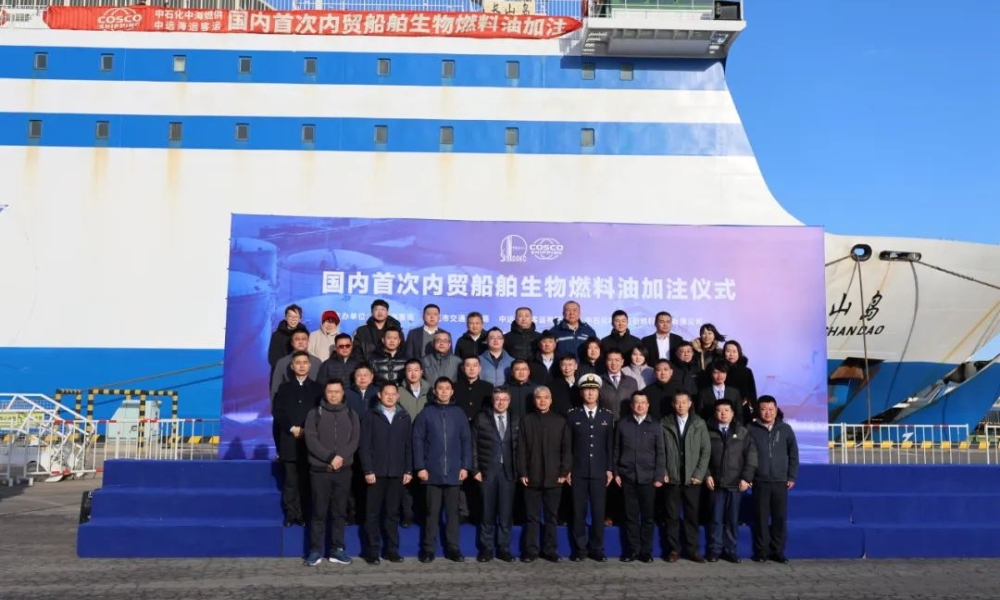 China Shipping & Sinopec Suppliers Co., Ltd. on Wednesday (29 November) successfully refuelled passenger ship "Chang Shan Dao" owned by Cosco Shipping Ferry Co., Ltd. with B24 bio bunker fuel at the Dalian Cruise Port.
The occasion marked the first biofuel bunkering operation for passenger ships in China.
The B24 biofuel oil used was blended with 24% biofuel and 76% conventional low-sulphur fuel oil.
Sinopec China Shipping Fuel Supply, which is responsible for the bunkering operation, is a bunker supply firm jointly established by Sinopec Group and COSCO Shipping Group.
According to Li Zhi, Deputy Party Secretary and Deputy General Manager of China Shipping & Sinopec Suppliers Co., Ltd., the biofuel bunkering business is another step in the company's active business of the group's development strategy.
The bunkering operation after the firm completed the first bonded biofuel bunkering operation of a domestic ship on 7 September. 
Disclaimer: The above article published by Manifold Times was sourced from China's domestic market through a local correspondent. While considerable efforts have been taken to verify its accuracy through a professional translator and processed from sources believed to be reliable, no warranty is made regarding the accuracy, completeness and reliability of any information.
Photo credit: China Shipping & Sinopec Suppliers
Published: 8 December, 2023
Singapore, Tianjin to pilot and trial alternative bunker fuels following shipping corridor MoU
Singapore – Tianjin Green and Digital Shipping Corridor will serve as a valuable testbed for both countries to pilot and trial digital solutions, alternative fuels and technologies, amongst others.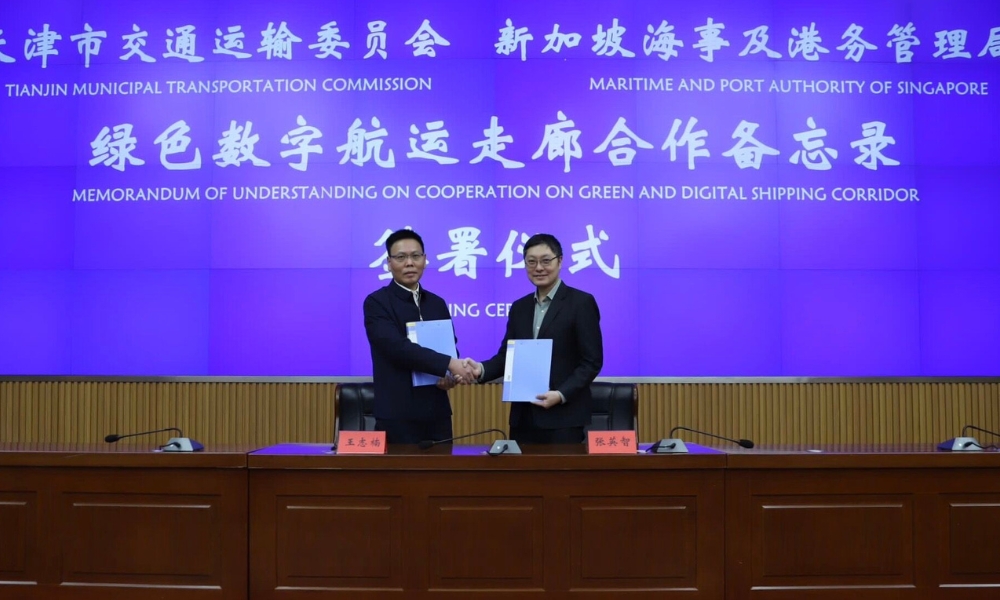 The Maritime and Port Authority of Singapore (MPA) and the People's Republic of China's Tianjin Municipal Transportation Commission on Wednesday (6 December) signed a memorandum of understanding (MoU) to establish the Singapore – Tianjin Green and Digital Shipping Corridor.
Mr Teo Eng Dih, Chief Executive, MPA, and Mr Wang Zhinan, Director General, Tianjin Municipal Transportation Commission, signed this MoU.
The MoU marked the first Green and Digital Shipping Corridor established between Singapore and China to support the decarbonisation, digitalisation and growth of the maritime industry between Singapore and the Bohai Region.
The Singapore – Tianjin Green and Digital Shipping Corridor will serve as a valuable testbed for both countries to pilot and trial digital solutions, alternative bunker fuels and technologies, and facilitate talent development to support the decarbonisation and digitalisation of shipping. 
Singapore and Tianjin will work with the research community, the institutes of higher learning, and industry stakeholders such as shipping lines, port operators, shipbuilders, classification societies, and bunker suppliers to enable more efficient port clearance through digital exchanges, encourage the offtake of zero or near-zero greenhouse gas emission fuels and adoption of new fuel technologies, spur innovation and support the growth of the maritime startups community, and facilitate manpower training and professional development.
The establishment of the Singapore – Tianjin Green and Digital Shipping Corridor reaffirms the strong commitment by Singapore and Tianjin to accelerate maritime decarbonisation and digitalisation. Singapore will also be exploring the establishment of similar collaboration with other maritime and port ecosystems within China.
Photo credit: Maritime and Port Authority of Singapore
Published: 8 December, 2023
Report highlights routes-based action plan methodology to accelerate uptake of clean bunker fuels
NextGEN Connect-GreenVoyage2050 collaboration, which includes Singapore, emphasises the important role of regional energy hubs in enabling the inclusive adoption of clean marine fuels.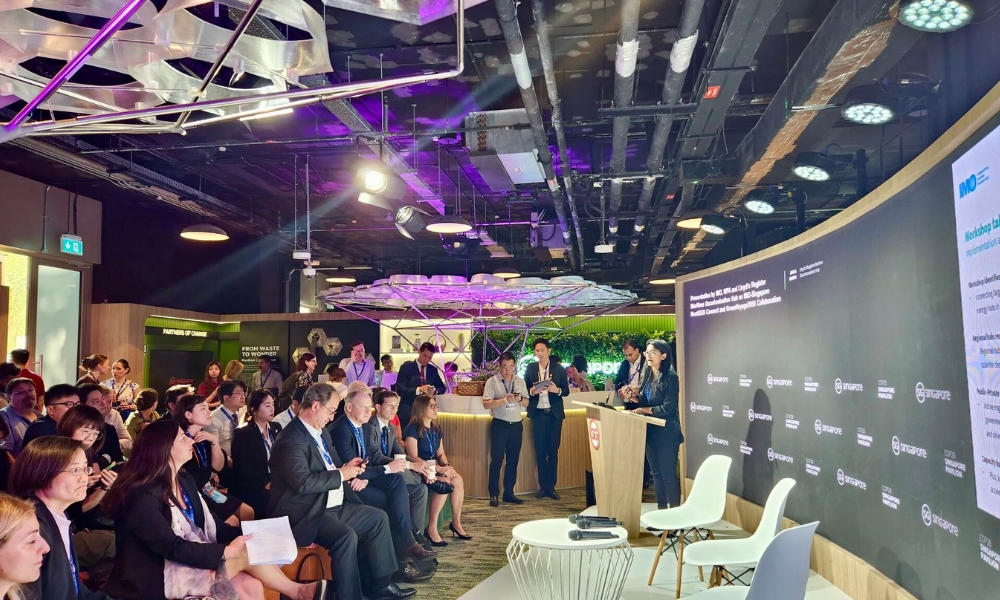 The Maritime and Port Authority of Singapore (MPA) on Thursday (7 December) said the NextGEN Connect-Green Voyage2050 Project identified a key role for regional hubs to help connect large demand clusters and remote locations, with regional fuel supply sources, in order to enable a more inclusive and effective transition to a low-carbon maritime future.
The project is a collaboration between Singapore, Norway and the International Maritime Organization (IMO).
These findings were unveiled in the Lloyd's Register Maritime Decarbonisation Hub (LR MDH) report titled Routes-based Action Plans: A Toolkit launched at the Voyage to Net-Zero Forum, which was organised by MPA, at the 28th United Nations Climate Change Conference (COP28/CMP8/CMA5) yesterday.
The report was developed following a workshop discussion that was held from 5 to 6 October 2023 in Singapore, with the participation of 40 stakeholders representing ports and National Administrations across Asia, based on the concept of the LR MDH's First Movers Framework for green corridors. The workshop simulated the process steps of the routes-based action plan methodology, addressing the limitations in its application in the wider Asian context. Additional engagements with stakeholders from the Pacific are envisaged to further refine the methodology.
"One of the key findings in our report highlighted the varying pace of decarbonisation efforts across the Asian region and the need for regional coordination among governments to establish energy clusters that will serve both as demand centres and energy producing hubs" said Charles Haskell, Director at LR MDH.
The creation of energy producing hubs includes defining a strategy that brings together demand from different countries at different developmental stages across the region to build up investment cases for implementing energy infrastructure at scale, all the while taking into consideration the economic and social benefits for local communities.
The report also emphasised that routes-based action plans should be steered by national governments to give confidence to the industry's infrastructure investment decisions, with development banks and regional funds needing to play a part to help tailor financing solutions to support infrastructure development.
"If we truly want to achieve a net-zero future where no one is left behind, we cannot focus only on existing first mover initiatives. We must also study locations where the energy infrastructure is still in its infancy", added Charles Haskell.
Essential to driving the implementation of routes-based action plans, as highlighted in the report, is the pooling of resources and capacity building to develop the business case for building the necessary infrastructure for regional hubs that include Least Developed Countries (LDCs) and Small Island Developing States (SIDS). This will require regional coordination and collaboration involving governments and all stakeholders across the maritime supply chain.
Mr. Teo Eng Dih, Chief Executive of MPA, said: "As we steer toward a sustainable maritime future, fostering a collective and inclusive approach is imperative in the development of green corridors and the energy transition to decarbonise international shipping."
"The NextGEN Connect-GreenVoyage2050 collaboration emphasises the important role of regional energy hubs in enabling the inclusive adoption of clean marine fuels, particularly for LDCs and SIDSs. MPA looks forward to continuing its collaboration with IMO, Ministry of Climate and Environment of Norway and LR MDH to pilot solutions to reduce GHG emissions from ships and drive innovative transformations in the maritime industry."
Sveinung Oftedal, Chief Negotiator of the Norwegian Ministry of Climate and Environment, said: "Separate routes for emission-free ferries and ships can play an essential role in stimulating early action to adopt zero or near-zero emission technologies and fuels, and hence are an important step towards decarbonising shipping. There is currently a significant volume of maritime traffic between Asian countries, and our workshop was a great forum to discuss opportunities the decarbonisation of maritime shipping can bring and how efforts can be linked to countries' wider energy transition."
Jose Matheickal, IMO Director of Partnerships and Projects, said: "Supporting developing countries, including SIDS and LDCs, in their efforts to implement the 2023 IMO Strategy on the Reduction of GHG Emissions from Ships is imperative to the decarbonisation of the maritime sector. IMO is pleased to provide, through this collaboration, practical support around the development and subsequent implementation of National Action Plans and route-based actions in line with IMO's MEPC RESOLUTION.366(79) that encourages Member States to undertake these voluntary actions to facilitate the achievement of greener shipping and reduced emissions."
Note: 'Routes-based action Plans: a toolkit' can be found here. 
Photo credit: Maritime and Port Authority of Singapore
Published: 8 December, 2023