Interview: Headway Technology Group charts maritime decarbonisation ambition with portfolio expansion
Headway will launch a new fuel supply system suitable for alternative bunker fuels such as hydrogen and ammonia; to focus on procurement and construction of carbon capture systems in 2023 following R&D.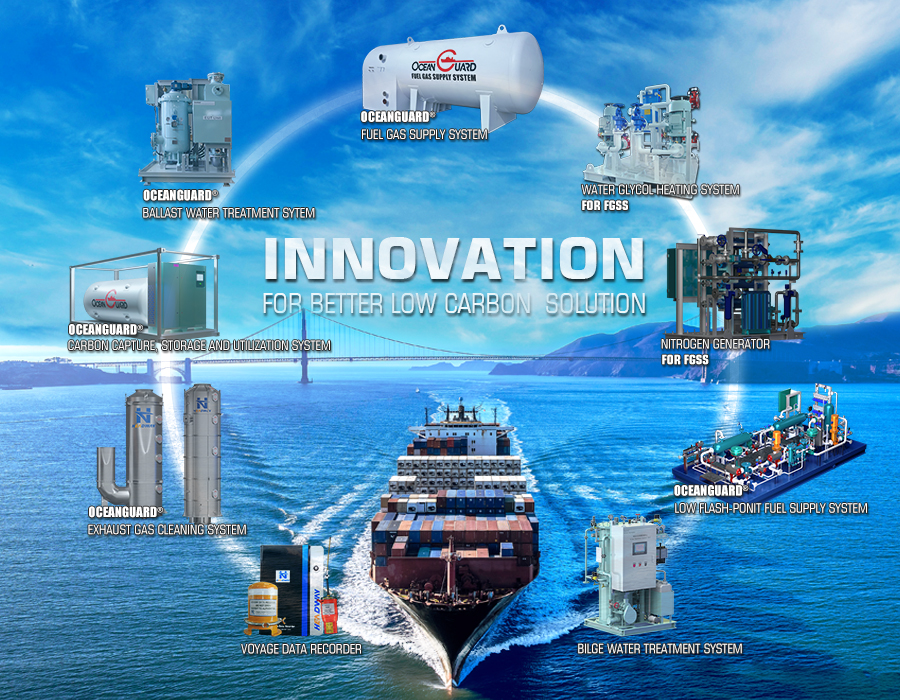 In an exclusive interview with Singapore-based bunkering publication Manifold Times, China-based maritime technology firm Headway Technology Group (Qingdao) Co., Ltd. recently shared its maritime green technology achievements for 2022, the development of a new fuel supply system for alternative bunker fuels and its forecast for maritime decarbonisation:
MT: What company milestones related to maritime decarbonisation have Headway achieved in 2022 and why are these developments significant to the company?
Green shipping has been embedded in Headway's vision and development strategy, so Headway spares no effort to help the industry accelerate its journey toward decarbonisation and has made great progress in 2022. In 2022, OceanGuard® Methanol Fuel Supply System(LFSS), developed independently by Headway, obtained the AiP certificate from RINA. In addition, Headway has established the Clean Energy Experiment Center which will focus on the R&D of clean energy technology, commercial application of R&D achievements, testing products and training etc. In the future, with the upcoming great process in the R&D of new low- and zero-carbon fuels, such as hydrogen and ammonia, Headway will launch a new fuel supply system suitable for green bunker fuels to meet the demands of the shipping industry.
Besides alternative bunker fuels, Headway also threw itself into the R&D of the traditional methods for decarbonisation over the last two years. Ship-based carbon capture technology is one of them. In 2022, OceanGuard® Carbon Capture, Storage & Utilisation (CCSU) has achieved great progress in R&D and made a big splash in its debut at SMM 2022. Many visitors paid attention because of its outstanding advantages, such as reliability, cost-effectiveness, high efficiency and so on. One point should be noted that OceanGuard® CCSU leverages the latest technology so that is only one-tenth of the size of a traditional CCSU unit while ensuring system stability. 
MT: What is the business direction and company forecast for Headway Technologies in 2023? How have earlier developments in 2022 led to its current plan for 2023?
Under the target of IMO decarbonisation, the related environmental regulations will continue to drive fleet renewal decisions by vessel owners in 2023, with methanol, ammonia and carbon capture technology among the solutions they include in their investments.
The year 2023 will bring much-anticipated methanol dual-fuel vessel orders and the global methanol-fuelled fleet will grow with a huge jump over the next two years. Headway will grab the opportunity to engage clients and provide one-stop service on the basis of Headway's advantage in this field.
In 2023, decarbonisation would come to a standstill without rapid developments in two- and four-stroke engine technology and the industry is pouring resources to underpin the R&D of engine-fueled clean energy. Therefore, Headway will invest more capital and resources to accelerate the R&D process of ammonia-fuelled supply systems to achieve more in this field.
Currently, many participants who engage in onboard carbon capture are busy with conceptual design and front-end engineering design study of the carbon capture system. This study is ongoing and is expected to be completed in the first quarter of 2023. This is the first phase and Headway has finished it before SMM 2022. In 2023, Headway will devote itself to procurement and construction of the system, including onboard experiment and commissioning.
MT: What are the differences between FGSS and EGCS manufactured by Headway as compared to other shipyards? If I am a shipowner, why will I choose products manufactured by Headway?
OceanGuard® FGSS is dependently developed by Headway and has obtained the AiP certificate from major classification societies such as DNV, BV ,RS, RINA, NK, etc. It is worth noting that the system is also the first one in the industry to obtain the SIL Functional Safety Certificate. Headway can also provide tailor-made solutions and services from initial design to commission according to the demands of clients. 
As an example, Headway utilised its experience in retrofitting a Ballast Water Management System (BWMS) to enhance installation efficiency by performing a 3D scan and design in advance during our last retrofit delivery. According to the feedback from customers, about 15% to 20% of fuel cost will be saved from the deferential price between fuel oil and LNG.
OceanGuard® EGCS is also independently developed by Headway with a comprehensive energy-saving and user-friendly system that can be customised. From the feedback of Headway's clients, three main points play a significant role when shipowners make their decision. 
Safety. OceanGuard® EGCS adopts ultra-micro atomisation technology, which overcomes the conventional disadvantages of scrubbers, such as high back pressure of the main engine, inconvenient replacement of packing, and cracks inside the tower body. This minimises scale accumulation for a long time due to the high-temperature evaporation of seawater. Scale accumulation aggravates the back pressure of the main engine and causes a series of main engine combustion problems.
Saving cost. OceanGuard® EGCS can adjust the power of the seawater pump in real time according to the real-time working conditions of the main engine, to achieve the maximum energy-saving effect and save every penny for the shipowner.
High-quality. OceanGuard® EGCS uses top European parts and spares to ensure a high quality system.
MT: What is Headway's forecast for maritime decarbonisation? What are maritime decarbonisation's greatest challenges and its possible solutions?
Concluding with one word from what we know from the customer surveys, the greatest challenge lies in "uncertainty". Agreeing with the shipping community, Headway believes we should start to take the first step instead of waiting for the one perfect solution.
Headway holds the opinion that decarbonisation can be achieved by multiple approaches, which include the solutions we are providing to the industry and several other approaches such as:
Digitalisation: Digital solutions especially with route optimisation can greatly increase energy efficiency and the technology will great benefit those vessels not ready to invest big money in decarbonisation;
EPL & ShaPoLi: It's already a common agreement that EPL or Shaft Power Limit can be the easiest way to meet EEXI requirements. The solution has many limitations, but every kilogram counts on the pathway to decarbonisation.
Drop-in Fuels: For those vessels not ready for applying alternative bunker fuels, drop-in fuels are always a great starter towards decarbonisation;
Anti-Biofouling: As mentioned by GloFouling Partnerships, a layer of slime as thin as 0.5mm covering 50% of the hull surface will lead to a 25% increase in GHG emissions;
Optimized Naval Structures: This includes many approaches including the wind deflector such as ONE Trust equipped recently;
Air-Lubrication: Air lubrication is a proven effective approach to reducing GHG emissions with minor retrofitting on the vessel;
Hydrogen/Ammonia Fuel: H2 (LH2) and NH3 are the final solutions to decarbonisation. They might take a longer time to come. Headway will proudly be there with all our customers when the time comes.
Onboard Production of Hydrogen: The technology can greatly use the onboard Methane/Methanol infrastructure to provide blue hydrogen for vessels.
MT: Which technologies are easiest for vessels to implement in order to meet IMO 2030 standards and why?
In line with the ambition of the IMO GHG Strategy, the path toward decarbonisation will include a series of different solutions as various technologies have their characteristics that greatly influence shipowners' decisions. Till now, the available solutions give two paths. The first path is combining alternative fuels with carbon capture technology. Alternative marine fuel with lower carbon content — including LNG/LPG and methanol— serves as a promising solution to preventing pollution from the source. The related technologies of the LNG/methanol fuel supply system have been well-developed and now LNG/methanol-fueled vessels have made their way to sea. However, LNG and methanol only can cut 15% emission of carbon dioxide after combustion. To meet the IMO 2030 target, carbon capture technology should be considered to avoid releasing carbon into the atmosphere. 
The first path is innovative and needs shipowners to do a lot of retrofitting to meet the requirements of vessels being fuelled with LNG and methanol, such as installing alternative fuel tanks, equipping them with LNG/methanol-fueled engines and so on. Therefore, path one is more suitable for new-building vessels but it imposes more restrictions and difficulties for existing vessels in installing alternative bunker fuel supply systems. The second path is needed to help shipowners meet the 2030 target with less retrofitting and less cost, which means installing scrubbers and a carbon capture system. With this, there is no need to retrofit the engine and fuel system as shipowners still can combust fossil fuel. 
To ensure an approach that is tailored to meet shipowners' needs, Headway remains committed to providing high-performance solutions, technical support and consultancy according to size and type of ship, route it sails, onboard space and engine type. For path one, OceanGuard® FGSS and LFSS can meet shipowners' need for alternative bunker fuel supply systems and OceanGuard® CCSU can capture carbon from the combustion of LNG and methanol. For path two, OceanGuard® EGCS is capable of absorbing SOx from the combustion of fossil oil. In the future, Headway will play more roles in helping the marine industry sail towards net zero.
MT: What initiatives have China introduced to help vessels meet IMO 2030 emissions standards and what is the timeline for them?
According to the CCS report, Outlook of Shipping Low Carbon Development, China has been taking decarbonisation as a major task during development via an initiative made back on 14 October 2021. This development focuses on reaching the CO2 Emissions Peak before 2030 and achieving carbon neutrality before 2060 (aka 3060) as targeted in September 2020. In order to accord with the timeline, China is empowering the transport sector to a "Low-carbon" path: By 2030, 40% of the new-built transportation should be powered by clean energy, and the carbon intensity of transportation should drop by 9.5% compared to the level of 2020. Also, facilities providing LNG, methanol, and hydrogen are under schematisation.
Photo credit: Headway Technology Group
Published: 21 February, 2023
China Shipping & Sinopec Suppliers completes first biofuel bunkering op of passenger ship in Dalian
Firm successfully refuelled passenger ship "Chang Shan Dao" owned by Cosco Shipping Ferry with B24 bio bunker fuel on 29 November at Dalian Cruise Port.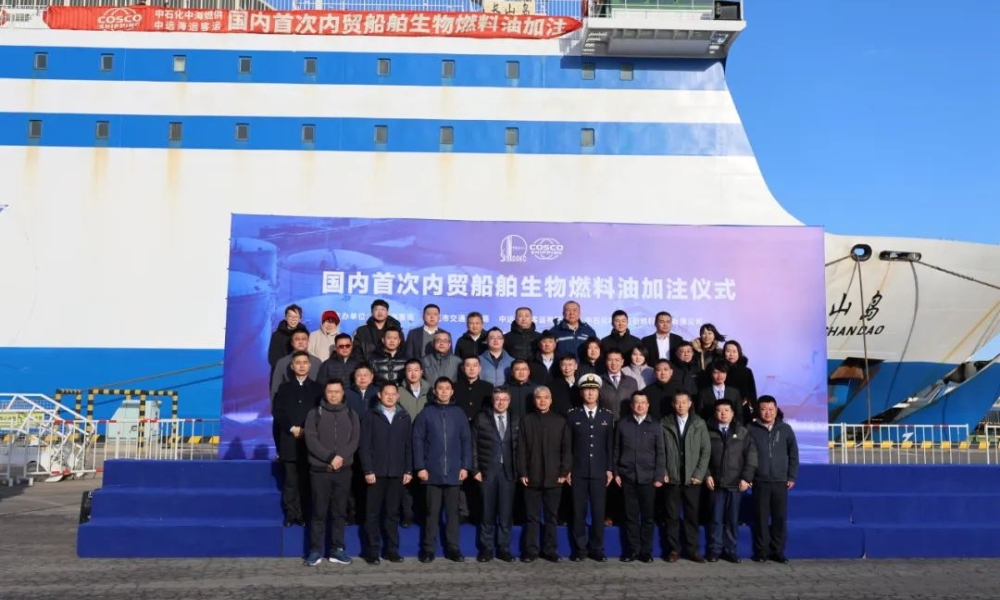 China Shipping & Sinopec Suppliers Co., Ltd. on Wednesday (29 November) successfully refuelled passenger ship "Chang Shan Dao" owned by Cosco Shipping Ferry Co., Ltd. with B24 bio bunker fuel at the Dalian Cruise Port.
The occasion marked the first biofuel bunkering operation for passenger ships in China.
The B24 biofuel oil used was blended with 24% biofuel and 76% conventional low-sulphur fuel oil.
Sinopec China Shipping Fuel Supply, which is responsible for the bunkering operation, is a bunker supply firm jointly established by Sinopec Group and COSCO Shipping Group.
According to Li Zhi, Deputy Party Secretary and Deputy General Manager of China Shipping & Sinopec Suppliers Co., Ltd., the biofuel bunkering business is another step in the company's active business of the group's development strategy.
The bunkering operation after the firm completed the first bonded biofuel bunkering operation of a domestic ship on 7 September. 
Disclaimer: The above article published by Manifold Times was sourced from China's domestic market through a local correspondent. While considerable efforts have been taken to verify its accuracy through a professional translator and processed from sources believed to be reliable, no warranty is made regarding the accuracy, completeness and reliability of any information.
Photo credit: China Shipping & Sinopec Suppliers
Published: 8 December, 2023
Singapore, Tianjin to pilot and trial alternative bunker fuels following shipping corridor MoU
Singapore – Tianjin Green and Digital Shipping Corridor will serve as a valuable testbed for both countries to pilot and trial digital solutions, alternative fuels and technologies, amongst others.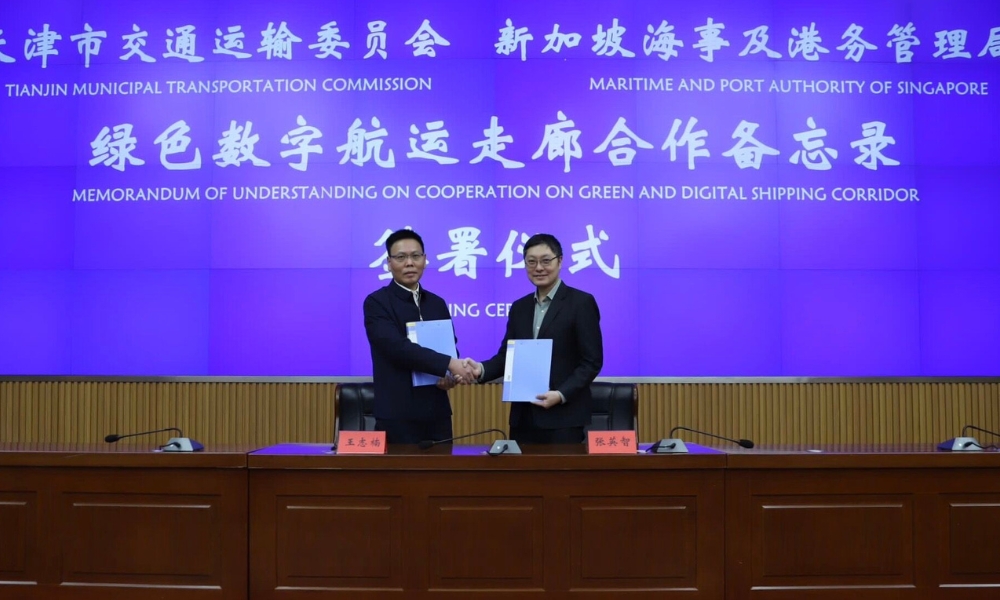 The Maritime and Port Authority of Singapore (MPA) and the People's Republic of China's Tianjin Municipal Transportation Commission on Wednesday (6 December) signed a memorandum of understanding (MoU) to establish the Singapore – Tianjin Green and Digital Shipping Corridor.
Mr Teo Eng Dih, Chief Executive, MPA, and Mr Wang Zhinan, Director General, Tianjin Municipal Transportation Commission, signed this MoU.
The MoU marked the first Green and Digital Shipping Corridor established between Singapore and China to support the decarbonisation, digitalisation and growth of the maritime industry between Singapore and the Bohai Region.
The Singapore – Tianjin Green and Digital Shipping Corridor will serve as a valuable testbed for both countries to pilot and trial digital solutions, alternative bunker fuels and technologies, and facilitate talent development to support the decarbonisation and digitalisation of shipping. 
Singapore and Tianjin will work with the research community, the institutes of higher learning, and industry stakeholders such as shipping lines, port operators, shipbuilders, classification societies, and bunker suppliers to enable more efficient port clearance through digital exchanges, encourage the offtake of zero or near-zero greenhouse gas emission fuels and adoption of new fuel technologies, spur innovation and support the growth of the maritime startups community, and facilitate manpower training and professional development.
The establishment of the Singapore – Tianjin Green and Digital Shipping Corridor reaffirms the strong commitment by Singapore and Tianjin to accelerate maritime decarbonisation and digitalisation. Singapore will also be exploring the establishment of similar collaboration with other maritime and port ecosystems within China.
Photo credit: Maritime and Port Authority of Singapore
Published: 8 December, 2023
Report highlights routes-based action plan methodology to accelerate uptake of clean bunker fuels
NextGEN Connect-GreenVoyage2050 collaboration, which includes Singapore, emphasises the important role of regional energy hubs in enabling the inclusive adoption of clean marine fuels.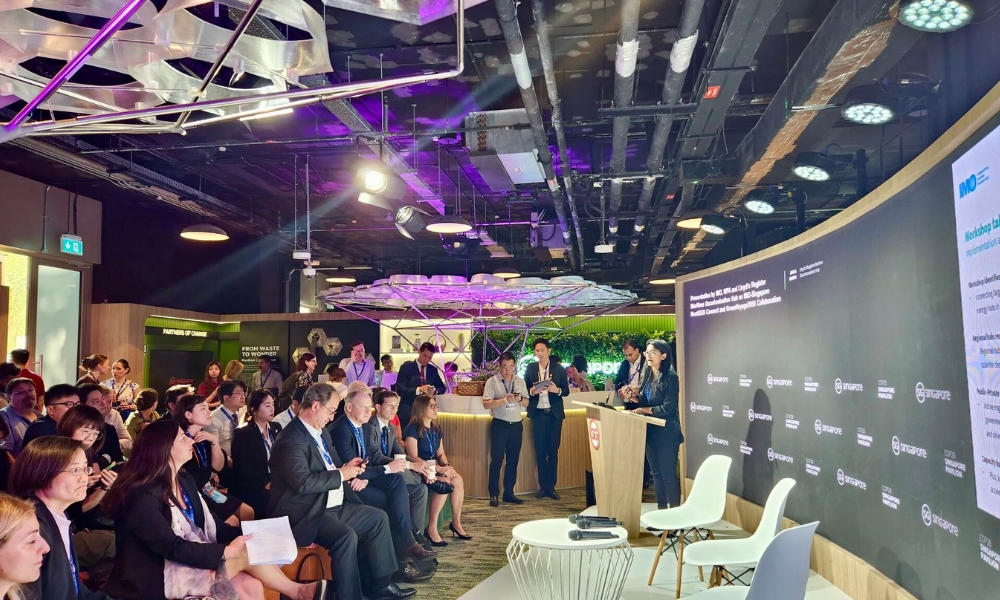 The Maritime and Port Authority of Singapore (MPA) on Thursday (7 December) said the NextGEN Connect-Green Voyage2050 Project identified a key role for regional hubs to help connect large demand clusters and remote locations, with regional fuel supply sources, in order to enable a more inclusive and effective transition to a low-carbon maritime future.
The project is a collaboration between Singapore, Norway and the International Maritime Organization (IMO).
These findings were unveiled in the Lloyd's Register Maritime Decarbonisation Hub (LR MDH) report titled Routes-based Action Plans: A Toolkit launched at the Voyage to Net-Zero Forum, which was organised by MPA, at the 28th United Nations Climate Change Conference (COP28/CMP8/CMA5) yesterday.
The report was developed following a workshop discussion that was held from 5 to 6 October 2023 in Singapore, with the participation of 40 stakeholders representing ports and National Administrations across Asia, based on the concept of the LR MDH's First Movers Framework for green corridors. The workshop simulated the process steps of the routes-based action plan methodology, addressing the limitations in its application in the wider Asian context. Additional engagements with stakeholders from the Pacific are envisaged to further refine the methodology.
"One of the key findings in our report highlighted the varying pace of decarbonisation efforts across the Asian region and the need for regional coordination among governments to establish energy clusters that will serve both as demand centres and energy producing hubs" said Charles Haskell, Director at LR MDH.
The creation of energy producing hubs includes defining a strategy that brings together demand from different countries at different developmental stages across the region to build up investment cases for implementing energy infrastructure at scale, all the while taking into consideration the economic and social benefits for local communities.
The report also emphasised that routes-based action plans should be steered by national governments to give confidence to the industry's infrastructure investment decisions, with development banks and regional funds needing to play a part to help tailor financing solutions to support infrastructure development.
"If we truly want to achieve a net-zero future where no one is left behind, we cannot focus only on existing first mover initiatives. We must also study locations where the energy infrastructure is still in its infancy", added Charles Haskell.
Essential to driving the implementation of routes-based action plans, as highlighted in the report, is the pooling of resources and capacity building to develop the business case for building the necessary infrastructure for regional hubs that include Least Developed Countries (LDCs) and Small Island Developing States (SIDS). This will require regional coordination and collaboration involving governments and all stakeholders across the maritime supply chain.
Mr. Teo Eng Dih, Chief Executive of MPA, said: "As we steer toward a sustainable maritime future, fostering a collective and inclusive approach is imperative in the development of green corridors and the energy transition to decarbonise international shipping."
"The NextGEN Connect-GreenVoyage2050 collaboration emphasises the important role of regional energy hubs in enabling the inclusive adoption of clean marine fuels, particularly for LDCs and SIDSs. MPA looks forward to continuing its collaboration with IMO, Ministry of Climate and Environment of Norway and LR MDH to pilot solutions to reduce GHG emissions from ships and drive innovative transformations in the maritime industry."
Sveinung Oftedal, Chief Negotiator of the Norwegian Ministry of Climate and Environment, said: "Separate routes for emission-free ferries and ships can play an essential role in stimulating early action to adopt zero or near-zero emission technologies and fuels, and hence are an important step towards decarbonising shipping. There is currently a significant volume of maritime traffic between Asian countries, and our workshop was a great forum to discuss opportunities the decarbonisation of maritime shipping can bring and how efforts can be linked to countries' wider energy transition."
Jose Matheickal, IMO Director of Partnerships and Projects, said: "Supporting developing countries, including SIDS and LDCs, in their efforts to implement the 2023 IMO Strategy on the Reduction of GHG Emissions from Ships is imperative to the decarbonisation of the maritime sector. IMO is pleased to provide, through this collaboration, practical support around the development and subsequent implementation of National Action Plans and route-based actions in line with IMO's MEPC RESOLUTION.366(79) that encourages Member States to undertake these voluntary actions to facilitate the achievement of greener shipping and reduced emissions."
Note: 'Routes-based action Plans: a toolkit' can be found here. 
Photo credit: Maritime and Port Authority of Singapore
Published: 8 December, 2023