Integr8 Fuels: Off spec issue with MGO equally likely to occur as with HSFO
In its Bunker Quality Trends Report Q3 2023, Integr8 highlighted that the industry is equally likely to face an off specification issue with MGO as with HSFO, with VLSFO being one third less likely.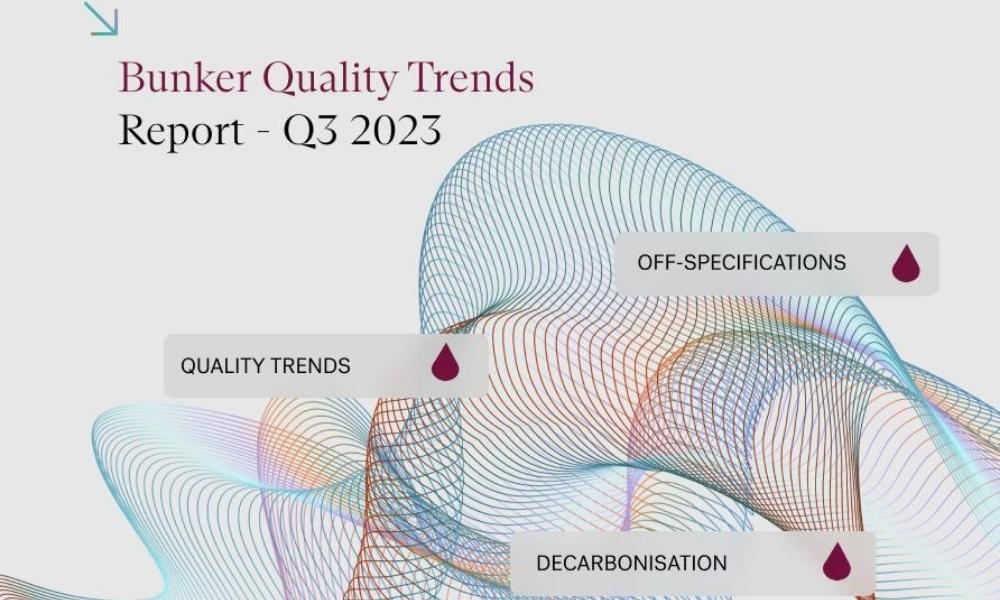 Integr8 Fuels, the bunker trading and brokerage arm of Navig8, on Tuesday (7 November) released its Bunker Quality Trends Report Q3 2023, analysing data from 120 million metric tons of supply, to reveal key trends relating to fuel quality and availability. An excerpt of the report is as follows:
Introduction: Challenges fueling change
As we come to the end of another year in the world of bunkers that seems to have passed with the blink of an eye, our minds shift towards the challenges on the horizon and how as an industry we need to embrace change to profit and succeed in the future.
This is the third Integr8 Fuels quality report covering the last six months of supplies globally where we again dissect and compare the likelihood of hidden losses and off specification issues across all commercial grades of bunkers and key ports.
Using 'best in class' available data from over 120 million metric tons (MT) of deliveries globally across 1,300 locations and from over 800 suppliers, we will also assess fuel quality trends using our own Integr8 Quality Index which scores the proximity (or otherwise) of individual parameters within each sample to the relevant table 1 or table 2 specification limits within ISO 8217.
Finally, given the context of the incoming changes we will consider some of the challenges that decarbonisation and verification of emissions will bring to the industry.

Part 1: Off specification frequencies
How likely are we to be faced with an off specification situation?
In the last 180 days, owners' analysis available to Integr8 Fuels has highlighted that you are equally likely to have an off specification issue with marine gas oil (MGO) as with high sulphur fuel oil (HSFO) with very low sulphur fuel oil (VLSFO) being one third less likely (see figure 1).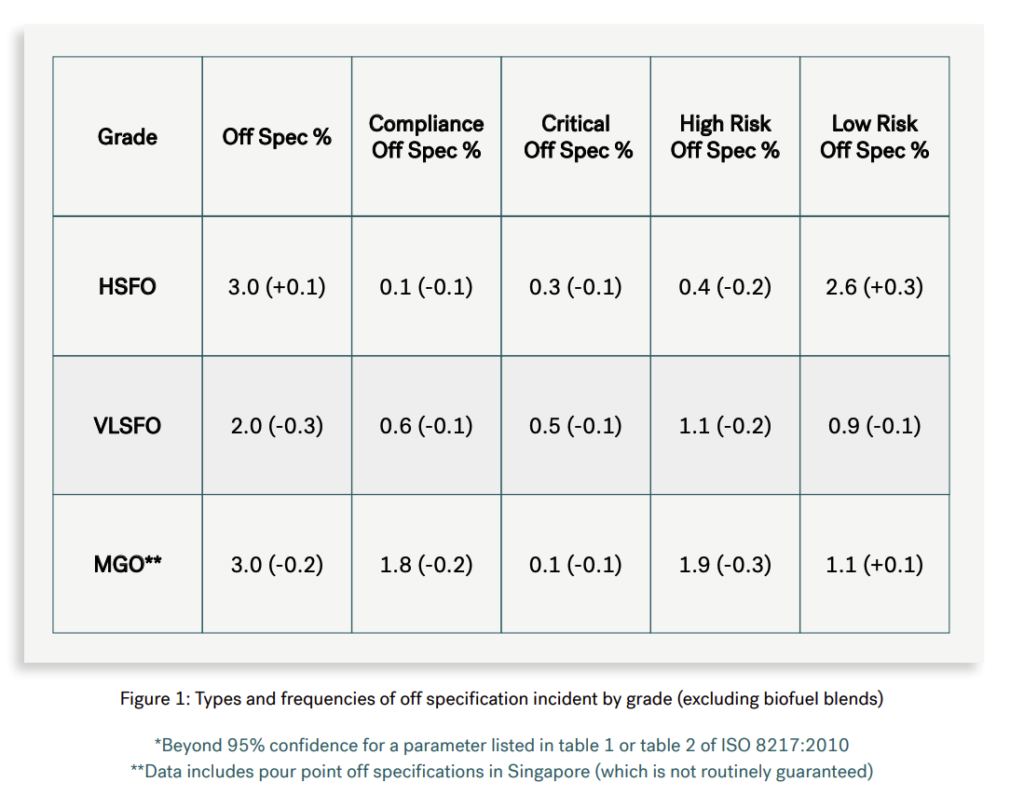 What is the likelihood of receiving noncompliant or critically off spec bunkers?
It is always important to consider the context of the off specification incidents.
To do this it is essential to consider the likelihood of MARPOL Annex VI (sulphur) or SOLAS (flash point) infractions and the likelihood of critical off specification incidents such as cat fines, total sediment potential, used lubricating oils, sodium and ash content (high risk) against routine and easily rectifiable off specification issues classified "low risk" such as a high viscosity in HSFO.
The rule of thumb when comparing off specification incidents by grade is that the parameters targeted in any blending model are the most likely to be outside the specification.
For example, VLSFOs are targeted on sulphur, with the price difference for 50,000MT of fuel with a sulphur content of 0.49 compared to 0.45 possibly equating to hundreds of thousands of dollars. It's hardly surprising, therefore, that both VLSFO and MGO, both of which are blended to a sulphur target, have more prevalence of MARPOL Annex VI non-compliances at 0.5% and 0.1% respectively.
However, MARPOL Annex VI is not the only compliance issue - we cannot ignore the requirement for flash point being 60°C or above as demanded by SOLAS. Indeed, off specification flash point, particularly with LSMGO, may be an unintended consequence of pulling low sulphur automotive or inland grades into the bunker pool as identified later in this paper.
High risk off specification incidents, defined as the total of both compliance and high risk off specifications, are seen to be most prevalent in MGO followed by VLSFO and, finally, HSFO. In fact, if you strip out compliance off specification, incidents relating to total sediment potential (TSP), aluminium and silicon (Al+Si) etc. for residual grades are very low indeed.
That said, there are many nuances, from region to region, to port-to-port, and even supplier-to-supplier at the same location. It therefore remains essential to consider these when buying bunkers and we will address some of the challenges later in the paper.
Availability of products (September 2023)
Unsurprisingly, marine gas oil is the most available product (640 ports) given the ability to substitute and supply higher quality inland or automotive grades and logistical ease of supplying what are quite often small quantities.
VLSFO is also seen to be readily available across all continents but at 28% fewer ports (458
ports), this because of larger quantities being ordered and the storage and barge infrastructure to support these supplies in general.
High sulphur fuel oil is the only product which is not readily available, with only 231 ports listed as of September 2023 (see figure 2). HSFO availability is centered around bunkering hubs and geographically key areas likely to receive passing trade from VLCCs and / or other scrubber fitted sectors. It is important, therefore, to plan carefully for HSFO and consider the type of scrubber fitted to the vessel along with any local limitations in forthcoming voyages that may require a fuel switch to LSMGO, for example.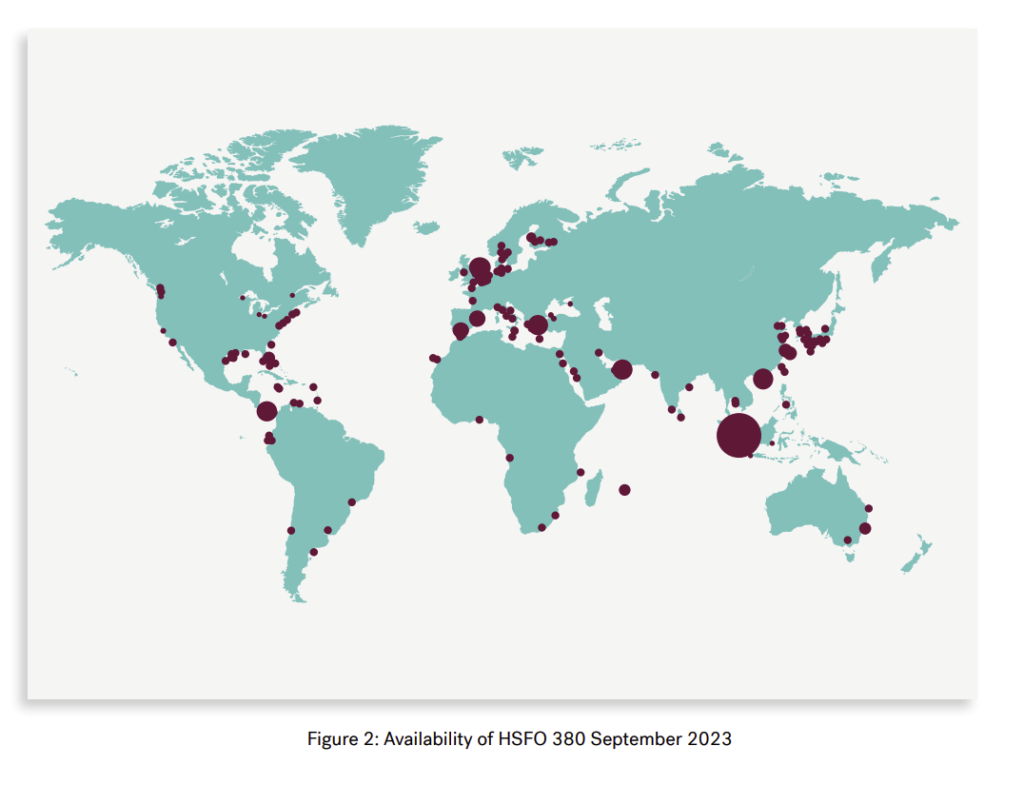 Biofuel blends
Data is now becoming available for tests of identified biofuels supplied globally and whilst this is still very small in comparison with conventional fuels, it is clear to see the apparent void stretching from Singapore to Europe currently present.
Moreover, we are not currently able to comment on the sustainability of the biofuels being supplied but  can confidently predict that Indonesia fuels, for example, will likely be sourced from palm oil and would not satisfy a verifier of emissions. ARA, and in particular Rotterdam, is seen to be the epicenter of supply in Europe given the current subsidies available in the Netherlands. VLSFO blends are almost exclusively limited to bunker hubs.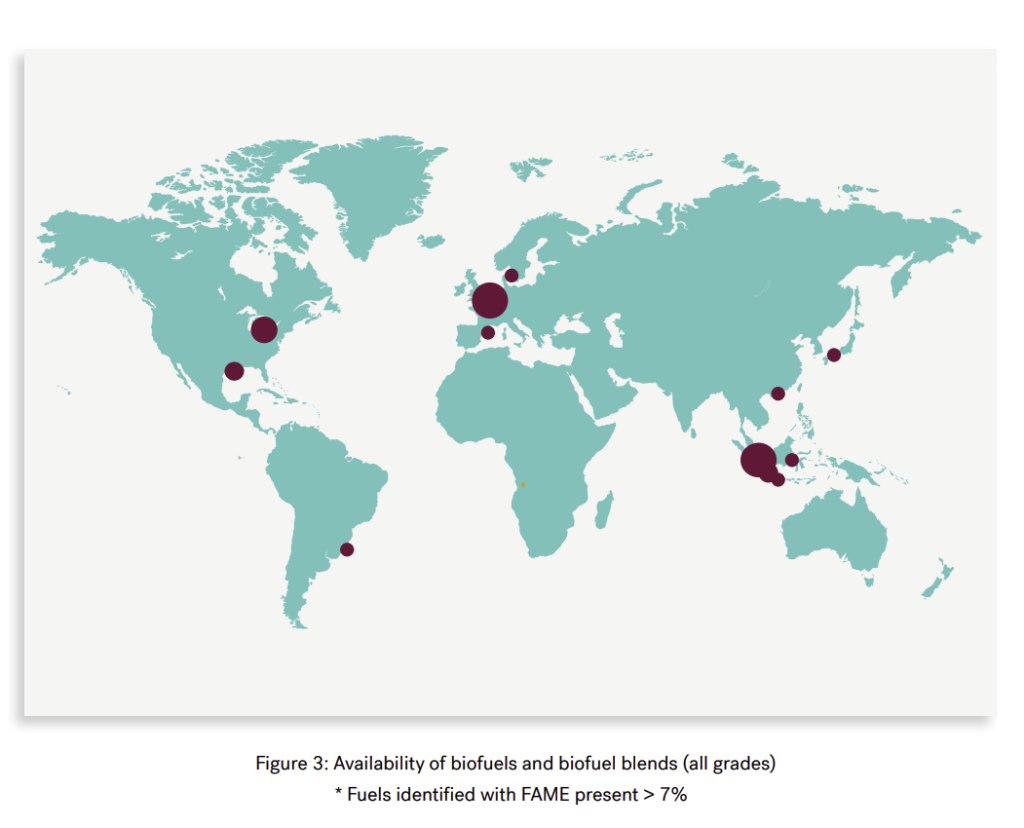 Which specifications are being traded?
Even as we eagerly anticipate the new version of ISO 8217 hopefully expected in early 2024, we continue to work in the past when it comes to the specifications we buy and sell on a day-to-day basis.
The scale of the challenge can be laid bare by considering the charts below, (figures 4 and 5), which identify the split of residual and distillate ISO 8217 grades traded by product group in the last 180 days.
Residual Fuels
Just over one quarter of trades are guaranteed to the latest version of the specification (2017) which is virtually unchanged compared to previous figures.
Distillate Fuels
In the case of MGO, only 18% of fuels traded were sold as 2017 fuels in the last 180 days, slightly less than previous. A very slight reduction in 2005 fuels was noted from 11% to 9%, however it is worth remembering that this specification is nearly 19 years old.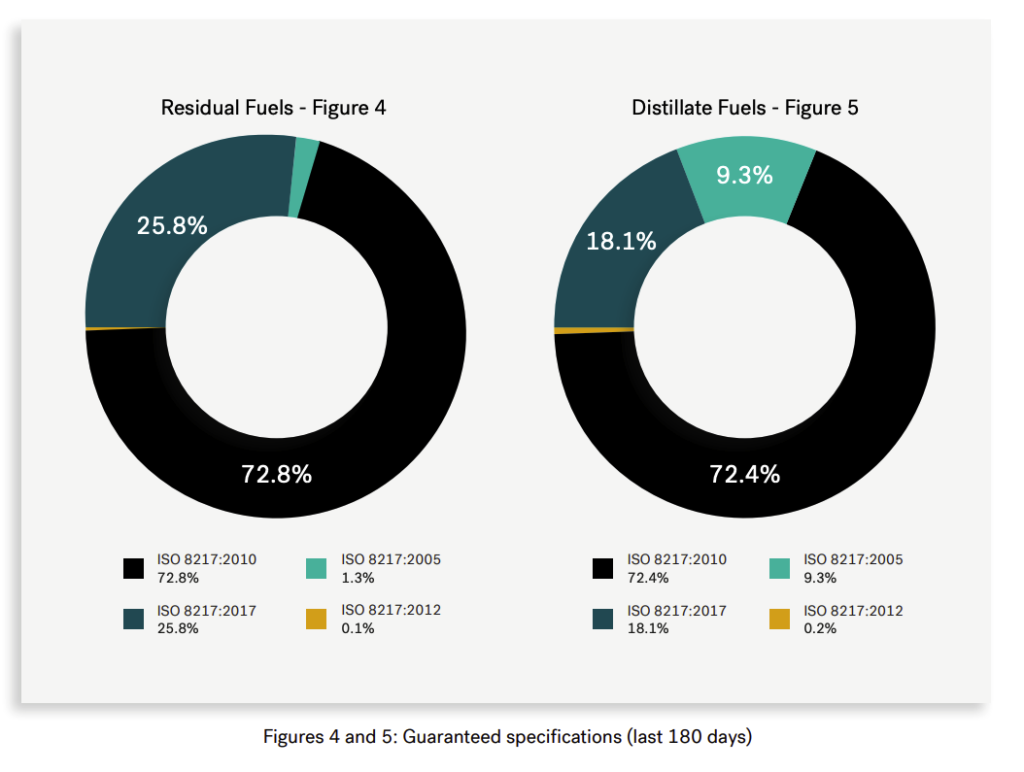 Note: The full report of Integr8 Fuels' Bunker Quality Trends Report Q3 2023 can be found here.
Photo credit: Integr8 Fuels
Published: 15 November 2023
Singapore, LA and Long Beach unveil Partnership Strategy for Pacific Ocean green and digital shipping corridor
Ports and C40 have commissioned a study to analyse trade flows and vessel traffic between the three locations as well as estimate quantity of near-zero/zero-emission bunker fuels required for this traffic.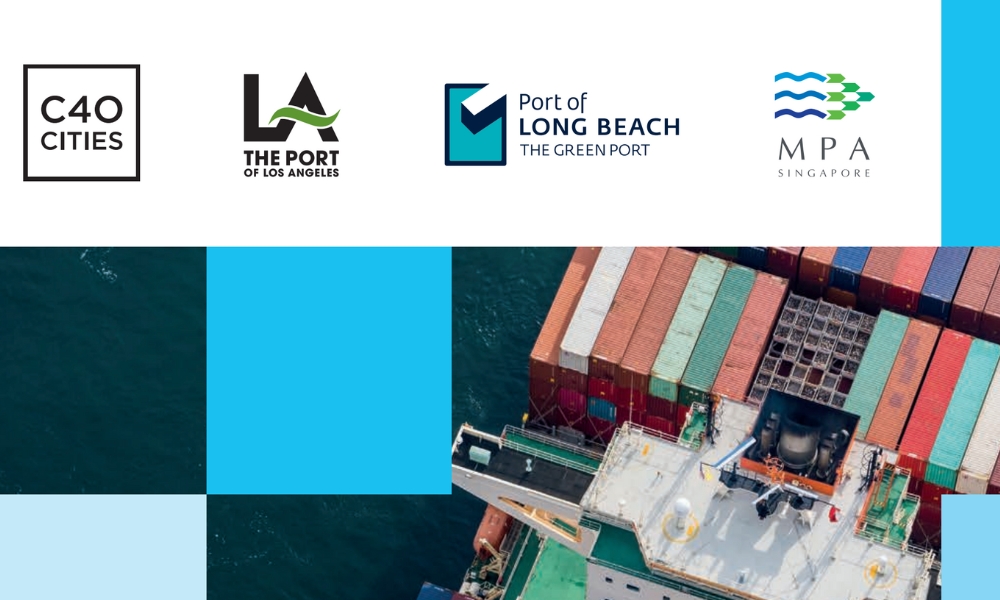 The Maritime and Port Authority of Singapore (MPA), Port of Los Angeles (POLA) and Port of Long Beach (POLB) on Wednesday (6 December) unveiled a Partnership Strategy for a green and digital shipping corridor (GDSC) across the Pacific Ocean at the 28th United Nations Climate Change Conference.
The release of the Partnership Strategy follows the signing of a memorandum of understanding (MoU) by MPA, POLA and POLB during Singapore Maritime Week in April 2023. The MoU formalised the partnership, which is supported by C40 Cities, with the aim of establishing a GDSC connecting the three global hub ports.
The scope of cooperation through the Partnership Strategy and success indicators specified within build upon the MoU signed in April 2023 and reaffirm the corridor partners' commitment to drive global action to digitalise and decarbonise the shipping industry and improve efficiencies.
The GDSC Strategy outlines steps to accelerate decarbonisation of the maritime shipping industry by enabling first mover organisations to achieve net-zero greenhouse gas emissions by the earliest feasible date, in support of the goals defined by the 2023 International Maritime Organization's Strategy on Reduction of GHG Emissions from Ships. The ports and C40 will work together and with value-chain stakeholders from the fuel and maritime sectors to:
● Coordinate decarbonisation efforts: GDSC partners will help to catalyse and coordinate efforts to enable ships calling at the Port of Singapore, Port of Los Angeles and Port of Long Beach to achieve net-zero greenhouse gas emissions by the earliest feasible date.
● Build consensus on green shipping best practices: GDSC partners will seek to establish consensus around green shipping best practices and standards.
● Improve access to and adoption of technology and digital solutions: To enhance supply chain efficiency, resilience and decarbonisation while reducing costs and improving reliability, GDSC partners will work to develop and deploy innovative technology and digital solutions.
● Leverage networks: GDSC partners will work with stakeholders involved in other green shipping initiatives, including those established by the three ports and other parties, to scale the uptake of zero and near-zero emission technologies, fuels and energy sources.
To achieve these aims, a partnership structure and governance mechanism have been developed to provide clarity on the roles and responsibilities of GDSC partners. The strategy also outlines processes for onboarding new participants, financial management, confidentiality and decision-making.
As next steps, the ports and C40 have commissioned a study to analyse trade flows and vessel traffic between Singapore, Los Angeles and Long Beach. The study will estimate the quantity of near-zero and zero-emission fuels required for this traffic, and guide implementation by identifying opportunities for collaboration to advance the development of the GDSC.
The founding partners will now engage stakeholders from across the shipping and fuel supply value chains that share the GDSC's vision and aims, with the intention of onboarding new corridor participants in 2024.
Mr Teo Eng Dih, Chief Executive of MPA, said: "We are excited to see this partnership grow from strength to strength with the Green and Digital Shipping Corridor Partnership Strategy. We have embarked on evaluating the various digital solutions and zero and near-zero fuels options that could be trialled along the route between Singapore and the San Pedro Bay Port Complex. We look forward to the support of all the corridor stakeholders over the coming months to conduct trials and potentially scale them for wider adoption."
"This Partnership Strategy document is the foundation upon which we'll build the future of maritime shipping," Port of Los Angeles Executive Director Gene Seroka said. "Our success requires the resolve and dedication of the three partnering ports as well as our industry partners. Together, we will model the collaboration necessary to achieve our climate and efficiency goals."
"Over the last two decades, we've learned that collaboration between maritime industry partners is the key to making meaningful progress in reducing emissions and cleaning the air,"Port of Long Beach CEO Mario Cordero said. "This trans-Pacific green shipping corridor takes this concept global. The strategies we develop here can be used as a roadmap by a larger network of seaports and supply chain companies to invest in programs, technologies, software and infrastructure to decarbonize international trade everywhere."
C40 Executive Director Mark Watts, said: "C40 is proud to support our port partners in delivering this Partnership Strategy. The advancement of this Green and Digital Shipping Corridor brings the shipping sector one step closer to a 1.5°C-aligned trajectory. Green shipping is only achievable through collaboration because no one stakeholder can afford to move unless they know others are likely to follow. That's where C40 is delighted to help, bringing our network of world-leading cities, which include most of the world's largest and most forward-looking ports."
Note: The Partnership Strategy document can be viewed here. 
Photo credit: Maritime and Port Authority of Singapore
Published: 7 December, 2023
PIL and DP World embark on biofuel bunkering trials at Jebel Ali Port
Both parties will collaborate on trial shipments between Jebel Ali Port in Dubai and destinations within PIL's network in near term which will include shipments on PIL's vessels powered by a biofuel blend.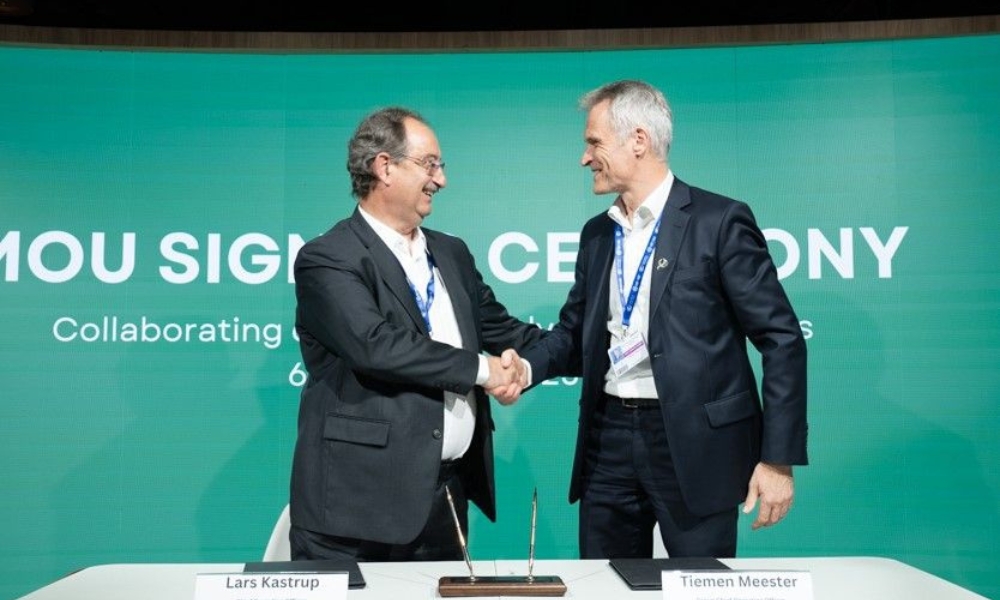 Singapore-based container operator Pacific International Lines (PIL) on Wednesday (6 December) said it signed a Memorandum of Understanding (MOU) with DP World, which handles around 10% of the world's container trade, to jointly develop green solutions to decarbonise global supply chains.
In the near term, both parties will collaborate on trial shipments between Jebel Ali Port in Dubai and destinations within PIL's network, with initiatives to reduce the shipments' GHG footprint. This will include shipments on PIL's vessels powered by a biofuel blend, biofuel bunkering, and deploying container handling equipment at terminals that run on renewable energy to handle the shipments.
Over the longer term, the companies will explore expanding this partnership to include other ports within DP World's global network, and using other alternative bunker fuels, such as e-LNG, green methanol or green ammonia in PIL's vessel operations and bunkering.
It was signed by Mr Lars Kastrup, Chief Executive Officer, PIL and Mr Tiemen Meester, Group Chief Operating Officer, Ports & Terminals, DP World, at the UN Climate Change Conference (COP28) in Dubai, United Arab Emirates (UAE), conveying their commitment to combating climate change and the collective goal of achieving net zero greenhouse gas (GHG) emissions by 2050 or earlier.
Mr Lars Kastrup, Chief Executive Officer, PIL said: "Supply chain resilience and sustainability is the bedrock of global trade growth. With the renewed commitment by the International Maritime Organisation (IMO) this year to take a significant step forward to decarbonise the shipping industry, we at PIL are responding actively to IMO's call and working to invest in and implement green solutions to achieve our target of achieving net zero by 2050. In this regard, we are pleased to have DP World joining us on our sustainability journey. Capitalising on the combined strengths of our two organisations, we can both augment our sustainability efforts as we co-develop solutions to decarbonise our supply chains."
Mr Tiemen Meester, Group Chief Operating Officer, Ports & Terminals, DP World, said: "Decarbonisation is the single biggest concern for DP World outside the constraints and the physical movement of goods. So, we are transforming our business and the impact global trade has on the climate. We have already committed to becoming carbon-neutral by 2040 and achieving net-zero carbon emissions by 2050. But we must explore partnerships with companies that share our ambitions and technology to be deployed right now for quicker results."
Photo credit: DP World
Published: 7 December, 2023
DNV awards AiP to China Merchants Jinling Shipyard for world's largest PCTC design
DNV has awarded an Approval in Principle certificate to China Merchants Jinling Shipyard (Nanjing) for its 11,000-CEU capacity LNG-fuelled PCTC design at Marintec China trade fair.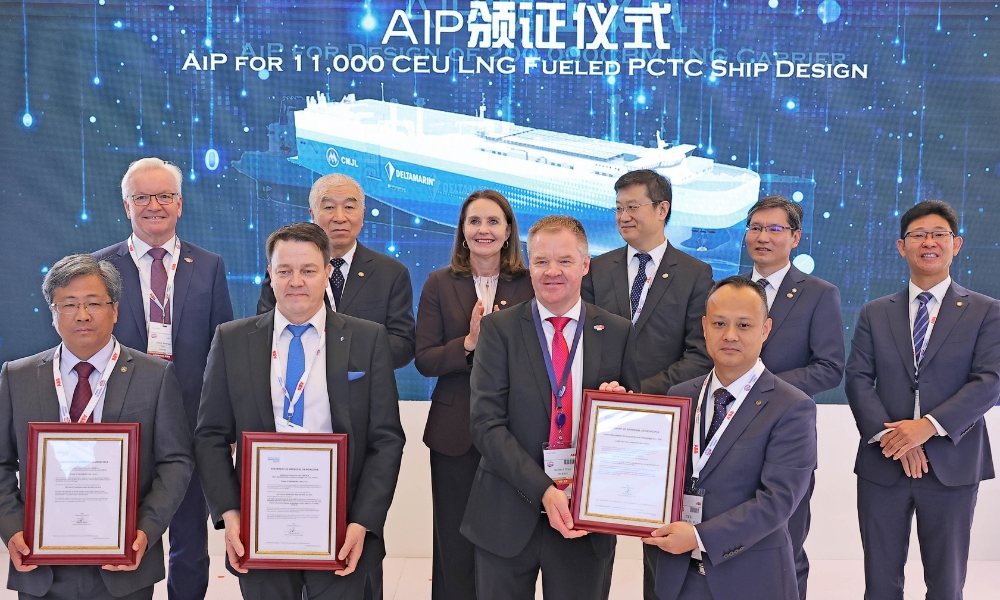 Classification society DNV on Wednesday (6 December) said it has awarded an Approval in Principle (AiP) certificate to China Merchants Jinling Shipyard (Nanjing) Co., Ltd. for its 11,000-CEU capacity LNG-fuelled pure car and truck carrier (PCTC) design at the Marintec China trade fair.
Recognized as the world's largest PCTC, the 234m long and 40m wide ship will have 14 decks allowing 11,000 car equivalent units (CEUs) to be stored simultaneously, which not only increases efficiency but also reduces the transport cost per vehicle.
By implementing a combination of decarbonization measures, the so-called "Super Large Smart Green 11,000" design will result in a significant reduction in carbon emissions, in line with the stringent requirements of the Energy Efficiency Design Index (EEDI) Phase 3 and NOx Tier III. The PCTC will use LNG as its primary fuel and will be equipped with a 4,200cbm LNG storage tank.
With the assistance of ship designer Deltamarin, the hull line of the vessel has been optimised through numerous CFD calculations and ship model tests. Additional energy-saving features include a stern flow optimization device and an air lubrication system, which effectively minimise resistance and reduce the required propulsion power. The integration of hybrid propulsion systems and solar power further underlines the commitment to reducing energy consumption.
"We expect the market for electric vehicles to continue to grow, driving demand for PCTCs. Scale, energy efficiency and low carbon fuel are key to reducing emissions from the transport of these vessels. As a leading class for car carriers, DNV is honoured to be entrusted with the assessment of this next generation of car carriers and we look forward to working with China Merchants to bring these vessels to the water," said Norbert Kray, Regional Manager Greater China at DNV Maritime.
According to China Merchants, the shipyard is already in discussions with potential customers for the 11,000 CEU PCTC.
Photo credit: DNV
Published: 7 December, 2023