DNV: Demand for greener supply chain boosts PCTC newbuild market in China
Recent deliveries prove the operability and efficiency of new technologies and alternative bunker fuels such as LNG; latest orders and designs invest in ammonia- and methanol-ready solutions.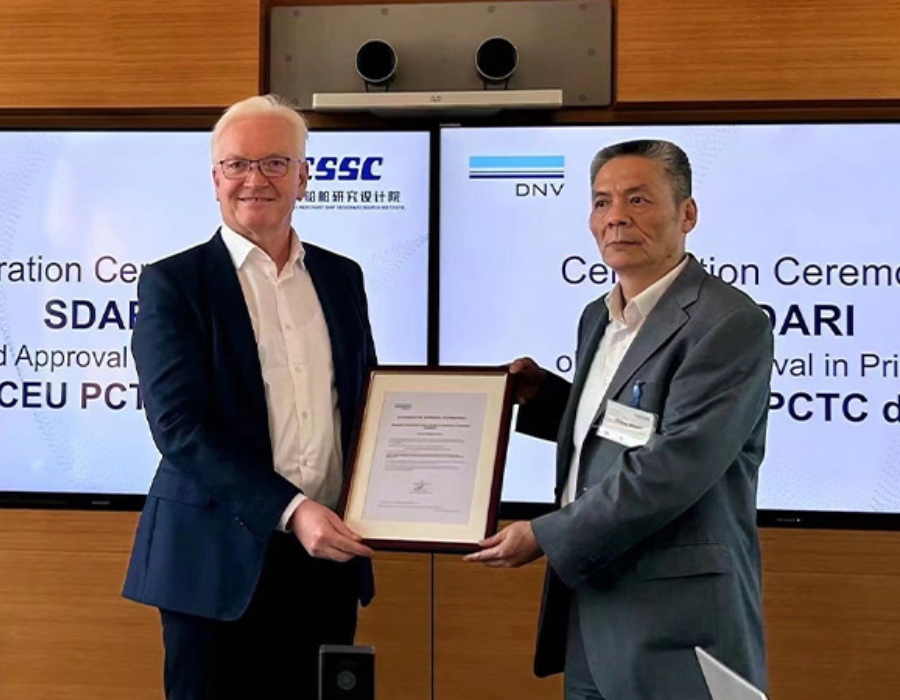 Classification society DNV on Tuesday (7 March) released a Maritime Impact article regarding the pure car and truck carrier (PCTC) market booming again after a five-year drought in newbuild orders, with a majority contracted to Chinese shipyards.
According to DNV, recent deliveries prove the operability and efficiency of new technologies and alternative fuels such as LNG. Latest orders and designs invest in ammonia- and methanol-ready solutions too:
Data from Clarkson shows this niche area is outperforming the rest of the shipping market, with 38 newbuild PCTCs ordered in 2021 and 90 more in 2022. The rise rests on several factors: limited shipping capacity, an increase in trade of vehicles since late 2020, the quest for greener supply chain solutions, particularly from electric vehicle manufacturers, and demand to replace traditional-fuelled PCTCs with those that meet IMO's environmental regulations.
China dominates global PCTC construction, with over 85% of orders placed
Most newbuild orders centre on eight Chinese shipyards: CSSC's Jiangnan Shipyard, Guangzhou Shipyard International (GSI) and Shanghai Waigaoqiao Shipbuilding; China Merchants' Nanjing Jinling, Jinling Weihai and Heavy Industry (Jiangsu) (CMHI) shipyards; Fujian Shipbuilding Group's Xiamen Shipbuilding Industry Co. (XSI); and Yantai CIMC Raffles.
Technical requirements call for advanced engineering skills
The technical requirements for PCTC construction, such as proper control of weight and deformation and experience in LNG, methanol and ammonia fuel systems, have increased the entry barriers for shipyards.
William Zhou, GSI Vice President, explains that Chinese shipyards' striving to improve technology and craftsmanship quality in preparation for these advanced ship orders enabled them to emerge as clear winners.
He says GSI has continually invested in research and innovation, grown its technical and engineering teams, and widened its expertise and experience in alternative fuels. GSI is now a leading shipyard building advanced green ships such as PCTCs, RoPax ferries, semi-submersibles and ice vessels propelled by new energies. Its order book has over 20 PCTCs, with delivery dates through to 2025.
Recent PCTC deliveries proved shipbuilding excellence
Zeng Zhi, DNV's ship type expert for PCTCs in Greater China, says the proven quality of previously delivered PCTCs, such as Jinling's 6700 series for Gram Car Carriers, XSI's 8500 series for Höegh and Jiangnan's DF 3600 series for UECC, have encouraged international shipowners to order new ships in China.
DNV's expertise in PCTCs dates back to 1964 when the world's first pure car carrier (499 grt, 725 dwt, 450 cars) was built by Norwegian shipyard Trosvik Verksted A/S. Since then, DNV has developed advanced technology and class solutions for PCTCs that are second to none. Today, DNV is the class of choice for over 60 per cent of new PCTC orders.
DNV supports all stakeholders during newbuilding process
Keng Chen, DNV Vice President and Area Manager for China South, notes that the fast-growing PCTC order book presents challenges for its shipyard clients, particularly new players, in terms of having sufficient qualified engineers and managers and maintaining quality levels.
DNV supports key stakeholders in PCTC construction with a focused approach to emerging issues and helps its partners build awareness of critical risk factors related to this type of vessel, allowing them to prepare timely mitigation actions.
Technologies, new fuels and cyber security are setting the training agenda
Several technical seminars have been rolled out to shipyards addressing hull, machinery, electrical and instrumentation, as well as specific topics on LNG such as fuel, battery systems and cyber security. Customer feedback has been exceptionally positive.
Mr Chen adds: "The advantage DNV has in leveraging its global expertise to generate added value for customers goes without saying. We have tremendous support, both in our plan approval network and advisory units, from our colleagues worldwide in Norway, Germany, Finland, Poland, Korea and Singapore. Together with our highly competent local project team, we are convinced our joint efforts will contribute positively to achieving industry-class quality levels for PCTC newbuilds."
New generation of PCTC: Bigger, greener and safer
Due to the increasing number of electric vehicles as well as IMO environmental regulations, such as EEXI and CII, coming into force, designers are focusing more on developing greener features to meet the requirements of car manufacturers and consumers.
When the 3,600 CEU PCTC AUTO ADVANCE – the first of three vessels for UECC – sailed from Jiangnan Shipyard on 29 November 2021 to begin serving routes between North Europe and the Mediterranean, she became the world's first LNG-powered battery hybrid solution PCTC. It incorporated major advanced technologies, such as an optimized hull line, a shaft generator and an energy-efficient management system.
DNV's ammonia and methanol-ready notations future-proof PCTC newbuilds
In early 2022, Höegh Autoliners signed with CMHI's Jiangsu yard for four fixed and eight optional 9,100 CEU PCTCs. According to the designer Deltamarin, the Aurora-class PCTCs will be powered by marine gas oil and LNG and prepared for operation on zero-carbon fuels once these become more widely available.
Combining economy of scale with an optimized and future-proofed ship concept results in the lowest greenhouse gas footprint per transported car in the industry, and a clear path to zero-emission operation. With DNV's ammonia and methanol-ready notations making them zero-carbon-ready in due time, these ships represent the world's largest and most environmentally friendly PCTCs.
Chinese ship designer Shanghai Merchant Ship Design & Research Institute (SDARI) has also kept pace with research and innovation in developing the next-generation PCTC. Based on its popular LNG dual-fuelled 7,000 CEU PCTC, SDARI developed an ammonia-fuelled version and was awarded DNV's Approval in Principle in early 2022.
Reducing transport costs and emissions per car
SDARI then developed a 9,400 CEU LNG-fuelled PCTC, boasting lower transport costs and carbon emissions per car as well as more competitive loading capacity and fuel economy. It also adopts a future-proof design and fully adapts to the needs of electric vehicle transport.
An "ammonia-fuel-ready" scheme, which can transform into blue ammonia and green ammonia fuel in the future, will provide a new carbon-neutral solution for the construction of international green shipping corridors. The vessel is also equipped with a larger-capacity lithium battery to provide clean electricity at ports, while the shaft generator can help achieve net zero carbon during the voyage. This design received DNV Approval in Principle in November 2022.
Launches of low-carbon PCTCs show that R&D efforts are bearing fruit
SDARI's Chief Car Carrier Expert Zhang Minjian says: "Following market demand and emerging trends of PCTCs, SDARI has formed a strong professional team and devoted itself to the research and development of the latest generation of clean-fuel, large-sized PCTCs. It has achieved several technical advances and launched a series of excellent green and low-carbon ship types, providing many options for domestic and foreign automobile transport shipowners."
SDARI's long-term cooperation with DNV began in 2012 on the 6,700 CEU PCTC for Gram Car Carriers at Nanjing Jinling Shipyard, SDARI's first large car carrier design for international owners. SDARI now has about 70 per cent market share of the current PCTC order book.
Mitigating the risks of fire accidents
Following recent fire accidents on several car carriers, fire safety is becoming increasingly vital for ship operators. There are four layers to address this concern:
- Mandatory SOLAS regulation updates. For example, the A30 fire insulation between car decks from 2014 and Reg.20-1 addressing gas-fuelled vehicles.
- Class societies' additional notations, such as DNV's voluntary F(C) class notation to enhance fire safety in cargo holds, targeting quick detection and confirmation of fire and ensuring fire extinguishing equipment reliability.
- Shipowners' unique requirements in their newbuild technical specs, such as CCTV on car decks, thermal cameras etc.
- Operational measures like electric vehicle stowage plans, emergency handling procedures and enhanced fire patrols.
Zeng Zhi says: "DNV is also working with several major car carrier owners and operators to find cost-effective technical and operative measures to tackle the challenges of electric vehicle fires."
Market outlook for PCTC
The rapid growth of Chinese car exports is a critical factor in the accelerated orders of new PCTCs. According to the China Association of Automobile Manufacturers, car exports in 2021 surpassed 2 million, a 100 per cent increase from 2020, and reached 3.1 million in 2022, a further 54 per cent increase.
Chinese shipping companies such as COSCO Shipping, China Merchants Energy Shipping and SAIC Anji Logistics are ramping up efforts to expand capacity by ordering new PCTCs to overcome a shortfall in shipping capacity and safeguard the supply chain. Major Chinese carmakers, like BYD and Cherry, are also ordering new PCTCs. DNV is selected as class for all these emerging PCTC owners.
Low-carbon fuels and energy efficiency will drive the future market
Hans Eivind Siewers, DNV's global business director for PCTC and passenger ships, says the current boom probably has peaked, but that we still will experience many orders in 2023.
Siewers thinks greener and carbon-neutral fuel options will receive more attention beyond the current orders of LNG dual-fuel use and striking the right balance on fuel flexibility will be key. Other energy-saving technologies, such as battery hybrid, air lubrication systems and sails, will gain momentum as the PCTC green evolution advances.
Photo credit: DNV
Published: 14 March, 2023
China Shipping & Sinopec Suppliers completes first biofuel bunkering op of passenger ship in Dalian
Firm successfully refuelled passenger ship "Chang Shan Dao" owned by Cosco Shipping Ferry with B24 bio bunker fuel on 29 November at Dalian Cruise Port.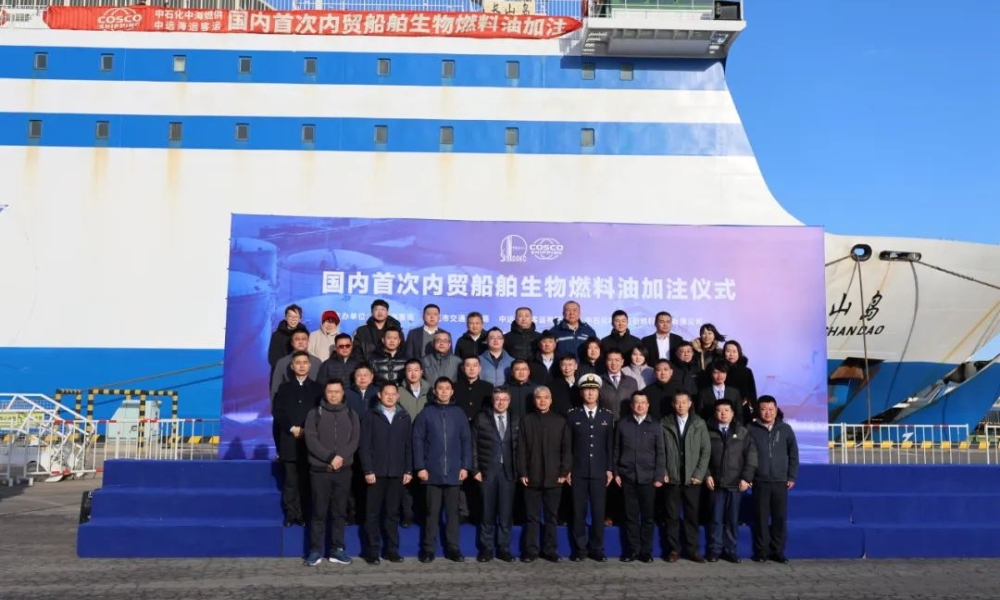 China Shipping & Sinopec Suppliers Co., Ltd. on Wednesday (29 November) successfully refuelled passenger ship "Chang Shan Dao" owned by Cosco Shipping Ferry Co., Ltd. with B24 bio bunker fuel at the Dalian Cruise Port.
The occasion marked the first biofuel bunkering operation for passenger ships in China.
The B24 biofuel oil used was blended with 24% biofuel and 76% conventional low-sulphur fuel oil.
Sinopec China Shipping Fuel Supply, which is responsible for the bunkering operation, is a bunker supply firm jointly established by Sinopec Group and COSCO Shipping Group.
According to Li Zhi, Deputy Party Secretary and Deputy General Manager of China Shipping & Sinopec Suppliers Co., Ltd., the biofuel bunkering business is another step in the company's active business of the group's development strategy.
The bunkering operation after the firm completed the first bonded biofuel bunkering operation of a domestic ship on 7 September. 
Disclaimer: The above article published by Manifold Times was sourced from China's domestic market through a local correspondent. While considerable efforts have been taken to verify its accuracy through a professional translator and processed from sources believed to be reliable, no warranty is made regarding the accuracy, completeness and reliability of any information.
Photo credit: China Shipping & Sinopec Suppliers
Published: 8 December, 2023
Singapore, Tianjin to pilot and trial alternative bunker fuels following shipping corridor MoU
Singapore – Tianjin Green and Digital Shipping Corridor will serve as a valuable testbed for both countries to pilot and trial digital solutions, alternative fuels and technologies, amongst others.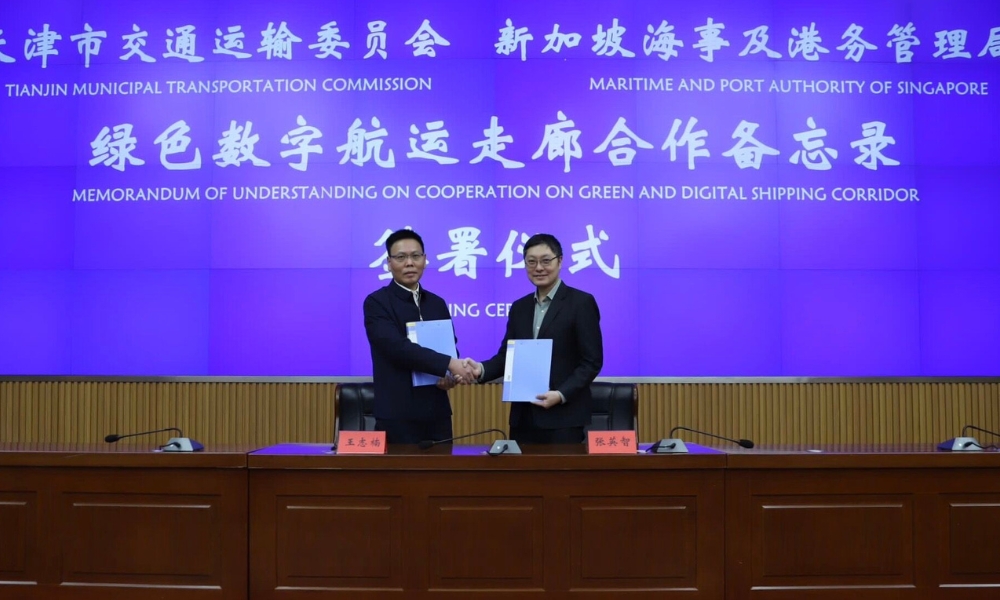 The Maritime and Port Authority of Singapore (MPA) and the People's Republic of China's Tianjin Municipal Transportation Commission on Wednesday (6 December) signed a memorandum of understanding (MoU) to establish the Singapore – Tianjin Green and Digital Shipping Corridor.
Mr Teo Eng Dih, Chief Executive, MPA, and Mr Wang Zhinan, Director General, Tianjin Municipal Transportation Commission, signed this MoU.
The MoU marked the first Green and Digital Shipping Corridor established between Singapore and China to support the decarbonisation, digitalisation and growth of the maritime industry between Singapore and the Bohai Region.
The Singapore – Tianjin Green and Digital Shipping Corridor will serve as a valuable testbed for both countries to pilot and trial digital solutions, alternative bunker fuels and technologies, and facilitate talent development to support the decarbonisation and digitalisation of shipping. 
Singapore and Tianjin will work with the research community, the institutes of higher learning, and industry stakeholders such as shipping lines, port operators, shipbuilders, classification societies, and bunker suppliers to enable more efficient port clearance through digital exchanges, encourage the offtake of zero or near-zero greenhouse gas emission fuels and adoption of new fuel technologies, spur innovation and support the growth of the maritime startups community, and facilitate manpower training and professional development.
The establishment of the Singapore – Tianjin Green and Digital Shipping Corridor reaffirms the strong commitment by Singapore and Tianjin to accelerate maritime decarbonisation and digitalisation. Singapore will also be exploring the establishment of similar collaboration with other maritime and port ecosystems within China.
Photo credit: Maritime and Port Authority of Singapore
Published: 8 December, 2023
Report highlights routes-based action plan methodology to accelerate uptake of clean bunker fuels
NextGEN Connect-GreenVoyage2050 collaboration, which includes Singapore, emphasises the important role of regional energy hubs in enabling the inclusive adoption of clean marine fuels.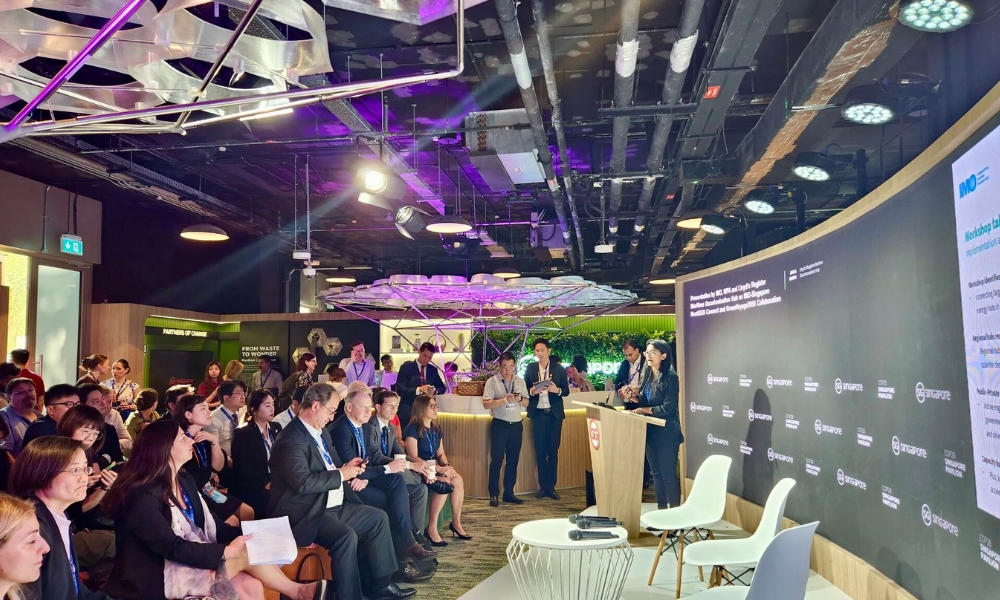 The Maritime and Port Authority of Singapore (MPA) on Thursday (7 December) said the NextGEN Connect-Green Voyage2050 Project identified a key role for regional hubs to help connect large demand clusters and remote locations, with regional fuel supply sources, in order to enable a more inclusive and effective transition to a low-carbon maritime future.
The project is a collaboration between Singapore, Norway and the International Maritime Organization (IMO).
These findings were unveiled in the Lloyd's Register Maritime Decarbonisation Hub (LR MDH) report titled Routes-based Action Plans: A Toolkit launched at the Voyage to Net-Zero Forum, which was organised by MPA, at the 28th United Nations Climate Change Conference (COP28/CMP8/CMA5) yesterday.
The report was developed following a workshop discussion that was held from 5 to 6 October 2023 in Singapore, with the participation of 40 stakeholders representing ports and National Administrations across Asia, based on the concept of the LR MDH's First Movers Framework for green corridors. The workshop simulated the process steps of the routes-based action plan methodology, addressing the limitations in its application in the wider Asian context. Additional engagements with stakeholders from the Pacific are envisaged to further refine the methodology.
"One of the key findings in our report highlighted the varying pace of decarbonisation efforts across the Asian region and the need for regional coordination among governments to establish energy clusters that will serve both as demand centres and energy producing hubs" said Charles Haskell, Director at LR MDH.
The creation of energy producing hubs includes defining a strategy that brings together demand from different countries at different developmental stages across the region to build up investment cases for implementing energy infrastructure at scale, all the while taking into consideration the economic and social benefits for local communities.
The report also emphasised that routes-based action plans should be steered by national governments to give confidence to the industry's infrastructure investment decisions, with development banks and regional funds needing to play a part to help tailor financing solutions to support infrastructure development.
"If we truly want to achieve a net-zero future where no one is left behind, we cannot focus only on existing first mover initiatives. We must also study locations where the energy infrastructure is still in its infancy", added Charles Haskell.
Essential to driving the implementation of routes-based action plans, as highlighted in the report, is the pooling of resources and capacity building to develop the business case for building the necessary infrastructure for regional hubs that include Least Developed Countries (LDCs) and Small Island Developing States (SIDS). This will require regional coordination and collaboration involving governments and all stakeholders across the maritime supply chain.
Mr. Teo Eng Dih, Chief Executive of MPA, said: "As we steer toward a sustainable maritime future, fostering a collective and inclusive approach is imperative in the development of green corridors and the energy transition to decarbonise international shipping."
"The NextGEN Connect-GreenVoyage2050 collaboration emphasises the important role of regional energy hubs in enabling the inclusive adoption of clean marine fuels, particularly for LDCs and SIDSs. MPA looks forward to continuing its collaboration with IMO, Ministry of Climate and Environment of Norway and LR MDH to pilot solutions to reduce GHG emissions from ships and drive innovative transformations in the maritime industry."
Sveinung Oftedal, Chief Negotiator of the Norwegian Ministry of Climate and Environment, said: "Separate routes for emission-free ferries and ships can play an essential role in stimulating early action to adopt zero or near-zero emission technologies and fuels, and hence are an important step towards decarbonising shipping. There is currently a significant volume of maritime traffic between Asian countries, and our workshop was a great forum to discuss opportunities the decarbonisation of maritime shipping can bring and how efforts can be linked to countries' wider energy transition."
Jose Matheickal, IMO Director of Partnerships and Projects, said: "Supporting developing countries, including SIDS and LDCs, in their efforts to implement the 2023 IMO Strategy on the Reduction of GHG Emissions from Ships is imperative to the decarbonisation of the maritime sector. IMO is pleased to provide, through this collaboration, practical support around the development and subsequent implementation of National Action Plans and route-based actions in line with IMO's MEPC RESOLUTION.366(79) that encourages Member States to undertake these voluntary actions to facilitate the achievement of greener shipping and reduced emissions."
Note: 'Routes-based action Plans: a toolkit' can be found here. 
Photo credit: Maritime and Port Authority of Singapore
Published: 8 December, 2023