Davie Shipbuilding delivers North America's first LNG-fuelled ferry
European models of similarly powered ferries not as reliable as the Canadian yard's newbuild, says CEO.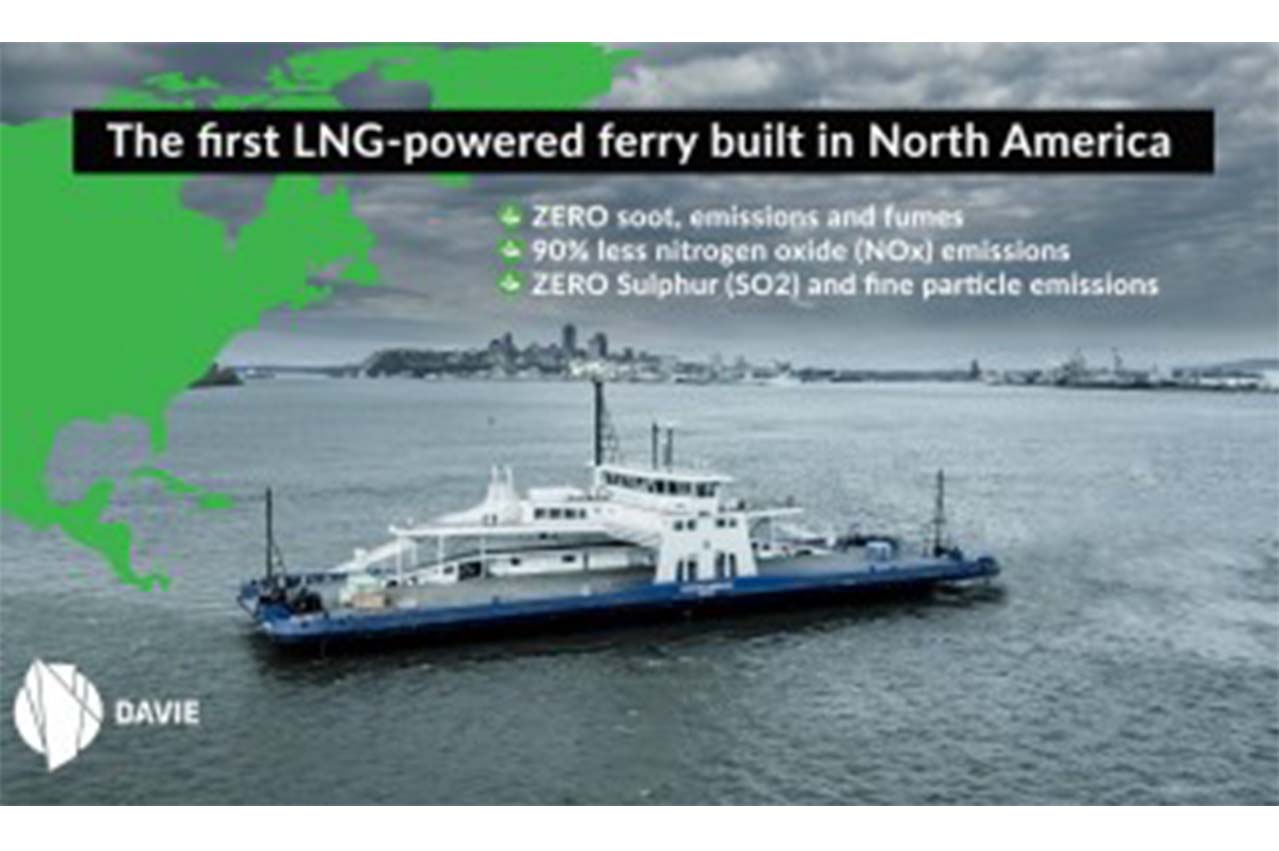 Davie Shipbuilding, Canada's largest shipyard, in mid-July delivered the first liquefied natural gas (LNG) powered ferry built in North America.
"It would have been easy to build a normal, diesel-powered ferry but instead Québec decided to pave the way in setting a new environmental standard for the entire continent," commented James Davies, President of Davie.
"We inherited this project when we acquired the shipyard in 2012. With the project already at a mature concept stage when we arrived, we received a specification from the client of more than four hundred pages long and we immediately set to work on solving the puzzle that had been created."
Davie suggested that European models of similarly powered ferries are not as reliable as the Canadian company's latest ferry.
"While a handful of these new LNG-powered ferries have been built in Europe, they have often been fraught with problems after they entered service," he notes.
"We are very proud to have delivered the highest quality product which has now passed all testing with flying colours and we have done it at an internationally competitive price."
Alex Vicefield, CEO of maritime technology investment firm Inocea, suggested the company may explore the construction of fully electric ferries which use 'wireless' or induction charging and battery technology for a future project with Davie.
"For ferries, we also want to explore the potential for installing fully electrical propulsion systems," he says.
"In Québec, where we have a surplus of hydroelectric power and with recent advances in 'wireless' or induction charging and battery technology, this would make a lot of sense.
"Being the first mover in any new technology is never going to be cheap, but the potential that these new environmentally-friendly technologies have is enormous. This is what will power the future and we intend for Davie to remain at the forefront of it."
Ron Pearson, Davie's VP of engineering, explained the technical challenges in building a LNG-powered ferry.
"From the outside, this ship looks like any other ferry but from the inside, it is of a similar level of complexity to a space shuttle. It is a densely packed, highly integrated and complex product," he says.
"This ferry has more systems and automation onboard than an offshore drilling platform or a modern warship. It is truly a technological marvel – the cryogenic processes involved in managing this highly volatile fuel, while also creating a vessel which is safe to carry passengers, has been a huge challenge.
"Integrating all of these systems into such a confined space was even more challenging and one we are very proud to have overcome."
Photo credit: Davie Shipbuilding
Published: 24 July, 2018

Seapath, Pilot LNG launch JV to develop dedicated LNG bunkering facility in US Gulf Coast
With operations beginning in early 2026, the construction of the new facility will provide bunker fuel for LNG-powered vessels in the greater Houston/ Galveston area of Texas.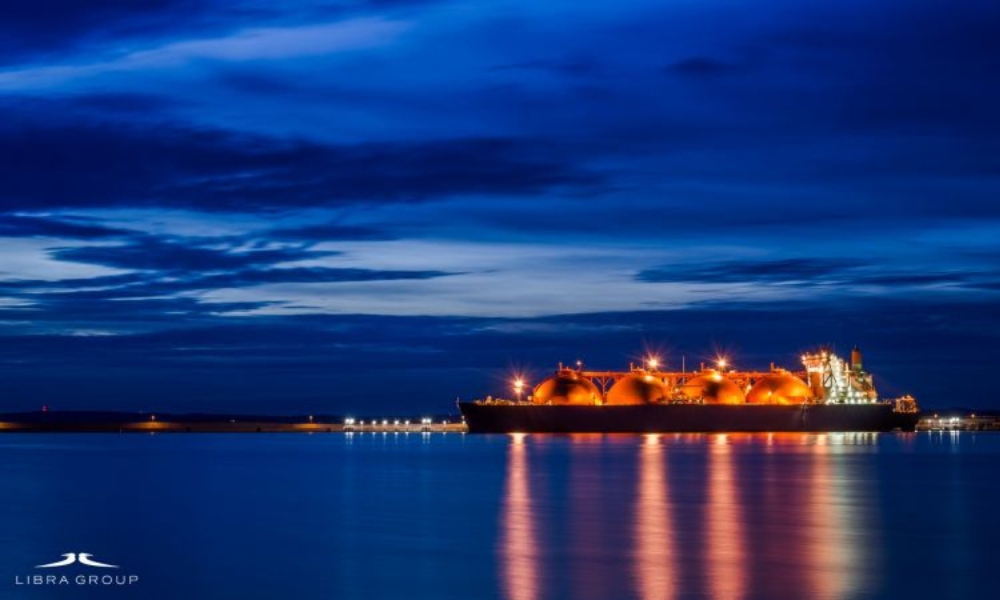 Seapath, a maritime subsidiary of Libra Group, and Pilot LNG, LLC (Pilot), a leading Houston-based clean energy solutions company, on Thursday (28 September) announced that they have formed a joint venture (JV) to develop, construct, and operate the first liquefied natural gas (LNG) bunkering facility in the U.S. Gulf Coast.
With operations beginning in early 2026, the construction of the new facility will provide bunker fuel for LNG-powered vessels in the greater Houston/ Galveston area of Texas.
The project, which will be developed with an initial investment of approximately USD 150 million, meets the needs of a vital global and U.S. trade corridor. According to the Greater Houston Partnership, the Greater Houston waterways generated over USD 906 billion in economic value to the U.S. in 2022.
In addition, a 2023 U.S. Department of Transportation report recognised the Greater Houston area as the top US port by tonnage.
While LNG bunkering infrastructure has been developing overseas, U.S. infrastructure supporting its uptake has developed slower. Pilot and Seapath's LNG bunkering facility will use their combined expertise to serve essential U.S. Gulf Coast port complexes, including servicing major cruise lines and container vessel operators.
Led by LNG industry veterans with extensive experience on the terminal and marine side, Pilot LNG is committed to delivering LNG to new and existing U.S. markets, including fuel/bunkering terminals and related infrastructure. This is the first in a series of strategic investments by Seapath and Pilot to create a network of LNG facilities in areas of unmet need in the U.S.
"Seapath is dedicated to investing across the marine infrastructure space and will provide strong financial backing to Pilot's LNG bunker projects," said Jonathan Cook, CEO of Pilot.
"We look forward to working closely with Seapath to support the gradual decarbonization of the marine industry. We look forward to delivering a U.S. Gulf Coast facility in a timely manner based on the extensive development work already completed to meet the significant needs for LNG fuel, which also supports ongoing decarbonization across the industry."
A U.S. company led by Merchant Mariners and former service members, Seapath was formed recognizing the need for critical investments in the U.S. maritime economy. The company plans to continue investing in innovative projects within maritime connectivity, industrial technologies, port real estate, and Jones Act vessels.
"The infrastructure under development will provide LNG to a growing market seeking cleaner marine fuel, particularly as customers look for economical ways to comply with tightening emissions regulations, including regulations set by the IMO in 2020," said Seapath CEO Greg Otto.
"We are pleased to be working with a first-class team in Pilot LNG and with some of the leading ports in the United States to bring this critical LNG bunkering infrastructure to the Gulf Coast region where there is high demand for it. Thanks to our valuable partnership with Pilot, we look forward to developing more of these much-needed facilities in ports across the United States."
Seapath is one of 30 operational entities of Libra Group, a privately owned business group whose subsidiaries own and operate assets in nearly 60 countries with six business sectors, including maritime and renewable energy. The Group's three maritime subsidiaries include Lomar Shipping, a global shipping company with a fleet of more than 40 vessels, and Americraft Marine, which owns and operates a Jones Act Shipyard in Palatka, Florida. Significantly, the shipyard is among the few in the U.S. to construct crew transfer vessels to service the growing offshore-wind industry and traditional inland-marine assets such as tugboats and barges.
"Libra Group is committed to advancing innovation across our sectors, from maritime to aerospace, to renewable energy and more. As a global organization, we will harness insights from across our network to bolster the uptake of more sustainable technologies to advance our sectors while identifying potential applications across our other sectors," said Manos Kouligkas, CEO of Libra Group.
"Adoption of more sustainable fuels is critical to future-proofing our industries against a rapidly changing ecosystem. We will continue to support the transition to greener energy solutions, and we look forward to following Seapath's work to evolve the U.S. maritime industrial sector."
Pilot and Seapath will continue with all front-end engineering and design development for their projects in the third and fourth quarters of 2023 to file applications with the necessary federal and state agencies to permit, site, construct and operate the small-scale LNG terminal for marine fuel. Pilot and Seapath anticipate announcing details of their project investment by the second half of 2024.
Photo credit: Libra Group
Published: 29 September, 2023
Shell achieves milestone with first LNG bunkering of cruise ship in Gibraltar
Operation was also the Port of Gibraltar's first 'in-port' bunkering, highlighting Shell's commitment to develop Gibraltar as a key LNG bunkering hub, says Tahir Faruqui of Shell.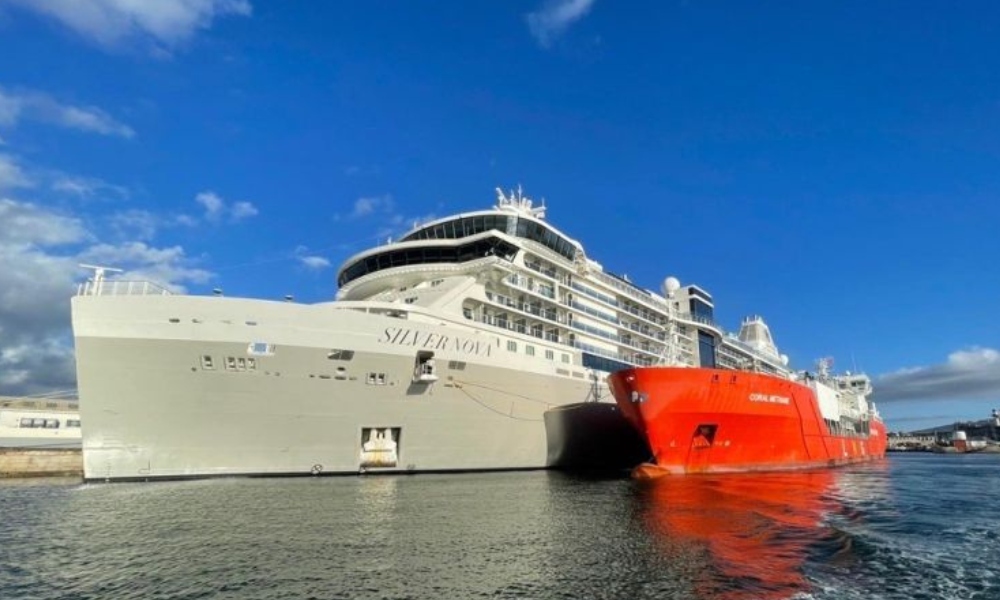 Global energy company Shell on Wednesday (26 September) said it conducted Port of Gibraltar's first LNG bunkering operation of a cruise ship.
The firm bunkered Silversea Cruises' ship Silver Nova with LNG bunker fuel in the port on 24 September.
"Notably, this operation was also the Port of Gibraltar's first 'in-port' bunkering, highlighting Shell's commitment to develop Gibraltar as a key LNG bunkering hub, offering bunkering services both within the port and at the anchorage," Tahir Faruqui, Global Head of Shell Downstream LNG, said in a social media post.
"The close collaboration between Royal Caribbean Group, Anthony Veder, the Gibraltar Port Authority (GPA), and Shell ensured a safe and successful bunkering. A big thank you to all the teams involved," he added.
Photo credit: Shell 
Published: 27 September, 2023
Opportunity Green files complaints against cruise companies for 'LNG greenwashing'
The NGO filed a series of complaints to UK's Advertising Standards Authority (ASA) against international cruise companies for 'misleading advertising of fossil LNG as a green fuel'.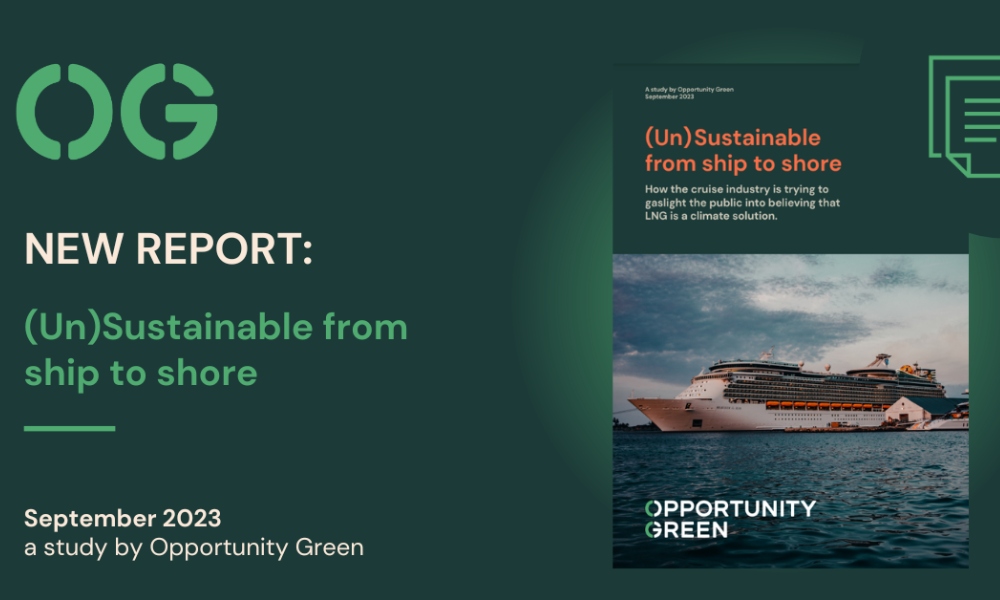 NGO Opportunity Green on Tuesday (26 September) filed a series of complaints to the UK's Advertising Standards Authority (ASA) against international cruise companies to try to put an end to "apparent LNG greenwashing", which it said is potentially misleading consumers.
Alongside the complaints, Opportunity Green has also published a report, (Un)Sustainable from Ship to Shore, highlighting the systemic nature of the cruise industry's apparently misleading advertising, including claims being made by international cruise companies.
The NGO said cruises are an increasingly popular choice of holiday in the UK. In 2022, British and Irish passengers took 1.7 million cruises according to the Cruise Lines International Association (CLIA), and almost 20.4 million people took a cruise worldwide.
"CLIA data also showed that 76% of British cruise passengers who sailed in the past 12 months said they were 'much more' or 'more' aware of environmental and sustainable tourism. And yet, as this report highlights, many of the sustainability messages aimed at consumers could be misleading them," it said.
The report identifies three key communication strategies being used by several companies that risk breaching advertising rules in the UK. These are:
Advertising the use of fossil LNG as reducing emissions
Advertising fossil LNG as environmentally friendly
Advertising the use of fossil LNG as specific initiative of reaching net zero by 2050
Isabela Keuschnigg, Legal Officer at Opportunity Green, said: "Despite what the cruise companies investing heavily in the fuel would like to suggest, fossil LNG is and will remain a polluting fossil fuel. It is not an alternative fuel solution that is consistent with the 1.5°C temperature goal as enshrined in the Paris Agreement."
"Cruise companies might be quick to point out carbon emissions savings or air pollution benefits linked to the use of fossil LNG in cruise ships. But they keep quiet about the fuel's methane emissions, even though research has shown that these can cancel out the supposed climate benefits. Not only does the production of fossil LNG result in significant methane emissions across the supply chain before it reaches the ships as a fuel, but burning it on the ships themselves releases unburned methane into the atmosphere, which is devastating for the climate."
Carly Hicks, Legal Director at Opportunity Green, said: "We were astounded at the extent to which cruise companies are advertising fossil LNG as a climate solution, when the science suggests that this is pure greenwash. 'Sustainability' sells, but the climate emergency will not be solved by meaningless marketing that does nothing other than help ensure the sustainability of a cruise company's balance sheet."
"Consumers – and our climate – deserve better. We are particularly concerned about the systemic nature of the advertising of fossil LNG as a climate-positive fuel by many cruise companies, which is why we are holding these companies to account and filing a series of complaints about their advertisements to the ASA. This tidal wave of greenwash risks giving consumers the impression that taking a cruise can be sustainable, when studies have shown that it can produce more pollution than flying – and fossil LNG is unlikely to change that."
Note: The full report titled '(Un)Sustainable from Ship to Shore' can be accessed here.
Photo credit: Opportunity Green
Published: 27 September, 2023