An interview with Knut Ørbeck-Nilssen, CEO Maritime, DNV
A third of vessels on orderbooks, by gross tonnage, are being built to operate on alternative bunker fuels with LPG and the first hydrogen-fuelled designs also generating interest, says Ørbeck-Nilssen.
Knut Ørbeck-Nilssen, CEO Maritime, DNV, says that while progress towards industry decarbonisation should be applauded, it must be accelerated. Shipping needs to work together, in tandem with other sectors and stakeholders, if we're to stand a hope of reaching our most ambitious, and necessary, goals. Nor-Shipping, he believes, with its 2023 theme of #PartnerShip, is an ideal platform for progress.
It's difficult to know what's going to happen in the next ten days, let alone the next ten years.
So, how are shipowners and operators, eyeing investments with timescales of 25 to 30 years, expected to make optimal long-term decisions, especially regarding fuels?
And how can an organisation like DNV, the world's leading Class society, make the right decisions to advise them? Surely it's impossible to navigate a landscape that's yet to take shape? Isn't it?
Knut Ørbeck-Nilssen, CEO of the Maritime division at DNV, smiles.
He is a man who, as befits his position, exudes a steady calm and confidence… Even though he's just ran from another meeting and has yet to eat his lunch, which he pushes aside to deliver his answer.
"That's why big decisions can't be taken alone," he replies. "Everybody needs partners; no one can prosper, or change, in isolation, and that's especially true when we consider an energy and technology transition of the scale facing shipping.
"We need one another to navigate the future, now more than ever."
 Alternative options
Ørbeck-Nilssen isn't just being nice here. This isn't a platitude; it's a cornerstone of his, and DNV's, vision.
He's been quoted over the past year or two as noting that "collaboration is the true fuel of the future" and 2022, with its unpredictable geopolitical, economic and environmental challenges, seems only to have deepened that conviction.
He talks of "significant barriers" that have to be overcome together, but before addressing the future wants to dwell on the present – recognising achievements so far.
"It's encouraging to see that some of the key issues highlighted in past editions of our Maritime Forecasts and Reports have been picked up by the industry," he comments, referring back to previous statements identifying LNG as arguably shipping's "most feasible transitional fuel".
"If we look at newbuild ordering there's now an established trend for alternative dual-fuel propulsion, with LNG as the dominant fuel, especially amongst the larger, deep-sea segments. A third of the vessels on the orderbooks, by gross tonnage, are being built to operate on alternative fuels, with LPG and the first hydrogen-fuelled designs also generating interest.
"So, we can see concrete proof that the transition is gathering pace, with regulatory pressure, access to investment and capital, and cargo owner and consumer demands as the key drivers. But is it moving fast enough?
"Well, that's another question."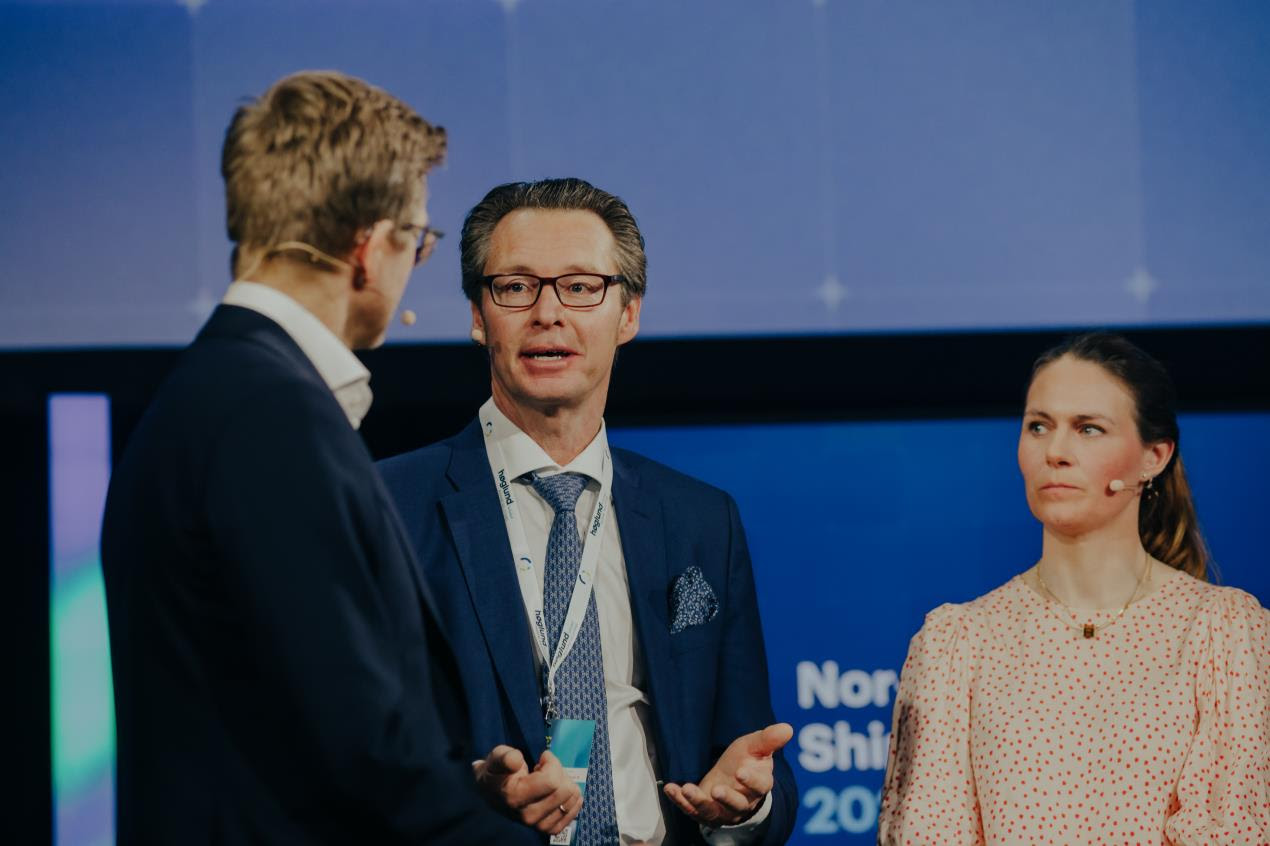 Clearing the hurdles
And the answer, he implies, is 'no'.
Ørbeck-Nilssen says that "substantial investment" is needed – "and quickly" – in terms of researching safe and economically feasible carbon neutral fuels, as well as developing the optimal technologies to utilise them.
However, that will be in vain, he stresses, if the main hurdle to progress can't be overcome, namely, fuel availability:
"According to our recent Maritime Forecast to 2050 report, we need to produce 5% of shipping's total energy consumption from carbon-neutral fuels by 2030. That requires huge investment… and it's just the start.
"And if the IMO strategy is revised in 2023, pushing for full decarbonization by 2050, then we require the means and infrastructure to deliver around 270 million tonnes of alternative fuels, according to our research. That is a massive challenge, and it requires action, now."
He continues: "It goes without saying, this is an issue that shipping cannot resolve alone. We need to see collaboration in the industry, for sure, but beyond that we have to work in unison with energy producers, infrastructure developers, ports, and, not least, national and international authorities and organisations to enable such fundamental change.
"This goes beyond working within our 'tribes' – it's a global issue of critical importance."
But, of course, it's difficult to know where to place bets when it comes to that fuel.
Should a shipowner today invest in assets running on natural gas for tomorrow, or will it pay to be an early mover on hydrogen, ammonia or any other emerging alternative?
This, Ørbeck-Nilssen retorts, is where DNVs 'pathways' come in.
Solving the puzzle
Arguably, DNVs core strengths lie in its neutrality and acknowledged expertise and networks in a broad range of industries and disciplines. It has teams spanning maritime, oil & gas, carbon capture and storage, renewables, technology, and more, in addition to strong links with academia, authorities and other key societal stakeholders. As such it can understand the "big picture" and see how pieces of the transitional puzzle might fit together, helping mitigate risk, enhance safety and facilitate development.
It's pathways – again, featured in the latest Maritime Forecast to 2050 – detail likely scenarios on the journey towards decarbonisation, considering factors such as fuel availability, costs and the apparent lack of one "silver bullet" solution.
"There's so much uncertainty," Ørbeck-Nilssen stresses. "The only things that are certain are that we need to change, and that the future fuel mix, at least in the near-term, is going to get more complex, with a wide variety of energy choices emerging. That creates obvious challenges for the industry.
"The pathways address that, helping plot potential routes to decarbonisation."
As an example, he picks an owner opting for LNG today.
"Now, they know this isn't a perfect fuel," he explains, "but it enables substantial gains over conventional heavy fuel, utilising proven technology. So, on the 'gas pathway' they use LNG as the first step, before switching to bio-gas and then later transitioning to synthetic gas. That's an over-simplified example, but it shows how you create clarity as you move ahead with business strategy and investments."
This "clarity from confusion" wouldn't be possible, Ørbeck-Nilssen notes, without an understanding drawn from close relationships throughout the industry and beyond.
"It all comes back to partnership."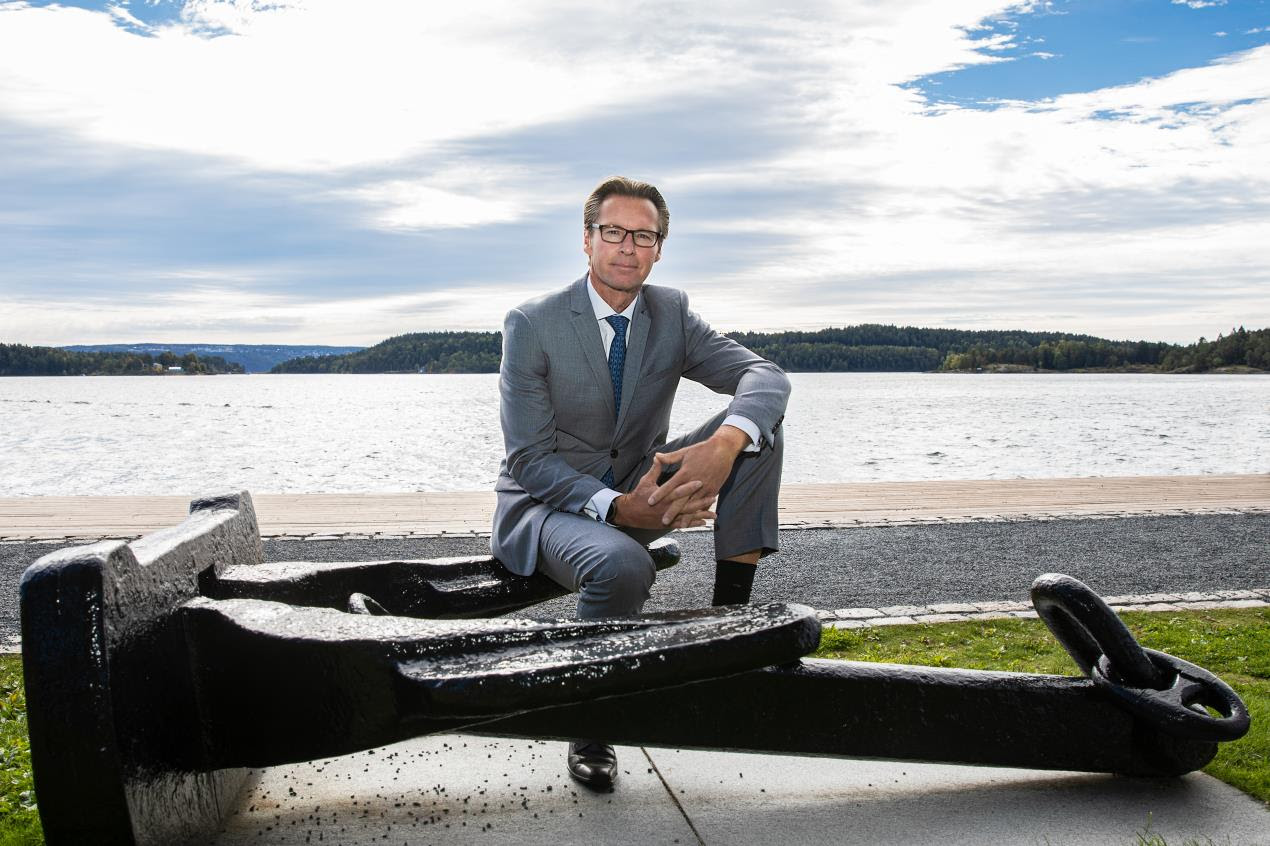 Collective ambition
A further example of that, and of DNV's role as a key enabler for an industry in transition, is the recently unveiled Nordic Roadmap initiative.
This follows on the back of the Clydebank Declaration at COP26, where shipping "green corridors" were identified as a key tool for accelerating change. In a bid to position the region at the vanguard of developments, the Nordic Council of Ministers, with support from all the Nordic nations, set up the project as a "cooperation platform" creating unity of purpose. The result is a joint public and private initiative aiming to bring together diverse stakeholders to enable green corridor infrastructure, start pilots, share knowledge, build alternative fuel experience and, Ørbeck-Nilssen says, "set an example for other regions to follow."
DNV has been brought in as project manager, recently hosting the first meeting at the company's Høvik HQ in Oslo.
"When you look at the industry in its entirety, the scale and complexity of change needed can seem overwhelming," he notes. "But if you take separate regions, and look at establishing individual green corridors, it makes the challenge more manageable. Then, when you bring together diverse partners, it's suddenly possible to work towards concrete, achievable goals – goals that can form a blueprint for the industry in general.
"It's a really exciting example of partnership in action."
The Nor-Shipping connection
The repetition of the 'p-word' brings us on to Nor-Shipping.
The 2023 event, taking place in Oslo and Lillestrøm, 6-9 June, has chosen #PartnerShip as its main theme.
Needless to say, Ørbeck-Nilssen approves, confirming that DNV has once again secured the position of Main Partner.
"Nor-Shipping is a fantastic meeting place for the global industry," he comments, "bringing people from right across the ocean value chain together in one place. As such, it provides a physical platform for partnership, and progress, helping build relationships, share knowledge and highlight the latest developments.
"We need this kind of face-to-face interaction," he continues. "And, on a personal level, it's always so rewarding meeting people, discussing issues and gaining new insights. It's a constant source of learning. 
And, not least, it's fun!"
Here he mentions the traditional Nor-Shipping BBQ at DNV's fjord-side facilities, which, he adds with a broad smile, is back.
"I'm really looking forward to the chance to host a few thousand guests again," Ørbeck-Nilssen concludes. "It's great to see the industry coming together here and, of course, it's helpful Nor-Shipping is back in the summertime. It's always a bit more pleasant to have a chat, drink and something to eat when the sun's shining!"
And with the talk of food, he takes the chance to politely, finally excuse himself.
Lunch, and the next meeting with industry partners, beckons.
Note: For more information on the event, please visit www.nor-shipping.com
Photo credit: Nor-Shipping
Published: 11 January, 2023
TotalEnergies Marine Fuels renews ISCC EU certification for bio bunker fuel  
Firm's operations teams in Singapore and Geneva successfully renewed its ISCC EU sustainability certification for the supply of biofuel bunkers, says Louise Tricoire, Vice President.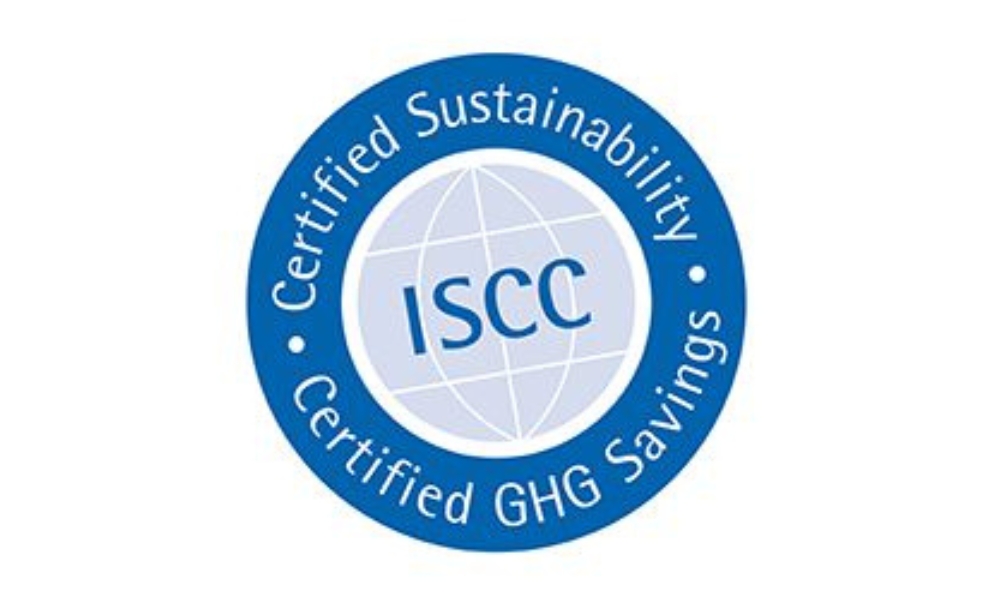 Louise Tricoire, Vice President of TotalEnergies Marine Fuels recently said the firm's operations teams in Singapore and Geneva successfully renewed its International Sustainability and Carbon Certification (ISCC) EU sustainability certification for the supply of biofuel bunkers.
"This means that TotalEnergies Marine Fuels can continue sourcing and supplying marine biofuels in accordance with EU renewable energy regulations ensuring the highest sustainability standards," she said in a social media.
"It's the third year in a row that we have successfully renewed this certification, after a deep and comprehensive audit which showed zero non-conformity."
She added marine biofuels have grown in demand among shipping companies that want to cut greenhouse gas emissions immediately.
"TotalEnergies Marine Fuels offers marine biofuels commercially in Singapore and we are starting in Europe. This certification enables us to accompany our customers in their decarbonisation journey with the best standard solutions available today."
Photo credit: TotalEnergies Marine Fuels
Published: 29 September, 2023
Seapath, Pilot LNG launch JV to develop dedicated LNG bunkering facility in US Gulf Coast
With operations beginning in early 2026, the construction of the new facility will provide bunker fuel for LNG-powered vessels in the greater Houston/ Galveston area of Texas.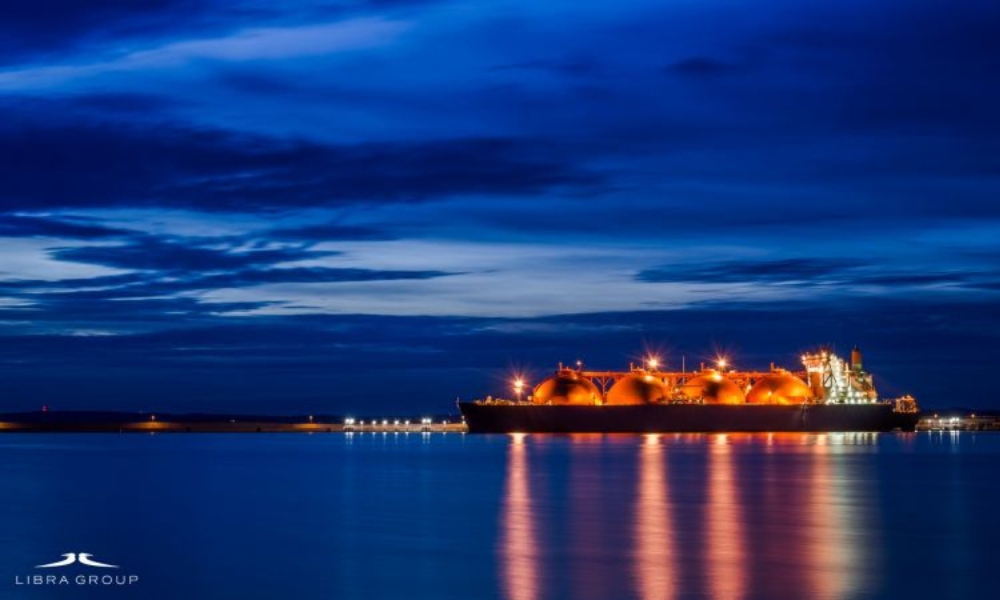 Seapath, a maritime subsidiary of Libra Group, and Pilot LNG, LLC (Pilot), a leading Houston-based clean energy solutions company, on Thursday (28 September) announced that they have formed a joint venture (JV) to develop, construct, and operate the first liquefied natural gas (LNG) bunkering facility in the U.S. Gulf Coast.
With operations beginning in early 2026, the construction of the new facility will provide bunker fuel for LNG-powered vessels in the greater Houston/ Galveston area of Texas.
The project, which will be developed with an initial investment of approximately USD 150 million, meets the needs of a vital global and U.S. trade corridor. According to the Greater Houston Partnership, the Greater Houston waterways generated over USD 906 billion in economic value to the U.S. in 2022.
In addition, a 2023 U.S. Department of Transportation report recognised the Greater Houston area as the top US port by tonnage.
While LNG bunkering infrastructure has been developing overseas, U.S. infrastructure supporting its uptake has developed slower. Pilot and Seapath's LNG bunkering facility will use their combined expertise to serve essential U.S. Gulf Coast port complexes, including servicing major cruise lines and container vessel operators.
Led by LNG industry veterans with extensive experience on the terminal and marine side, Pilot LNG is committed to delivering LNG to new and existing U.S. markets, including fuel/bunkering terminals and related infrastructure. This is the first in a series of strategic investments by Seapath and Pilot to create a network of LNG facilities in areas of unmet need in the U.S.
"Seapath is dedicated to investing across the marine infrastructure space and will provide strong financial backing to Pilot's LNG bunker projects," said Jonathan Cook, CEO of Pilot.
"We look forward to working closely with Seapath to support the gradual decarbonization of the marine industry. We look forward to delivering a U.S. Gulf Coast facility in a timely manner based on the extensive development work already completed to meet the significant needs for LNG fuel, which also supports ongoing decarbonization across the industry."
A U.S. company led by Merchant Mariners and former service members, Seapath was formed recognizing the need for critical investments in the U.S. maritime economy. The company plans to continue investing in innovative projects within maritime connectivity, industrial technologies, port real estate, and Jones Act vessels.
"The infrastructure under development will provide LNG to a growing market seeking cleaner marine fuel, particularly as customers look for economical ways to comply with tightening emissions regulations, including regulations set by the IMO in 2020," said Seapath CEO Greg Otto.
"We are pleased to be working with a first-class team in Pilot LNG and with some of the leading ports in the United States to bring this critical LNG bunkering infrastructure to the Gulf Coast region where there is high demand for it. Thanks to our valuable partnership with Pilot, we look forward to developing more of these much-needed facilities in ports across the United States."
Seapath is one of 30 operational entities of Libra Group, a privately owned business group whose subsidiaries own and operate assets in nearly 60 countries with six business sectors, including maritime and renewable energy. The Group's three maritime subsidiaries include Lomar Shipping, a global shipping company with a fleet of more than 40 vessels, and Americraft Marine, which owns and operates a Jones Act Shipyard in Palatka, Florida. Significantly, the shipyard is among the few in the U.S. to construct crew transfer vessels to service the growing offshore-wind industry and traditional inland-marine assets such as tugboats and barges.
"Libra Group is committed to advancing innovation across our sectors, from maritime to aerospace, to renewable energy and more. As a global organization, we will harness insights from across our network to bolster the uptake of more sustainable technologies to advance our sectors while identifying potential applications across our other sectors," said Manos Kouligkas, CEO of Libra Group.
"Adoption of more sustainable fuels is critical to future-proofing our industries against a rapidly changing ecosystem. We will continue to support the transition to greener energy solutions, and we look forward to following Seapath's work to evolve the U.S. maritime industrial sector."
Pilot and Seapath will continue with all front-end engineering and design development for their projects in the third and fourth quarters of 2023 to file applications with the necessary federal and state agencies to permit, site, construct and operate the small-scale LNG terminal for marine fuel. Pilot and Seapath anticipate announcing details of their project investment by the second half of 2024.
Photo credit: Libra Group
Published: 29 September, 2023
Bureau Veritas on biofuels: The transitional bunker fuel of today? 
BV published an article stating that biofuels are a promising turnkey transitional fuel but outlined practical and technical issues that shipping companies should consider.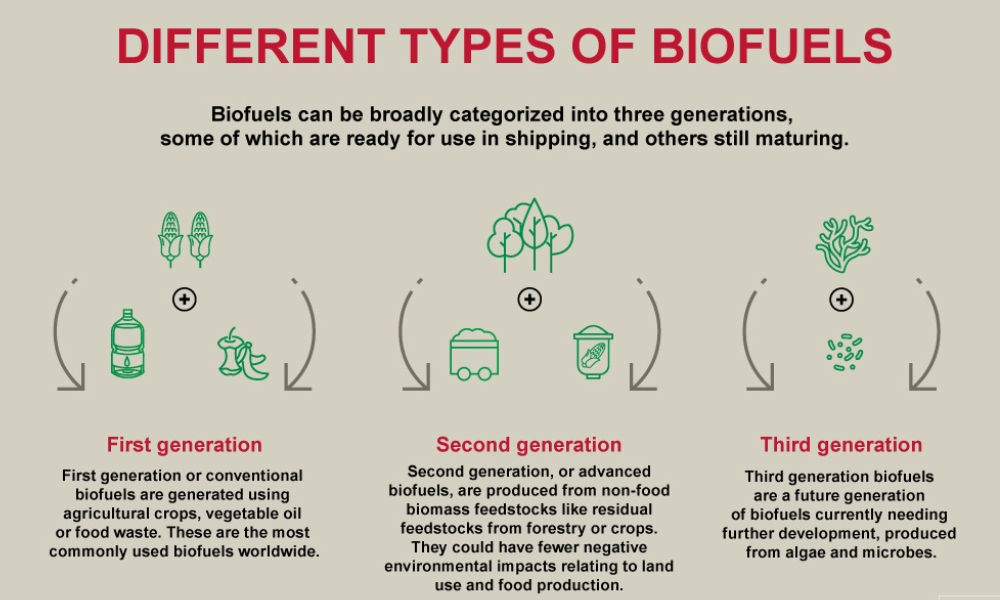 Classification society Bureau Veritas on Thursday (28 September) published an article stating that biofuels is a promising turnkey transitional bunker fuel but outlined practical and technical issues that shipping companies should consider:
The race is on to transition to low-carbon alternative fuels and biofuels are gaining momentum. But what are they? Biofuels are gaseous or liquid fuels produced from biomass – organic matter of biological and non-fossil origin. Easily adaptable to existing vessels, biofuels are a promising turnkey transitional fuel. Let's dive deeper to examine this promise.
ARE LOW-CARBON BIOFUELS CURRENTLY AVAILABLE?
Biofuels can be broadly categorized into three generations, some of which are ready for use in shipping, and others still maturing:
First generation, or conventional biofuels, are generated using agricultural crops, vegetable oil or food waste. These are the most commonly used biofuels worldwide.
Second generation, or advanced biofuels, are produced from- non-food biomass feedstocks like residual feedstocks from forestry or crops. They could have fewer negative environmental impacts relating to land use and food production.
Third generation biofuels are a future generation of biofuels currently needing further development, produced from algae and microbes.
Currently, first-generation biofuels are the most widely available. However, their scalability is constrained by the origin of their feedstock, which is food-purposed crops and thus entails direct and indirect land-use changes.
Second-generation biofuels, produced from non-food feedstocks such as forest biomass and agricultural crops, are free of some constraints associated with first-generation biofuels. Their role in decarbonizing shipping will likely be crucial. However, it will require a sharp uptake in supply, which inherently requires significant investments.
DO BIOFUEL PRODUCTION PATHWAYS MATTER?
Yes, they absolutely do! The way a biofuel is produced and the feedstock used are key when analyzing a biofuel's lifecycle GHG emissions. They therefore have an impact on determining whether they can be considered as low-carbon fuel. There is currently no globally accepted standard or certification in place to ensure the end-to-end sustainable production of biofuels. First generation biofuels, for example, are carbon neutral on paper. But, this claim becomes far more complex from a well-to-wake perspective and when considering more holistic sustainability criteria.
What other kind of ramifications might biofuel production entail? For one, the land needed for production is already in high demand to expand croplands around the world. This puts first-generation biofuel production and food markets in competition with each other – not an easy battle to win. From an ethical standpoint, most would prioritize meeting global food demand over fueling ships.
WHAT SHIPPING COMPANIES NEED TO KNOW
When it comes to biofuel use there are two broad categories of considerations for shipping companies: the practical and the technical.
ON THE PRACTICAL SIDE…
Thus far, as with many fuels, it is difficult to predict the exact future prices of biofuels. Blending biofuels with fossil fuels can reduce the overall energy content which means more fuel is needed to maintain performance. Besides, maintenance may have to be adapted in cooperation with OEMs depending on which biofuels and blends are used. The latter can lead to additional OPEX costs that shipping companies will need to shoulder.
Another crucial factor is availability. At current production rates biofuels are unlikely to be able to meet a large proportion of global maritime demand. Competition with other sectors, such as land-based transportation, may compound concerns surrounding availability. This factor is not, however, specific to biofuels – availability remains a challenge for several other potential marine fuels.
The practical disadvantage of biofuels is a question of supply – particularly for the more ecological second- and third-generations. Theoretically, these later second generation biofuels could become a flexible and sustainable refueling option. Their required feedstocks are available worldwide, and port infrastructure should not require significant adaptations to accommodate them. Practically, however, they need to be produced at much greater scale.
AND THE TECHNICAL SIDE
One of the major advantages of biofuels is the maturity of compatible engines. Vessels typically require no modification to use biofuels, making them a "drop in" replacement for conventional marine fuels. This sets biofuels apart from the majority of alternative fuels – including hydrogen, ammonia and LNG – which require specific engines or fuel storage and supply systems.
Characteristically speaking, biofuels are similar to standard fuel oil. This means minimal investment would be needed to meet evolving regulations and ensure crew safety onboard.
WHAT REGULATIONS ARE IN PLACE FOR BIOFUELS?
The International Maritime Organization (IMO) is now developing guidelines for the life cycle GHG analysis of marine fuels, which is expected to be the cornerstone when considering the emissions reduction potential of marine biofuels.

Specific biofuel regulations may still be in the early stages, but ship operators are adapting their fleets now to comply with IMO emissions regulations. Biofuels may be part of the solution to reducing emissions and meeting compliance requirements. With a sustainable production pathway, biofuels promise significant carbon emissions reductions compared to standard fossil fuels.

Biofuels also appear to be in line with NOx (nitric oxide and nitrogen dioxide) emission limits. The challenge, however, comes in proving compliance. This may require onboard emission testing or engine and fuel-specific NOx emissions validation testing. However, the IMO regulations now consider blends of 30% biofuel or less in the same way as traditional oil-based bunkers.
BIOFUEL READY
To help the industry prepare for the use of biofuels or biofuel blends, Bureau Veritas created its BIOFUEL READY notation. It provides a set of requirements and comprehensive guidelines for the necessary documentation and testing. Suitable for new and existing ships, BIOFUEL READY is one example of how we leverage our transversal expertise to support the maritime industry's decarbonization journey and safely progress innovative solutions. This includes assessing NOx emissions, which remain at the forefront of current regulatory compliance.
Photo credit: Bureau Veritas
Published: 29 September, 2023