Aegean Marine Petroleum Network under shareholder pressure
The Committee for Aegean Accountability expressed 'severe concerns' regarding shareholder value destruction caused by poor financial and operational management.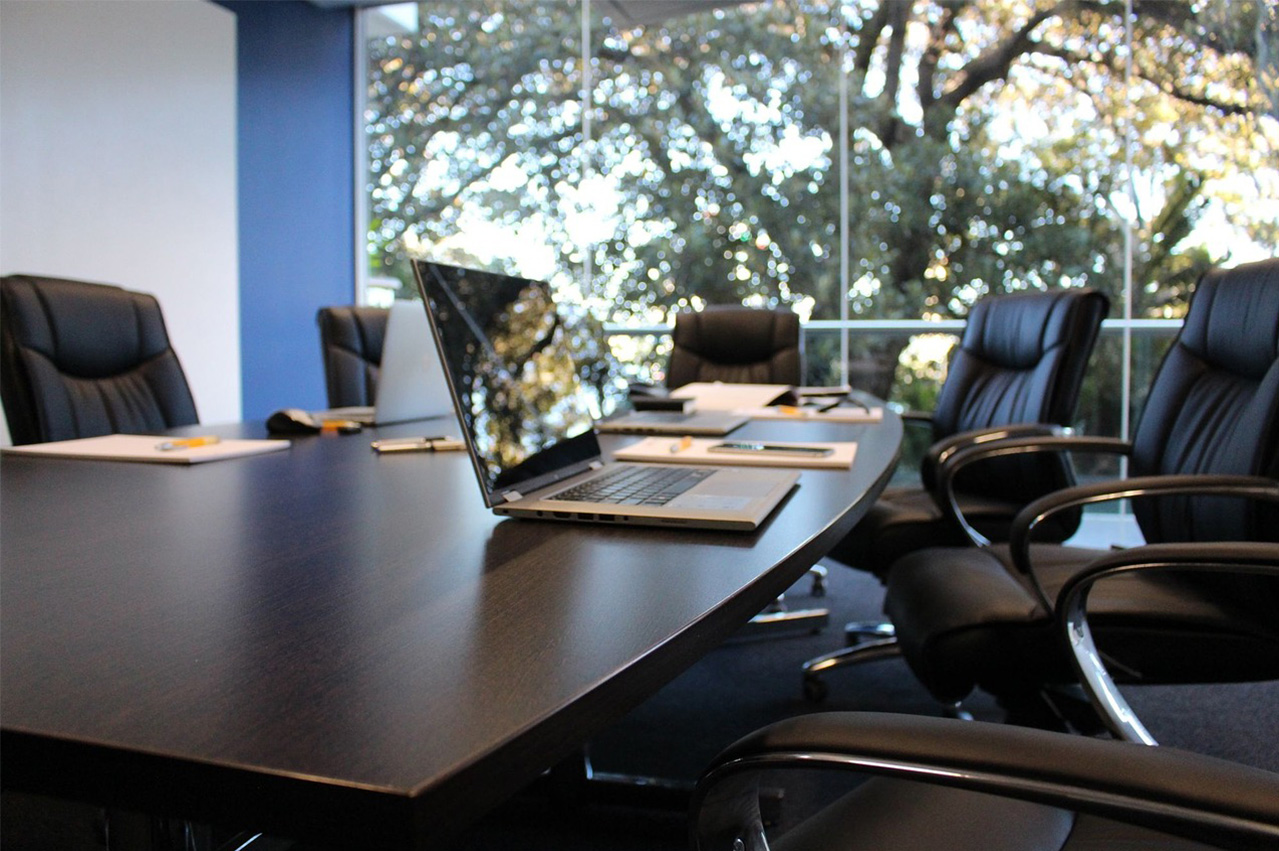 The Committee for Aegean Accountability (CAA) on Wednesday delivered a letter to Yiannis Papanicolaou, Chairman of the Board at New York-listed Aegean Marine Petroleum Network (Aegean), identifying concerns.
CAA comprises of a group of shareholders collectively owning more than 12% of the outstanding shares of Aegean.
In short, the letter expressed severe concerns regarding the shareholder value destruction caused by poor financial and operational management.
It also highlighted problematic board conflicts and corporate governance deficiencies while signalling an intent to nominate four independent directors to be elected at Aegean's 2018 annual meeting.
The full text of the letter is as follows:
December 20, 2017
Aegean Marine Petroleum Network Inc.
Akti Kondyli 10
185 45, Piraeus, Greece
Attention: Mr. Yiannis Papanicolaou, Chairman of the Board
Dear Mr. Papanicolaou:
We are writing to inform you that a group of concerned and long-term shareholders representing more than 12% of the outstanding shares of Aegean Marine Petroleum Network Inc. ("Aegean Marine" or the "Company") have formed The Committee for Aegean Accountability (the "Committee"). We have made every effort in numerous private communications spanning the past eight months to engage in a productive dialogue with the board of directors (the "Board") to remedy the chronic failures in corporate governance, financial management and operations that have impaired shareholder value for far too long. It has unfortunately become clear that the Board is more concerned with entrenching itself and management rather than working with us in good faith regarding the changes required to improve the Company's governance and performance. We were both surprised and disappointed by your recent statement that you are considering reducing the Board to four members from its existing size of seven, which would severely disenfranchise shareholders and suppress their ability to seek due representation on the Board. We are therefore left with little choice but to publicly express our concerns and intention to nominate four highly qualified director candidates for election at the Company's 2018 annual meeting of shareholders (the "2018 Annual Meeting").
IMPAIRMENT OF SHAREHOLDER VALUE
We have been shareholders in Aegean Marine for several years, over which time the share price has dramatically underperformed any relevant comparison. In addition, since becoming public in 2006 shares have declined by 75%, underperforming the Russel 2000 Index by more than 200%. The valuation of the Company has also reached an all-time low in relation to its net assets, trading at less than 0.3x tangible book value and well below a conservative estimate of liquidation value. Aegean Marine has chronically traded at steeply discounted multiples of cash flow and net asset value since at least 2010, driven by persistent concerns about corporate governance and management competence due to extensive related party transactions and value destructive capital expenditure projects.
CORPORATE GOVERNANCE: FROM BAD TO WORSE
Since its origins as a public company, Aegean Marine's corporate governance has been troubling. The Company was majority owned and controlled by its founder Mr. Melissanidis who, according to the Company's October 25, 2007 registration statement, "has been subject to a number of proceedings, including criminal cases," some of which involved "sham bunkering transactions intended to avoid customs duties and taxes" for which he was indicted but later acquitted. In addition, the Company engaged in various related party transactions with entities controlled by the founder. In acknowledgement of these potential conflicts, the Company sought to mitigate them at the time of the IPO by limiting the founder's influence per the "Framework Agreement" (F-1/A ex. 10.30 filed 11/3/06). This had the effect of precluding the founder from either joining the seven member Board or naming directors that would serve as Board Chairman or Chairman of the Audit and Nominating Committees. In addition, the Company's principal executive offices responsible for all financial and control functions were to be maintained in the U.S.
Given this provenance of already weak corporate governance, it is stunning that shareholders today find themselves with even less aligned representation on the Board. The present shareholder base is comprised nearly entirely of U.S. holders and the founder no longer retains any ownership stake whatsoever (more on this below), yet shareholders are represented by only four seated directors, three of whom were appointed by the founder at the time of the IPO and shortly thereafter. Mr. Fokas is one of these original board members, as well as the Company's General Counsel, and continues to have close ties to the founder, recently acting as the deputy chairman of the Greek gambling monopoly (OPAP) which is partly owned by Mr. Melissanidis. Furthermore, you rightly pointed out in your recent correspondence with us that the majority of current Board members have been with the Company since the IPO, and no new board members have been added since 2009. Considering the value destruction shareholders have endured over the past decade, we hardly view this as a positive.
Notwithstanding the complete turnover of Aegean Marine's shareholder base, the related party transactions persist as the Company still conducts significant business with entities controlled by the founder such as Aegean Oil. In addition, not only are the Company's executive functions, including financial and control, no longer based in the U.S., they are actually housed in the very same offices in Piraeus as the founder's other entities. Incredibly, our review of the Aegean Oil website and corporate magazine revealed that even today Aegean Marine is very much considered to be a subsidiary or sister company despite zero common ownership. But most concerning is the fact pattern related to the transaction last year in which the Company purchased the remaining stake owned by Mr. Melissanidis for $100MM at $8.81 per share. Aegean Marine's use of cash for this transaction caused the company to violate its borrowing base certificate only a few months later, and the subsequent liquidity crunch was cured by a dilutive convertible bond offering which drove the share price down 16%. Within nine months of the transaction the share price had declined by 48%, and today it sits 54% lower.
Finally, per the most recent proxy voting guidelines on director accountability provided by Institutional Shareholder Services ("ISS"), Aegean Marine's governance structure includes seven out of the eight listed "problematic provisions" that inform voting recommendations.
The Company's governance structure and Board composition are artifacts of its origins, when its founder exerted control and influence due to his majority economic stake. While even maintaining that status quo would have been entirely inappropriate given the Company's present ownership, in fact shareholder representation on the Board has degraded and inherent conflicts of interest have grown.
CHANGE IS NEEDED NOW
We have already identified and proposed the addition of highly qualified Board candidates with expertise spanning global physical bunkering markets, strategic management, fuel distribution operations, financing and capital markets. Not only will these candidates restore accountability at the Company, their skillsets are particularly well-suited to the challenges and opportunities the Company faces. This includes improving the financing structure and reducing costs of capital, rationalizing the fixed asset base, instilling capital discipline, and effectively positioning for the significant industry changes prompted by IMO 2020 regulations expected to take effect only two years from now.
The financing structure and financial management of Aegean Marine desperately require change. The Company's inefficiency in accessing its cheapest sources of funds, the borrowing base facilities, has led to a reliance on sources of capital that are much higher cost and are now effectively inaccessible. Harmonizing commercial and financing decisions will enable qualifying borrowing base collateral at closer to stated advance rates of 80-95 cents on the dollar compared to the 50-55 currently achieved. This could generate potentially hundreds of millions of dollars of low cost liquidity that can be used to retire high cost convertible bonds and shares, or to expand volumes and successfully manage the higher fuel prices expected with IMO 2020.
The Company's capital expenditure projects have destroyed an immense amount of shareholder value. For example, had Aegean Marine simply not constructed the Fujairah terminal, we believe the share price would be well more than double its present level based on the current enterprise value and cash flow valuation multiples. Not only does capital discipline need to be instilled to avoid such calamities, but the current sprawling fixed asset base should be opportunistically rationalized. Creating an internal entity to manage the Company's logistics assets and charge market rates within the organization will inform "own vs. lease" decisions. Members of management have even described ports in which the cost of operating the Company's owned vessels is millions of dollars higher than that of chartering third party barges. In the context of the Company's $570MM of fixed assets and exceedingly high cost of capital, the opportunity for accretive asset sales is significant.
Finally, we expect IMO 2020 will dramatically increase the complexity of the marine fuel logistics industry and provide opportunities to leverage Aegean Marine's extensive network into improved financial returns. Accordingly, repositioning the asset base ahead of this change is of critical importance. As you know, one of our recommended director candidates is arguably more qualified than anyone in the world to guide these efforts.
The Committee's Schedule 13D filing and notice to nominate four director candidates for election to the Board at the 2018 Annual Meeting will be forthcoming, in accordance with applicable securities laws and the Company's Bylaws. As always, we remain willing to discuss these issues with you at any time. Rest assured, however, we will take whatever actions we may deem necessary to ensure that the best interests of all shareholders remain paramount.
Sincerely,
The Committee for Aegean Accountability
About the Committee for Aegean Accountability
The Committee for Aegean Accountability is a group of five long-term shareholders collectively owning more than 12% of the outstanding shares of the Company and seeking to unlock value on behalf of all shareholders through enhanced corporate governance practices and Board refreshment.
The Committee, led by Tyler Baron, has retained Olshan Frome Wolosky LLP as its legal advisor in connection with its engagement and discussions with the Company.
Investor Contact:
Tyler Baron
The Committee for Aegean Accountability
[email protected]
Legal Contact:
Andrew M. Freedman
Olshan Frome Wolosky LLP
[email protected]
Source: The Committee for Aegean Accountability
Published on the Manifold Times:
21 December, 2017
8:20 am Singapore time
Other Aegean news:
China Shipping & Sinopec Suppliers completes first biofuel bunkering op of passenger ship in Dalian
Firm successfully refuelled passenger ship "Chang Shan Dao" owned by Cosco Shipping Ferry with B24 bio bunker fuel on 29 November at Dalian Cruise Port.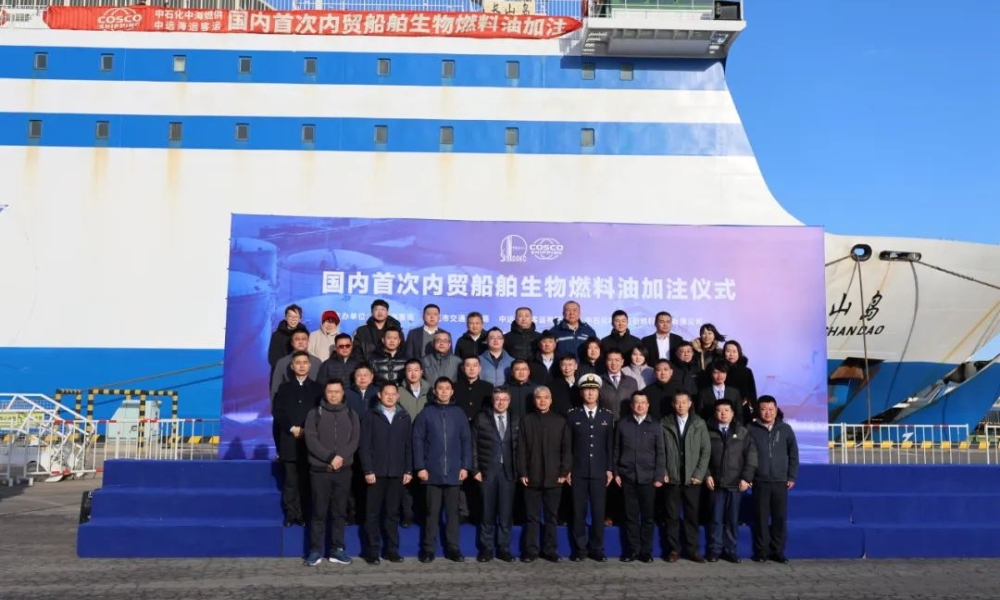 China Shipping & Sinopec Suppliers Co., Ltd. on Wednesday (29 November) successfully refuelled passenger ship "Chang Shan Dao" owned by Cosco Shipping Ferry Co., Ltd. with B24 bio bunker fuel at the Dalian Cruise Port.
The occasion marked the first biofuel bunkering operation for passenger ships in China.
The B24 biofuel oil used was blended with 24% biofuel and 76% conventional low-sulphur fuel oil.
Sinopec China Shipping Fuel Supply, which is responsible for the bunkering operation, is a bunker supply firm jointly established by Sinopec Group and COSCO Shipping Group.
According to Li Zhi, Deputy Party Secretary and Deputy General Manager of China Shipping & Sinopec Suppliers Co., Ltd., the biofuel bunkering business is another step in the company's active business of the group's development strategy.
The bunkering operation after the firm completed the first bonded biofuel bunkering operation of a domestic ship on 7 September. 
Disclaimer: The above article published by Manifold Times was sourced from China's domestic market through a local correspondent. While considerable efforts have been taken to verify its accuracy through a professional translator and processed from sources believed to be reliable, no warranty is made regarding the accuracy, completeness and reliability of any information.
Photo credit: China Shipping & Sinopec Suppliers
Published: 8 December, 2023
Singapore, Tianjin to pilot and trial alternative bunker fuels following shipping corridor MoU
Singapore – Tianjin Green and Digital Shipping Corridor will serve as a valuable testbed for both countries to pilot and trial digital solutions, alternative fuels and technologies, amongst others.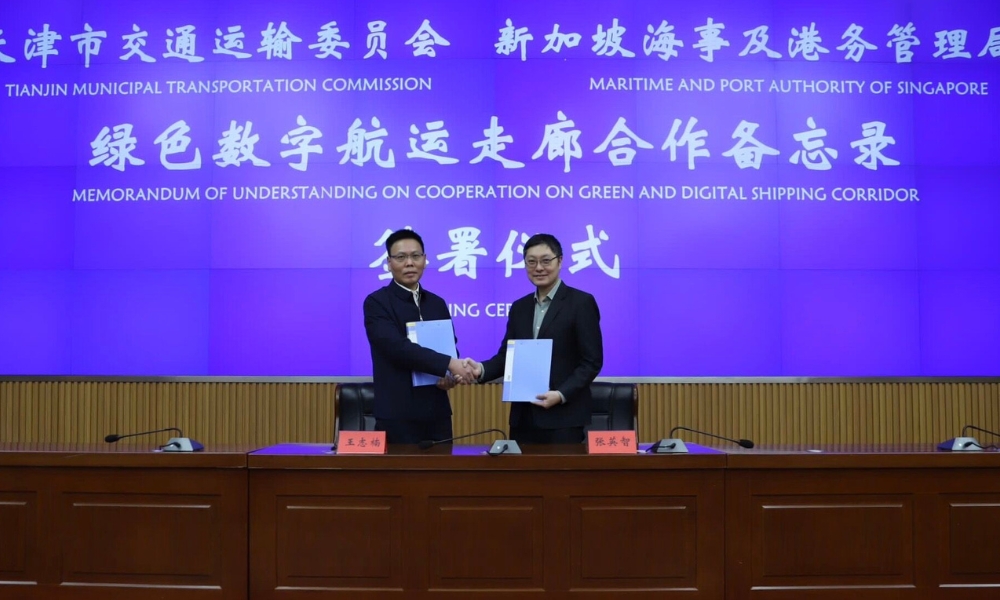 The Maritime and Port Authority of Singapore (MPA) and the People's Republic of China's Tianjin Municipal Transportation Commission on Wednesday (6 December) signed a memorandum of understanding (MoU) to establish the Singapore – Tianjin Green and Digital Shipping Corridor.
Mr Teo Eng Dih, Chief Executive, MPA, and Mr Wang Zhinan, Director General, Tianjin Municipal Transportation Commission, signed this MoU.
The MoU marked the first Green and Digital Shipping Corridor established between Singapore and China to support the decarbonisation, digitalisation and growth of the maritime industry between Singapore and the Bohai Region.
The Singapore – Tianjin Green and Digital Shipping Corridor will serve as a valuable testbed for both countries to pilot and trial digital solutions, alternative bunker fuels and technologies, and facilitate talent development to support the decarbonisation and digitalisation of shipping. 
Singapore and Tianjin will work with the research community, the institutes of higher learning, and industry stakeholders such as shipping lines, port operators, shipbuilders, classification societies, and bunker suppliers to enable more efficient port clearance through digital exchanges, encourage the offtake of zero or near-zero greenhouse gas emission fuels and adoption of new fuel technologies, spur innovation and support the growth of the maritime startups community, and facilitate manpower training and professional development.
The establishment of the Singapore – Tianjin Green and Digital Shipping Corridor reaffirms the strong commitment by Singapore and Tianjin to accelerate maritime decarbonisation and digitalisation. Singapore will also be exploring the establishment of similar collaboration with other maritime and port ecosystems within China.
Photo credit: Maritime and Port Authority of Singapore
Published: 8 December, 2023
Report highlights routes-based action plan methodology to accelerate uptake of clean bunker fuels
NextGEN Connect-GreenVoyage2050 collaboration, which includes Singapore, emphasises the important role of regional energy hubs in enabling the inclusive adoption of clean marine fuels.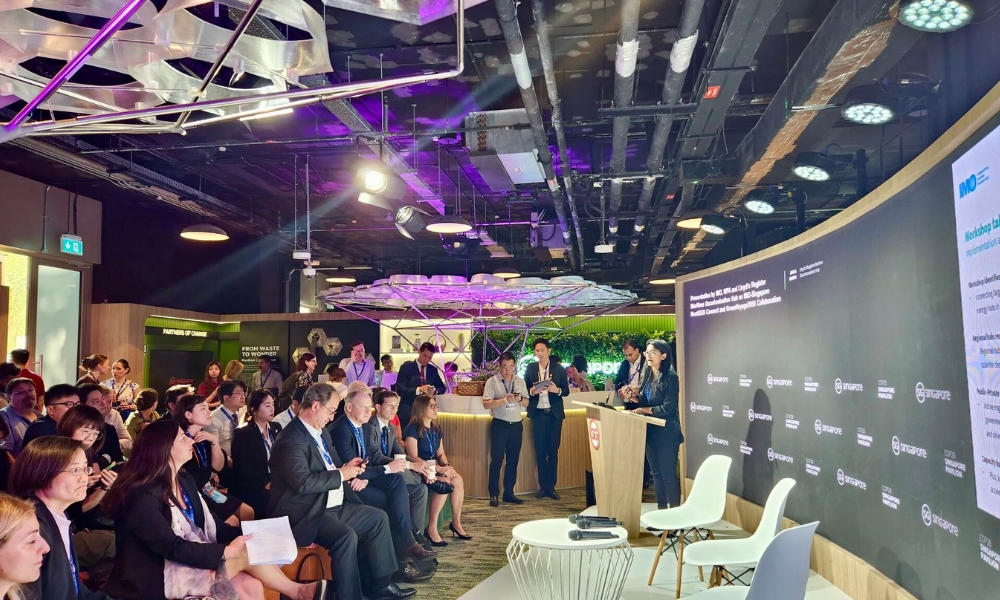 The Maritime and Port Authority of Singapore (MPA) on Thursday (7 December) said the NextGEN Connect-Green Voyage2050 Project identified a key role for regional hubs to help connect large demand clusters and remote locations, with regional fuel supply sources, in order to enable a more inclusive and effective transition to a low-carbon maritime future.
The project is a collaboration between Singapore, Norway and the International Maritime Organization (IMO).
These findings were unveiled in the Lloyd's Register Maritime Decarbonisation Hub (LR MDH) report titled Routes-based Action Plans: A Toolkit launched at the Voyage to Net-Zero Forum, which was organised by MPA, at the 28th United Nations Climate Change Conference (COP28/CMP8/CMA5) yesterday.
The report was developed following a workshop discussion that was held from 5 to 6 October 2023 in Singapore, with the participation of 40 stakeholders representing ports and National Administrations across Asia, based on the concept of the LR MDH's First Movers Framework for green corridors. The workshop simulated the process steps of the routes-based action plan methodology, addressing the limitations in its application in the wider Asian context. Additional engagements with stakeholders from the Pacific are envisaged to further refine the methodology.
"One of the key findings in our report highlighted the varying pace of decarbonisation efforts across the Asian region and the need for regional coordination among governments to establish energy clusters that will serve both as demand centres and energy producing hubs" said Charles Haskell, Director at LR MDH.
The creation of energy producing hubs includes defining a strategy that brings together demand from different countries at different developmental stages across the region to build up investment cases for implementing energy infrastructure at scale, all the while taking into consideration the economic and social benefits for local communities.
The report also emphasised that routes-based action plans should be steered by national governments to give confidence to the industry's infrastructure investment decisions, with development banks and regional funds needing to play a part to help tailor financing solutions to support infrastructure development.
"If we truly want to achieve a net-zero future where no one is left behind, we cannot focus only on existing first mover initiatives. We must also study locations where the energy infrastructure is still in its infancy", added Charles Haskell.
Essential to driving the implementation of routes-based action plans, as highlighted in the report, is the pooling of resources and capacity building to develop the business case for building the necessary infrastructure for regional hubs that include Least Developed Countries (LDCs) and Small Island Developing States (SIDS). This will require regional coordination and collaboration involving governments and all stakeholders across the maritime supply chain.
Mr. Teo Eng Dih, Chief Executive of MPA, said: "As we steer toward a sustainable maritime future, fostering a collective and inclusive approach is imperative in the development of green corridors and the energy transition to decarbonise international shipping."
"The NextGEN Connect-GreenVoyage2050 collaboration emphasises the important role of regional energy hubs in enabling the inclusive adoption of clean marine fuels, particularly for LDCs and SIDSs. MPA looks forward to continuing its collaboration with IMO, Ministry of Climate and Environment of Norway and LR MDH to pilot solutions to reduce GHG emissions from ships and drive innovative transformations in the maritime industry."
Sveinung Oftedal, Chief Negotiator of the Norwegian Ministry of Climate and Environment, said: "Separate routes for emission-free ferries and ships can play an essential role in stimulating early action to adopt zero or near-zero emission technologies and fuels, and hence are an important step towards decarbonising shipping. There is currently a significant volume of maritime traffic between Asian countries, and our workshop was a great forum to discuss opportunities the decarbonisation of maritime shipping can bring and how efforts can be linked to countries' wider energy transition."
Jose Matheickal, IMO Director of Partnerships and Projects, said: "Supporting developing countries, including SIDS and LDCs, in their efforts to implement the 2023 IMO Strategy on the Reduction of GHG Emissions from Ships is imperative to the decarbonisation of the maritime sector. IMO is pleased to provide, through this collaboration, practical support around the development and subsequent implementation of National Action Plans and route-based actions in line with IMO's MEPC RESOLUTION.366(79) that encourages Member States to undertake these voluntary actions to facilitate the achievement of greener shipping and reduced emissions."
Note: 'Routes-based action Plans: a toolkit' can be found here. 
Photo credit: Maritime and Port Authority of Singapore
Published: 8 December, 2023