SMW 2023: Discussion held on emerging trends of piracy and sea robbery in Asia
'In South East Asia, we are witnessing attacks to ships' crew with the intention to steal cargo, stores or sometimes even the ship,' says Ashok Srinivasan of BIMCO.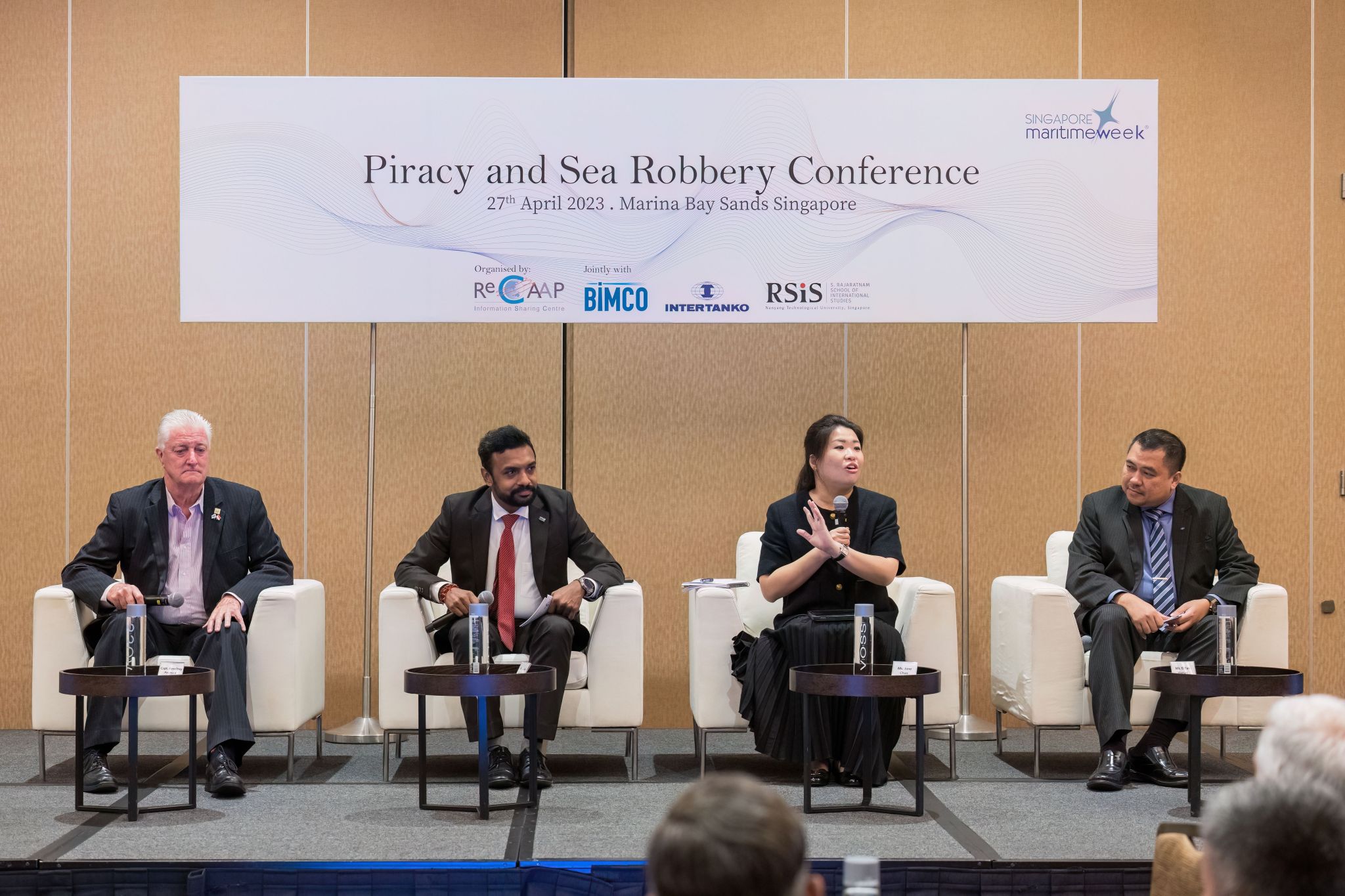 The ReCAAP Information Sharing Centre (ISC), together with the three co-organisers BIMCO, INTERTANKO and the S. Rajaratnam School of International Studies (RSIS), held an annual Piracy and Sea Robbery Conference on Thursday (27 April) in conjunction with Singapore Maritime Week 2023. 
This year's conference featured a two-part panel discussion where panellists deliberated on the importance of "Partnership" between the shipping industry and law enforcement agencies in combating piracy and armed robbery against ships, to ensure safe and secure seas for seafarers.
Dr Heike Deggim, Director of the Maritime Safety Division at the International Maritime Organization (IMO), in her keynote address, provided an update on the global situation of piracy and armed robbery against ships.
Dr Deggim expressed appreciation for the excellent work of ReCAAP ISC and the achievements of the organisation since 2006, in its mission to enhance regional cooperation through information sharing, capacity building and cooperative arrangements. 
She urged the ReCAAP ISC to continue to organise the Piracy and Sea robbery conference aimed at building regional capacity to counter the menace of piracy and armed robbery against ships. In addition, she shared how States in Africa are working together and strengthening their capabilities to combat maritime crime and piracy in the Gulf of Aden and Gulf of Guinea. 
Vice-Admiral (Indian Navy Retired) Pradeep Chauhan, Director of the National Maritime Foundation, India, shared how the Indian authorities work with stakeholders to combat maritime crimes. 
CG Admiral Artemio M. Abu, Commandant of Philippine Coast Guard, and the Chairperson of ReCAAP ISC Governing Council, said: "From January to March 2023, 25 incidents of armed robbery against ships in Asia were reported to ReCAAP ISC. This is a 9% increase over the same period last year. Given the current inflationary pressures and uncertain economic outlook, many of the factors which drive individuals to commit piracy and sea robbery may return, and may lead to higher number of incidents this year. The shipping industry must continue to adopt best practices such as timely and accurate incident reporting and close collaboration with maritime authorities, to keep our sea lanes safe and protect crew and cargo." 
In the first panel discussion, representatives from BIMCO, INTERTANKO, Singapore Shipping Association (SSA) discussed the emerging trends and modus operandi of piracy and sea robbery incidents in Asia. 
Ashok Srinivasan, Manager of Maritime Safety and Security, BIMCO, said: "Piracy and armed robbery in any form is a threat to seafarers and shipping. In the Gulf of Guinea, we are beginning to see attacks again after a lull of 12 to 18 months. In South East Asia, we are witnessing attacks to ships' crew with the intention to steal cargo, stores or sometimes even the ship. Industry and authorities need to stay vigilant and not let their guard down. BIMCO will work tirelessly with relevant stakeholders to bring piracy problems under control." 
Mr Elfian Harun, Regional Manager (Southeast Asia) and Environment Manager, INTERTANKO, said: "Piracy and armed robbery are crimes that no seafarer should have to face. Fortunately, the armed robbery taking place in the Singapore Strait has, thus far, not resulted in injury to crew, but the situation remains a real concern due to its potential impact upon the safety of navigation. ReCAAP ISC and its partners have taken tremendous steps to eradicate these crimes and this coordinated response is an example the other regions should consider emulating." 
The second panel discussion saw representatives from the Maritime Security Task Force (Republic of Singapore Navy), BAKAMLA (Indonesian Maritime Security Agency) and the Philippine Coast Guard (PCG) share best practices which ship masters should adopt to engage littoral states and law enforcement agencies. The panellists also highlighted individual country's initiatives and cooperative efforts undertaken to suppress piracy and sea robbery in their territorial waters. 
Ambassador Ong Keng Yong, Executive Deputy Chairman of RSIS, said, "The number of incidents of piracy and armed robbery against ships in the region continues to be a reference point to which the international community assesses the safety and security of regional waters. This conference gathers stakeholders and serves as a reminder on the importance of sustaining collective efforts and to always remain vigilant." 
Executive Director ReCAAP ISC, Krishnaswamy Natarajan, in his closing remarks, said: "Combating piracy and armed robbery against ships in Asia is not the sole responsibility of the coastal States or the shipping industry, but a common responsibility shared by all stakeholders since it is a transnational maritime crime. Building trust and confidence among stakeholders is necessary to promote cooperation, collaboration and information sharing, and to reduce piracy and armed robbery incidents against ships in Asia."
Manifold Times previously reported global oil and shipping group Monjasa stating pirates boarded Liberia-flagged oil tanker Monjasa Reformer on 25 March off Congo in West Africa. The pirates then abandoned the vessel and 'brought part of the crew members with them'. 
In another incident, the Maritime and Port Authority of Singapore (MPA) received a report that the Singapore-registered Success 9 was boarded by unidentified persons at about 300 nautical miles off the Abidjan Coast, Cote d'lvoire at about 10 pm (Singapore time) on 10 April.
Manifold Times then reported MPA was updated that Success 9 has been located off the coast of Abidjan, Côte d'Ivoire. All crew, including the Singaporean crew, were safe and in good health. The ship safely arrived at Abidjan port.
In April, Information Fusion Centre IFC provided an infographic on recommended measures for ship transiting in areas of concerns especially Singapore Strait in light of increased theft, robbery and piracy at sea.
Related: Breaking: Singapore-registered oil tanker "Success 9" located, crew safe
Related: IMO urges for regional and international efforts in response to recent piracy incidents
Related: IMB records lowest level of Q1 piracy since 1993 in 2023 report
Related: IFC publishes key observations from sea robbery incident reports
Related: Pirates abandon "Monjasa Reformer", portion of crew returns to safety
Related: Pirates board Monjasa oil tanker "Monjasa Reformer" in Gulf of Guinea
Related: IFC: Update of boarding and attempted boarding incidents in Singapore Strait (Dec)
Photo credit: ReCAAP Information Sharing Centre
Published: 2 May, 2023
Singapore, LA and Long Beach unveil Partnership Strategy for Pacific Ocean green and digital shipping corridor
Ports and C40 have commissioned a study to analyse trade flows and vessel traffic between the three locations as well as estimate quantity of near-zero/zero-emission bunker fuels required for this traffic.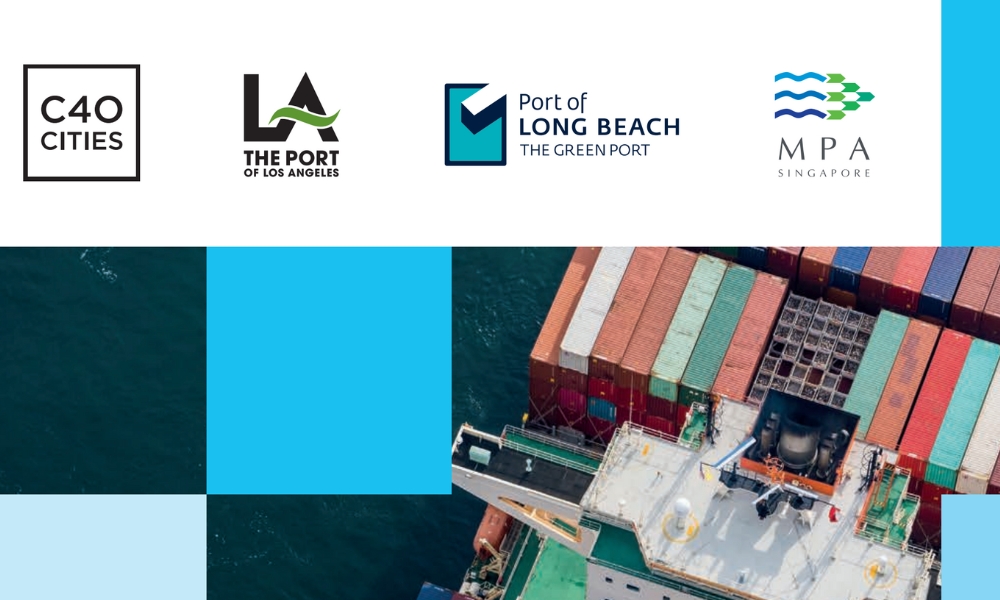 The Maritime and Port Authority of Singapore (MPA), Port of Los Angeles (POLA) and Port of Long Beach (POLB) on Wednesday (6 December) unveiled a Partnership Strategy for a green and digital shipping corridor (GDSC) across the Pacific Ocean at the 28th United Nations Climate Change Conference.
The release of the Partnership Strategy follows the signing of a memorandum of understanding (MoU) by MPA, POLA and POLB during Singapore Maritime Week in April 2023. The MoU formalised the partnership, which is supported by C40 Cities, with the aim of establishing a GDSC connecting the three global hub ports.
The scope of cooperation through the Partnership Strategy and success indicators specified within build upon the MoU signed in April 2023 and reaffirm the corridor partners' commitment to drive global action to digitalise and decarbonise the shipping industry and improve efficiencies.
The GDSC Strategy outlines steps to accelerate decarbonisation of the maritime shipping industry by enabling first mover organisations to achieve net-zero greenhouse gas emissions by the earliest feasible date, in support of the goals defined by the 2023 International Maritime Organization's Strategy on Reduction of GHG Emissions from Ships. The ports and C40 will work together and with value-chain stakeholders from the fuel and maritime sectors to:
● Coordinate decarbonisation efforts: GDSC partners will help to catalyse and coordinate efforts to enable ships calling at the Port of Singapore, Port of Los Angeles and Port of Long Beach to achieve net-zero greenhouse gas emissions by the earliest feasible date.
● Build consensus on green shipping best practices: GDSC partners will seek to establish consensus around green shipping best practices and standards.
● Improve access to and adoption of technology and digital solutions: To enhance supply chain efficiency, resilience and decarbonisation while reducing costs and improving reliability, GDSC partners will work to develop and deploy innovative technology and digital solutions.
● Leverage networks: GDSC partners will work with stakeholders involved in other green shipping initiatives, including those established by the three ports and other parties, to scale the uptake of zero and near-zero emission technologies, fuels and energy sources.
To achieve these aims, a partnership structure and governance mechanism have been developed to provide clarity on the roles and responsibilities of GDSC partners. The strategy also outlines processes for onboarding new participants, financial management, confidentiality and decision-making.
As next steps, the ports and C40 have commissioned a study to analyse trade flows and vessel traffic between Singapore, Los Angeles and Long Beach. The study will estimate the quantity of near-zero and zero-emission fuels required for this traffic, and guide implementation by identifying opportunities for collaboration to advance the development of the GDSC.
The founding partners will now engage stakeholders from across the shipping and fuel supply value chains that share the GDSC's vision and aims, with the intention of onboarding new corridor participants in 2024.
Mr Teo Eng Dih, Chief Executive of MPA, said: "We are excited to see this partnership grow from strength to strength with the Green and Digital Shipping Corridor Partnership Strategy. We have embarked on evaluating the various digital solutions and zero and near-zero fuels options that could be trialled along the route between Singapore and the San Pedro Bay Port Complex. We look forward to the support of all the corridor stakeholders over the coming months to conduct trials and potentially scale them for wider adoption."
"This Partnership Strategy document is the foundation upon which we'll build the future of maritime shipping," Port of Los Angeles Executive Director Gene Seroka said. "Our success requires the resolve and dedication of the three partnering ports as well as our industry partners. Together, we will model the collaboration necessary to achieve our climate and efficiency goals."
"Over the last two decades, we've learned that collaboration between maritime industry partners is the key to making meaningful progress in reducing emissions and cleaning the air,"Port of Long Beach CEO Mario Cordero said. "This trans-Pacific green shipping corridor takes this concept global. The strategies we develop here can be used as a roadmap by a larger network of seaports and supply chain companies to invest in programs, technologies, software and infrastructure to decarbonize international trade everywhere."
C40 Executive Director Mark Watts, said: "C40 is proud to support our port partners in delivering this Partnership Strategy. The advancement of this Green and Digital Shipping Corridor brings the shipping sector one step closer to a 1.5°C-aligned trajectory. Green shipping is only achievable through collaboration because no one stakeholder can afford to move unless they know others are likely to follow. That's where C40 is delighted to help, bringing our network of world-leading cities, which include most of the world's largest and most forward-looking ports."
Note: The Partnership Strategy document can be viewed here. 
Photo credit: Maritime and Port Authority of Singapore
Published: 7 December, 2023
Liberia-flagged bulker "Eleen Armonia" placed under Sheriff's arrest
Ship was added to list of vessels under Sheriff's arrest in Singapore's court system and it is currently held at Eastern Bunkering Anchorage; arrest was made on behalf of Allen & Gledhill LLP.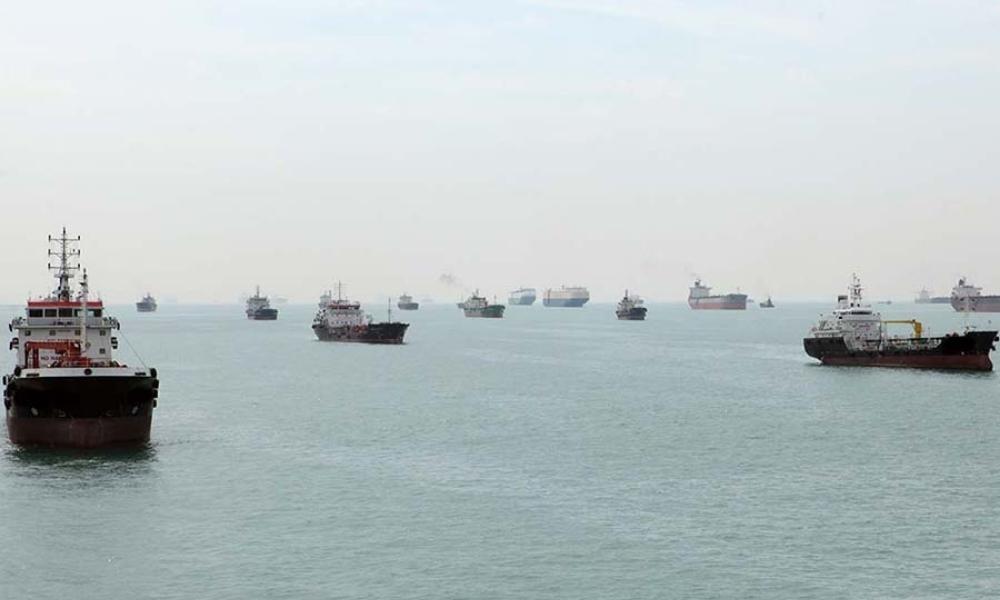 Liberia-flagged bulk carrier Eleen Armonia was arrested in Singapore waters on Monday (4 December).
The 55,522 DWT vessel was added to the list of vessels under Sheriff's arrest in Singapore's court system.
According to the list, the vessel was arrested at 12.25pm and the arresting solicitor listed was law firm Allen & Gledhill LLP. The ship is currently held at the Eastern Bunkering Anchorage.
No details regarding the reason behind the arrest were provided in the list. 
Photo credit: Manifold Times
Published: 7 December, 2023
PIL and DP World embark on biofuel bunkering trials at Jebel Ali Port
Both parties will collaborate on trial shipments between Jebel Ali Port in Dubai and destinations within PIL's network in near term which will include shipments on PIL's vessels powered by a biofuel blend.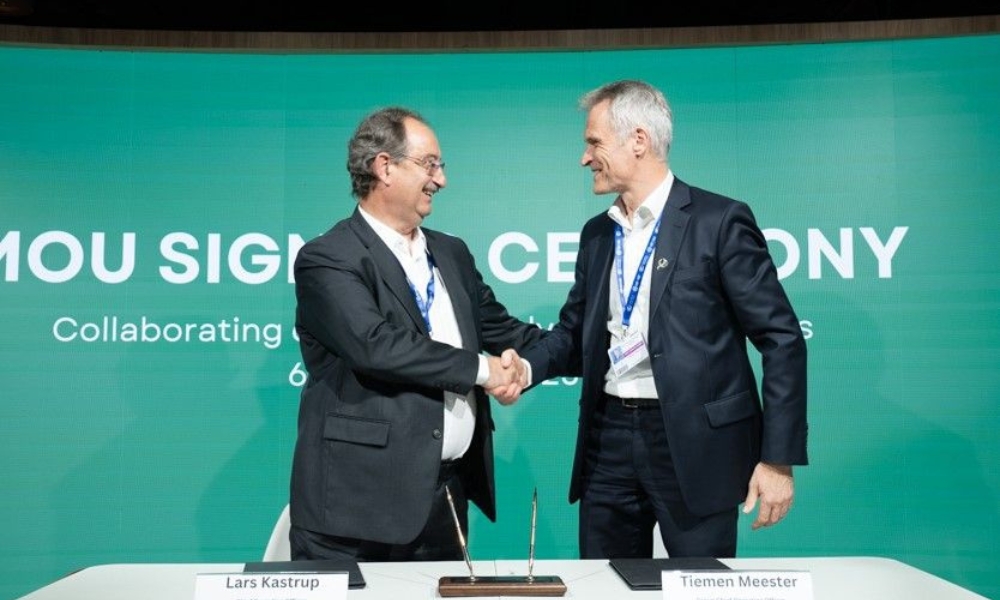 Singapore-based container operator Pacific International Lines (PIL) on Wednesday (6 December) said it signed a Memorandum of Understanding (MOU) with DP World, which handles around 10% of the world's container trade, to jointly develop green solutions to decarbonise global supply chains.
In the near term, both parties will collaborate on trial shipments between Jebel Ali Port in Dubai and destinations within PIL's network, with initiatives to reduce the shipments' GHG footprint. This will include shipments on PIL's vessels powered by a biofuel blend, biofuel bunkering, and deploying container handling equipment at terminals that run on renewable energy to handle the shipments.
Over the longer term, the companies will explore expanding this partnership to include other ports within DP World's global network, and using other alternative bunker fuels, such as e-LNG, green methanol or green ammonia in PIL's vessel operations and bunkering.
It was signed by Mr Lars Kastrup, Chief Executive Officer, PIL and Mr Tiemen Meester, Group Chief Operating Officer, Ports & Terminals, DP World, at the UN Climate Change Conference (COP28) in Dubai, United Arab Emirates (UAE), conveying their commitment to combating climate change and the collective goal of achieving net zero greenhouse gas (GHG) emissions by 2050 or earlier.
Mr Lars Kastrup, Chief Executive Officer, PIL said: "Supply chain resilience and sustainability is the bedrock of global trade growth. With the renewed commitment by the International Maritime Organisation (IMO) this year to take a significant step forward to decarbonise the shipping industry, we at PIL are responding actively to IMO's call and working to invest in and implement green solutions to achieve our target of achieving net zero by 2050. In this regard, we are pleased to have DP World joining us on our sustainability journey. Capitalising on the combined strengths of our two organisations, we can both augment our sustainability efforts as we co-develop solutions to decarbonise our supply chains."
Mr Tiemen Meester, Group Chief Operating Officer, Ports & Terminals, DP World, said: "Decarbonisation is the single biggest concern for DP World outside the constraints and the physical movement of goods. So, we are transforming our business and the impact global trade has on the climate. We have already committed to becoming carbon-neutral by 2040 and achieving net-zero carbon emissions by 2050. But we must explore partnerships with companies that share our ambitions and technology to be deployed right now for quicker results."
Photo credit: DP World
Published: 7 December, 2023