Singapore: MPA details distillate MFM adoption
Circular informs on deployment date, deadline for MFM installation, eligible vessels for MGO MFM grants.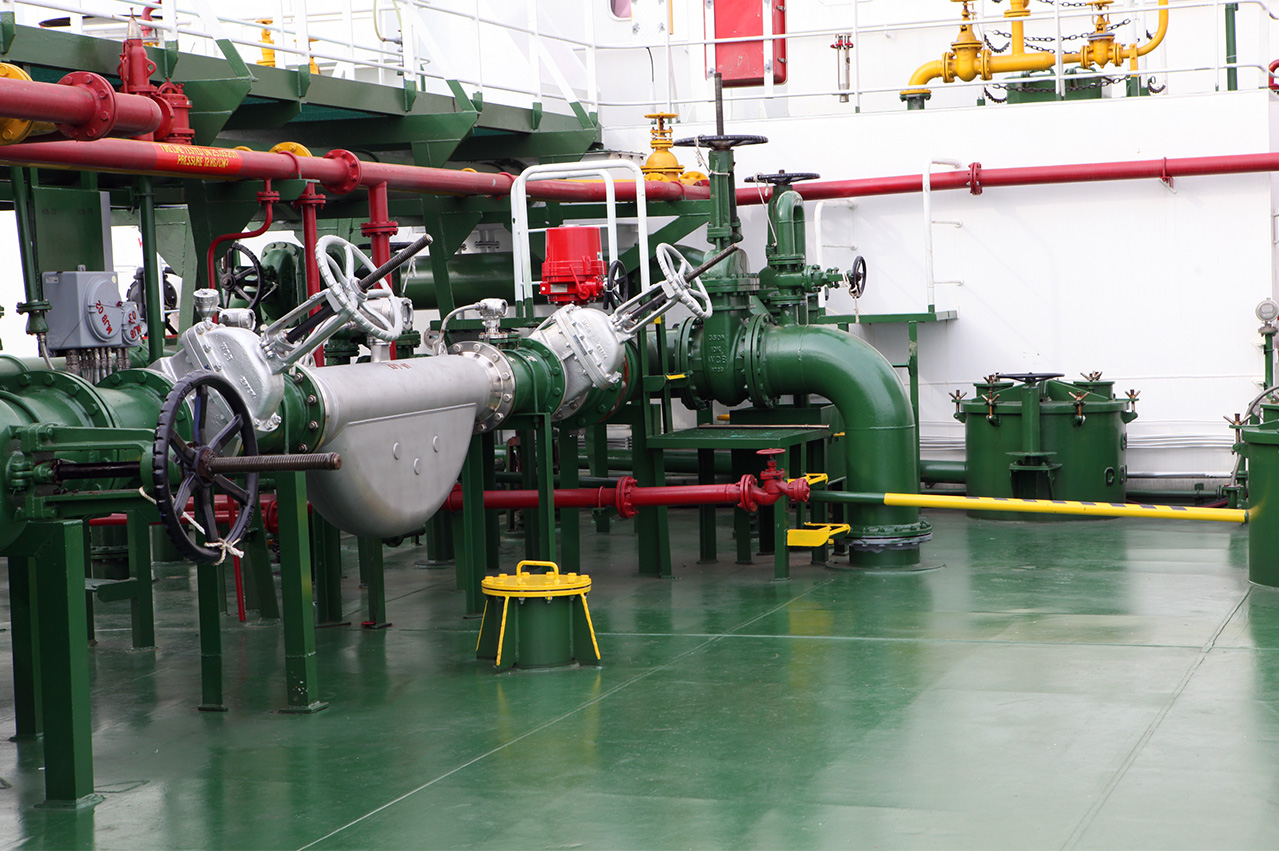 The Maritime and Port Authority of Singapore (MPA) Thursday released addition details regarding the adoption of distillate mass flowmeter (MFM) bunkering systems at Singapore port.
The port marine circular builds upon an earlier April announcement by Assistant Chief Executive (Operations) of MPA, Capt M Segar, of a co-funding scheme to help the industry defray part of the cost in installing the MFM system.
The latest announcement notes that all existing bunker tankers licensed by MPA to deliver distillates as at 26 April 2018 are eligible for the co-funding, except for those that have already received co-funding support from MPA when the MFM for Marine Fuel Oil was implemented.
Further, recipients of the co-funding will have to deploy their bunker tankers in the Port of Singapore for a period of at least one year from the date of approval by MPA.
All bunker craft owners or operators of bunker tankers eligible for the co-funding will be notified by MPA on the application process.
The mandatory use of MFM to bunker tankers delivering distillates in the Port of Singapore is slated to take effect from 1 July 2019.
"All MPA licensed bunker supplier, bunker craft operators, bunker surveying companies and bunker surveyors shall adhere strictly to the terms and conditions of their licences and relevant technical requirements for distillates deliveries by MFM in the Port of Singapore from 1 July 2019," it notes.
"MPA will take firm action against any licensee who has acted in contravention of their licences, including suspending or revoking their bunker licences, as appropriate."
Related: MPA co-funds industry move to MFM distillate bunker delivery
Photo credit: Manifold Times
Published: 11 May, 2018

Endress+Hauser unveils its new LNG bunker metering solution 
The MFM manufacturer has developed a standardised LNG bunkering solution to provide the most accurate real-time metering of LNG transfers using MFMs.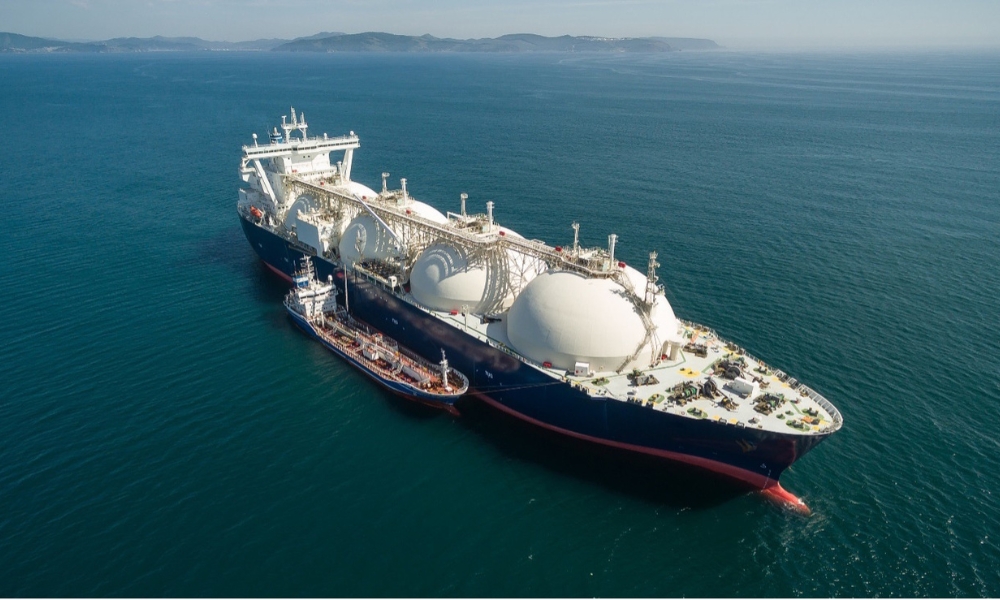 Swiss-based mass flowmeter (MFM) manufacturer Endress+Hauser Group shared with Singapore-based bunkering publication on its new bunker metering system for liquefied natural gas (LNG):
Every day, large quantities of hydrocarbons are transported, stored, treated, received, and finally sold to a wide variety of consumers in the marine industry. Bunker metering solutions ensure that the amount of hydrocarbons transferred is measured with the highest possible accuracy. At the same time, the use of LNG as a marine fuel has been increasing in recent years, especially since ship owners and operators are striving to comply with the latest emissions reduction regulations set by the IMO and EU. As a sulphur-free fuel, LNG is a cleaner alternative to traditional fossil fuels.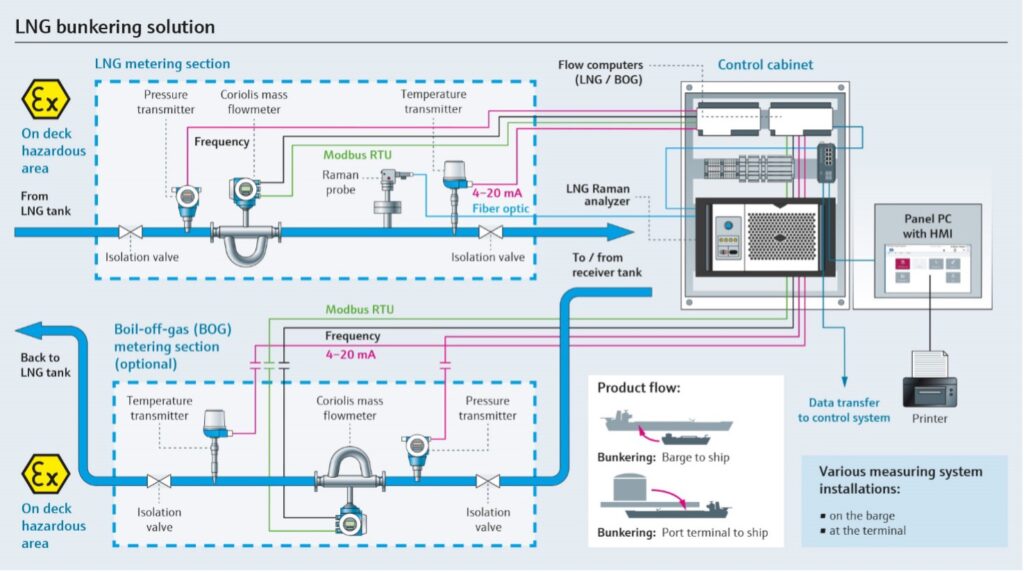 Standardised LNG bunker metering solution
The infrastructure for LNG bunkering is still developing, but it is growing rapidly as more ports and shipping companies adopt LNG as a marine fuel. Endress+Hauser now offers a standardised LNG bunker metering solution to provide the most accurate real-time metering of LNG transfers. This is supplemented by a variety of options to meet the needs of bunkering operations, maritime operators, and ship builders. The package consists of Proline Promass Coriolis MFMs (mass flowmeters), temperature and pressure sensors, Raman optical analyzers for LNG composition analysis and a regulatory-compliant monitoring system. It guarantees accurate metering of LNG and boil-off-gas (BOG) under cryogenic conditions.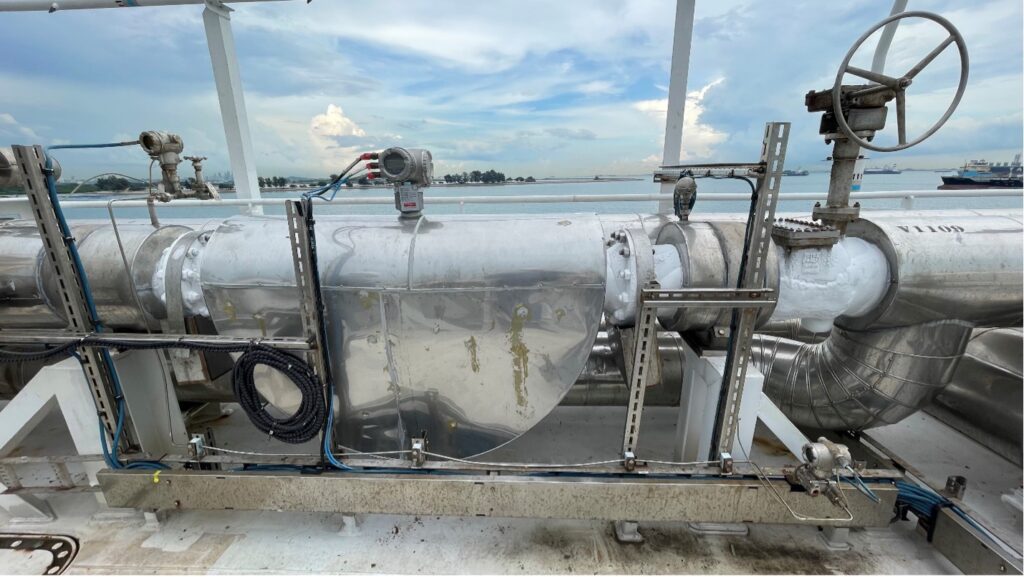 When bunkering with LNG, determining its energy content poses a challenge due to the handling of cryogenic fluids at extremely low temperatures of –160 °C (–256 °F). In addition, the LNG composition often varies due to mixing from different sources and ageing under storage conditions. Providing reliable measurement of the quality of the material transferred is an essential component in the LNG bunker delivery transaction. It is also essential for maintaining safe marine operations.
Analysis in situ and in real time
Gas chromatography (GC) has typically been used to measure the composition of LNG. However, gas chromatographs require that LNG be vaporised and the gas pressure regulated prior to analysis. Vaporizers normally demand frequent downtimes for maintenance to avoid incomplete vaporisation or pre-vaporization. The new solution from Endress+Hauser provides equivalent LNG measurement accuracy with significantly lower operating costs and requires less technical expertise. Furthermore, it has by far the smallest footprint compared to traditional systems. In addition, it is the only one on the market today that can analyse LNG in situ and in real time with our patented Raman technology.
Powerful process analytical tools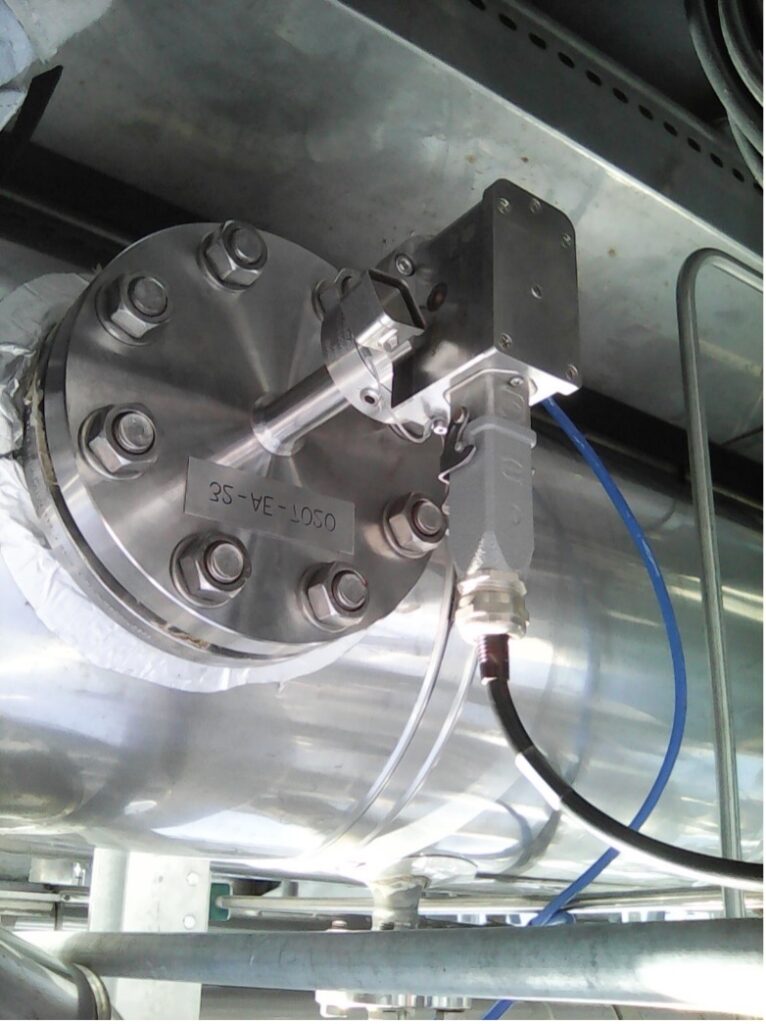 Raman spectroscopy not only reduces the complexity of the LNG monitoring system and has faster start-up stabilisation times, but it proves to be more repeatable, responds more quickly to process changes and requires no maintenance throughout the assessment period. It uses a laser to produce light at visible or near-infrared wavelengths and a Raman analyzer looks for specific wavelengths and intensities to create a chemical profile of the sample. The combination of a Raman Rxn-41 probe and a Raman Rxn4 analyzer results in a powerful process analytical tool for real-time composition analysis of LNG and mixed refrigerants, using quantitative Raman spectral analysis.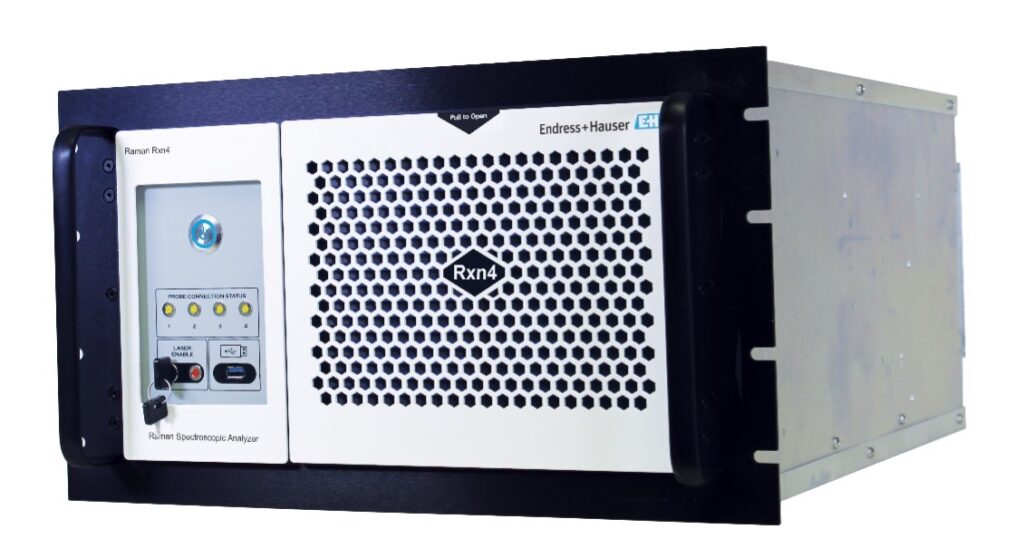 The Raman Rxn4 analyzer is essentially immune to LNG flow variations and configurable with up to four probes for multiple location analysis. The Rxn-41 probe is a rugged insertion probe designed to be inserted directly into the LNG stream so that it takes the reading in situ, with the moving liquid constantly refreshing the sample. The two components are fully integrated into the LNG bunkering solution to provide customers with a complete system from a single vendor with the lowest OPEX of any solution on the market today.
Outstanding measuring accuracy
Another key component of the package is Proline Promass Q. The Coriolis MFM is designed as a specialist for accurate measurement of cryogenic liquids like LNG. Its incredible temperature stability results in best possible accuracy of the measured quantity, especially under cryogenic conditions. Thanks to its revolutionary 4-tube technology and an extended measuring range for sizes up to DN 250 (10"), customers benefit from low pressure loss and outstanding measuring accuracy (±0.35% mass) for both minimal and very high flow rates. The reduced pressure loss also avoids unwanted cavitation effects or gas breakout.
The innovative meter design combined with our patented MFT (Multi-Frequency Technology) helps to reduce errors from entrained gas. Promass Q offers additional features like integrated Heartbeat Technology, which provides the onboard diagnostics and verification that enhance product and process safety. The complete sensor of the flowmeter, including measuring tubes and electronics, can be verified without interrupting the process by the push of a button, even from the control room.
Photo credit: Endress+Hauser
Published: 16 November, 2023
Singapore: Equatorial Marine Fuel, CMS, SGTraDex link decarbonisation and digitalisation solutions in milestone bunker transaction
SGTraDex platform used by EMF and CMS to exchange carbon credits and Proof of Sustainability certificates for a bunker fuel transaction.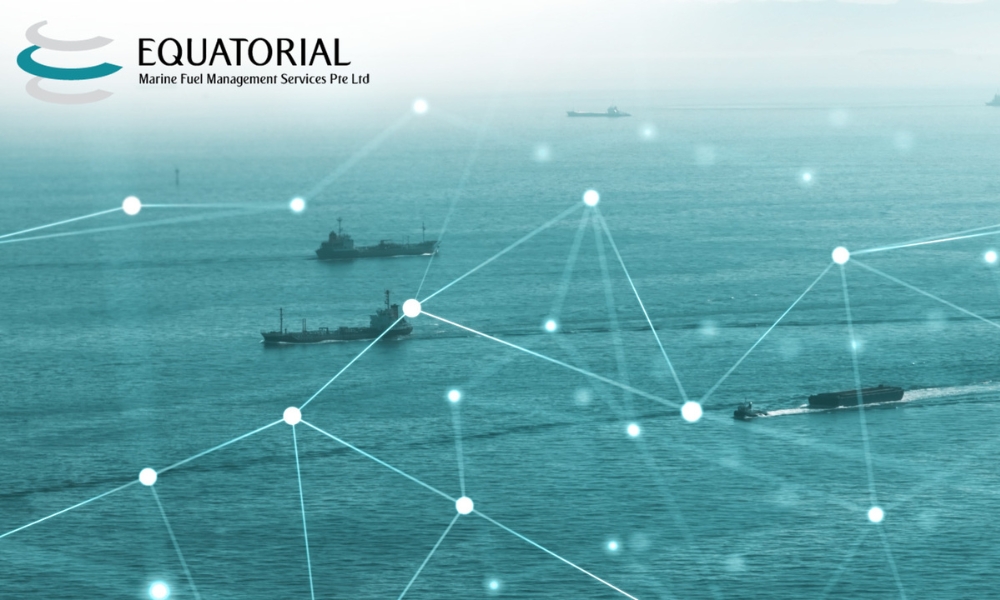 Singapore bunker supplier Equatorial Marine Fuel Management Services (EMF), commodities decarbonisation platform Carbon Management Solutions (CMS), and the Singapore Trade Data Exchange (SGTraDex) on Monday (6 November) entered into a collaborative milestone for a bunker fuel transaction.
The development saw EMF utilising SGTraDex's data highway to exchange necessary digital documents such as bunker delivery note (BDN), Proof of Sustainability (PoS) and meter readings from the bunker tanker's mass flowmeters via the Internet of Things to the cloud for inspection by CMS.
In return, CMS issued carbon credits and a proof of sustainability certificate for the bunker stem to EMF via the SGTraDex platform.
"We are constantly seeking improvements in creating a highly connected future for bunker business. This exercise further showcases the efforts with our partners in creating a decarbonised digital collaboration that further differentiate us," Choong Zhen Mao, Executive Director of EMF, told Manifold Times.
There is a natural synergy between decarbonisation and digitalisation, noted Collin Ng, Chief Technology Officer of EMF: "Globally, we are moving into an era where being digital is no longer an option if we are to stay relevant. We are constantly re-designing and building on our foundations to allow us to adapt and to grow while being sustainable through technology. This collaboration with our partners affirms our capabilities and we hope to be able to extend this to our customers and future partners."
"At CMS, we believe that the convergence of digital technology and environmental responsibility is pivotal. Our partnership with EMF and SGTraDex exemplifies our dedication to creating a more environmentally friendly and efficient supply chain for bunker fuel." Anthony Bennett, Chief Operating Officer of Carbon Management Solutions.
Kelvin Ling, Head of Operations & Business Development added: "We are honoured to serve as the connective data highway for this transformative transaction. This exchange exemplifies the potential technology can play in driving sustainability in the sector. We hope this success continues to serve as a call to partners to embrace digitalisation for a cleaner and efficient maritime sector."
Manifold Times in July reported EMF completing a carbon credit transaction with CMS. The purchase, conducted through a collaboration between CMS and carbon credit exchange Xpansiv, was for 'lower carbon' marine fuel oil which was used to partially offset clients' vessel emissions.
EMF in June 2022 said it has connected one third of its bunker tanker fleet to the SGTraDex platform.
Launched on 1 June 2022, SGTraDex is a digital utility that facilitates the sharing of data between supply chain ecosystem partners, streamlining information flows through a common data highway where data can be shared in a trusted, secure and inclusive manner.
Related: Equatorial Marine Fuel conducts carbon credit trial with Carbon Management Solutions
Related: Equatorial Marine Fuel links one third of bunker tanker fleet to SGTraDex in push towards trust & transparency
Photo credit: Equatorial Marine Fuel Management Services / Carbon Management Solutions / SGTraDex
Published: 14 November 2023
MPA Chief Executive: Port of Singapore begins digital bunkering initiative today 
MPA will explore enhancements, including automating data flow from MFMs, and work with Singapore Standards Council to revise current code of practice to support electronic bunkering documentation.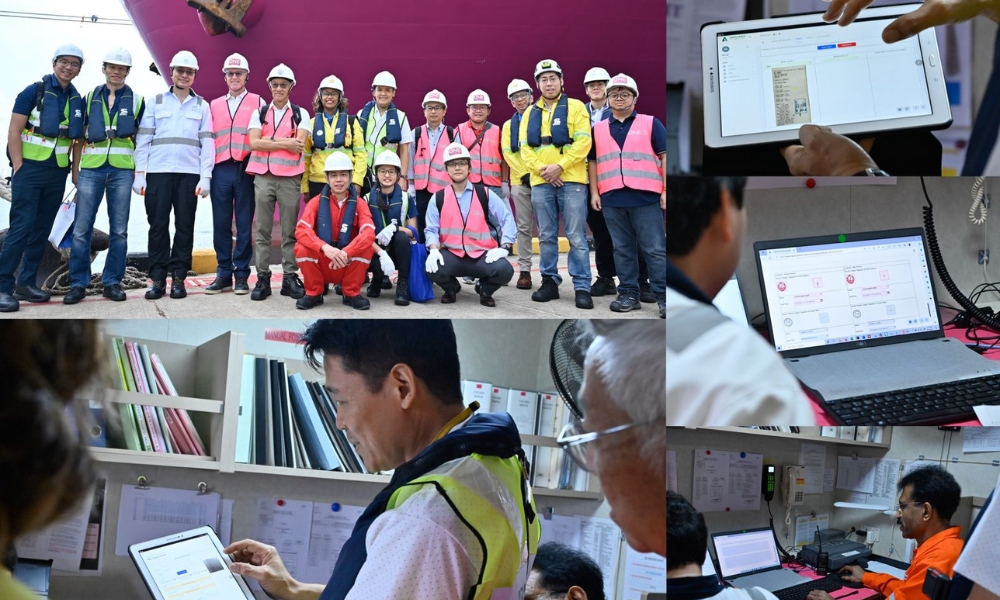 The Maritime and Port Authority of Singapore (MPA) on Monday (1 November) launched its digital bunkering platform, becoming the world's first port to implement e-BDN.
Eng Dih Teo, Chief Executive of MPA, said this comes following over 100 trials with more than 20 companies since January 2023.
"Just as vehicles must be refuelled or recharged, vessels take in bunker fuel in between ports. Unlike our everyday digital transactions, bunkering vessels involves a tedious process of filling and exchanging more than 10 paper documents per bunkering operation – including physical bunker delivery notes, a standard document required by the International Convention for the Prevention of Pollution from Ships containing info on fuel delivery." he said in a social media post.
"Thankfully, with Member States' support, the 80th Session of the International Maritime Organization Marine Environment Protection Committee approved the use of electronic bunker delivery notes (e-BDN) in July."
Eng noted that the lengthy processes can be avoided for Singapore, as Maritime and Port Authority of Singapore (MPA) has developed mobile and cloud solutions with industry for electronic exchange of bunkering documentation.
"This allows cargo officers to complete and exchange bunkering documentation without cross-boarding their receiving vessels, enhancing safety. It also increases efficiency by automating manual tasks, and providing transparency of transactions," he said.
For a start, he said MPA has whitelisted digital bunkering solutions from Angsana Technology Pte Ltd, BTS Pte Ltd and Bunkerchain, and more service providers are expected to come onboard. Due diligence was done to ensure solutions meet cybersecurity, functionality, interoperability and reliability criteria.
"We will explore enhancements, including automating data flow from Mass Flow Meters, and work with Singapore Standards Council to develop a new Specification for digital bunkering supply chain documentation to revise the current SS648:2019 Code of Practice of Bunker Mass Flow Metering to support electronic bunkering documentation."
He added that licensed bunker suppliers, ship owners, operators and crew are encouraged to use these solutions, which is expected to save about 40,000 man-days yearly for Singapore's shipping community.
"As a global bunkering hub, Singapore will work with stakeholders to raise efficiency, reduce business costs and enhance fuel operations to better serve ships of the world," Eng said.
Manifold Times previously reported the involvement of Singapore-based bunker tanker owner/operator and marine fuel supplier Hong Lam Marine, Ocean Network Express and Shell in a successful e-BDN trial.
Related: Singapore: MPA publishes guidelines for bunker suppliers in preparation of e-BDN launch
Related: Singapore set to become first port in the world to debut electronic bunker delivery notes
Related: Hong Lam Marine 'fully supportive' of e-BDN implementation for Singapore bunkering sector
Related: ONE completes e-BDN adoption trial with Shell in Port of Singapore
Related: IBIA: International Maritime Organization confirms acceptance for electronic BDNs (update)
Related: IBIA: MEPC 80 confirms acceptance for electronic bunker delivery notes
Related: IBIA: IMO sub-committee accepts use of electronic BDNs after long discussion
Photo credit: Maritime and Port Authority of Singapore
Published: 1 November, 2023