Sea Commerce: 'Why the time has come for Methanol as a marine fuel'
Organises its 15th global seminar on methanol as a marine fuel with support of the Association of Turkish Coaster Owners & Operators and sponsorship by Methanol Institute in Istanbul on 7 March.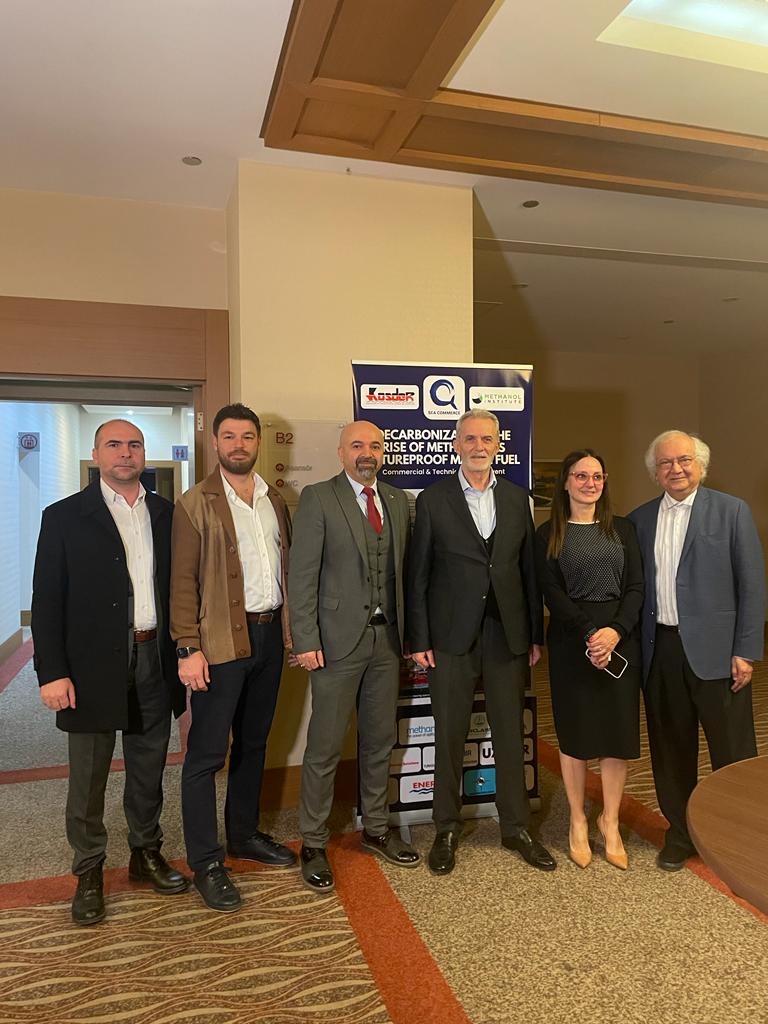 Sea Commerce organized its 15th global seminar on methanol as a marine fuel with the support of the Association of Turkish Coaster Owners & Operators (KOSDER) and sponsorship by the Methanol Institute in Istanbul on 7 March 2023.
The event provided an update on the uptake of methanol as a marine fuel and its growing acceptance by shipowners. With technological and regulatory challenges associated with methanol as a marine fuel largely resolved, orders for 23 dual fuel/methanol-powered ships have been ordered in February bringing the orderbook to 106 ships.
Mrs Pinar Kalkavan Sesel, Chairperson of KOSDER, highlighted the new regulations impacting on the maritime industry:
"These regulations have come into effect as emissions from ships, which increase in line with the demand for maritime transport have increased. The aim of these regulations passed by the International Maritime Organization (IMO) to reduce the growth of emissions rate within set timescales puts the maritime sector into a serious adaptation process."
Methanol, which is frequently described as one of the most mature alternative marine fuels, is also promising to be the marine fuel of the future. Methanol has been in the maritime industry for more than a century and safely carried as a cargo for decades. Only lately has it been seen as the ideal fuel for the maritime industry to help meet the IMO's carbon emissions and intensity reduction goals by 2050.
The seminar also highlighted the efforts that the maritime sector is making on an international scale to operate sustainably thereby helping to decrease adverse climate events which have many negative social, environmental and industrial impacts.
Mrs Pinar Kalkavan Sesel thanked Capt. Alavi for facilitating KOSDER's participation at the event. This was the 15th methanol awareness event organized by Sea Commerce. Earlier, at the start of the seminar, the organizers and participants paid their respects to those who died or suffered from the terrible earthquake and prayed for them and the welfare of those who survived.
International Maritime Organization regulations on handling methanol are well developed within the IGF Code and the Methyl/Ethyl Interim Guidelines. Still to come could be rules for methanol bunkering and standards for fuel quality.
While revisions to the IMO's 2050 targets are still currently being debated, it is widely agreed that a full life cycle approach will be taken when evaluating the GHG performance of future fuels. This is expected to lead methanol production towards recycled carbon feedstocks and generation technologies that involve renewable energy.
Taking a lifecycle approach that includes Scope Three emissions including the energy necessary to create the hydrogen from which methanol is produced, e-methanol does have a carbon footprint but it is about 20 times less than marine gasoil, LNG, or methanol produced from natural gas, and about three times less than green methanol produced from biomass.
Today, methanol made from natural gas offers a lifecycle greenhouse gas reduction of 5%- 15% compared to diesel as well as immediate reductions in sulfur oxides (SOx), nitrogen oxides (NOx), and particulate matter.
Methanol offers a 2% lower fuel consumption per kWh than diesel fuel, and engine corrosion and fuel slip are not an issue due to the high combustion rate achieved by engine designers. 
MAN Energy Solutions is among those who believe that Methanol is one is one of the most viable pathways for decarbonizing shipping as it can provide carbon neutrality when produced from renewable energy in connection with biogenic CO2.
A study conducted by Imperial College London Consultants (October 2021) on European biomass availability concludes that "the potential availability of sustainable biomass, with no harm to biodiversity, could support an advanced and waste-based biofuel production of up to 175 Mtoe in 2050. In other words, European sustainable biomass alone could more or less support the global marine requirement of 178mt for biomass."
Currently, Methanol mostly in conventional form is available in over 100 ports globally.
The Methanol Institute, in discussing the European Union's 'Fit for 55', measures aimed at reducing 55% of carbon emissions by 2030, suggested that the revision of electricity market could positively impact e-methanol availability with 10bn liters or 8m tonnes per year potentially available by 2027.
Wartsila, with 10 years' experience of methanol engine development and operation, felt that "The technology is robust and proven in the marine environment with excellent performance". Proof of concept remains Stena Germanica -the first non-tanker methanol powered vessel which was converted in 2015 with Wärtislä Sulzer ZA40S engines and continues to perform without any issues.
A large dual-fuel two-stroke engine running on methanol could cost up to $4m more on a newbuilding and up to U$9m more for retrofit (assuming the parent engine cost is about US$4-5 million, based on figures from MAN Energy Solutions.
These costs are partially mitigated because the engine can be Tier III compliant without the need for an exhaust gas recirculation system (US$1m) or a selective catalytic converter (US$1m). The need to continually run air compressors to support these after-treatment systems adds further to their cost.
Experience to date has shown that operating a dual-fuel methanol engine can add about 5% to Opex due to training and maintenance. However the technology behind using Methanol as a fuel is well proven and has been in service since 2016. Combined with the fact that no cryogenic equipment is needed and the supply pressure is only 13 bar.
Uzmar Shipbuilding expressed the view that the main challenge in designing a methanol powered tugboat was to accommodate various equipment in very limited space onboard. This was achieved with combination of guidance from the classification society and designers experienced on alternative fuel applications.
There are STCW training requirements for crews — basic IGF Code training for seafarers and advanced training for masters and engineers. In addition, MAN ES recommends proprietary training on its ME-LGIM engine.
Sea Commerce focused on the bunkering aspect of the methanol supply chain. Unlike the competing cryogenic fuels (LNG, Ammonia, and Hydrogen) where a completely new bunkering infrastructure setup is required, methanol bunkering is similar to existing LSFO/MGO bunkering operation with very minor, low cost modifications necessary to existing bunkering delivery infrastructure including trucks and barges.
For example; a cost of the LNG bunkering ship of 7500 CuM (abt 3400 ts) costs run close to US$38-40 million compared to methanol bunkering vessels where the cost for a 3,000 tonnes (3,000cum) are about US$8-10 million (based on China shipyard prices). It is also feasible to convert an existing Type three tanker already employed as a bunkering vessel to methanol supply, at a cost US$0.5-1m depending on the region or area where the conversion is done.
Sea Commerce approached The Indian Register of Shipping (IRClass) to undertake a gap analysis on the conversion of existing bunkering vessels to partially or fully carry methanol and what is required to comply with SOLAS and IBC Code requirements. The presentation reflected a detailed analysis of converting an existing 5,000t (Type 3) bunkering vessel.
Speakers at the seminar "Rise of Methanol as a Future Proof Marine Fuel" were Rafik Ammar, Public and Govt. Affairs EU at Methanol Institute; Dagfinn Lunde, Partner at DAGMAR; Elif Ceren Gülcek, Board member at Turkish Shipyard Association (GISBIR); Vijay Arora, Managing Director at Indian Register of Shipping; Prof. Dr. Mustafa İnsel, Business Development Manager at Hidroteknik Nautical Design Ltd; Nalan Erol, Shipyard R&D Leader at UZMAR Shipyard; Toni Stojcevski, General Manager Large Projects at Wartsila; Pavel Chernyshov, Co-Founder/Partner at Arkview Capital; Jorgen Vedsted, Manager, Sales & Promotion at MAN Energy Solutions and Saleem Alavi, President, Sea Commerce America.
The event was moderated by Mustafa Murtahoglu, Partner at Energy Petrol and Constantine Orphanos, Sales and Purchase at Oceanus Tankers.
Captain Saleem Alavi is president of Sea Commerce America
Photo credit: Sea Commerce
Published: 13 April, 2023
Singapore, LA and Long Beach unveil Partnership Strategy for Pacific Ocean green and digital shipping corridor
Ports and C40 have commissioned a study to analyse trade flows and vessel traffic between the three locations as well as estimate quantity of near-zero/zero-emission bunker fuels required for this traffic.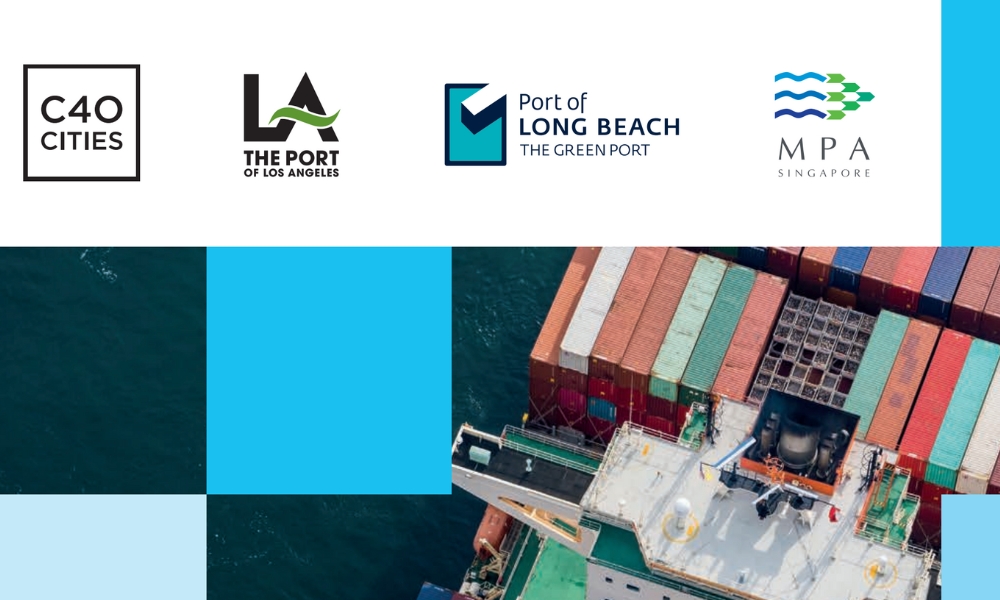 The Maritime and Port Authority of Singapore (MPA), Port of Los Angeles (POLA) and Port of Long Beach (POLB) on Wednesday (6 December) unveiled a Partnership Strategy for a green and digital shipping corridor (GDSC) across the Pacific Ocean at the 28th United Nations Climate Change Conference.
The release of the Partnership Strategy follows the signing of a memorandum of understanding (MoU) by MPA, POLA and POLB during Singapore Maritime Week in April 2023. The MoU formalised the partnership, which is supported by C40 Cities, with the aim of establishing a GDSC connecting the three global hub ports.
The scope of cooperation through the Partnership Strategy and success indicators specified within build upon the MoU signed in April 2023 and reaffirm the corridor partners' commitment to drive global action to digitalise and decarbonise the shipping industry and improve efficiencies.
The GDSC Strategy outlines steps to accelerate decarbonisation of the maritime shipping industry by enabling first mover organisations to achieve net-zero greenhouse gas emissions by the earliest feasible date, in support of the goals defined by the 2023 International Maritime Organization's Strategy on Reduction of GHG Emissions from Ships. The ports and C40 will work together and with value-chain stakeholders from the fuel and maritime sectors to:
● Coordinate decarbonisation efforts: GDSC partners will help to catalyse and coordinate efforts to enable ships calling at the Port of Singapore, Port of Los Angeles and Port of Long Beach to achieve net-zero greenhouse gas emissions by the earliest feasible date.
● Build consensus on green shipping best practices: GDSC partners will seek to establish consensus around green shipping best practices and standards.
● Improve access to and adoption of technology and digital solutions: To enhance supply chain efficiency, resilience and decarbonisation while reducing costs and improving reliability, GDSC partners will work to develop and deploy innovative technology and digital solutions.
● Leverage networks: GDSC partners will work with stakeholders involved in other green shipping initiatives, including those established by the three ports and other parties, to scale the uptake of zero and near-zero emission technologies, fuels and energy sources.
To achieve these aims, a partnership structure and governance mechanism have been developed to provide clarity on the roles and responsibilities of GDSC partners. The strategy also outlines processes for onboarding new participants, financial management, confidentiality and decision-making.
As next steps, the ports and C40 have commissioned a study to analyse trade flows and vessel traffic between Singapore, Los Angeles and Long Beach. The study will estimate the quantity of near-zero and zero-emission fuels required for this traffic, and guide implementation by identifying opportunities for collaboration to advance the development of the GDSC.
The founding partners will now engage stakeholders from across the shipping and fuel supply value chains that share the GDSC's vision and aims, with the intention of onboarding new corridor participants in 2024.
Mr Teo Eng Dih, Chief Executive of MPA, said: "We are excited to see this partnership grow from strength to strength with the Green and Digital Shipping Corridor Partnership Strategy. We have embarked on evaluating the various digital solutions and zero and near-zero fuels options that could be trialled along the route between Singapore and the San Pedro Bay Port Complex. We look forward to the support of all the corridor stakeholders over the coming months to conduct trials and potentially scale them for wider adoption."
"This Partnership Strategy document is the foundation upon which we'll build the future of maritime shipping," Port of Los Angeles Executive Director Gene Seroka said. "Our success requires the resolve and dedication of the three partnering ports as well as our industry partners. Together, we will model the collaboration necessary to achieve our climate and efficiency goals."
"Over the last two decades, we've learned that collaboration between maritime industry partners is the key to making meaningful progress in reducing emissions and cleaning the air,"Port of Long Beach CEO Mario Cordero said. "This trans-Pacific green shipping corridor takes this concept global. The strategies we develop here can be used as a roadmap by a larger network of seaports and supply chain companies to invest in programs, technologies, software and infrastructure to decarbonize international trade everywhere."
C40 Executive Director Mark Watts, said: "C40 is proud to support our port partners in delivering this Partnership Strategy. The advancement of this Green and Digital Shipping Corridor brings the shipping sector one step closer to a 1.5°C-aligned trajectory. Green shipping is only achievable through collaboration because no one stakeholder can afford to move unless they know others are likely to follow. That's where C40 is delighted to help, bringing our network of world-leading cities, which include most of the world's largest and most forward-looking ports."
Note: The Partnership Strategy document can be viewed here. 
Photo credit: Maritime and Port Authority of Singapore
Published: 7 December, 2023
PIL and DP World embark on biofuel bunkering trials at Jebel Ali Port
Both parties will collaborate on trial shipments between Jebel Ali Port in Dubai and destinations within PIL's network in near term which will include shipments on PIL's vessels powered by a biofuel blend.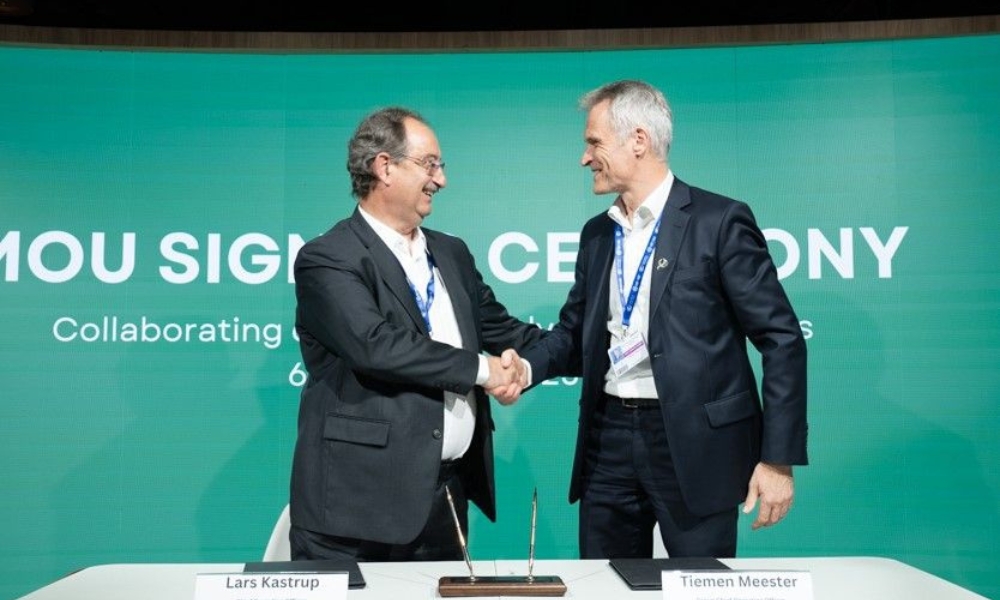 Singapore-based container operator Pacific International Lines (PIL) on Wednesday (6 December) said it signed a Memorandum of Understanding (MOU) with DP World, which handles around 10% of the world's container trade, to jointly develop green solutions to decarbonise global supply chains.
In the near term, both parties will collaborate on trial shipments between Jebel Ali Port in Dubai and destinations within PIL's network, with initiatives to reduce the shipments' GHG footprint. This will include shipments on PIL's vessels powered by a biofuel blend, biofuel bunkering, and deploying container handling equipment at terminals that run on renewable energy to handle the shipments.
Over the longer term, the companies will explore expanding this partnership to include other ports within DP World's global network, and using other alternative bunker fuels, such as e-LNG, green methanol or green ammonia in PIL's vessel operations and bunkering.
It was signed by Mr Lars Kastrup, Chief Executive Officer, PIL and Mr Tiemen Meester, Group Chief Operating Officer, Ports & Terminals, DP World, at the UN Climate Change Conference (COP28) in Dubai, United Arab Emirates (UAE), conveying their commitment to combating climate change and the collective goal of achieving net zero greenhouse gas (GHG) emissions by 2050 or earlier.
Mr Lars Kastrup, Chief Executive Officer, PIL said: "Supply chain resilience and sustainability is the bedrock of global trade growth. With the renewed commitment by the International Maritime Organisation (IMO) this year to take a significant step forward to decarbonise the shipping industry, we at PIL are responding actively to IMO's call and working to invest in and implement green solutions to achieve our target of achieving net zero by 2050. In this regard, we are pleased to have DP World joining us on our sustainability journey. Capitalising on the combined strengths of our two organisations, we can both augment our sustainability efforts as we co-develop solutions to decarbonise our supply chains."
Mr Tiemen Meester, Group Chief Operating Officer, Ports & Terminals, DP World, said: "Decarbonisation is the single biggest concern for DP World outside the constraints and the physical movement of goods. So, we are transforming our business and the impact global trade has on the climate. We have already committed to becoming carbon-neutral by 2040 and achieving net-zero carbon emissions by 2050. But we must explore partnerships with companies that share our ambitions and technology to be deployed right now for quicker results."
Photo credit: DP World
Published: 7 December, 2023
DNV awards AiP to China Merchants Jinling Shipyard for world's largest PCTC design
DNV has awarded an Approval in Principle certificate to China Merchants Jinling Shipyard (Nanjing) for its 11,000-CEU capacity LNG-fuelled PCTC design at Marintec China trade fair.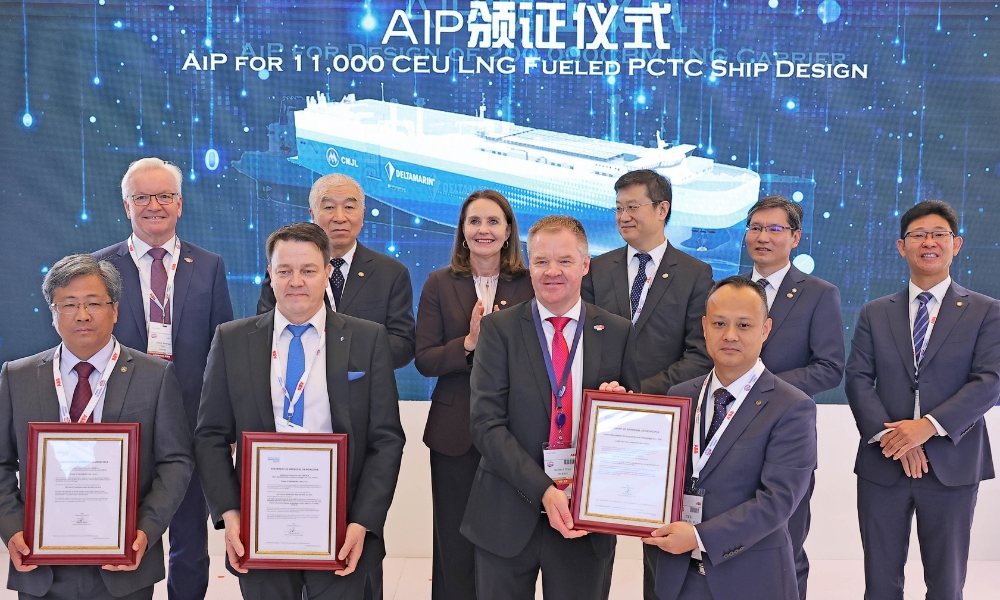 Classification society DNV on Wednesday (6 December) said it has awarded an Approval in Principle (AiP) certificate to China Merchants Jinling Shipyard (Nanjing) Co., Ltd. for its 11,000-CEU capacity LNG-fuelled pure car and truck carrier (PCTC) design at the Marintec China trade fair.
Recognized as the world's largest PCTC, the 234m long and 40m wide ship will have 14 decks allowing 11,000 car equivalent units (CEUs) to be stored simultaneously, which not only increases efficiency but also reduces the transport cost per vehicle.
By implementing a combination of decarbonization measures, the so-called "Super Large Smart Green 11,000" design will result in a significant reduction in carbon emissions, in line with the stringent requirements of the Energy Efficiency Design Index (EEDI) Phase 3 and NOx Tier III. The PCTC will use LNG as its primary fuel and will be equipped with a 4,200cbm LNG storage tank.
With the assistance of ship designer Deltamarin, the hull line of the vessel has been optimised through numerous CFD calculations and ship model tests. Additional energy-saving features include a stern flow optimization device and an air lubrication system, which effectively minimise resistance and reduce the required propulsion power. The integration of hybrid propulsion systems and solar power further underlines the commitment to reducing energy consumption.
"We expect the market for electric vehicles to continue to grow, driving demand for PCTCs. Scale, energy efficiency and low carbon fuel are key to reducing emissions from the transport of these vessels. As a leading class for car carriers, DNV is honoured to be entrusted with the assessment of this next generation of car carriers and we look forward to working with China Merchants to bring these vessels to the water," said Norbert Kray, Regional Manager Greater China at DNV Maritime.
According to China Merchants, the shipyard is already in discussions with potential customers for the 11,000 CEU PCTC.
Photo credit: DNV
Published: 7 December, 2023