MPA and partners establish Global Centre for Maritime Decarbonisation
GCMD set up by MPA, BHP, BW Group, Eastern Pacific Shipping, Foundation Det Norske Veritas, Ocean Network Express and Sembcorp Marine,

The Maritime Ports Authority of Singapore (MPA) on Thursday (29 July) announced the formation of Global Centre for Maritime Decarbonisation (GCMD) in Singapore and its leadership team with effect from 1 August 2021. 
Set up with a S$120 million fund from MPA and six founding partners namely BHP, BW Group, Eastern Pacific Shipping, Foundation Det Norske Veritas, Ocean Network Express and Sembcorp Marine, the centre will spearhead the maritime industry's energy transition journey. 
GCMD aims to collaborate with the industry to help the maritime sector reduce greenhouse gas (GHG) emissions, implement identified decarbonisation pathways and create new business opportunities. The set-up of a decarbonisation centre was first announced during the Singapore Maritime Week in April 2021, as one of the recommendations in the International Advisory Panel for Maritime Decarbonisation's report submitted to the Singapore Government.
Collaborations in maritime decarbonisation gaining momentum 
As part of GCMD's ongoing efforts to explore joint industry projects that advance the deployment of low- and zero-carbon maritime solutions, 31 organisations ranging from shipping companies, classification societies, research centres, traders, energy players, terminal and tank operators, engineering companies, financial institutions to industry associations have expressed interest to collaborate with GCMD. GCMD will be working with these organisations to establish strong partnership and initiatives as part of its objective to deliver value to the industry globally.
Please refer to Annex A for the full list of organisations who have indicated their expressions of interest to explore collaborations with GCMD
GCMD to be headed by international experts on clean energy transition and emerging solar technologies
Prof Lynn Loo will be appointed Chief Executive Officer. She will be responsible for working with GCMD's Governing Board to develop and execute the overall strategy for the new centre. She will also take the lead in building partnerships with the maritime industry, government agencies, international bodies and other regional and international maritime decarbonisation centres. 
Lynn is currently the Director of the Andlinger Center for Energy and the Environment at Princeton University. 
Under her leadership, the Andlinger Center released the Net-Zero America Study that laid out technological pathways by which the U.S. can stop contributing to a build-up of greenhouse gases in the atmosphere by 2050. She is also known for her development of a transparent solar cell technology to wirelessly power "smart" windows that can decrease building energy use while increasing occupant comfort. She will continue to hold her position as the Theodora D. '78 and William H. Walton III '74 Professor in Engineering and professor of chemical and biological engineering while on leave from Princeton.
Dr Sanjay Chittarajan Kuttan will be appointed Chief Technology Officer to lead technology and research development and pilot trials initiated by the centre.  He will also be involved in standards development of future marine fuels, as well as strengthening the linkages with local research institutes and international decarbonisation centres to advance maritime decarbonisation efforts. Sanjay is currently the Executive Director of the Singapore Maritime Institute (SMI) and is responsible for building deeper Research and Development (R&D) capabilities within the local maritime R&D community and funding key maritime research projects with industry. 
Please refer to Annex B for bios of Prof Lynn Loo and Dr Sanjay Chittarajan Kuttan
GCMD Governing Board to comprise representatives from the industry and public sector; Mr Andreas Sohmen-Pao appointed Chairman
GCMD's leadership team will be supported by a Governing Board, who will work with the team to define the strategic direction of GCMD. Mr Andreas Sohmen-Pao, Chairman of BW Group and the Singapore Maritime Foundation, will be appointed Chairman of GCMD's Governing Board. The Governing Board is made up of eight other members who have deep industry networks to help grow GCMD into a leading centre of excellence for maritime decarbonisation. They are:
Future Developments
In partnership with the industry, GCMD will facilitate decarbonisation technology development and test-bedding, including future marine fuel trials with the industry and research communities in Singapore. To this end, MPA is looking at developing waterfront facilities to support these activities. MPA is working with relevant agencies to study the viability of locating GCMD along with other maritime developments at Marina South.
Mr Chee Hong Tat, Senior Minister of State for Transport, said, "The Global Centre for Maritime Decarbonisation has garnered much interest from industry stakeholders. This strong support is important for developing commercially viable solutions for sustainable shipping.  As a hub port and international maritime centre, Singapore will contribute to this shared vision by growing a vibrant ecosystem for maritime decarbonisation research, technology development and solution deployment.The Centre's work will involve going into new areas and uncharted waters, we are grateful to our partners for sailing this journey together with us."
Mr Andreas Sohmen-Pao, Chairman, Governing Board of GCMD, said, "Decarbonisation is a global challenge, and our industry has to play its part.  The challenge is too large for any one company to solve, so collaboration is essential. This centre will build on the positive steps taken by many maritime players around the world, and Singapore's position as a leading maritime centre, to help the industry transition to a low-carbon future."
Prof Lynn Loo, Chief Executive Officer, GCMD, said, "I am honoured and excited to lead GCMD. Contributing 3% of global carbon emissions annually, shipping is one of the hardest-to-abate sectors. GCMD offers a huge opportunity to make significant inroads on the sector's decarbonisation agenda. Starting in Singapore, our work will carry us widely across the globe, rigorously testing promising solutions with a simple goal of taking tangible next steps to help the maritime sector navigate the energy transition."
Related: SMW 2021: MPA, BW Group, Sembmarine, EPS, ONE, DNV, BHP decarbonisation efforts recognised
Related: SMW 2021: MPA & Partners ink SGD 120 million fund to establish maritime decarbonisation centre
Related: SMW 2021: IAP submits maritime decarbonisation recommendations to Singapore Government
Photo credit: Manifold Times
Published: 30 July, 2021
China Shipping & Sinopec Suppliers completes first biofuel bunkering op of passenger ship in Dalian
Firm successfully refuelled passenger ship "Chang Shan Dao" owned by Cosco Shipping Ferry with B24 bio bunker fuel on 29 November at Dalian Cruise Port.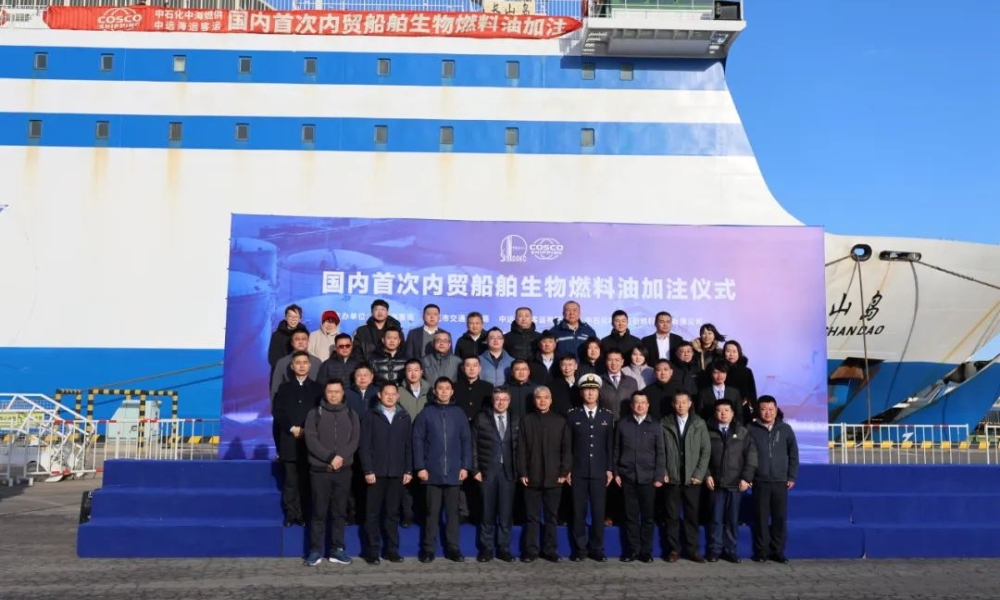 China Shipping & Sinopec Suppliers Co., Ltd. on Wednesday (29 November) successfully refuelled passenger ship "Chang Shan Dao" owned by Cosco Shipping Ferry Co., Ltd. with B24 bio bunker fuel at the Dalian Cruise Port.
The occasion marked the first biofuel bunkering operation for passenger ships in China.
The B24 biofuel oil used was blended with 24% biofuel and 76% conventional low-sulphur fuel oil.
Sinopec China Shipping Fuel Supply, which is responsible for the bunkering operation, is a bunker supply firm jointly established by Sinopec Group and COSCO Shipping Group.
According to Li Zhi, Deputy Party Secretary and Deputy General Manager of China Shipping & Sinopec Suppliers Co., Ltd., the biofuel bunkering business is another step in the company's active business of the group's development strategy.
The bunkering operation after the firm completed the first bonded biofuel bunkering operation of a domestic ship on 7 September. 
Disclaimer: The above article published by Manifold Times was sourced from China's domestic market through a local correspondent. While considerable efforts have been taken to verify its accuracy through a professional translator and processed from sources believed to be reliable, no warranty is made regarding the accuracy, completeness and reliability of any information.
Photo credit: China Shipping & Sinopec Suppliers
Published: 8 December, 2023
Singapore, Tianjin to pilot and trial alternative bunker fuels following shipping corridor MoU
Singapore – Tianjin Green and Digital Shipping Corridor will serve as a valuable testbed for both countries to pilot and trial digital solutions, alternative fuels and technologies, amongst others.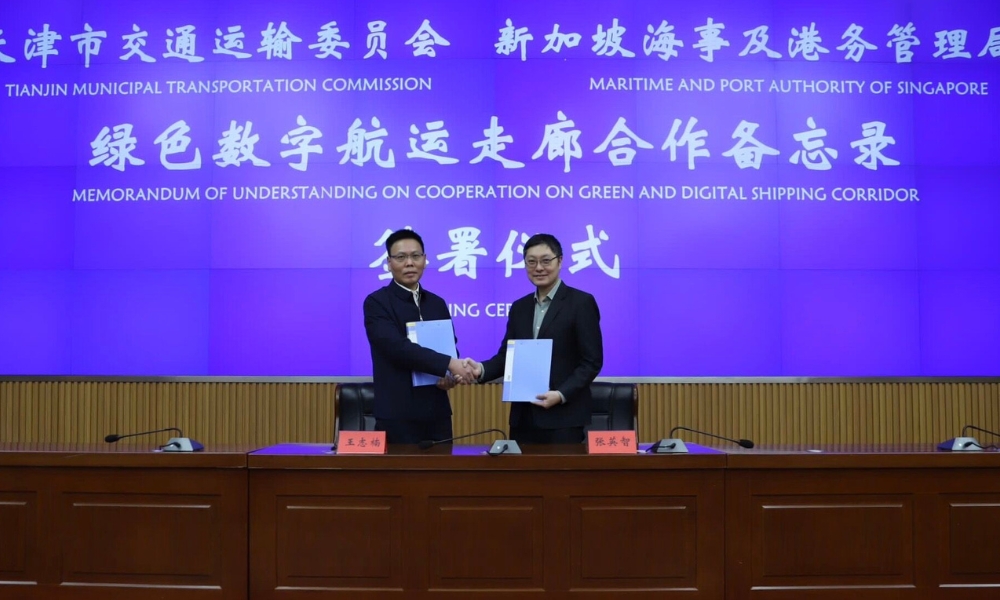 The Maritime and Port Authority of Singapore (MPA) and the People's Republic of China's Tianjin Municipal Transportation Commission on Wednesday (6 December) signed a memorandum of understanding (MoU) to establish the Singapore – Tianjin Green and Digital Shipping Corridor.
Mr Teo Eng Dih, Chief Executive, MPA, and Mr Wang Zhinan, Director General, Tianjin Municipal Transportation Commission, signed this MoU.
The MoU marked the first Green and Digital Shipping Corridor established between Singapore and China to support the decarbonisation, digitalisation and growth of the maritime industry between Singapore and the Bohai Region.
The Singapore – Tianjin Green and Digital Shipping Corridor will serve as a valuable testbed for both countries to pilot and trial digital solutions, alternative bunker fuels and technologies, and facilitate talent development to support the decarbonisation and digitalisation of shipping. 
Singapore and Tianjin will work with the research community, the institutes of higher learning, and industry stakeholders such as shipping lines, port operators, shipbuilders, classification societies, and bunker suppliers to enable more efficient port clearance through digital exchanges, encourage the offtake of zero or near-zero greenhouse gas emission fuels and adoption of new fuel technologies, spur innovation and support the growth of the maritime startups community, and facilitate manpower training and professional development.
The establishment of the Singapore – Tianjin Green and Digital Shipping Corridor reaffirms the strong commitment by Singapore and Tianjin to accelerate maritime decarbonisation and digitalisation. Singapore will also be exploring the establishment of similar collaboration with other maritime and port ecosystems within China.
Photo credit: Maritime and Port Authority of Singapore
Published: 8 December, 2023
Report highlights routes-based action plan methodology to accelerate uptake of clean bunker fuels
NextGEN Connect-GreenVoyage2050 collaboration, which includes Singapore, emphasises the important role of regional energy hubs in enabling the inclusive adoption of clean marine fuels.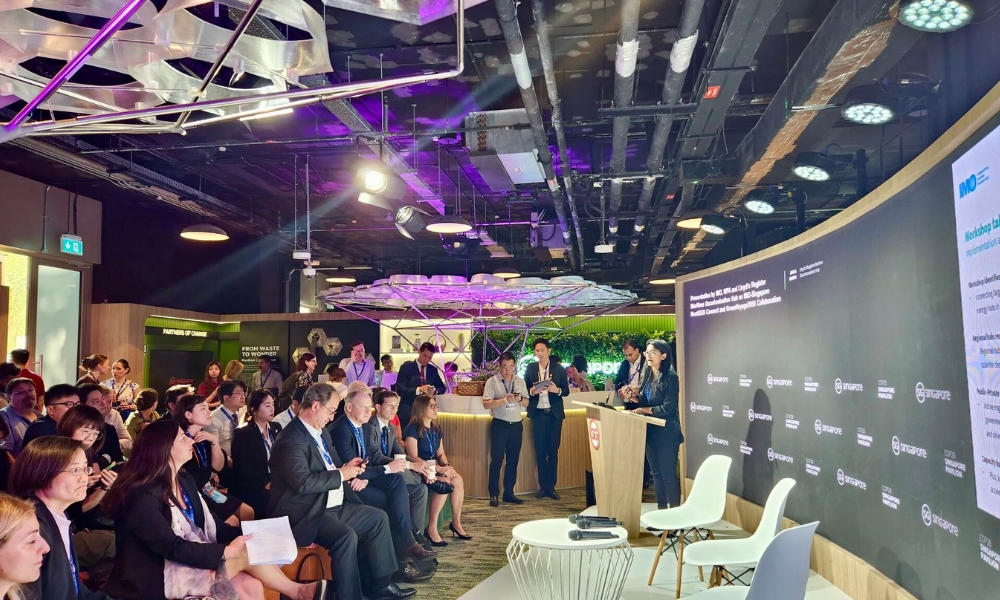 The Maritime and Port Authority of Singapore (MPA) on Thursday (7 December) said the NextGEN Connect-Green Voyage2050 Project identified a key role for regional hubs to help connect large demand clusters and remote locations, with regional fuel supply sources, in order to enable a more inclusive and effective transition to a low-carbon maritime future.
The project is a collaboration between Singapore, Norway and the International Maritime Organization (IMO).
These findings were unveiled in the Lloyd's Register Maritime Decarbonisation Hub (LR MDH) report titled Routes-based Action Plans: A Toolkit launched at the Voyage to Net-Zero Forum, which was organised by MPA, at the 28th United Nations Climate Change Conference (COP28/CMP8/CMA5) yesterday.
The report was developed following a workshop discussion that was held from 5 to 6 October 2023 in Singapore, with the participation of 40 stakeholders representing ports and National Administrations across Asia, based on the concept of the LR MDH's First Movers Framework for green corridors. The workshop simulated the process steps of the routes-based action plan methodology, addressing the limitations in its application in the wider Asian context. Additional engagements with stakeholders from the Pacific are envisaged to further refine the methodology.
"One of the key findings in our report highlighted the varying pace of decarbonisation efforts across the Asian region and the need for regional coordination among governments to establish energy clusters that will serve both as demand centres and energy producing hubs" said Charles Haskell, Director at LR MDH.
The creation of energy producing hubs includes defining a strategy that brings together demand from different countries at different developmental stages across the region to build up investment cases for implementing energy infrastructure at scale, all the while taking into consideration the economic and social benefits for local communities.
The report also emphasised that routes-based action plans should be steered by national governments to give confidence to the industry's infrastructure investment decisions, with development banks and regional funds needing to play a part to help tailor financing solutions to support infrastructure development.
"If we truly want to achieve a net-zero future where no one is left behind, we cannot focus only on existing first mover initiatives. We must also study locations where the energy infrastructure is still in its infancy", added Charles Haskell.
Essential to driving the implementation of routes-based action plans, as highlighted in the report, is the pooling of resources and capacity building to develop the business case for building the necessary infrastructure for regional hubs that include Least Developed Countries (LDCs) and Small Island Developing States (SIDS). This will require regional coordination and collaboration involving governments and all stakeholders across the maritime supply chain.
Mr. Teo Eng Dih, Chief Executive of MPA, said: "As we steer toward a sustainable maritime future, fostering a collective and inclusive approach is imperative in the development of green corridors and the energy transition to decarbonise international shipping."
"The NextGEN Connect-GreenVoyage2050 collaboration emphasises the important role of regional energy hubs in enabling the inclusive adoption of clean marine fuels, particularly for LDCs and SIDSs. MPA looks forward to continuing its collaboration with IMO, Ministry of Climate and Environment of Norway and LR MDH to pilot solutions to reduce GHG emissions from ships and drive innovative transformations in the maritime industry."
Sveinung Oftedal, Chief Negotiator of the Norwegian Ministry of Climate and Environment, said: "Separate routes for emission-free ferries and ships can play an essential role in stimulating early action to adopt zero or near-zero emission technologies and fuels, and hence are an important step towards decarbonising shipping. There is currently a significant volume of maritime traffic between Asian countries, and our workshop was a great forum to discuss opportunities the decarbonisation of maritime shipping can bring and how efforts can be linked to countries' wider energy transition."
Jose Matheickal, IMO Director of Partnerships and Projects, said: "Supporting developing countries, including SIDS and LDCs, in their efforts to implement the 2023 IMO Strategy on the Reduction of GHG Emissions from Ships is imperative to the decarbonisation of the maritime sector. IMO is pleased to provide, through this collaboration, practical support around the development and subsequent implementation of National Action Plans and route-based actions in line with IMO's MEPC RESOLUTION.366(79) that encourages Member States to undertake these voluntary actions to facilitate the achievement of greener shipping and reduced emissions."
Note: 'Routes-based action Plans: a toolkit' can be found here. 
Photo credit: Maritime and Port Authority of Singapore
Published: 8 December, 2023