MAN Energy Solutions lands first order for G80 dual-fuel methanol engine
Along with the new order, HMM has also signed MoUs with multiple bunker fuel suppliers to ensure methanol supply for its 9 × 9,000 TEU container vessels.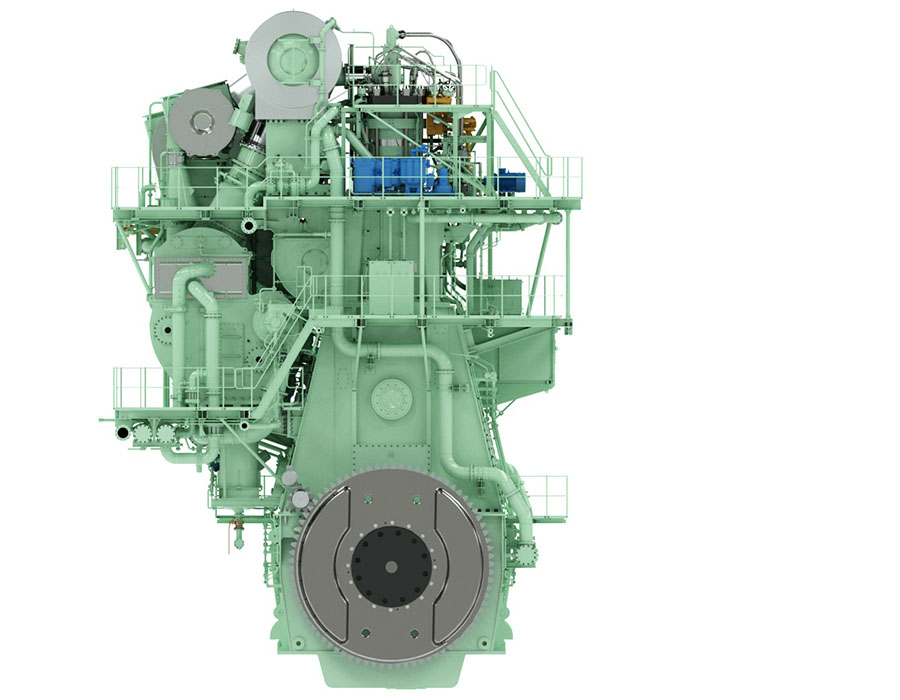 Hyundai Samho Heavy Industries Co. and HJ Shipbuilding & Construction Co. (HJSC) have respectively ordered seven and two MAN B&W G80ME-LGIM dual-fuel engines in connection with the construction of 9 × 9,000 TEU container vessels for HMM Co., said MAN on Thursday (9 March, 2023).
The engines, which are capable of operation on green methanol and conventional fuel-oil, represent the first order for the G80 bore size; they will also feature MAN Energy Solutions' proprietary EGR (Exhaust Gas Recirculation) systems.
The newbuildings will be delivered to HMM from 2025 and will operate on routes to North and South America as well as India. The G80 engines will, upon delivery, be connectivity-ready and prepared for digital services such as PrimeServ Assist.
Bjarne Foldager, Senior Vice President and Head of Low-Speed, MAN Energy Solutions, said: "This world-first order for a G80 methanol engine is just a continuation of the general market trend toward methanol where the ME-LGIM engine has become the de facto industry standard for large, methanol-fuelled, merchant marine vessels. At MAN Energy Solutions, we expect further projects for this size of container vessel to be specified with our G80 methanol engine within the near future. As such, methanol is quickly becoming the most prominent alternative fuel in the container vessel segment."
Thomas S. Hansen, Head of Promotion and Customer Support, MAN Energy Solutions, said: "Our thanks for this significant order go to HMM, whose commitment and partnership we value greatly. This new order means that we now have over one-hundred ME-LGIM engines on order or in service. In our open project pipeline, container vessels make up around 61%, followed by both tankers and bulk carriers with 17%, and general cargo making up the remaining 5%. MAN Energy Solutions' methanol engines are a proven concept that combine well with methanol's unique selling points as a fuel that include its easy storage, simple auxiliary systems, and not to forget that green methanol is entirely carbon-neutral."
Increasing methanol production
Along with the new order, HMM has also signed MoUs with multiple fuel suppliers to ensure the methanol supply for the vessels. In this regard, according to the Methanol Institute (MI), more than 80 renewable methanol projects globally are projected to produce more than 8m metric tons of e-methanol and bio-methanol annually by 2027.
Renewable methanol is a low carbon and net carbon-neutral liquid chemical and fuel produced from sustainable biomass, often called bio-methanol, or from captured carbon dioxide and hydrogen produced from renewable electricity, referred to as e-methanol.
In addition to the growing number of projects, MI reports clear evidence that bio-methanol and e-methanol facilities are ramping up production. With ongoing advancements in technology and increased government support, it expects the capacity of individual renewable plants to rise from 5 - 10,000 metric tons of methanol to 50 - 250,000 metric tons or more annually over the next five years.
About the MAN B&W ME-LGIM engine
MAN Energy Solutions developed the ME-LGIM dual-fuel engine for operation on methanol, as well as conventional bunker fuel. The engine is based on the company's proven ME-series, with its approximately 8,500 engines in service, and works according to the Diesel principle. When operating on green methanol, the engine offers carbon-neutral propulsion for large merchant-marine vessels.
Methanol carriers have already operated at sea for many years using the engine, and, as such, the ME-LGIM has a proven track record offering great reliability and high fuel-efficiency.
Photo credit: MAN Energy Solutions
Published: 10 March, 2023
China: Cosco Shipping and bp to explore collaboration in methanol bunker fuel 
Duo signed a MoU in Shanghai to expand their scope of strategic cooperation into new areas including lubricant supply, methanol bunker fuel supply for bunkering and offshore wind supply chain.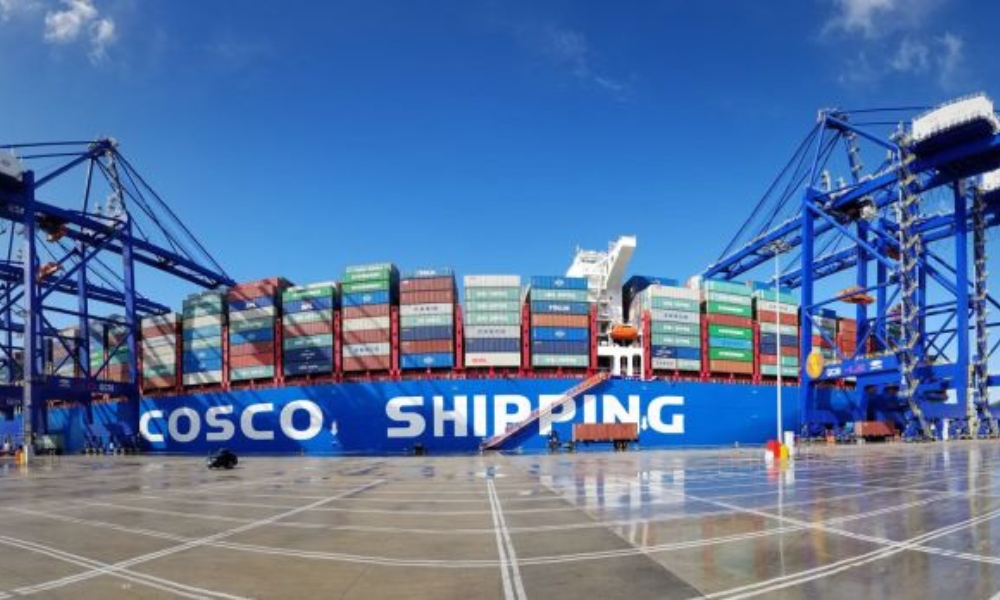 Cosco Shipping on Thursday (7 December) said it has signed  a Memorandum of Understanding (MoU) with bp to expand their scope of strategic cooperation into new areas on 5 December in Shanghai.
"This includes Castrol Marine lubricants and hydrocarbons transportation, offshore equipment as well as exploring collaboration opportunities in areas such as methanol supply for bunkering and offshore wind supply chain," Cosco said.
"Together, both parties will further capitalize on the business advantages of both parties, enhance synergies, and achieve complementary advantages and common development."
William Lin, bp Group Executive Vice President, and Lin Ji, Executive Vice President of COSCO SHIPPING, witnessed the signing. Simon Yang, bp Group Senior Vice President and bp China President, and Chen Wei, Deputy Head of the Operations Division of COSCO SHIPPING, signed the document on behalf of the two parties.
Cosco said bp has been operating in China since the early 1970s and is one of the leading foreign-invested companies in China's energy industry.
"bp and Cosco Shipping have a longstanding history of cooperation, including the transportation of energy products, offshore equipment manufacturing services, and the supply of marine fuels and lubricants," it added.
Photo credit: Cosco Shipping
Published: 11 December, 2023
Maersk to deploy first large methanol-powered vessel on Asia-Europe trade lane in 2024
Ship will enter service on the AE7 string connecting Asia and Europe, which includes port calls in Shanghai and Tanjung Pelepas in Malaysia, with Ningbo in China, being its first destination.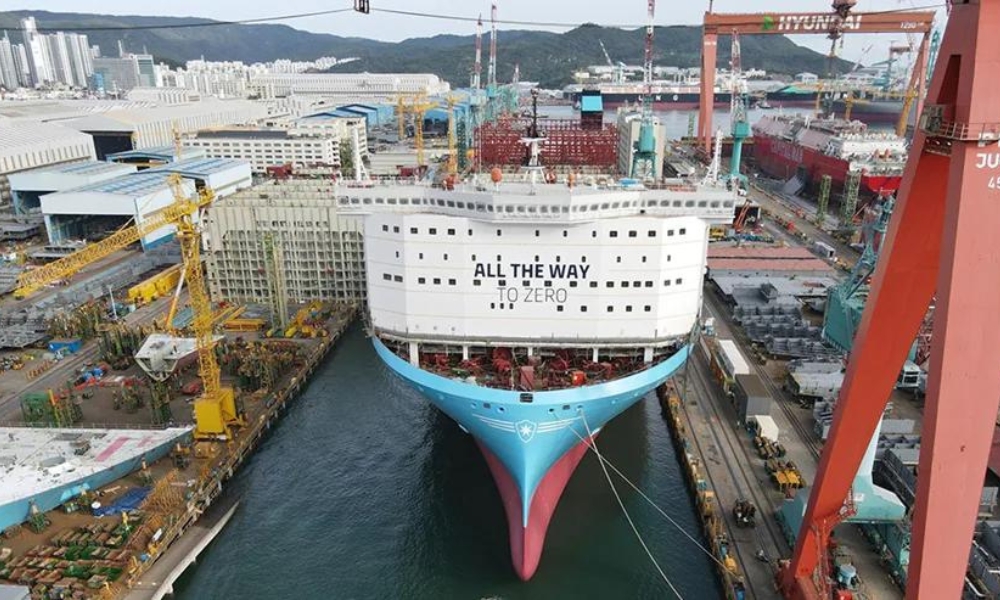 A.P. Moller - Maersk (Maersk) on Thursday (7 December) said it was about to launch the first of its 18 large methanol-enabled vessels currently on order.
On 9 February 2024, the ship will enter service on the AE7 string connecting Asia and Europe, which includes port calls in Shanghai, Tanjung Pelepas, Colombo and Hamburg, with Ningbo, China, being its first destination.
"The container vessel built by Hyundai Heavy Industries (HHI) in South Korea has a nominal capacity of 16,000 containers (TEU) and is equipped with a dual-fuel engine enabling operations on methanol as well as biodiesel and conventional bunker fuel," the firm said.
Maersk added it has secured sufficient green methanol to cover the vessel's maiden voyage and continues to work diligently on 2024-25 sourcing solutions for its methanol-enabled vessel fleet.
"Deploying the first of our large methanol-enabled vessels on one of the world's largest trade lanes, Asia - Europe, is a landmark in our journey towards our Net-Zero target. With the vessel's capacity of 16,000 containers, this will make a significant impact in our customers' efforts to decarbonise their supply chains, and we are looking forward to introducing more methanol-enabled vessels on this and other trades during 2024," Karsten Kildahl Chief Commercial Officer at Maersk, said.
Ahead of its deployment, the vessel will be named at the shipyard in end January 2024. The following two sister vessels will be deployed in the first half of 2024 with naming events taking place in Yokohama, Japan, and Los Angeles, USA. Maersk said it was expected to take delivery of four additional sister vessels in the second half of 2024.
At the time of deployment of the first large vessel, it will be the only second container vessel in the world that can sail on green methanol, the first being the feeder vessel Laura Maersk which entered service in September this year.
Overview of Maersk vessels on order
Maersk has 24 container vessels on order
All vessels currently on order will be equipped with dual-fuel engines and will be able to operate on green methanol
12 of the vessels on order have a capacity of 16,000 TEU (Twenty-foot Equivalent Unit containers)
6 of the vessels on order have a capacity of 17,000 TEU
6 of the vessels on order have a capacity of 9,000 TEU
Since 2021, Maersk has had a policy of only ordering new vessels able to operate on green fuels
About Maersk's AE7 service string
The AE7 string connects Asia and Europe through the Suez Canal
The AE7 string has the following port calls: Ningbo, Shanghai, Nansha, Yantian (all China), Tanjung Pelepas (Malaysia), Colombo (Sri Lanka), Port Tangiers (Morocco), Felixstowe (UK), Hamburg (Germany), Antwerp (Belgium), London Gateway (UK), Le Havre (France), Port Tangiers, Jeddah (Saudi Arabia), Abu Dhabi (UAE) and Jebel Ali (UAE)
Photo credit: A.P. Moller - Maersk
Published: 11 December, 2023
Alfa Laval to provide methanol fuel supply system for "Maersk Halifax" boxship 
Alfa Laval will support A.P. Moller-Maersk with installation of FCM Methanol low-flashpoint fuel supply system on board the 15,000 TEU container vessel, which is scheduled to take place by mid-2024.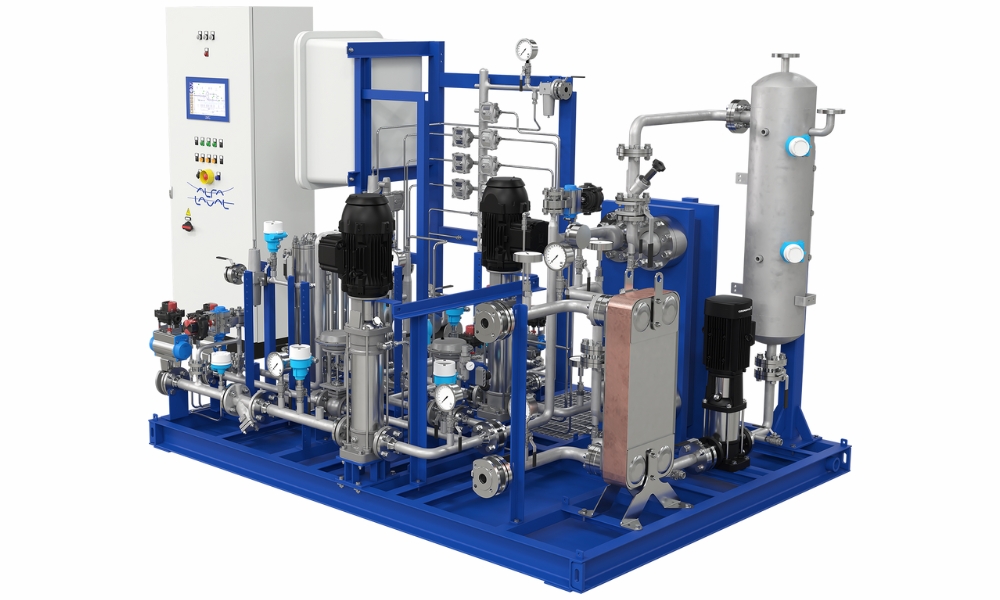 Alfa Laval on Thursday (7 December) said its fuel supply system FCM Methanol has been selected by Maersk for their methanol retrofit project to enable the container vessel Maersk Halifax to operate on methanol fuel.
The firm said the project stands as a significant achievement for both Alfa Laval and Maersk, underscoring the feasibility of retrofitting ships with the necessary equipment for methanol-based propulsion.
Alfa Laval will support A.P. Moller-Maersk (Maersk) with the installation of FCM Methanol low-flashpoint fuel supply system (LFSS) on board the 15,000 TEU Maersk Halifax. The retrofit is scheduled by mid-2024. This pioneering container vessel conversion will enable the vessel to sail on green methanol with dual-fuel capabilities.
"At Alfa Laval, we collaborate with the industry frontrunners in exploring and embracing innovative ways for decarbonization," said Viktor Friberg, Head of Marine Separation & Fuel Supply Systems, Alfa Laval.
"The project with Maersk gives us a unique opportunity to take up a new challenge - retrofitting our equipment for methanol use, for the first time. We are immensely proud to extend our expertise to this innovative retrofit project."
The project will involve adding a new fuel line for methanol alongside the traditional fuel line, respecting the existing space constraints and the tight time schedule. The retrofit of the FCM Methanol is a landmark project that requires advanced engineering and an understanding of the practical considerations of working with methanol.
"We have set an ambitious net-zero emissions target for 2040, and retrofitting of engines on our vessels to run on methanol is an important nut in our strategy. Retrofitting solutions to accommodate new fuel thereby enabling the engine to operate on methanol is a complex task that requires expertise, and we are happy to have Alfa Laval on board on this project," said Ole Graa Jakobsen, Head of Fleet Technology, A.P. Moller-Maersk.
With over 80 ships contracted, Alfa Laval added it has the longest experience in methanol FSS installation and service since 2015. It is the only system that has been powering methanol-fuelled vessels so far, with over 450 000 hours of operations.
Photo credit: Alfa Laval
Published: 11 December, 2023