IBIA proposals to IMO on bunker fuel safety and sampling guidelines
IBIA submitted several proposals to MSC in a bid to improve understanding and workability of new flashpoint regulations and associated draft sampling guidelines for fuel oil.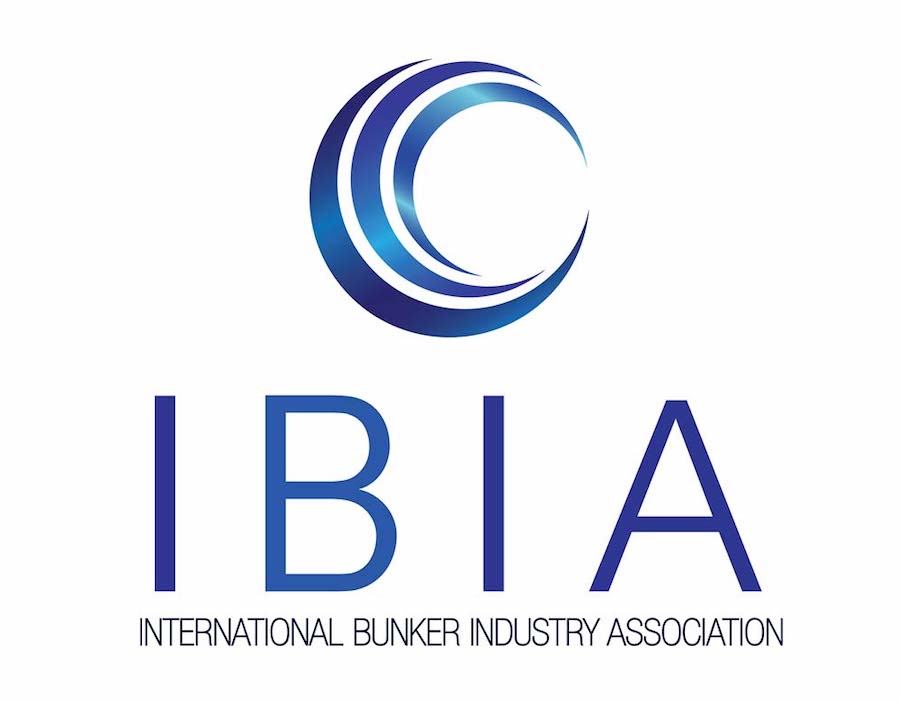 The International Bunker Industry Association (IBIA) on Friday (26 May) released an article on its submission of proposals to the Maritime Safety Committee (MSC) in a bid to improve understanding and workability of new flashpoint regulations and associated draft sampling guidelines for fuel oil. 
IBIA also aims to improve general understanding of fuel quality in a joint submission with ISO: 
The 107th session (MSC 107), lasting from 31 May to 9 June, will continue discussion on an agenda item called Development of further measures to enhance the safety of ships relating to the use of fuel oil. In essence, the aim is to introduce increased control on the supply of bunker fuels. The initial focus was on flashpoint, but discussions have also been going on in a Correspondence Group on the subject about "possible measures related to oil fuel parameters other than flashpoint."
IBIA has authored four submissions to MSC 107 under this agenda item, mainly in response to draft sampling guidelines and other ideas discussed in the report of the Correspondence Group.
Confusion around flashpoint documentation
In November 2022, MSC 106 adopted amendments to Chapter II-2 of SOLAS regarding flashpoint "to further enhance the safety of ships using conventional oil-based fuel oils".
We have observed that the regulatory text for information to be provided by the bunker supplier regarding flashpoint is causing a lot of confusion. We have therefore proposed a unified interpretation (UI) of SOLAS chapter II-2 to help clarify the meaning of the regulatory text, and we are asking for a corresponding UI to be approved for MARPOL Annex VI, which has added a flashpoint documentation requirement for the bunker delivery note.  You can see the full details in MSC 107/6/2
Joint MSC-MEPC sampling guidelines
MSC 107 will consider draft joint MSC-MEPC sampling guidelines. These were developed by the Correspondence Group after it was agreed that the delivered MARPOL sample (for sulphur verification) can also be used to confirm flashpoint.
IBIA makes proposals to these draft MSC-MEPC guidelines regarding the sampling location to take into account safety, practicality and alignment with established industry practice. We argue that the most important aspect of the statutory sample to be retained by the ship is that it is representative of the fuel delivered, so it is essential that the sample is drawn by skilled personnel.  Our paper, having described the issues in detail, concludes by proposing that the joint MSC-MEPC Guidelines should allow the sampling equipment to be positioned at the bunker manifold of either the receiving ship or the bunker tanker, as agreed between the receiving ship and supplier in advance. You can see the full details in MSC 107/6/5
We have also proposed modifications to the draft MSC-MEPC sampling guidelines to reflect practical considerations regarding sample integrity and sample bottle size. For full details, see MSC 107/6/3
Regulating "other parameters"
Following new SOLAS regulations to tighten control of flashpoint, MSC is also considering possible measures related to other fuel parameters that may present safety issues. This has been extensively discussed both during previous MSC meetings and in the Correspondence Group between meetings.
One of the ideas discussed in the Correspondence Group is to add a general regulation in SOLAS in line with Regulation 18 of MARPOL Annex VI. An alternative proposal put forward is to reference a fuel standard, which would in essence make compliance with ISO 8217:2017 mandatory.
IBIA and ISO have submitted a joint paper which advises against mandating ISO 8217, as this would likely generate many unjustified demands for debunkering fuels which are either perfectly safe, or may be safely managed onboard with due care and attention.The paper also provides a brief explanation of 95% confidence and ISO 4259 to address some common misconceptions, and goes on to explain the difficulties in establishing which chemical components pose a safety risk, and why it is considered unadvisable to regulate oil fuel parameters other than flashpoint due to uncertainties in establishing clear and consistent links between specific fuel parameters and the safety of ships.

You can see the full details in MSC 107/6/4
ISO and IBIA will do a joint presentation during MSC 107 on the issues covered in MSC 107/6/4, involving some of the experts that take part in the IBIA Technical Working Group. This group has been consulted during all of IBIA's work at the IMO relating to fuel safety and other fuel technical issues. We are hugely grateful to the IBIA Technical Working Group, which includes top industry experts, for providing relevant expertise to our work.

Safe delivery of GHG reduction
IBIA is one of multiple co-sponsors alongside IMO Member States and other NGOs to a proposal for MSC to take on a new agenda item to develop a road map to support the safe delivery of the IMO's GHG reduction strategy. The aim is to undertake a regulatory assessment of safety aspects and facilitate the safe deployment of fuels and technologies needed in the industry's transition to using low and zero GHG fuels and technologies. You can see the full details in MSC 107/17/21
Note: The above is an extract of an MSC 107 preview in the Q2, 2023 issue of IBIA's official magazine World Bunkering.
Photo credit: International Bunker Industry Association
Published: 30 May, 2023
Singapore: President of Equatorial Marine Fuel Management Services receives 'Industry Icon Award'
'First and foremost, I would like to thank my wife, who has been with me throughout the entire journey. I would also like to thank my team at Equatorial,' expressed Mr Choong Kien Siong.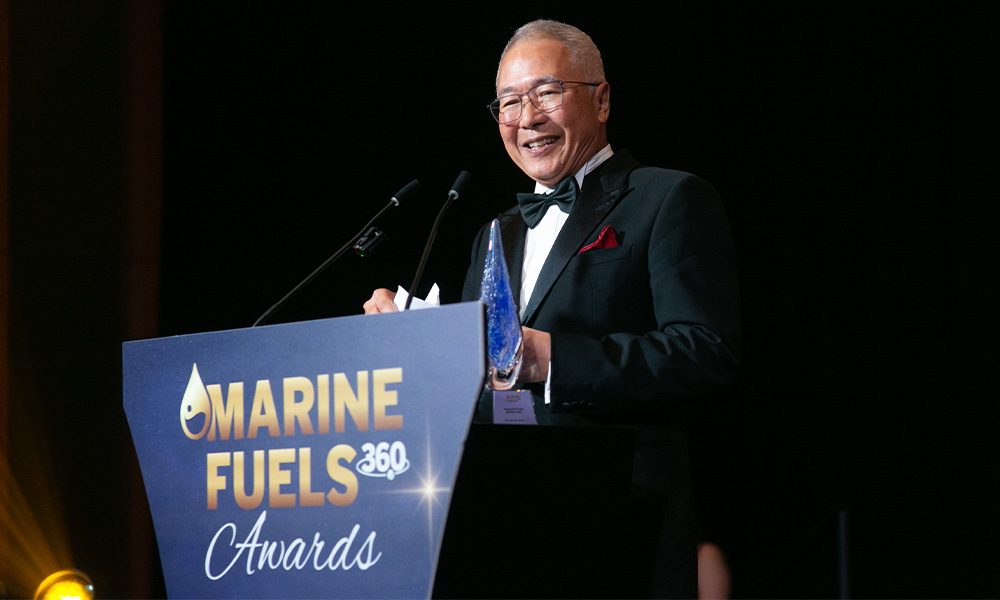 The President of Singapore's top bunker supplier Equatorial Marine Fuel Management Services Pte Ltd (EMF) on Wednesday (29 November) received the 'Industry Icon Award' at the inaugural Marine Fuels 360 Awards 2023 Gala Dinner.
Mr Choong Kien Siong was pleased with the recognition and delivered the following speech:
"It is my great honour to receive this prestigious award. First and foremost, I would like to thank my wife, who has been with me throughout the entire journey. I would also like to thank my team at Equatorial," he expressed.
"It is together with my wife and our team that we managed to make Equatorial to what it is today. Also, a big thank you to Informa for organising this amazing event.
"There have been so many changes since I first stepped into this industry. Over the years, I have seen Singapore grow into the top maritime and bunkering hub.
"Along the way, I have made many wonderful friends and memories. Today, the industry continues to face new challenges and opportunities. Digitalisation and decarbonisation are the two big things which I have asked the younger generation to embrace seriously.
"As the world becomes more and more complex, adoption of technology is a must to handle such complexities. At the same time, we are responsible for the world that our future generations will be living in.
"One thing that will not change is Equatorial's commitment toward providing top quality services. We will continue to do our best and ensure that we provide reliable and quality service to the industry."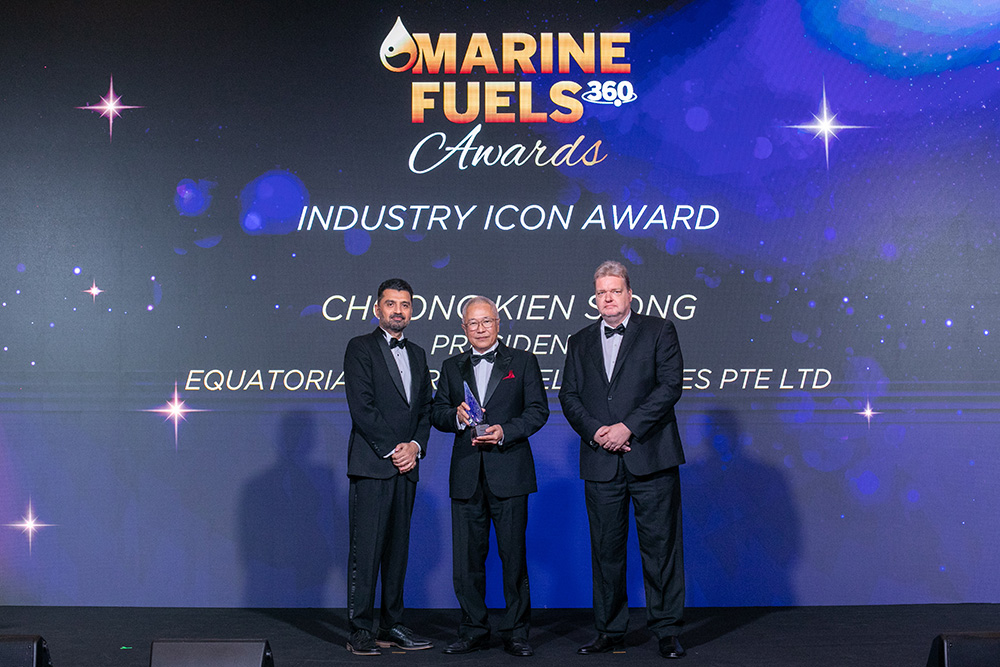 The EMF office underwent a flurry of activities during the second half of 2023. The period saw EMF launching a sustainable energy business unit while conducting its first biofuel bunker sale and delivery in the Port of Singapore.
In November, EMF built upon an earlier development by working with CMS to exchange carbon credits and Proof of Sustainability certificates for a bunker fuel transaction on the SGTraDex platform.
Manifold Times in late November reported EMF placing orders for four 7,999 dwt IMO Type II Chemical and Oil Tankers that will be used as bunker tankers at the Port of Singapore.
The Maritime and Port Authority of Singapore (MPA) recorded EMF as the top bunker supplier (by volume) in 2022.
Related: Singapore: Equatorial Marine Fuel builds four "new generation" methanol-ready bunker tankers
Related: Singapore: Equatorial Marine Fuel, CMS, SGTraDex link decarbonisation and digitalisation solutions in milestone bunker transaction
Related: Singapore: Equatorial Marine Fuel boosts sustainable marine fuel supply business with biofuel delivery to OOCL containership
Related: Singapore: Equatorial Marine Fuel launches sustainable energy business unit, commits towards multi-fuel future
Related: Singapore: Equatorial Marine Fuel conducts carbon credit trial with Carbon Management Solutions
Related: Exclusive: Estimated marine fuel sales figures of Singapore top 10 bunker suppliers by volume in 2022
Photo credit: Informa
Published: 1 December 2023
ZeroNorth enables Golden Island to become Singapore's first 100% digital bunker supplier
Access to ZeroNorth Bunker Electronic Bunker Delivery Notes (eBDN) will streamline bunker processes, enabling Golden Island to drive efficiency, transparency, and contribute to decarbonising shipping.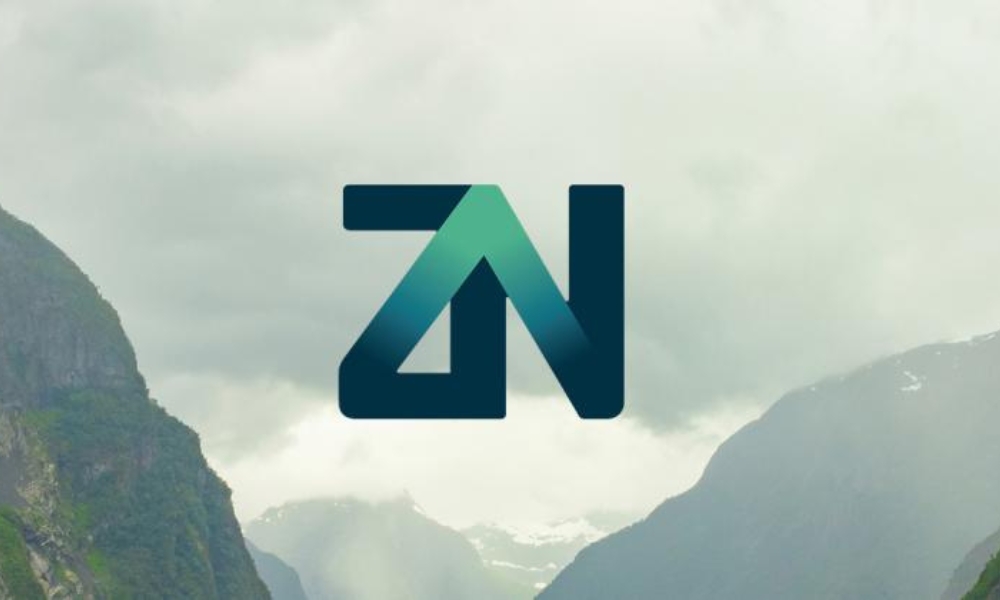 Technology company ZeroNorth on Thursday (30 November) has announced that it has enabled its customer Golden Island Diesel Oil Trading Pte Ltd (Golden Island) to become the first marine fuel supplier in Singapore to go 100% digital in its use of Electronic Bunker Delivery Notes (eBDN).
Golden Island has chosen ZeroNorth Bunker's eBDN solution, developed by BTS and recently consolidated under the ZeroNorth Bunker brand. The company will be able to provide 100% digital processes to increase transparency and improve collaboration.
"Enabled by ZeroNorth's technology platform, Golden Island plans to stop issuing physical BDNs from 1 December, as part of the company's digitalisation initiative to move away from manual, paper-based processes and reduce its environmental impact on the journey to greener operations," ZeroNorth said in a statement shared with Singapore-based bunkering publication Manifold Times.
ZeroNorth's eBDN service will digitalise the bunker delivery process for its customers, with Golden Island the first to benefit and swiftly and securely verify purchased fuel quantities, eliminate delays and ensure smooth transactions.
"This move will help Golden Island to streamline the bunkering documentation process, increasing transparency, and driving efficiency and productivity across its marine fuel delivery operations. Digitalisation will enhance crew productivity and operational efficiencies. By eliminating paper forms with ZeroNorth's solution, Golden Island expects to save at least two hours of manual data entry work each day," ZeroNorth added.
By digitalising the bunkering process, ZeroNorth will turn millions of data points into actionable recommendations for Golden Island on where it can drive efficiencies and achieve greener operations. With more data being interpreted through the digitalisation of BDNs, increasingly robust insights and analysis of emissions will then be generated for customers, further powering up the marine fuel market's data flywheel. This will also enhance reporting, as information is standardised and readily available in a digital format.
Tomohiro Yamano, General Manager, Marine Fuel Department at Golden Island, said: "A month after the Maritime and Port Authority of Singapore (MPA) launched its digital bunkering initiative as the first port in the world to implement eBDN, we are proud to be the first company to fully switch to eBDN in the Singapore bunkering market. To achieve this, we required a solution that would facilitate a seamless workflow to enhance the productivity and efficiency of our marine fuel delivery operations.
"We were impressed with ZeroNorth's deep understanding of the bunker industry and the capabilities of its eBDN solution. Digitalising our bunker processes with eBDN fits in with our digitalisation initiative to enhance and streamline operations, which will in turn also drive easier reporting and analysis of emissions."
Kenneth Juhls, Managing Director for ZeroNorth Bunker at ZeroNorth, said: "Bunker procurement has been a traditionally cumbersome process, burdened by manual documentation. We're delighted to be helping Golden Island eliminate these manual processes to streamline documentation, drive efficiencies and boost productivity across its operations as a global eBDN solution on the market.
"Given the integral role marine fuels are set to play in decarbonising shipping, ZeroNorth is proud to help our customers and the wider industry digitalise bunker operations. The data generated will in turn help enable the data flywheel effect, driving actionable recommendations on where further efficiencies can be created for the benefit of both profit and planet."
The first internal trial for Golden Island using ZeroNorth's eBDN solution began in November 2022. The company is now ready to adopt it into its operations after a year testing the solution, with assistance and approval from the Maritime and Port Authority of Singapore (MPA).
Manifold Times previously reported Singapore bunker supplier Golden Island Diesel Oil Trading Pte Ltd (Golden Island) will be fully adopting the electronic Bunker Delivery Note (e-BDN) for commercial bunkering operations from 1 December 2023 onwards.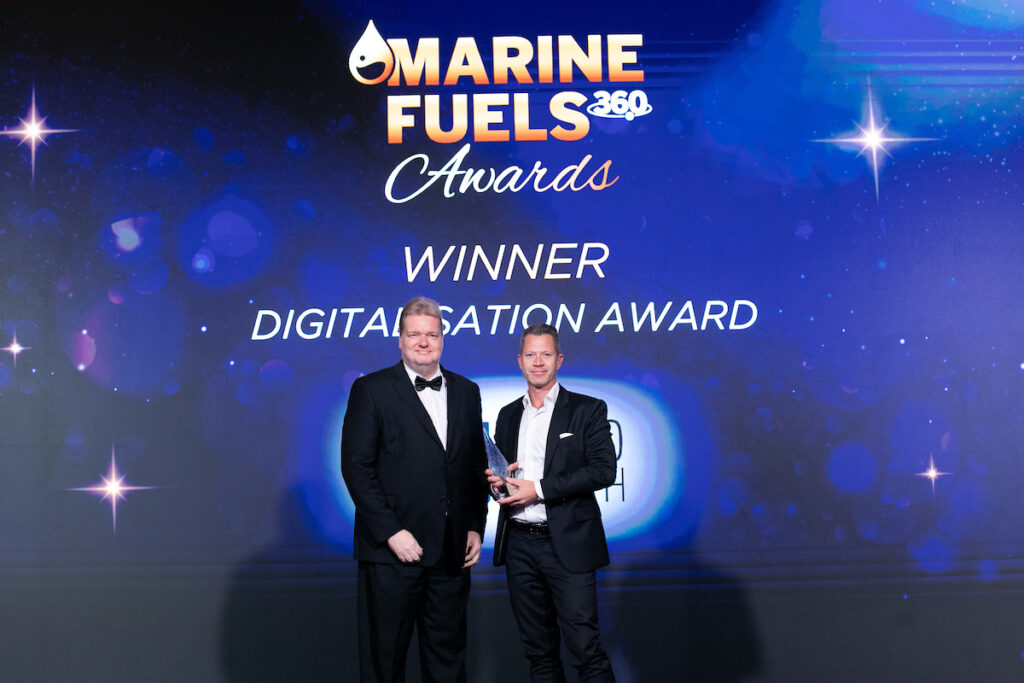 ZeroNorth also announced it won the Digitalisation Award at the Marine Fuels 360 Awards Gala Dinner on 29 November.
Commenting on the award, Juhls said: "We are proud and humble to get recognised by this award. The full team in ZeroNorth works hard everyday to bring value to our clients through our software solution. We are looking forward to continuing our collaboration with our customers, partners and the industry in our ambition of making global trade green."
Related: Singapore: Golden Island switching to 100% e-BDN operations from 1 December
Related: ZeroNorth consolidates existing bunkering business following acquisitions
Related: Singapore set to become first port in the world to debut electronic bunker delivery notes
Related: MPA Chief Executive: Port of Singapore begins digital bunkering initiative today
Related: ZeroNorth acquires Singapore's bunker supplier software provider BTS
Related: ZeroNorth acquires Prosmar Bunker Dashboard solution and Bunker Pricer module
Related: ZeroNorth acquires US-based bunker market platform ClearLynx
Related: ZeroNorth unveils ZeroNorth Bunker for bunker planning, procurement, and analytics
Related: ZeroNorth opens new office in Singapore to expand in Asia
Related: Singapore: Marine Fuels 360 Awards and Conference 2023 to bring together industry's best
Photo credit: ZeroNorth / Informa Markets
Published: 30 November, 2023
Kenoil Marine Services to conduct first-ever bunkering of bio-blended LSMGO in Singapore
"Kosmos Lily" is slated to supply bio-blended LSMGO, sourced from Alpha Biofuels, representing the first-ever bunkering of bio-blended LSMGO in Port of Singapore, says Jurong Port.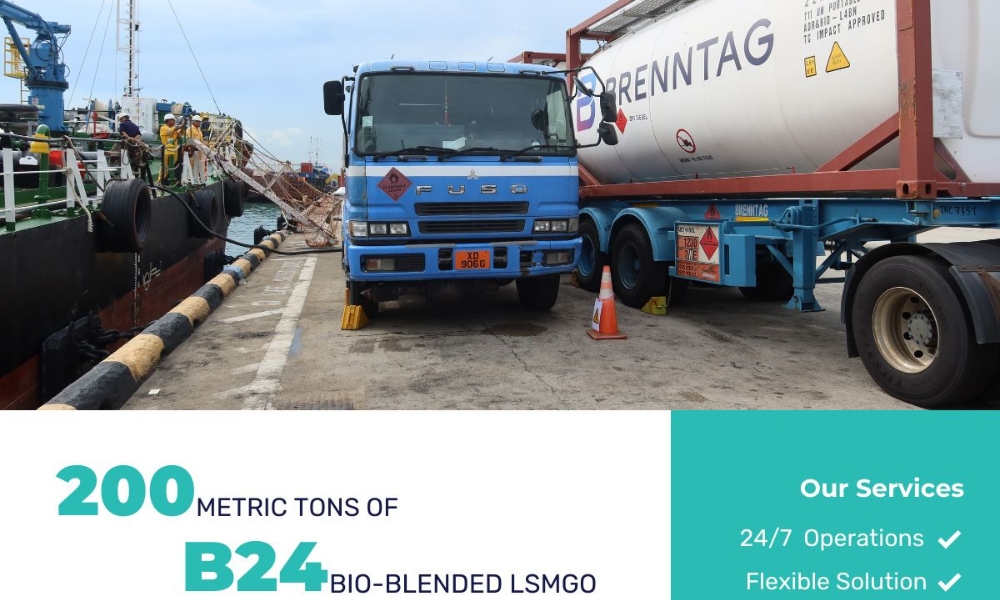 Jurong Port on Wednesday (29 November) said Kenoil Marine Services Pte Ltd, a licensed bunker supplier, successfully loaded 200 metric tonnes of B24 bio-blended Low Sulphur Marine Gas Oil (LSMGO) in Singapore.
The B24 marine biofuel blend was onto Kenoil Marine's bunker tanker Kosmos Lily.
"Kosmos Lily is slated to supply this bio-blended LSMGO, sourced from Alpha Biofuels, representing the first-ever bunkering of bio-blended LSMGO in the Port of Singapore," Jurong Port said in a social media post.
"Jurong Port takes pride in serving as the preferred port infrastructure for biofuel bunkering, and supporting the maritime industry's energy transition toward achieving net-zero emissions."
Separately, Allan Lim Yee Chian, Founder and CEO at Alpha Biofuels, said the firm has been working to produce, blend and supply better quality biofuels for the maritime industry for over the last two years.
"We focused a lot on traceability of the biofuels , stability of the blended product and also the cost of the product," he said in a social media post.
"The result is a bio-bunker fuel that balances the need for decarbonisation by the industry against the cost of sustainable biofuel."
Photo credit: Jurong Port
Published: 30 November, 2023