Future-proofing shipping: The decarbonization game-changer
DNV, BHP, and AET panellists note the maritime industry is still not moving fast enough towards decarbonization at the recently held event.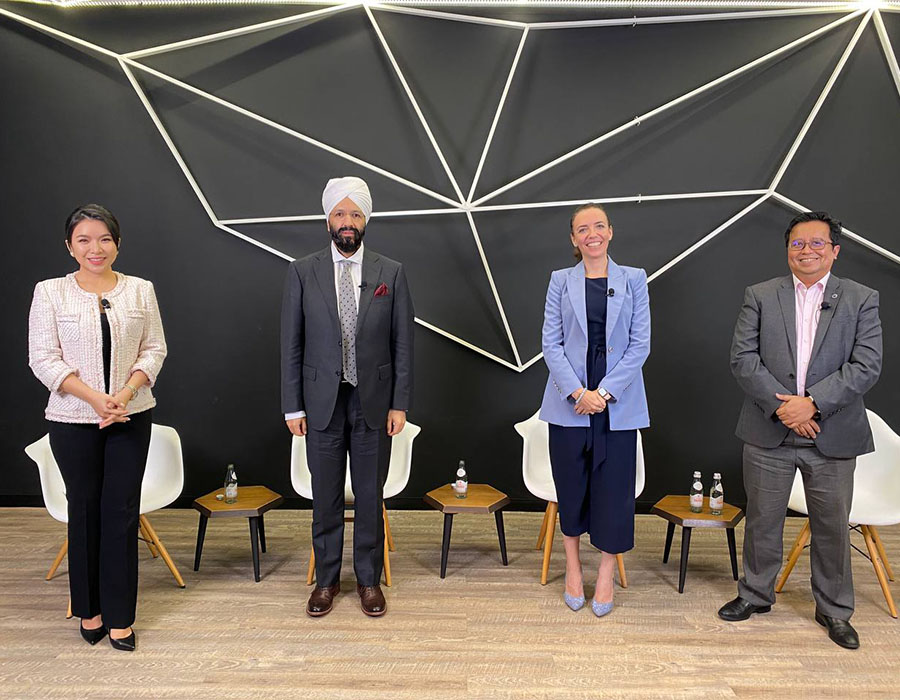 The global maritime industry might efficiently move 90% of goods around the world, but it's also responsible for around 3% of global emissions of greenhouse gases.
Committed to decarbonization, the industry is still not moving fast enough, according to industry panelists who took part in a "Live from Singapore" webinar on 25 January. Organized by classification society DNV, the panel discussion caught the interest of more than 1,100 registrants mainly from the South East Asia, Pacific and India region.
While the maritime industry is under increasing pressure to decarbonize, panellists drew attention to what's being done, and what more can be done, to speed up the process.
Moderator Yvonne Chan, presenter and former CNA News Anchor, asked panellists as to how far shipping has progressed on the decarbonization journey.
Rashpal Singh Bhatti, Vice President of Maritime & Supply Chain Excellence, BHP, one of the largest bulk charterers in the world, was quick to say: "We're only at the start!"
He admitted that momentum is very good, as is global awareness, "but we've only just started on the journey to decarbonization".
Mr Bhatti also strongly feels that "innovation will drive regulation", and that it will not only be regulation that solely drives change. The International Maritime Organisation (IMO) is doing what it can, but 2023 is too late for a material change in carbon regulation, he said, pointing out that BHP has 150 vessels in the water at any one time.
It is an imperative that the industry sets the pace, he argued, as BHP has done with the commissioning of five LNG fuelled Newcastlemax bulk carriers this year.
He gave examples of how ship operators can improve performance and cut emissions through innovations, like adding wind rotors on vessels, painting hulls of vessels to reduce friction, as well as using biofuels, like used cooking oil, which has been adopted as a bunkering fuel in Singapore.
It was also noted that BHP, for one, is supporting the Global Maritime Forum's Call to Action to fully decarbonize shipping by 2050 and is a founding member of the Global Centre for Maritime Decarbonisation (GCMD) in Singapore, too.
Johan Munir, Global Director, Corporate Strategy & Planning for leading tanker owner and operator AET, was optimistic about progress towards decarbonization.
Mr Munir told the webinar audience, "The shipping industry has made some progress to create awareness on the decarbonization issue as compared to when AET first pioneered dual-fuel solutions in 2017."
He thinks the industry has already progressed 25% of the way towards the goal of decarbonization. However, we need to build on the momentum as much more has to be done.
AET is one industry player which has set new standards of eco-efficient shipping to meet IMO 2030 aspirations. As an early adopter, AET has invested over the past five years a total of around USD 2bn in new, more eco-efficient assets, including around 50% in dual-fuel vessels.
"We own nine dual-fuel vessels including five of the world's first VLCCs to be delivered in 2022 and 2023 and we are not stopping there." Mr Munir added, "Having a progressive Board is important to address the sustainability and decarbonization challenges."
Cristina Saenz de Santa Maria, Regional Manager responsible for DNV's Maritime operations in South East Asia, Pacific & India, sees that some industry members are ahead of the game and making very good progress, while others are trying to figure out how they fit in the decarbonization puzzle.
"But I like to see it this way: We are 100% committed to decarbonization. We have a clear goal to reach carbon zero. But we need to share, and we need to collaborate. It's a team sport and not a race."
Ms Saenz de Santa Maria also insists that there is no time to waste. "We only have this decade to get on track if we want to reach net zero by 2050. We have to not only reward first movers, but to incentivize investors to commit funds to the decarbonization process. Regulatory certainty is as well a must to reach the IMO goals."
"We like to think of ourselves as trailblazers, as we see that DNV as a classification society has an important role to play to help the maritime industry navigate complex challenges," she added.
The panellists were asked to elaborate on strategies to future-proofing shipping fleets.
With increasing regulatory uncertain ties, changing transportation needs, technological progress and alternative fuels, moderator Yvonne Chan asked how can ships of the future remain competitive and choose the best way forward?
Mr Bhatti said BHP was already working with industry partners to future proof its fleet. He gave the example of how some vessels designed and built for LNG can be easily retrofitted to consume new alternative fuels, like ammonia and hydrogen.
"We must also take waste out of the supply chain", he said, indicating that it's possible to achieve 15 to 20% savings by optimizing energy and other resources through more efficient operations in port and at sea.
Ms Saenz de Santa Maria reinforced the importance of energy efficiency. "We can also reduce energy emissions through ship design, as well as by better managing ship operations."
She drew attention to steps being taken now to design ships that have built in "fuel flexibility" capabilities with "fuel ready" class notations,
Mr Munir made it clear that ships are designed for a lifetime of 20 to 25 years, hence they must also be future-proofed. In October 2021, AET invested in a climate tech start-up in methane abatement technologies to support the development and deployment of technology to transition the maritime sector to net-zero.
"Longer-term solution for decarbonization sees multiple pathways and we will select the most effective long-term solution for zero carbon vessels. Our company's sustainability strategy incorporates profit but also takes account of people and the planet," he said.
Shifting the focus to safety and recognizing that shipping has seen an improvement in this area over the last ten years, panellists were asked how new fuel technologies, for example, posed new challenges and risks.
Mr Bhatti was the first to insist that decarbonization and safety go hand in hand.
He pointed to the importance of maintaining "seafarer safety" in general. He credited hundreds of thousands of seafarers around the world who have shown that they are "essential workers" during these pandemic years, maintaining supplies of essential goods and services.
The other panellists agreed that safety must continue to be a prime consideration with the introduction of decarbonization, particularly when it comes to bringing new alternative fuels on board.
That's why extensive fuel trials and pilots are necessary, and Ms Saenz de Santa Maria felt that Singapore is one of the best places for this, noting that safety is a prime consideration in assessing the suitability of new fuels, like ammonia and hydrogen.
In conclusion, panellists agreed that it was important for "business to come first" to drive the maritime industry towards decarbonization, but they would be wise to work together as so much more can be achieved through collaboration.
Access to the full recording of the hour-long webinar is provided by DNV Maritime from this link:  https://www.dnv.sg/maritime/webinars-and-videos/on-demand-webinars/future-proofing-shipping-jan-2022.html
Photo credit: DNV
Published: 28 January, 2022
Marine Fuels 360: Methanol presents easiest path towards maritime decarbonisation, says DNV
Captain Singh was confident the bunkering infrastructure in Singapore will be ready to welcome methanol-fuelled vessels due to the coordinated efforts between various agencies.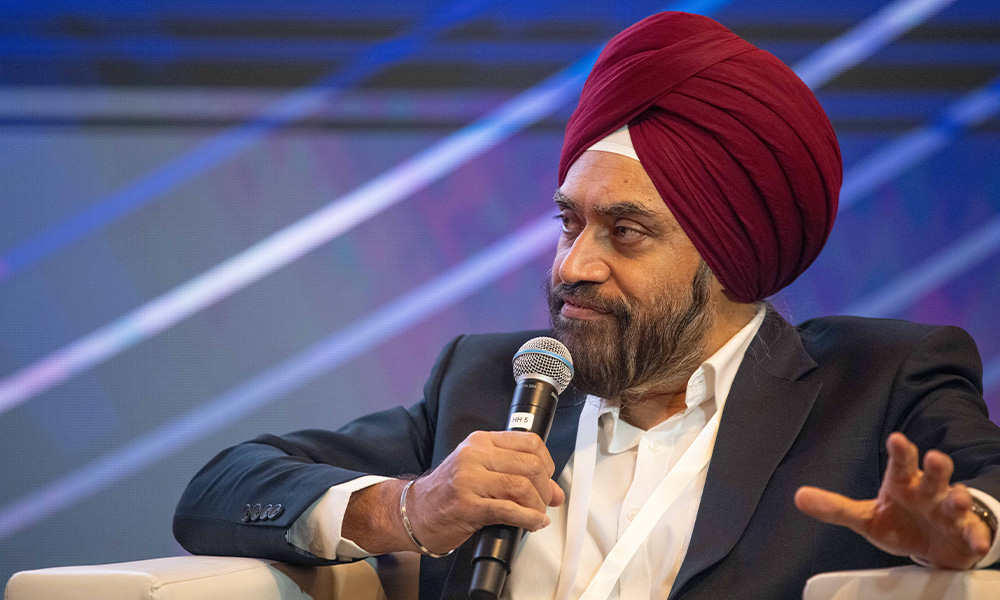 The use of methanol as a bunker fuel presents the least path of resistance towards maritime decarbonisation, believes the Principal Consultant, Head, Research and Development, Maritime Advisory, SE Asia, Pacific, and India at classification society DNV.
Captain Satinder Singh Virdi was speaking amongst panellists in the Methanol Panel session at Marine Fuels 360 on Tuesday (28 November) when he offered an opinion about reasons behind the increasing awareness of methanol as a marine fuel.
"The ease of adopting methanol is perhaps one of the reasons. The product exists as a liquid at ambient temperature and has been carried on vessels for the last 80 years, so it is not something new," he stated.
"What is new is we're going to use methanol as a bunker fuel. Ease of adoption, ESG compliance, as well as getting closer to decarbonisation goals are the drivers for shipowners adopting methanol."
According to Captain Singh, the trend for methanol-fuelled newbuildings have continued in October where DNV's Alternative Fuels Insight (AFI) platform recorded 230 vessels on order where 156 comprises of containerships.
"The trend started when Maersk increased their newbuild order of methanol-fuelled vessels; before that it was mostly LNG as an alternate fuel," he said.
Captain Singh was confident the bunkering infrastructure in Singapore will be ready to welcome methanol-fuelled vessels due to the coordinated efforts between the Singapore Shipping Association, Maritime and Port Authority of Singapore, Global Centre for Maritime Decarbonisation, and other organisations.
"We are all working together to support Singapore's future maritime operations. Singapore is an international maritime centre, and we want to establish ourselves as the leading maritime city," he explained.
"I would call this a cohesive action by all relevant partners, such as shipowners, charterers, classification societies, ship managers, bunker testing firms, mass flow meter manufacturers, bunkering companies, and more.
"It is important for Singapore to be seen as a fair supporter of bunkering in terms of reliability and reputation, and if things go wrong actions are taken very strictly to ensure transparency and quality. So, in that way I am satisfied to say that 'yes' we have what it takes to make methanol bunkering happen."
Related: DNV: Methanol-fuelled order trend continues, with first ammonia DF newbuilding contracts recorded in Oct
Related: Maersk invests USD 700.3 million for additional four methanol-fuelled container newbuilds
Other related: Singapore: Equatorial Marine Fuel builds four "new generation" methanol-ready bunker tankers
Other related: MPA: Due diligence carried out prior to recent Singapore methanol bunkering pilot
Other related: VPS completes quantity survey on Singapore's first methanol bunkering op
Other related: The Methanol Institute: Singapore takes first-mover advantage in Asia with methanol bunkering pilot
Other related: Singapore bunkering sector enters milestone with first methanol marine refuelling op
Other related: Singapore gets ready for its first methanol bunkering this week after one year preparation
Other related: The Methanol Institute: Singapore takes first-mover advantage in Asia with methanol bunkering pilot
Photo credit: Informa
Published: 6 November 2023
Höegh Autoliners, Sumitomo to collaborate on ammonia bunker fuel supply for PCTCs in Singapore, Jacksonville
Duo will embark on a comprehensive evaluation of the compatibility between Höegh Autoliners PCTC newbuilds and ammonia bunkering facilities at the identified bunker ports.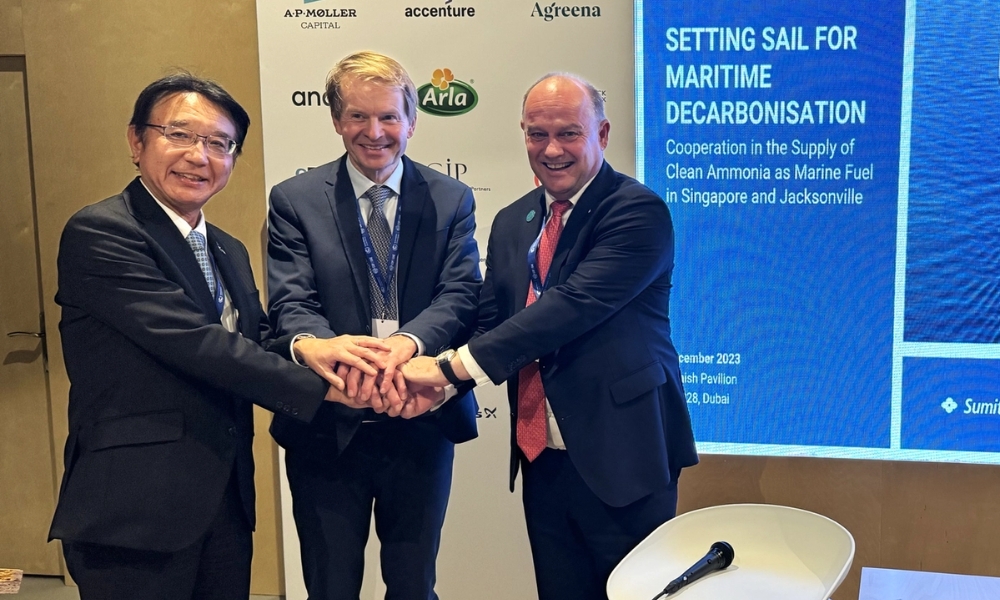 Norway-based pure Car and Truck Carriers (PCTCs) vessel owner and operator Höegh Autoliners on Tuesday (5 December) said it has agreed with Sumitomo Corporation to look into the supply of clean ammonia as a bunker fuel at the ports of Singapore and Jacksonville, USA from 2027 onwards.
The two companies have formalised their commitment through a Letter of Intent to collaborate on the supply and delivery of clean ammonia as a next-generation sustainable maritime fuel for Höegh Autoliners' upcoming Aurora Class PCTC vessels.
The twelve vessels are set to become the largest and most eco-friendly car carriers ever built and they will have the capability to run on zero-carbon ammonia or carbon neutral methanol.
"The Letter of Intent symbolises a remarkable step in the realisation and development of the production and consumption of clean maritime fuels. The collaboration hopes to stimulate the upscaling of the supply and demand of clean ammonia for maritime usage," Höegh Autoliners said in a statement.
Both companies view clean ammonia as a promising future fuel for the maritime industry, offering substantial potential in addressing the challenges associated with greenhouse gas emissions in global shipping.
To support this vision, both entities have launched a range of initiatives throughout the ammonia value chain, with a primary focus on making clean ammonia a viable choice for maritime fuel and thereby achieving significant reductions in emissions from the global shipping sector.
Moving forward, the companies will embark on a comprehensive evaluation of the compatibility between the PCTC vessels and the ammonia bunkering facilities at the identified bunker ports.
They endeavour to make necessary adjustments to specifications for both "shore-to-ship" and "ship-to-ship" bunkering operations and undertake safety assessments to establish standardised operational protocols and regulations in close coordination with pertinent government agencies.
Photo credit: Höegh Autoliners
Published: 6 December, 2023
CENIT and Hinicio to explore feasibility of zero-carbon bunkers in Colombia
Mission is to explore the feasibility of producing, storing, supplying, and exporting zero-carbon bunker fuels at strategic port locations in Colombia, says centre.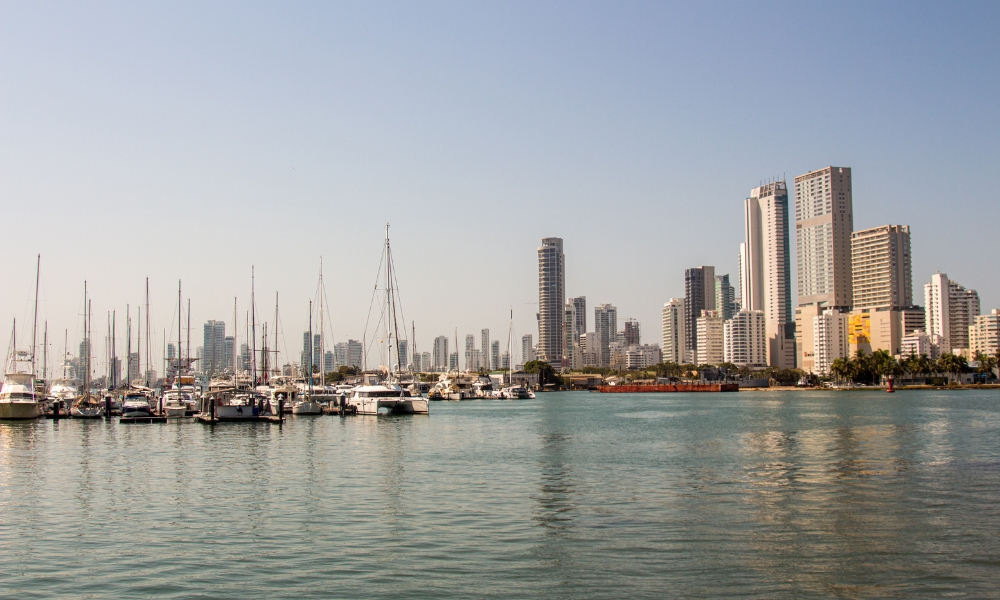 The Centre for Innovation in Transport (CENIT) on Tuesday (5 December) said it was teaming up with Hinicio, a strategy consulting firm focused on sustainable energy and mobility, for a project funded by The World Bank in Colombia.
CENIT said their mission was to explore the feasibility of producing, storing, supplying, and exporting zero-carbon bunker fuels at strategic port locations in Colombia.
"The shipping industry is poised to become a major demand centre for zero-carbon fuels, particularly green hydrogen-based options like green ammonia and green methanol," CENIT said in a social media post.
"And it will play a pivotal role in transporting these zero-carbon fuels from emerging production hubs in Latin America to high-demand centres in Europe and East Asia."
"This project takes us a step closer to decarbonising ports and fostering a sustainable future for maritime transportation."
Photo credit: Luis Desiro on Unsplash
Published: 6 December, 2023