DNV: Wind propulsion for RoRo, RoPax and pax vessels
DNV discusses the growing support for wind-assisted propulsion from first movers in shipping industry and presents examples of how it is adapted in RoRo and RoPax segment.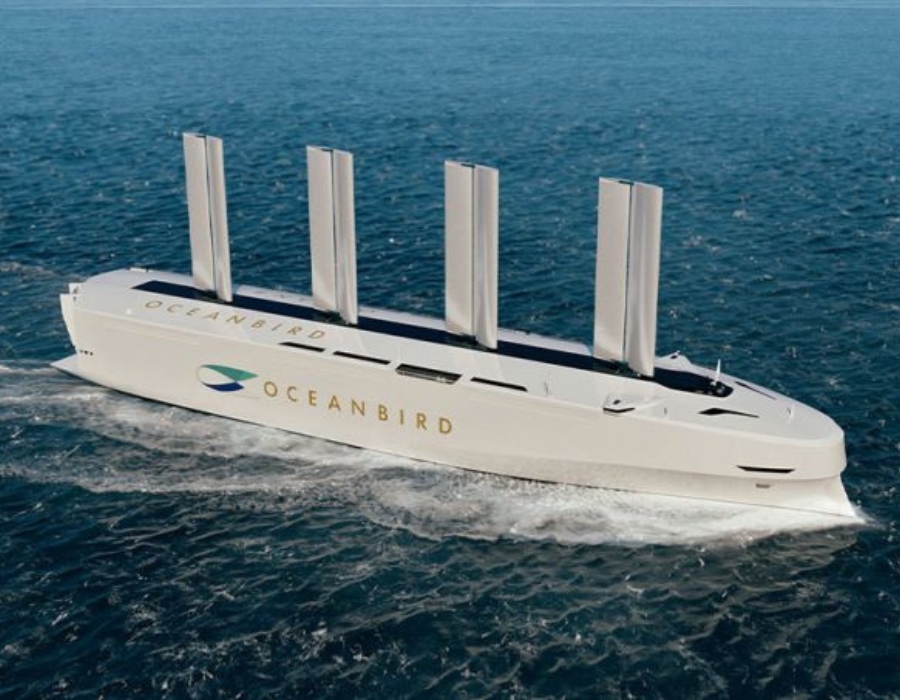 Classification society DNV on Thursday (8 June) released a Maritime Impact report on wind-assisted propulsion for ships and presents examples of how it is adapted in the RoRo and RoPax segment:
The shipping world is looking for the right answers to the decarbonization challenge, and wind-assisted propulsion is seeing growing support from innovators and first movers across the industry. DNV presents three promising technologies adapted in the RoRo and RoPax segment.
As carbon emission limits get tighter and the zero-carbon goal moves closer, shipowners and ship operators are seeing more questions than answers about the ship-propulsion technology of a decarbonized tomorrow. Amid this uncertainty, one thing remains certain: There will always be wind – enough for everyone. "Wind has propelled ships for thousands of years, interrupted only for one brief, wasteful century of burning fossil fuels," says Hasso Hoffmeister, Senior Principal Engineer at DNV. "So more people are asking: Why not use wind again?" 
Advanced wind technology to the fore!
Today's transport volumes are infinitely larger than those at the height of the windjammer era. Yesterday's wind technology won't do – wind propulsion must be reinvented using every bit of advanced engineering, material science, computer modelling and automation technology that is available. "DNV has a long history of wind expertise to draw from and supports modern visionaries who are ready to take the first step," Hoffmeister emphasizes. "Ro-ro, ro-pax and pax ships are well suited for wind propulsion because they are comparatively lightweight, don't travel at very high speeds, and typically have the open deck area required for sails, often with the superstructure in front so there are no line-of-sight issues," he explains. It's all a matter of making the leap of faith and trying things out that may look a bit unusual at first. Tomorrow's wind propulsion won't be "romantic" – but it can be impressive and harbour plenty of potential to reduce fuel costs and emissions, as these three examples show: 
Oceanbird: the vertical airplane wing
The Oceanbird concept idea was developed in a research project between Wallenius Marine, the KTH Royal Institute of Technology and SSPA/RISE, with support from the Swedish Transport Administration. A crucial part of the concept is of course the rigid wing sails. To develop the wing sails into a marketable product, Wallenius and Alfa Laval formed the new company AlfaWall Oceanbird in December 2021.  
The technical team at AlfaWall Oceanbird improved the design from the telescoping wing sail to a two-part articulated design reminiscent of a vertical airplane wing with a flap. "The flap creates an adjustable camber that can generate much more thrust than our previous wing sail concept," explains Niclas Dahl, Managing Director of Oceanbird. "This new design allows us to achieve the same propulsion force with a much smaller sail – which is more sustainable by reducing material use." The Oceanbird sail is hinged and can be tilted down to clear overhead obstacles and keep the ship stable in a storm. 
Visionary technology to reduce fuel dependency
The next major step towards bringing the Oceanbird sail to full maturity will be a full-sized prototype installed on land to study its behaviour and operation, test the automated control system and train future operators. This will be followed by a prototype installation onboard Wallenius Wilhelmsen's vessel Tiranna. "These are important steps that will allow us to learn," says Dahl. "Our ultimate vision is to change the shipping industry. We see a very strong possibility for a technology that we know works and can be used effectively by employing advanced technologies. Wind assist avoids inescapable dependency on alternative fuels. Wind is a completely free and fully sustainable 'fuel'." 
EU funding supports the ship development project
In January 2023, the EU Horizon Europe funding programme for research and innovation approved 9 million euros of funding for the Orcelle Wind project, which aims to develop and build a 220-metre wind-powered ro-ro vessel to be commissioned in late 2026 or early 2027. Eleven industry and academic partners, including Oceanbird and DNV, are collaborating in the project, addressing all aspects from the sails and their fully automated control system to hull design, safety and crew training. The Pure Car and Truck Carrier will transport over 7,000 vehicles across the oceans. 
Wind: sustainable, inexhaustible and predictable
AlfaWall Oceanbird's Technical Director Mikael Razola points out: "Everybody will be competing for the alternative fuels, but nobody competes for wind. Wind is inexhaustible and actually quite predictable." Furthermore, the investment, operating and maintenance costs of wing sails will soon be known whereas predicting the future costs associated with other fuels is difficult, says Dahl. It shouldn't be forgotten, he adds, that there is a certain "wow!" factor: "Sails are good for the environment, good for CII compliance, and very visible to the public who can see you are doing something for the environment." 
Demonstrating a compelling business case for wind propulsion
"Wind is a no-brainer," concludes Razola. "I imagine a future of autonomous sailing vessels travelling the oceans virtually without energy costs – a vision that is not completely utopian from today's perspective." All this hinges on the ability to demonstrate a compelling business case, says Dahl. "You harvest what is there already, without any specific environmental risks – and you don't even need a fuel supply infrastructure!" 
WISAMO: Michelin's inflatable wing sail
The idea of an inflatable wing sail was first conceived by a group of sailing enthusiasts in Switzerland and soon adopted by French tyre manufacturer Michelin as a great way to expand its broad research and innovation programme. WISAMO – Wing Sail Mobility – is the name of the company's initiative to develop this concept to full maturity. An initial prototype installed on a small sailboat 20 months ago has been tested successfully by the seasoned French sailing pro Michel Desjoyeaux, reports Gildas Quemeneur who heads the WISAMO initiative. "Some of the great advantages of this sail include its low weight and upwind efficiency – you can sail much closer to the wind than with a conventional sail. The design is simple, with a small number of components and very few connecting points. The textile material forms a stack of internal air chambers, held up by a telescoping, fully retractable mast and inflated by a fan."  
Collecting data on a demonstrator
A number of additional trials must be performed before the system is ready for use on cargo ships, says Quemeneur: A demonstrator wing sail is currently being tested on the RoRo ship MN Pélican, owned by WISAMO cooperation partner Compagnie Maritime Nantaise. "This is a scale model with a surface area of 100 square metres, so the scale is 1 to 5," says Quemeneur. "We are fitting many measuring devices to gather performance data and sharpen our simulation and prediction tools. We will also use it to test the mechanical components and operation." 
Low-pressure system minimizes stresses and energy needs
The sail uses low air pressure, which keeps the mechanical stresses on the fabric low. The shape of the sail is maintained by lightweight horizontal stays between the air compartments. Especially in the upper portion of the sail it is crucial to control the rigidity, says Quemeneur. "While a significant air volume is needed to inflate the sail, maintaining the internal pressure takes very little energy," he explains. "System safety is ensured by the fully automated control system which measures the wind and retracts the sail when the load limit is reached at wind speeds of around 55 knots. The textile material is expected to last 6 to 8 years and should be easy to replace." He adds that the collapsed sail neatly fits into a stowage compartment that can be rotated out of the way of cranes and hatch covers. 
Technical maturity builds confidence in ROI
During the second half of 2024, WISAMO will install a full-scale sail on land for further tests. "After evaluating the results, we will look for an early adopter to install a full set of our sails on a ship and determine how the sails interact with each other and the vessel," says Quemeneur. "For the future commercial success of our system, it will be essential to reach full technical maturity and achieve a high level of confidence in the ROI." DNV, who has been accompanying the project, has granted Approval in Principle for the system, an important step for WISAMO. Gildas expects a set of sails to generate 15 to 20 per cent of propulsion power when retrofitted, and 50 per cent or more on a custom "wind-powered cargo"-type newbuild. 
Note: The full DNV Maritime Impact report titled 'Wind propulsion for RoRo, RoPax and pax vessels' can be found here.
Photo credit: Oceanbird / DNV
Published: 14 June, 2023
Bunker Holding scales up biofuel bunker availability to over 80 ports worldwide
Group is providing different types of lower carbon products as well as blends of biofuels and conventional marine fuels and can deliver those products to numerous ports.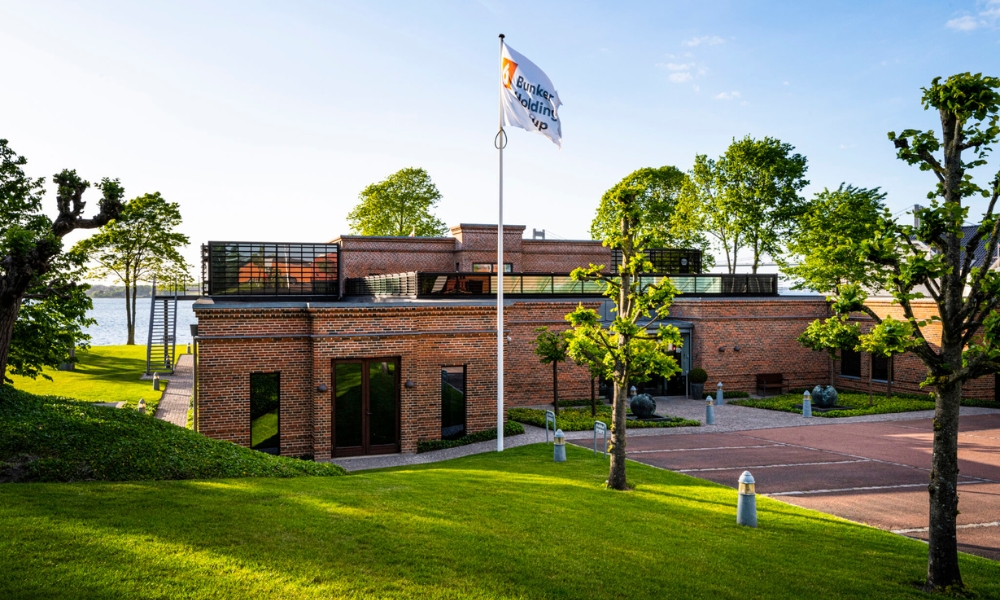 Marine fuel supplier Bunker Holding on Tuesday (3 October) said it has now secured bio bunker fuel availability in more than 80 ports around the world, catering to last mile delivery.
With the recent adoption of the FuelEU Maritime regulation, the entering into force of the IMO CII, and the inclusion of shipping in the EU ETS just around the corner, the Group said it is ready to help clients with the optimal solutions to reduce their GHG emissions.
Valerie Ahrens, Senior Director of New Fuels and Carbon Markets at Bunker Holding, said: "Bunker Holding is overcoming the challenges from the green transition simultaneously with our customers. It is affecting how we conduct business in a changing market, driven by the new IMO GHG strategy and new regulations such as IMO CII, EU ETS, and FuelEU maritime."
"We are all in the same boat but as a leading marine fuel supplier with an extensive network and global reach, we are well positioned and equipped to help our clients. Much of our work has gone into building strong and reliable supplier relations, which are essential to ensuring we can connect reliable suppliers with the end-users of biofuel globally."
Manja Ostertag, Head of Biofuels, who is coordinating the global efforts to develop the supply of biofuels in key regions and ports, said: "During the past months, we have been intensifying our efforts on ensuring biofuel availability at numerous ports and at a global scale. This puts the Group in a unique position as a marine fuel supplier. Providing a relevant and competitive value proposition including low-carbon fuels is a crucial part of our New Fuels strategy and key to succeed as a business, given the upcoming IMO and EU regulations."
As part of this effort, Bunker Holding and its subsidiaries are focusing on the individual needs of its clients. As every segment and business in the marine sector is different and hence might have different needs, Bunker Holding, through its affiliates, aims to provide customised and compliant solutions. That means the Group is providing different types of lower carbon products as well as blends of biofuels and conventional fuels and can deliver those products not only to flow ports, such as ARA and Singapore, but also in numerous other ports.
During the past months, biofuels have been bunkered by the Group to different segments, reaching from cruise and ferry lines and container ships to offshore clients and even smaller businesses.
"When delivering lower carbon fuel solutions to our clients, it is crucial for us to work with reliable certified suppliers that have the same high principles on delivering product quality and sustainability as we have. Such reliable supply chains are indispensable in delivering relevant value to our clients," says Manja Ostertag.
Bunker Holding is not only delivering lower carbon fuel solutions through its affiliates, such as Biofuels or LNG, but also prepares for the evolving offtake of alternative marine fuels, such as methanol and ammonia. In addition to that, the Group supports its clients in any topic around EU ETS, such as buying EUA's (EU Allowances). As an advisor for the green energy transition, the Group wants to position itself as a one-stop-shop to its clients.
Photo credit: Bunker Holding
Published: 4 October, 2023
Cepsa begins supplying bio bunker fuel at Port of Barcelona
Firm said it has undertaken the largest supply of second-generation biofuels to date at the Port of Barcelona; firm supplied biodiesel to Hapag-Lloyd-operated boxship.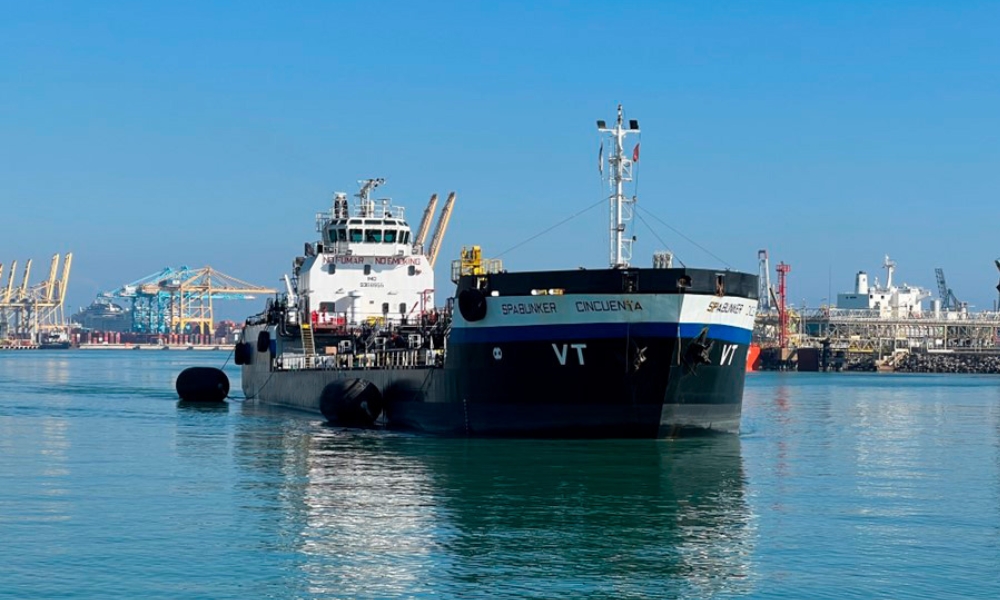 Spain's energy for maritime transport supplier Cepsa on Monday (2 October) said it has undertaken the largest supply of second-generation biofuels to date at the Port of Barcelona.
The operation, conducted on a 350-metre-long container vessel operated by Hapag-Lloyd in the Mediterranean, marks the energy company's inaugural venture in Barcelona and positions the Port of Barcelona as a key player in the decarbonisation of maritime transportation.
The supplied biodiesel contains a 24% sustainable component, which will prevent the emission of 2,860 tons of CO2, equivalent to planting 34,300 trees. This biofuel has been produced from used cooking oils.
Currently, the energy company can supply these sustainable fuels by barge in the Port of Barcelona and the area of the Strait of Gibraltar, and by tanker in all the ports in which it operates.
Samir Fernández, director of Marine Fuel Solutions at Cepsa, said: "Second-generation biofuels can be used in ships without the need for modifications to their engines, and they have a high potential for reducing CO2 emissions compared to conventional fossil fuels, achieving a reduction of up to 90%, which makes them an ideal immediate solution."
"That's why we want to make them available in all the ports in which we operate and lead their production in this decade to help our customers meet their own decarbonisation challenges."
The company said it aspires to be the leading biofuel producer in Spain and Portugal by 2030, with a production capacity of 2.5 million tons annually, and green hydrogen, with 2 GW of electrolysis capacity.
Photo credit: Cepsa
Published: 4 October, 2023
KPI OceanConnect hosts alternative fuels & carbon markets forum in Greece
Forum brought together marine energy experts to talk on bio bunker fuels, their regulation and adoption and their important role in helping the shipping industry comply with emissions regulations.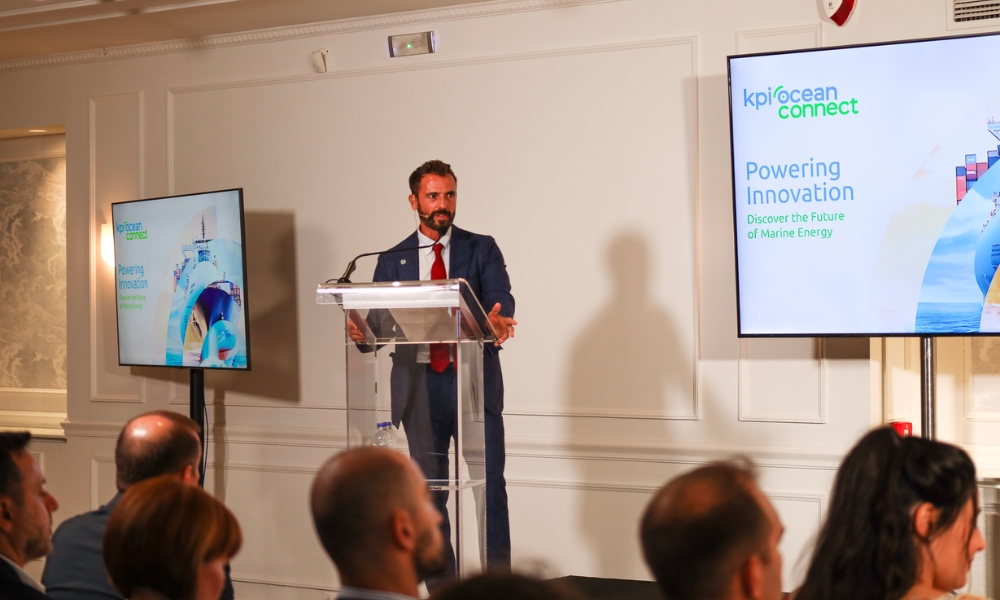 Global marine energy solutions provider KPI OceanConnect on Tuesday (3 October) said it held its Alternative Fuels & EU ETS Forum for clients in Greece on 27 September, where it brought together a line-up of marine energy experts to talk about biofuels, their regulation and adoption and their important role in helping the shipping industry comply with emissions regulations.
For the evening's seminar, speakers included KPI OceanConnect's Jesper Sørensen, Global Head of Alternative Fuels & Carbon Markets, and from Bunker Holding, Valerie Ahrens, Senior Director of New Fuels & Carbon Markets and Manja Ostertag, Head of Biofuels. They were joined by Maria Tzigianni of Bureau Veritas' VeriFuel.
The speakers presented on the range of biofuel products available to the marine sector and how the market for these products is shaped by the oil market, feedstock sectors such as agriculture, and regulations at national, regional and global levels. Delegates also learnt about pilot projects that had tested the performance of biofuels and measured how they would help ship owners and operators to decarbonise.
More than 100 guests attended an evening at Golf Privé in Glyfada, Athens, and were welcomed by Michalis Manassakis, Managing Director, KPI OceanConnect Athens. Attendees followed a very interesting seminar and were also able to learn more about KPI OceanConnect's values and main activations through interactive touchscreen technology.
With EU ETS regulations coming into effect in the shipping industry on January 1st 2024, KPI OceanConnect's guests also heard about the important role that voluntary and regulated carbon markets would have in helping the shipping industry to decarbonise.
The shipping industry, vessel owners and operators in particular, face many important questions about decarbonisation, while ongoing innovation means the alternative fuels market is constantly moving.
In its role as a provider of marine fuels, the firm said it was important that KPI OceanConnect shares its knowledge and expertise with its clients and customers.
Michalis Manassakis, said: "It was a pleasure to host a frank and open discussion for so many of our friends in the Greek market and we are grateful to have had so many join us today. As the shipping sector tackles the decarbonisation challenge, it is important that we help our partners to understand the changes that are happening in the marine energy market. And that we work to build trust in the supply of products that will drive forward the energy transition in our sector."
Photo credit: KPI OceanConnect
Published: 4 October, 2023