DNV overview on SMW 2023: Singapore charts forward in the maritime transition
Remi Eriksen of DNV Group, shared during event, the business case for decarbonization must involve four key factors including alternative bunker fuels once safety guidelines and bunkering infrastructure are established.
After a four-year hiatus, Sea Asia 2023 returned to the sunny shores of Singapore with a bang! Widely regarded as one of the most important maritime events in Asia, the trade fair was held alongside the annual Singapore Maritime Week (SMW) between 24 – 28 April 2023.
Themed 'Ambition Meets Action,' SMW 2023 spotlighted the need for collective action to achieve the industry's ambition for innovation, decarbonization, and talent. The event's focus was strongly aligned with DNV's own agenda to support decarbonization and digitalization in the mission to make the world safer, smarter and greener.
Record attendance of 20.000 participants
SMW saw participation from international maritime companies, stakeholders and decision-makers in a series of about 50 conferences and seminars, which ran in parallel with the Sea Asia 2023 exhibition at Marina Bay Sands. According to the organizers, the show was the largest to date, with 20.000 participants and more than 300 exhibitors from 70 countries.
As sponsors of Sea Asia 2023, it was an action packed few days for DNV, with the leadership team, including Group President and CEO Remi Eriksen, participating in several notable conferences, signing ceremonies and meetings with partners and customers.
On the first day of SMW, the 5th Annual Capital Link Singapore Maritime Forum underscored the importance of high-level industry involvement to address global maritime issues and ambitions.
This was evident in the panel on "Fleet renewal Options and Strategies – Positioning for Long term Competitiveness", moderated by Cristina Saenz de Santa Maria, Regional Manager South East Asia, Pacific & India at DNV Maritime.
It paid due attention to today's challenges for existing fleet owners and operators, as much as looking at what's required for the global industry to be "future ready".
The panel agreed that a combination of solutions is available now – smart navigational aids and fuel efficiency measures, for example – which can address current challenges, as well as help the industry to decarbonize and make it through the very necessary energy transition.
Fergus Eley, Head of Maritime Enterprise for BHP, said his company is already delivering on decarbonization, by employing technology and commercial solutions to improve the global supply chain, while Shmuel Yoskovitz, Chief Executive Officer, X-Press Feeders, made a strong call for much closer industry collaboration to deal with current and future challenges: "Ship owners and operators must work together."
Fellow panelist Yvette van der Sommen, Director Asia Pacific at Value Maritime, saw the future for shipping where a mix of technologies and fuels will be fully utilized, including her company's very own CO₂ capture and storage solution, while Hing Chao, Executive Chairman, Wah Kwong Maritime Transport Holdings, agreed that the industry should capitalize on CO₂  "as a highly valuable resource" as the maritime sector joins the circular economy and makes the energy transition at the same time.
Stamatis Tsantanis, Chairman and CEO of Seanergy Maritime Holdings Corp, questioned whether the industry was doing enough to deal with existing fleets. Before the global industry introduces new and alternative fuels, he insists it must work on improving the current performance of vessels operating.
First ammonia ship to ship transfer pilots on the horizon
One of the highlights of Singapore Maritime Week 2023 was the launch of the comprehensive study "Safety and Operational Guidelines for Piloting Ammonia Bunkering in Singapore" by the Global Centre for Maritime Decarbonisation (GCMD) and its appointed consultant DNV Maritime Academy, supported by Surbana Jurong (SJ) and the Singapore Maritime Academy (SMA).
The study represents Singapore's global leadership for considering in depth, the viability of ammonia as a future fuel for the international maritime industry, and how the most important bunkering port in the world could introduce ammonia in the safest and most efficient manner.
While there's a full report on the study in Manifold Times, here's what Knut Ørbeck-Nilssen, CEO of DNV Maritime, had to say about it: "Ammonia holds potential for a future maritime fuel and thus one pathway for the maritime industry's decarbonization journey. This project will help lay the safety considerations for ammonia bunkering.
"Safety lies at the heart of the guidelines that DNV helped to develop for this pilot in Singapore. Further pilots and studies are key to understand, assess and mitigate safety risks associated with using ammonia fuel onboard the global fleet."
Key factors for accelerating decarbonization
Besides this significant announcement, there were many other notable highlights of Singapore Maritime Week (SMW), including the attendance and involvement of Remi Eriksen, DNV Group President and CEO.
He played a prominent role in the session on "Accelerating Decarbonization", where a number of CEOs shared their vision on "Delivering Net-Zero".
Mr Eriksen believes the business case for decarbonization must involve four key factors:
Electrification of as many (shortsea) vessels as possible, running on renewable energy/batteries
Well-maintained ships, applying fuel efficiency devices
Alternative fuels, like hydrogen and ammonia, once we've established safety guidelines and the bunkering infrastructure
Carbon Capture Utilization and Storage (CCUS) to help get the sector towards net zero
When asked to sum up the session, Mr Eriksen put it this way:
"We know where we have to go. There's no time to waste. We need to move fast."
Advancing the multi-fuel transition
Mr Eriksen also participated as a member of the Maritime International Advisory Panel (IAP), which held its second annual meeting during Singapore Maritime Week.
The Maritime IAP meeting recognized that decarbonization of the maritime sector should not be viewed in isolation, rather synergistically across different sectors and with each country's domestic clean energy strategy.
Among other solutions, the IAP panel recommended that governments and the maritime industry could work with adjacent sectors, such as aviation and energy, to aggregate energy demand for low- and zero-carbon fuel solutions.
The IAP noted that the need for a multi-fuel transition would require significant capital expenditure, especially in its infancy, and discussed how the industry's willingness to invest in commercial solutions could be coupled with support from governments to lower cost barriers and incentivize early movers, where regulatory changes would be required.
Key enabler for smart shipping globally
MarineTech Conference's panel discussion on "Smart Ship Developments, Trends and Priorities" during SMW saw DNV Maritime's Strategic Development Director Dr Pierre Sames highlighting the important achievement of widespread connectivity as the key enabler for smart shipping globally.
"We have talked about this for decades but now it is working, so assets are being connected like machines on a factory floor."
Dr Sames considers that this smart shipping trend contributes directly to decarbonization, as well as decreased operational costs for the maritime industry.
Emissions Connect: data for sustainable operations
Sea Asia Industry Insights were provided at the DNV booth by a number of expert speakers, including Magnus Lande, Product Line Director Veracity Data Platform. He explained that "Emissions Connect by DNV" fuels industry collaboration by equipping the maritime value chain with capabilities to verify and share emissions data.
Therefore, it provides the trusted basis needed to facilitate settlement of ETS (EUs Emissions Trading System) allowances and to operationally control CII (Carbon Intensity Indicator) performance.
Mr Lande also spoke at a session entitled "Innovate to Zero: Digitalization Advancing Decarbonization of Maritime Trade", organized by Norwegian Business Association Singapore (NBAS), and showed how "shipping companies can build confidence into their emissions data".
Maritime Manpower forum emphasizes human element in the industry transformation
The panel discussion on "Preparing the Maritime Workforce for the Decade of Transformation" was held on the last SMW day and was moderated by Dr Shahrin Osman, Regional Head of Maritime Advisory at DNV.
Coinciding with the elevated emphasis on global and local maritime industry manpower issues and opportunities was the release of the DNV study  "The Future of Seafarers 2030: A Decade of Transformation", co-sponsored by Singapore Maritime Foundation (SMF).
The study examines the key drivers transforming the maritime industry – particularly decarbonization and digitalization – and their impact on sea-going professionals in the lead-up to 2030, advancing the conversation on the training and development, as well as how to attract and retain the talent pool.
The findings were obtained through a combination of literature review, expert consultations, and a survey of more than 500 seafarers collectively responsible for operating dry bulk, tanker, and container vessels globally. 70% of the seafarers who responded to the survey had been in the industry for over 11 years.
Pressing need for training in new fuels and technology
The key findings of the DNV study include:
87% of respondents indicated a need for partial or complete training regarding emerging fuels such as ammonia, methanol, and hydrogen
A total of 81% of respondents said that they require training in dealing with advanced digital technologies such as further automation of equipment/systems, advanced sensors, artificial intelligence, remote operations etc.)
A total of 55% of respondents indicated that new developments in fuels, automation and digitalization onboard ships can assist in attracting new seafarers to a career at sea and retaining existing seafarers
On top of the strong emphasis on manpower challenges in forum discussions and with the release of DNV's comprehensive study, the Maritime IAP panel also stressed the importance of attraction, recruitment, and retention of talent, especially as the maritime industry accelerates digital transformation and advances the multi-fuel transition.
Tripartite collaborations with clear and regular communication to maritime workers will become increasingly important to encourage upskilling, retraining, and strengthening the maritime workforce to prepare them for the transformation, the IAP noted.
The last word to wrap up SMW must go to Singapore's Minister of Transport, Mr S Iswaran, when thanking IAP members for their invaluable views and insightful contributions over the week:
"As a global maritime hub, Singapore remains committed to work with like-minded partners across industries and regions to support and accelerate maritime digitalization and decarbonization efforts.
"The IAP members have been strong allies in driving transformation of the maritime sector, and I look forward to sustaining this spirit of cooperation as we chart a path forward for the maritime sector."
Related: Completed safety study paves way for first ammonia bunkering pilot in Singapore
Related: SMW 2023: DNV joins Standards working group on methanol bunkering
Related: SMW 2023: MPA, classification societies to collaborate on maritime decarbonisation
Related: SMW 2023: DNV joins Standards working group on methanol bunkering
Related: SMW 2023: Maritime IAP discusses multi-fuel transition at annual meeting
Photo credit: DNV
Published: 11 May, 2023
Kambara Kisen orders methanol dual-fuel bulker from Tsuneishi Shipbuilding
Firm ordered a 65,700-dwt methanol dual-fuel dry bulk carrier with Tsuneishi Shipbuilding; MOL signed a basic agreement on time charter for the newbuilding that is slated to be delivered in 2027.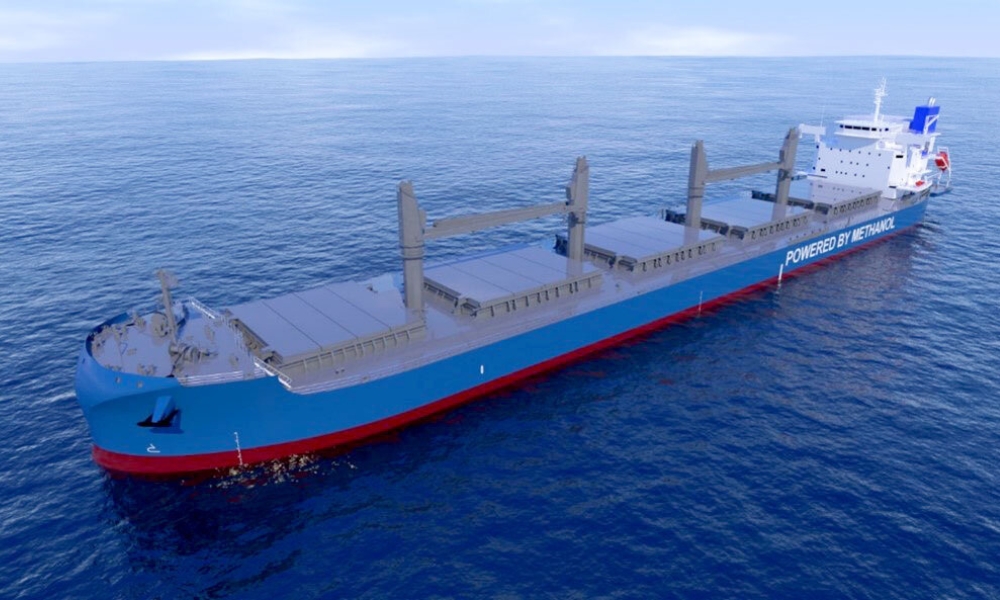 Japanese shipowner Kambara Kisen has ordered a 65,700-dwt methanol dual-fuel dry bulk carrier newbuilding from Tsuneishi Shipbuilding Co., Ltd, according to Mitsui O.S.K. Lines (MOL) on Wednesday (20 September).
MOL said it signed a basic agreement on time charter for the newbuilding that is slated to be delivered in 2027.
The vessel will be designed to use e-methanol produced primarily by synthesising recovered CO2 and hydrogen produced using renewable energy sources, and bio-methanol derived from biogas. 
The vessel's design maximises cargo space while ensuring sufficient methanol tank capacity set to allow the required navigational distance assuming various routes, at the same time maximising cargo space. 
MOL added the vessel is expected to serve mainly in the transport of biomass fuels from the east coast of North America to Europe and the U.K. and within the Pacific region, as well as grain from the east coast of South America and the U.S. Gulf Coast to Europe and the Far East.
Details on the time-charter contract:
Shipowner: Kambara Kisen wholly owned subsidiary
Charterer: MOL Drybulk Ltd.
Charter period 2027: -
Details on the newbuilding methanol dual fuel bulk carrier:
LOA: About 200 m
Breadth: About 32.25 m
Draft: About 13.80 m
Deadweight: About 65,700 MT
Hold capacity: About 81,500m3
Shipyard: Tsuneishi Shipbuilding Co., Ltd.
Photo credit: Mitsui O.S.K. Lines
Published: 22 September, 2023
Argus Media: Alternatives may drive methanol market growth
Driven by low-carbon policies and regulations, the transportation sector — especially the marine fuels industry — could be a source of heightened demand, according to Argus.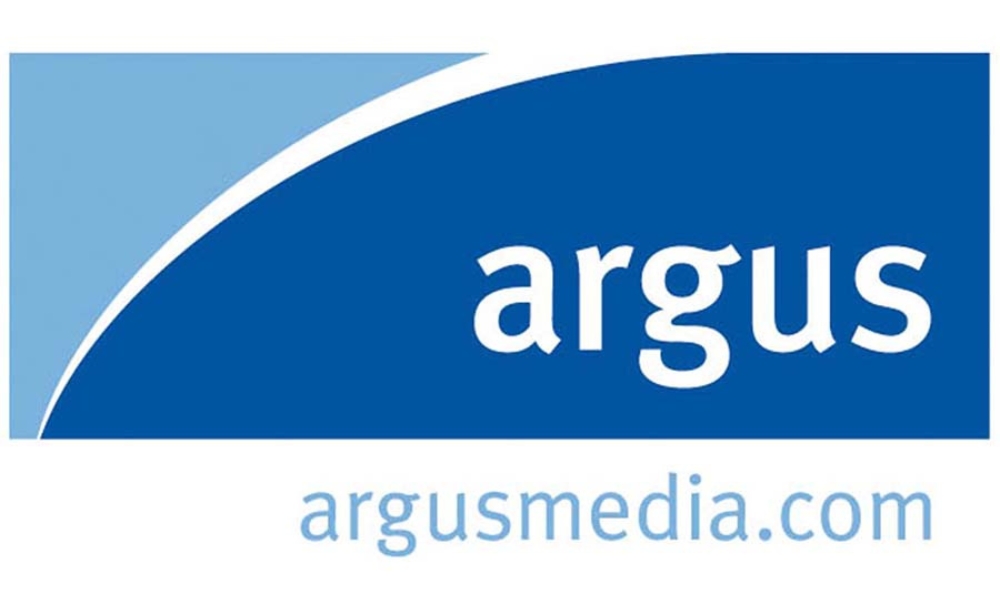 The growth of sustainable alternatives to traditional methanol production sources likely will shape the market over the next several years, industry leaders said this week at the Argus Methanol Forum.
20 September
Driven by low-carbon policies and regulations, the transportation sector — especially the marine fuels industry — could be a source of heightened demand.
"The aim is to be net zero by 2050 but [those solutions are] expensive today and one of the main challenges to build e-methanol or bio-methanol plants is a huge queue for these pieces of equipment that aren't available," Anita Gajadhar, executive director for Swiss-based methanol producer Proman, said.
Bio-based and e-methanol plants of commercial scale, like Proman's natural gas-fed 1.9 million metric tonne/yr M5000 plant in Trinidad and Tobago, are not ready today.
"But that's not to say 10 years from now they won't be there," Gajadhar added.
Smaller projects are popping up. Dutch fuels and gas supplier OCI Global announced plans last week to double the green methanol capacity at its Beaumont, Texas, facility to 400,000 t/yr and will add e-methanol to production for the first time. Production will use feedstocks such as renewable natural gas (RNG), green hydrogen and biogas.
The globally oversupplied methanol market will not get any major supply additions starting in 2024 until 2027. But that oversupply will not last long, Gajadhar said.
Global demand has slowed this year, driven by stagnate economic growth and higher interest rates, according to industry observers.
As much as half of methanol demand is tied to GDP growth, with total methanol demand estimates at 88.9mn t globally in 2023. This is essentially flat from 2022, but up from 88.3m t in 2021 and 87.7mn t in 2020, Dave McCaskill, vice-president of methanol and derivatives for Argus Media's consulting service, said.
Demand is not expected to rebound to 2019 levels of 89.6mn t until 2024 or 2025, he added.
The period of oversupply combined with lackluster demand places methanol in a transition period, Gajadhar said, which opens the door for sustainable feedstock alternatives to shape market growth.
Danish container shipping giant Maersk and French marine logistics company CMA-CGM announced earlier this week a partnership to drive decarbonization in shipping. The partnership seeks to develop fuel and operations standards for bunkering with alternative fuels. The companies will develop net-zero solutions, including new technology and alternative fuels.
Maersk has previously ordered dual-fuel methanol-powered vessels and CMA-CGM LNG-propelled vessels.
The demand for alternative feedstock-derived fuels is there, but the ability to scale-up such production lags. Certified lower-carbon methanol produced using carbon capture and sequestration — also known as blue methanol— can ramp up much more quickly, according to Gajadhar.
By Steven McGinn
Photo credit and source: Argus Media
Published: 22 September, 2023
Royal Caribbean completes over 12 weeks of bio bunker fuel testing in Europe
Firm expanded its biofuel testing this summer in Europe to two additional ships — Royal Caribbean International's "Symphony of the Seas" and Celebrity Cruises' "Celebrity Apex".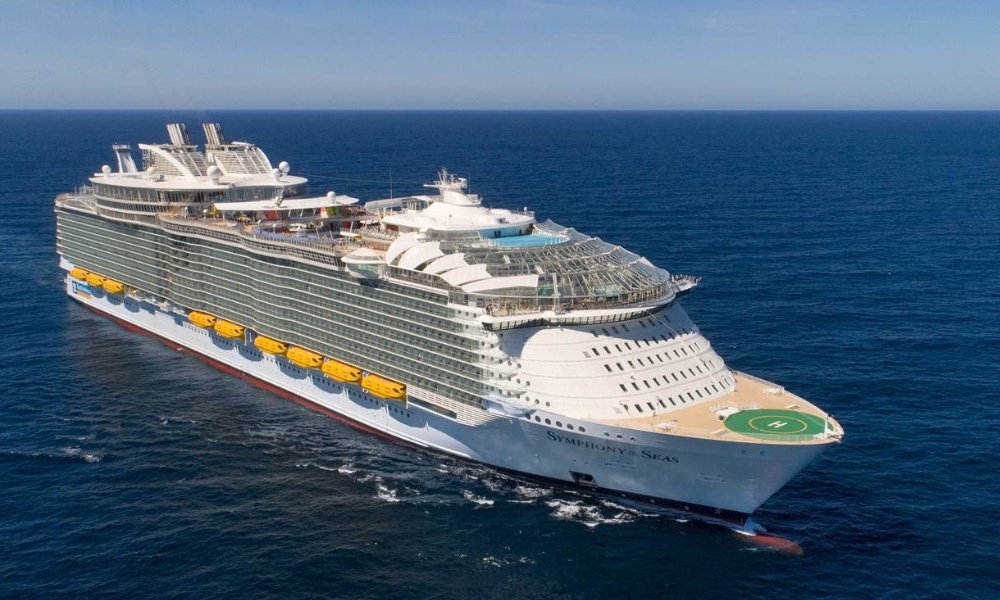 Royal Caribbean Group on Tuesday (19 September) said it successfully completed over 12 consecutive weeks of biofuel testing in Europe.
Royal Caribbean International's Symphony of the Seas became the first ship in the maritime industry to successfully test and use a biofuel blend in Barcelona to meet part of her fuel needs. 
The company confirmed onboard technical systems met operational standards, without quality or safety concerns, demonstrating the biofuel blend is a reliable "drop in" supply of lower emission energy that ships can use to set sail across Europe and beyond.
The tests across Europe also provided valuable data to understand the availability and scalability of biofuel in the region, the firm added.
Jason Liberty, president and CEO, Royal Caribbean Group, said: "This is a pivotal moment for Royal Caribbean Group's alternative fuel journey."
"Following our successful trial of biofuels this summer, we are one step closer to bringing our vision for net-zero cruising to life. As we strive to protect and promote the vibrant oceans we sail, we are determined to accelerate innovation and improve how we deliver vacation experiences responsibly."
President of the Port of Barcelona, Lluís Salvadó, said: "Royal Caribbean's success is a clear example of how commitment to innovation makes possible the development of solutions to decarbonise the maritime sector."
"In this case, it involves the cruise sector and focuses on biofuels, an area in which the Port of Barcelona is already working to become an energy hub, producing and supplying zero carbon fuels, such as green hydrogen and ammonia, and of other almost zero-carbon alternative fuels, such as methanol, biofuels or synthetic fuels. Innovation and collaboration between ports and shipping companies is key to accelerate the decarbonisation of maritime transport."
The company began testing biofuels last year and expanded the trail this summer in Europe to two additional ships — Royal Caribbean International's Symphony of the Seas and Celebrity Cruises' Celebrity Apex.
The sustainable biofuel blends tested were produced by purifying renewable raw materials like waste oils and fats and combining them with fuel oil to create an alternative fuel that is cleaner and more sustainable. The biofuel blends tested are accredited by International Sustainability and Carbon Certification (ISCC), a globally recognized organization that ensures sustainability of biofuels and verifies reductions of related emissions.
With Symphony of the Seas departing from the Port of Barcelona and Celebrity Apex departing from the Port of Rotterdam, both ships accomplished multiple sailings using biofuel and contributed critical data on the fuel's capabilities.
"These results will help accelerate Royal Caribbean Group's plans to continue testing the use of different types of biofuels on upcoming European sailings this fall. The company is exploring strategic partnerships with suppliers and ports to ensure the availability of biofuel and infrastructures to advance the maritime energy transition," the firm said.
Photo credit: Royal Caribbean Group 
Published: 22 September, 2023