De-bunkering specialist: Choosing the right pump for the job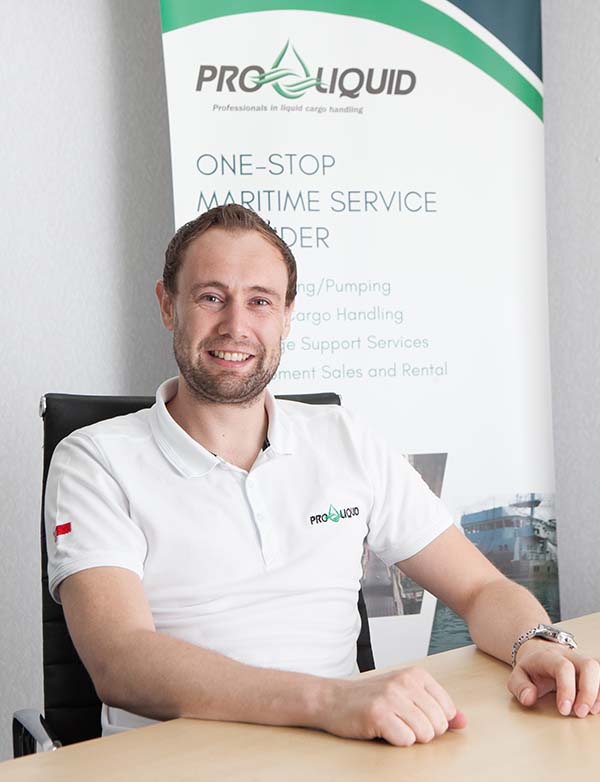 About the Author:
Singapore-based Justin Reinders is the Director of Pro Liquid, a one-stop liquid cargo handling service provider specialising in the maritime and petrochemical industry.
Trained as an engineer, Reinders takes care of daily operations as well as further strategic development of Pro Liquid. This covers a very wide scope from sales to finances and from HR to project management.
Pro Liquid offers 24/7 worldwide solutions such as liquid transfer services, salvage support, ship-to-ship services and expediting & loss control, as well as rental and sale of equipment.
With more than 30 years of experience in the industry, Pro Liquid has grown to become one of the world's leading companies in providing reliable liquid cargo services.
Pro Liquid was a major player in the de-bunkering sector during 2018, when the maritime industry experienced a peak in contaminated marine fuel removal operations.
The occurrence of contaminated marine fuel, though not new in the shipping industry, seemed to have increased in 2018. An indication of this was the more than 300% growth in worldwide de-bunkering operations carried out by Pro Liquid in the same year.
Based from experience, a common issue seen during de-bunkering operations are stakeholders (bunker suppliers, shipowners, etc) choosing to utilise the vessel's own fuel oil transfer pumps to remove contaminated marine fuel with the misconception of saving cost by avoiding the engagement of external pumps.
What they fail to see is the potential of risking damage and contamination to the vessel's equipment, on top of wasting even more time incurring additional demurrage charges due to inadequate flow rate. The main issue is these pumps are designed only to transfer fuel onboard from one bunker tank to another with minimal resistance of back pressure.
Stakeholders have to be aware that although the rated capacity of these transfer pumps are between 30 to 50 cubic metres (m3) per hour, the reality is these type of pumps can only achieve up to a maximum of 20% of rated capacity in actual de-bunkering operations.
This decreased flow rate is due to the higher back pressure created by pumping the oil overboard; factors such as the length of the fuel transfer line, temperature of bunkers (i.e. viscosity), and diameter of the pipe combine to lower the fuel transfer pump's efficiency.
More often than not, the vessel targeted for de-bunkering has another laycan to meet; stakeholders stand to benefit from less time spent in de-bunkering operations. Engaging the use of portable submersible hydraulic pumps, which can be simply lowered into a vessel's bunker fuel tank, allows for this to happen.
These submersible hydraulic pumps have a maximum rated capacity of 200 m3 per hour and we typically see actual rates of between 80 to 120 m3 per hour when in use for de-bunkering, compared to the significantly lower flow rates (e.g. 6 to 10 m3 per hour) fuel oil transfer pumps offer.
Removal of fuel oil from certain vessels such as tankers and bulkers are pretty straight forward, while other ships such as car carriers and container vessels take a lot of planning due to the location of the latter's bunker tanks. The challenge is always to place the equipment as close as possible to access manholes of targeted bunker tanks and in some instances intrinsically safe diesel hydraulic power packs are required to achieve this.
No two de-bunkering operations are alike, so we create added value for clients by studying each operation as a unique case. We pride ourselves as a one-stop service provider who is able to take care of everything required from end-to-end.
Hydraulic pumps, such as those used by Pro Liquid, come as a standalone system not requiring anything from the targeted vessel except lifting capability to place our equipment onboard. We also provide experienced de-bunkering specialists both on board and onshore to advise on the execution together with plan of approach thus taking away the majority of burden on crew and shore personnel during this stressful period.
Moving forward, we understand fuel quality laboratories expecting an increase in bunker contamination cases due to the upcoming IMO 2020 regulation; which also means more de-bunkering operations being forecasted.
As such, we remain ready to provide 24/7 support for clients anywhere in the world – when the time comes.