MOL invests in planned Louisiana-based hydrogen-ammonia production facility
Subsidiary MOL Clean Energy and Clean Hydrogen Works have become JV shareholder in ACE; facility is expected to produce hydrogen-ammonia to decarbonise sectors including bunker fuel.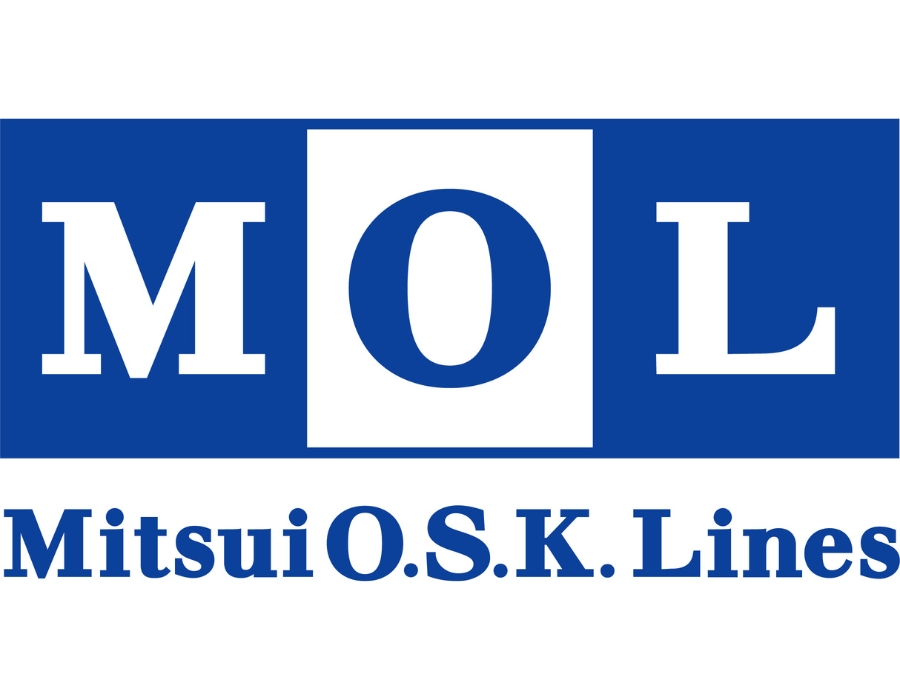 MOL Clean Energy, US, LLC (MCE), a 100% subsidiary of Mitsui O.S.K. Lines, Ltd. (MOL), and Clean Hydrogen Works, LLC (CHW) on Wednesday (14 June) announced MCE as a Joint Venture shareholder in Ascension Clean Energy (ACE), a proposed world-scale, clean hydrogen-ammonia production and export facility in Ascension Parish, Louisiana. 
Expected to produce 7.2 million metric tons of clean hydrogen-ammonia annually, ACE will help meet the rapidly emerging demand for affordable, secure, and low-carbon fuels and feedstock around the world. This clean energy will help decarbonize hard-to-abate sectors including power generation, bunker fuel, heavy transportation, steel processing and industrial applications.
Other shareholders are CHW, Denbury Carbon Solutions., a world-leading carbon solutions provider with more than two decades of successfully managing carbon dioxide (CO2), and Hafnia, one of the world's leading oil product tanker owners and operators.
"Clean hydrogen-ammonia is critical to decarbonising the global energy market," said Tomoaki Ichida, CEO, MCE, "With this innovative project, MOL is investing not only for our future growth, but also helping promote the development and adoption of clean hydrogen-ammonia within our fleet and customer base," Ichida added.
As one of the world's largest shipping companies, MOL is well-positioned to help develop safe, sustainable, and efficient solutions to ship ACE's clean hydrogen-ammonia to emerging clean energy markets across the globe.
With a projected investment of USD 7.5 billion, ACE is expected to generate approximately 1,500 construction jobs over five years and 350 permanent, full-time jobs with an annual average wage of more than USD 116,000, once fully operational. 
"With the rapidly evolving macro-environment, the world's net zero goals must be increasingly coupled with affordability and security of energy supply," said Mitch Silver, CHW Senior Vice President and Chief Operating Officer.
"MOL's practical yet visionary approach to decarbonization will add critical capabilities and insights to support ACE in delivering on its mission to provide customers with affordable and large-scale clean energy solutions."
Photo credit: Mitsui O.S.K. Lines, Ltd.
Published: 20 June, 2023
Bunker Holding scales up biofuel bunker availability to over 80 ports worldwide
Group is providing different types of lower carbon products as well as blends of biofuels and conventional marine fuels and can deliver those products to numerous ports.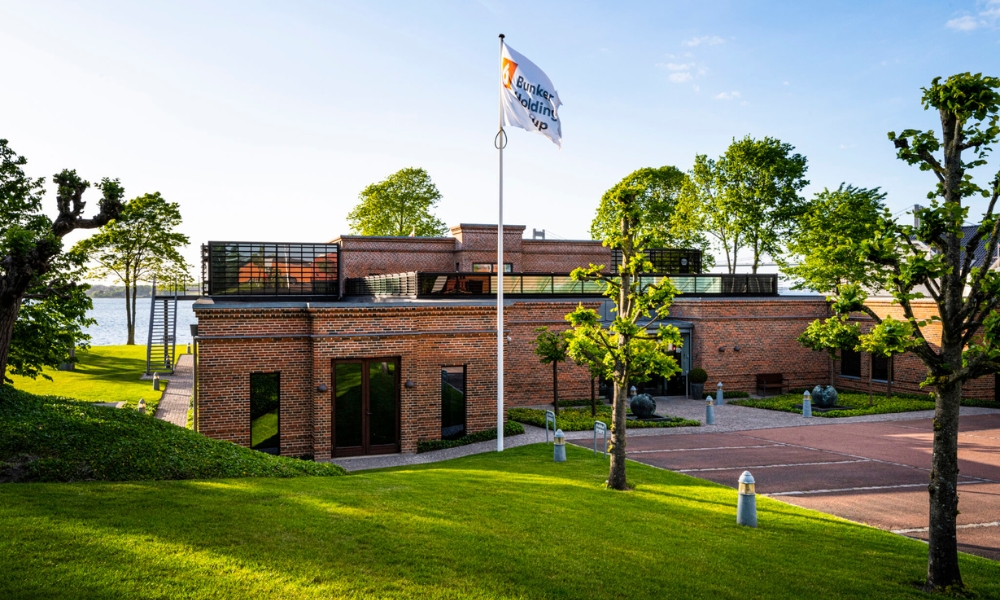 Marine fuel supplier Bunker Holding on Tuesday (3 October) said it has now secured bio bunker fuel availability in more than 80 ports around the world, catering to last mile delivery.
With the recent adoption of the FuelEU Maritime regulation, the entering into force of the IMO CII, and the inclusion of shipping in the EU ETS just around the corner, the Group said it is ready to help clients with the optimal solutions to reduce their GHG emissions.
Valerie Ahrens, Senior Director of New Fuels and Carbon Markets at Bunker Holding, said: "Bunker Holding is overcoming the challenges from the green transition simultaneously with our customers. It is affecting how we conduct business in a changing market, driven by the new IMO GHG strategy and new regulations such as IMO CII, EU ETS, and FuelEU maritime."
"We are all in the same boat but as a leading marine fuel supplier with an extensive network and global reach, we are well positioned and equipped to help our clients. Much of our work has gone into building strong and reliable supplier relations, which are essential to ensuring we can connect reliable suppliers with the end-users of biofuel globally."
Manja Ostertag, Head of Biofuels, who is coordinating the global efforts to develop the supply of biofuels in key regions and ports, said: "During the past months, we have been intensifying our efforts on ensuring biofuel availability at numerous ports and at a global scale. This puts the Group in a unique position as a marine fuel supplier. Providing a relevant and competitive value proposition including low-carbon fuels is a crucial part of our New Fuels strategy and key to succeed as a business, given the upcoming IMO and EU regulations."
As part of this effort, Bunker Holding and its subsidiaries are focusing on the individual needs of its clients. As every segment and business in the marine sector is different and hence might have different needs, Bunker Holding, through its affiliates, aims to provide customised and compliant solutions. That means the Group is providing different types of lower carbon products as well as blends of biofuels and conventional fuels and can deliver those products not only to flow ports, such as ARA and Singapore, but also in numerous other ports.
During the past months, biofuels have been bunkered by the Group to different segments, reaching from cruise and ferry lines and container ships to offshore clients and even smaller businesses.
"When delivering lower carbon fuel solutions to our clients, it is crucial for us to work with reliable certified suppliers that have the same high principles on delivering product quality and sustainability as we have. Such reliable supply chains are indispensable in delivering relevant value to our clients," says Manja Ostertag.
Bunker Holding is not only delivering lower carbon fuel solutions through its affiliates, such as Biofuels or LNG, but also prepares for the evolving offtake of alternative marine fuels, such as methanol and ammonia. In addition to that, the Group supports its clients in any topic around EU ETS, such as buying EUA's (EU Allowances). As an advisor for the green energy transition, the Group wants to position itself as a one-stop-shop to its clients.
Photo credit: Bunker Holding
Published: 4 October, 2023
Cepsa begins supplying bio bunker fuel at Port of Barcelona
Firm said it has undertaken the largest supply of second-generation biofuels to date at the Port of Barcelona; firm supplied biodiesel to Hapag-Lloyd-operated boxship.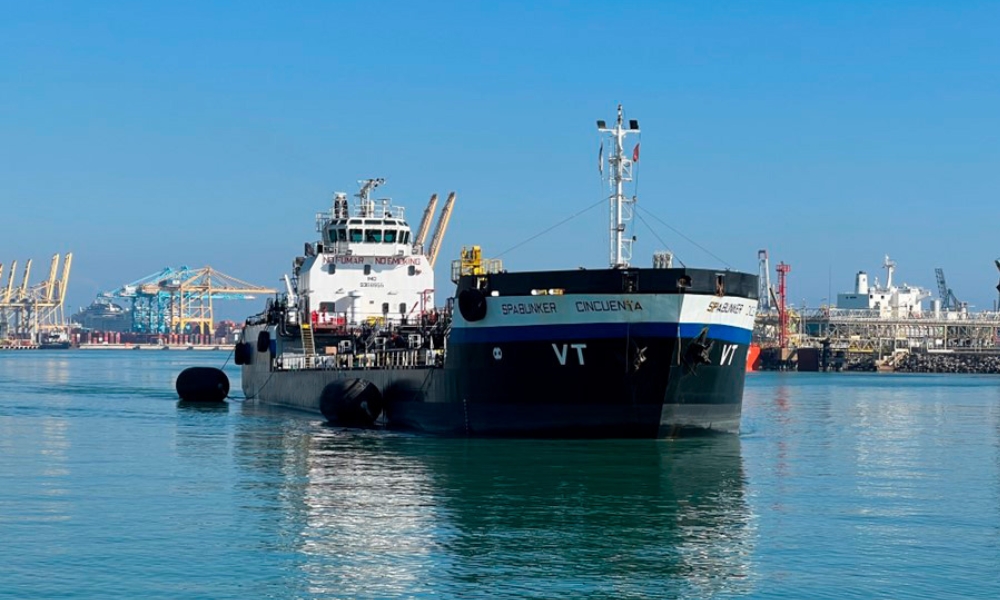 Spain's energy for maritime transport supplier Cepsa on Monday (2 October) said it has undertaken the largest supply of second-generation biofuels to date at the Port of Barcelona.
The operation, conducted on a 350-metre-long container vessel operated by Hapag-Lloyd in the Mediterranean, marks the energy company's inaugural venture in Barcelona and positions the Port of Barcelona as a key player in the decarbonisation of maritime transportation.
The supplied biodiesel contains a 24% sustainable component, which will prevent the emission of 2,860 tons of CO2, equivalent to planting 34,300 trees. This biofuel has been produced from used cooking oils.
Currently, the energy company can supply these sustainable fuels by barge in the Port of Barcelona and the area of the Strait of Gibraltar, and by tanker in all the ports in which it operates.
Samir Fernández, director of Marine Fuel Solutions at Cepsa, said: "Second-generation biofuels can be used in ships without the need for modifications to their engines, and they have a high potential for reducing CO2 emissions compared to conventional fossil fuels, achieving a reduction of up to 90%, which makes them an ideal immediate solution."
"That's why we want to make them available in all the ports in which we operate and lead their production in this decade to help our customers meet their own decarbonisation challenges."
The company said it aspires to be the leading biofuel producer in Spain and Portugal by 2030, with a production capacity of 2.5 million tons annually, and green hydrogen, with 2 GW of electrolysis capacity.
Photo credit: Cepsa
Published: 4 October, 2023
KPI OceanConnect hosts alternative fuels & carbon markets forum in Greece
Forum brought together marine energy experts to talk on bio bunker fuels, their regulation and adoption and their important role in helping the shipping industry comply with emissions regulations.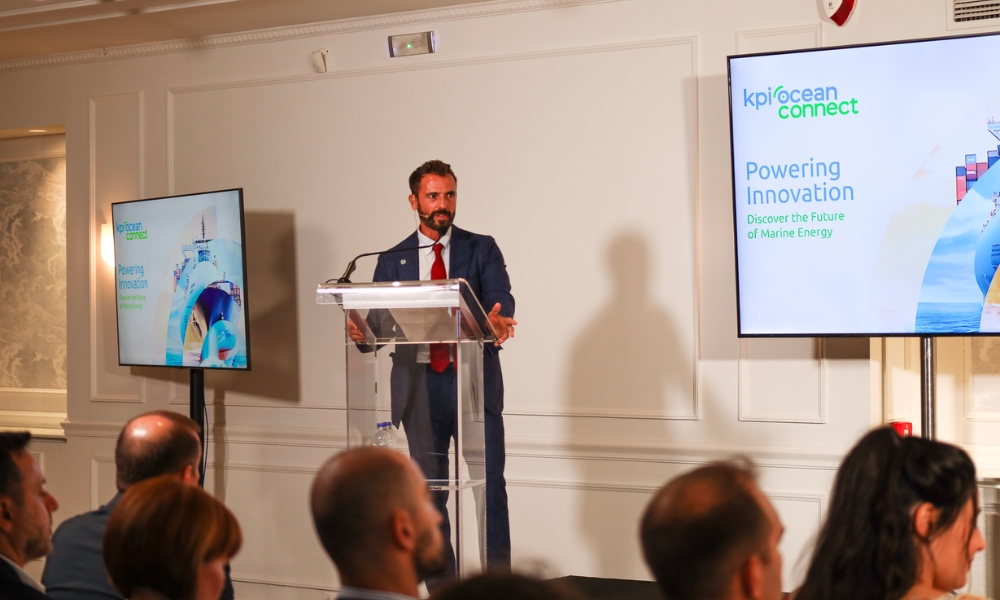 Global marine energy solutions provider KPI OceanConnect on Tuesday (3 October) said it held its Alternative Fuels & EU ETS Forum for clients in Greece on 27 September, where it brought together a line-up of marine energy experts to talk about biofuels, their regulation and adoption and their important role in helping the shipping industry comply with emissions regulations.
For the evening's seminar, speakers included KPI OceanConnect's Jesper Sørensen, Global Head of Alternative Fuels & Carbon Markets, and from Bunker Holding, Valerie Ahrens, Senior Director of New Fuels & Carbon Markets and Manja Ostertag, Head of Biofuels. They were joined by Maria Tzigianni of Bureau Veritas' VeriFuel.
The speakers presented on the range of biofuel products available to the marine sector and how the market for these products is shaped by the oil market, feedstock sectors such as agriculture, and regulations at national, regional and global levels. Delegates also learnt about pilot projects that had tested the performance of biofuels and measured how they would help ship owners and operators to decarbonise.
More than 100 guests attended an evening at Golf Privé in Glyfada, Athens, and were welcomed by Michalis Manassakis, Managing Director, KPI OceanConnect Athens. Attendees followed a very interesting seminar and were also able to learn more about KPI OceanConnect's values and main activations through interactive touchscreen technology.
With EU ETS regulations coming into effect in the shipping industry on January 1st 2024, KPI OceanConnect's guests also heard about the important role that voluntary and regulated carbon markets would have in helping the shipping industry to decarbonise.
The shipping industry, vessel owners and operators in particular, face many important questions about decarbonisation, while ongoing innovation means the alternative fuels market is constantly moving.
In its role as a provider of marine fuels, the firm said it was important that KPI OceanConnect shares its knowledge and expertise with its clients and customers.
Michalis Manassakis, said: "It was a pleasure to host a frank and open discussion for so many of our friends in the Greek market and we are grateful to have had so many join us today. As the shipping sector tackles the decarbonisation challenge, it is important that we help our partners to understand the changes that are happening in the marine energy market. And that we work to build trust in the supply of products that will drive forward the energy transition in our sector."
Photo credit: KPI OceanConnect
Published: 4 October, 2023